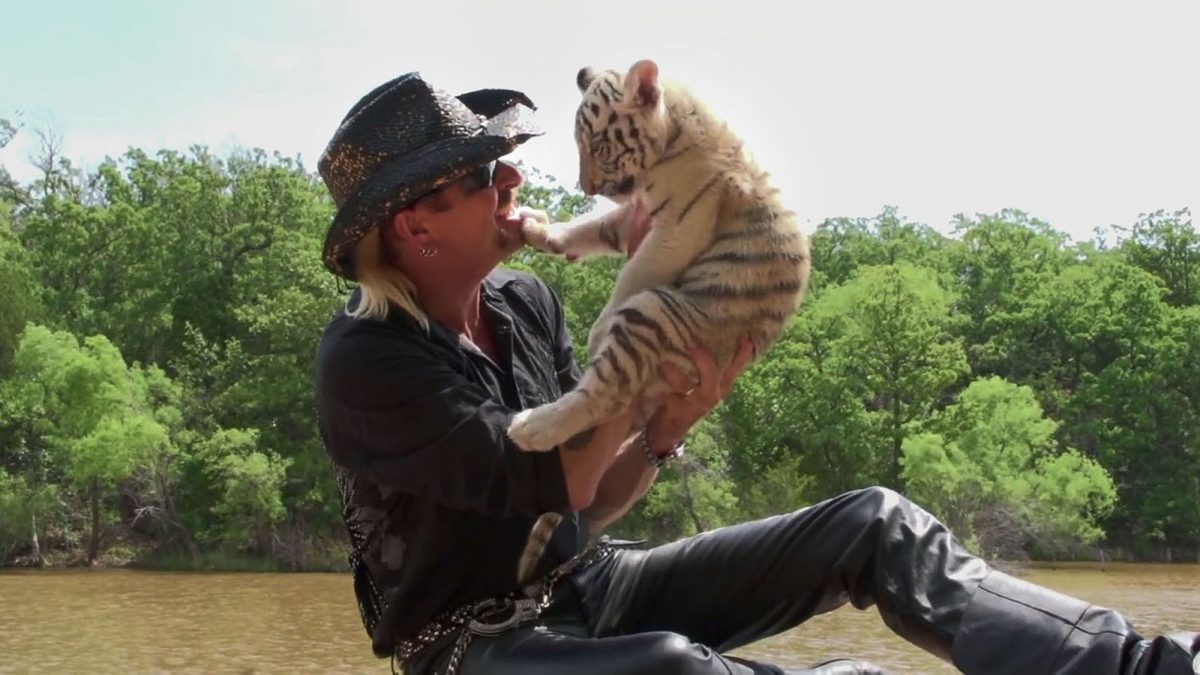 What 'Tiger King' Didn't Tell You: The Untold Story of Joe Exotic.
In March 2020, Netflix introduced the true-crime limited series, Tiger King. The production followed Joseph Schreibvogel a.k.a. Joe Exotic as he operated one of the most fascinating and chaotic animal parks in Oklahoma. More than just a tiger lover and exotic zookeeper, Joe was a lightning rod of controversy. Recently sentenced to prison for 22 years over a murder-for-hire plot, Joe Exotic fans are going crazy for any bit of information they can find about him.
Today, we are going to take you through a tour of the juicy hidden details that Tiger King chose not to reveal. Keep reading you cool cats and kittens, our journey is going to be a wild one.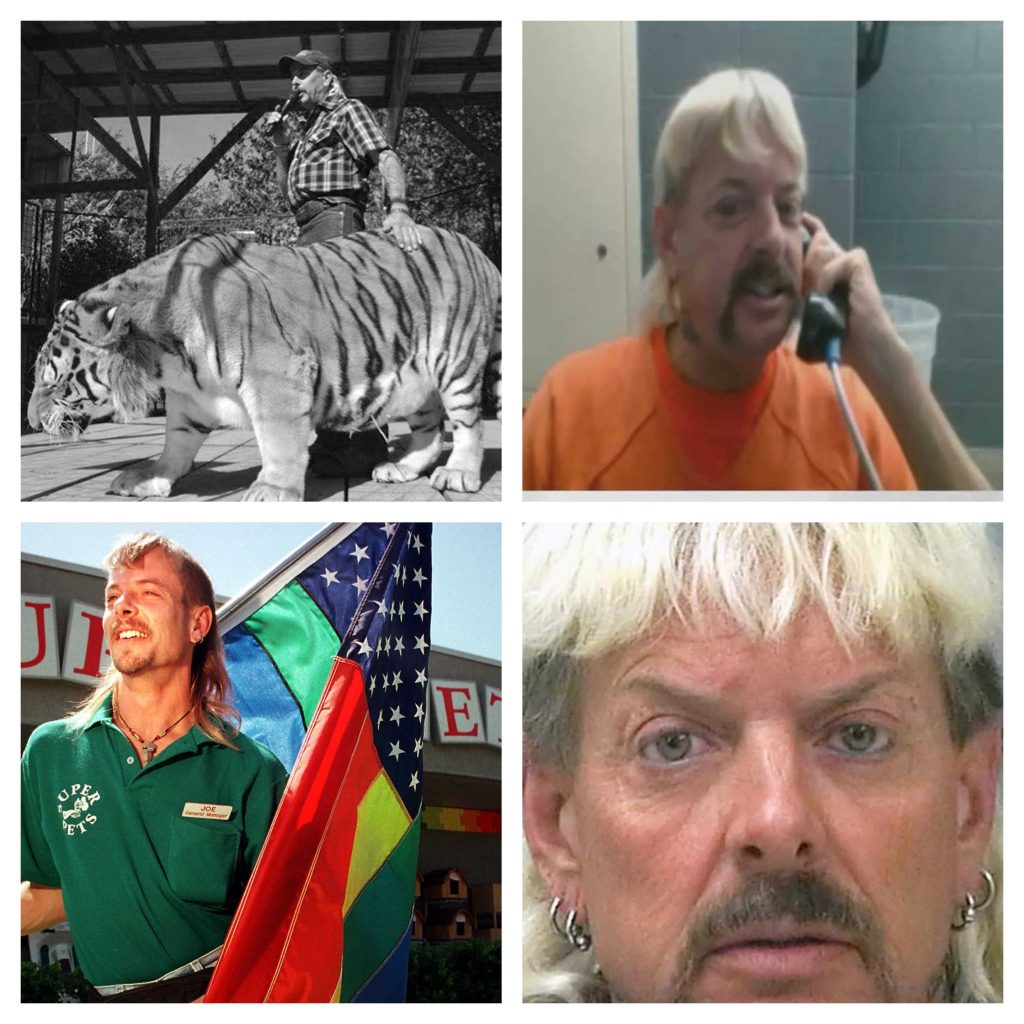 Joe Exotic Had Five Husbands
Stepping foot onto the G.W. Exotic Animal Memorial Park may be an experience too surreal for words after watching Tiger King. With that being said, the series forgot to mention quite a few fascinating tidbits. Taking center stage during the story was Joe's rocky series of relationships to straight men. Despite the focus on John Finlay and Travis Maldonado, the series didn't mention two of Joe's first husbands: Brian Rhyne and J.C. Hartpence.
J.C. Hartpence would end up arrested for a serious sex crime before being locked away for murder. Joe really knows how to pick 'em.
Rick Kirkham Survived A Second Fire
Rick Kirkham was one of our favorite figures in the Tiger King saga. The former gonzo reporter turned reality show producer would feature prominently in one of the largest mysteries of the show, the arson of his production studio at G.W. Zoo. After leaving the production, mysteries would follow Kirkham as he experienced a second fire at his home in Dallas, losing his dog in the process.
If you think Rick Kirkham may not have been what he seems, take a look at Joe's magic show!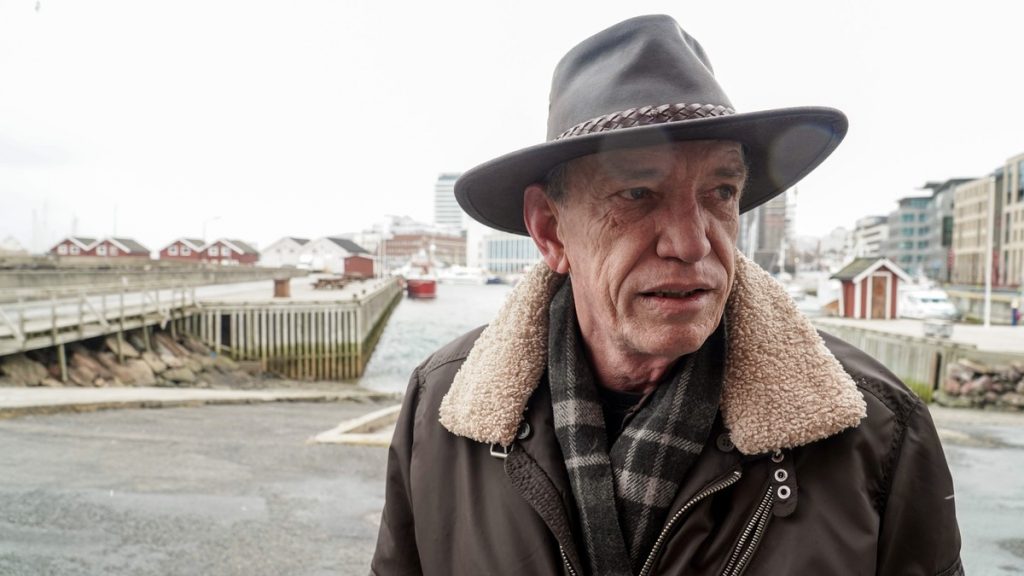 Joe's Not So Magical Road Show
The charismatic Joe Exotic marketed himself as a lover of animals. That may have been true at one point, though the Tiger King certainly didn't treat his critters right during those long roadshows featured in the documentary. Apparently, Joe's animals hated traveling, loathed bright lights and loud sounds, and frequently reacted poorly during Joe's shows. At one point, Joe painted sheep to look like tigers because he thought they'd be easier to work with!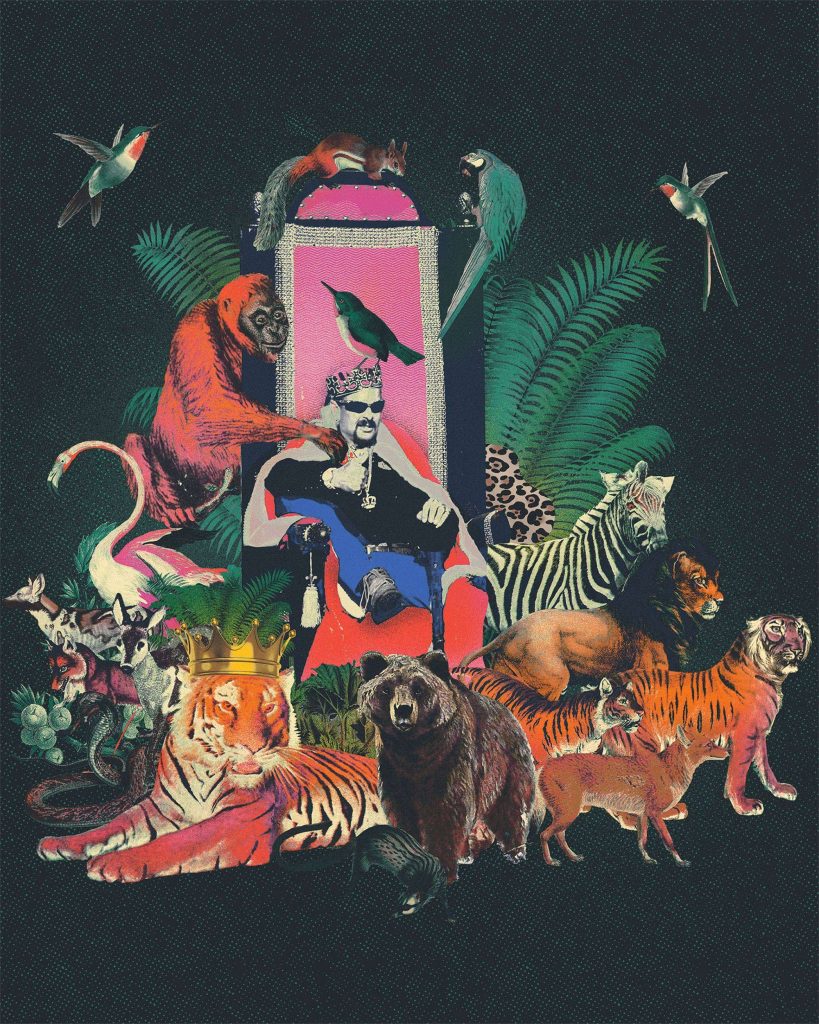 Truth About Don and Carole
Carole Baskin comes away from Tiger King as one of the biggest villains in reality television history — despite the lack of evidence pointing to her guilt. Baskin's story primarily focuses on the mysterious disappearance of her rich husband, Don Lewis. While the show certainly painted a specific angle in its seven episodes, Carole has found her coverage to be less than fair. You can read Carole's full story on the official Big Cat Rescue website.
The lies continue to stack up as Joe Exotic makes another appearance on our list!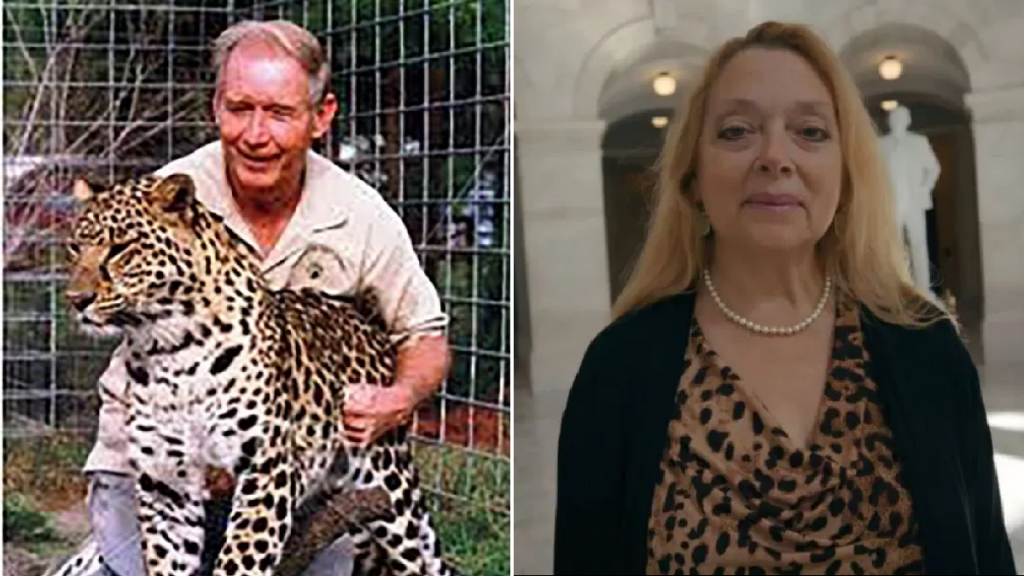 Joe Exotic's Singing Voice… Wasn't His
Joe Exotic could sell anything for a buck despite his lack of overt talents. Despite this fact, Tiger King fans all agree that Joe can really belt out a country song. Only, there's a problem — Joe didn't sing the majority of his songs. Exotic revealed in an interview with the producers of Tiger King that he hired other vocalists to take care of singing, claiming it was 'normal' in the industry.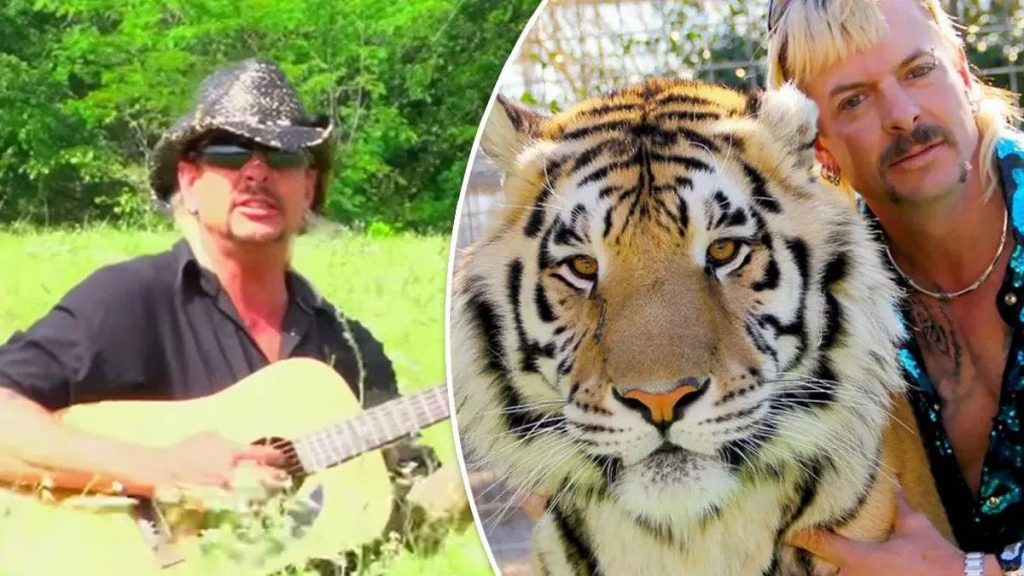 Joe Exotic Sold Tiger Bones to Museums
Before Joe Exotic was the so-called Tiger King, the self-described animal lover was slinging tiger skeletons to museums throughout Oklahoma. If you want to see one of Joe Exotic's donations, consider heading to the skeleton museum in Oklahoma for a closer look. Is this a must-visit location for Tiger King fans?
Just when you thought Joe couldn't get any weirder, wait until you read what happens next!

Damning Facts Behind the Reptile Enclosure Burning
One of our favorite subplots in Tiger King is the mystery surrounding the destruction of G.W. Zoo's reptile habitat. While an official perpetrator has not been named, a journalist has found that Joe may be at the center of the story! After talking to Wynnewood officer Brion Gordon, the journalist would be called directly by Joe Exotic. As it turns out, Joe and the officer have a close relationship that supersedes an actual investigation.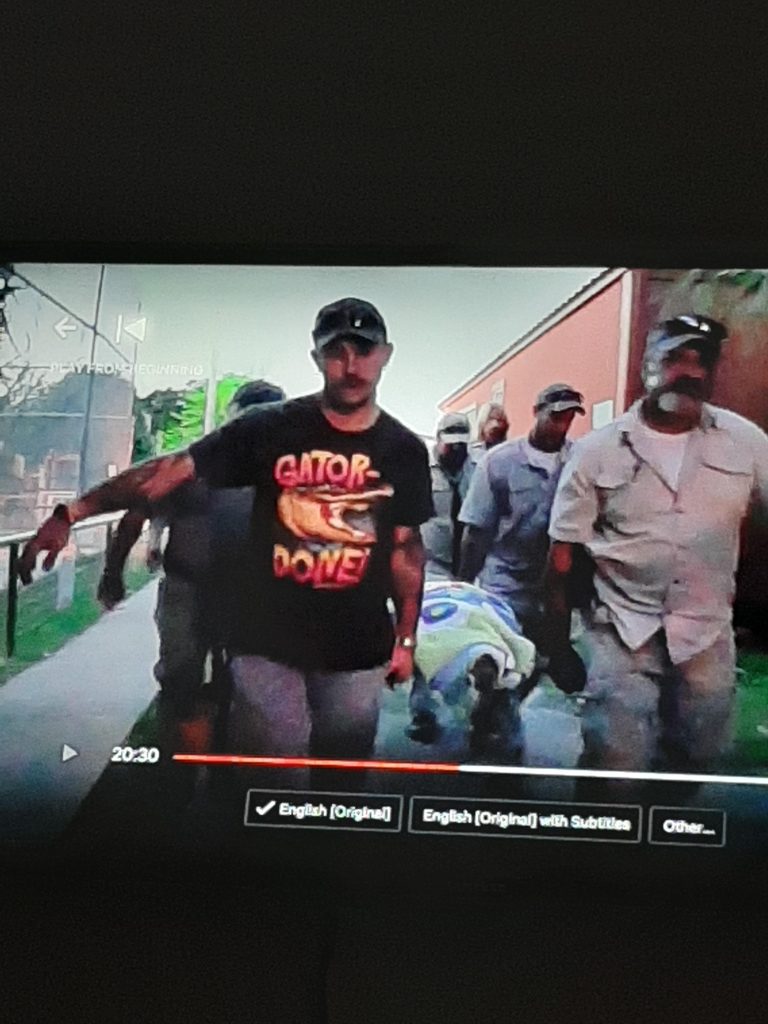 Joe Exotic Appeared in a Louis Theroux Documentary
If you like documentaries then you'll love the fact that Joe Exotic appeared in a series with Louis Theroux. Louis Theroux had been working on his series, America's Most Dangerous Pets when he met and filmed with Joe. You can find the footage on the BBC channel.
Are you ready to see how far the Tiger King was willing to go for fame and fortune?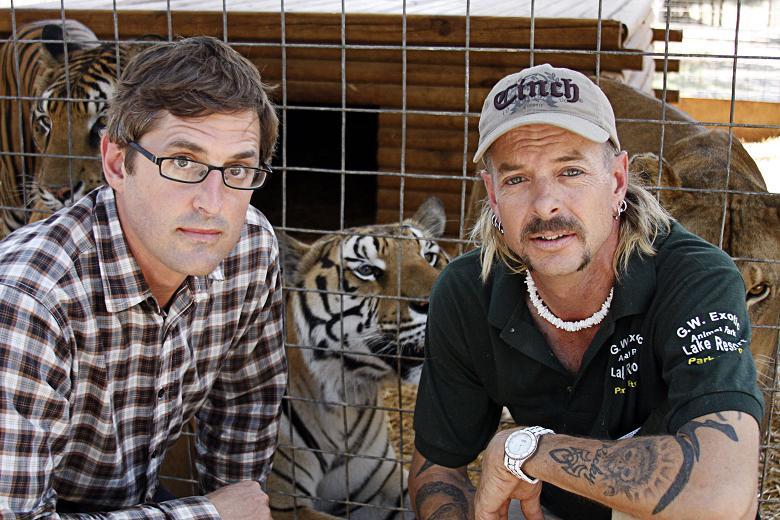 Joe Exotic Lied About Cancer to Fundraise
At one point in his life, Joe Exotic was hospitalized with a severe prostate problem as well as a herpes outbreak. This would lead to dehydration and a litany of other health defects, thus resulting in the picture above. Joe would try to milk the experience, telling people that he had cancer and needed to raise money to pay for his health.
Joe may have his secrets, but he's not the only one!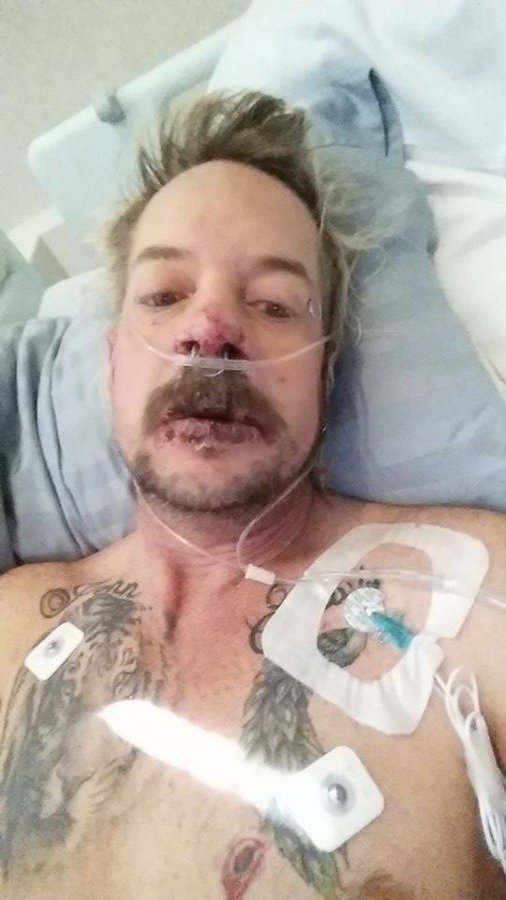 Carole Baskin's Ex-Boyfriend Filed a Restraining Order
Whether you like what Carole is doing at Big Cat Rescue or not, she is certainly a lightning rod of controversy. Carole's odd love life was amplified when a report surfaced that her ex-boyfriend, Jay Baykal, had filed for a restraining order because he was afraid of her!
Did Carole have a murderous streak in her or does everything look worse in light of the documentary?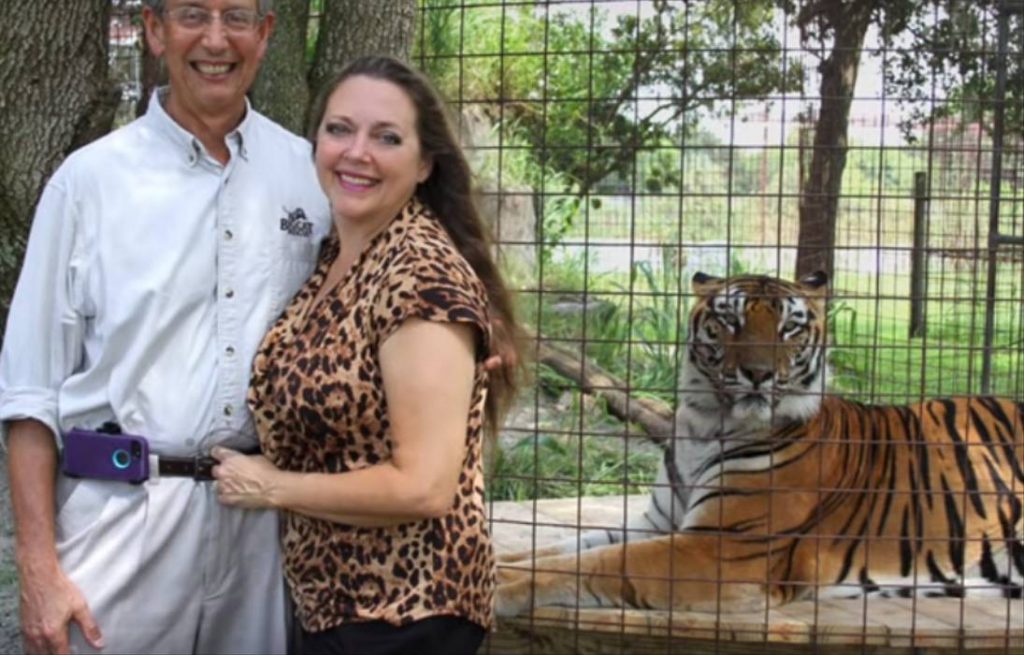 Doc Antle Even Performed with Britney Spears
Even looking at Doc Antle makes us break out in cringing. The sex-cult leader of Joe's rival zoo, Doc Antle has his own fascinating backstory. Antle has done a lot with his Myrtle Beach Safari, including working with Britney Spears during a live performance at the MTV VMA's in 2001!
While Doc Antle was a creep, he doesn't have an alleged body next to his name. Unlike…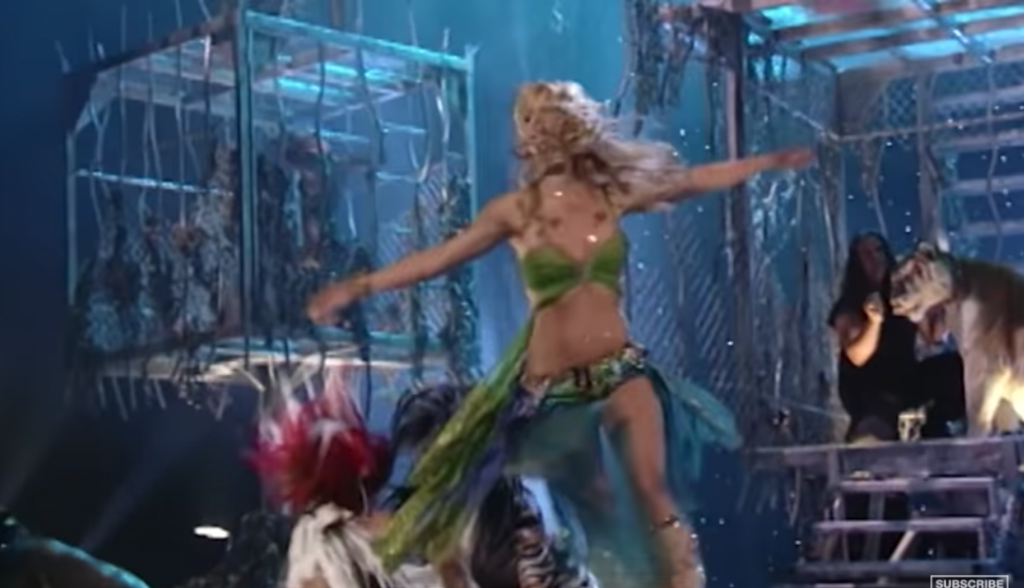 Tiger King Has Reignited Investigations Into Don's Death
Carole Baskin better be ready for a life of harsh criticism, since Tiger King aired her former husband's case has been reignited. Carole has always denied allegations that she killed her husband, but that isn't stopping the internet from trying to figure her story out.
What do you think, will Carole ever see the inside of a jail cell for the murder of her husband?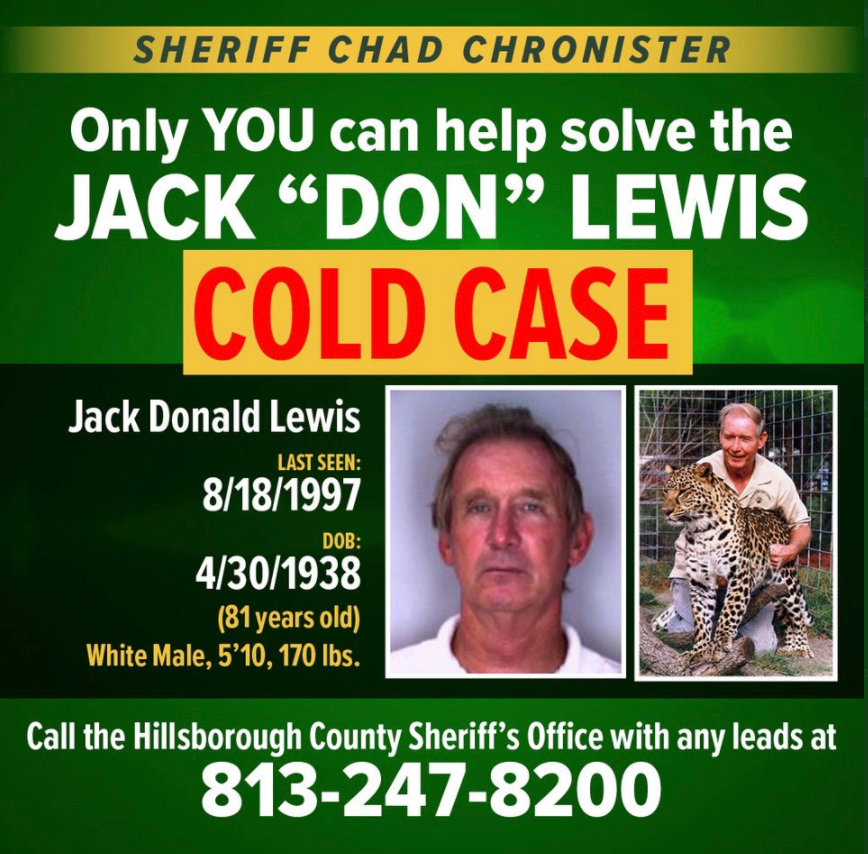 Joe Exotic Hired an Ex-Hitman to Open a Zoo
Speaking of murder, Joe Exotic has definitely circumnavigated the social circles of hitmen for a long time. Apparently, Joe Exotic had planned on opening a zoo in Dallas, and he was going to hire a former hitman to take care of the job. According to the reports, the man was a former 'bone collector' with a Mexican gang based out of Dallas. Having given the life up, the hitman was ready to help Joe on the straight-and-narrow.
What's interesting about this story is that it could have been the seed that led to the murder-for-hire plot that imprisoned Joe.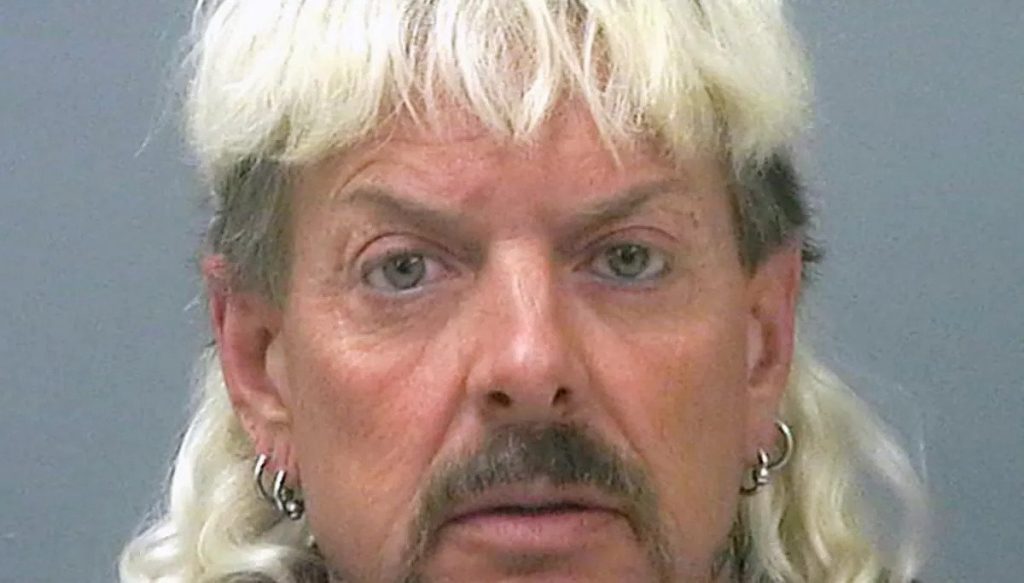 Carole Baskin Was Furious With the Netflix Series
Shortly after Netflix premiered Tiger King, Carole took to her blog to expound on her disappointment. Carole claimed that she had been hired to work on a Blackfish-like documentary that aimed to expose animal cruelty in the big cat industry. Carole claims that she never knew she had been signing up for a 'salacious' reality series.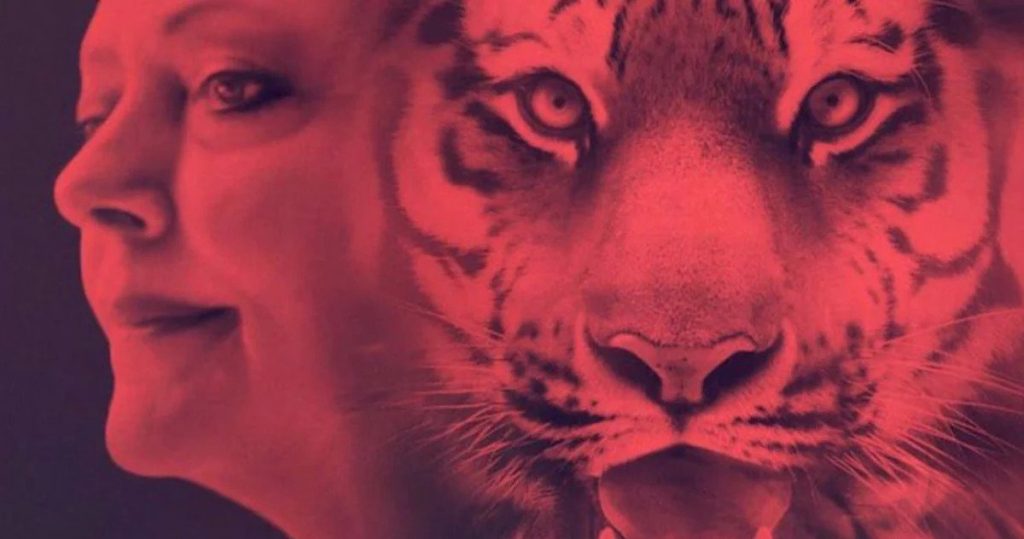 Tiger King Has a HUGE Celebrity Following
If you think Tiger King hasn't found a following in Hollywood, you are wrong! Stars across the board have been cosplaying and dressing up as Tiger King characters. Heck, when you get Jared frickin Leto to dress up in your outfit, you know you've made it.
If you like celebrities and you like Tiger King, you are going to love what comes next!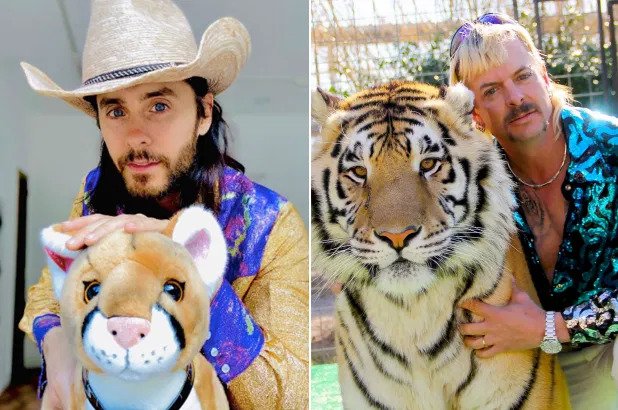 A Mainstream Joe Exotic TV Show is in Production
While very little in the way of concrete information has been released, we do know that a real mainstream Joe Exotic television series is in production. Having been extensively covered on podcasts, Netflix, and YouTube, this seems like the logical next step in the growing Exotic world.
Guess who is already tabbed to play a character in the show?!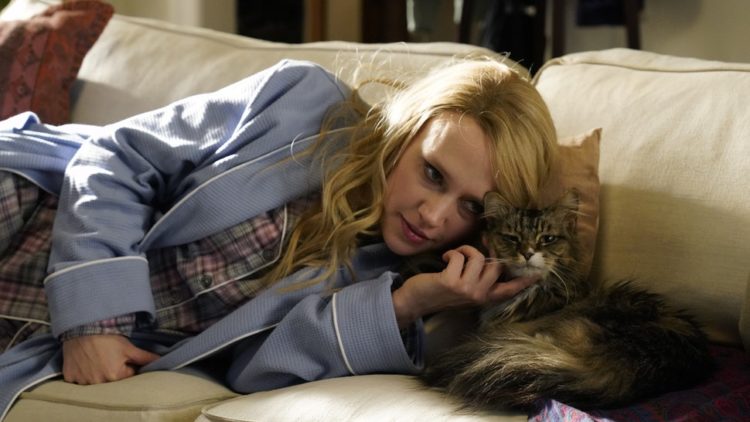 Kate McKinnon Will Portray Carole Baskin
Kate McKinnon is slated to star in the Joe Exotic television series as none other than Carole Baskin. McKinnon is a comedic legend known for her work on Saturday Night Live and in films such as Ghostbusters.
Do you think McKinnon is a good choice to play Carole Baskin?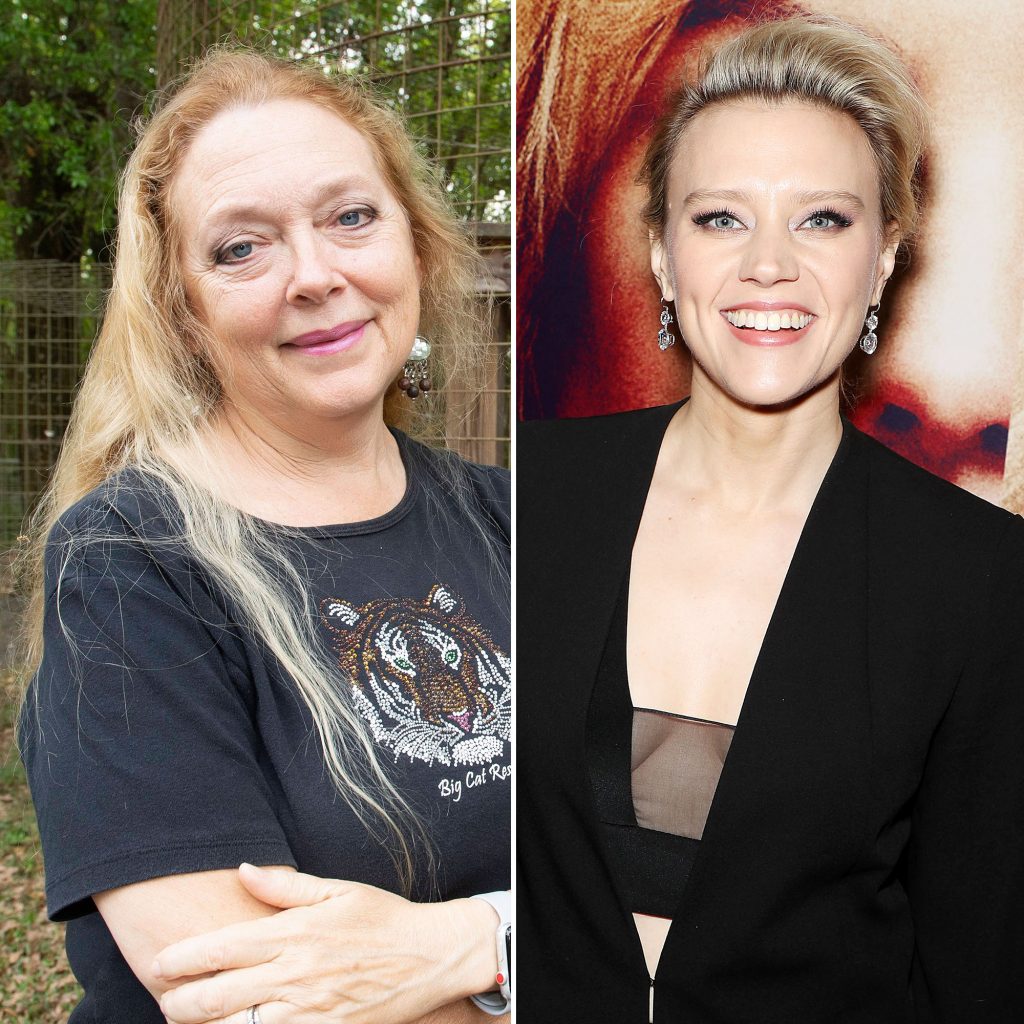 Tiger King May Be Ready For Season 2
We'll have to see just how long Tiger King-mania lasts, but we have a feeling that it will continue into the future. Apparently, the producers of Tiger King are already looking at filming a second season. According to Rebecca Chaiklin and Eric Goode, there is a treasure trove of unused footage still in storage.
If you can't wait for season two, consider reading our next fact!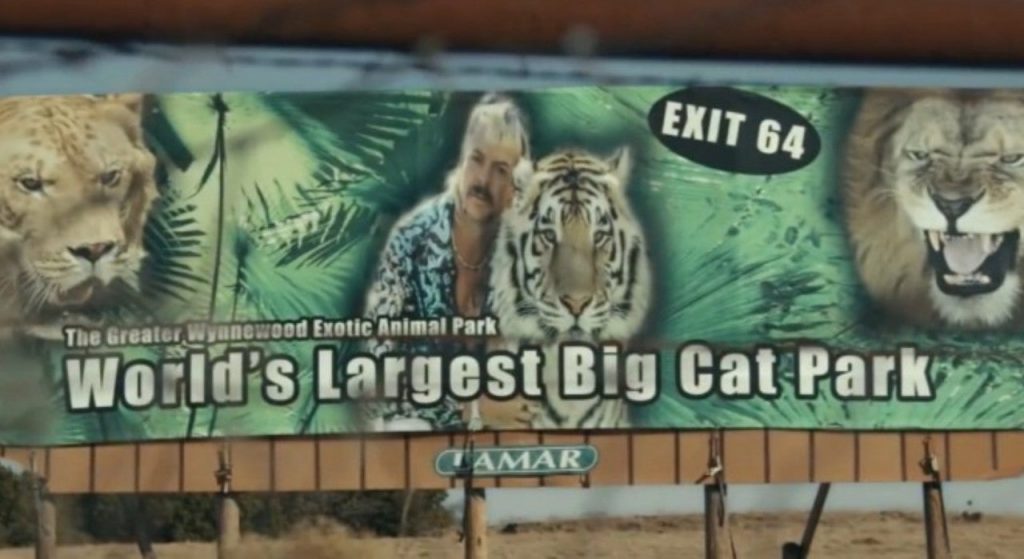 You Can Watch The Joe Exotic Show on YouTube
We don't blame you if you want more Joe Exotic right now. Consider heading to YouTube to look up the Joe Exotic Show. Produced by and starring Joe Exotic, his series features more of what you loved from Tiger King in a significantly less refined package. Be aware, the YouTube show is definitely NOT safe for the kiddos.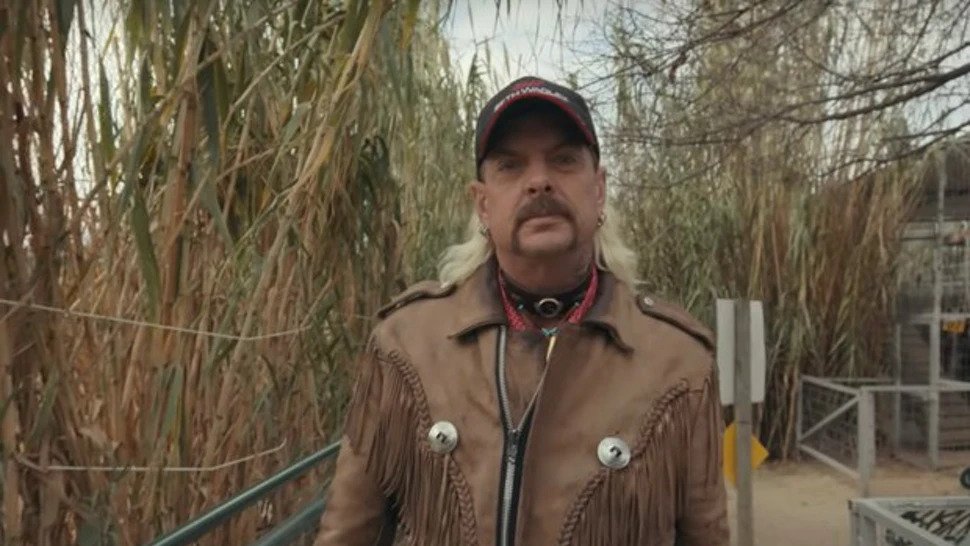 G.W. Zoo Is STILL Open
While the coronavirus has put a pin on domestic travel, the first place you'll want to head this year is the G.W. Zoo itself! Joe Exotic may no longer run the zoo, but the establishment is very much in working order under the ownership of Jeff Lowe. While Lowe has kept the facility running, times are apparently very dire for the operation.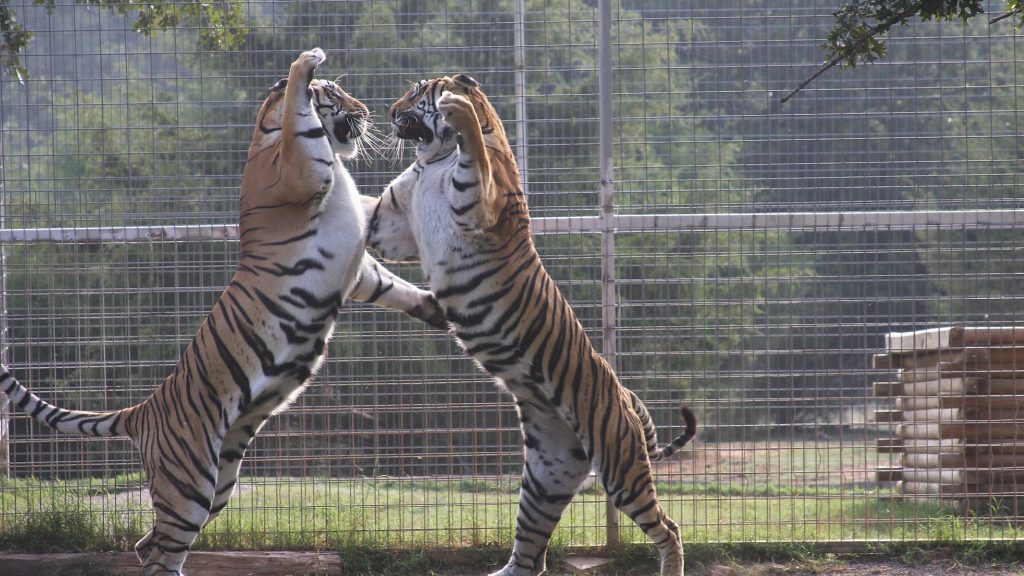 Joe Exotic's Ex-Husband Got New Teeth
John Finlay's story surrounding and relationship to Joe Exotic was one of the beating hearts of the series. Now happily in a relationship with a child, John has since replaced all of his teeth. As far as Joe Exotic's ex-husbands go, John has been the most successful of them all.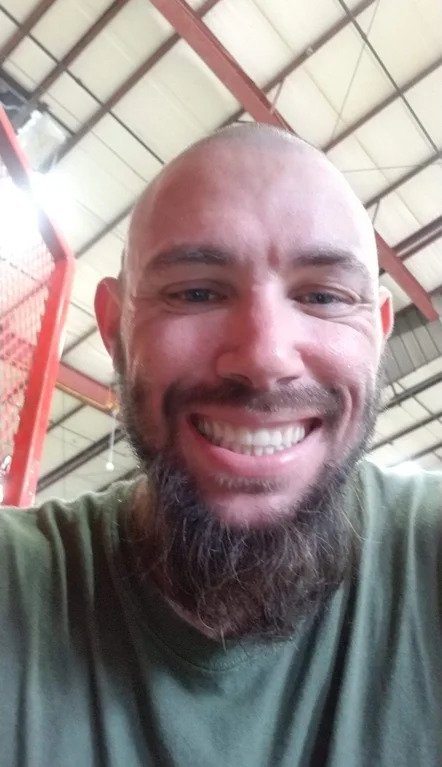 Michael Jackson's Alligators Were at G.W. Zoo
Did you know that the King of Pop was affiliated with Joe Exotic and the G.W. Zoo? It's true! After Jackson's tragic passing, the musician's alligators would be given to Joe Exotic to be cared for. We already know what you are thinking and yes it is incredibly sad. The alligators would tragically perish during the arson attack at G.W. Zoo featured in Tiger Kings.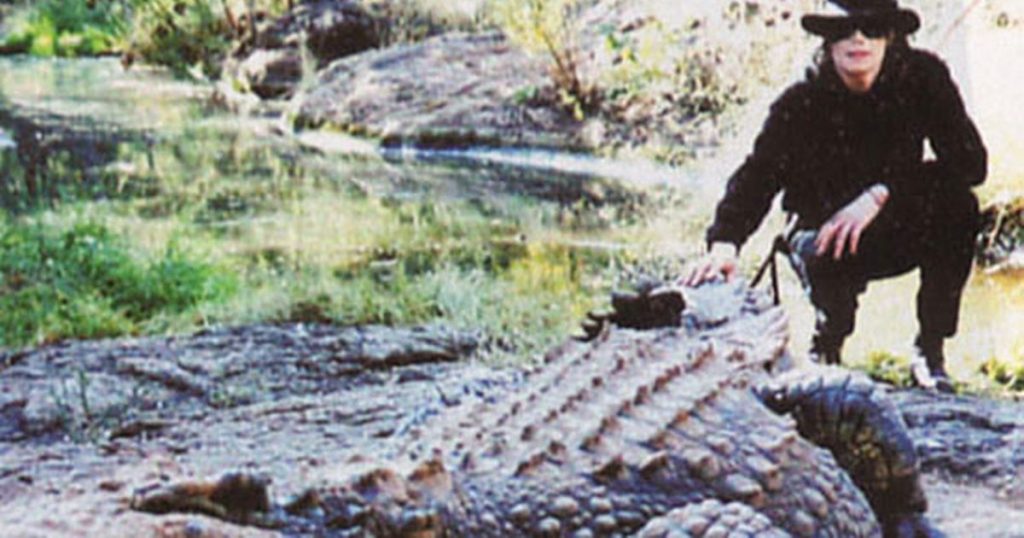 Joe Exotic is a Former Sheriff
If you thought Joe Exotic's life story was weird, wait until you dig a little deeper. Before Joe Exotic was handling a wild zoo, the future reality star was working as a sheriff for Eastvale, TX. Apparently, Joe got into the gig shortly after graduating from high school. With a population of just 500 or so people at the time, Joe was able to land a job with relative ease.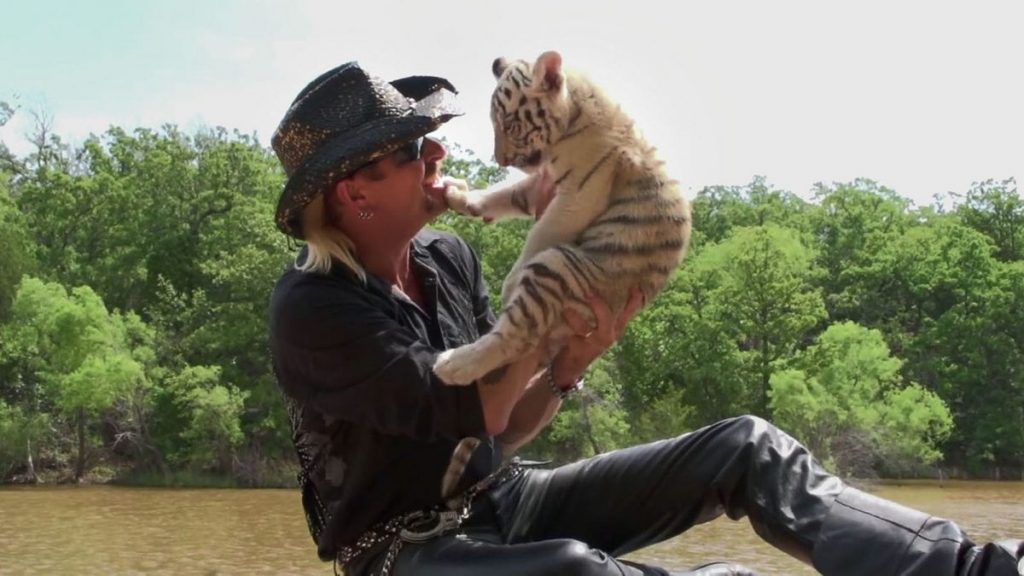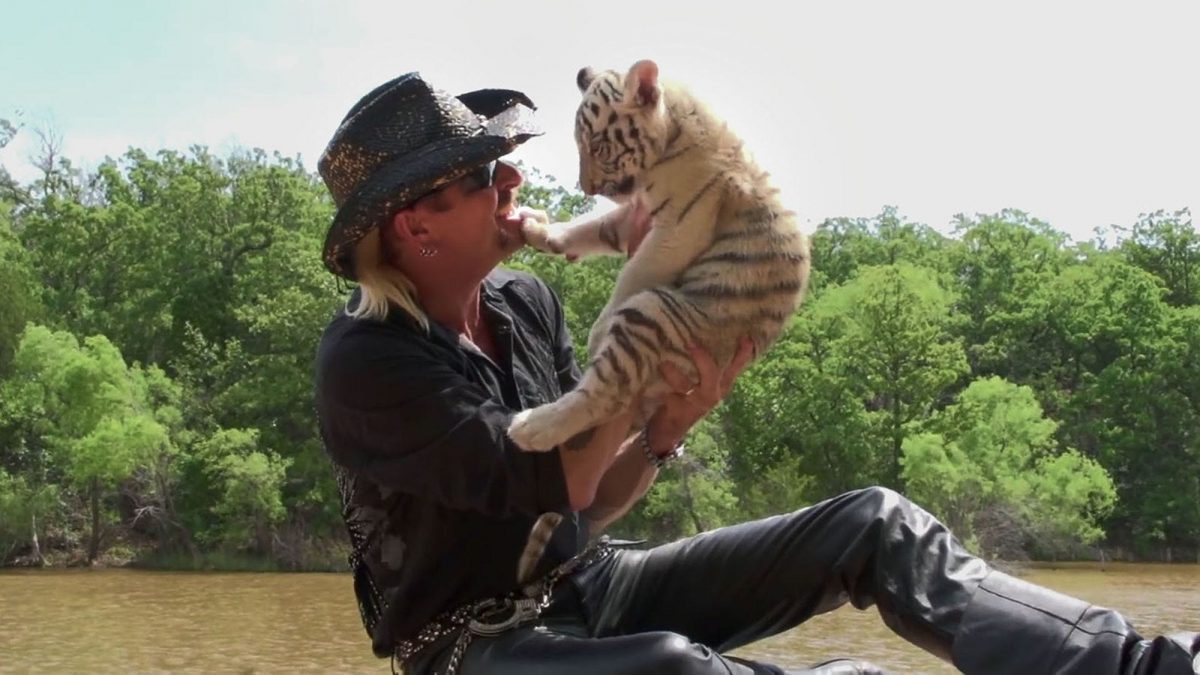 Joe's Brother Funded G.W. Zoo
After working as a sheriff, Joe worked as a security guard for a gay night club. Without funds to open his own zoo, Joe would use the money earned from his brother's death to fund the zoo. Garold had passed away after his truck had flipped, leaving behind a sizable settlement to Joe's family. Joe would convince his family that Garold secretly loved wild animals, thus leading to the G.W. Zoo.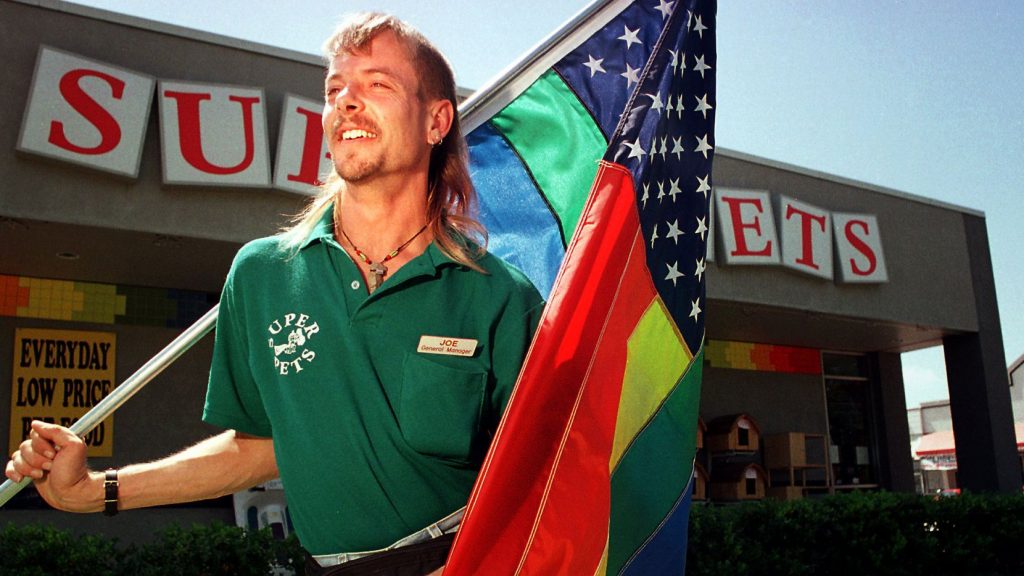 Joe Exotic Ripped Off His Magician Act
Around 2002, Joe Exotic was working with a man known by the name Johnny Magic. The two had teamed up to develop a stage magic show that featured Joe's animals. Unfortunately, the relationship soured and the two would end their agreement. For Joe's part, the future Mr. Exotic would steal Johnny's entire magic act to establish Mystical Magic of the Endangered. This was also when Joe took on his new name, Joe Exotic.
Believe it or not, a magic show with wild animals wasn't the craziest thing Joe ever did.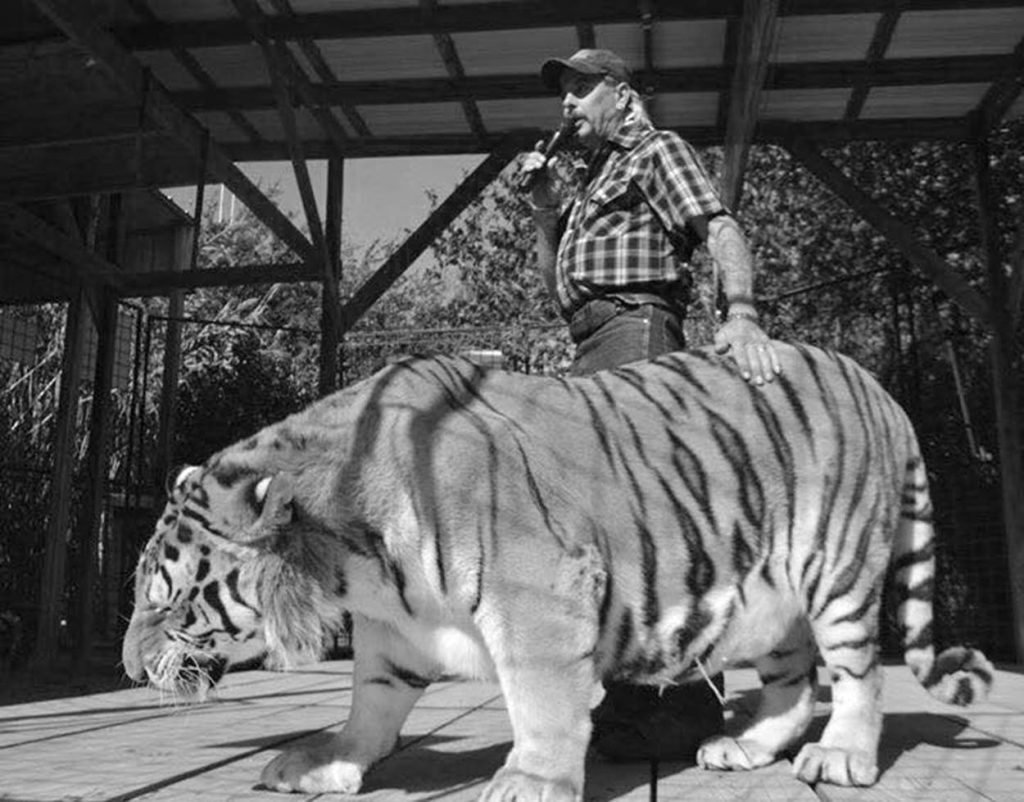 A Serious Run for President
When it comes to ramping up your exposure for fame and fortune, Joe was practically shameless. Perhaps emboldened by his followers, Joe Exotic would run for President in 2015 to restore his public image. As an independent candidate, Joe brought a media circus wherever he appeared during the election.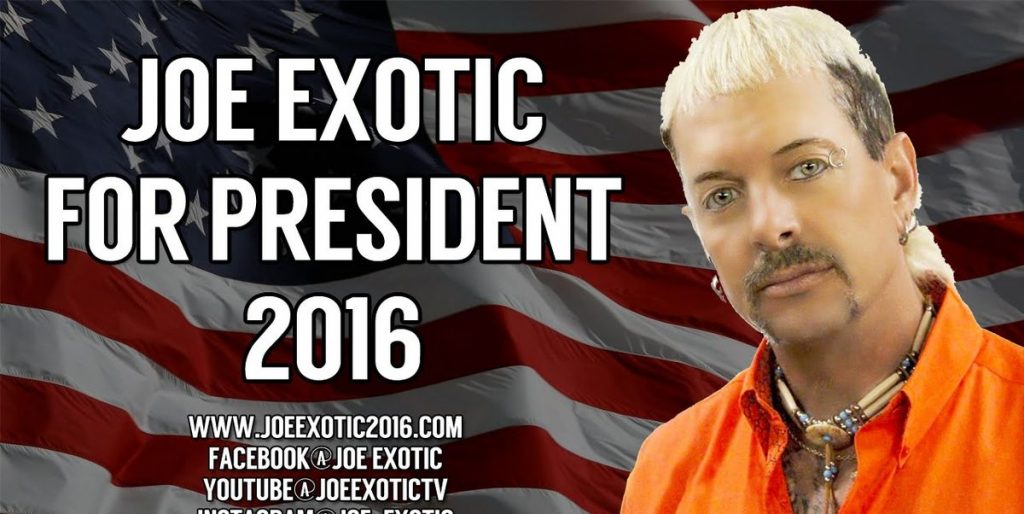 Joe Exotic Is Serving 22 Years in Prison
For as lovable and bizarre as Joe Exotic appeared at times, the monster behind the mask was worse than his followers ever knew. Joe Exotic would get caught up in animal cruelty and murder-for-hire charges after paying an employee $3,000 to kill Carole Baskin. The attempt fell through when Allen Glover opted instead to party with his new money.
After attempting to hire a second hitman, Joe Exotic would be arrested and found guilty on multiple charges. Joe Exotic is slated to be released in 22 years at the age of 78.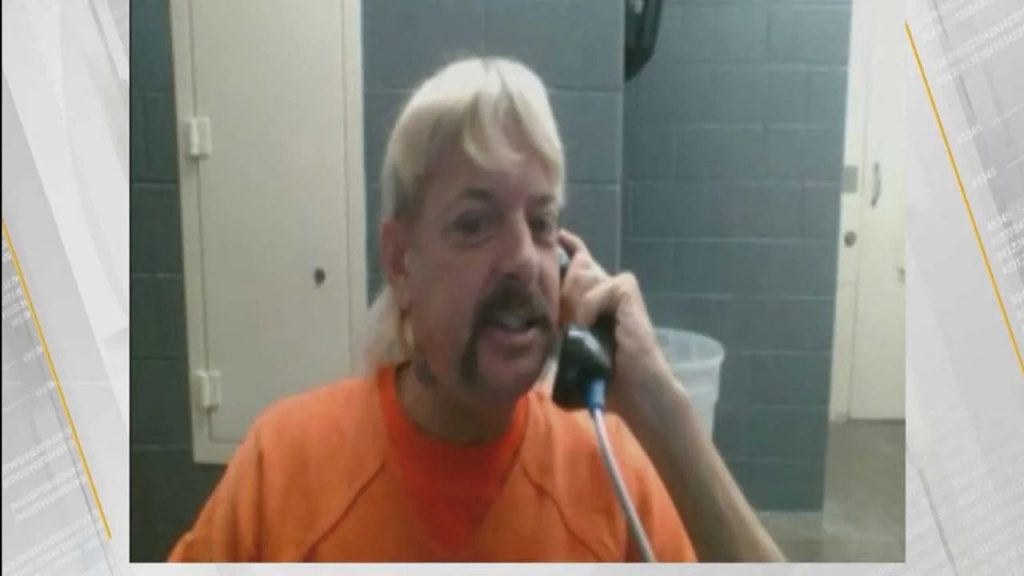 Producers of Tiger King Witnessed Outright Animal Cruelty
While the producers and production crew behind Tiger King did their best to show who Joe really was, the eccentric zookeeper still earned a sizable following. The production team wants to make it abundantly clear that during their work they witness untold counts of animal cruelty, including cubs being ripped screaming away from their mothers.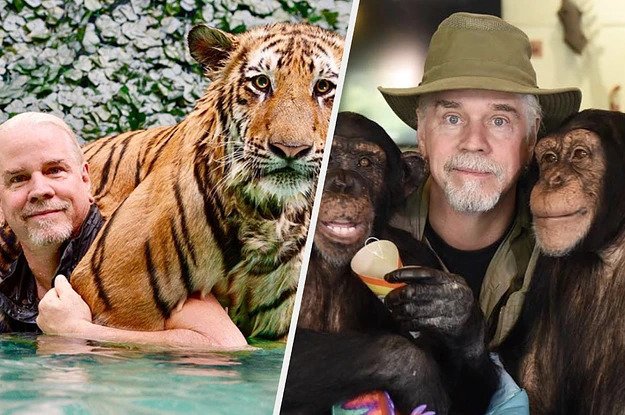 There Was Seriously Incriminating Evidence at Trial 
While some Tiger King fans try to paint Joe Exotic as this fun-loving and larger-than-life figure, he was truly a criminal at his core. Incriminating evidence from the trial surrounding Joe Exotic paints the man in a very different light. One conversation that was released during the trial revealed Joe instructing his hitman and Jeff to use burner phones during their 'hit' on Carole Baskin.
On the idea of Allen getting caught during his hit, Joe stated, "If they bust him red-handed, me and Jeff are just, we got our story down to where we fired the motherf***** and he just went off the deep end."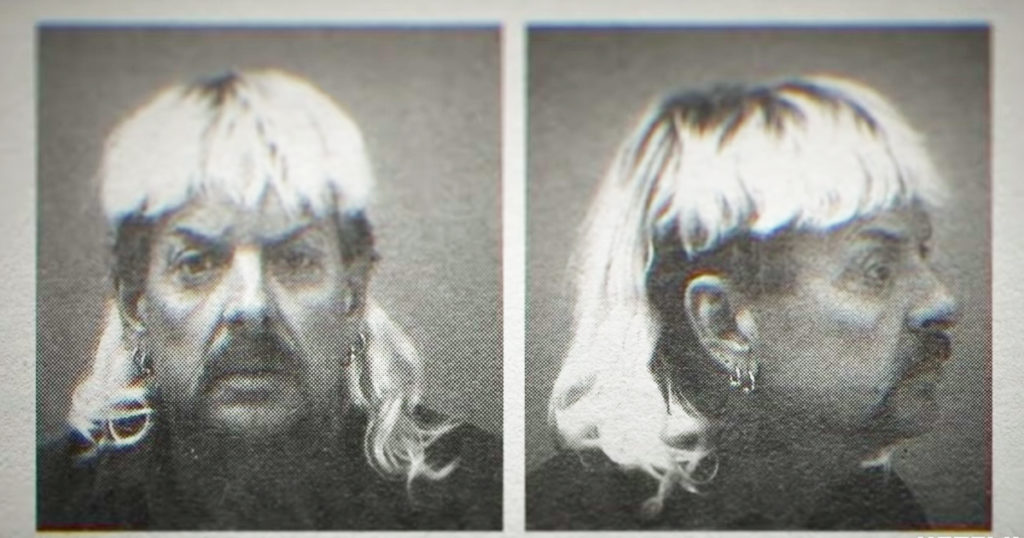 Joe Exotic Shot and Killed Five Tigers
With Joe's fascinating life story, it is easy to fall under the spell that he truly loves and respects his wild tigers. Unfortunately, truth is harder to swallow than Joe's handcrafted fiction. As it turns out, Joe was convicted of shooting and killing five tigers solely to make room in his zoo for other animals.
Joe Exotic would be convicted on 17 total crimes, most of which related directly to animal abuse.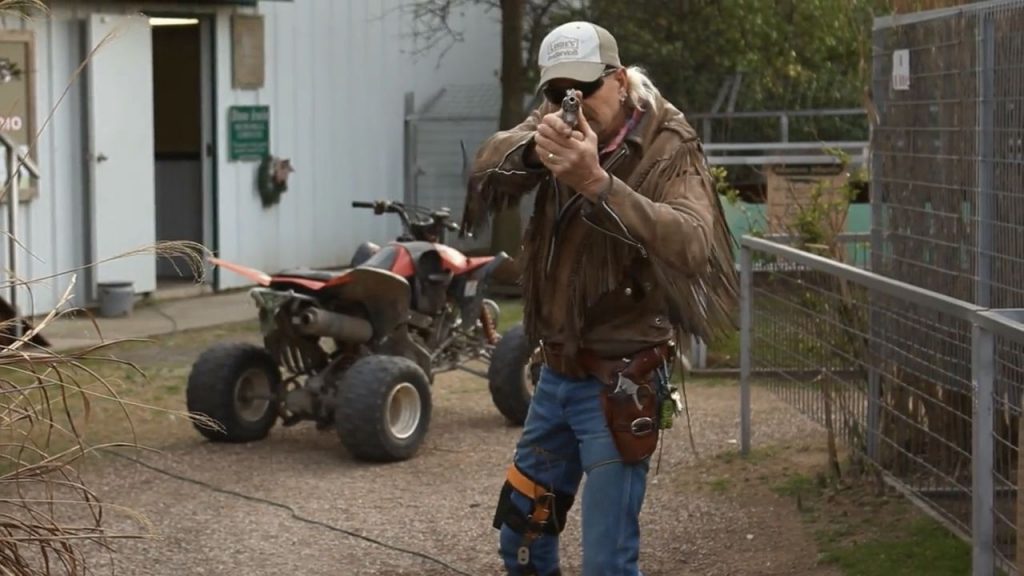 Joe Bred Ligers at His Zoo 
On the topic of ligers, it is impossible to get a straight answer out of people like Joe Exotic and Doc Antle. Privately, both zookeepers bred their own ligers in captivity with no attention paid to the abuse they rendered. Ligers are known for being incredibly unhealthy and beholden to health defects like heart failure, going cross-eyed, or weighing in at more than 1,000 pounds.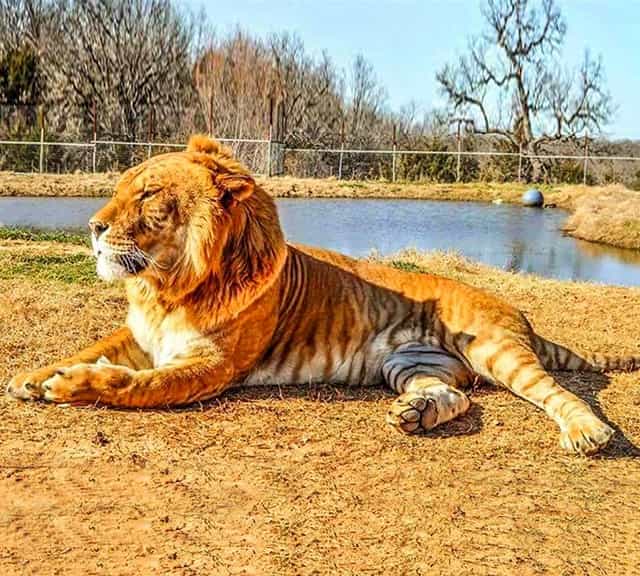 Joe LOVES His Newfound Fame — Even From Prison
Ever since Tiger King became a national sensation, Joe Exotic has been living in the clouds. Despite being imprisoned for the next 22 years, Joe has been calling and interfacing with his new fans as much as possible. According to one of the producers of Tiger King, Joe has been frequently calling the team about all of his great press.
At the end of the day, nothing can damper Joe Exotic's spirits. Do you think the former Tiger King will ever get out of jail?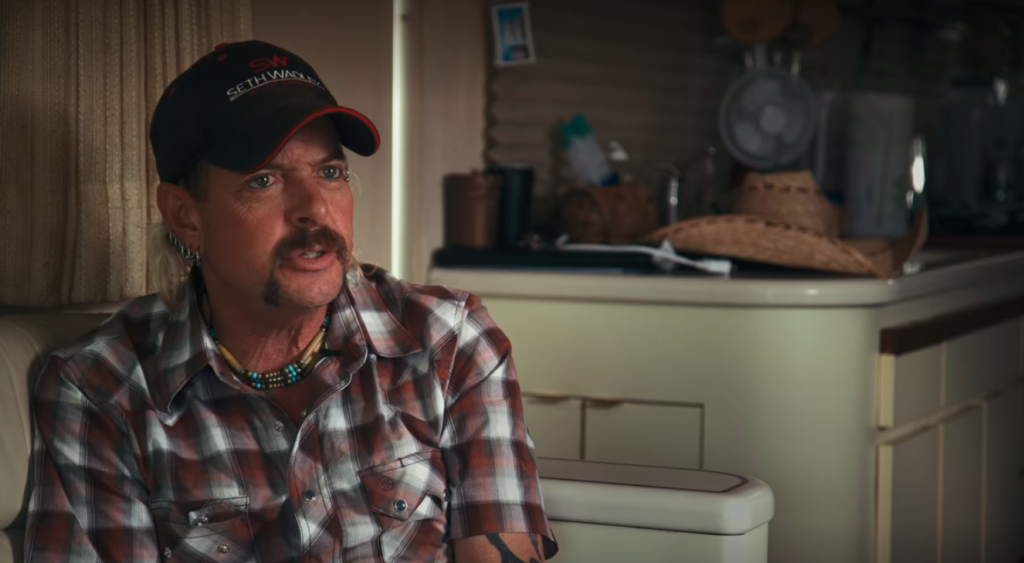 Another True Crime Documentary Rocks Netflix
If Tiger King didn't quite scratch your true crime itch, you owe it to yourself to tune into The Disappearance of Madeleine McCann on Netflix. This documentary focuses on the mysterious vanishing of Madeleine McCann, then a three-year-old girl on vacation in Praia da Luz, Portugal with her parents.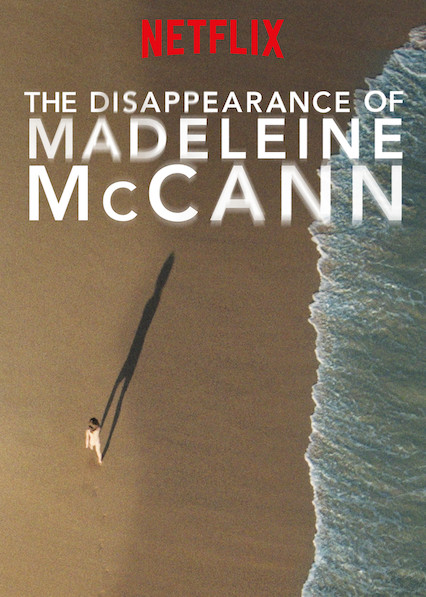 Numerous People of Interest Have Been Reported
The story of Madeleine McCann begins with the child's parents going out to dinner while the child slept on May 3rd, 2007. When the family return at 10 P.M., their daughter was gone. Since the case hit the public spotlight, numerous people of interest have been highlighted including a woman who purportedly looked and sounded like Victoria Beckham.
Nobody has ever been pinned for the McCann disappearance, though Scotland Yard claims to have two 'active leads'.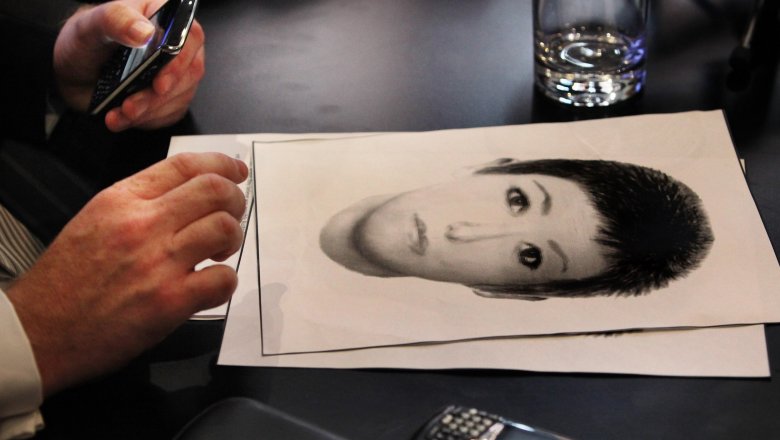 The McCann Family Did NOT Participate in the Netflix Doc
From the beginning, Madeleine McCann's story was an international sensation. Tabloids ran roughshod with stories in a thousand different directions. ABC would see a viewership surge of more than 2 million people when premiering their episode on the McCann's. Likely due to all the coverage, the McCann's opted to stay away from the Netflix documentary. The McCann's stated, "We did not see and still do not see how this program will help the search for Madeleine."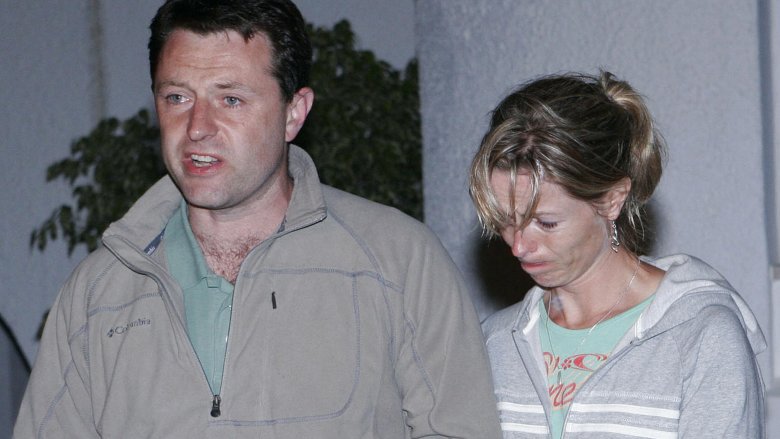 A Controversial Investigation From the Beginning
From the word 'go', the investigation into young Madeleine's disappearance was muddled with controversy. The Portuguese police in charge of the investigation were labeled 'Keystone Cops' by Vanity Fair. Stories of a 'cover-up' would be leaked as it was revealed that no trained dogs were used to track Madeleine in the small coastal town.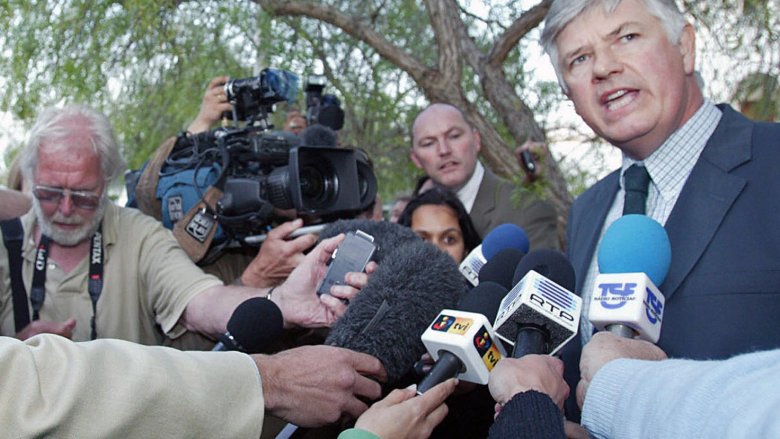 The McCanns Were a Suspect Once
As with any case involving a deceased or missing child, the parents were called into question. According to a former police officer in Portugal named Goncarlo Amaral, the McCanns were 'formal suspects' even though no charge had ever been filed against the child's surviving parents. Could they be actual suspects?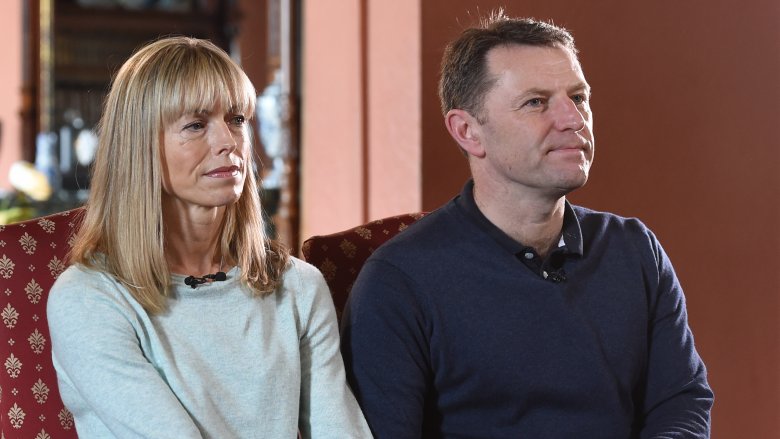 Madeleine Could Be Alive and Well and Ignorant of Her Fame
Despite their aversion to the Netflix documentary, both McCann parents would hire a detective named David Edgar to track their child down. According to the detective, Madeleine might very well be alive and in hiding somewhere, unaware of the fame surrounding her disappearance.
What do you think, where is Madeleine?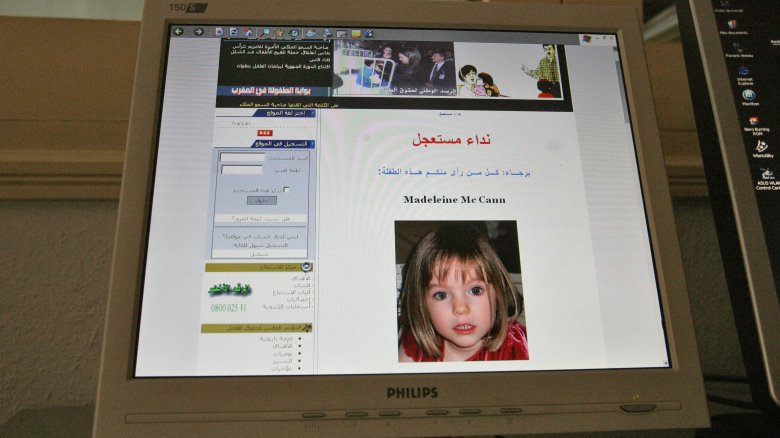 Sightings Continue Around the World
Despite the status of the case, sightings continue to come in from all over the world. According to a report released by The Sun, nearly 8,700 Madeleine sightings have been reported across 101 countries since 2007. Despite all the calls, police officers are still at an impasse.
Can you imagine if one of those calls were legitimate?!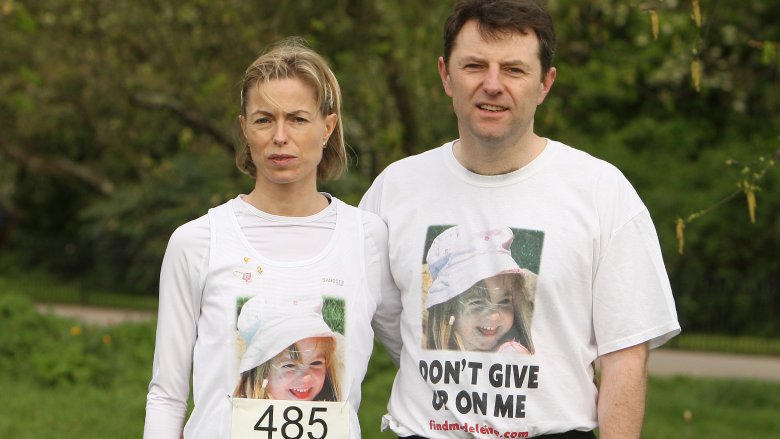 Madeleine McCann's Investigation Continues
Even though young Madeleine went missing over a decade ago, her parents are still actively searching for their child. Madeleine would be 15 at the time of this writing. According to CNN, London has four detectives working alongside the Portuguese police on the case.
Do you think Madeleine will ever be found?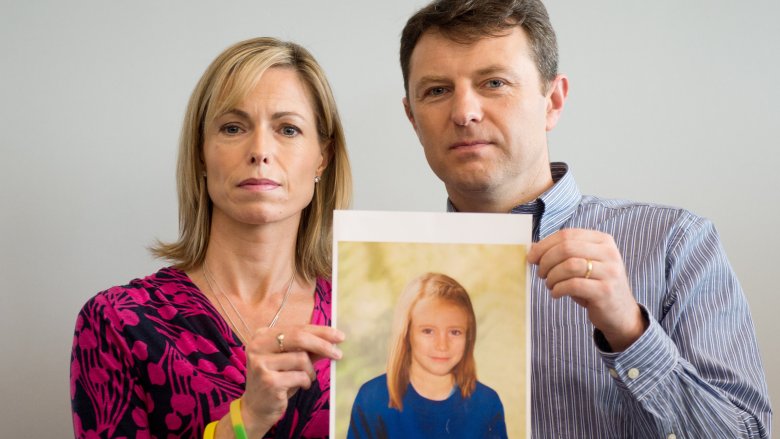 Daughter Overwhelms Parents Restaurant With Customers By Posting On TikTok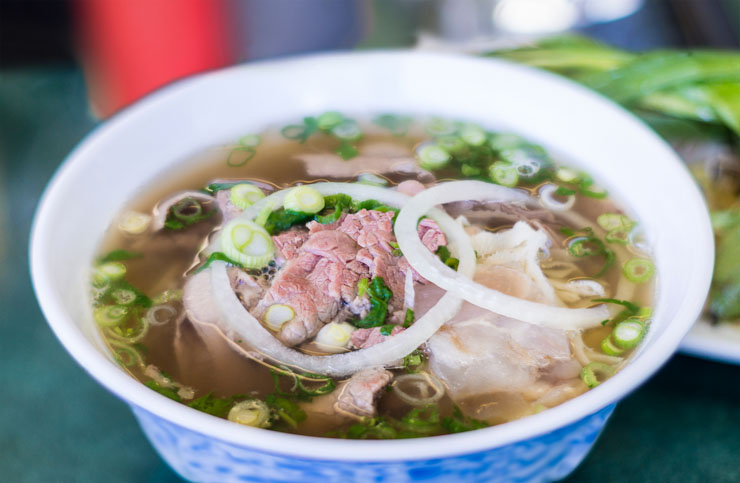 A seven-second video posted on TikTok by Jennifer Le has saved her parents' Vietnamese pho restaurant from going out of business. In the video, Le showed the empty restaurant and her dad looking sad at the register. She then asked for social media's help to keep the restaurant in business. The restaurant is in California and was doing ok before the pandemic, but has since had trouble getting customers to dine in.
The video went viral, and within hours, it had garnered millions of views and shares. People all over the world were touched by Le's message and began sharing the video on their social media accounts. The response was overwhelming, with people expressing their support for the restaurant and their willingness to help.
As a result of the video, the restaurant was flooded with customers, many of whom had never heard of the place before. The increased business allowed Le's parents to keep the restaurant open and the phones are ringing off the hook. The family was overwhelmed by the outpouring of support and expressed their gratitude to everyone who had shared the video and visited the restaurant.
Le's video is a perfect example of the power of social media to effect change. In just seven seconds, she was able to capture the attention of millions of people and inspire them to take action. The video also highlights the struggles faced by small businesses during the pandemic and the importance of community support in keeping these businesses afloat.
Le's video has since become a source of inspiration for many people who are struggling with similar issues. It serves as a reminder that even the smallest actions can have a significant impact, and that we all have the power to make a difference in our communities.