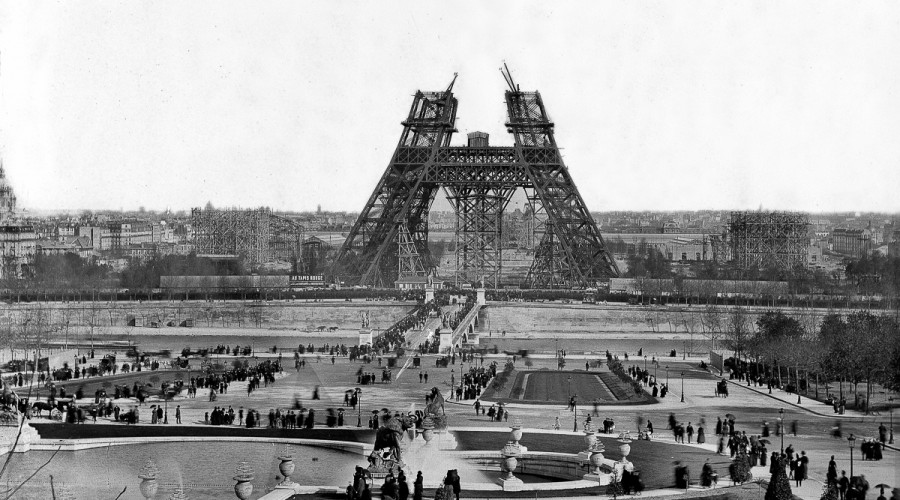 20 Rare Historical Photos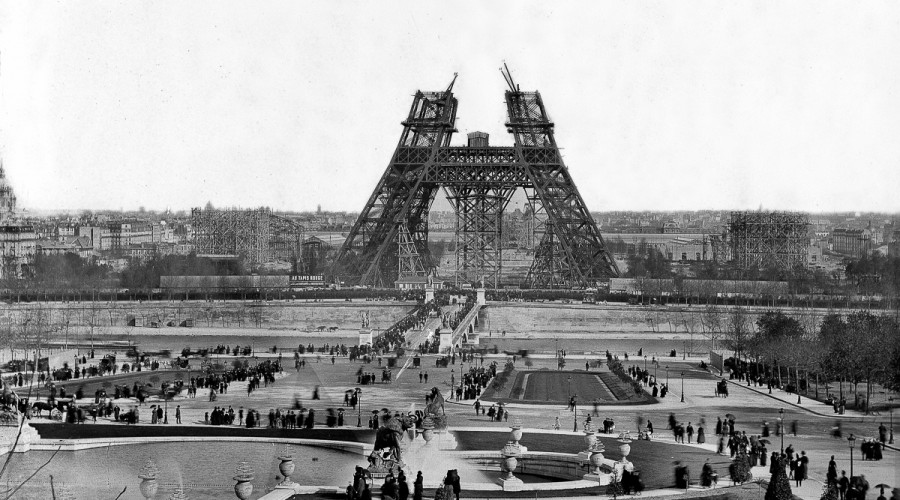 We are going to show you some rare historical photos from the past to bring alternative proofs of modern history. From the most incredible inventions to the construction of the Statue of Liberty. Enjoy this rare but interesting travel to the past. Eiffel Tower construction July 1, 1887 and completed on April 15, 1889. This photo shows its 1988 progress, after completion of its first floor.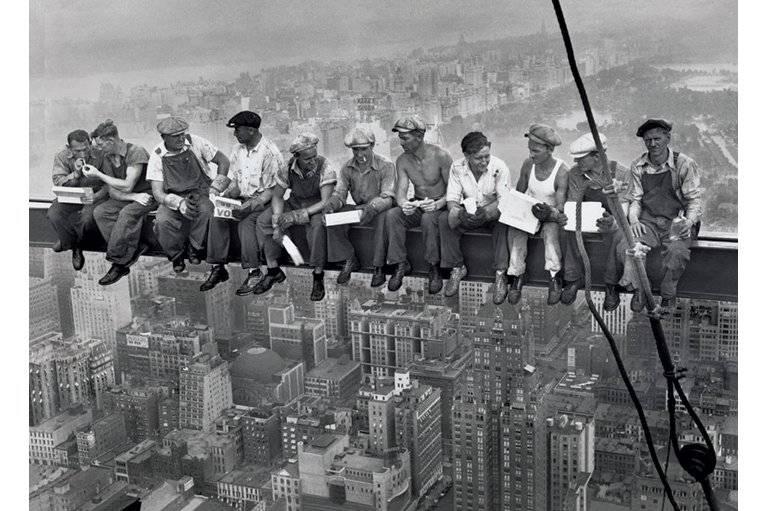 "Lunchtime Atop a Skyscraper" shows construction workers eating lunch 840-feet above ground on break from building what is now the GE Building, 30 Rockefeller Plaza. Photographer Charles C. Ebbets snapped the photo on September 20, 1932, as work on building progressed to its final stages – the 69th of 70 floors.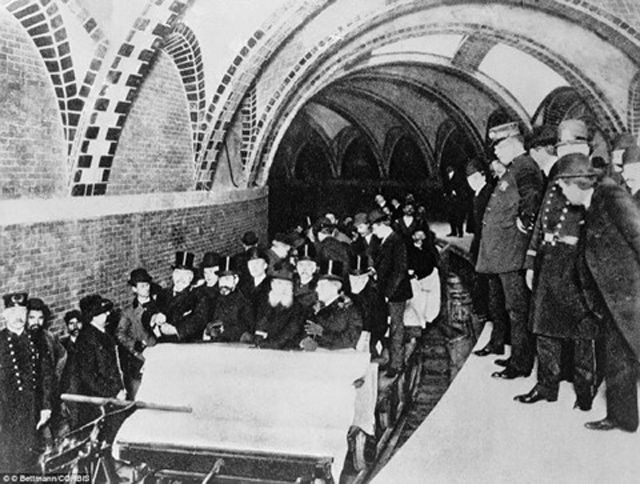 The First Passengers Using The Brand New Subway System Of New York City in 1904. On October 27, 1904, New York City's mayor, George McClellan, opened the now famed New York City subway system at 2:35 pm. He drove the first passengers, who paid ¢5 to ride the city's underground transit system that then covered 9.1 miles of track through 28 stations.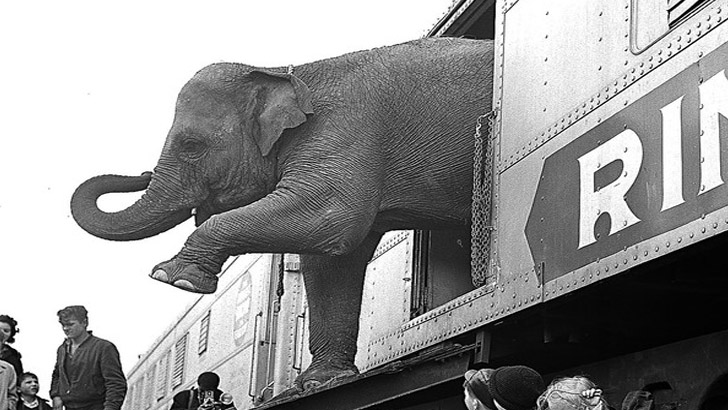 The now defunct Ringling Brothers Circus arrived by rail in the Bronx on April 1, 1963. Children watched as one of circus' massive elephants stepped off the transport car.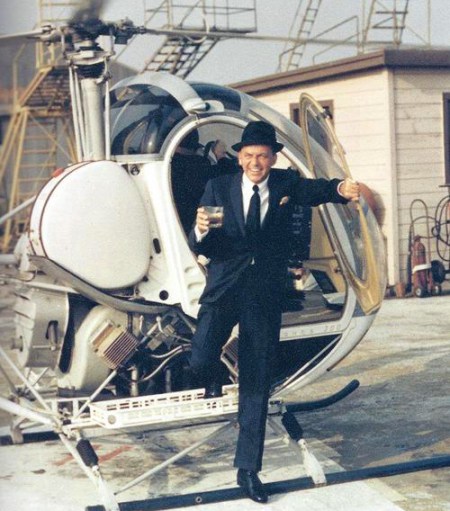 Famed actor and singer Frank Sinatra steps off a helicopter in 1964 with a drink in hand. Sinatra drank a bottle of whiskey a day and is considered a functional alcoholic by medical experts. In the weeks leading up to recording an album, he'd eschew both alcohol and cigarettes to prepare his voice for work, then return to regular consumption after the project wrapped.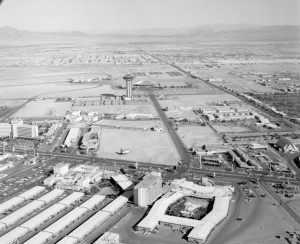 This shot of the Las Vegas Strip in 1968 shows the famous Stardust Casino and Hotel, a major money maker for the American mafia since its inception in 1958. At the time of its construction, the Stardust, was the largest casino and hotel in the city with 1,000 hotel rooms and a vast 16,000-square-feet casino. The story of the Stardust provided the topic of the film "Casino," starring Robert De Niro, Sharon Stone, James Woods.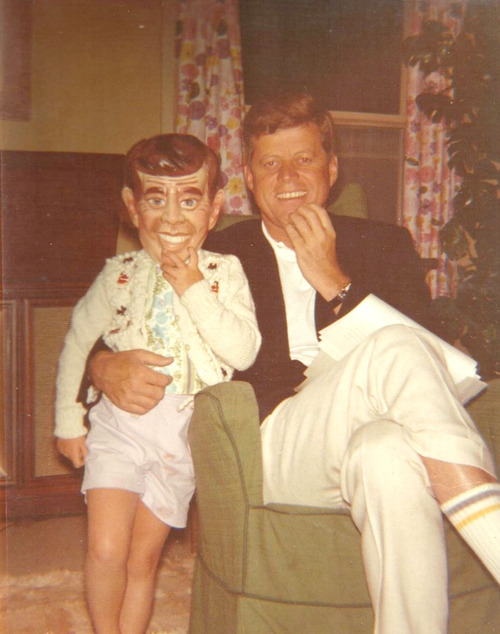 In 1962, President John F. Kennedy, Sr. took a break from work to clown around with his eldest child, Caroline. His daughter looks a bit different wearing a Halloween mask of her dad's face.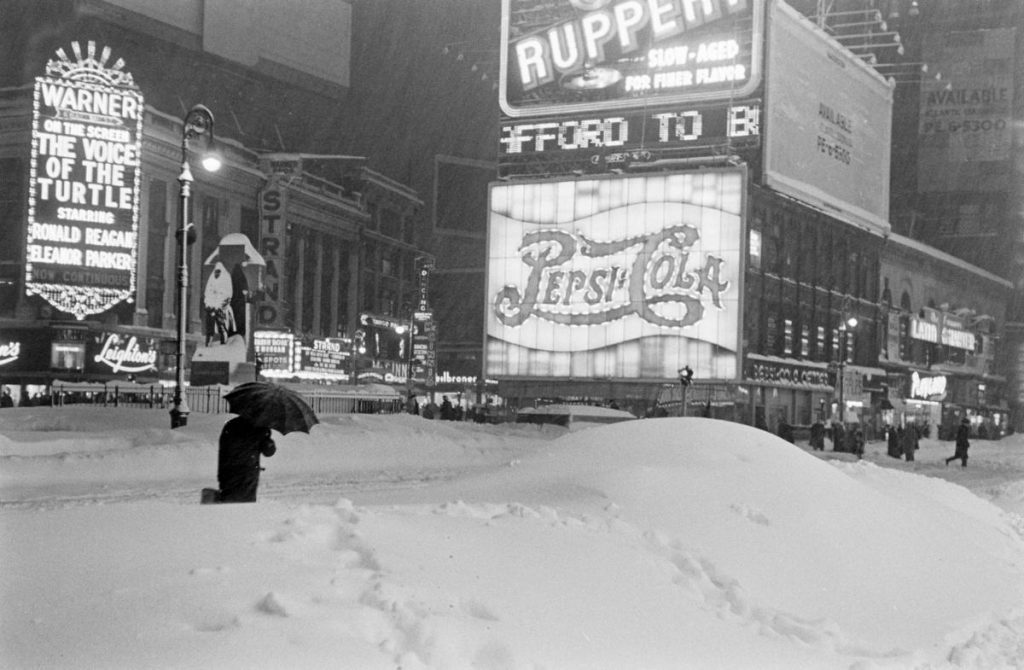 Far from a normal winter scene in New York City, the storm depicted is the Great New York Blizzard of 1947 which buried rather than blanketed the city. The snow began at 3:20 am and laid three inches on the ground by the time residents headed to work. The forecasted flurries turned into the biggest NYC blizzard up to the time – 25.8 inches during a 24-hour period that stalled vehicles in the street.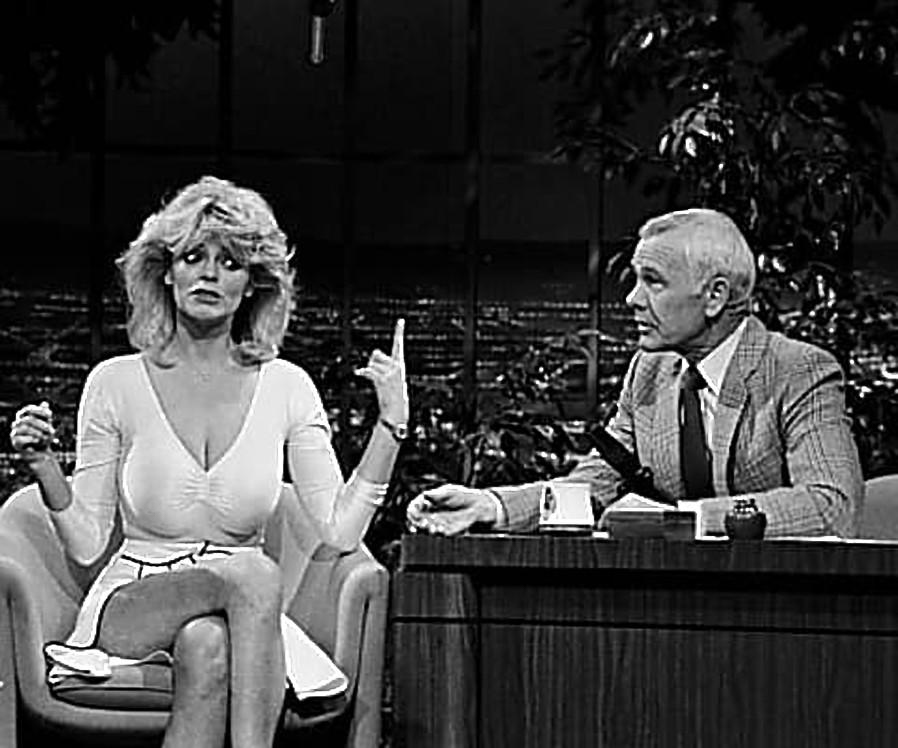 Blonde bombshell Carol Wayne made a career out of appearing on The Tonight Show. She performed in over 100 skits often as a ditzy blonde the was frequently the butt of Johnny Carson's inappropriate jokes and innuendos.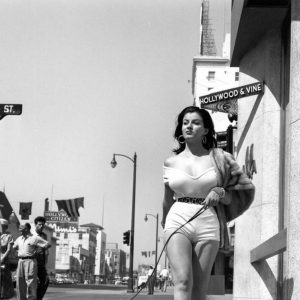 This iconic photo was taken when actress Joan Bradshaw was only 17 as she walked her dog down Hollywood Boulevard. Joan went on to enter many beauty pageants eventually winning Miss Texas USA in 1953 and becoming an iconic pinup girl.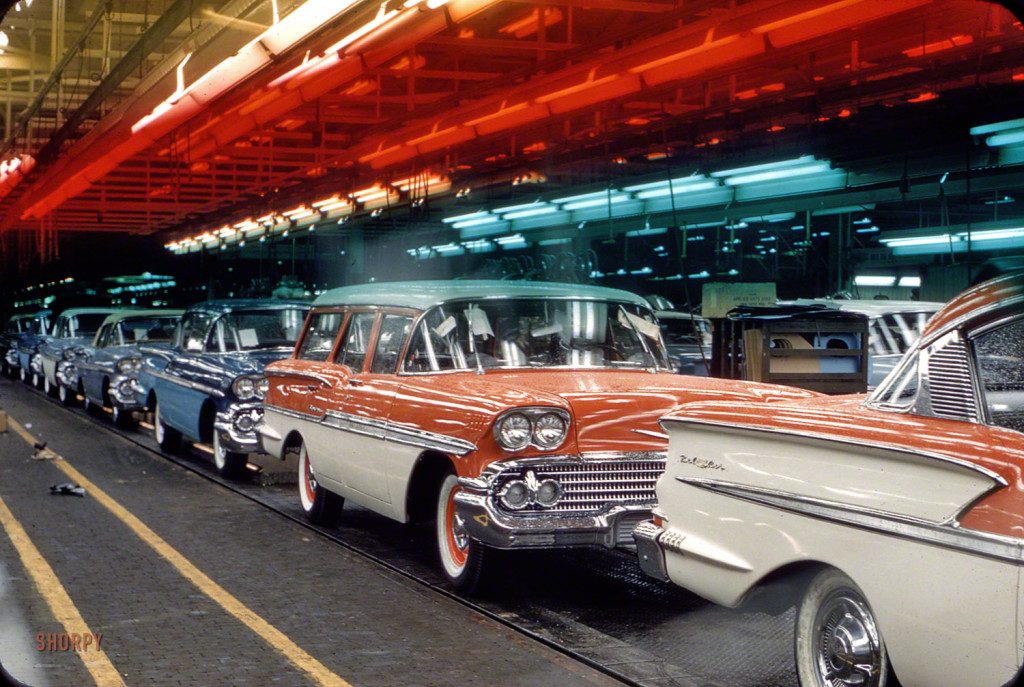 The American car manufacturer Chevrolet produced many iconic vehicles in 1958, including the Bel Air and Impala, which it introduced that year. The Impala continues in production today, having become a classic of the US motor industry.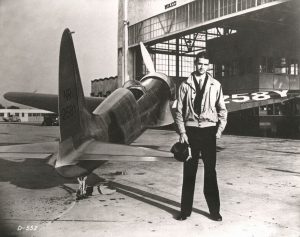 American businessman and aeronautical pioneer Howard Hughes poses with his airplane the H-1 racer. He piloted it in 1935 to set the then world record speed for landplanes – 352.388 miles per hour.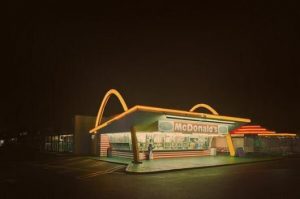 The oldest still operating McDonald's restaurant opened on August 18, 1953. Located at 10207 Lakewood Boulevard, Downey, CA, it still serves customers the iconic hamburgers that started the fast food industry and franchise restaurants.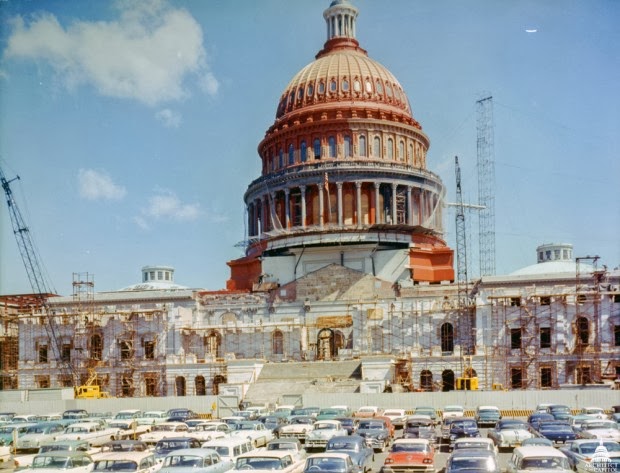 In 1959, the Architect of the Capitol undertook efforts to restore the US Capitol's dome, constructed largely of iron. Its exterior paint was sandblasted off, then a rust-proofing substance applied before it received its new paint.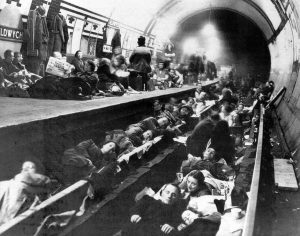 During World War II, Germany regularly bombed England, including its capital, London. Called "The Blitz," Londoners sought shelter from the barrage of V1 flying bombs and V2 flying rockets in the city's subway stations. The government eventually converted the Aldwych station to a permanent shelter, adding bunk beds and toileting facilities.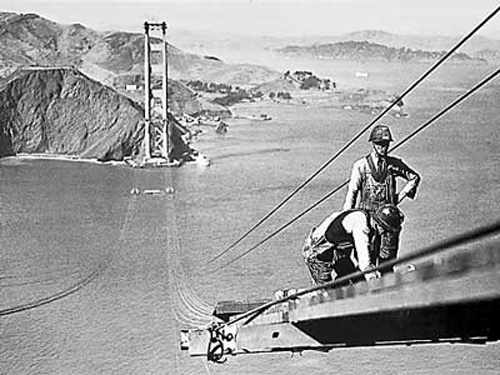 In 1935, construction of the Golden Gate Bridge was halfway finished with brave construction workers working above a net suspended over the water to catch them if they fell. The net saved 19 workers, members of the "Halfway to Hell" club, during construction of the second longest suspension bridge. (The longest is the Verrazano Narrows Bridge constructed in 1964.)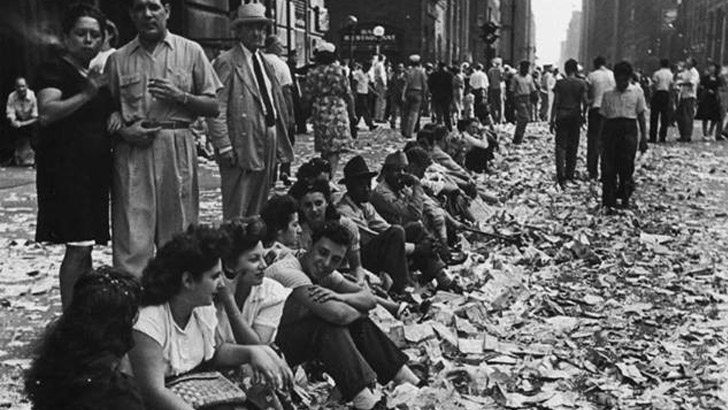 New York City residents sit on streets littered with celebration remnants after celebrating the end of World War II. On August 14, 1945, the 15,000 lightbulbs on the Times Tower zipper sign spelled out "Official – Truman announces Japanese surrender." and the city erupted in celebration.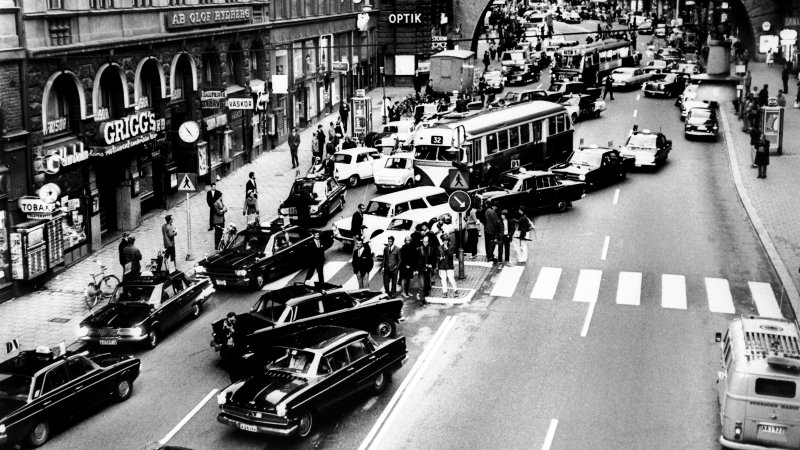 On September 3, 1967, the country of Sweden switched its traffic laws and driving direction. Called Dagen H, the day marked the day the country switched from driving on the left-hand side of the road to driving on the right-hand side of the road.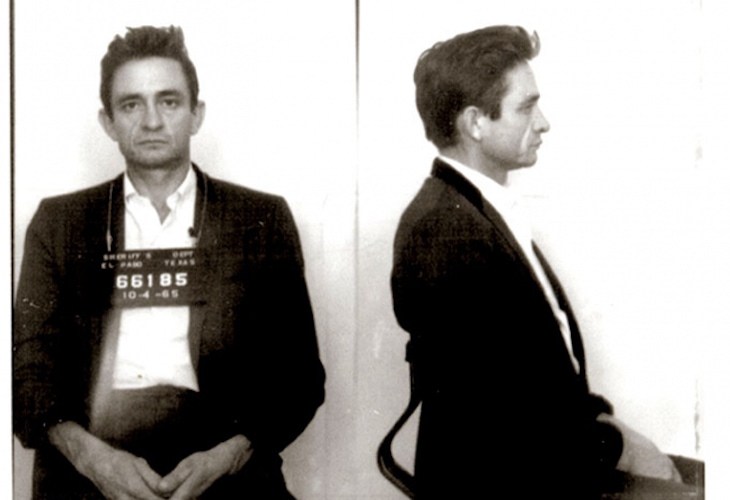 Johnny Cash Arrested On Suspicion Of Drug Smuggling In Texas, 1965. "The Man in Black," musician Johnny Cash, also moved a little weight in his time. US narcotics officials raided his plane when he returned from touring Mexico, expecting to find heroin, but instead unearthing a massive stash of amphetamines and sedatives the musician hid in his guitar case. Cash had enough drugs to fill a legal prescription for a year or more.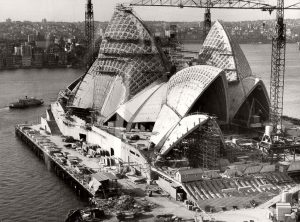 Aerial View Of The Construction Of The Opera House In Sydney, 1966. The iconic Sydney Opera House took 16 years to construct, from 1957 to 1973. Its construction cost 15 times more than initially budgeted, angering Australian citizens.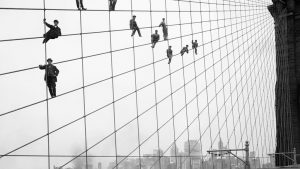 Painters On The Brooklyn Bridge, 1914. The photo "Brooklyn Bridge showing painters on suspenders" was snapped by a Department of Plant and Structures employee, Eugene de Salignac. He photographed many city construction and improvement projects in his 28 years with New York City, but his photographic eye went unnoticed until 2007 when de Salignac was honored with a show of his work – 65 years after his death.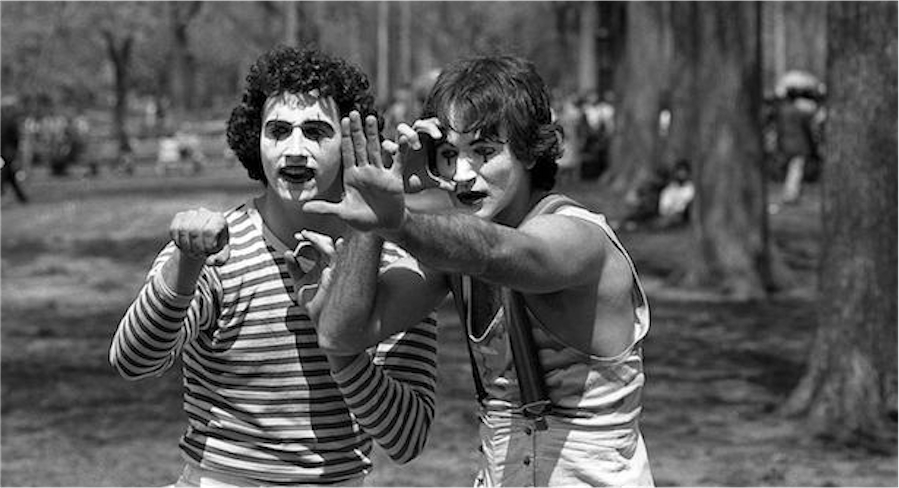 Young Robin Williams As A Mime In Central Park, 1974. Photographer Daniel Sorine snapped a picture of two young mimes in Central Park in 1974. One of the mime's became one of America's most famous comedians – actor/comedian Robin Williams (July 21, 1951 to August 11, 2014).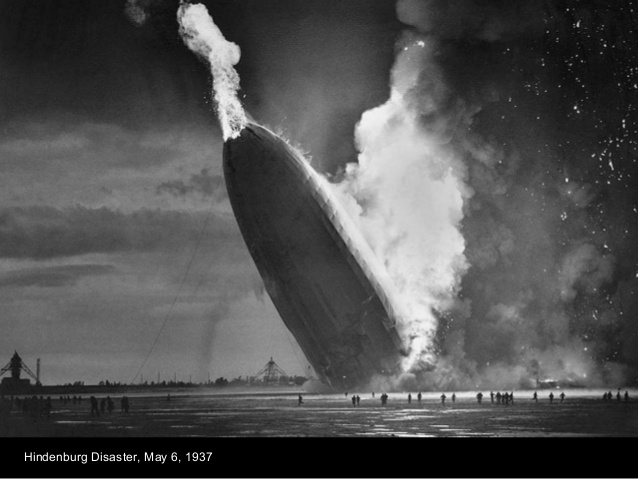 This photo is an image of the famous Hindenburg crash. The famed balloon went up for it maiden voyage to show passengers and spectators alike the potential for balloon travel when a spark ignited the hydrogen that filled the airship while it attempted to dock. In all there were 36 fatalities and injuries as well.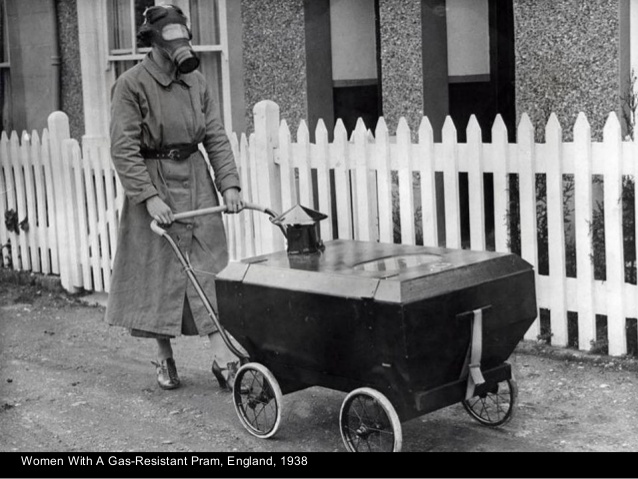 In the 1930s chance of war with Germany was on the minds of everyone in England. Here we see a photo of a mother pushing her gas resistant stroller with her gas mask. It was important to take precautions that would protect the citizens while they were out and about in the case of an attack by the Germans.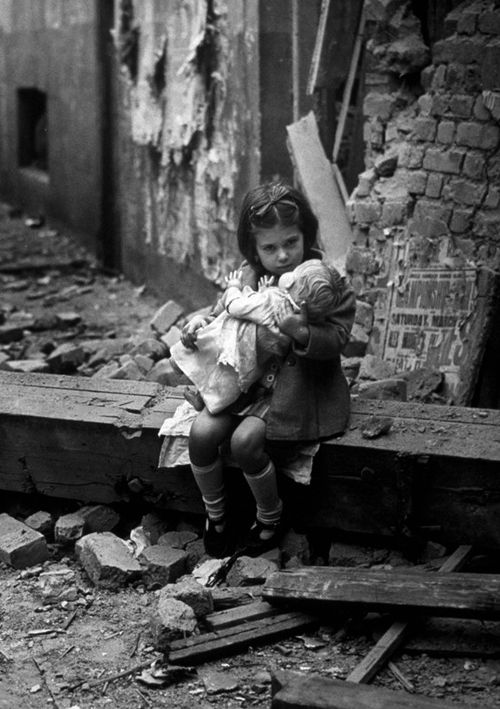 Here we see a little girl holding her baby doll in the blown out wreckage of her home after the London air strikes during WWII.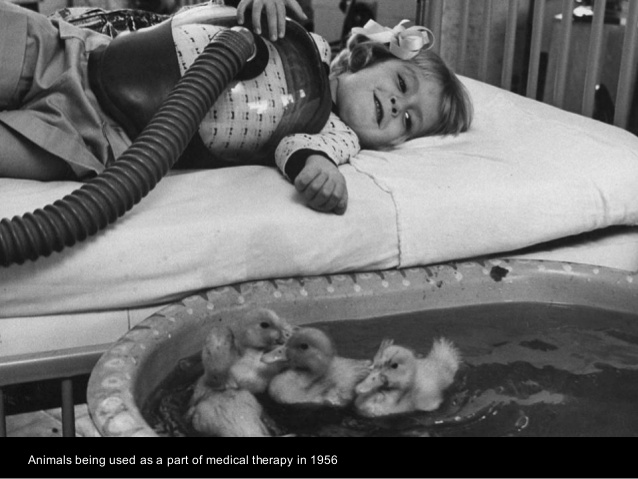 Animal therapy has long been a fantastic way to bring the spirits of people up when they are sick. Here we see a child that is undergoing a medical treatment and ducks are being used to help raise her spirits and take her mind off of her ailment.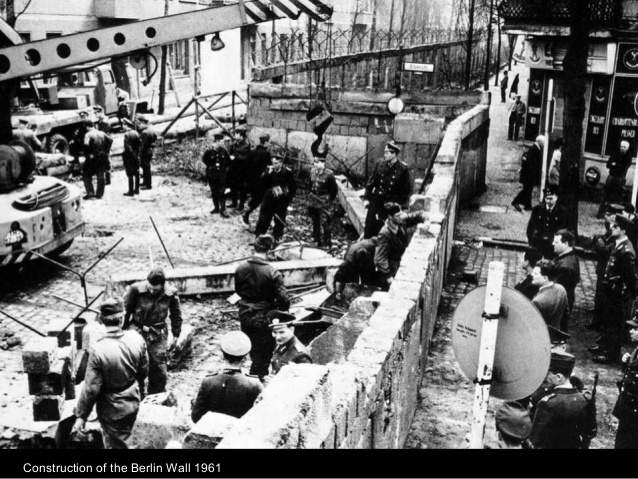 We've all heard about the Berlin Wall but few people have seen it save for those that live in Germany. Here we see the construction of the wall when it was barely as tall as a grown man in the year 1961.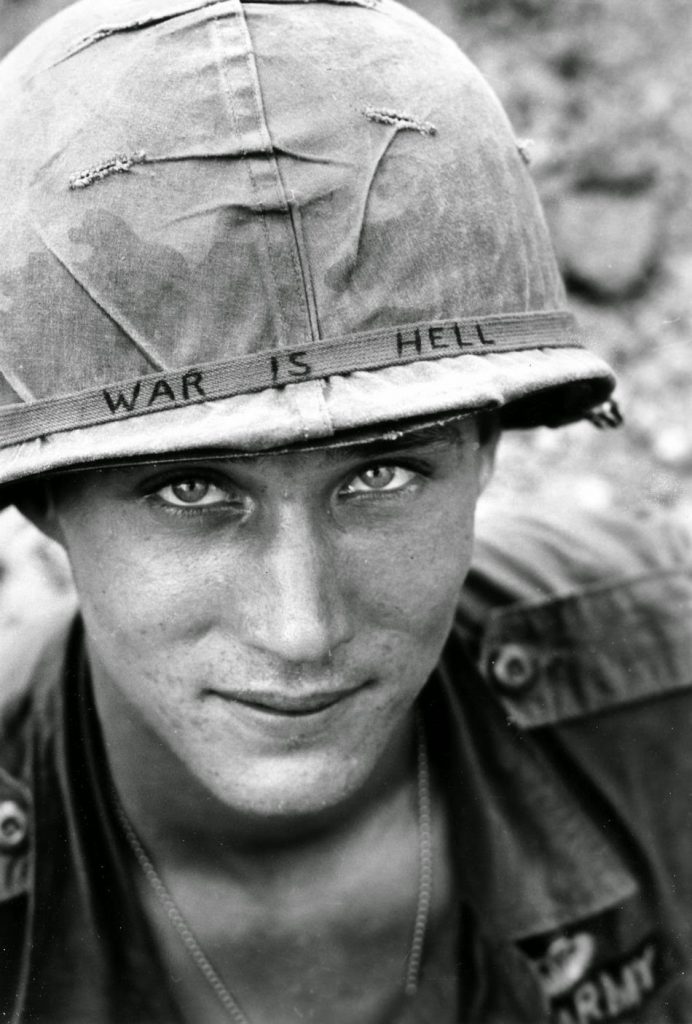 This photo of the unknown soldier with the piercing eyes has been shared millions of times and here we see it again. This soldier has "war is hell" scrawled on his helmet and is serving in the Vietnam War in the year 1965.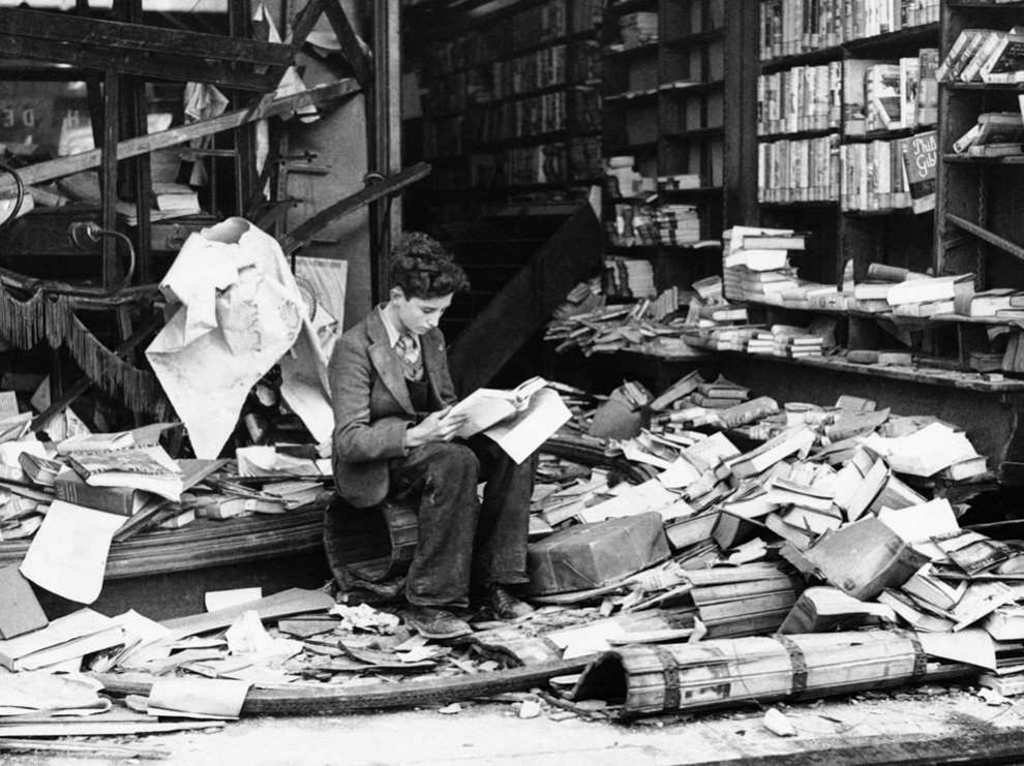 Here we see young boy reading some of the books that were once housed in this bookstore before it was destroyed by the London Air Raid of 1940.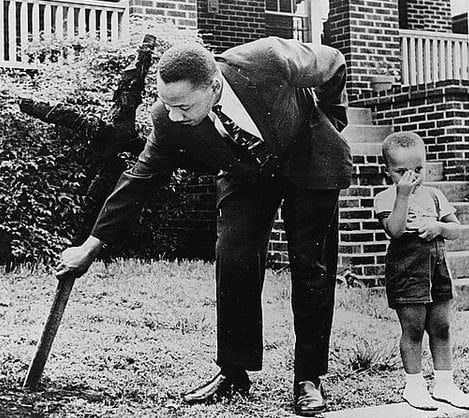 Martin Luther King Jr. was certainly a man to be reckoned with. Here we see him with his very young son in the year 1960 removing the charred remnants of a burnt cross from his front yard.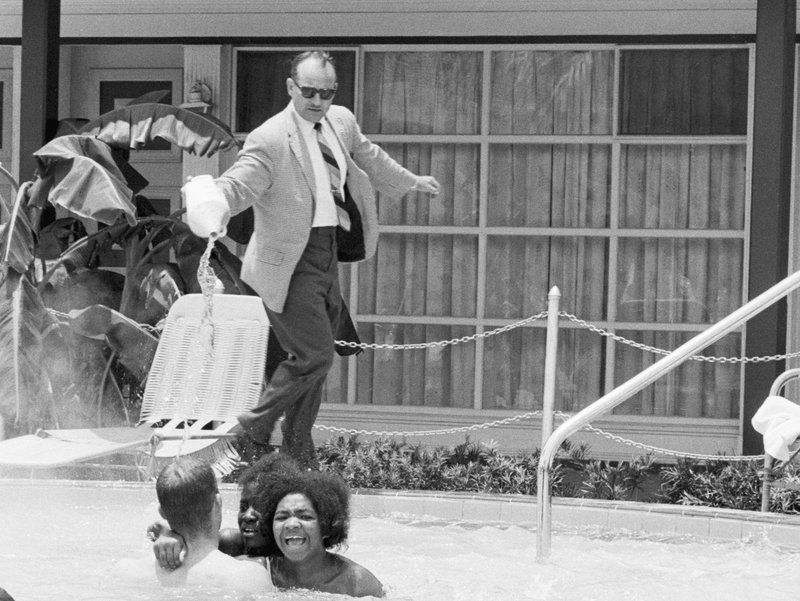 Racism was still rampant in the United States even in the year 1964. Here we see a hotel owner throwing acid into his pool when African American people swam in it.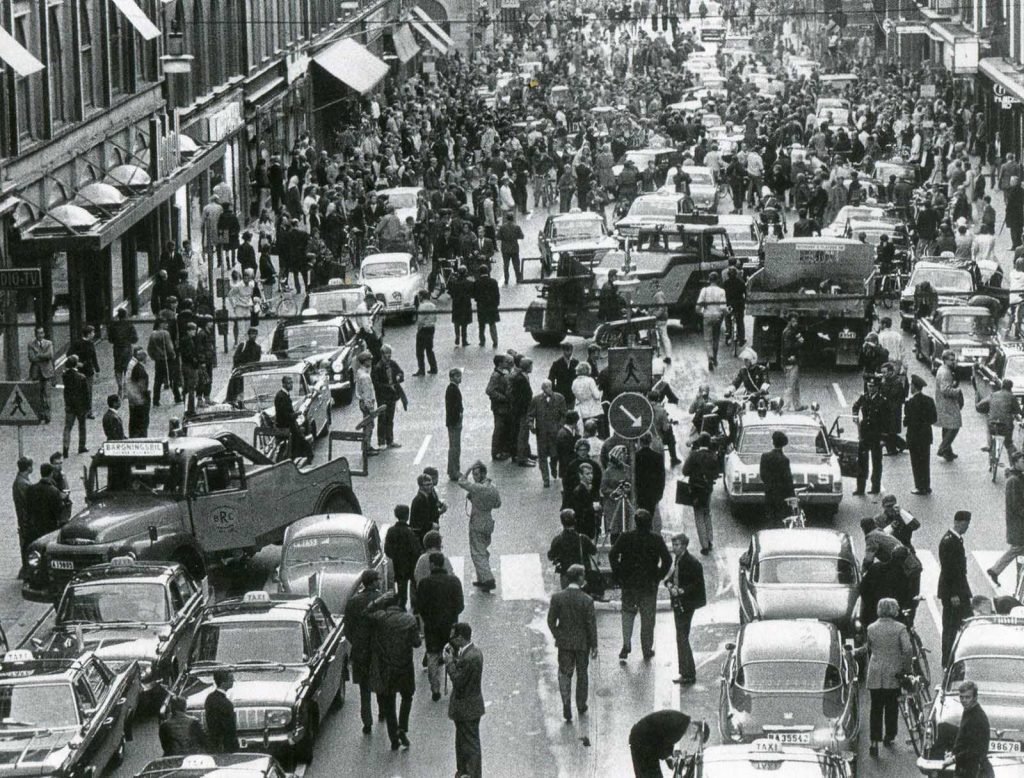 After being set in their ways for years, the government decided to switch from driving on the left side of the road to the right in Sweden and this mess is the result.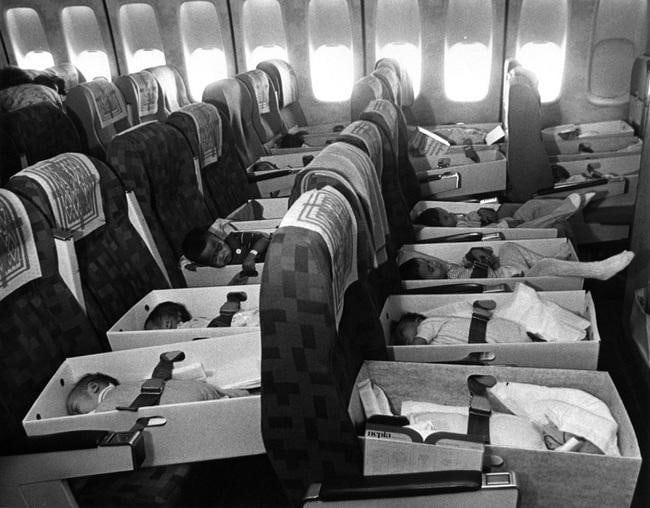 Here we see babies that were airlifted out of Vietnam after the war being taken to America after they had been orphaned in 1975.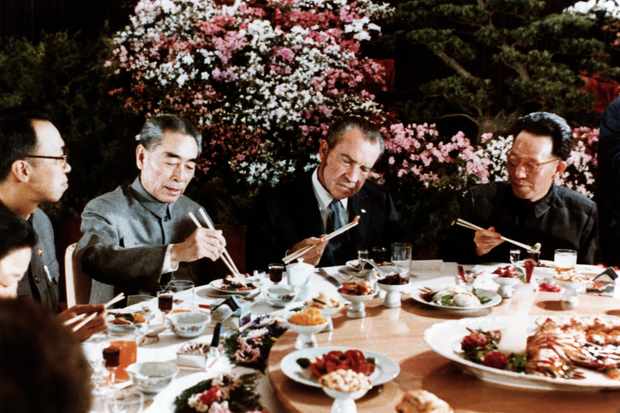 Here is a photo of a very confused Richard Nixon trying to use chopsticks on a diplomatic visit to China in the year 1972.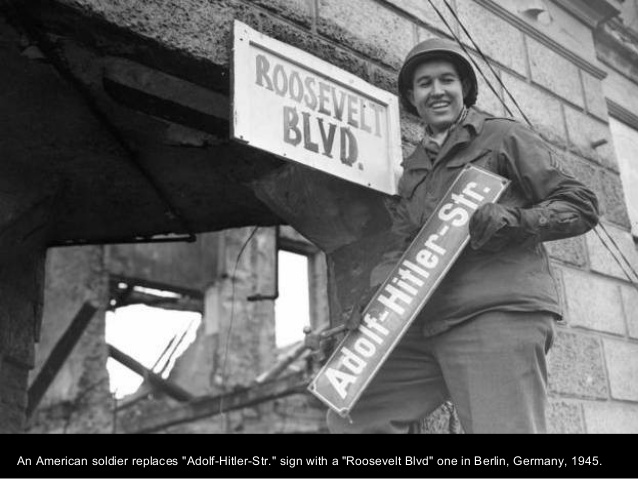 Here a solider removes the Adolf Hitler street sign after the conclusion of WWII in Germany and replaces it with Roosevelt Blvd.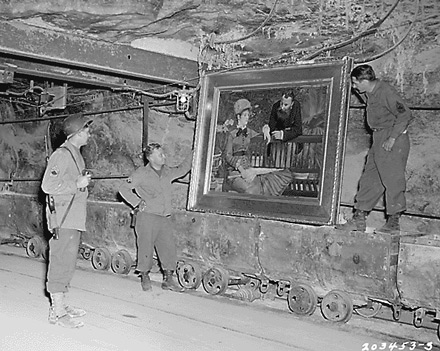 Here we see some of the stolen art that Hitler took during WWII, this is Manet's "In the Conservatory"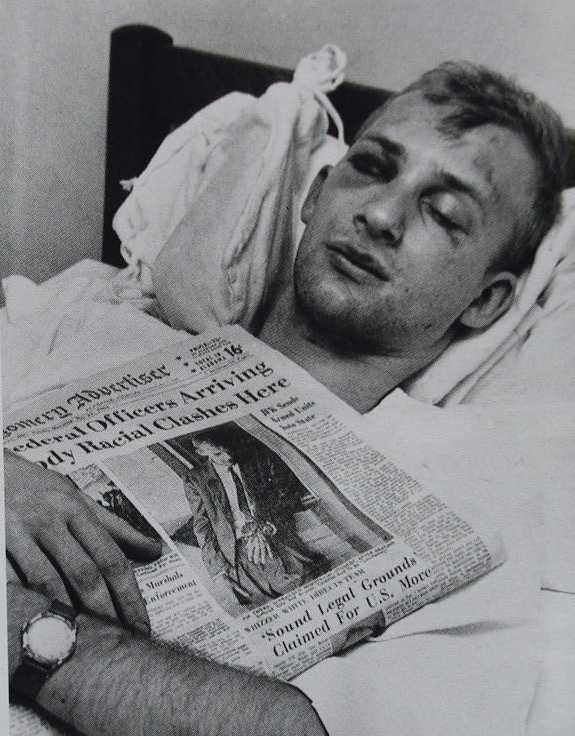 Here we see civil rights activist James Zwerg after he took the brunt of the beating from white crowds as he left a bus during the Alabama freedom rides in 1961.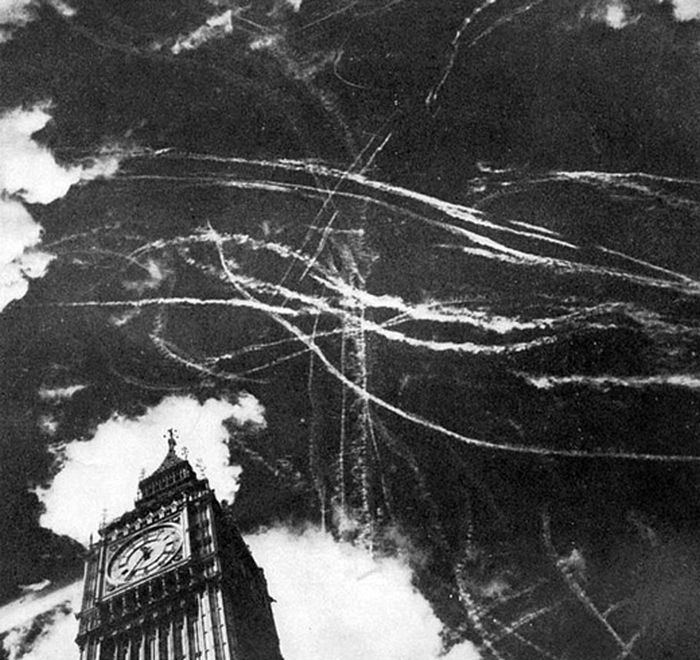 A photo of the sky over London after the bombing and following dogfight between British and German planes. Entire city blocks were leveled and millions of people were injured or even killed during these bombings.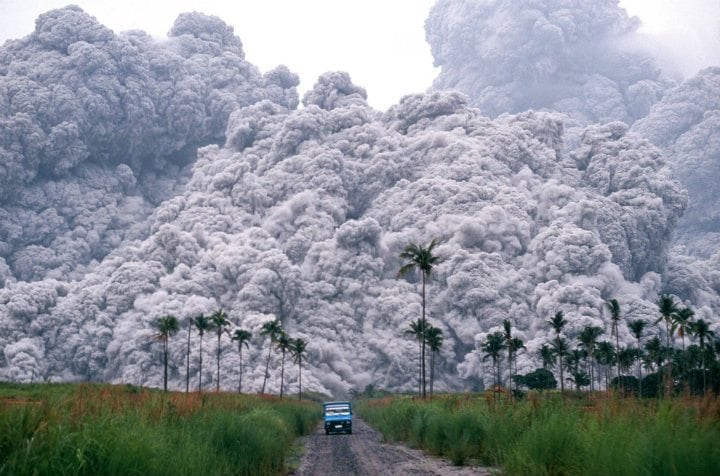 Pyroclastic Flow is the mixture of gas, lava and ash that is expelled from a Volcano when it erupts. Here we can see the pyroclastic flow from the eruption of Mt. Pinatubo, Philippinnes in 1991.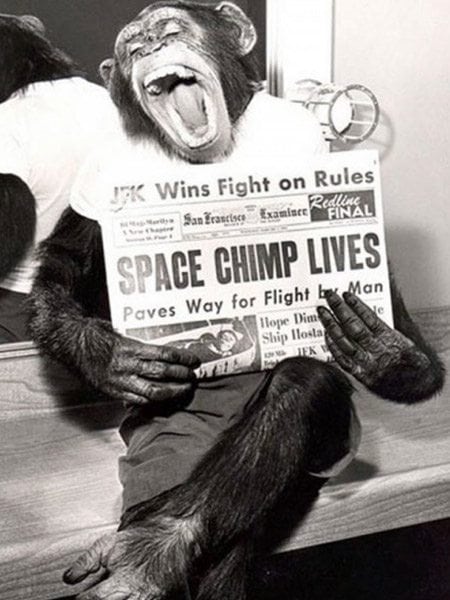 Ham the Astrochimp got to do things that no money ever did, he was the first Chimpanzee sent into space. This was a test for NASA to see if they could send a humanoid into space in 1961.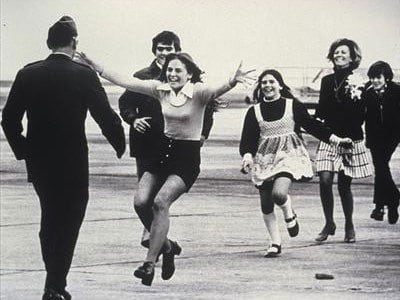 Want to see what it looks like when your family sees you for the first time in six years, look below. This picture was taken as Lt. Col Robert Stirm, a prisoner of war in Vietnam was released and then reunited with his family.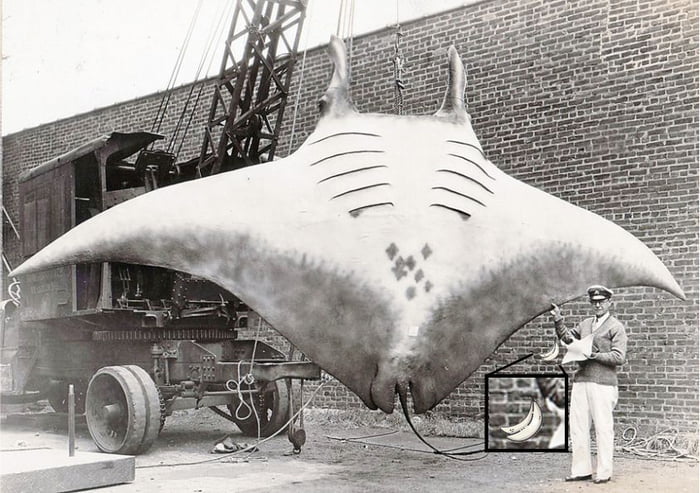 This is not photoshopped but indeed a real Manta Ray caught by Captain Al Kahn. The Manta Ray nicknamed 'Devil Fish', was over twenty feet wide and weighed more than five thousand pounds.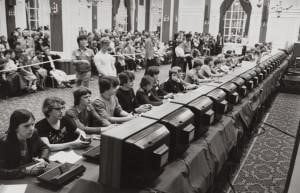 Long before Fortnite and Madden esports packed arenas, a group of 10,000 people gathered to take part in the Nation Space Invaders Championship as seen in the below photo.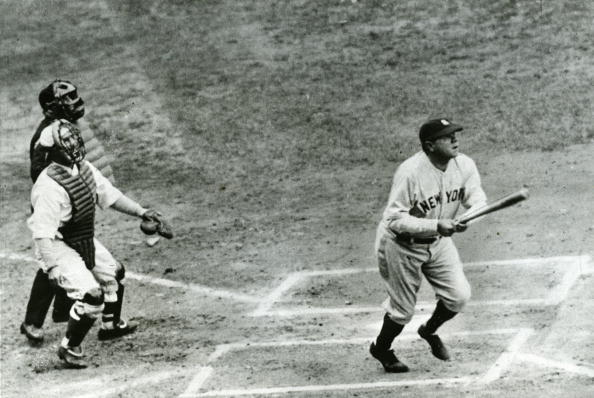 Babe Ruth had so many milestones in his hall of fame baseball career that it would take a whole post dedicated just to that subject to even touch on a few of them, so instead we will show you one of his most memorable moments where he hits his 700th Home Run in 1934.
Massive Sandcastle Built by Auckland Brothers Impresses Scores of Beachgoers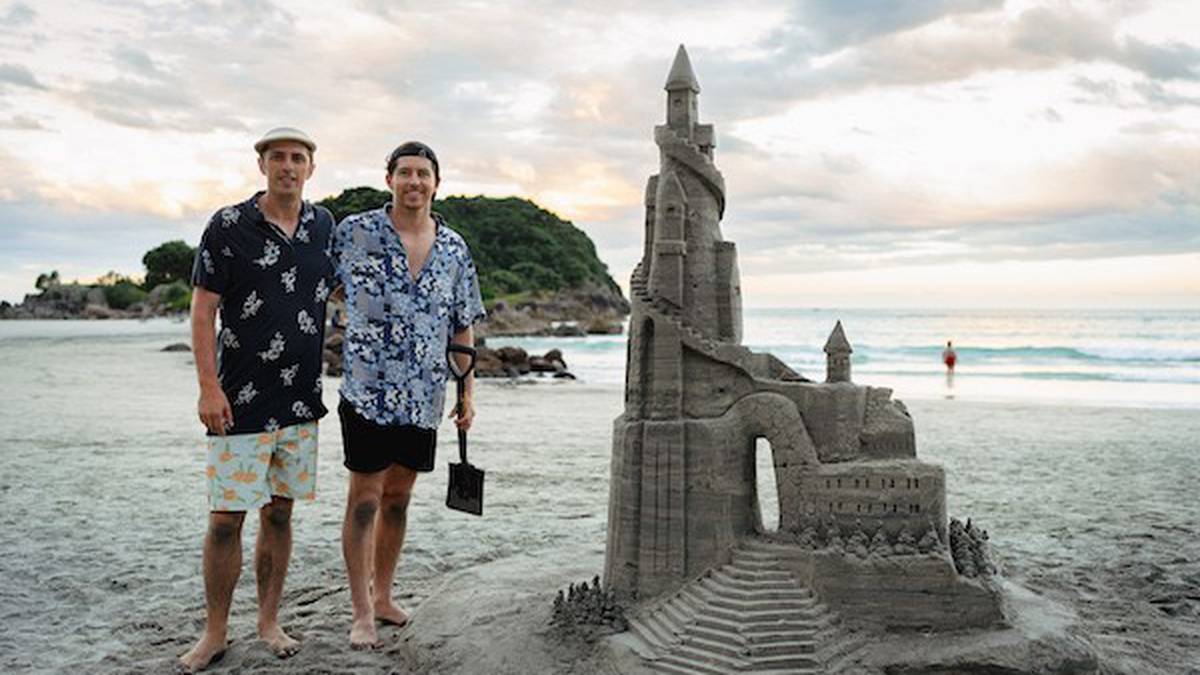 When you have run out of Christmas ideas, nothing beats going to the beach and letting your creative juices flow. That's what two brothers in New Zealand did this past Boxing Day and ended up with an amazing and eye-catching sandcastle.
After building a massive sandcastle on Boxing Day, two Auckland boys gained praise from other people around Mt Maunganui's beach area that day.
Jared and Paul Brandon spent 10 hours that day building a two-meter-high sandcastle, beginning with a sketch of the structure "on a piece of A4 paper" and beginning at high tide. The pair plans to turn this into a Boxing Day ritual.
On Christmas Eve, the brothers started strategizing on how to top last year's one-meter-high tower on Boxing Day 2021.
Because Jared and Paul are "very competitive," they wanted to outdo their performance from the previous year. Before beginning their construction, the two searched online for sandcastle designs after visiting Bunnings to get tools, buckets, as well as a footrest.
Both residents and visitors have expressed admiration and astonishment at the beautiful creation.
Jared chuckles, "A guy is assessing how tall it is currently with his beach umbrella.
Jared informed the media, "This one is 2 meters, so we needed a few footstools to climb up tall enough and also used a builder's level so it didn't topple over.
The 150-liter pail was the biggest we were able to use, and the traditional household bucket was a fairly small one. We purchased them both from Bunnings.
Paul explains, "There are a few techniques, such as two portions of water to one portion of sand."
Then came the spatulas to shape the windows, then toothpicks for creating the roof piles, as well as the straws for blowing off the "extra sand."
The previous night, the two worked on it until 8 p.m., and unlike last year, it is still standing.
"Time went by incredibly quickly; it seemed like we were only at the beach for five hours, instead of ten." "Paul spoke to the press.
He claims that while working for a California hotel plus learning how to construct sandcastles as a kid-friendly activity, he acquired the skill there about eight years ago.
"Now that he's used that knowledge and developed it, he taught me. Therefore, for the previous four to five years, whenever we had the time, we would construct a sandcastle once a year " says Jared.
The two, who are both camera operators, intend to go much further next year and are hoping to enlist the aid of a larger family.
We will attempt to teach my sister as well as my brother-in-law to assist us as they appear interested this year. "We are striving to dredge up more relatives to get involved in creating a village in 2023."