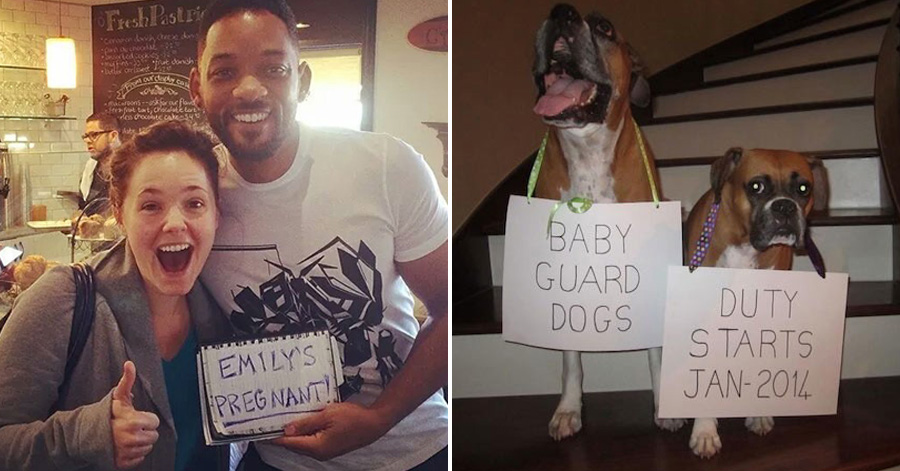 The World's Funniest Pregnancy Announcements
The arrival of a new member of a family is most certainly received with mixed reactions among different couples the world over. It mostly comes with jubilation, surprise, or even outright disappointment for those who have had one too many. There are countless ways that expectant parents prefer to use in breaking the news of a pregnancy to the outside world. As varied as there are no two fingerprints alike, parents are free to express themselves in their diverse peculiarities. A captivating photo shoot with a pregnancy announcement message shared on social media suffices for many, while others creatively choose words that express the irresistible joy of this exciting revelation or display a rare sense of humor to demonstrate great love and affection towards the expected baby. Since people are wired differently, the way they react to such important news and consequently relay the message to others is not the same.
A funny pregnancy announcement, therefore, provides the vent through which these mixed emotions can be expressed to declare anticipated arrival of another human being to the planet; arrival that's so profoundly important marking an experience of a lifetime. Get a taste of some of the most hilarious announcements sampled here, which promises to inspire you as an aspiring parent and alter your mindset forever about this often ignored subject. It'll also give you an idea on how to carry out your own announcement at an opportune time. Take a look and borrow some tips!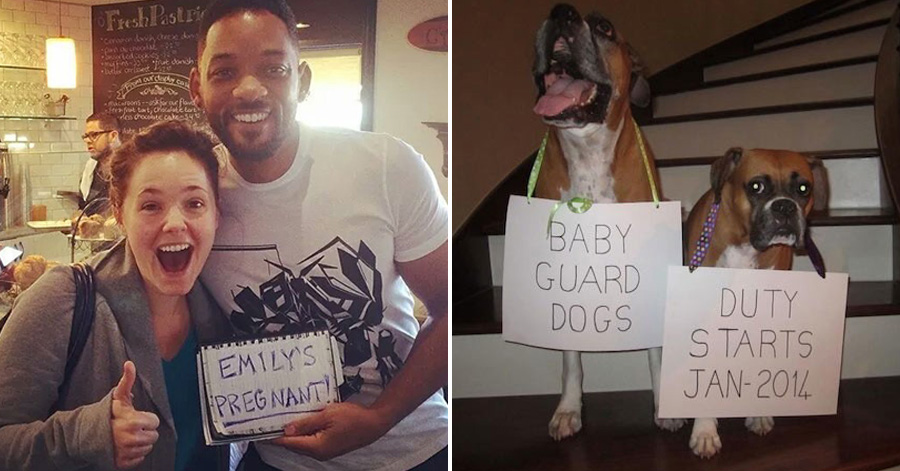 This couple is quite exceptional with this Parenting Practicing Pregnancy Announcement. A vividly painted picture is already on their minds of how they're going to bottle-feed their baby (still in the womb) in a few months as they lavishly demonstrate with these dogs. It, therefore, goes without telling that they are prepared to do much better when the real human baby arrives.
It's also noteworthy to consider the fact that it takes some training to be able to feed a baby properly, and the lady seems to be better at this by leaning the 'baby's neck slightly and gently backwards while nicely positioning the bottle to slowly transmit the contents to the mouth as the 'baby' sucks. The man seems to be following instructions from the manual to get it right.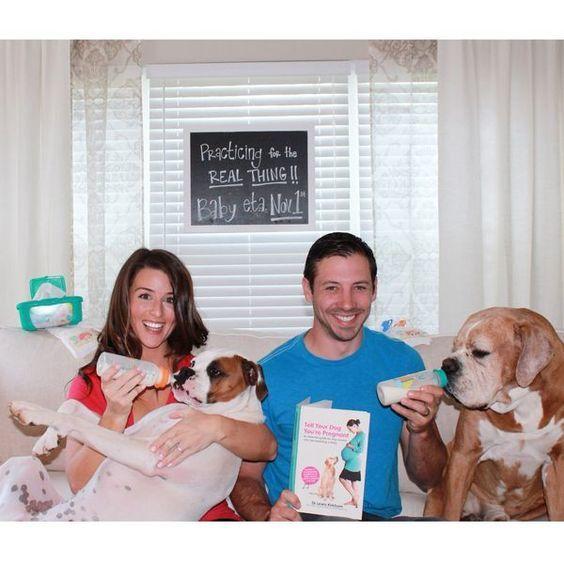 Here is another ridiculously outrageous gesture that we term as Gender Swap Pregnancy Announcement that simply indicates that there's nothing to be shy about pregnancy; the joy of becoming parents has clearly dismantled every feeling of shame as the father comically assumes the posture of the expectant mother (with a protruding belly) that's due for delivery. In reality, we know who's pregnant of the two even if it doesn't show yet. The message out there is, 'Hey, we're a couple over here, and guess what? We're pregnant!' The woman is pointing to the man, 'It's him who's pregnant, not me.' What a way to announce a pregnancy!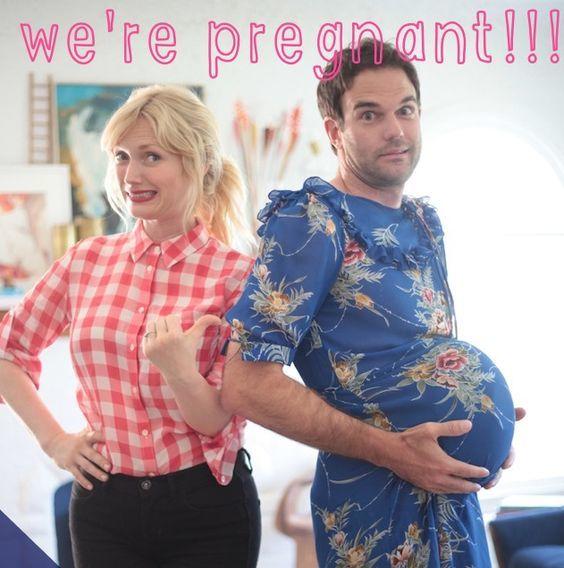 This little girl is clearly oblivious of what the real state of affairs is or what's coming, but is apparently holding firmly the memory of what mama said. She is repeating to herself the exact words mama used while sitting comfortably on her potty without enough information to figure out what to expect. A lot of times we tend to underestimate the power of kids in passing across important messages, and this one clearly stands out as Number Two Pregnancy Announcement.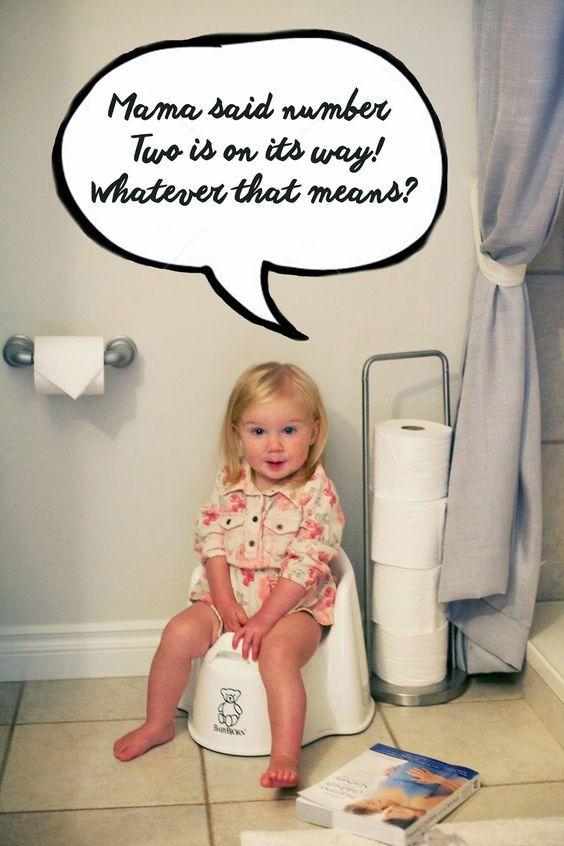 These first timers haven't received the baby yet but are already deeply engrossed in all the negatives that come with it, like changing dirty diapers in addition to spending sleepless nights to attend to the baby. If children are so good and these two are expecting one, why get scared of the added responsibility of nursing and raising them up? The message is home anyway; make sure you are ready for parenting responsibilities before kids come as echoed in this Street Sign Pregnancy Announcement.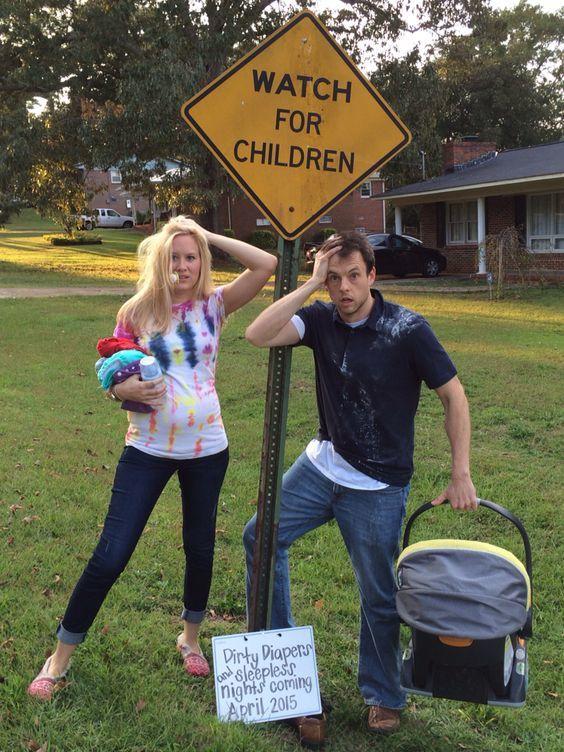 Life can be very interesting and even amusing as pictured in this We Planned, God Laughed Pregnancy Announcement. Imagine having anticipated the arrival of just one baby without consulting the creator, who is the author of life, but instead, you find yourself with two. The foolishness of it is laughable; never mind the fact that the mom knew she had a pregnancy but just didn't know it wasn't going to be the usual one baby per pregnancy, but two. It's the thrilling laughter of a double blessing that conceals the underlying ignorance of material facts not obvious to the natural mind. Adjust quickly!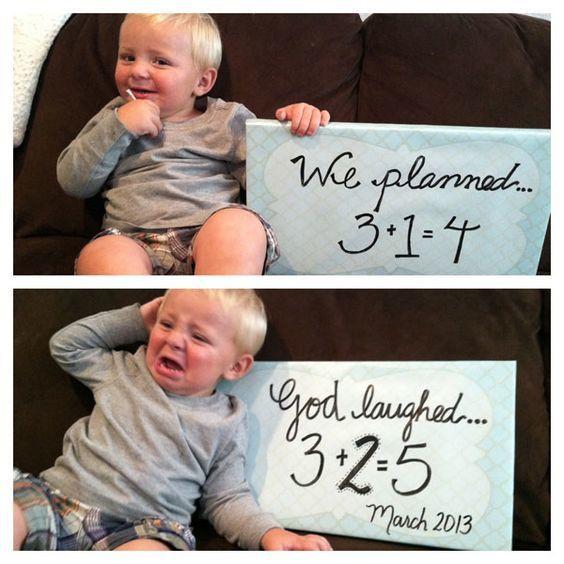 An amazing candid look of shock on receiving the news of a pregnancy is quite memorable and is a nice pick to convey the same information to others, especially to those that are likely to be as surprised as you were. The pregnancy test turns out to be positive right before your very own eyes, and you say, "No, no, not so soon, not now!" simply because it came at an unexpected time as seen with this family's Funny Reaction Pregnancy Announcement. The initial news that a new member of the family is on the way is supposed to be received with much fanfare and jubilation for this priceless gift, but on the contrary, these three are staring with a rude shock of bewilderment as if some kind of creature just appeared from the outer space.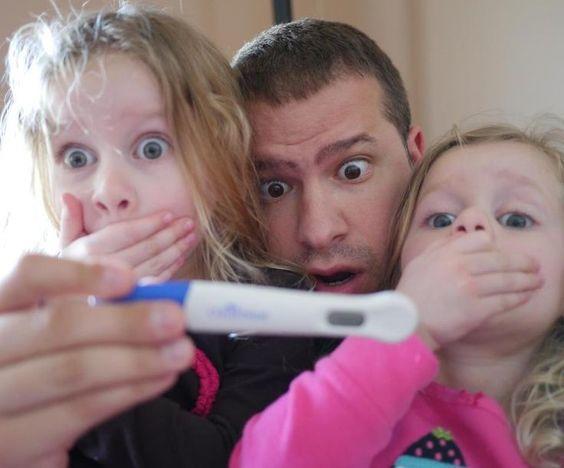 Toying around with reality offers a great opportunity to convey the all-important message of expecting a baby, in a mature and yet inclusive way that's also funny enough. Mom cravingly bites delicious meat while also grabbing the contents of dad's plate, 'eating for two'. Dad, on the other hand, is amusingly claiming a double share of the drink to gulp both for himself and the lad, an interesting way to show that a baby is on the way.
Who is this other person that the rest of us cannot see and yet very much around and eating? People will straightaway interpret the message and join in the celebration. This Drinking For Two Pregnancy Announcement captures the imagination of many would be parents as an adorable way to express themselves, one that's worth attempting. Explore this adventure!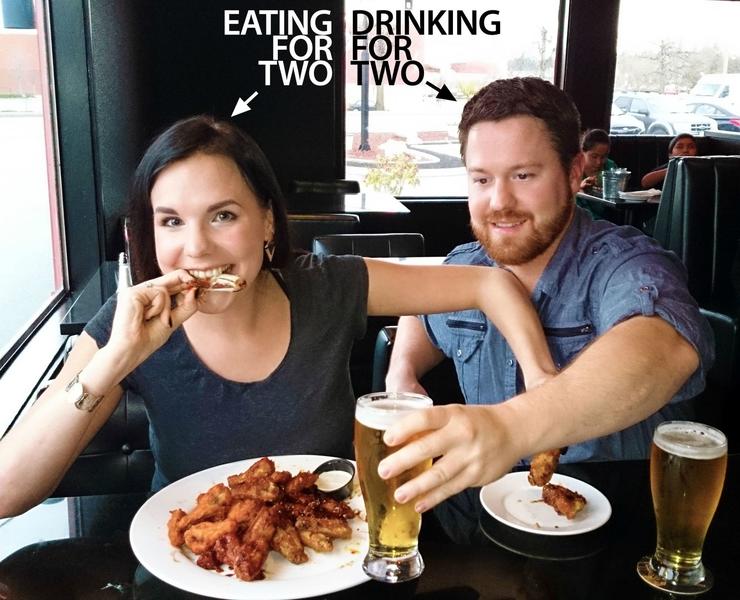 Homeless Man Who Helped a Woman Turned Out to be a Hoax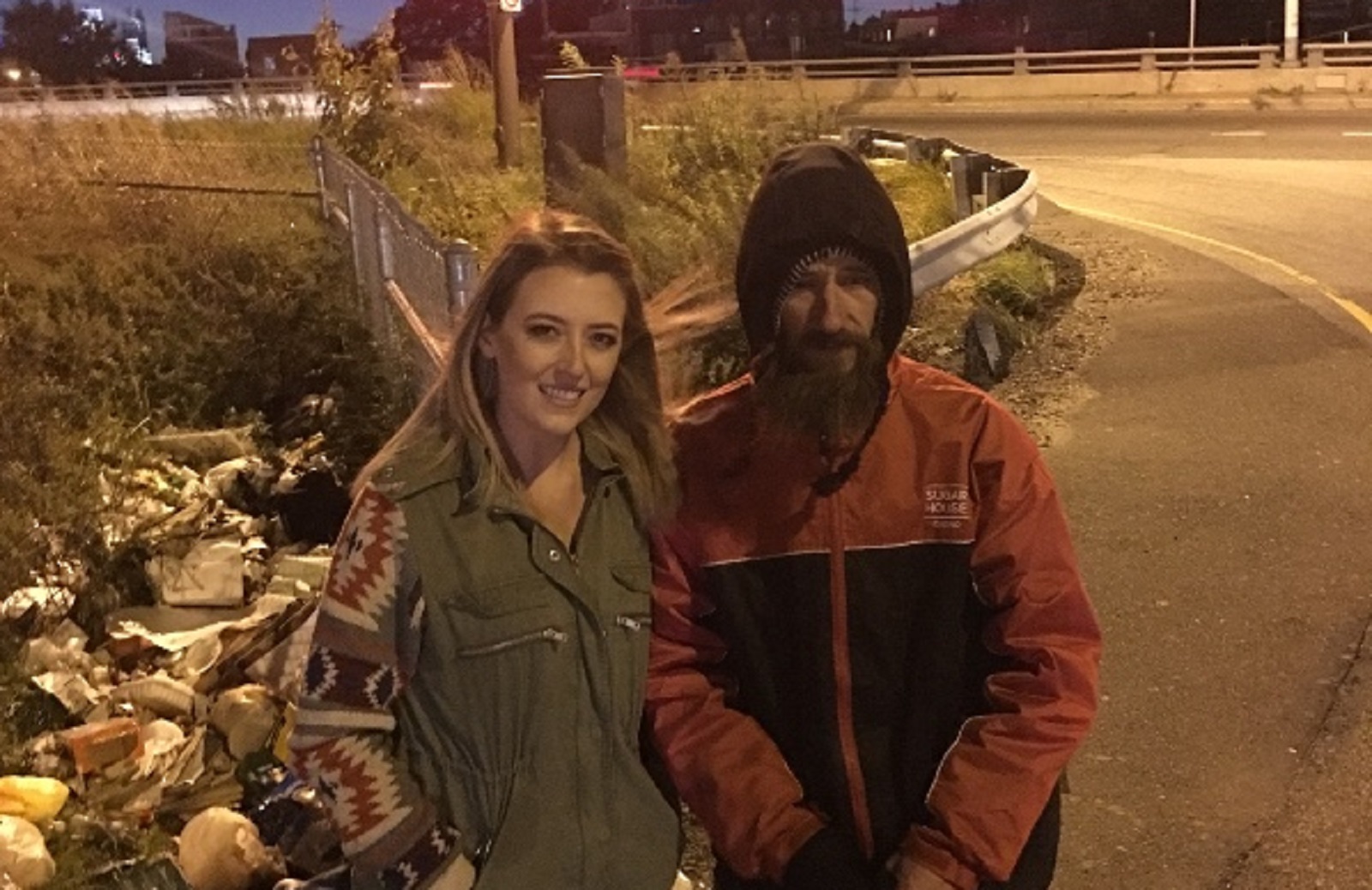 The story of the homeless man who helped out a woman needing gas for her car by donating his few dollars went viral on the Internet and had hundreds of people wanting to reach out and help. They did so through a GoFundMe site that ended up generating a sizable amount of charity and gifts. For those who gave money, it made them feel better instantly. There was only one problem. The story was made up. The man was not homeless, and the woman had never run out of gas.
Instead, the two were involved in an online scam that ended up defrauding folks out of approximately $400,000 in online money gifts. It was not only enough to trigger a serious crime, the pair got themselves charged with a federal conspiracy case and ultimately pled guilty in a New Jersey federal court. Johnny Bobbitt and Katelyn McClure both separately admitted their crime of wire fraud. Given their involvement and degree of actions, Bobbitt is looking at a potential 10 years in federal prison and $250,000 in fines. McClure for her part faces a bigger sentence of 20 years and a similar financial penalty. Both will find out for sure when they are sentenced. In addition to the federal charges, the pair also have a second round of trials to go through with state charges as well. It was a blunt, cold ending to a story and scam that started in 2017 and took off like wildfire, far better than Hobbitt and McClure thought it would.
The story was plausible and reasonable enough. A couple told their story online about how they wanted to help a homeless man who helped them. McClure and her partner posted that Bobbitt realized McClure was in trouble, stuck in Philadelphia without gas. She needed to get home, and Bobbitt, who was nearby, realized the problem. He then gave her his only $20 to buy gas so she could travel again. To show their gratitude, McClure and her boyfriend were trying to raise $10,000 to help Bobbitt out as a thank you. The story took off.
Unfortunately, the media got involved. Loving a story out of the norm with a good newsworthy ending, they showcased the story on TV, and it got big attention. All of a sudden, what was supposed to be a little scam turned into a big one, raising some $402,706 with the added attention in a short three weeks. While Bobbitt did get $25,000 set aside by McClure and her partner, the rest of it was burned like kerosene on fire via clothing, trips, a car, vacations, gambling and more. However, Bobbitt didn't appreciate the small share, and sued the pair for more, arguing he should have gotten $75,000 at least. GoFundMe got involved by trying to avoid bad press and making sure Bobbitt, the alleged homeless person, got his fair shake.
All of the financial attention caught the eye of the Feds who started investigating McClure. They seized well over 60,000 digital messages between the couple, which included admissions that the whole story was made up – a smoking gun text in the fraud conspiracy. Interestingly, McClure's partner, although he enjoyed the spending of the money with McClure, was not charged or seen as involved in the conspiracy. The Feds went after McClure and the alleged homeless partner, Bobbitt, for the fraud. And GoFundMe yet again found itself in the middle of a crazy criminal scheme gone public and bad, stealing money from people who wanted to help others online. It turned out to be an odd, miserable ending to what many had hoped would have been a story of human charity done right.