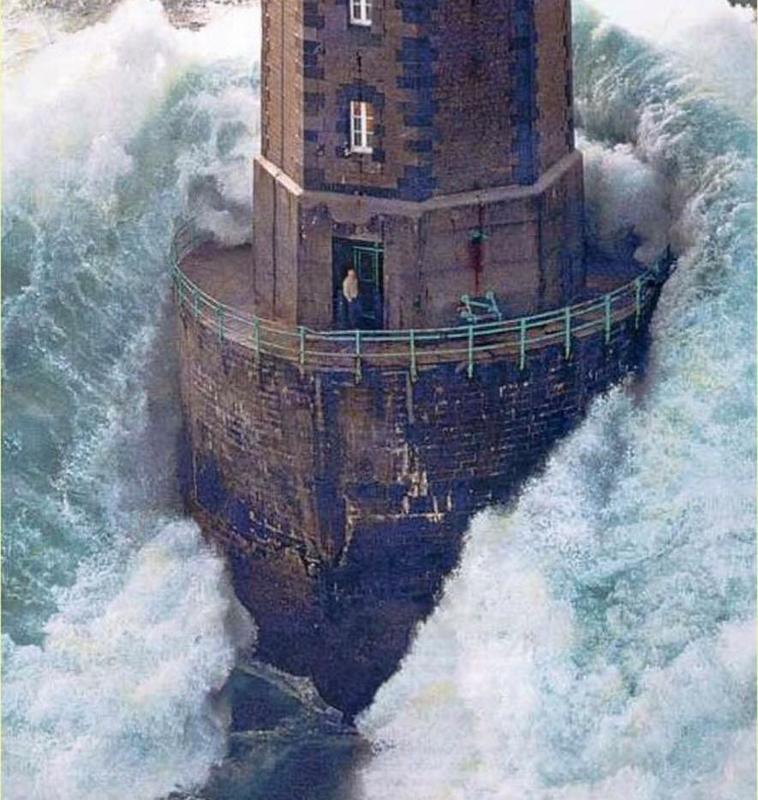 The Most Unexpected Nature Photos
Nature usually appears to be consistent. The time the sun rises and sets, changes of seasons, weather patterns, and even animal behavior is usually predictable. However, this list of pictures captures some amazing natural oddities. Take a look and prepare to be amazed by just how extraordinary nature can be at times.
This was a massive wave that hit the northern coast of France in 1989. The man in the lighthouse was actually rescued and survived. The timing of the photo perfectly captures a moment where the lighthouse appears to be totally surrounded by water and being submerged.
Raccoons have a reputation for being solitary scavengers, but a woman who was disturbed while she was camping found this pack of raccoons outside of her tent. Apprently, leaving food around can cause things like this to happen.
This girl made a dangerous mistake by taking a picture this close to a tornado. Weather experts generally agree that people should not try to capture pictures or videos of severe weather. Some of the farm in the background was actually destroyed by the tornado.
In another incident of bizarre animal behavior, somehow this pig ended up jumping out of the transportation truck and onto the road. No one is sure how this happened, or what the outcome was for the pig, but this picture actually captured pigs flying.
This photo was apparently staged and doctored for Theodore Roosevelt's political campaign, but it's probably the only picture you will ever see of someone riding a moose.
This was likely a beluga whale that appeared to be a "mermaid" baed on the camera angle and shape of this particular animal. Mermaid sightings have been reported for a long time, and some of them can be attributed to this phenomenon.
Baby elephants take a long time to mature, and clumsiness is common during the first fifteen years or so of their life. They have one of the longest period of youth out of any mammal on the planet, so mistakes like this are more visible from elephants than many other animals.
This 28 foot crocodile was killed in Australia in 1957 by the female hunter in the picture. This is the only known surviving picture of the massive reptile. The woman became a legend by killing the large beast with one shot, gaining global fame and a place in the Guiness book of world records afterwards.
Bears generally do not go out of their way to attack or interact with humans, which makes this photo so much more amazing. However, the cyclist was in Alaska, and the amount of undeveloped wilderness makes this one of the most likely spots in the world for such an encounter to occur.
Sylvester Stallone still has the turtles from 1976 used in the first Rocky film. They are now over forty years old. He kept them after the film was completed and he's had them ever since. This is truly an amazing pet story.
This structure compares the size of a Great White shark with the ancient Megalodon shark that has been extinct for a long time. The megalodon was capable of growing to sixty feet in length and is generally considered to be one of the largest and most fearsome beasts to ever exist on earth. Our sharks today look like small fish in comparison.
This image captured to real events in Australia. A dingo eating a shark on the beach, along with two snakes mating on the side of the road. You can truly see why Australia is considered to be such a wild place with unique animal life.
These goats in Morrocco think the nuts that grow on the Argania tree are so irresistable that they actually go through the trouble of climbing all the way up there to eat some. Like most animals, they find interesting ways to adapt in order to gather food.
Mount Vesuvius is best known for destroying the Roman city of Pompeii in ancient times, but it has erupted again as recently as the mid-twentieth century. This is certainly an active volcano with a history of destruction.
The well known nature photographer Michio Hoshino took this picture moments before being killed by this brown bear while he was in Russia. Although these kinds of attacks are rare, its chilling to think of what must have been going through Hoshino's mind during his last seconds of life when he was able to capture this image in his last seconds.
Skunks are known to be able to keep much larger animals away with their unique ability to create one of the strongest and worst smelling odors known. This dog is smart for keeping his distance, as the stench is notoriously difficult to get rid of once a skunk has sprayed an area.
This is just a picture of a star nosed mole, but what makes it so unexpected is the appearance of the animal. Moles are adapted to dig and feel around underground where there is usually little to no light, so they need to rely heavily on their claws and sensitive nose.
Homeless Man Who Helped a Woman Turned Out to be a Hoax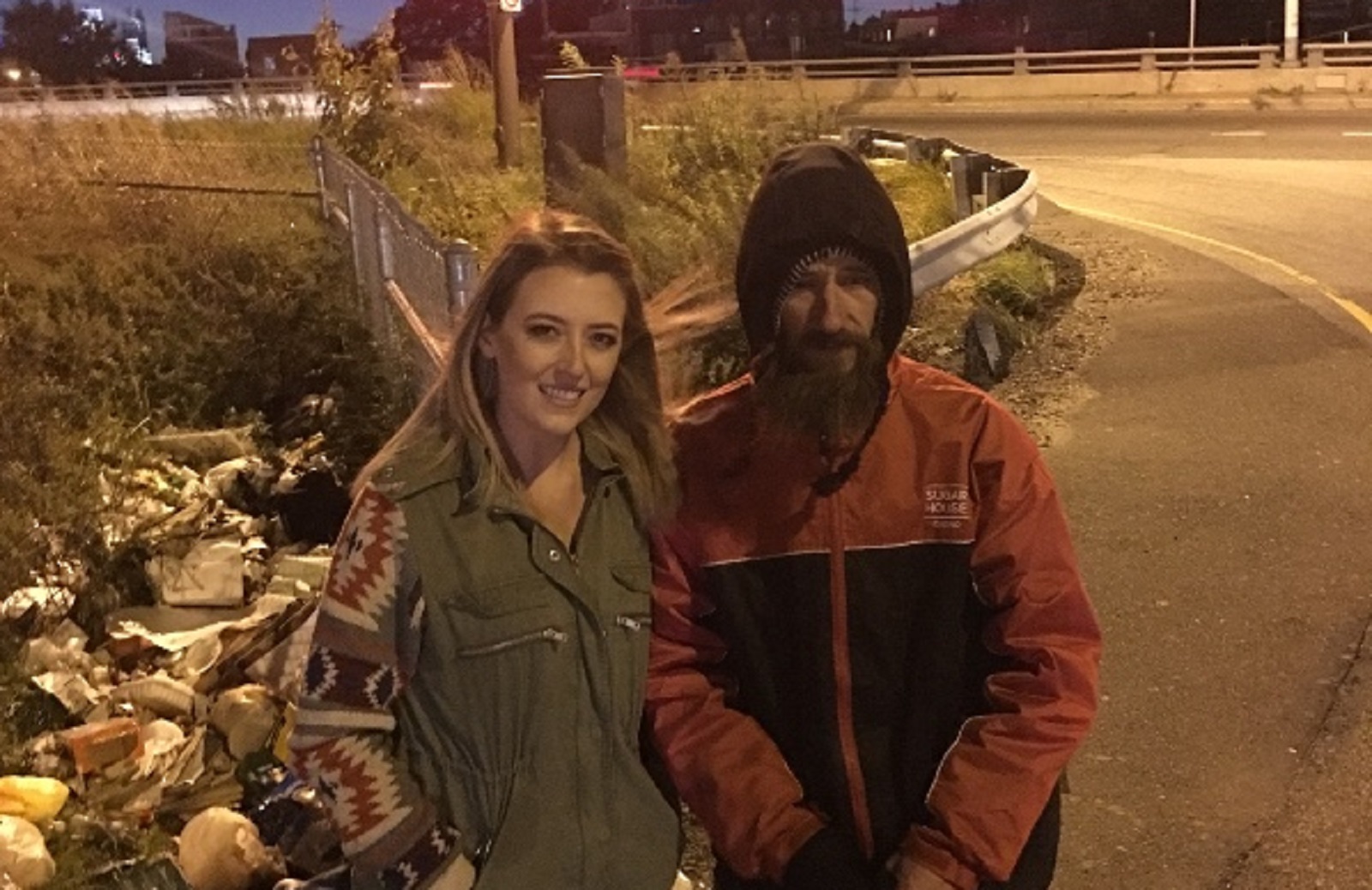 The story of the homeless man who helped out a woman needing gas for her car by donating his few dollars went viral on the Internet and had hundreds of people wanting to reach out and help. They did so through a GoFundMe site that ended up generating a sizable amount of charity and gifts. For those who gave money, it made them feel better instantly. There was only one problem. The story was made up. The man was not homeless, and the woman had never run out of gas.
Instead, the two were involved in an online scam that ended up defrauding folks out of approximately $400,000 in online money gifts. It was not only enough to trigger a serious crime, the pair got themselves charged with a federal conspiracy case and ultimately pled guilty in a New Jersey federal court. Johnny Bobbitt and Katelyn McClure both separately admitted their crime of wire fraud. Given their involvement and degree of actions, Bobbitt is looking at a potential 10 years in federal prison and $250,000 in fines. McClure for her part faces a bigger sentence of 20 years and a similar financial penalty. Both will find out for sure when they are sentenced. In addition to the federal charges, the pair also have a second round of trials to go through with state charges as well. It was a blunt, cold ending to a story and scam that started in 2017 and took off like wildfire, far better than Hobbitt and McClure thought it would.
The story was plausible and reasonable enough. A couple told their story online about how they wanted to help a homeless man who helped them. McClure and her partner posted that Bobbitt realized McClure was in trouble, stuck in Philadelphia without gas. She needed to get home, and Bobbitt, who was nearby, realized the problem. He then gave her his only $20 to buy gas so she could travel again. To show their gratitude, McClure and her boyfriend were trying to raise $10,000 to help Bobbitt out as a thank you. The story took off.
Unfortunately, the media got involved. Loving a story out of the norm with a good newsworthy ending, they showcased the story on TV, and it got big attention. All of a sudden, what was supposed to be a little scam turned into a big one, raising some $402,706 with the added attention in a short three weeks. While Bobbitt did get $25,000 set aside by McClure and her partner, the rest of it was burned like kerosene on fire via clothing, trips, a car, vacations, gambling and more. However, Bobbitt didn't appreciate the small share, and sued the pair for more, arguing he should have gotten $75,000 at least. GoFundMe got involved by trying to avoid bad press and making sure Bobbitt, the alleged homeless person, got his fair shake.
All of the financial attention caught the eye of the Feds who started investigating McClure. They seized well over 60,000 digital messages between the couple, which included admissions that the whole story was made up – a smoking gun text in the fraud conspiracy. Interestingly, McClure's partner, although he enjoyed the spending of the money with McClure, was not charged or seen as involved in the conspiracy. The Feds went after McClure and the alleged homeless partner, Bobbitt, for the fraud. And GoFundMe yet again found itself in the middle of a crazy criminal scheme gone public and bad, stealing money from people who wanted to help others online. It turned out to be an odd, miserable ending to what many had hoped would have been a story of human charity done right.