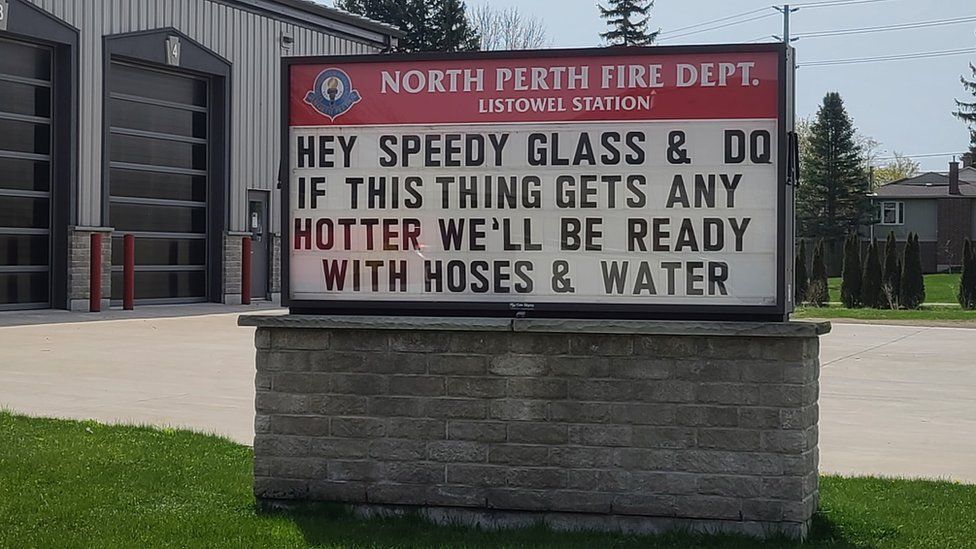 The Infamous but Hilarious Canadian Sign War of 2021
Towards the end of April 2021, an odd thing happened in the town of Listowel, Canada. Two businesses decided to get snarky with each other in a public manner. On the one side of the street was a Speedy Glass venue, a small business firm that serviced the locals with glass and vehicle window repair. On the other side of the street was the local Dairy Queen, a fast-food chain venue for burgers, fries and milkshakes.
Big Things Come in Small Packages
The sign battle started off simple enough. Both businesses had a typical elevated advertising sign in front of their venue visible from the street which could utilize letters to customize messages. Speedy Glass decided to use theirs to goad the Dairy Queen in a word battle. It started off as a copycat. Trevor Cork had seen a similar little tiff in Virginia that went bonkers on the Internet, so he decided to try the same in his own town. Gathering the staff, Cork had their Speedy Glass street sign modified to send the invite, basically asking the Dairy Queen if they wanted to have a sign war. It took off from there like wildfire. Trevor had no idea where the reaction was going to end up going, but it seemed like a good idea at the time.
Dairy Queen sassed back pretty quick and put Speedy Glass on the spot. From there, both double entendres and outright one-up's started flying back and forth, much to the amusement of the locals driving by and living in the area. Interestingly, both stores have kept their cool and not gone below the belt with their snips, but they have been pretty funny and challenging as the signs keep pushing the boundaries of what's possible.
Of course, anytime someone is having fun, others want in on it too. The local casket store got in on the mix pretty quick and started their own shots. However, they didn't have a big road sign and had to settle for a street-level A-sign instead. The locals loved it so much they started telling their friends and contacts outside of town, and Listowel started attracting tourists for the same as well.
A War is a Good Thing These Days
The timing of the sign war couldn't have been better. The Covid pandemic was just depressing people something fierce, and the lack of social connection was making things worse. Suddenly, having a bit of humor and a good laugh with many of the business signs and their message conflict got everyone laughing their heads off driving by. It also amazingly brought the whole together as a community again when it needed that feeling the most. As some folks reflected on social media, the Listowel sign war was the best thing that could happen to them right there and then. Even now, folks still keep driving through town just to see the latest zingers and zaps on the local signs.
Will Listowel sign war eventually end and become a memory? Who knows? Even the infamous Hatfield and McCoy feud finally died out at some point. In the meantime, Listowel business owners like Trevor Cork are just enjoying the attention and the visitors, even in a pandemic.
Man Sets Guinness World Record For TALLEST Stack of M&M's — EVER!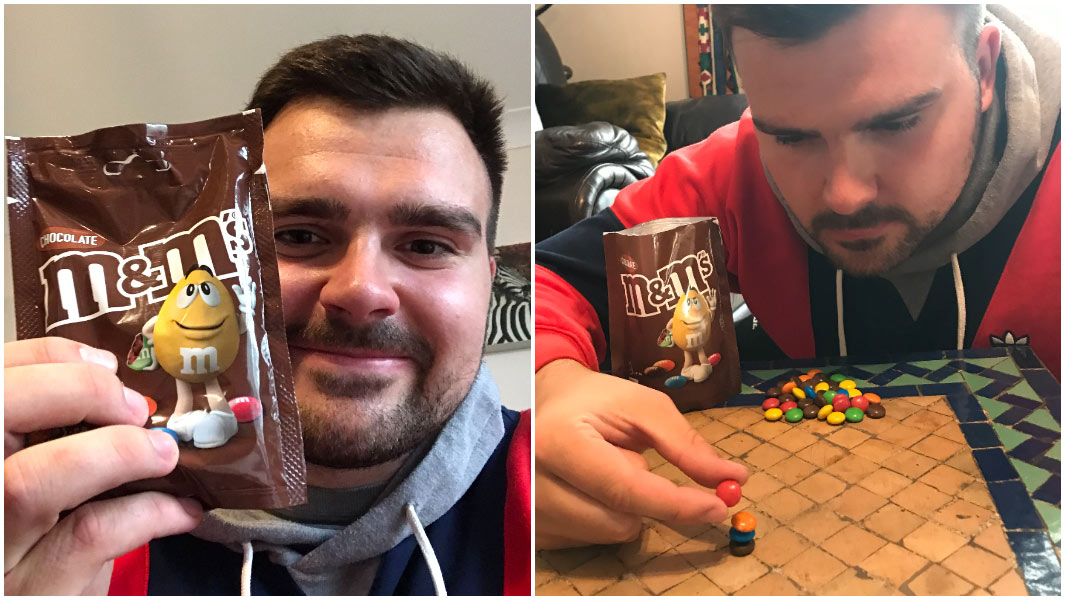 Where were you when you had your first bite of M&Ms? These multi-colored chocolate buttons were first introduced to the world by Mars, Incorporated on September 10, 1941 – more than 79 years ago! Sold around the planet, M&Ms have become one of the most popular sugary candies on the planet, gaining ground with its catchy slogan, "Melts in your mouth, not in your hand."
More than just a sweet treat for chocolate lovers everywhere, one man turned to his favorite candy to land within the Guinness Book of World Records. That man, named Will Cutbill of the U.K., would do so by managing to balance five M&M sweets atop one another, bursting through the record of four held by Brendan Kelbie of Australia and Silvio Sabba of Italy.
Snacking and World Records
When we think of accomplishing a world record, most of us probably consider all of the work that likely goes into the equation. We certainly don't anticipate beating a world record while relaxing in front of the television with our favorite snack. For Will and his bag of M&Ms, it turned out that sitting around was the EXACT recipe for success that would push him to victory. Will said, "One day in lockdown I was mixing up my confectionary choice (…) and this time the bag of M&Ms called me, and boy am I glad they did!"
Will had been sitting on his couch with his snacks when he felt possessed to try and stack them atop one another. At the time, Will thought that he was just killing time with his candies. He didn't realize that he was practicing and preparing to break a world record! After seeing how good he was at stacking the M&Ms initially, he decided to go for as many as possible.
Will said before breaking his record, "One day I thought, right, let's crack this. So I sat down determined to complete it."
The future M&Ms world record holder would film his attempts to stack five M&Ms atop one another and in doing so, Will would capture his success as it happened. Will said, "I've had a lifelong ambition to break a world title. I've always wanted one." Will would go on to admit that he had been purchasing the Guinness books every single year, hoping one day to add his name to its pages.
After breaking the record from the comfort of his living room, Will would submit the recording for review. Claiming that the moment felt 'absolutely amazing', Will would wait until the video was verified to actually celebrate. "It's madness. I can now say I'm a Guinness World Records title holder!"
Despite earning the record for his ability to balance chocolate candies, Will admits that he himself isn't very athletic. "I can barely stand on one leg, but I have a talent for chocolate!"
While he is happy to hold onto his record, for now, the U.K. native admitted that he's already planning on future challenges. Will said that he was inspired and that his "creative juices" were flowing.