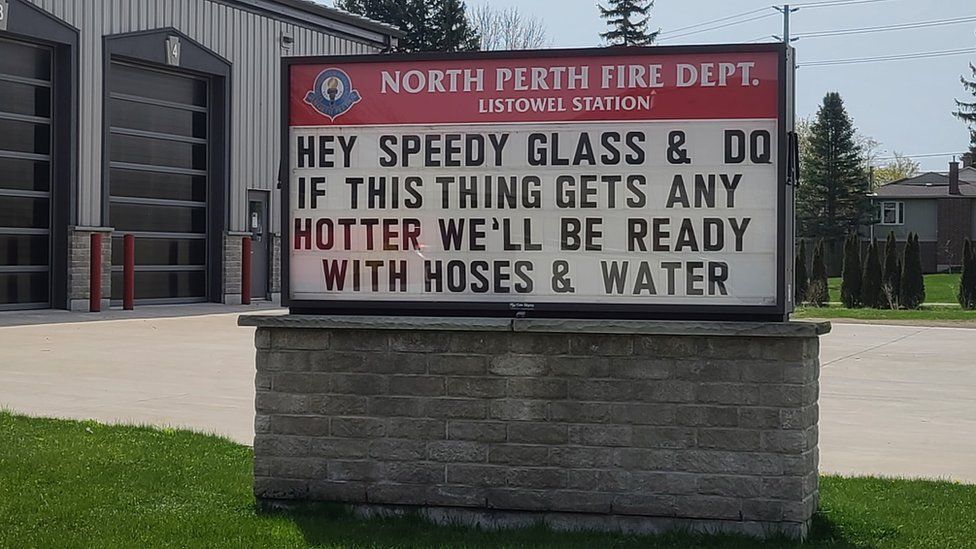 The Infamous but Hilarious Canadian Sign War of 2021
Towards the end of April 2021, an odd thing happened in the town of Listowel, Canada. Two businesses decided to get snarky with each other in a public manner. On the one side of the street was a Speedy Glass venue, a small business firm that serviced the locals with glass and vehicle window repair. On the other side of the street was the local Dairy Queen, a fast-food chain venue for burgers, fries and milkshakes.
Big Things Come in Small Packages
The sign battle started off simple enough. Both businesses had a typical elevated advertising sign in front of their venue visible from the street which could utilize letters to customize messages. Speedy Glass decided to use theirs to goad the Dairy Queen in a word battle. It started off as a copycat. Trevor Cork had seen a similar little tiff in Virginia that went bonkers on the Internet, so he decided to try the same in his own town. Gathering the staff, Cork had their Speedy Glass street sign modified to send the invite, basically asking the Dairy Queen if they wanted to have a sign war. It took off from there like wildfire. Trevor had no idea where the reaction was going to end up going, but it seemed like a good idea at the time.
Dairy Queen sassed back pretty quick and put Speedy Glass on the spot. From there, both double entendres and outright one-up's started flying back and forth, much to the amusement of the locals driving by and living in the area. Interestingly, both stores have kept their cool and not gone below the belt with their snips, but they have been pretty funny and challenging as the signs keep pushing the boundaries of what's possible.
Of course, anytime someone is having fun, others want in on it too. The local casket store got in on the mix pretty quick and started their own shots. However, they didn't have a big road sign and had to settle for a street-level A-sign instead. The locals loved it so much they started telling their friends and contacts outside of town, and Listowel started attracting tourists for the same as well.
A War is a Good Thing These Days
The timing of the sign war couldn't have been better. The Covid pandemic was just depressing people something fierce, and the lack of social connection was making things worse. Suddenly, having a bit of humor and a good laugh with many of the business signs and their message conflict got everyone laughing their heads off driving by. It also amazingly brought the whole together as a community again when it needed that feeling the most. As some folks reflected on social media, the Listowel sign war was the best thing that could happen to them right there and then. Even now, folks still keep driving through town just to see the latest zingers and zaps on the local signs.
Will Listowel sign war eventually end and become a memory? Who knows? Even the infamous Hatfield and McCoy feud finally died out at some point. In the meantime, Listowel business owners like Trevor Cork are just enjoying the attention and the visitors, even in a pandemic.
Man Creates AI Program To Alert Him And Greet Dogwalkers in His Community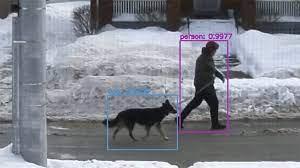 Dogs are deemed as man's best friend for a multitude of reasons. What we have to understand, though, is that the love has to be shown to the dog as much as we want to be delivered to us.
Watching someone walking their dog is a pastime that never grows old, to the point that one man decided to build a hi-tech machine to detect when dogs and their owners were passing by his home.
Is that a thing? Certainly it is, and it has been bringing immense joy to him as well as the pups and their masters as they pass by his home.
Some people think it's cute, others eerie, but no one can deny the thought and creativity behind developing that machine.
This may become the new greeting technology based on the incredible level of responses that have been pouring out towards both the owner and his creation, as you'll learn below.
If you have at any point spent an evening(or the whole year 2020) on the internet looking at adorable dog videos, you'll understand why Ryder of YouTube fame decided to create a computer, powered by Artificial Intelligence, which is able to discern dogs walking along the street pass their house and instantly shout praises to the dog walkers or owners.
His Youtube program is called Ryder Calm and has earned quite a following.
Getting things done by looking at the real puppers has always been better than wasting time and looking at only pictures of puppies, so the development began as an automated manner for Ryder to identify when somebody was walking down the street past their home. The computer, which is based on a Raspberry Pi, assesses a live feed from the camera module and employs a machine learning model (in this case, the YOLOv3) that has been programmed to recognize about Eighty different items, including people, vehicles, and dogs.
When a passing puppy is detected, an alarming automated text-to-speech voice warns Ryder via an actual megaphone, allowing them to rush to the window on time to catch sight, no matter what they're doing.
Watching dogs is obviously not just his passion, but clearly an activity that his entire family enjoys doing. They enjoy it so much that they've programmed the system to function even during their absence. If that isn't innovative, then what is?
For those occasions when they aren't home to hear the alarm, the system can be programmed to play a pre-recorded "I like your dog!" message through the window, providing a complimentary dopamine boost to anybody walking their dog down Ryder's street.
It's a random and somewhat weird act of generosity, but I think we'd all take something at this stage. After all, any good gesture is better than the negativity endured throughout 2020, right?