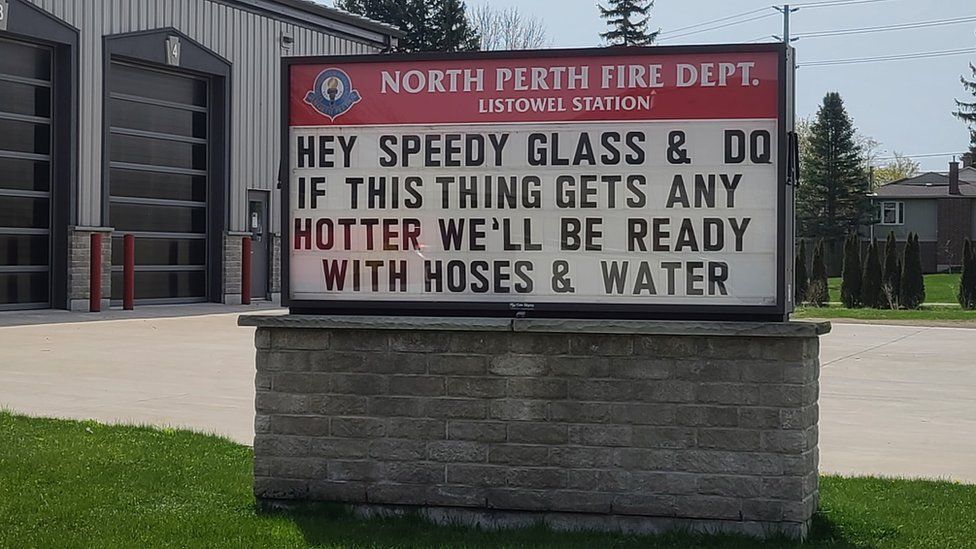 The Infamous but Hilarious Canadian Sign War of 2021
Towards the end of April 2021, an odd thing happened in the town of Listowel, Canada. Two businesses decided to get snarky with each other in a public manner. On the one side of the street was a Speedy Glass venue, a small business firm that serviced the locals with glass and vehicle window repair. On the other side of the street was the local Dairy Queen, a fast-food chain venue for burgers, fries and milkshakes.
Big Things Come in Small Packages
The sign battle started off simple enough. Both businesses had a typical elevated advertising sign in front of their venue visible from the street which could utilize letters to customize messages. Speedy Glass decided to use theirs to goad the Dairy Queen in a word battle. It started off as a copycat. Trevor Cork had seen a similar little tiff in Virginia that went bonkers on the Internet, so he decided to try the same in his own town. Gathering the staff, Cork had their Speedy Glass street sign modified to send the invite, basically asking the Dairy Queen if they wanted to have a sign war. It took off from there like wildfire. Trevor had no idea where the reaction was going to end up going, but it seemed like a good idea at the time.
Dairy Queen sassed back pretty quick and put Speedy Glass on the spot. From there, both double entendres and outright one-up's started flying back and forth, much to the amusement of the locals driving by and living in the area. Interestingly, both stores have kept their cool and not gone below the belt with their snips, but they have been pretty funny and challenging as the signs keep pushing the boundaries of what's possible.
Of course, anytime someone is having fun, others want in on it too. The local casket store got in on the mix pretty quick and started their own shots. However, they didn't have a big road sign and had to settle for a street-level A-sign instead. The locals loved it so much they started telling their friends and contacts outside of town, and Listowel started attracting tourists for the same as well.
A War is a Good Thing These Days
The timing of the sign war couldn't have been better. The Covid pandemic was just depressing people something fierce, and the lack of social connection was making things worse. Suddenly, having a bit of humor and a good laugh with many of the business signs and their message conflict got everyone laughing their heads off driving by. It also amazingly brought the whole together as a community again when it needed that feeling the most. As some folks reflected on social media, the Listowel sign war was the best thing that could happen to them right there and then. Even now, folks still keep driving through town just to see the latest zingers and zaps on the local signs.
Will Listowel sign war eventually end and become a memory? Who knows? Even the infamous Hatfield and McCoy feud finally died out at some point. In the meantime, Listowel business owners like Trevor Cork are just enjoying the attention and the visitors, even in a pandemic.
Herriot the Heron and the Underpants Sling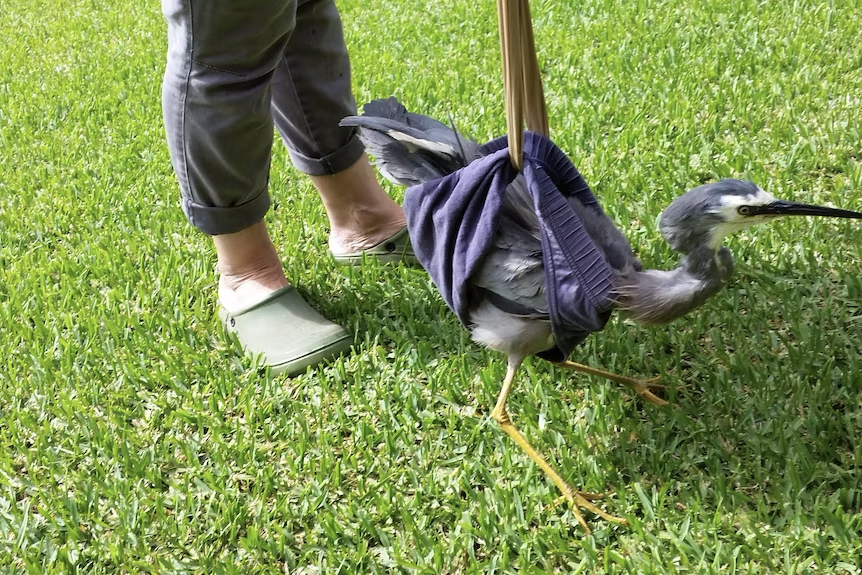 In the world of wildlife rescue, there are heroes who go above and beyond to help our feathered friends when they are in need. One such hero is Karen Ledger, a dedicated wildlife rescuer with a heart of gold. With over a decade of experience, Karen has helped countless birds in distress. However, it was her ingenious creation of an "underpants sling" that recently captured hearts and headlines, as she helped a heron named Herriot regain his ability to walk.
Herriot's story began with a troubling challenge. This majestic heron found himself unable to use his legs for reasons unknown. It was a dire situation, and things didn't look promising at the start. As Karen Ledger recounted, "It didn't look good at the start. He couldn't use his legs for unknown reasons. He might have been hit by a car."
Determined to help this long-legged bird find his footing again, Karen put her inventive mind to work. She faced the daunting task of making a heron walk when it seemed impossible. Her solution? An unconventional yet effective "underpants sling" made with a pair of stockings and her husband's underwear.
"I put the heron in the sling and physically made him use his legs three or four times a day until he could walk by himself," Karen explained. It was no easy feat, requiring intense effort and dedication. But for Karen, every minute was worth it when she saw Herriot finally regain his ability to walk independently.
Herriot's journey to recovery didn't end there. After his progress in the makeshift sling, he continued to improve by walking in an enclosed outdoor area for weeks. Finally, the day came when Herriot was strong enough to be released back into the wild, near a tranquil dam.
Karen's extraordinary efforts aren't limited to Herriot alone. She has a track record of helping a variety of birds in need. One heartwarming tale involves a barn owl who had lost his mate in a tragic road accident. Karen noticed that the owl was not physically injured but was deeply depressed, spending a week with his eyes closed and his head down.
Karen knew she had to find a way to lift the owl's spirits. "You have to think outside the square, just look at what you've got and adapt," she said. Drawing on her resourcefulness, she placed a stuffed toy penguin, roughly the same size as the owl, next to him in his cage. This simple act of comfort worked wonders. "After a couple of days, he started brightening up and opening his eyes. He came back to the point that he was well enough to be released," Karen said.
Karen Ledger's wildlife rescue efforts extend beyond her heroic acts with Herriot and the barn owl. She has dedicated herself to helping a wide array of birds, from barn owls and tawny frogmouths to lorikeets, rosellas, kookaburras, and more.