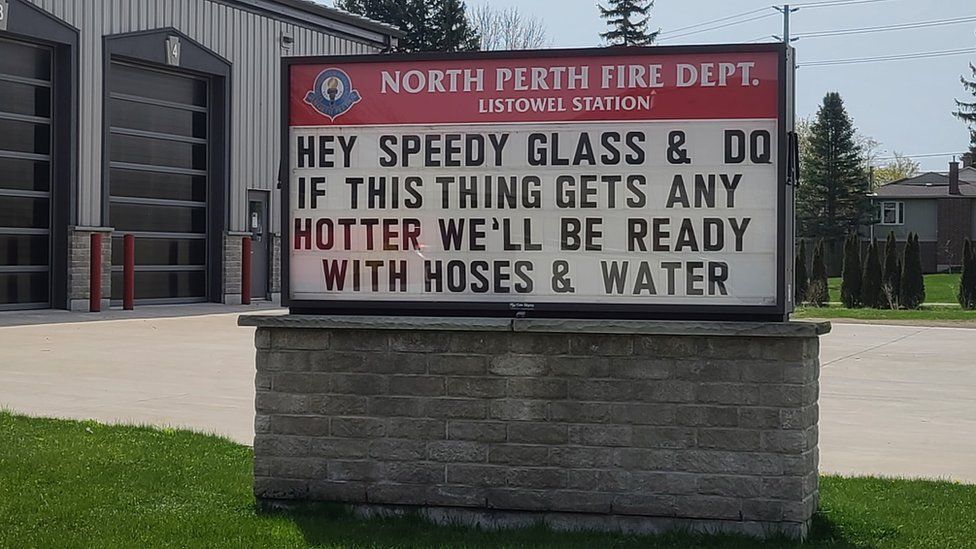 The Infamous but Hilarious Canadian Sign War of 2021
Towards the end of April 2021, an odd thing happened in the town of Listowel, Canada. Two businesses decided to get snarky with each other in a public manner. On the one side of the street was a Speedy Glass venue, a small business firm that serviced the locals with glass and vehicle window repair. On the other side of the street was the local Dairy Queen, a fast-food chain venue for burgers, fries and milkshakes.
Big Things Come in Small Packages
The sign battle started off simple enough. Both businesses had a typical elevated advertising sign in front of their venue visible from the street which could utilize letters to customize messages. Speedy Glass decided to use theirs to goad the Dairy Queen in a word battle. It started off as a copycat. Trevor Cork had seen a similar little tiff in Virginia that went bonkers on the Internet, so he decided to try the same in his own town. Gathering the staff, Cork had their Speedy Glass street sign modified to send the invite, basically asking the Dairy Queen if they wanted to have a sign war. It took off from there like wildfire. Trevor had no idea where the reaction was going to end up going, but it seemed like a good idea at the time.
Dairy Queen sassed back pretty quick and put Speedy Glass on the spot. From there, both double entendres and outright one-up's started flying back and forth, much to the amusement of the locals driving by and living in the area. Interestingly, both stores have kept their cool and not gone below the belt with their snips, but they have been pretty funny and challenging as the signs keep pushing the boundaries of what's possible.
Of course, anytime someone is having fun, others want in on it too. The local casket store got in on the mix pretty quick and started their own shots. However, they didn't have a big road sign and had to settle for a street-level A-sign instead. The locals loved it so much they started telling their friends and contacts outside of town, and Listowel started attracting tourists for the same as well.
A War is a Good Thing These Days
The timing of the sign war couldn't have been better. The Covid pandemic was just depressing people something fierce, and the lack of social connection was making things worse. Suddenly, having a bit of humor and a good laugh with many of the business signs and their message conflict got everyone laughing their heads off driving by. It also amazingly brought the whole together as a community again when it needed that feeling the most. As some folks reflected on social media, the Listowel sign war was the best thing that could happen to them right there and then. Even now, folks still keep driving through town just to see the latest zingers and zaps on the local signs.
Will Listowel sign war eventually end and become a memory? Who knows? Even the infamous Hatfield and McCoy feud finally died out at some point. In the meantime, Listowel business owners like Trevor Cork are just enjoying the attention and the visitors, even in a pandemic.
Punk Kid Goes From Homeless to Opening A Quirky Barbershop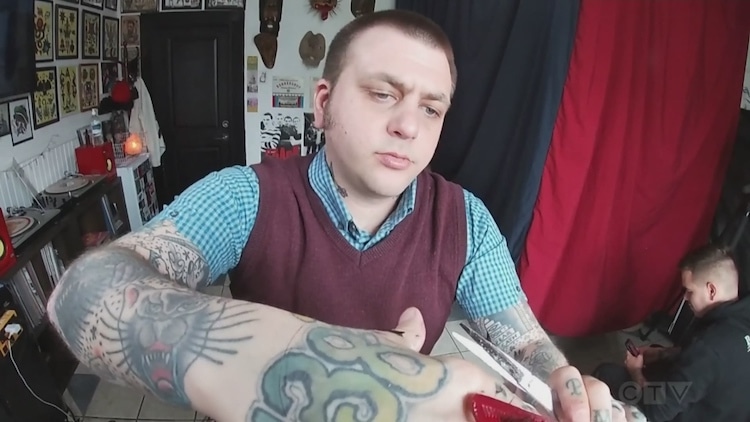 If you've ever seen the musical movie, Sweeney Todd: The Demon Barber of Fleet Street, starring Johnny Depp and Helena Bonham-Carter, then you could be forgiven for thinking twice before stepping into a barbershop for a straight-razor shave. However, many people have that reaction as well when stepping into Daryl Bidner's Little Barbershop of Horrors in today's Vancouver Island.
Bidner himself was never one for being mainstream. Growing up as a punk kid in his teen years, the barber today is a close-cropped fellow, arms blazoned with tattoos, and a late 1960s skinhead-style outfit décor via collared shirt, sleeveless sweater matched to his jeans and boots. However, when it comes to cutting hair, Bidner is all the professional and about business.
Starting off definitely wanting his barbershop to stand out and apart from the competition locally, Bidner modeled the entire theme of his haircutting venue around the movie, Little Shop of Horrors. He parlayed his interest in cutting hair for friends with mohawks into a bona fide skill, and now enjoys regular business as a barber for clientele young and old.
However, life wasn't always peachy-keen for Bidner. He was a school drop-out, had been in and out of drug addiction, and reached his own personal bottom after being homeless for an extended period. Ironically, it was a tattoo that finally seemed to put the young man back on track. His first tattoo allowed Bidner to skip the usual downspin of wasting the night high on something, and he sobered up. A number of days later, he did it again, using tattoos to get clean. By the 40th inking, Bidner was fundamentally off his addictions and broke his need to use mindlessly.
The tattooing was cathartic for Bidner, and he finally began to think about tomorrow instead of the next binge today. That in turn got him into thinking what Bidner could do for a proper living. Obviously, the young man was not going to go and wear a corporate suit the following Monday. So, he looked around at what made sense. Being a tattoo artist was logical, but then haircutting and being a barber appealed even more.
Bidner knuckled down, figured out how to get himself into barbering school, and after three years of grinding to perfect his skill, he had a license and started his own business with a single barber chair. Since that major breakthrough, Bidner has been at it as a barber for over five years, and he's been involved with community help drives and giving free haircuts to the homeless at local shelters as well. No surprise, Bidner credits his profession for saving his life and giving him direction, but it has also been a living lesson to others that no matter how bad it gets, people can pull themselves out and up again.