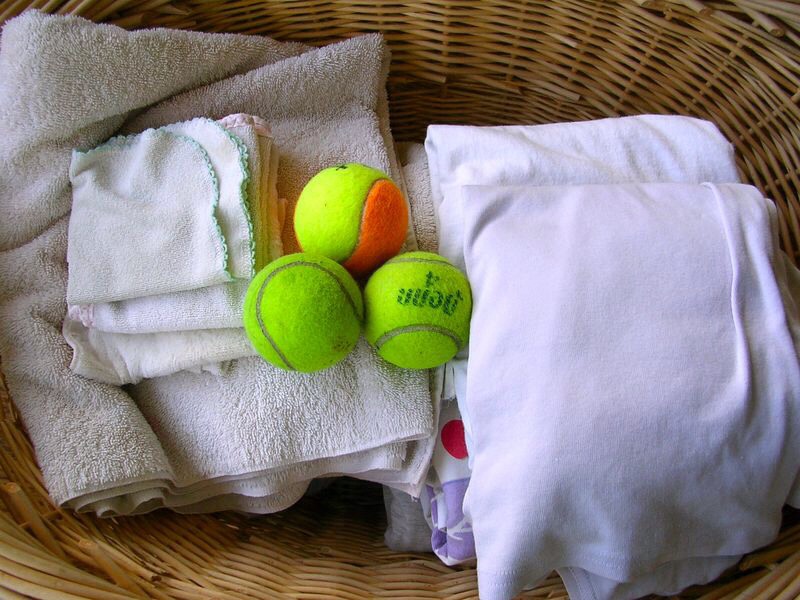 Stuck At Home? 40 Household Hacks You Can Try Right Now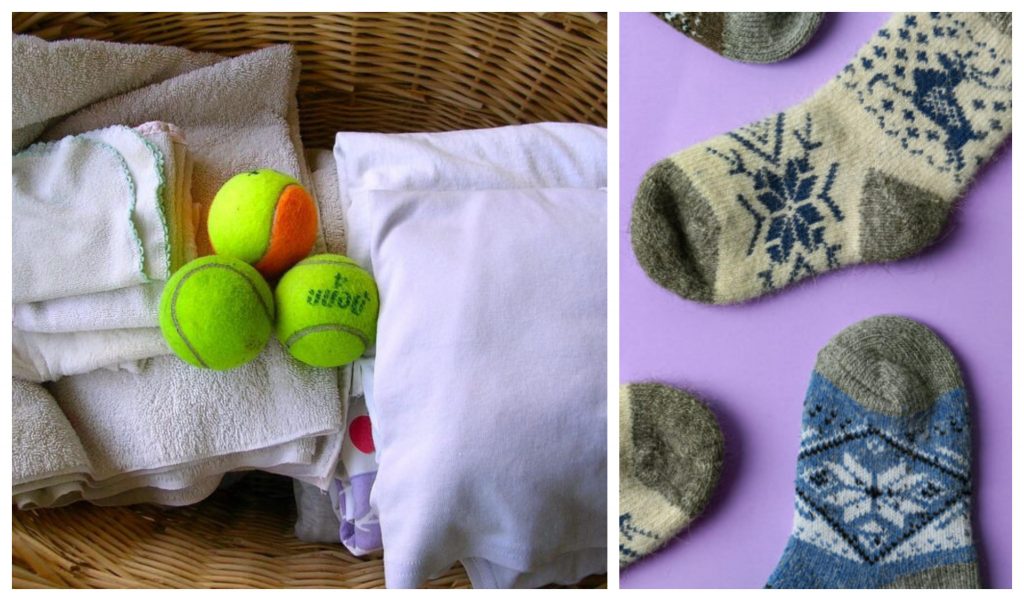 Everybody hears about "Reduce. Reuse. Recycle." but beyond recycling some aluminum cans, most people do not really get into it. What if you could actually redecorate your home by implementing the phrase though? You can. You can repurpose what you already own.
This method lets you make home improvements and spiff up your living quarters without investing a dime. You simply repurpose items you already have at home.
Occasionally, the repurposing calls for varnish or paint. Use leftover paint from house painting or spray paint from school projects.
You can also repurpose common household items to improve and simplify cleaning your home. You can vastly improve your way of life with these 40 household hacks.
Pool Noodle Boot Preservers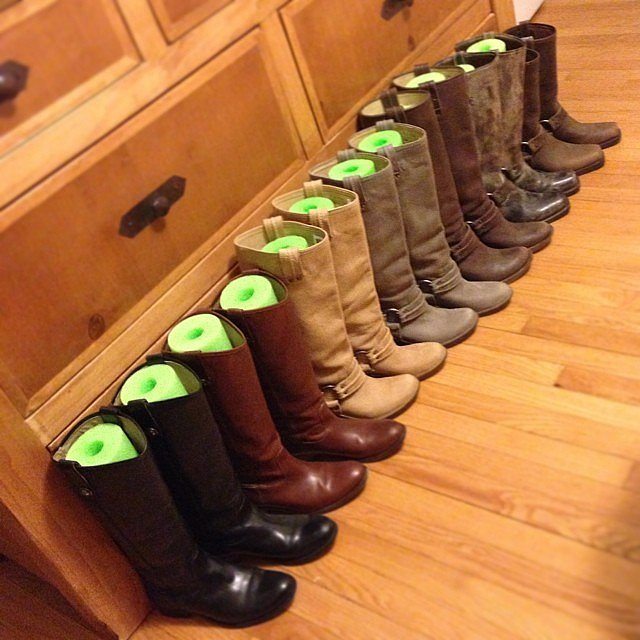 Preserve your boots and help them hold their shape using a pool noodle. Cut the Styrofoam noodle into pieces that match the height of each pair of boots. Slip the noodle piece into the boot to hold it up as if you were wearing it. This helps your boots keep from developing worn areas from folding over.
Bread Bag Closure Cord Labels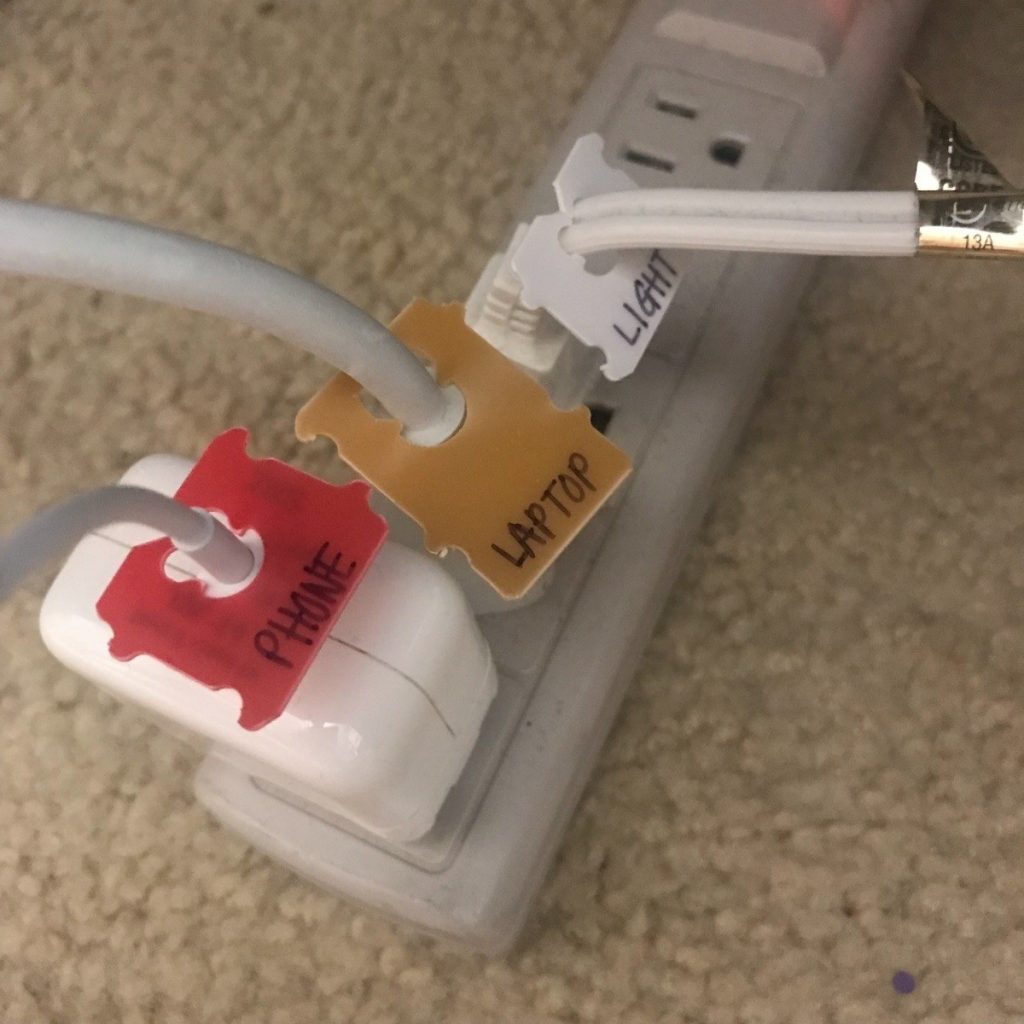 Label your cords in the power strip using plastic bread bag closures. The hearty plastic provides plenty of space to write the name of the appliance. Use permanent marker to create the labels and let them dry thoroughly before attaching them to the cords.
Shower Hook Closet Organizers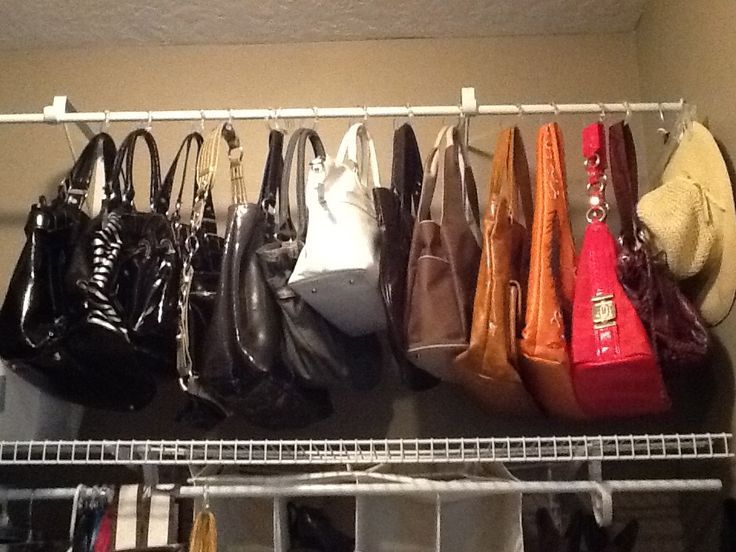 Organize your bags, belts, purses and scarves in your closet by hanging them on shower hooks. Your old shower hooks can hang on the closet rod just as they did the shower curtain rod. You can hang items on them that do not require a full hanger and make everything easier to access.
Clean Purses with a Lint Roller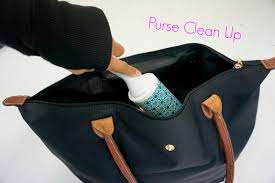 Clean the interior of your bags and purses easily with a lint roller. Simply swoosh it around inside the emptied bag to pick up all the lint and small trash. The sticky on lint rollers provides the power to pick up loose change as well as lint and paper remnants.
Tissue Box Plastic Bag Organizer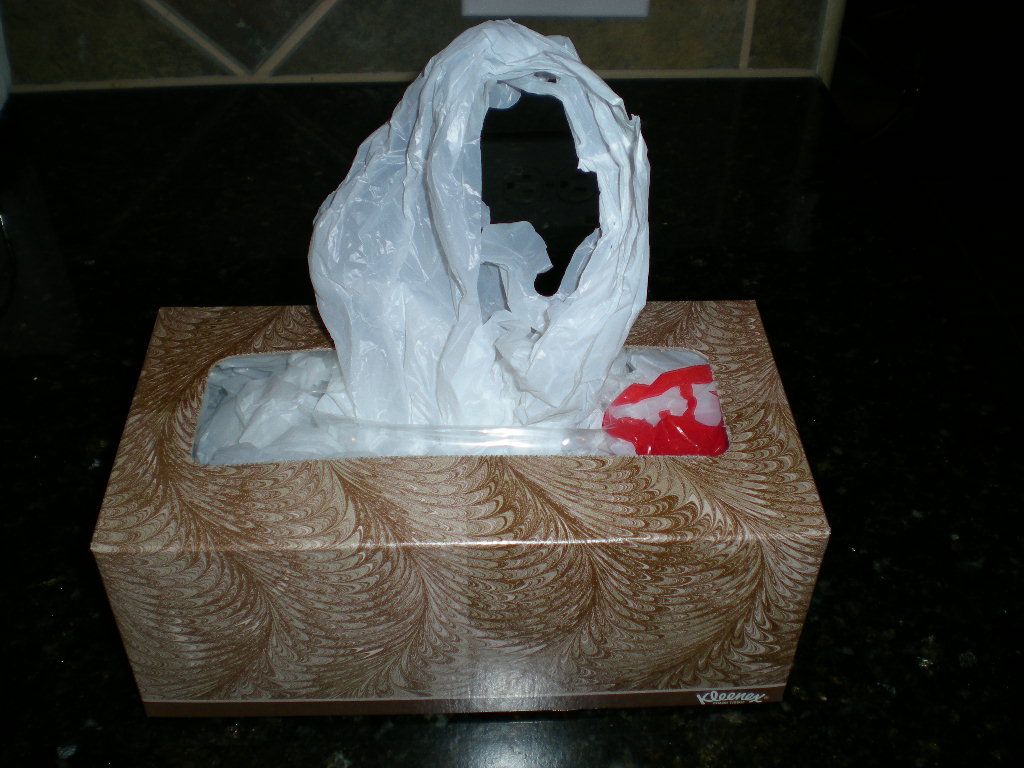 Organize small plastic bags from shopping to re-use as trash bags by re-using an empty tissue box. Once you have depleted the tissues in that pretty, decorative box, simply stuff it full of empty, plastic bags. You will always have them at hand when you need to change the trash bag and your dispenser will match your decor.
File Organizer as a Pan Keeper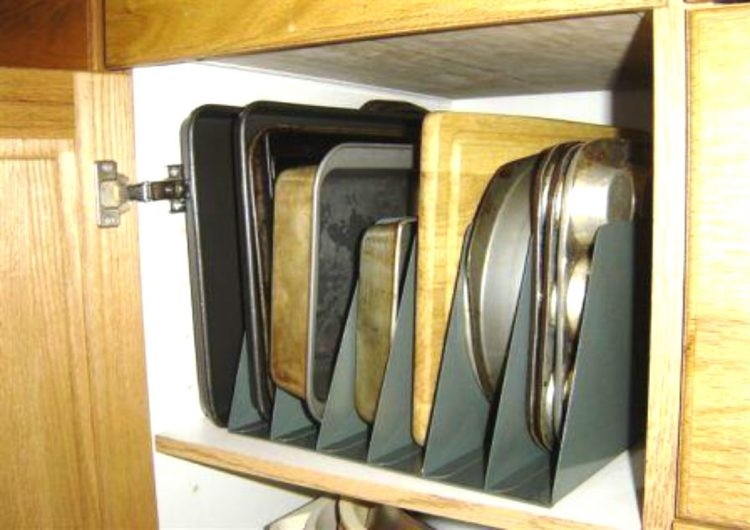 Organize baking sheets, pizza pans, baking rounds, trays, cutting boards, etc. by repurposing a wire, metal or wood file organizer. It provides easy access to every item at a glance and fits into the large under shelf cabinet in your kitchen. You never again have to lift one pan to get to another.
Wine Glasses as Candle Holders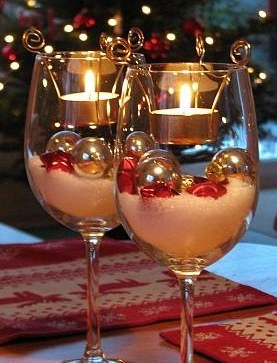 Turn mismatched wine glasses into candle holders. Perhaps you stopped drinking and your wine glasses just take up space now. Pour a bit of sand or small seashells in the bottom of a clean wine glass, then insert a votive candle. You could also flip the glasses over lip down to rest the votive on top of the stemware.
Clean Computer Keyboards with a Q-tip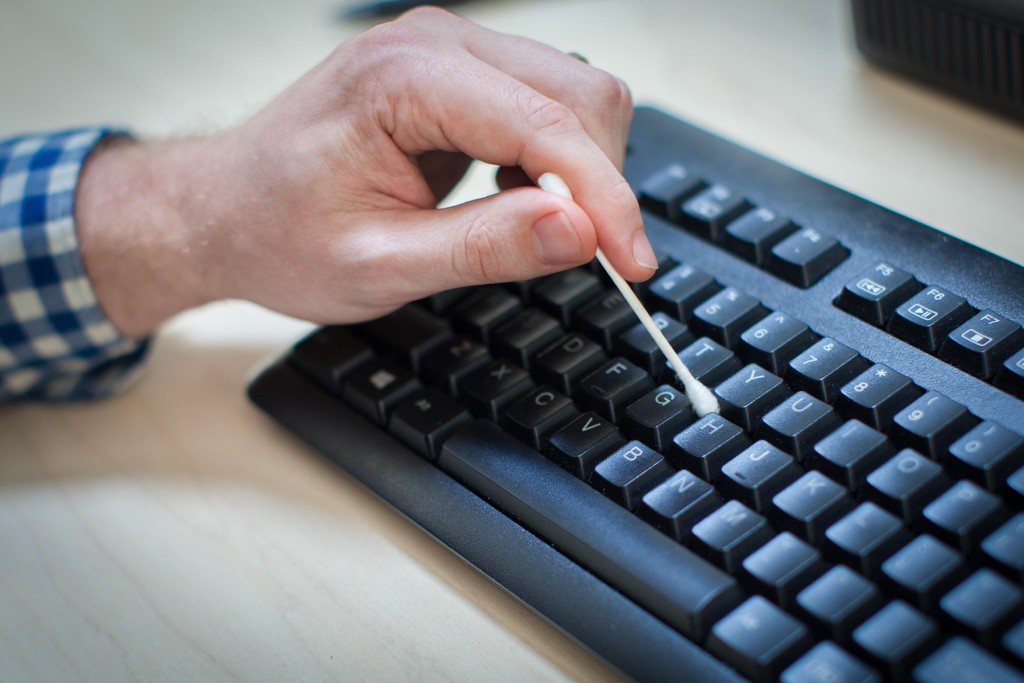 Clean your computer keyboard with a Q-tip or your clean blush brush. Sometimes you run out of canned air, but you still need the crumbs out of your keys. Wash your makeup brush completely and allow it to dry before using it to clean the keyboard lest you spread blusher where you really do not want it.
Organize Unused Cords in Toilet Paper Rolls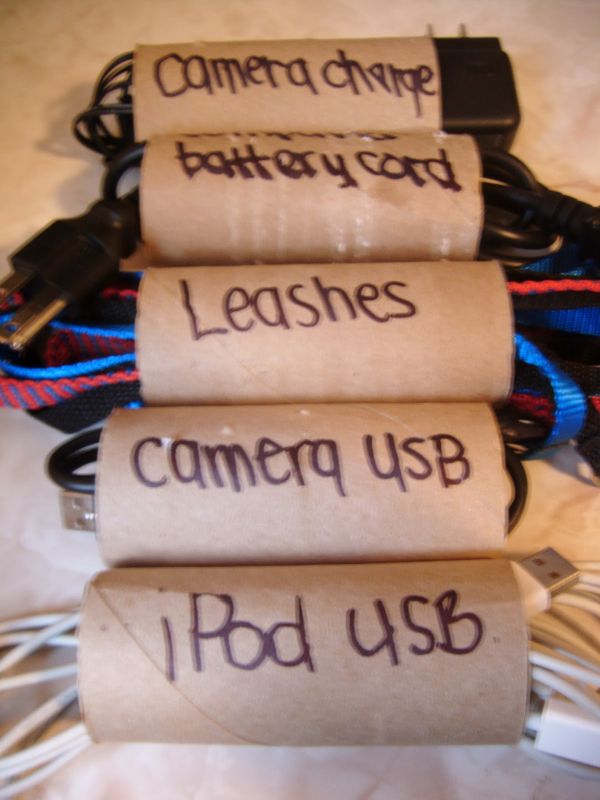 Keep old or unused power cords well organized by folding them into toilet paper rolls, then organize the rolls into the storage box. You will have no mess to untangle when you unpack the box or need to get out a replacement USB cord.
Use Old Drawers as Under Bed Storage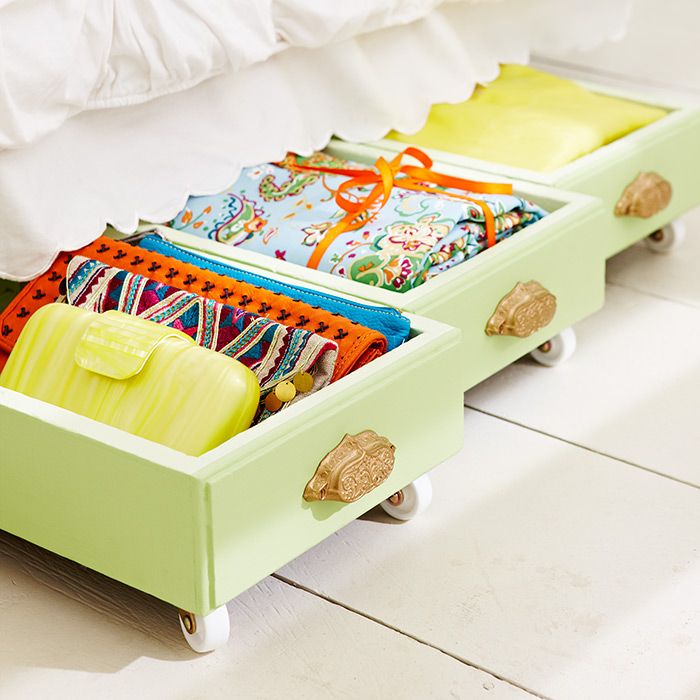 Before you throw out an old dresser, salvage any drawers you possibly can. Mount casters/wheels to the bottom of the drawer and use it as under bed storage. It will look pretty even if someone notices you have something stored under the bed.
Re-paint or Re-varnish an Old Chair or Table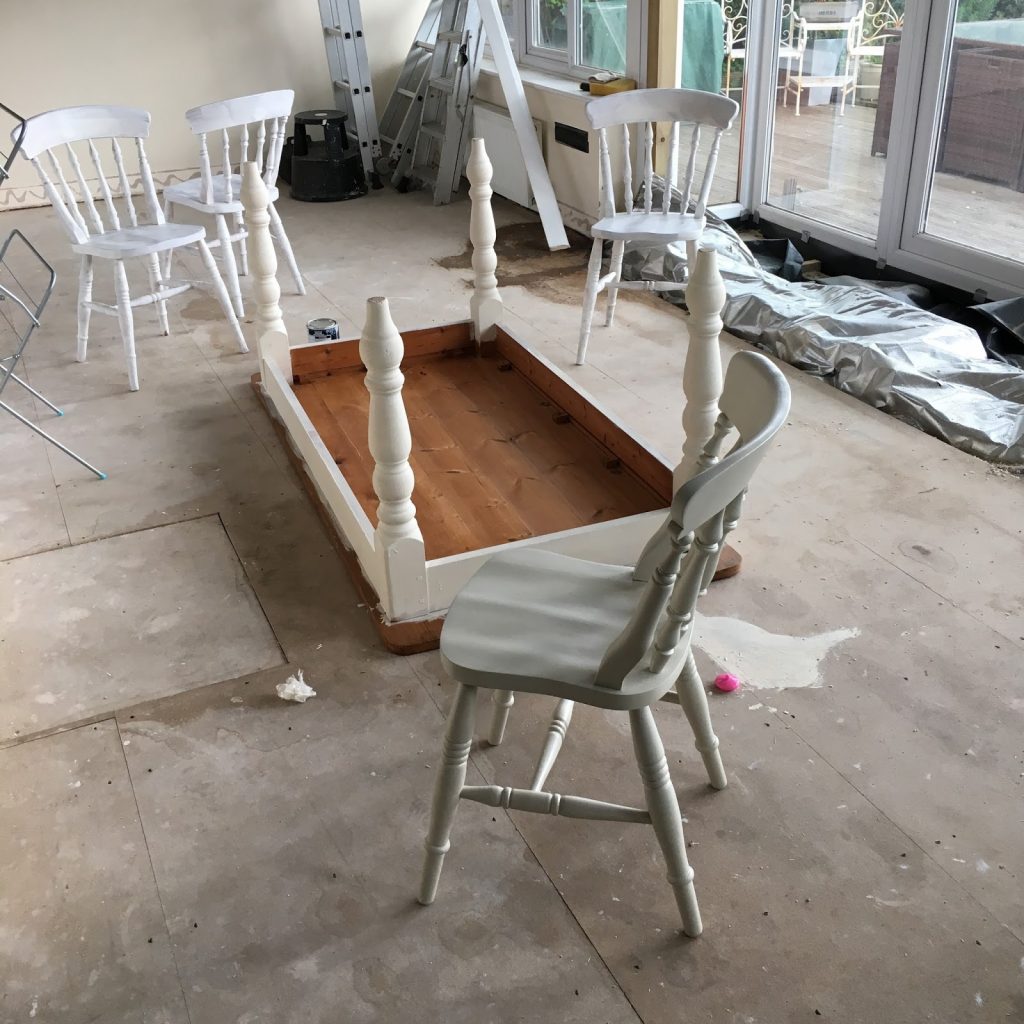 Paint or varnish an old table or chair to spiff it up. Strip the old paint off first, then let the wood dry. Paint or vanish it with your choice of color. You can create a rainbow selection of chairs by painting each one a different color.
Create a Wall Display from an Old Shutter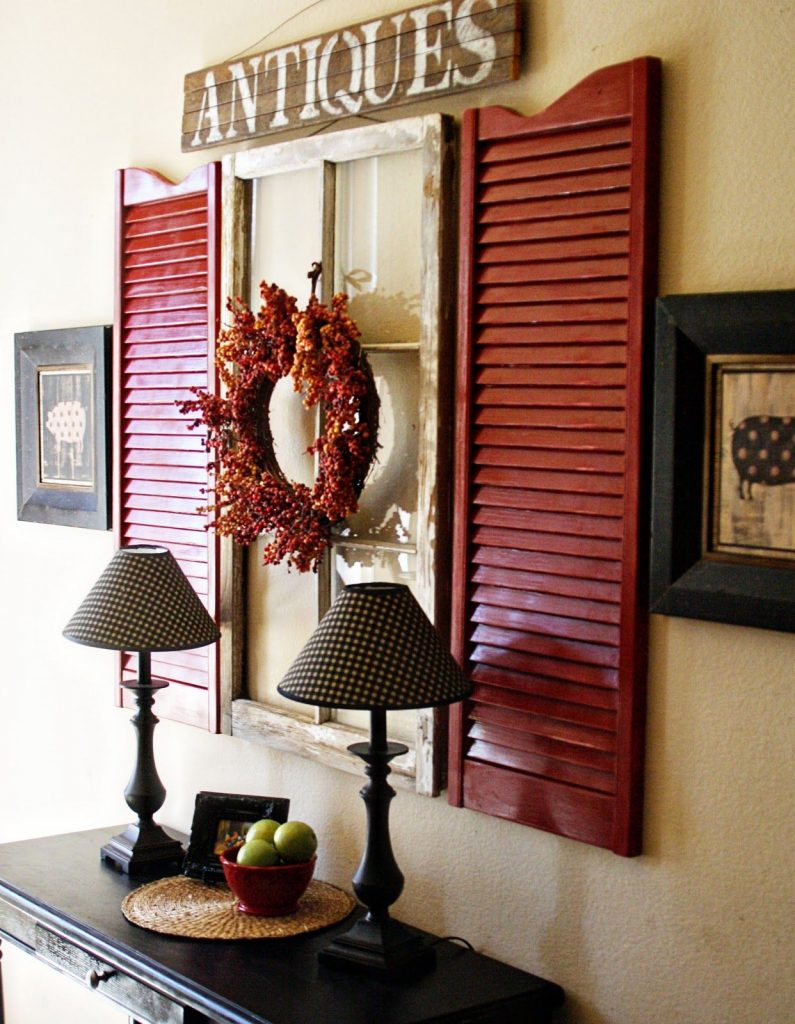 Create an exciting wall display by repainting an old shutter. Slide silk flowers into the upper slats so that only the flowers show. You can also dress it up by adding a wreath or twining string lights between the slats.
Use Plastic Coffee Containers as Matching Food Storage Containers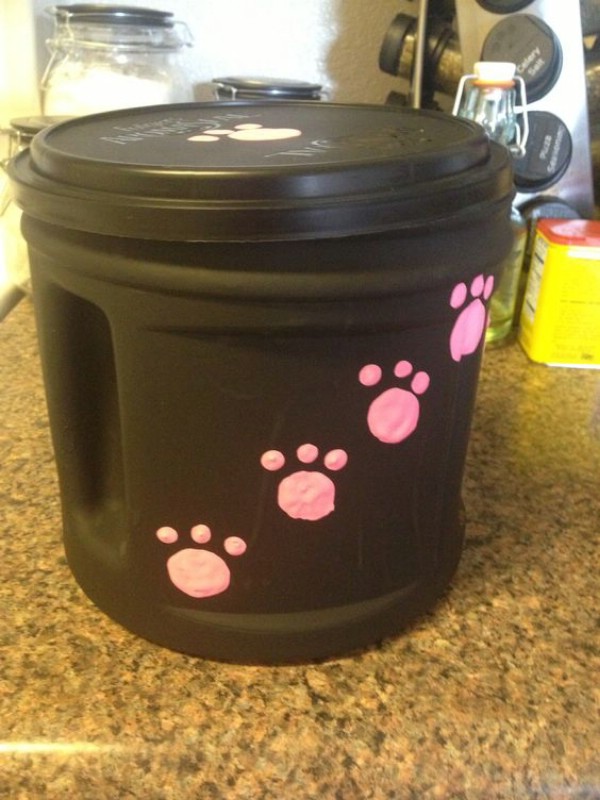 Repurpose plastic coffee containers like those from Folgers by removing the outer wrapper and washing it well. You can paint the solid colored canister or use it as is. These lidded plastic containers make great cookie jars. Also, use them to store homemade candies, hardboiled eggs, etc. If you drink a lot of coffee, you can quickly amass enough to use for sugar and rice storage or dry pasta containers. The largest containers are the perfect height for spaghetti.
Turn Metal Coffee Cans into Planters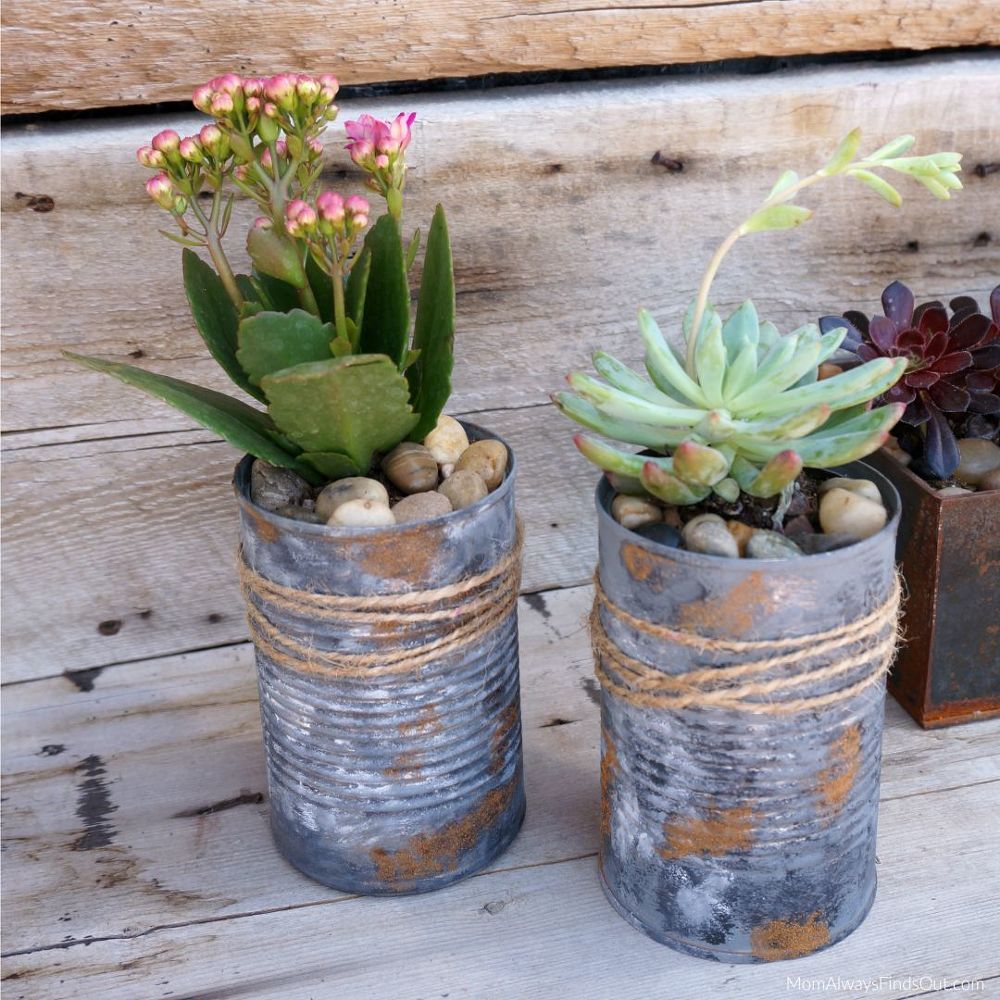 Repurpose metal coffee containers by washing them well, then spray painting them any color you desire. Poke a few holes in the bottom to use it as a planter. Leave the bottom solid to use it as an organizer. You can create a set in any number you desire to store small items for crafting or to help organize a child's room. They make great lidded bins for hair ties, hair clips, binder clips, crayons, pens and pencils and crafting supplies.
Build a Desk from a Door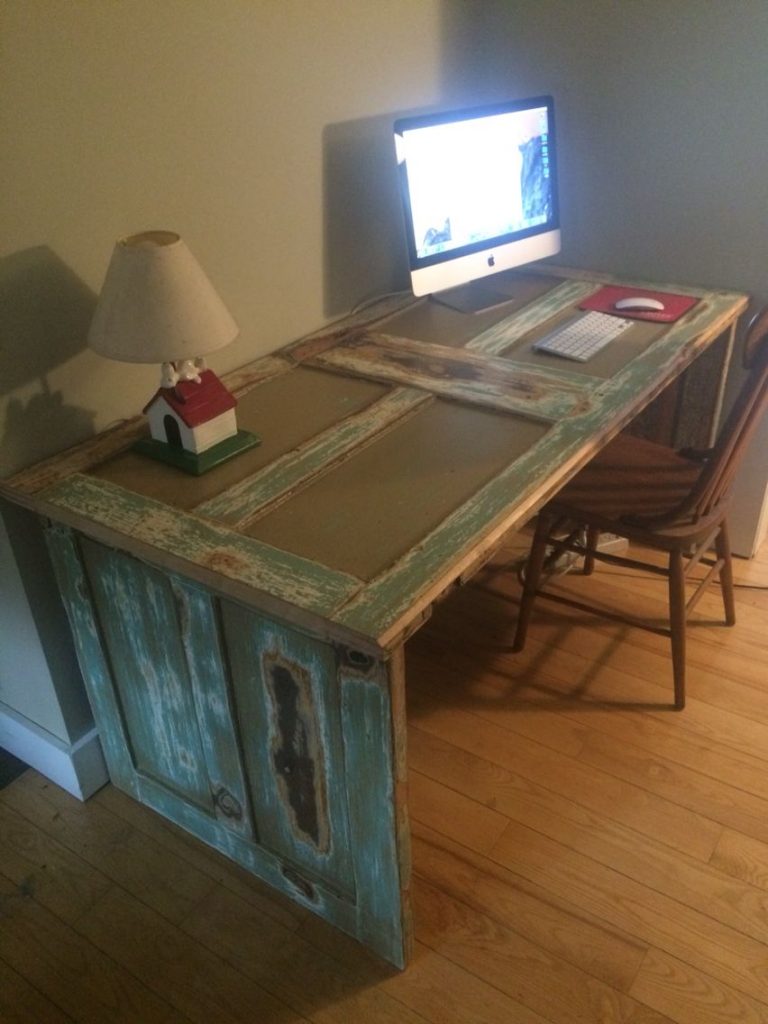 Turn an old door into a hearty desk by adding legs or setting it onto two equal height file cabinets or two small bookcases. Saw horses or the metal frame from an old glass-topped desk will also work. You can use the door as is or strip it, then vanish or paint it. Remove the door knob and lock mechanism to create a hole perfectly sized to run power cords through.
Make Outdoor Chairs and Tables from Old Tires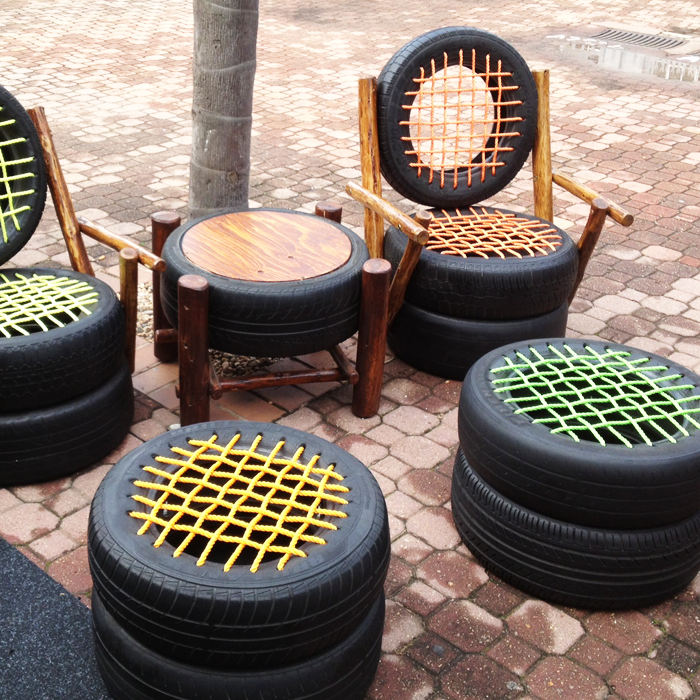 Repurpose used tires by painting them various colors and using them decoratively as yard décor or planters. Hung on a wooden fence, it makes a colorful planter or display for gardening tools or other items. Stack four or five and top with a glass round tabletopper to create a decorative table. Set one standing up, partially buried, then add one lying on the ground in front of it. Fill the center with soil and top with sod, so grass quickly grows in it. This creates a rubber chair that lets you plop down to enjoy your garden.
Make a Swing from Old Tires
Repurpose an old tire by making a swing out of it. Hang it from a sturdy branch to provide a swing for children or adults. You can use it as is or paint it a fun color first. Use a sturdy rope and double lash it around the branch and the top of the tire round.
Make Shelves from Old Desk or Cabinet Drawers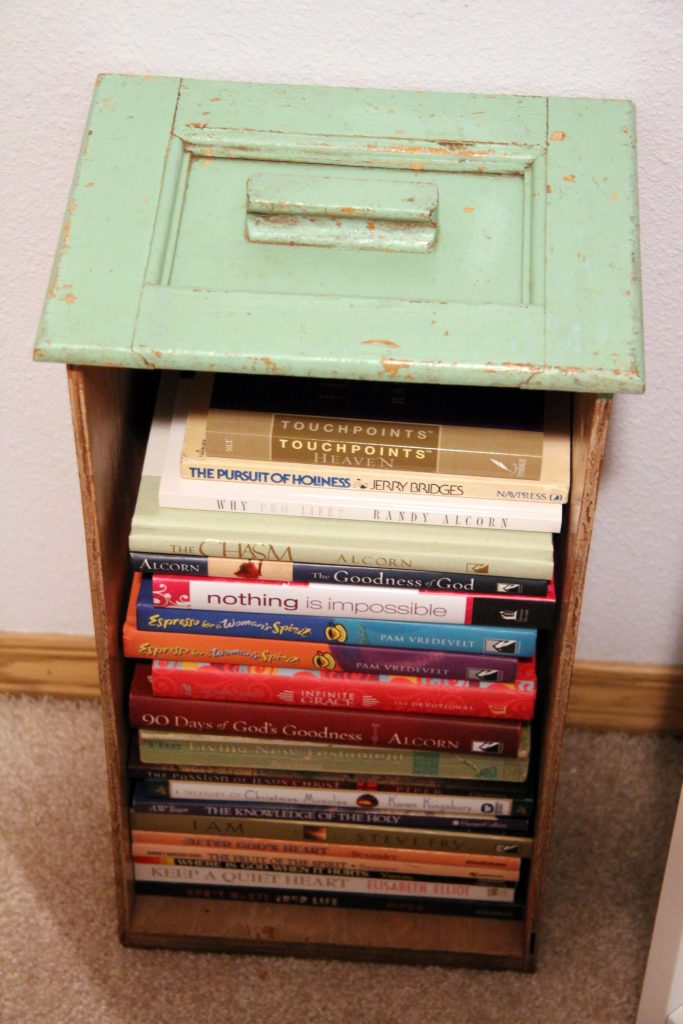 Salvage the drawer from a small desk or cabinet that cannot otherwise be repaired and use it as a wall shelf or planter. Paint it or decoupage it, then secure it to the wall using bookshelf supports. You can use other salvaged portions of the furniture item to make smaller interior, shelves.
Turn an Old Wood Pallet into a Headboard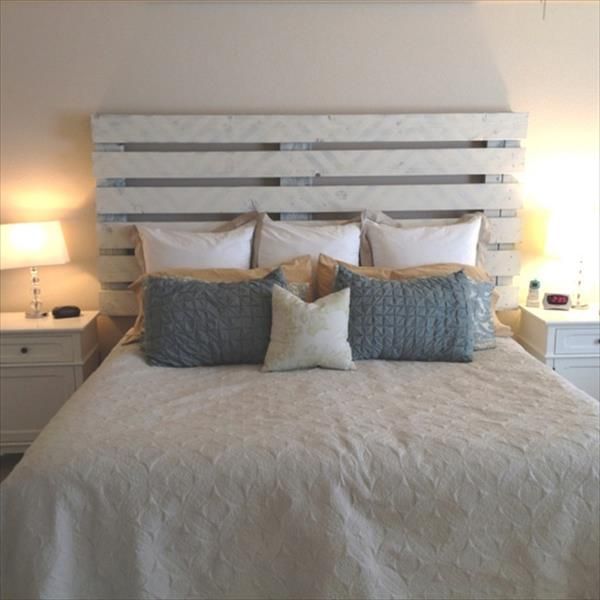 Wash and varnish a wood pallet to use as a headboard. Run clear string lights in between the slats to provide illumination in the evening. A single pallet provides the perfect width for a twin or full bed. Use two pallets for a queen or king headboard.
Create a Sprinkler or Soaker from an Old Garden Hose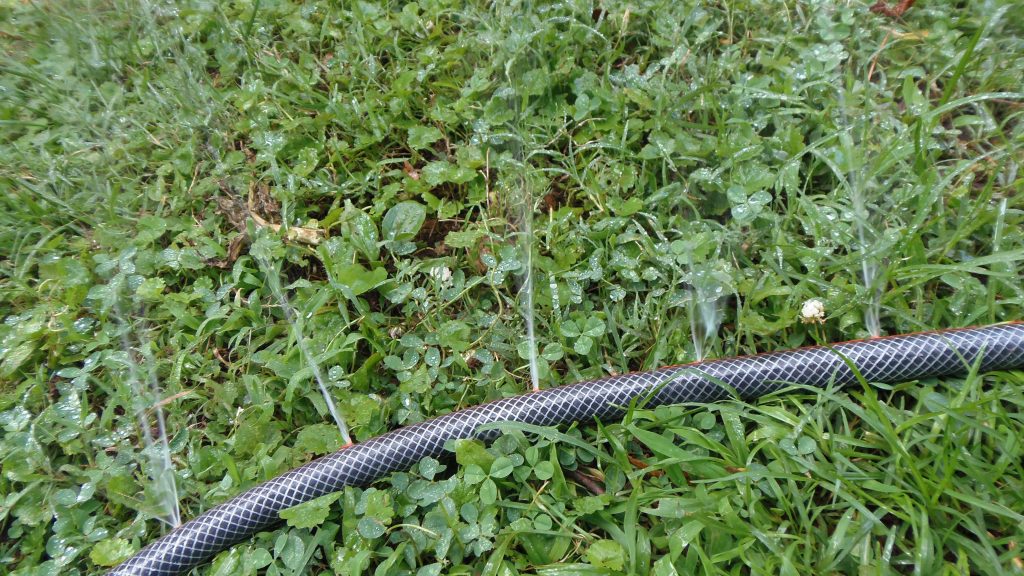 Repurpose an old garden hose by poking holes in it to create a sprinkler. You can create a soaker for your yard or for the kids to run through. If it cracked, there is no problem because that just creates another hole for the water to spout out.
Use a Vintage Ladder as a Drying Rack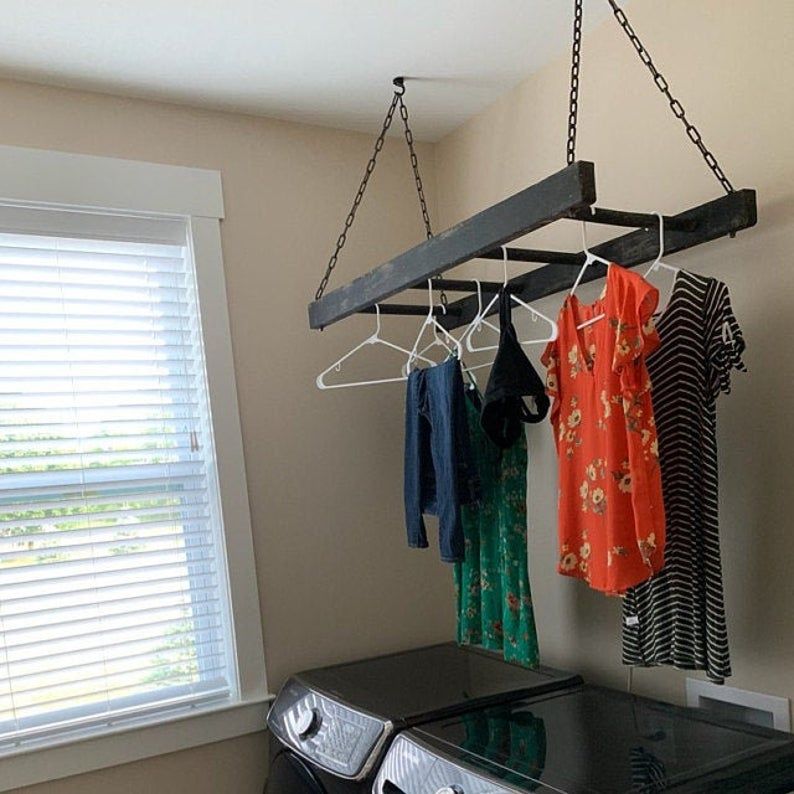 Repurpose a vintage ladder as a drying rack by hanging it from the ceiling in your laundry room. You can paint it to match the ceiling first or use a contrasting color.
Use a Vintage Ladder as a Bookshelf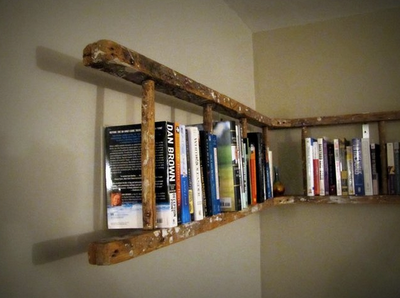 You can also use a vintage ladder as a bookshelf. Paint it to match the wall. Hang it on the wall, affixed by two metal or wood shelf brackets.
Use a Dish Drying Rack as a File Holder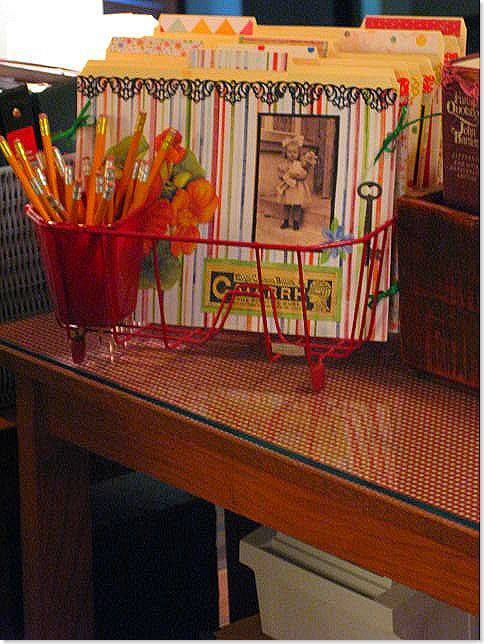 Turn your metal or wood dish drying rack into a file holder. Wash it first. Once dry, you can organize up to 30 files in most racks a much more massive number than most file folder racks accomodate.
Use Empty Wine Bottles as Taper Candle Holders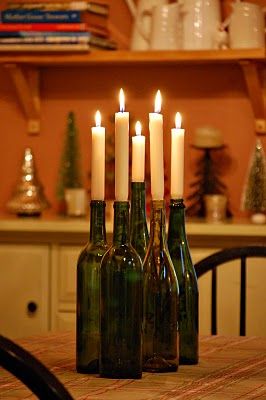 Empty wine bottles can become taper candle holders. Soak off the label. Rinse the bottle and let it dry. Insert a taper candle in the neck. If you decide to paint the bottle, check the paint type first. Some paints cannot be used because they are flammable. It is best to use bottles that you like as is for this candle holder craft.
Turn Empty Wine Bottles into Flower Vases.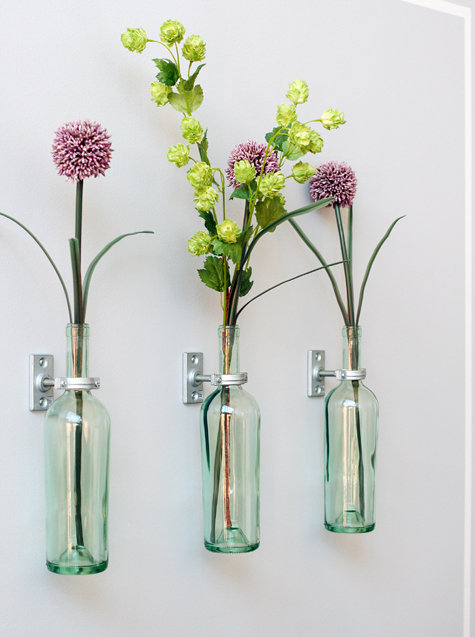 Empty wine bottles can also become flower vases. Soak off the label. Rinse the bottle and let it dry. Insert your choice of silk flowers or live flowers. Tie ribbon around the neck for decoration.
Create Wrist Rests Out of Pool Noddles
Make wrist rests for every computer in your home by slicing one pool noodle into four equal lengths, then slicing each length in half length-wise. Flip it over on the arc and your wrists remain at the ideal height to prevent carpal tunnel syndrome.
Create a Planter from an Old Flour Sifter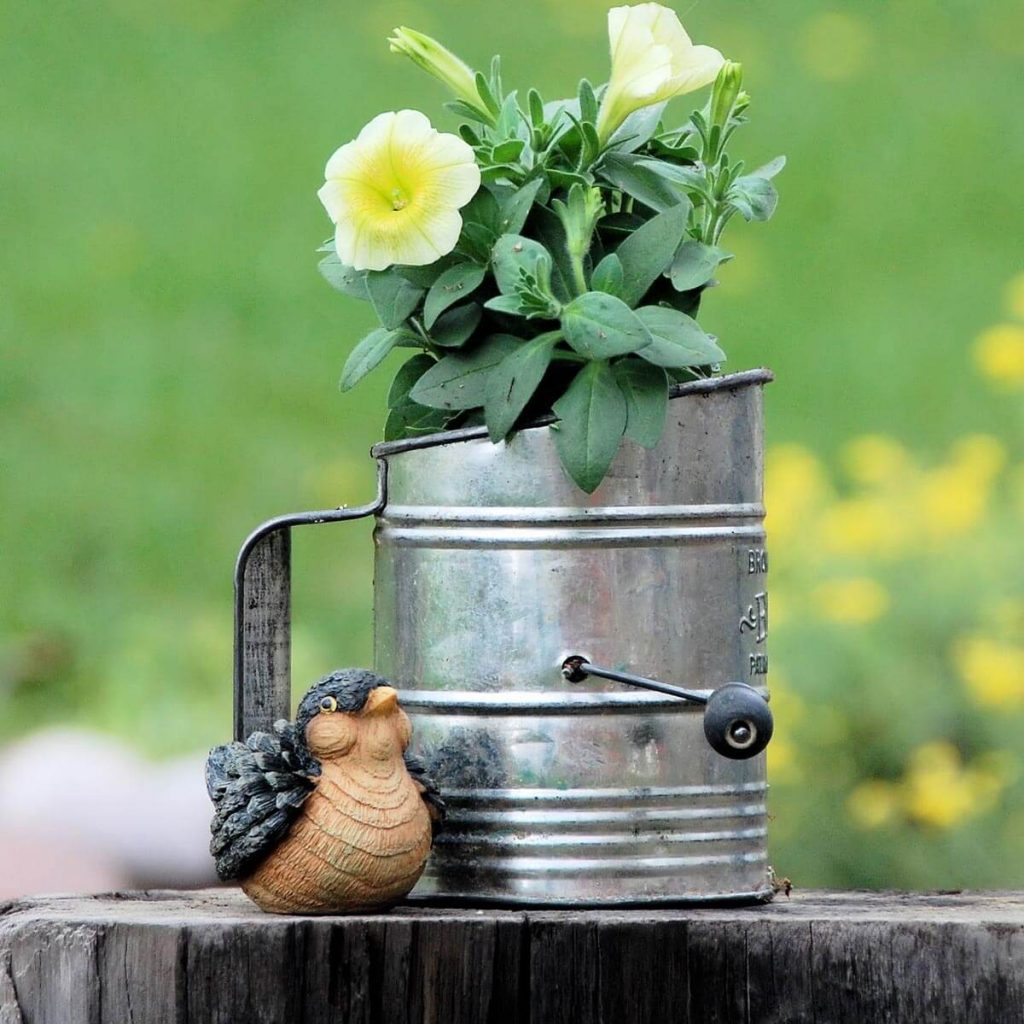 Turn an old flour sifter into a planter. They provide a retro look plus the mesh in the sifter helps you keep from overwatering the plant. Use it as is for a country home look with the nickel-plating or tin, or paint it something colorful.
Create a Drawer Stopper from a Pool Noodle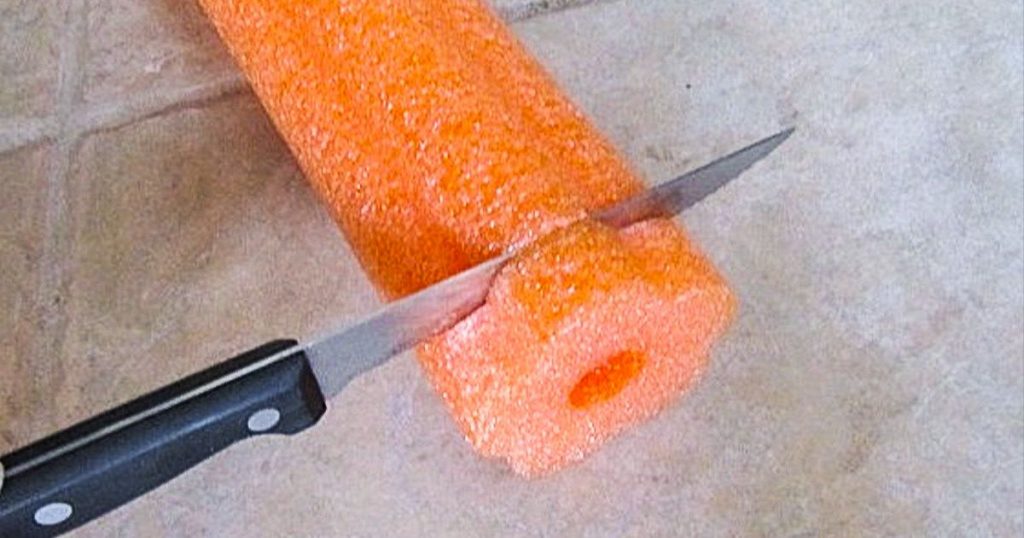 Use a portion of one of the pool noodles as a drawer stopper if your cutlery organizer has a tendency to slide back and forth in the drawer. Insert the length of pool noodle at the very back of the drawer then re-insert the organizer. The noodle length holds in in place and you never see it.
Use a one cent piece as a shim.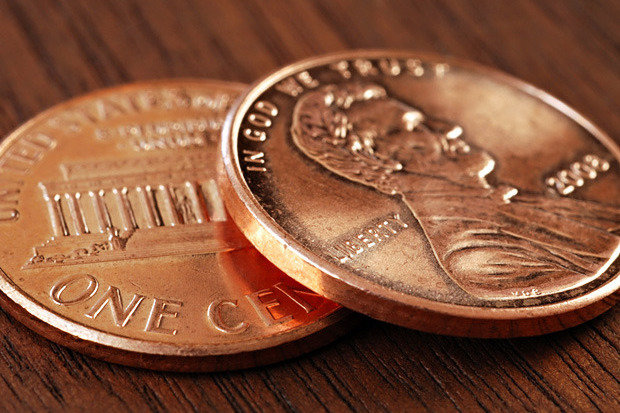 Glue a penny to the bottom of the short leg of a wobbly table or chair. The penny is the perfect height to act as a shim and it's more durable than wood. Use wood glue or a hot glue gun for best results.
Turn Book Pages into Wallpaper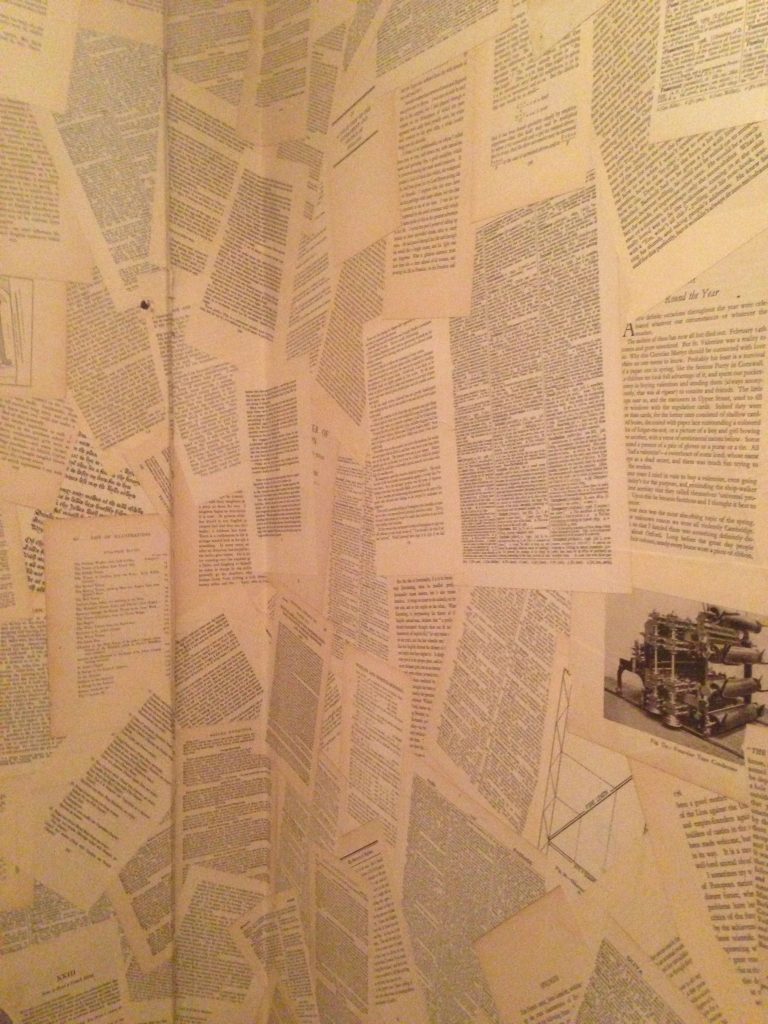 Turn the pages of books that got wet into wallpaper once they dry. As a book, the tome may be ruined, but as wallpaper, you can use it. Decoupage the pages to your choice of wall to a create a creative, personalized accent wall. You can set pages side by side or overlap them.
Clean Light Fixtures in the Dishwasher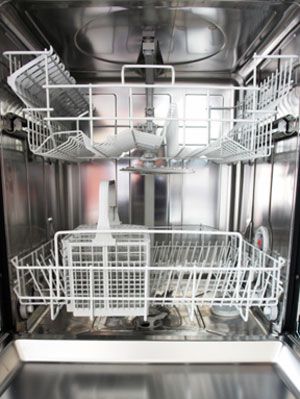 Use your dishwasher in a new way – to wash the light fixtures throughout your home. Most fixtures are ceramic or glass and dishwasher safe. Dump any dead bugs out into the trash can, then load the fixtures in the dishwasher as you would your dishes. Use regular dishwasher crystals such as Cascade.
Dryer Sheets Clean Sliding Glass Doors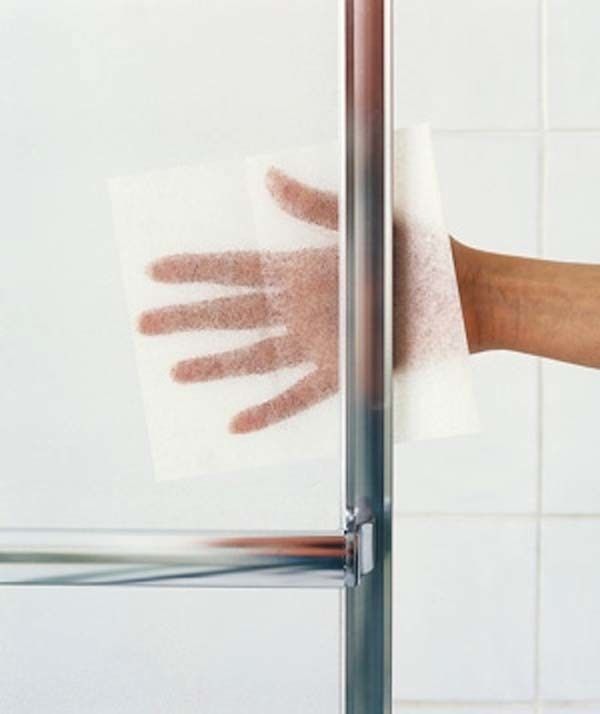 Clean your sliding glass shower doors with dryer sheets. Rub the sheets on the doors to remove soap scum and leave a great scent behind. Do not use any cleanser on the dryer sheets or the shower doors. It will not mix well with the coating on most dryer sheets.
Use Stray Socks to Clean Blinds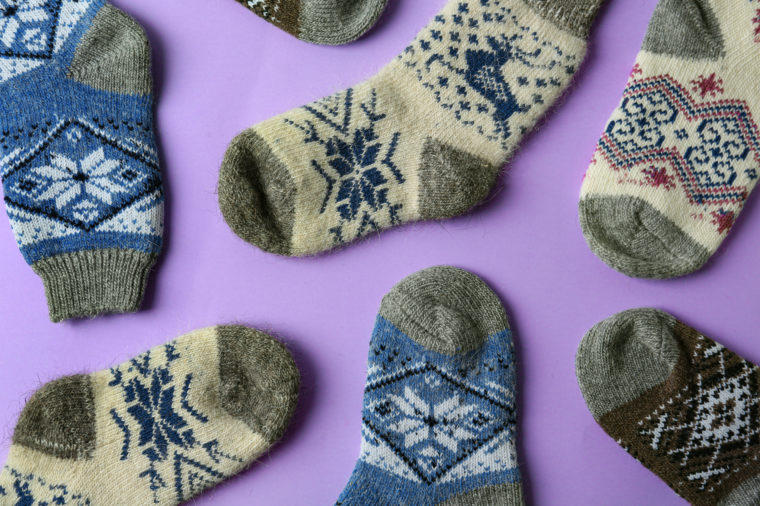 Clean blinds easily and make use of stray socks by using the one that does make it out of the dryer. Slip the sock over one hand, lightly spray it with window cleaner and slide it over each slat of the blinds. Your blinds simply wipe clean. Toss it in the washer to clean your sock glove and reuse it. Now you have a use for all those mateless socks.
Make Furniture Polish with Vinegar and Lemon Oil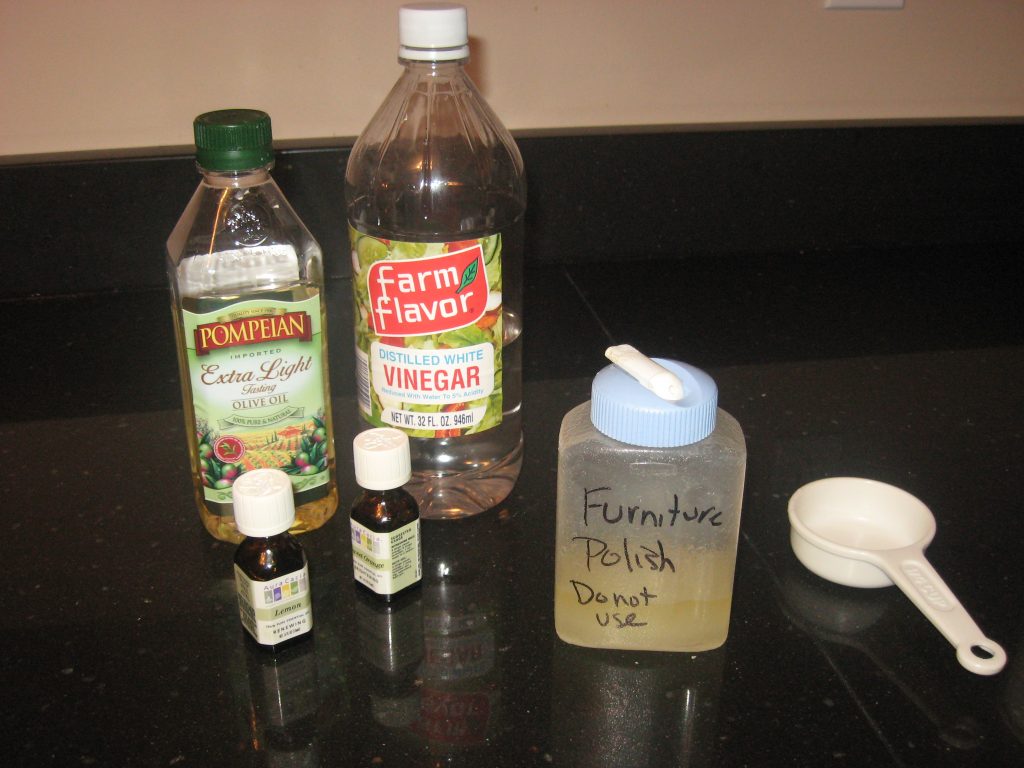 Mix your own furniture polish if you run out just when company is on its way. Mix equal parts lemon oil and vinegar, then dampen a dust cloth with the mixture. Wipe wood furniture clean. This natural mixture is safe for any wood and leaves it refreshed and shining.
Vinegar Removes Hard Water Stains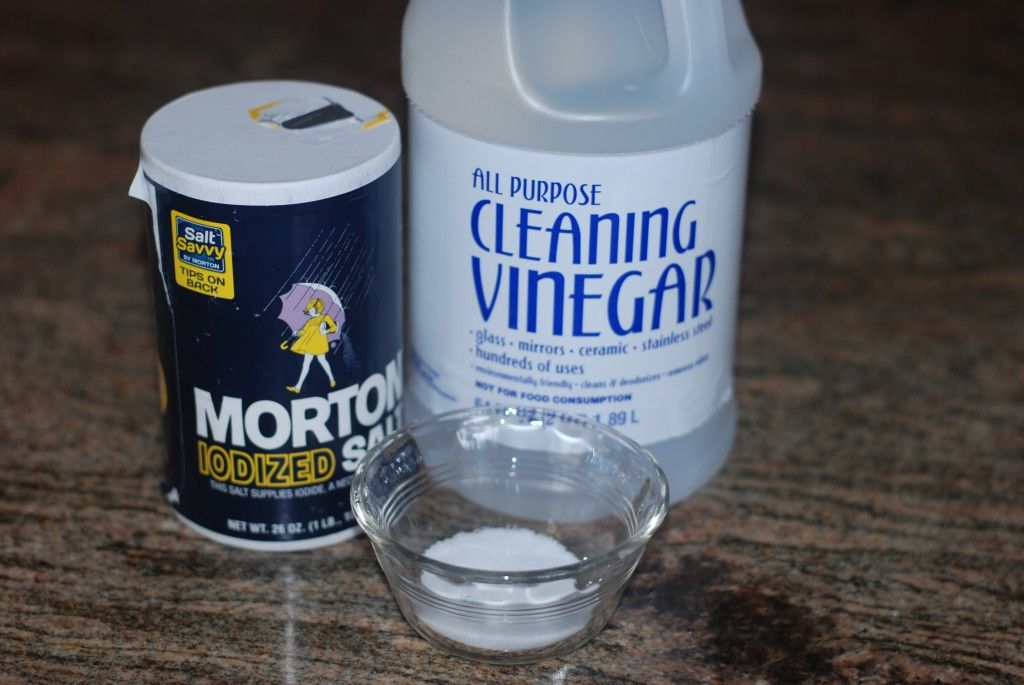 Remove hard water stains by soaking paper towels with vinegar, then covering the stains with them. Let them soak overnight. The vinegar lifts the stains and the next day, you just wipe them off of your bathtub or sink.
Newspaper to Unstink Wet Shoes
Unstink wet shoes with newspaper. Crumple newspaper and stuff it inside the wet shoes. Leave them out to air dry overnight. Remove the newspaper in the morning. You can sprinkle a little baking soda in the bottom of the shoes before inserting the newsprint if you want to freshen them, too.
Olive Oil as Makeup Remover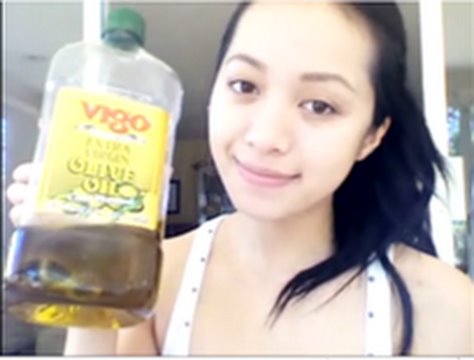 Use olive oil as makeup remover. This skin healthy oil moisturizes skin as it removes makeup. Soak a cotton ball with the oil and swipe it over your eyelids. You can use it on your whole face to remove base and powder, blush, lipstick, etc. Wash your face after using the oil as remover.
Olive Oil as Moisturizer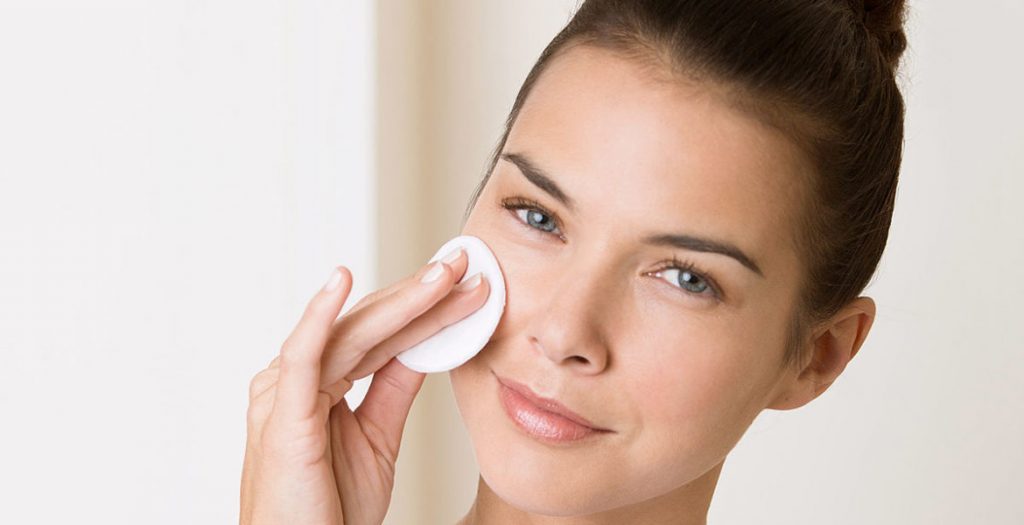 Use olive oil as moisturizer on your hands, elbows, heels, anywhere you need extra moisture. Virgin or extra virgin makes a terrific body oil and this oil is light enough that even those with somewhat oily skin can use it.
Tennis Balls in the Dryer to Keep Stuffing in Place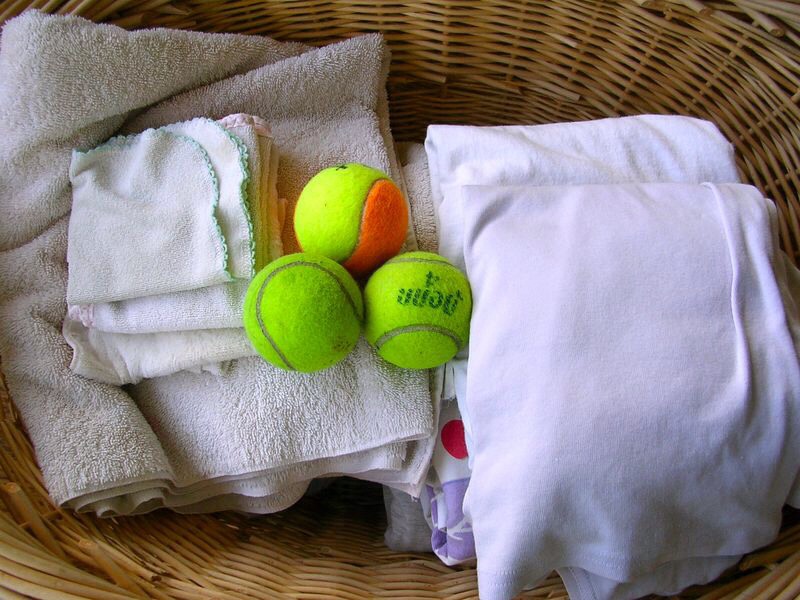 Toss a couple of new or clean tennis balls into the dryer with a comforter or sleeping bag to keep the stuffing from moving into one corner of the item while it dries. The bouncing of the tennis balls distributes the down or filling as it dries.
Cover Windshields with Cardboard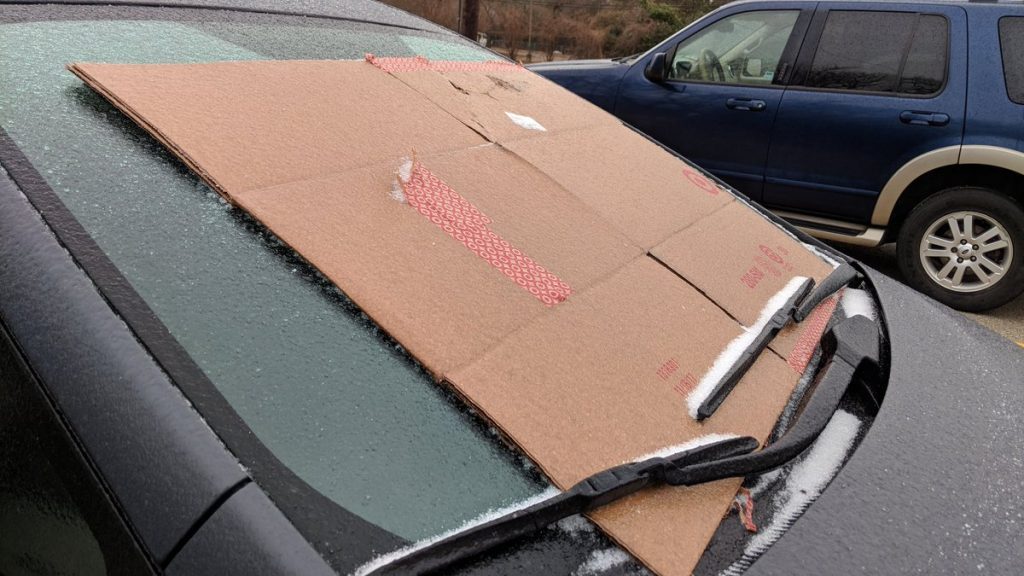 Cut a cardboard box into a flat piece to cover your windshield in freezing weather. Place it over the windshield under the wipers. You will wake up to find you have no ice on the windshield. You will immediately be able to see out of your windshield to drive.
Daughter Overwhelms Parents Restaurant With Customers By Posting On TikTok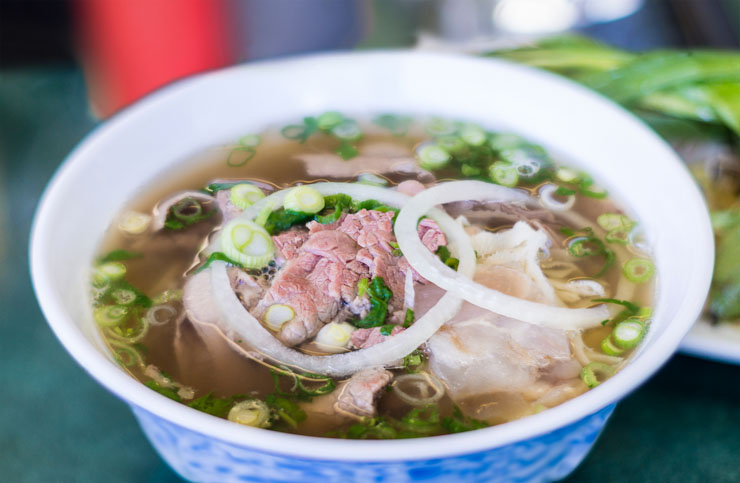 A seven-second video posted on TikTok by Jennifer Le has saved her parents' Vietnamese pho restaurant from going out of business. In the video, Le showed the empty restaurant and her dad looking sad at the register. She then asked for social media's help to keep the restaurant in business. The restaurant is in California and was doing ok before the pandemic, but has since had trouble getting customers to dine in.
The video went viral, and within hours, it had garnered millions of views and shares. People all over the world were touched by Le's message and began sharing the video on their social media accounts. The response was overwhelming, with people expressing their support for the restaurant and their willingness to help.
As a result of the video, the restaurant was flooded with customers, many of whom had never heard of the place before. The increased business allowed Le's parents to keep the restaurant open and the phones are ringing off the hook. The family was overwhelmed by the outpouring of support and expressed their gratitude to everyone who had shared the video and visited the restaurant.
Le's video is a perfect example of the power of social media to effect change. In just seven seconds, she was able to capture the attention of millions of people and inspire them to take action. The video also highlights the struggles faced by small businesses during the pandemic and the importance of community support in keeping these businesses afloat.
Le's video has since become a source of inspiration for many people who are struggling with similar issues. It serves as a reminder that even the smallest actions can have a significant impact, and that we all have the power to make a difference in our communities.