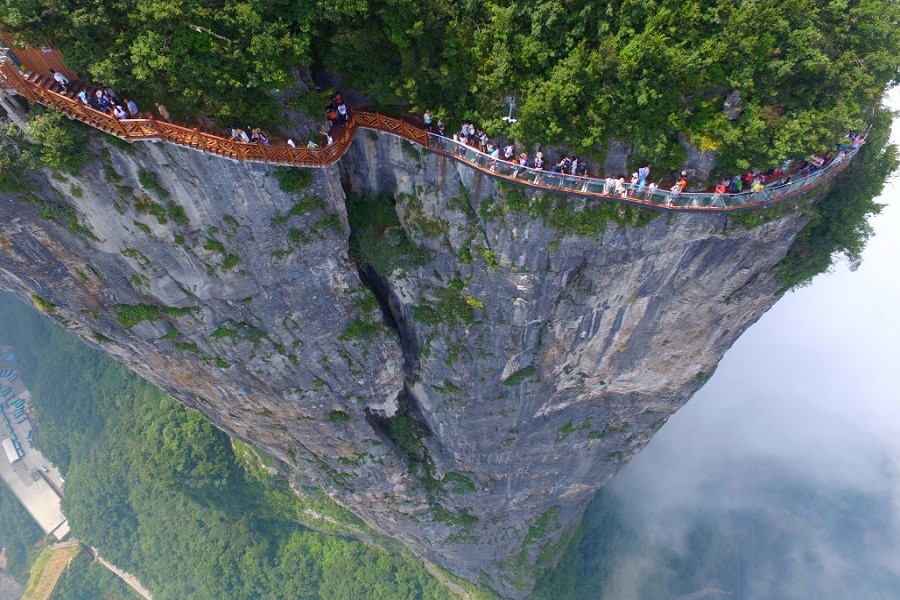 Scariest Bridges Around the World
Modern technology makes it possible for people to traverse all types of difficult terrain. From deep lakes and chasms to mountains that scrape the sky, bridges are a vital transportation tool. Throughout our history, engineers have produced bridges that could be described as beautiful, inspiring, and awe-inspiring. The bridges on this list, however, are best described as absolutely terrifying. Are you brave enough to see some of the scariest bridges around the world?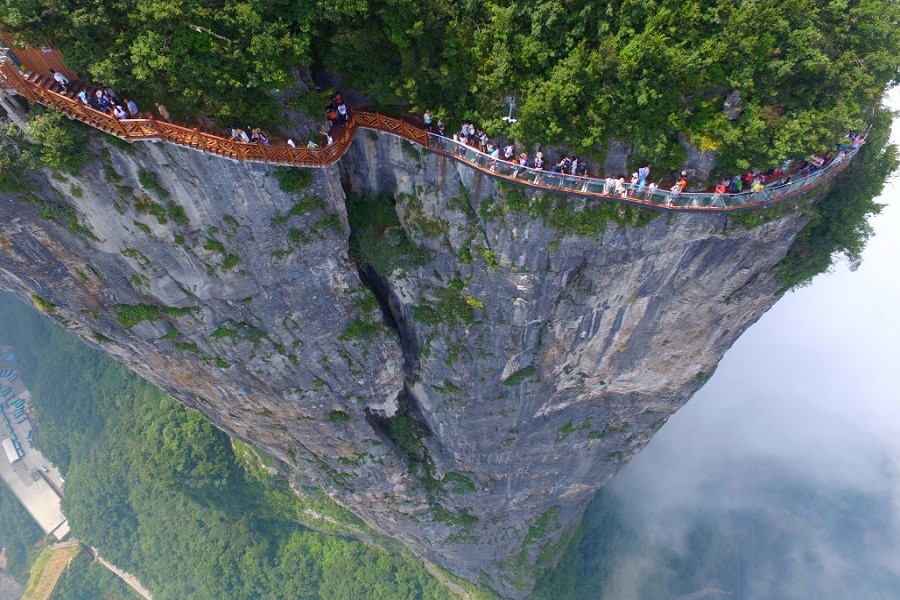 Kuandinsky Bridge
This wooden structure has existed in Kuanda, Russia for over 30 years. However, since it's introduction, the bridge has received almost no maintenance. The narrow dimensions also make it difficult for anyone but the most expert drivers to negotiate, especially during one of the frequent spells of icy rain and snow. While the Kuandinsky Bridge is no longer used for regular traffic, it is popular with thrill seekers looking for new adventures.
Royal Gorge Bridge
Found in Colorado, the Royal Gorge Bridge is the highest suspension bridge in the country. At over 1000 feet high, this structure is not for those who are afraid of heights. Fearless tourists can cross the bridge on foot or enjoy a heart-pounding cable car ride across the gorge.
Monkey Bridges
Throughout the Mekong Delta in Vietnam, simple wooden structures dot the many rivers and waterways. At first glance, they look to be nothing more than a bundle of sticks. However, these unsophisticated pathways are actually footbridges used by locals to ease the navigation of their waterlogged lands. Monkey bridges are often just a single length of bamboo laid from one shore to the next. More elaborate models include supports for stability.
Vine Bridges
Like the monkey bridges of Vietnam, the vine bridges of Iya Valley, Japan are a cultural tradition. However, no one is quite sure who created these intricate and delicate structures. They are believed to be at least 900 years old. There is evidence that the valley was once home to 13 of these woven vine and plank bridges. Today, however, only 3 survive. Despite the fact that modern engineers have reinforced these ancient bridges with steel, the 45-foot drop into the valley below is still a bone-chilling experience for tourists.
Hussaini Hanging Bridge
Sprawling across the Hunza River in Pakistan, this simple structure is often called the most dangerous bridge in the world. Rickety boards perch precariously on a thin wire frame. One misstep would send travelers hurdling into the deep waters below. Off to the side, the remains of a previous version of the bridge can still be seen hanging.
Seven Mile Bridge
The first version of Florida's Seven Mile Bridge had to be destroyed and reconstructed due to engineering errors. The bridge was built too low, preventing ships from passing safely underneath. While the second bridge accommodates all sizes of sea craft, it's still a heart-pounding drive during Florida's many violent storms.
Glass Skywalk
Found in China's Tianmen Mountain in Zhangjiajie National Park, the Glass Skywalk is officially the longest glass-bottomed bridge in the world. Visitors receive an unobstructed view of the valley floor below as they stroll across the clear expanse. Completed in 2015, the structure is supported by ultra thick steel beams.
Deception Pass Bridge
The fog in Washington State is a well-known phenomenon. This rickety footbridge connects two small islands. When the fog is thick, travelers aren't even able to see the 180-foot drop below them. Before it's construction, island dwellers relied on ferry boats to get between locations.
Eshima Ohashi Bridge
This Japanese bridge is a marvel of modern construction. Straddling Lake Nakaumi, this bridge is built on a steep gradient to allow ships to pass by unobstructed. When viewed from certain angles, the bridge appears to look like an amusement park. While quite a bit of its steepness is just an illusion, this bridge is still an impressive sight from any viewpoint.
Lake Pontchartrain Causeway
The longest cross-water bridge in the world, this Louisiana structure sits a mere 16 feet above the waves. Residents have relied on this bridge for almost 70 years to navigate the underwater space between the cities of Mandeville and Metairie.
Confederate Bridge
While Canada's contribution to this list isn't the highest or wildest entry, it does merit frights on it own. This 8-mile structure stretches across a body of frigid water. If an accident caused someone to fall into the depths below, it's unlikely they would be able to survive the freezing cold before a rescue could arrive. The bridge's conservators claim it to be the longest bridge across the icy water in the world.
Canopy Walk
Ghana welcomes visitors to get a different view of the forest from this 40-foot high structure. Running through the treetops, explorers are likely to run into a variety of wild birds and small monkeys. These fellow travelers can be the biggest danger on this unique nature walk.
Trift Bridge
Switzerland enters the list with this pedestrian-only expanse in the Alps. Built to imitate the 3-rope bridges popular in Nepal, this architectural wonder draws over 20,000 visitors each year. Gondola rides are available for those who don't trust their legs to make the journey.
Langkawi Sky Bridge
Four hundred feet above the Malaysian jungle, the Langkawi Sky Bridge is a sprawling suspense structure that gives tourists a bird's eye view of this beautiful country. The bridge was recently closed for some much-needed repairs but is now open for visitors on most days.
Sidu River Bridge
Higher than the Royal Gorge Bridge, this structure straddles the Sidu River in China's Sichuan Basin. At over 4000 feet long, the bridge sits 1,640 feet above the gorge's bottom. On a clear day, travelers are treated to an unobstructed view of the whole valley.
Kuandinsky Bridge
This bridge is a one lane, trestle bridge that seems to be covered in snow for most of the year. The Kuandinsky Bridge of Kuanda, Russia is a bridge that is certainly one of nightmares. It also has no guard rails and withstands harsh winds through the long Russian winter. This bridge is closed but some thrill seekers still try to cross it.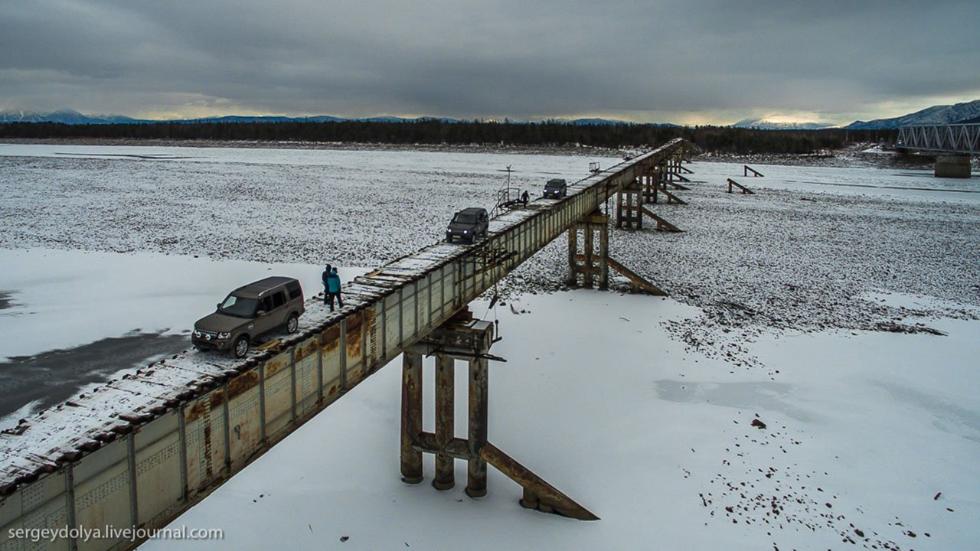 Aiguille du Midi Bridge
Aiguille du Midi Bridge located in the French Alps, is a terrifying 12,500 feet above sea level and is glassed in on part of it. It requires a 20 minute ride by cable car than a 9,200 food trek nearly straight up to reach this bridge at all. Once you get up, the only way back down is to go through the bridge. If you are afraid of heights, you should avoid this bridge at all costs.

Carrick-a-Rede Rope Bridge
Carrick-a-Rede Rope Bridge, Northern Ireland, this bridge is made of ropes and pieces of wood. It also is suspended over water and rocks and is a bridge that is 98 feet high. It is 66 feet long and is narrow with views of the Irish Sea, Rathin Island and more. Though the views are stunning, they are also terrifying.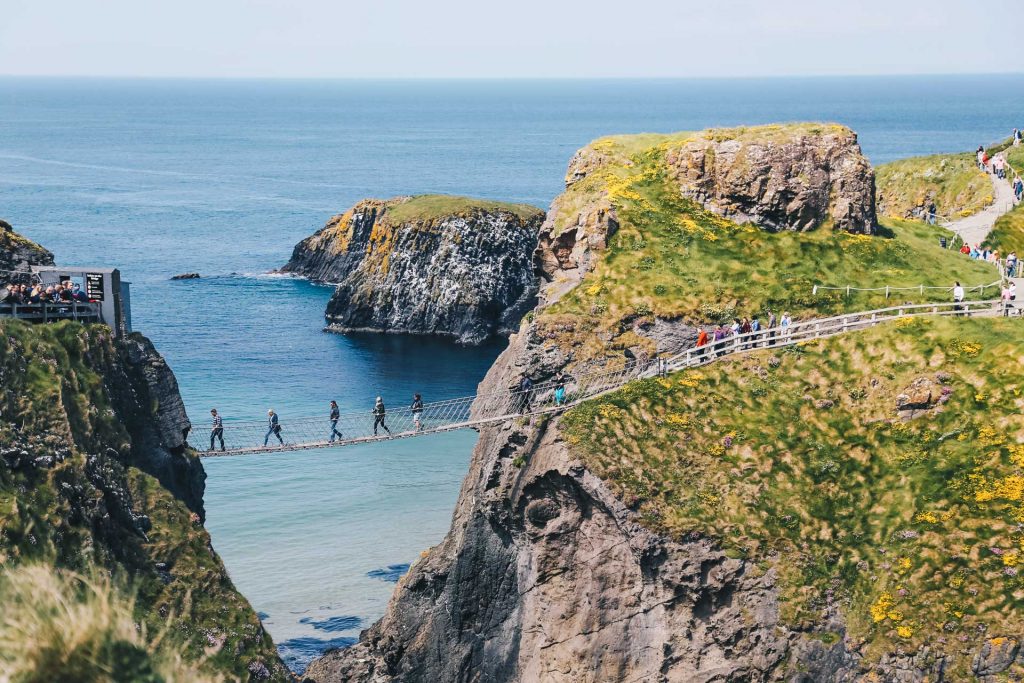 Zhangjiajie Grand Canyon Glass Bridge
Zhangjiajie Grand Canyon Glass Bridge located in Zhangjiajie, China is a glass bottom bridge that is suspended between two mountains. The bridge is 1,410 feet long and has a fully glass bottom. It handles up to 8,000 visitors per day and is stunning. If you can stand the heights and the feeling that you may fall, this is a bridge that is certainly worth a visit.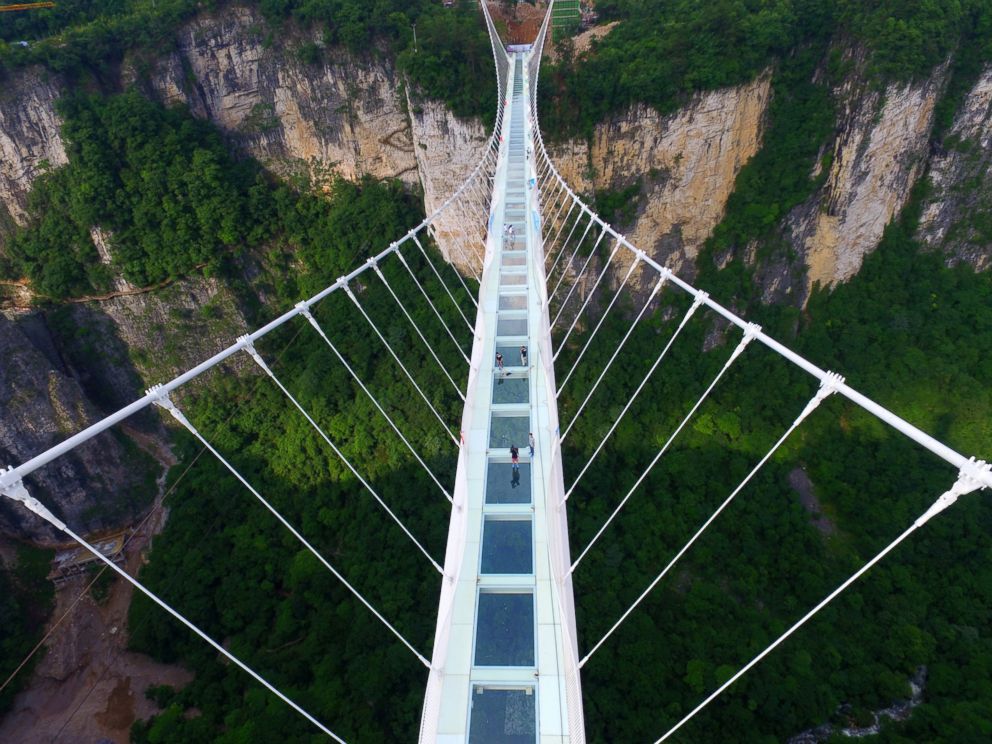 Hussaini Hanging Bridge
Hussaini Hanging Bridge, Pakistan, this bridge is a rope bridge and is considered to be one of the most dangerous bridges in the entire world. The bridge is made of wood and rope and was damaged heavily in the monsoons in 2011. This bridge does sway quite badly when the wind blows and is terrifying for anyone that decides to take this path across the Borit Lake.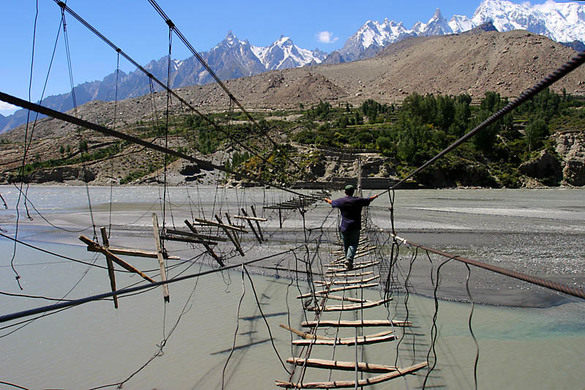 Capilano Suspension Bridge
Capilano Suspension Bridge, Vancouver, Canada, this suspension bridge is 230 feet above the ground and spans an impressive 450 feet through the forest. The bridge was originally hemp and wood but it has since been redone to support the thousands of visitors that want to traverse it every day.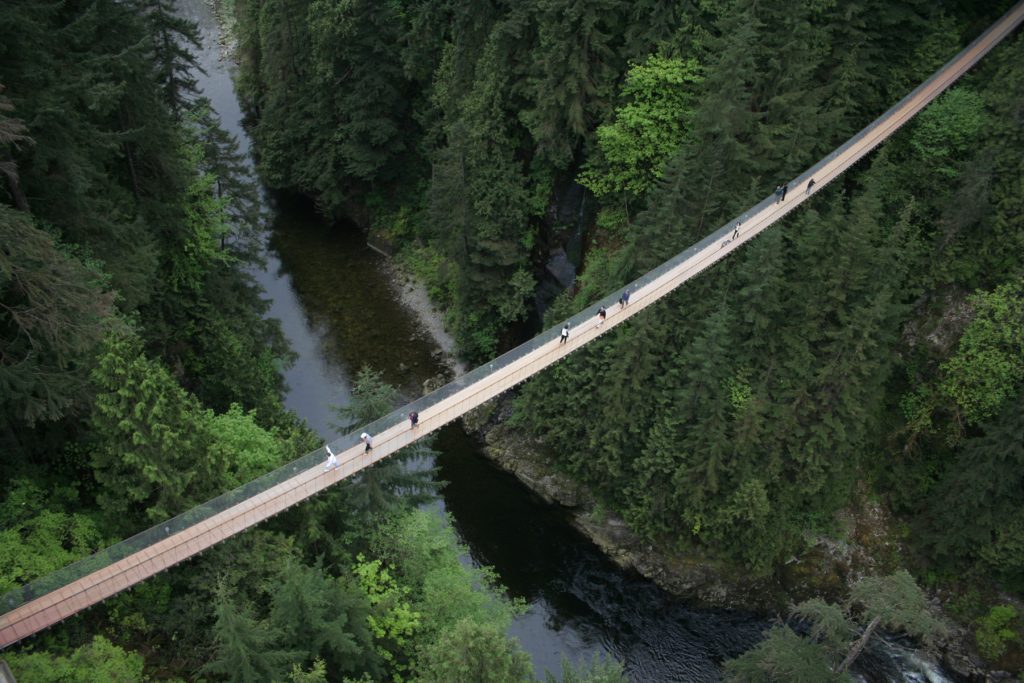 U Bein Bridge
U Bein Bridge, Myanmar is the longest and oldest teak footbridge in the world. It was made from the remnants of royal palace that was raised and is 0.75 miles long. It curves over the Taungthaman Lake and is very popular with tourists and photographers at sunset because of the way that it is framed against the sky.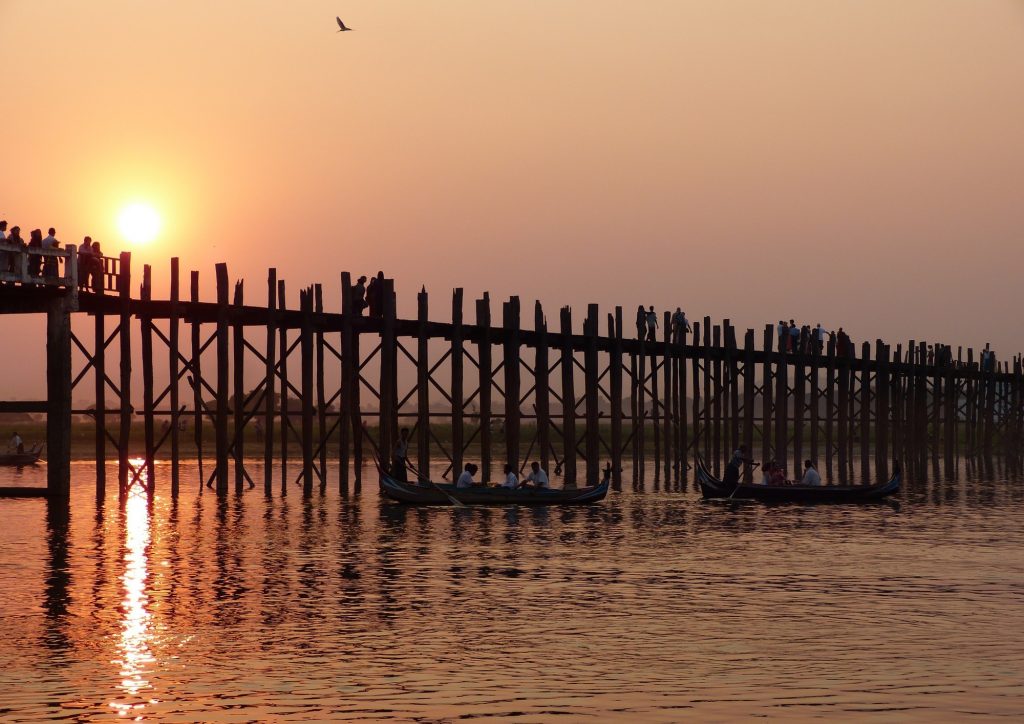 Millau Viaduct
Millau Viaduct, France, this bridge is an architectural wonder. The bridge is 1,125 feet above its base and is the tallest bridge in the world. It stretches between Paris and Beziers and is a stunning project to say the least. The bridge is one that makes it feel like you are floating in the clouds and it is taller than the Eiffel tower itself. The speed limit is about 70 miles per hour so it is also a thrill seekers dream.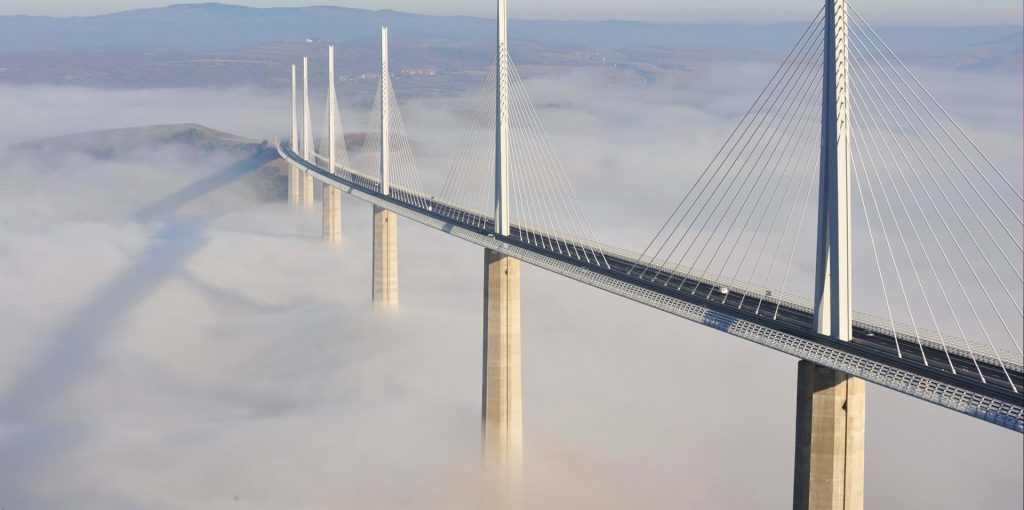 Monkey Bridges
Monkey Bridges, Vietnam these bridges are a very common occurrence in Vietnam. These bridges are named thus because of their primitive structure and look. They are made of sticks and string and are commonly constructed to go over water and through tight spaces. They have a base rail and a hand rail on each side.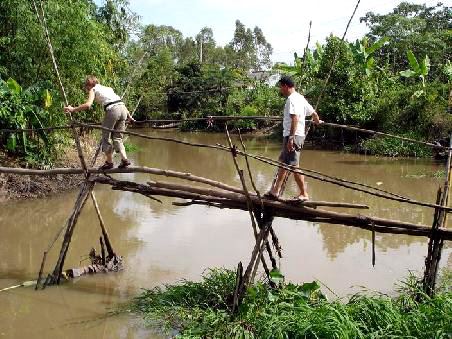 Langkawi Sky Bridge
Langkawi Sky Bridge, Malaysia, this bridge is not one you will want to miss if you love sweeping views and stunning landscapes. This bridge is one that has a walkway that has parts that are made of glass and that is absolutely stunning. This bridge is also somewhat terrifying for some however as it is far above the earth and allows for a direct view of all the scenery below.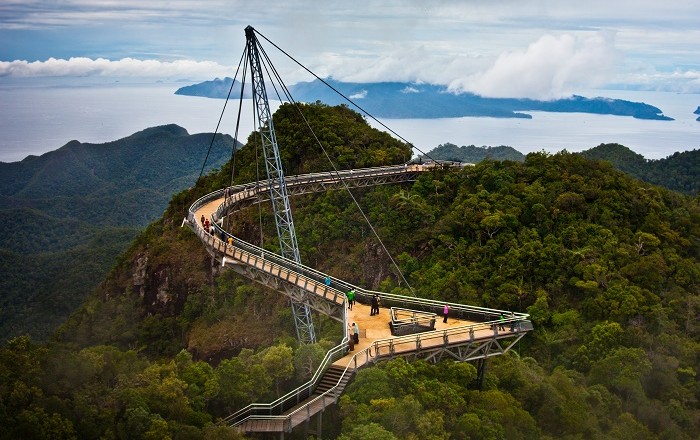 Titlis Cliff Walk
Titlis Cliff Walk located in Engelberg, Switzerland is a bridge that is suspended high above the mountains and offers a look at what some call the abyss of the southwall. This is a 500 meter drop. This bridge is only three feet wide and is 100 meters long and is roughly 10,000 feet above sea level.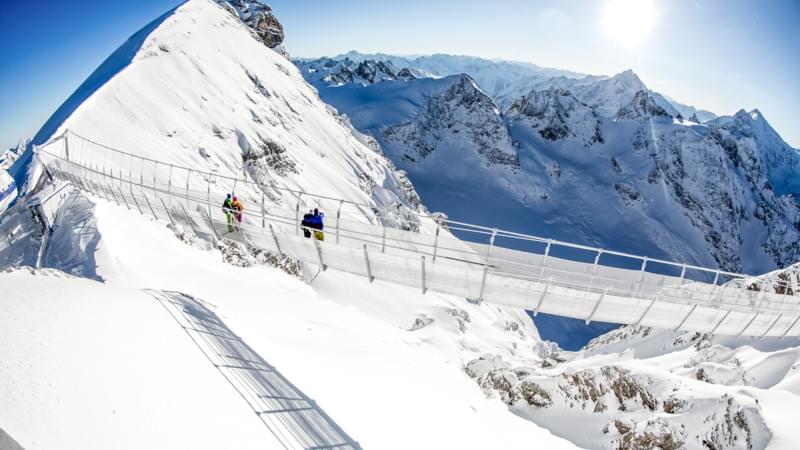 Chesapeake Bay Bridge
Chesapeake Bay Bridge, Maryland, this bridge is one that is 4.3 miles long and connects Maryland's Eastern and Western Shores. The bridge is beautiful and is 186 feet above the water. This bridge is somewhat terrifying as it does sway with the wind and can be scary for those that are not used to heights. There is even a car service that will drive your car across the bridge for you while you go by ferry on the water below.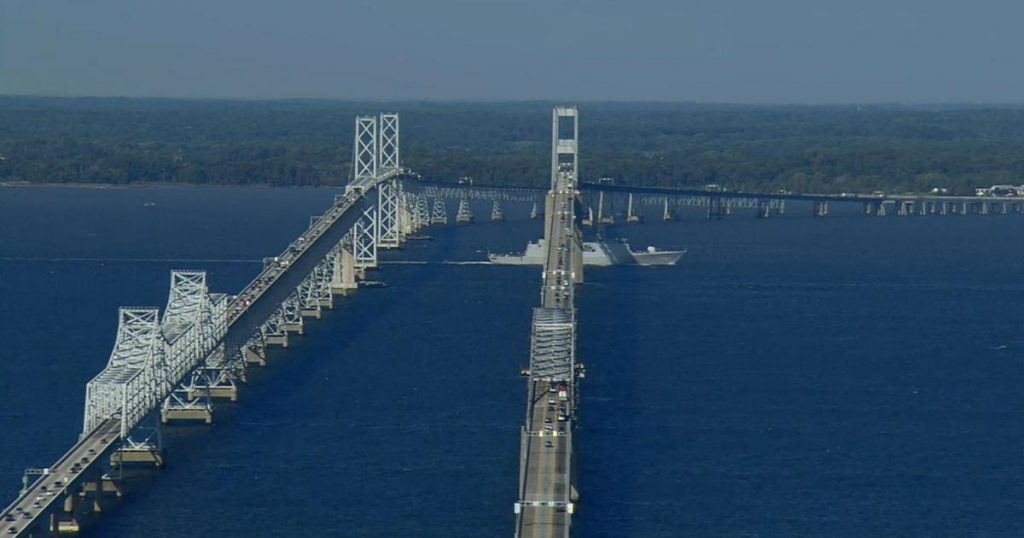 Royal Gorge Bridge
Royal Gorge Bridge, Cañon City, Colorado, this bridge spans about 880 feet and is 955 feet above the water of the Arkansas River. It is the highest bridge in the United States and has 1,292 wooden planks. You can also bungee jump from the bridge. This bridge used to be the tallest in the world but it has since been passed up by bridges that are far taller and far scarier than this bridge.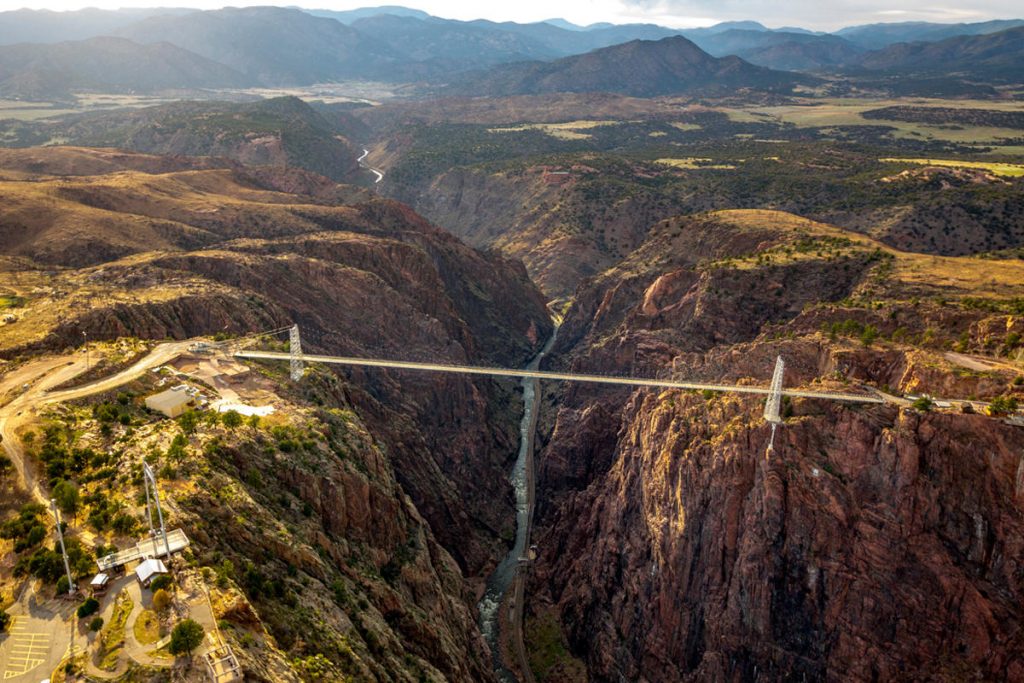 Iya Valley Vine Bridges
Iya Valley Vine Bridges, Japan, these bridges are made of vines and wood and are over 900 years old. These bridges are also ever changing and are 147 feet long. They have been reinforced with wire since they were built but the original vines are still in place. The drop to the river below is only 46 feet so it may not be as scary as some of the other bridges on the list.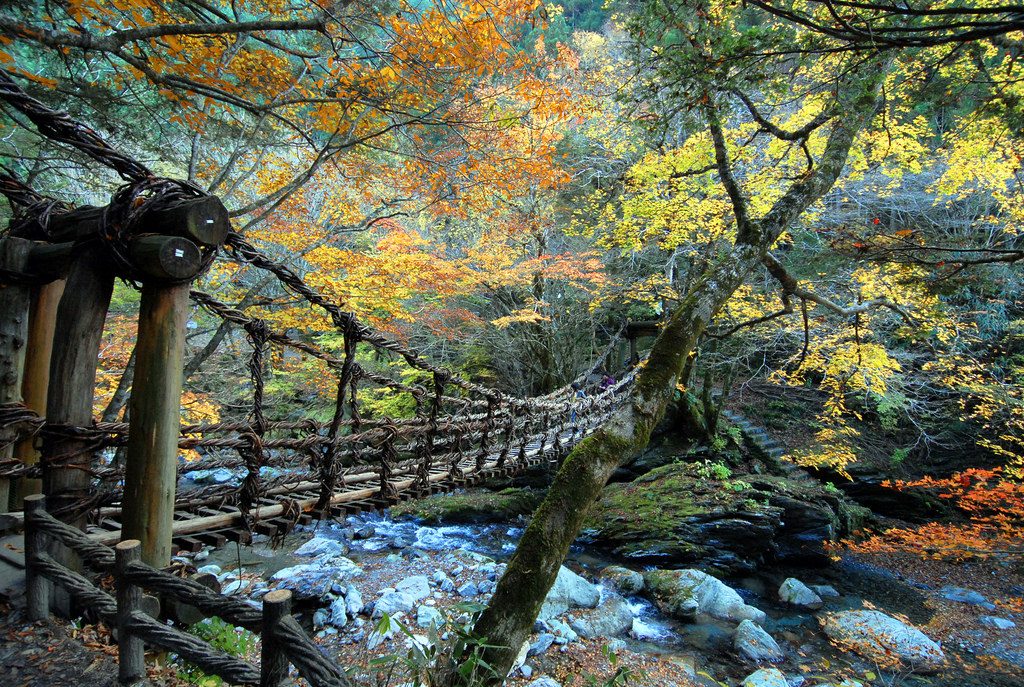 Gold Miners Dig Up a Lot More than Ancient Gold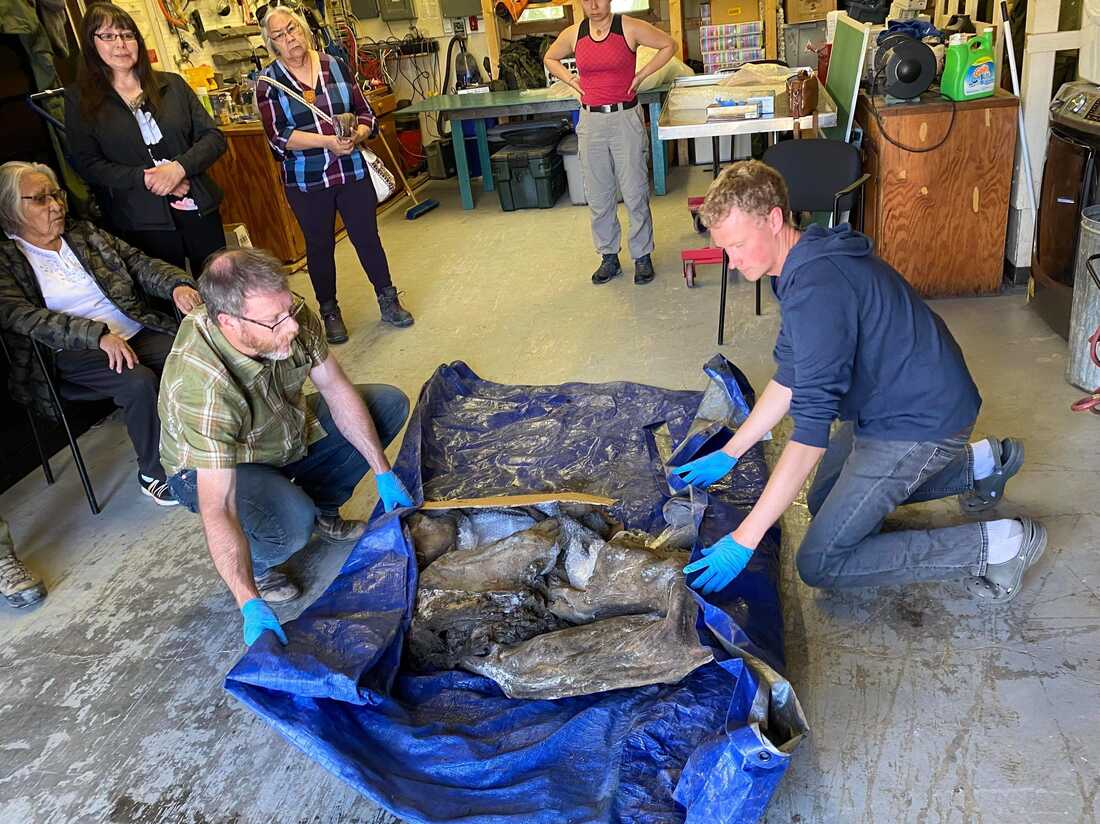 Gold miners are used to finding all sorts of things from ancient times. It's not uncommon to find relics of prior miners, old habitats, animal remains and even dinosaur fossils as they dig deep into the earth or excavate large areas. However, it's not an everyday occurrence to find a practically intact mummy of a baby mammoth.
Based on the estimates possible on first evaluation of the mummified baby mammoth found on June 21 by operations at the Klondike gold deposit, way up in the northern part of Canada, miners discovered a baby female mammoth assumed to be probably 30,000 years old. An occasional dinosaur or mammoth bone is uncommon but a regular occurrence. However, finding a complete set of remains of a baby mammoth is extremely rare and a big news in the world of paleontology and biology. Even better, the specimen is practically complete. Most times the remains have been tampered with by other animals or hunting and scavenging. Then nature moves things around even further and separates parts. In this case, however, the baby mammoth was complete, intact and well-preserved.
Named Nun cho ga but the local tribes, the find essentially means big baby animal, no surprise. All the skin and hair is intact, which makes the find extremely valuable in terms of understanding exactly how junvenile mammoths looked and probably behaved mechanically as well as physically. In terms of scientific information, the find is huge. It's similar to finding an entire painting by a famous artist versus just having a brush he or she might have used.
Locked away in permafrost for centuries, the baby mammoth was literally preserved in the earth's freezer, untouched by bacteria or the elements for an amazing amount of time. Scientists evaluating the specimen guess that the juvenile likely passed away earlier, maybe from sickness, as its pack was moving since there were no predatory marks on it or scattering of remains. Or, also likely, the animal may have gotten stuck in a deep mud pit or quicksand and was quickly buried, protecting it from rot or degradation.
The last time anyone found a North American baby mammoth in good condition was in 1948, some 70 plus years ago. That one was named Effie, and was located inside a gold mine in Alaska. Additionally, another more recent find was in 2007 in Siberia. That find was estimated to be much older, at 42,000 years of age. It was comparative to the same size as Nun cho ga, which means the two together will provide some interesting comparative notes and years of study going forward. It's enough to make a dinosaur scientist get giggly.