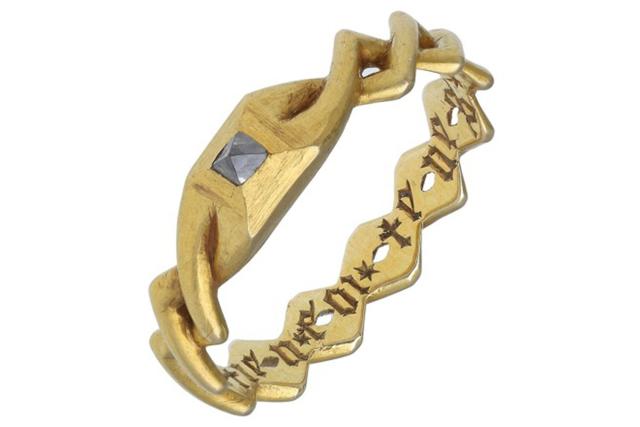 Man Finds $47,000 Historic Ring
England is very much metal detector country. The land outside the big cities is stuffed full of artifacts and leftovers from ancient times, ranging from before the Romans' arrival to the Middle Ages and more. So, it's not surprising, with the blessing of local farmers, that many a fellow with a metal detector is out there spending a Saturday or Sunday scanning through a fallow farm field to see what might be found. As it turned out, David Board was one of those hunters, and he just happened to come across a very small gold ring in one of his ventures.
Located outside of Dorset, Board was busy scanning a pasture field and had been doing so for hours. The sun was late in the sky, and Board was about to wrap up when his machine pinged a definite metallic substance under the soil he was waving the sensor over. Sure enough, pinpointing the location and then digging specifically into that spot, Board unearthed a very small gold ring.
It was in the farm soil, the ground typically tilled for planting, but this particular field had been used for cattle instead. So, five inches underground, the ring remained until Board found it and pulled it back into the daylight. At first, he chalked up the discovery to just another piece of metal from old times, he cleared off the dirt, pocketed the ring and kept going. Then, at the end of the day, Board went home and washed off his finds in the sink. It was only then that he realized what that ring actually was.
While the method of metal detecting in England gives archaeologists utter heart attacks every time they hear a similar story, the finds are generally split between the metal detector and the farm owner, unless the farm owner just waives off the matter and lets the hunters keep whatever they find. Whichever the case in this instance, the ring was no small trinket. It turned out to be an exceedingly well-crafted and rare gold wedding ring from the Medieval period and in very good condition. To be auctioned off later this year, the find is expected to net between 30,000 to 47,000 British Pounds.
The only surprise to anyone hearing the story in England these days is why the local farmers still allow detectors to scan their fields without any stake in the finds.
Teenager Sam Sieracki Soars to New Heights, Solving Rubik's Cube in Free Fall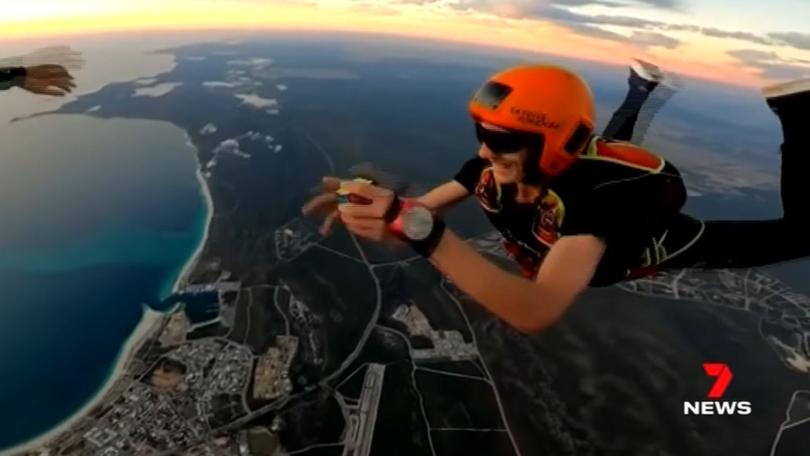 Seventeen-year-old Sam Sieracki has etched his name into the Guinness World Records by solving a Rubik's Cube while skydiving over West Australia. Jumping out of an airplane at 14,000 feet, Sam achieved the remarkable feat in just 28.25 seconds, breaking the previous record of 30.14 seconds held by Nitin Subramanian of the United States.
In a daring display of skill and concentration, Sam described the intense experience of solving the Rubik's Cube in free fall. "It's really intense. It's very loud because you've got all the wind in your face," Sam explained. "So it's a lot harder to concentrate than if I'm just on the ground solving it… my record on the ground is a lot faster than in the air – it's about 6.5 seconds."
Despite facing challenges in the sky, Sam, who is both a speed-cuber and a skydiving enthusiast, tackled the feat with enthusiasm. It took him five attempts to surpass the previous record, showcasing his determination and resilience.
Sam, who has been attending speed-cubing competitions since 2017, expressed confidence in breaking the record but admitted that the challenge proved to be more demanding than expected. "Having attended speed-cubing competitions since 2017, I was confident about breaking the record, but it ended being far more challenging than expected and took me five attempts to achieve," Sam remarked.
The teenager's passion for both speed-cubing and skydiving has been a driving force in his pursuits. "I decided that I want to be a solo skydiver, so waited impatiently to turn 16 … so that I could become a licensed skydiver and go by myself," Sam shared. "Since then, I've gone up to Jurien Bay every school holidays to do a few jumps, and am now up to 80 jumps in my second year of skydiving."
Acknowledging the support of his loved ones, Sam expressed gratitude to his biggest fans and supporters, his mother and girlfriend, who encouraged him to break the world record. As a self-proclaimed rookie in the skydiving world, Sam doesn't set grand goals but aims to continue improving his skills with each jump, all while enjoying the thrilling experience.