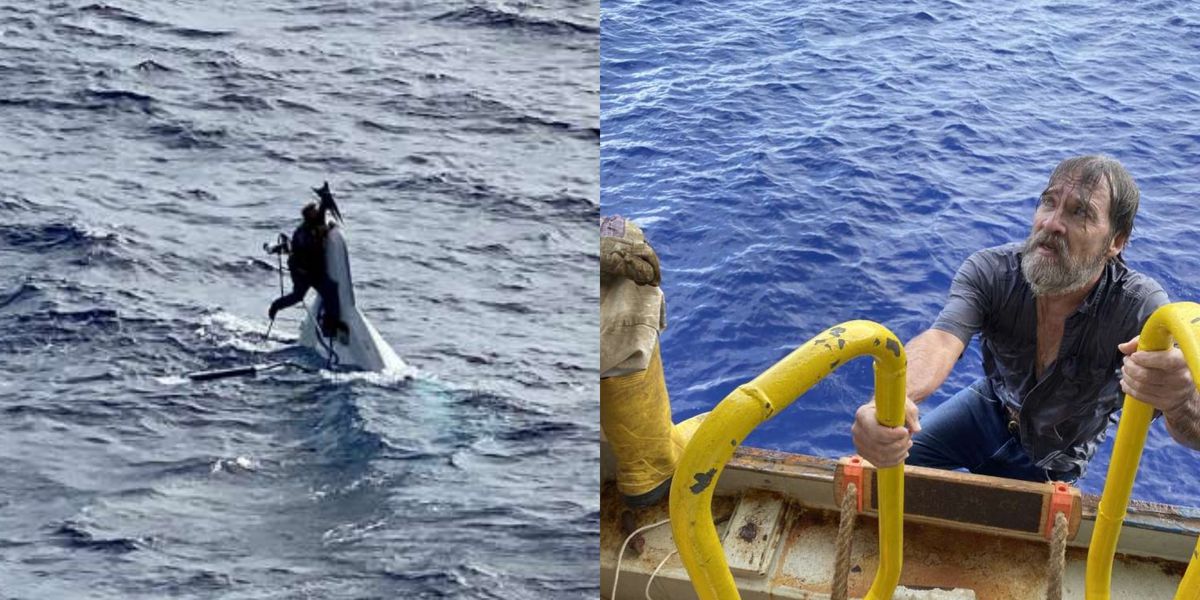 Elderly Man Found Hanging On To His Capsized Vessel For Survival
Family members, friends, fellow mariners are all thankful that a senior who went missing off the coast of Florida has been found and is receiving medical attention.
62-year-old Stuart Bee was rescued by the crew from a cargo ship en route to Denmark even as the US Coastguards and others searched diligently for him for two consecutive days.
Mr. Bee was hanging on for dear life to the bow of his boat and waving his shirt desperately to draw the attention of anyone in the approaching vessel. Little did he know that they were headed to retrieve him from the salty water and overall weather he had been exposed to for the three days.
The crew on the vessel known as Angeles had been on the lookout for the stranded man as they had received an enhanced call from the United States Coast Guard to stay alert for a missing sailor and his vessel. The critical message from the Coastguards reached every large boat within a certain mile radius to help with the mission.
How did Mr. Bee end up in this horrific situation?
About 4:00 Friday after Mr. Bee went for what was deemed as a typical ride out to sea, which would only be for a few hours. He was onboard a recreational Sea Ray boat named Sting Ray; a 32-foot vessel left to sea from Cape Marina at Port Canaveral.
Mr. Bee, who would typically return to the Marina, had not done so up to Saturday morning, which drew the concern of another marina member. The fellow seaman decided to report him missing just before midday on Saturday, less than 18-hours after the Sting Ray had left the docks.
He emphasized to Coast Guard officials that it was highly unusual for the small boat to be out at night and, even more so, such a long time.
All this time, the sailor was stranded at sea due to mechanical difficulties on his boat while more than eighty miles away from the coast. This rendered the boat immovable, and Mr. Bee had to call it a night. It's, however, a night he won't soon forget. On his second night stuck at sea, he noticed around midnight that the vessel was rapidly taking on water. This could not have been worse timing since everything around the mariner was pitch black.
The boat eventually capsized, and he clung to it with all he had, hoping for someone, anyone, to pass by and see him.
The Angeles crew members aboard their 225-foot cargo ship had been vigilant from the moment they got the Coast Guard message, and it reaped success. According to US Coast Guard Petty Officer 1st Class David Micallefto, about 11:00 Sunday morning, the Angeles crew sighted Mr. Bee and rescued him. To think he could summon the strength to wave after being exposed to the elements all weekend was indeed an inspiration to his rescuers.
Earlier that morning, a US Coast Guard team from Clearwater, with the assistance of an Aircraft hovering, made futile attempts to find the missing mariner. It was a sense of relief when they got the call from the Angeles crew that they had spotted Mr. Bee and rescued him.
Mr. Micallefto emphasized that everything about the rescue is so "amazing." He said the Coast Guard is grateful to the Angeles team for responding so positively to the broadcast about the missing man. He says, more importantly, Mr. Bee can spend Christmas with his loved ones.
An important point to note is the unity among mariners. Everyone heeded the call for assistance, from the US Customs and Border Patrol to passing vessels. It proved to be profitable with the man's rescue.

Homeless Man Who Helped a Woman Turned Out to be a Hoax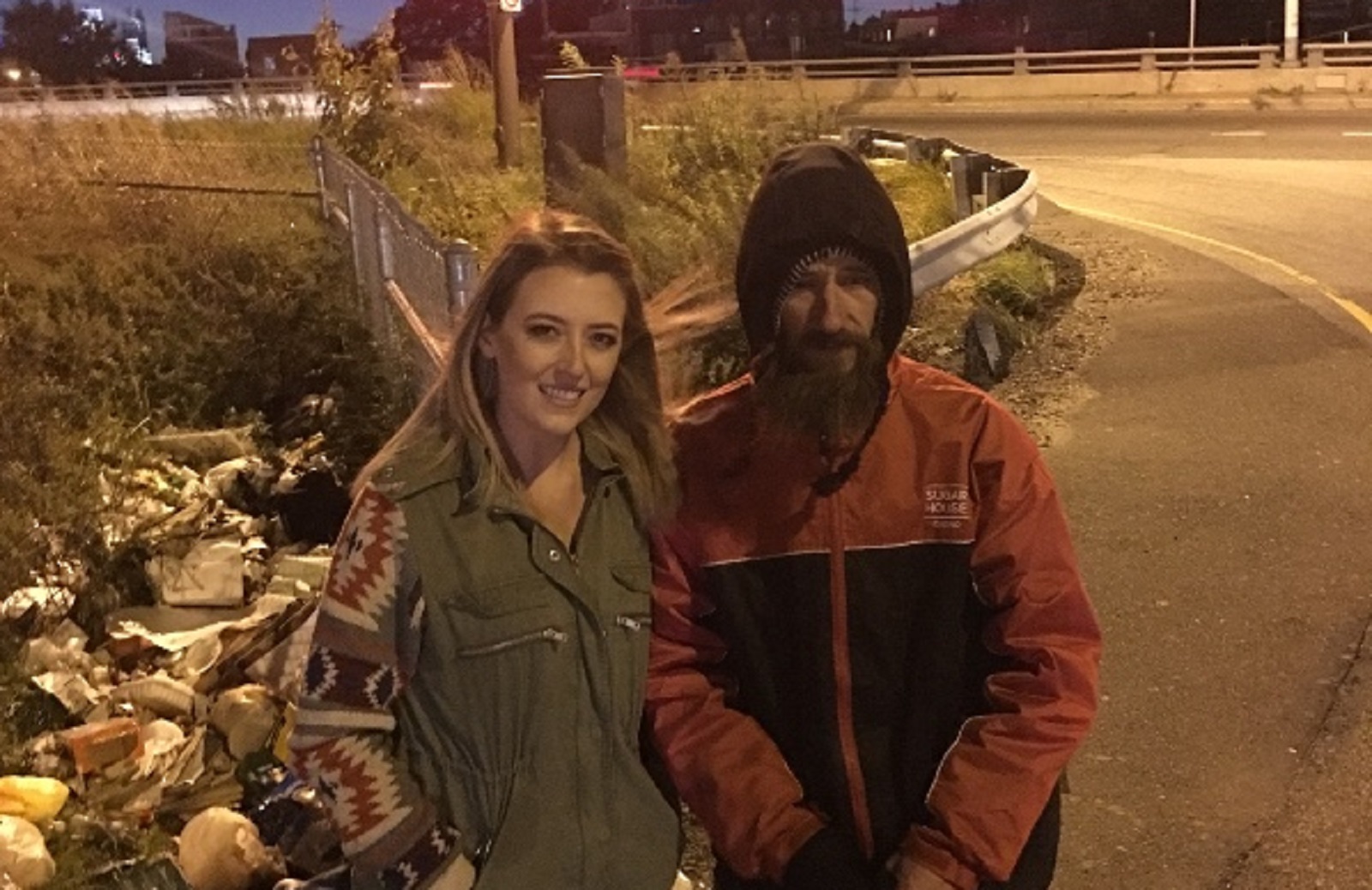 The story of the homeless man who helped out a woman needing gas for her car by donating his few dollars went viral on the Internet and had hundreds of people wanting to reach out and help. They did so through a GoFundMe site that ended up generating a sizable amount of charity and gifts. For those who gave money, it made them feel better instantly. There was only one problem. The story was made up. The man was not homeless, and the woman had never run out of gas.
Instead, the two were involved in an online scam that ended up defrauding folks out of approximately $400,000 in online money gifts. It was not only enough to trigger a serious crime, the pair got themselves charged with a federal conspiracy case and ultimately pled guilty in a New Jersey federal court. Johnny Bobbitt and Katelyn McClure both separately admitted their crime of wire fraud. Given their involvement and degree of actions, Bobbitt is looking at a potential 10 years in federal prison and $250,000 in fines. McClure for her part faces a bigger sentence of 20 years and a similar financial penalty. Both will find out for sure when they are sentenced. In addition to the federal charges, the pair also have a second round of trials to go through with state charges as well. It was a blunt, cold ending to a story and scam that started in 2017 and took off like wildfire, far better than Hobbitt and McClure thought it would.
The story was plausible and reasonable enough. A couple told their story online about how they wanted to help a homeless man who helped them. McClure and her partner posted that Bobbitt realized McClure was in trouble, stuck in Philadelphia without gas. She needed to get home, and Bobbitt, who was nearby, realized the problem. He then gave her his only $20 to buy gas so she could travel again. To show their gratitude, McClure and her boyfriend were trying to raise $10,000 to help Bobbitt out as a thank you. The story took off.
Unfortunately, the media got involved. Loving a story out of the norm with a good newsworthy ending, they showcased the story on TV, and it got big attention. All of a sudden, what was supposed to be a little scam turned into a big one, raising some $402,706 with the added attention in a short three weeks. While Bobbitt did get $25,000 set aside by McClure and her partner, the rest of it was burned like kerosene on fire via clothing, trips, a car, vacations, gambling and more. However, Bobbitt didn't appreciate the small share, and sued the pair for more, arguing he should have gotten $75,000 at least. GoFundMe got involved by trying to avoid bad press and making sure Bobbitt, the alleged homeless person, got his fair shake.
All of the financial attention caught the eye of the Feds who started investigating McClure. They seized well over 60,000 digital messages between the couple, which included admissions that the whole story was made up – a smoking gun text in the fraud conspiracy. Interestingly, McClure's partner, although he enjoyed the spending of the money with McClure, was not charged or seen as involved in the conspiracy. The Feds went after McClure and the alleged homeless partner, Bobbitt, for the fraud. And GoFundMe yet again found itself in the middle of a crazy criminal scheme gone public and bad, stealing money from people who wanted to help others online. It turned out to be an odd, miserable ending to what many had hoped would have been a story of human charity done right.