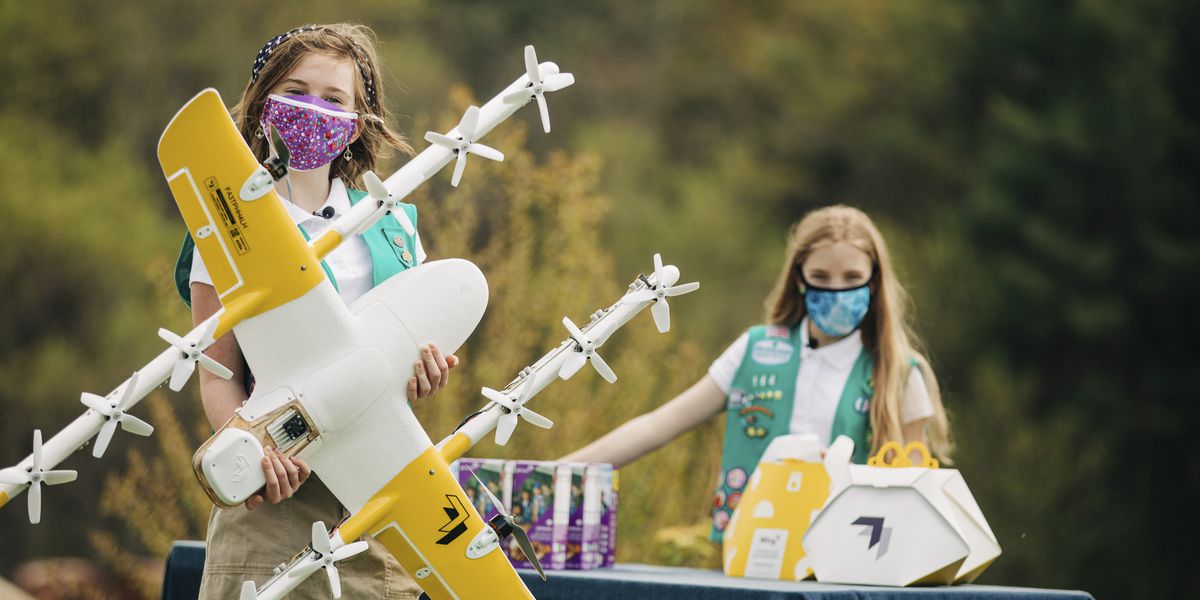 Drones, COVID-19, and Girl Scout Cookies: How One Virginia Troop Made It All Work
Nestled in the heart of Montgomery County is Christiansburg, VA. A small town with just over 20,000 within its city limits, Christiansburg was first founded in 1671. Hundreds of years later, the city continues to thrive despite the COVID-19 pandemic that has been wrecking so much of our day-to-day life.
One particular group of Christiansburg locals made it their goal to deliver Girl Scout Cookies no matter what during the pandemic and Google's parental company, Alphabet Inc., decided to help them out.
Cookies From the Sky
During the early stages of the COVID-19 pandemic, it seemed unlikely that there would ever be a time when the pandemic would end. As economies shuttered and businesses quarantined, people had to get creative to continue working their trade. A team of Girl Scouts in Virginia was determined to deliver their famous cookies this past year, but due to COVID restrictions, they knew that this would bed difficult.
Lia Reich is a global communications lead at Wing, a subsidiary of the company Alphabet Inc.. Wing develops drones for Google, and it was through their futuristic work that Thin Mints would rain down from the sky. Lia says of COVID restrictions impacting the Scouts, "Selling cookies outside (grocery stores or shops) is difficult this year."
According to Lia, sales within the Girl Scouts have dropped more than 50%. Lia would go on to tell the team at USA TODAY during an interview, "It was a natural fit to partner with the Girl Scouts."
Despite soaring vaccination rates and loosening COVID restrictions, the drone program would get launched through the Wing App and its corresponding website. According to Reich, the plan at Wing is to help deliver more than 3,000 total boxes of cookies via its drone delivery service, if not even more.
For the Girl Scouts, cookie season typically begins in January though flavor availability and onset will vary based upon the region. For the longest time, Girl Scouts have prioritized selling their goods in residential neighborhoods, outside of grocery stores, and even through company programs at local businesses.
Unfortunately for the Girl Scouts, the COVID-19 pandemic would put an end to convention. In March 2020, the Scouts would suspend all of their traditional cookie booths and door-to-door sales campaigns. To make up for this loss in action, the Girl Scouts of Virginia would prepare virtual cookie booths through their online social media campaigns to partner with their drone-delivery methods.
Considered one of the largest girl-led programs for entrepreneurs on the planet, the Girl Scout Cookie drive is immensely important for multiple reasons. Not just an important institution, the Girl Scouts are a defining one.
Take Flight With Wing
While the Girl Scouts of Virginia will enjoy drone flying assistance with their cookie deliveries, they won't have to worry about running the controls themselves. As the first drone delivery company in the country to earn Air Operators Certification from the FAA in 2019, Wing has used the Scouts delivery service as a way to showcase just how far drone flights have come.
According to Reich, "COVID gave people who might not have a reason to try drone delivery, and we saw deliveries increase by more than 500% in 2020."
Reich's assertion was backed by a local survey released by Virginia Tech. The survey found that Christiansburg locals enjoyed the idea of a residential drone delivery company with support coming in at 87% in favor of the idea.
Are you ready to start ordering your Girl Scout Cookies through drone delivery services? How about your next grocery order? As it turns out, the sky might be the limit!
Gold Miners Dig Up a Lot More than Ancient Gold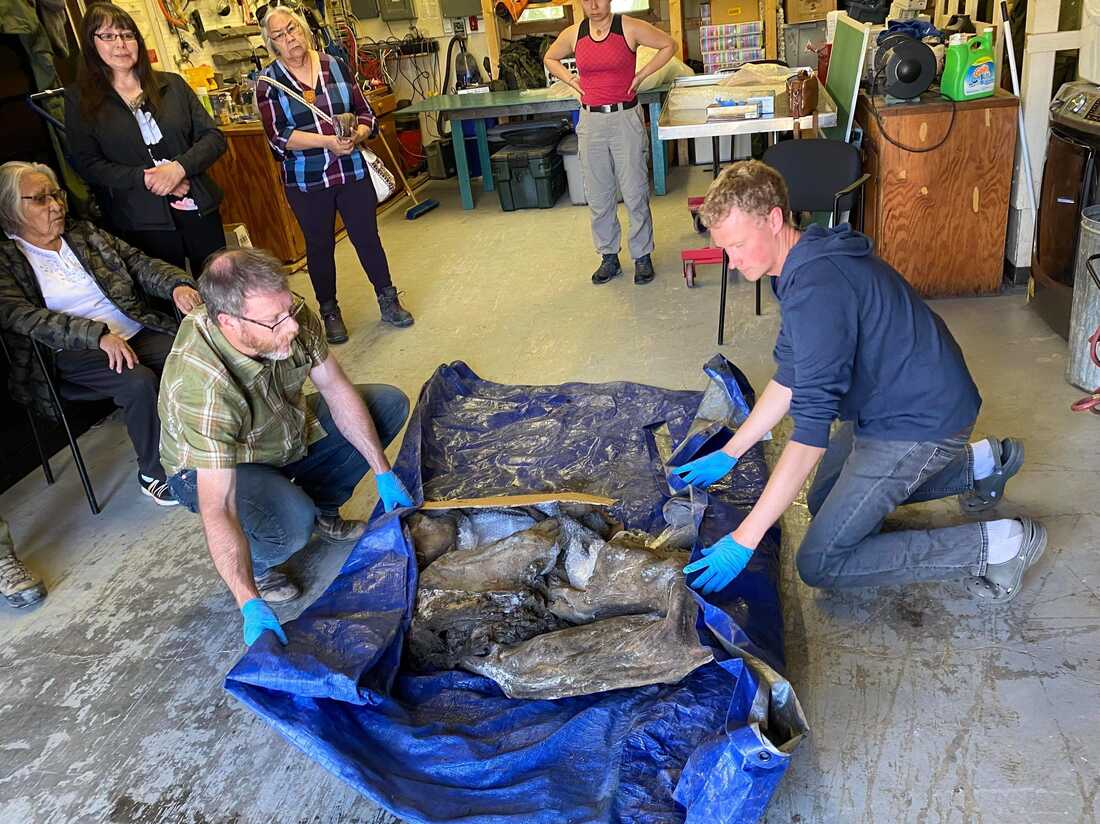 Gold miners are used to finding all sorts of things from ancient times. It's not uncommon to find relics of prior miners, old habitats, animal remains and even dinosaur fossils as they dig deep into the earth or excavate large areas. However, it's not an everyday occurrence to find a practically intact mummy of a baby mammoth.
Based on the estimates possible on first evaluation of the mummified baby mammoth found on June 21 by operations at the Klondike gold deposit, way up in the northern part of Canada, miners discovered a baby female mammoth assumed to be probably 30,000 years old. An occasional dinosaur or mammoth bone is uncommon but a regular occurrence. However, finding a complete set of remains of a baby mammoth is extremely rare and a big news in the world of paleontology and biology. Even better, the specimen is practically complete. Most times the remains have been tampered with by other animals or hunting and scavenging. Then nature moves things around even further and separates parts. In this case, however, the baby mammoth was complete, intact and well-preserved.
Named Nun cho ga but the local tribes, the find essentially means big baby animal, no surprise. All the skin and hair is intact, which makes the find extremely valuable in terms of understanding exactly how junvenile mammoths looked and probably behaved mechanically as well as physically. In terms of scientific information, the find is huge. It's similar to finding an entire painting by a famous artist versus just having a brush he or she might have used.
Locked away in permafrost for centuries, the baby mammoth was literally preserved in the earth's freezer, untouched by bacteria or the elements for an amazing amount of time. Scientists evaluating the specimen guess that the juvenile likely passed away earlier, maybe from sickness, as its pack was moving since there were no predatory marks on it or scattering of remains. Or, also likely, the animal may have gotten stuck in a deep mud pit or quicksand and was quickly buried, protecting it from rot or degradation.
The last time anyone found a North American baby mammoth in good condition was in 1948, some 70 plus years ago. That one was named Effie, and was located inside a gold mine in Alaska. Additionally, another more recent find was in 2007 in Siberia. That find was estimated to be much older, at 42,000 years of age. It was comparative to the same size as Nun cho ga, which means the two together will provide some interesting comparative notes and years of study going forward. It's enough to make a dinosaur scientist get giggly.