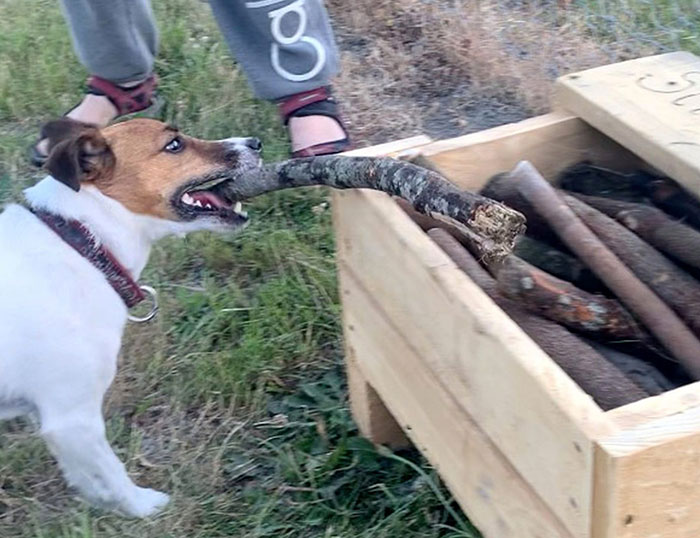 A Creative Father Solves the Dog Stick Problem
For a human, a dog may be a great companion. However, when a good throwing stick is flying through the air, a human might as well be a pile of old deer poop. That's because dogs love good sticks. Once they figure out there are three good aspects to a stick being thrown: something moving fast, a hunting feature, and if it gets returned the stick gets thrown again, the dog is all over it. Lots of folks today settle for a tennis ball or similar. However, let's think about it; if you were a dog, which one would you want in your mouth, a jaw-stretching tennis ball or an easy to chew stick? There's dog logic at work here.
Andrew Taylor, age 59, had always been a dog lover. And he never failed to take a moment to get a good toy for his dogs when they needed some exercise and to hone their hunting instincts a bit. That sort of thinking triggered a need to solve a problem when Taylor was visiting a local park one day. He realized that there wasn't much in the way of toys for dogs. So, Taylor decided to start making some.
Finding a number of branches that made suitable material, Taylor went to work at dog-stick manufacturing. Soon enough, Taylor installed a handmade stick box complete with a dogstick library, including instructions that the stick were free to use but folks were responsible for returning them for the next user and pup to enjoy. The addition was a hit. And, just to make sure everybody locally understood what the stick library was for, Taylor and family had a little neighborhood party to inaugurate the stick library, including an attendance of 50 local dogs and a whole lot of fetching going on.
The most common question about the event was, naturally, why nobody thought of the idea sooner. The stick library was a big success, and everybody enjoyed being able to give their dogs something to chase as well as the tools being easily available and free to use. The dogs, of course, were all in for the party as well. Not only did they get to run their legs off a bit, the canines also got to frolic with a large number of the same, which was not a frequent event in the dog world, usually.
For Taylor and his daughter, the idea was simple but powerful. More importantly, it brought local dog owners together as well.
One Attendees Santa Pen-pal That She Met At Burning Man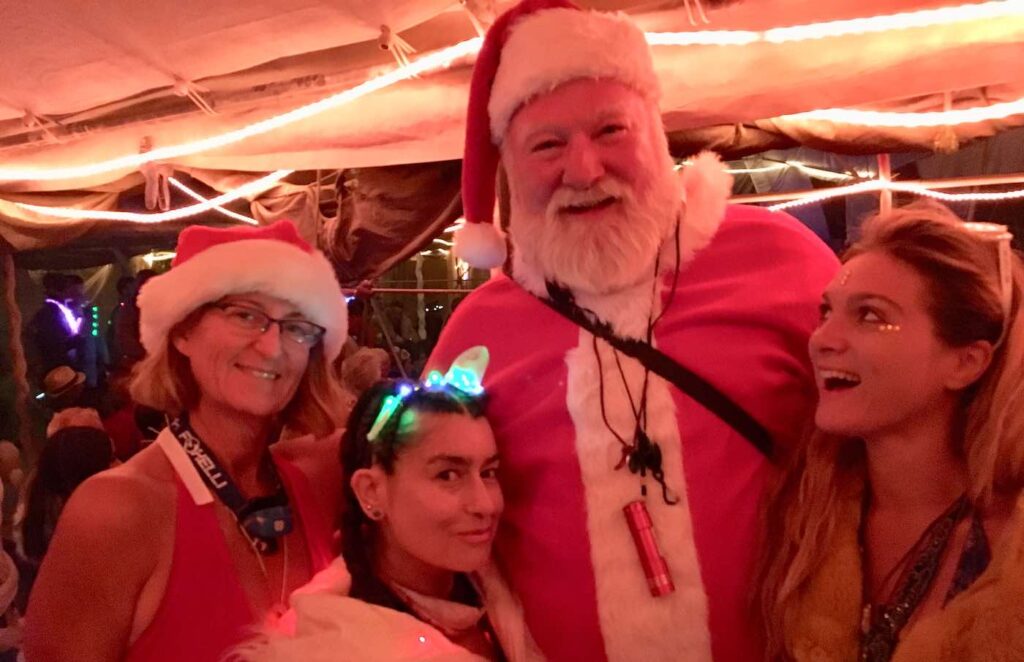 There are a lot of odd characters at Burning Man, the annual Labor Day Weekend celebration in the western desert, but the last one folks usually expect to see there is Santa Claus. However, as it turned out in 2017, that's exactly who one attendee met, and she struck up a penpal relationship with the character ever since.
The idea of penpals came from the 1970s with kids' programs intended to help them learn more about the greater world and to make connections with similar kids in other countries. TV programs, schools, kids' after-school care programs and similar all ran some kind of version of penpals. The benefits were multiple. Kids learned to read and write faster, they built relationships with other kids internationally, and they learned more about other communities just on the natural talking to their connections. So, while the idea of writing a paper letter today seems like a memory of yesteryear, the term of "penpal" is still alive and well, referring to long-distance connections that start out of the blue.
Back to the Burning Man, Rudie met Santa Claus, or a fellow dressed up like him in 2017 at the desert festival, complete in costume and carrying a large sack. Of course, Santa Claus wasn't the only out of the norm character there; Burning Man is famous for all sorts of outlandish costumes, constructs, bike-related vehicles, and lots of partying. Santa was in full character mode, handing out gifts from a large bag he was carrying, while enjoying the crowd at the Jazz Café.
Rudie ended up chatting with Santa quite a bit, but never exchanged anything more in the way of contact information to followup. So she pretty much chalked up the experience to the festival and forgot about it. However, in 2018, Santa Claus was there again at the next Burning Man. And he recognized Rudie from the previous year. They chatted up a storm again, and this time the Man of the North Pole brought a saxophone and started in impromptu gig on the stage. It went well with the name of the café. And, at the end of it all, Rudie was able to get an email address in 2018. She didn't send an email right away; Rudie waited until Christmas itself that year, and then sent a long email explaining how special the Santa Claus theme was to her and thanking him for spreading the cheer at the festival.
She wasn't expecting a response, but "Santa" did write Rudie back on Christmas Day the same year. That started an international tradition, and the following 2019 Burning Man, Rudie, Santa and a few other characters participated in the whole Christmas gig at Burning Man, much to everyone's amusement. Unfortunately, 2020 and 2021 were fouled up by COVID, but Rudie and Santa stayed connected online anyways.
Plans are on though for everyone to reconnect in person again at Burning Man 2022. And Rudie, currently living in Spain and with a full name of Rudolph the Red-Nosed Reindeer as a character, is looking forward to the desert party with the Old Man from the North all over again. No pandemic is going to keep them down for long!