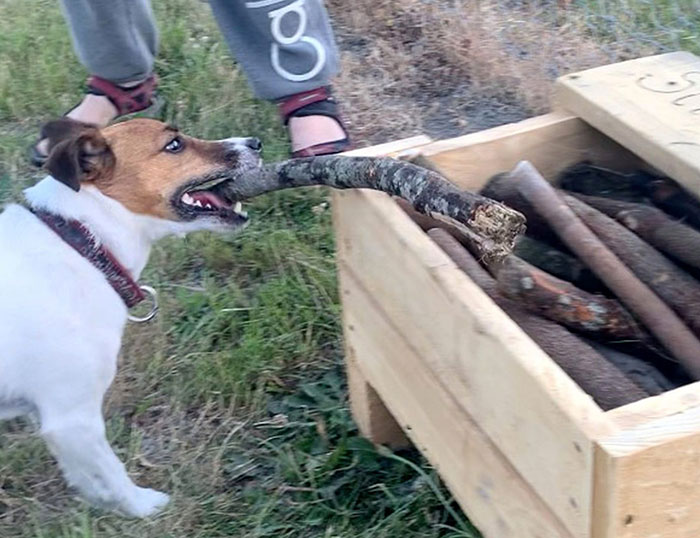 A Creative Father Solves the Dog Stick Problem
For a human, a dog may be a great companion. However, when a good throwing stick is flying through the air, a human might as well be a pile of old deer poop. That's because dogs love good sticks. Once they figure out there are three good aspects to a stick being thrown: something moving fast, a hunting feature, and if it gets returned the stick gets thrown again, the dog is all over it. Lots of folks today settle for a tennis ball or similar. However, let's think about it; if you were a dog, which one would you want in your mouth, a jaw-stretching tennis ball or an easy to chew stick? There's dog logic at work here.
Andrew Taylor, age 59, had always been a dog lover. And he never failed to take a moment to get a good toy for his dogs when they needed some exercise and to hone their hunting instincts a bit. That sort of thinking triggered a need to solve a problem when Taylor was visiting a local park one day. He realized that there wasn't much in the way of toys for dogs. So, Taylor decided to start making some.
Finding a number of branches that made suitable material, Taylor went to work at dog-stick manufacturing. Soon enough, Taylor installed a handmade stick box complete with a dogstick library, including instructions that the stick were free to use but folks were responsible for returning them for the next user and pup to enjoy. The addition was a hit. And, just to make sure everybody locally understood what the stick library was for, Taylor and family had a little neighborhood party to inaugurate the stick library, including an attendance of 50 local dogs and a whole lot of fetching going on.
The most common question about the event was, naturally, why nobody thought of the idea sooner. The stick library was a big success, and everybody enjoyed being able to give their dogs something to chase as well as the tools being easily available and free to use. The dogs, of course, were all in for the party as well. Not only did they get to run their legs off a bit, the canines also got to frolic with a large number of the same, which was not a frequent event in the dog world, usually.
For Taylor and his daughter, the idea was simple but powerful. More importantly, it brought local dog owners together as well.
Kevin Bacon the Pig Found with Hollywood Help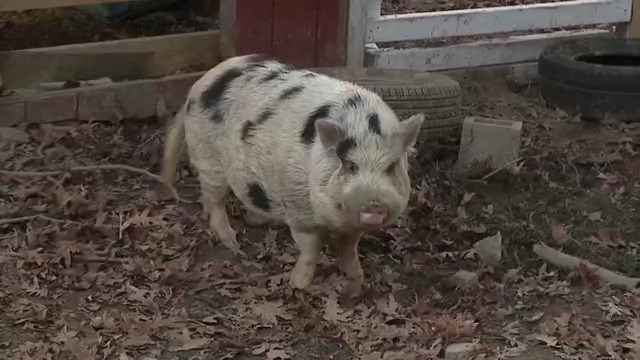 In a heartwarming tale that could rival any Hollywood movie, a missing pig named Kevin Bacon has been found after a two-week adventure in the woods of Pennsylvania. What makes this story even more special is the unexpected involvement of actor Kevin Bacon himself.
Kevin Bacon, the pig, became the center of attention when he went missing from his home in Pennsylvania. Owned by Chelsea Rumbaugh, Kevin had only joined the family in October before deciding to explore the great outdoors on his own. Chelsea shared the news of her missing pig on a Facebook group she created, aptly named 'Bring Kevin Bacon Home.'
"We were so close to him; my 16-year-old was petting him," Rumbaugh explained in her post. "He stayed close but eventually took off into the woods."
Enter the unexpected hero, actor Kevin Bacon. When he caught wind of the missing pig's plight, he shared the information on his social media thread. The actor's post not only drew attention to the missing pig but also brought the community together in the search for the adorable runaway.
Despite the collective efforts to capture Kevin Bacon the pig, he remained elusive. That is until a clever strategy involving a sticky bun laced with pet-safe Benadryl was employed. The irresistible treat proved to be the key to success. After indulging in the sticky bun, Kevin Bacon the pig became drowsy, making it easier for the search party to guide him back to his pen.
To ensure that this escapade wouldn't happen again, Kevin Bacon's pen underwent reinforcement with concrete. This measure was taken to prevent the adventurous pig from using his tunneling skills for future escapes.
The story of Kevin Bacon the pig's disappearance and rescue not only highlights the power of community efforts but also shows how even Hollywood celebrities like Kevin Bacon can play a role in helping those in need, no matter how small or four-legged they may be. The happy ending to this tale brings a smile to all those who followed the journey of Kevin Bacon, the pig who briefly took the spotlight with a little help from his famous namesake.