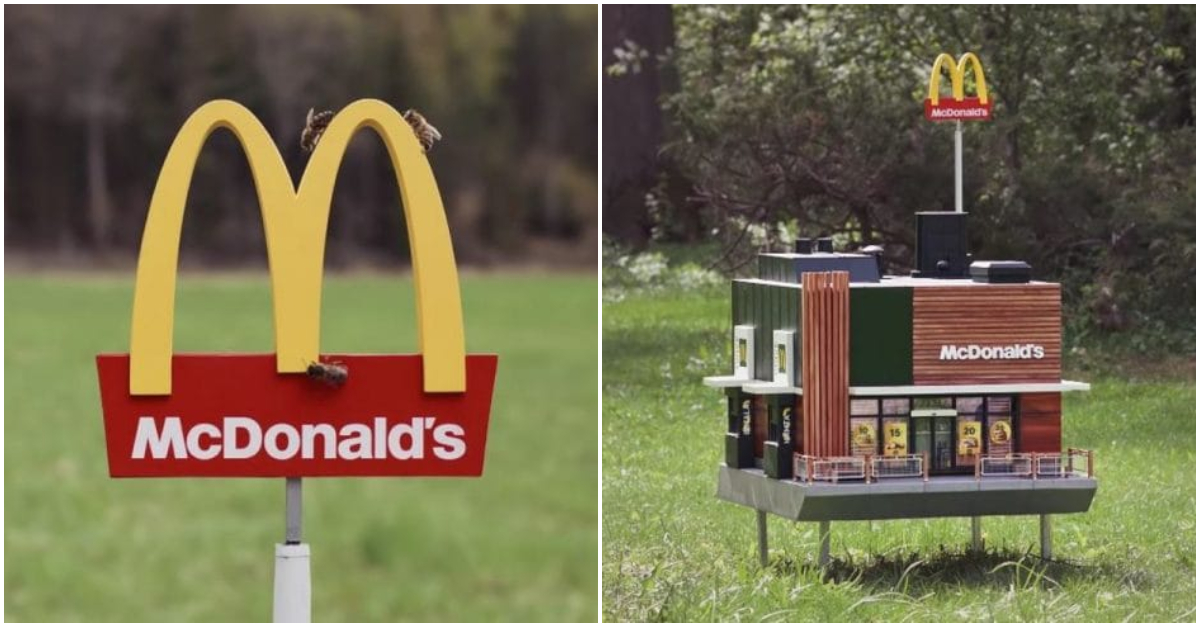 World's Smallest McDonald's Restaurant Draws Attention to Important Issue
McDonald's is one of the world's leading fast food restaurant chains, with Statista noting that they had as many as 37,855 restaurants open across the globe as of the end of last year. Given the sheer number of McDonald's restaurants currently operation, one would think that the opening of another one would barely register on an international level, but that was not the case.
That's due in large part to this particular restaurant being dedicated to serving customers of a different species.
The Remarkable McHive
In partnership with the advertising agency NORD DDB, McDonald's created a miniature replica of one of their restaurants. The small restaurant, known as the McHive, features many of the same elements that people will see if they visit one of the McDonald's branches in their area.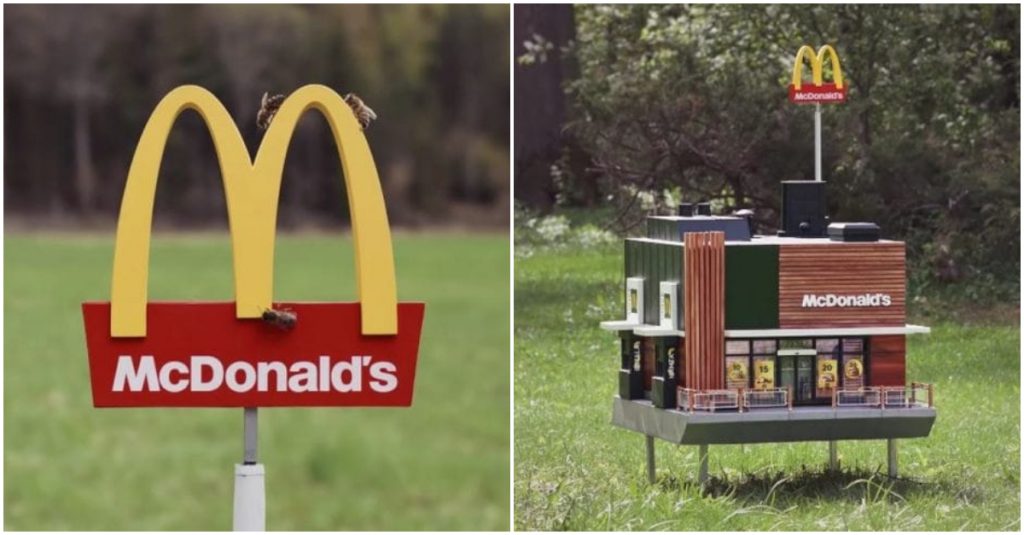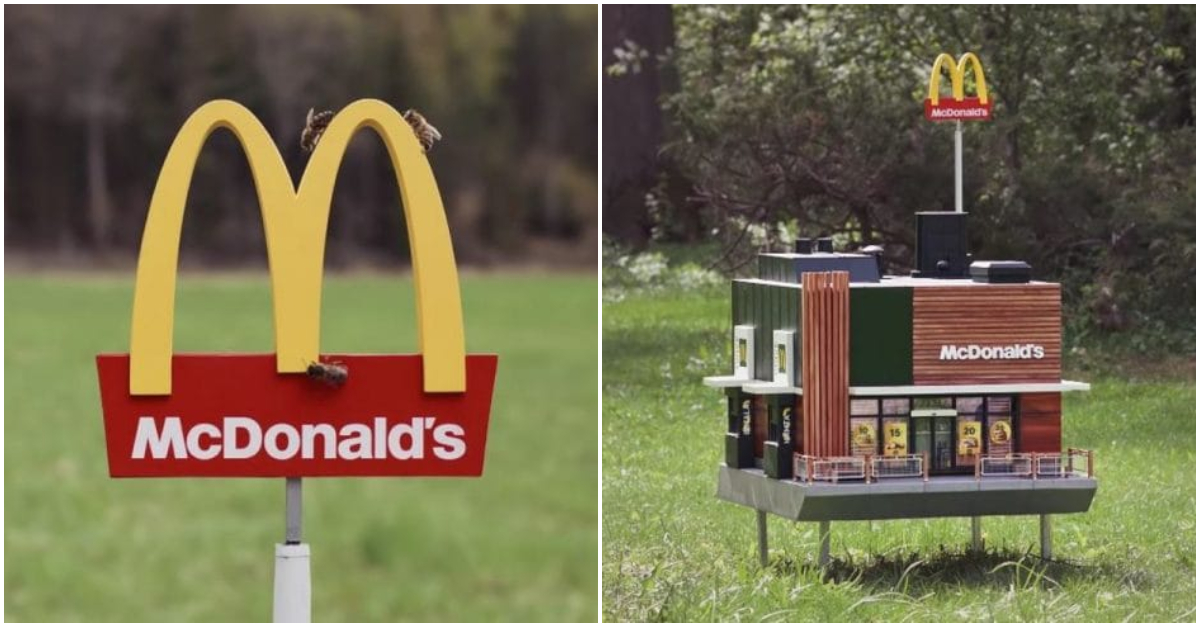 There are drive-thru windows present on the McHive, large windows, and outdoor seating for guests who may prefer to dine in an open-air environment. One can even see some posters advertising the restaurant chain's offerings plastered on the walls of the "World's Smallest McDonald's."
Of course, it cannot be called a McDonald's restaurant without those iconic golden arches serving as its crowning glory.
This restaurant isn't designed for people to dine in though. Instead, the McHive, as its name already hints at, is meant to house bees.
The Meaning behind the McHive
The McHive is actually a nod to a movement initiated by branches of the fast food chain in Sweden. Some of the McDonald's restaurants in the aforementioned country have started to house beehives on their rooftops.
Also of note, the McHive features beehives on top of its roof and inside of it as well.
Via AdWeek, McDonald's Sweden marketing director Christoffer Rönnblad said that the restaurant chain is happy to spread the message of sustainability. McDonald's has gotten behind the practice of hosting beehives on the rooftops of their restaurants.
Set designer Nicklas Nilsson was responsible for the creation of the McHive. Since the release of the video showing off the McHive, the gorgeous structure has been auctioned off and the proceeds from it have gone to Ronald McDonald House charities.
While McDonald's efforts to promote sustainable and to help the bee population are laudable, they will need more help to succeed.
The Concerning Status of the Bee Population
According to a recent report from ABC News, the bee population is continuing to decrease at an alarming rate. Research notes that 37.7 percent of the managed bee population declined from Oct. 1, 2018 to April 1 of this year.
That's a noticeable decline in the managed bee population and it represents the largest winter losses since surveys were first conducted back in 2006. Accounting for a larger of window of time that goes from April 1, 2018 to April 1, 2019, the reported losses in the managed bee population totaled 40.7 percent.
Scott McArt, the assistant professor of pollinator health at Cornell University, described the aforementioned losses in the managed bee population as "unsustainably high." McArt also mentioned that the losses can be explained in part by the presence of the varroa mite parasite that has been known to carry and spread diseases inside beehives.
According to EarthDay.org, other factors contributing to the decline of the bee population include climate change, habitat fragmentation, and the use of certain pesticides.
The decline of the population is not something to be taken lightly. Bees play an important role in the world's ecosystem as they are excellent pollinators. Plants pollinated by bees are said to make up 35 percent of the world's food production.
Furthermore, the loss of bees could indirectly affect other animals that sustain themselves on the products that come about as a result of pollination.
Should the bee population continue to drop at an unsustainable rate, the effects on food production for all creatures that inhabit the Earth could be quite severe.
Travis Baker Flies Again More Than a Decade After Surviving Fatal Plane Crash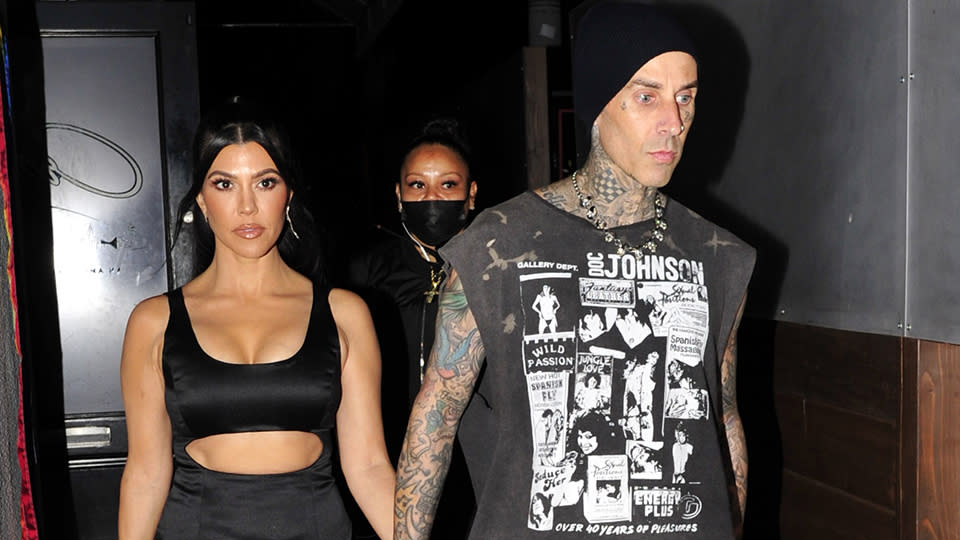 Sometimes it isn't easy to get over a minor thing that happened to you, whether in childhood or adulthood. It's hard to fathom going into an airplane again after being in one that ended up in a fatal crash. Travis Barker has defied what most people would consider impossible, but he did not do it alone. Let's delve into how he managed to accomplish this significant feat after more than twelve years.
The 45-year-old drummer with Blink-182 traveled on Saturday, August 14, the first flight since his horrific 2008 plane crash that saw four of his colleagues dying and Barker surviving with third-degree level burns.
Girlfriend Kourtney Kardashian accompanied Barker aboard Kylie Jenner's private plane as they traveled to Cabo. Kris Jenner and her boyfriend, Corey Gamble, were also said to be on board, according to the outlet.
Barker was caught sporting a white tank top, gray jeans with a black belt studded with metal studs, and a black beanie on his head for the outing. Kardashian, 42, meanwhile, looked stylish in a black dress and black sunglasses.
"Travis flying to Cabo is a marvelous thing. Many years ago, a plane disaster was incredibly traumatic. To reach this point, he's had a lot of aid, according to media reports. Kourtney has been immensely helpful. She never urged him to take to the air. They've been able to travel around the United States without flying, and Kourtney appears quite comfortable with it.
Barker and longtime partner DJ AM (Adam Michael Goldstein) escaped an aircraft accident more than a decade ago while flying from South Carolina, where they had just performed. A year later, Goldstein died of a prescription drug overdose.
The disaster killed Barker's security officer Charles "Che" Still, his aide Chris Baker, pilot Sarah Lemmon, and co-pilot James Bland.
After the accident, the musician had a hard road to rehabilitation, both mentally and physically. He had third-degree burns covering 65 percent of his body and had to undergo many operations and skin grafts. In addition, Barker was abusing "excessive" marijuana and prescription drugs.
Barker declared his plans to return to the skies in June. On Twitter, he proclaimed, "I might fly again."
When Goldstein died, Barker said in an interview that he decided to stop using medications and flushing medicine, "even stuff that I needed," after his opiate tolerance began to rise with each surgery.
"Everyone usually asks, 'Did you go to rehab?'" the drummer said to the publication. "'No, I was in a plane crash,' I answer. That was the extent of my rehabilitation. Have you ever lost three pals and come close to dying? That served as a wake-up call for me. I would not have quit if I hadn't been in a car accident."
In the same interview, Barker expressed his desire to be a writer "If I succeed in overcoming [flying], and the angels above assist me in my trips and keep me safe, I'd like to come back and [inform my children], 'Hey, I just went here, and then I came home.' And everything turned out OK.' I have to inform them since I was about to abandon them. That is a perfect day."
After the crash, the drummer's dread of flights grew to the point that he remarked, "I used to be afraid of planes." "I wasn't able to go down the street. I was convinced that if I saw a plane [in the sky], it was going to crash, and I didn't want to see it."
"The closer I got to it, the more it seemed like I was getting closer to the terrible stuff than the beautiful stuff. I felt more akin to attempting to flee, to be in an accident and being burned, to trying to save my buddies from a burning jet, "Barker continued.