World's Smallest McDonald's Restaurant Draws Attention to Important Issue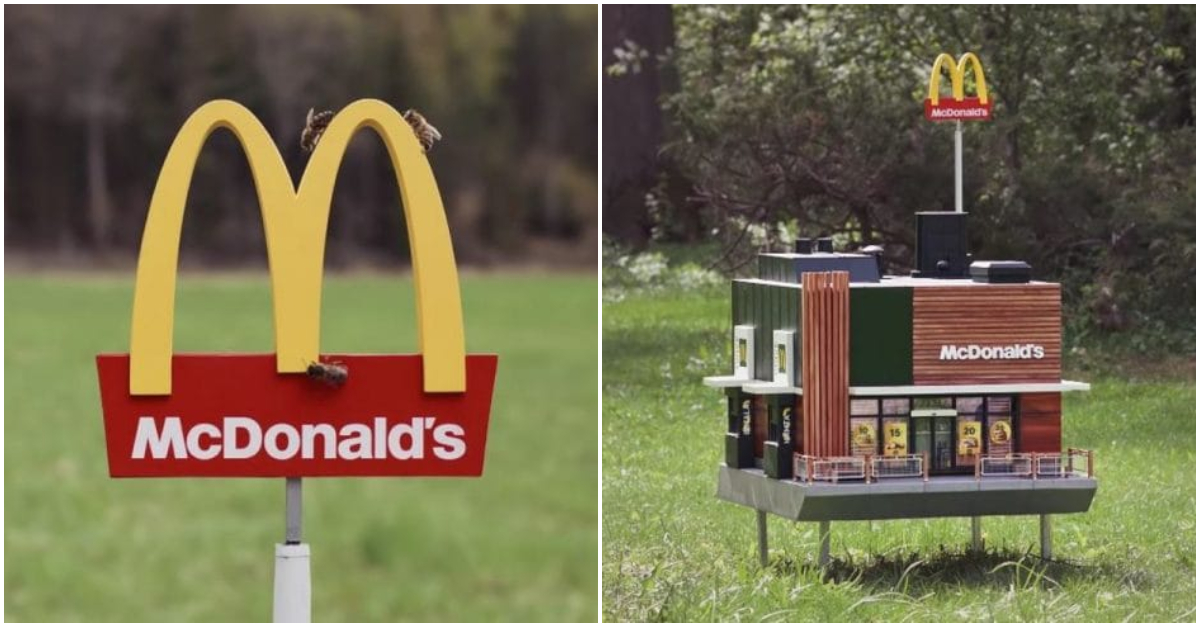 McDonald's is one of the world's leading fast food restaurant chains, with Statista noting that they had as many as 37,855 restaurants open across the globe as of the end of last year. Given the sheer number of McDonald's restaurants currently operation, one would think that the opening of another one would barely register on an international level, but that was not the case.
That's due in large part to this particular restaurant being dedicated to serving customers of a different species.
The Remarkable McHive
In partnership with the advertising agency NORD DDB, McDonald's created a miniature replica of one of their restaurants. The small restaurant, known as the McHive, features many of the same elements that people will see if they visit one of the McDonald's branches in their area.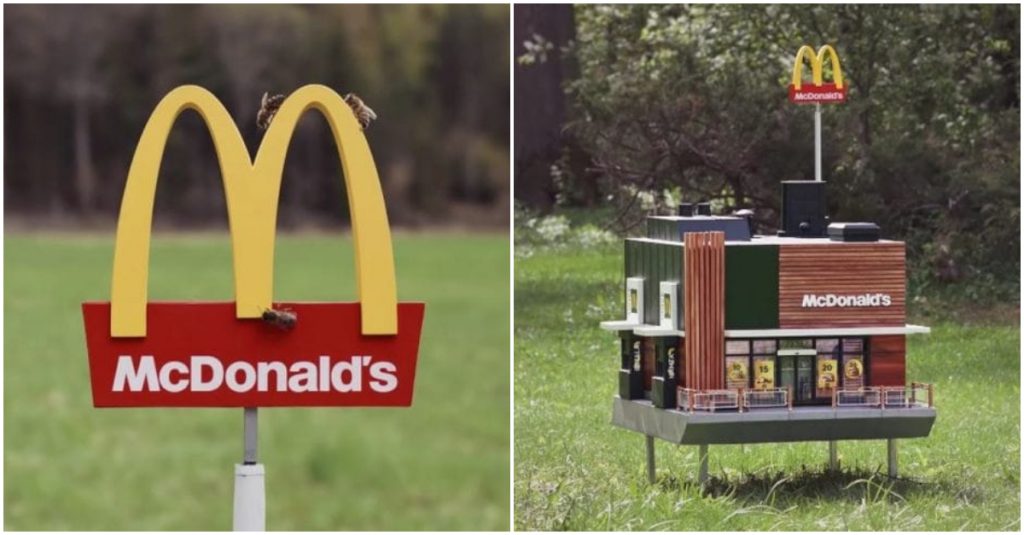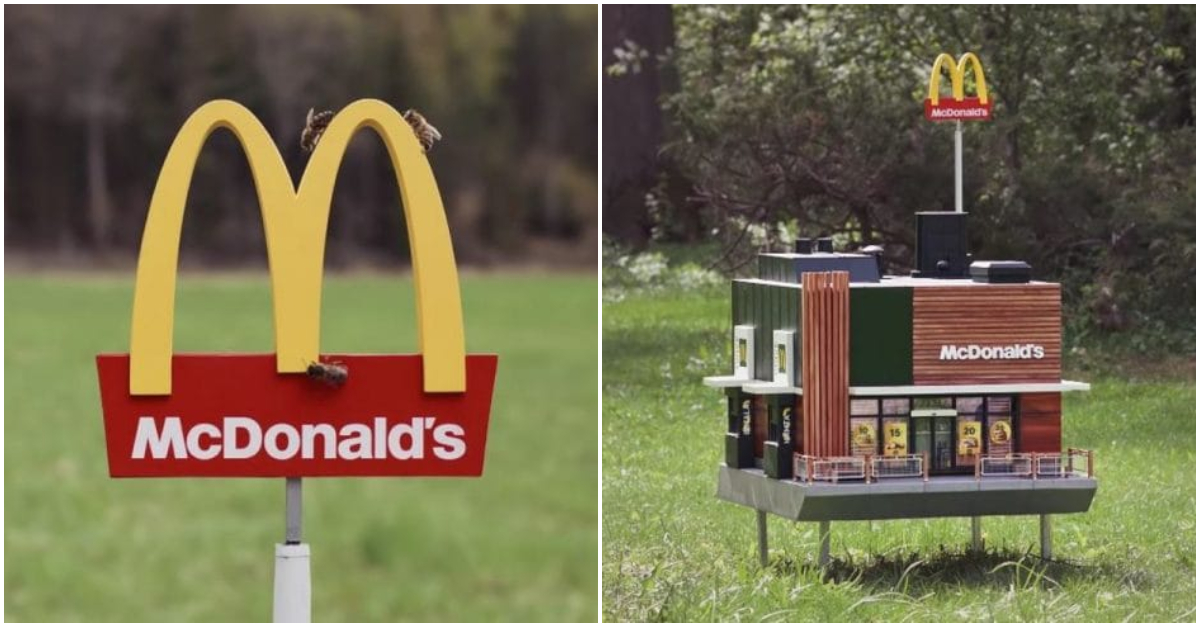 There are drive-thru windows present on the McHive, large windows, and outdoor seating for guests who may prefer to dine in an open-air environment. One can even see some posters advertising the restaurant chain's offerings plastered on the walls of the "World's Smallest McDonald's."
Of course, it cannot be called a McDonald's restaurant without those iconic golden arches serving as its crowning glory.
This restaurant isn't designed for people to dine in though. Instead, the McHive, as its name already hints at, is meant to house bees.
The Meaning behind the McHive
The McHive is actually a nod to a movement initiated by branches of the fast food chain in Sweden. Some of the McDonald's restaurants in the aforementioned country have started to house beehives on their rooftops.
Also of note, the McHive features beehives on top of its roof and inside of it as well.
Via AdWeek, McDonald's Sweden marketing director Christoffer Rönnblad said that the restaurant chain is happy to spread the message of sustainability. McDonald's has gotten behind the practice of hosting beehives on the rooftops of their restaurants.
Set designer Nicklas Nilsson was responsible for the creation of the McHive. Since the release of the video showing off the McHive, the gorgeous structure has been auctioned off and the proceeds from it have gone to Ronald McDonald House charities.
While McDonald's efforts to promote sustainable and to help the bee population are laudable, they will need more help to succeed.
The Concerning Status of the Bee Population
According to a recent report from ABC News, the bee population is continuing to decrease at an alarming rate. Research notes that 37.7 percent of the managed bee population declined from Oct. 1, 2018 to April 1 of this year.
That's a noticeable decline in the managed bee population and it represents the largest winter losses since surveys were first conducted back in 2006. Accounting for a larger of window of time that goes from April 1, 2018 to April 1, 2019, the reported losses in the managed bee population totaled 40.7 percent.
Scott McArt, the assistant professor of pollinator health at Cornell University, described the aforementioned losses in the managed bee population as "unsustainably high." McArt also mentioned that the losses can be explained in part by the presence of the varroa mite parasite that has been known to carry and spread diseases inside beehives.
According to EarthDay.org, other factors contributing to the decline of the bee population include climate change, habitat fragmentation, and the use of certain pesticides.
The decline of the population is not something to be taken lightly. Bees play an important role in the world's ecosystem as they are excellent pollinators. Plants pollinated by bees are said to make up 35 percent of the world's food production.
Furthermore, the loss of bees could indirectly affect other animals that sustain themselves on the products that come about as a result of pollination.
Should the bee population continue to drop at an unsustainable rate, the effects on food production for all creatures that inhabit the Earth could be quite severe.
2 Months Later, a Lost Chihuahua Finally Returns Home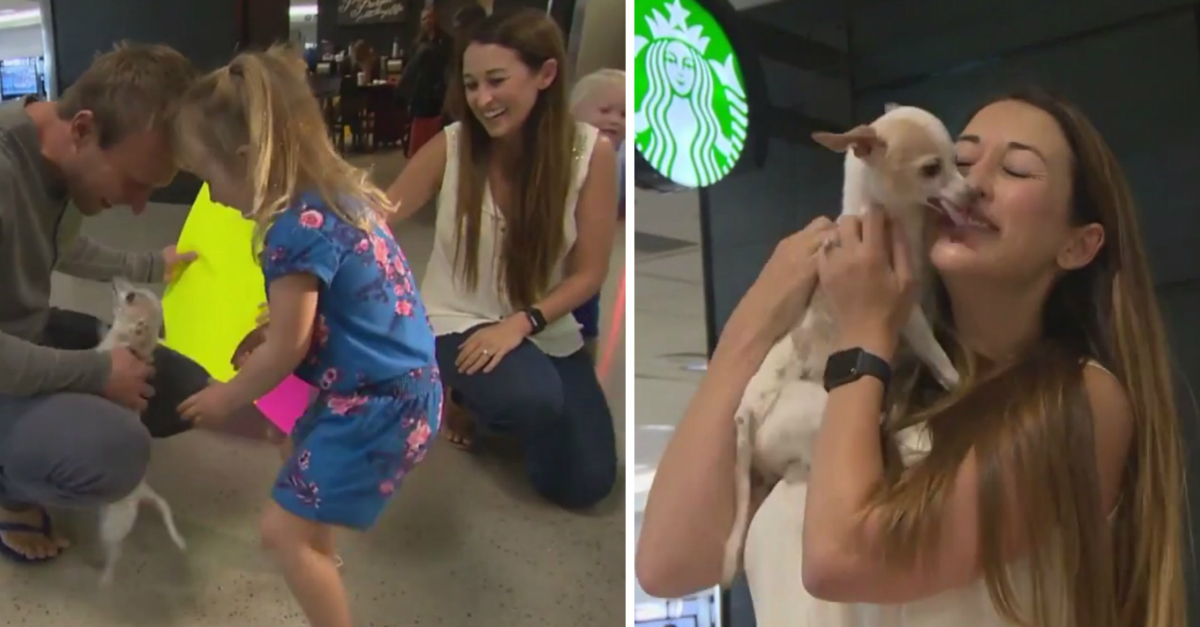 Pets are not just animals who live with us. They are considered family members.
Many of us celebrate the birthdays of our pets, take them on vacations, and mourn their passing. They are not just the family pet. They are simply family.
For all those reasons, even just pondering the possibility of your beloved pet going missing must strike fear into the hearts of many families. Unfortunately, that was the reality that Debra Niska and her family had to live with not too long ago.
Pumpkin Goes Missing
Trouble started for Niska and her family when their pet Chihuahua named Pumpkin suddenly went missing. The exact explanation for how Pumpkin somehow escaped from went home and got so far away remains unclear, but Niska knew right away that they were going to have a tough time bringing their pet back.
Aside from the difficulty of trying to find a small dog in a big city, Pumpkin was also lacking a microchip. The lack of a microchip meant that even if someone did find Pumpkin, they would not be able to know right away where she lived and the identity of her owner.
The missing microchip was a huge obstacle to Niska and her family finding their pet, but they would not allow that to keep them from trying.
Bringing Pumpkin Home
Debra and her family knew that it would be incredibly difficult to somehow find and bring Pumpkin back home when there was no microchip for her potential rescuers to scan. Understanding that, Pumpkin's family went all out in their efforts to bring their pet home so that they could overcome the challenge.
According to this article from Little Things, Niska and her family went about looking for Pumpkin by implementing a multi-pronged approach.
They searched for Pumpkin in their neighborhood, scouring all the possible places where she could have gone. They also made use of social media to inform their friends and other people in their neighborhood that their dog had gone missing.
Lastly, Niska and her family also took the time out to contact rescue organizations in the hopes that maybe one of them somehow found a wandering Pumpkin on the streets.
Days and weeks passed without them knowing exactly where Pumpkin had wandered off to. At long last though, their wishes were finally granted following a two-month wait.
Pumpkin Returns Home
As it turns out, Pumpkin didn't just stray away from her California home and wander to a different city nearby. She was apparently quite the traveler.
Somehow, Pumpkin managed to go all the way to Phoenix, Arizona. It's unclear exactly how the miniature dog got that far from home, but it turned out to be a stroke of luck that she ended up in Phoenix as that was where she was found by rescuers.
Not long after she was found by the rescue organization in Phoenix, Pumpkin was put on a plane so that she could travel back to Pasadena, California and be with the family that had been missing her badly for two long months.
The reunion between Pumpkin and her family proved to be a joyful one.
This video shared by Inside Edition shows just how happy Pumpkin and her family were upon seeing one another. Pumpkin simply could not contain her excitement as she ran over to her family and threw her little body at them, with her tail wagging wildly as it all happened. She was also met with smiles by a family that had clearly missed her company.
Few things are worse than not knowing what happened to your missing family member. Thankfully for the Niska family, their adorable little Pumpkin managed to make her way back home.