When Squirrels Need Help From Humans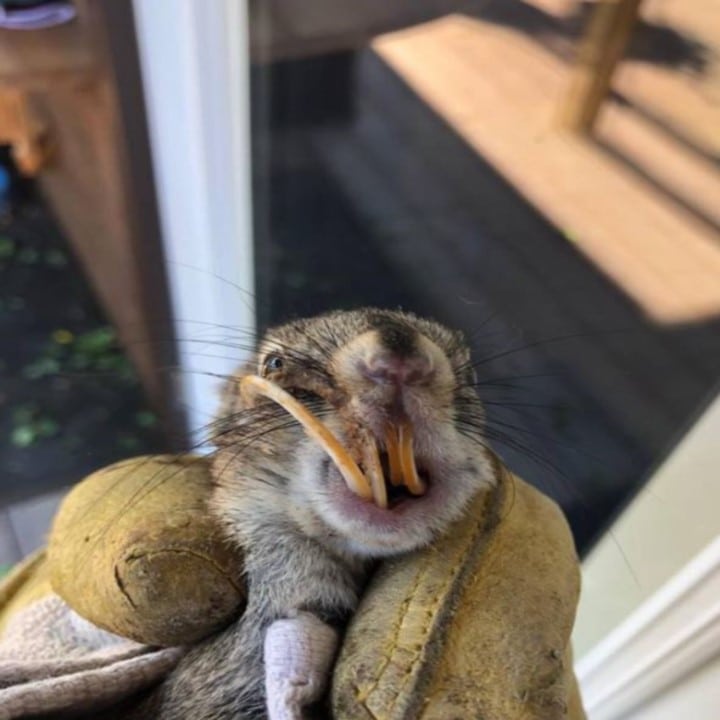 Bella's Story
Owl Attack and Foster Family
Bella was raised as a baby with three other rescue squirrels by a family who frequently rehabilitates wildlife and releases them. She came to be in their care because she was attacked by an owl. Of the four baby squirrels the family fostered at that time, Bella was the last one to open her eyes. Brantley also noticed that of the four squirrels, Bella was the only one that would let humans touch her.
Releasing the Squirrels to the Wild
When it came time to release the squirrels out to the wild, they were released from their nesting box. Soon after, Bella showed up at the door. One of the humans would exit the house with nuts and Bella would take a few out of their hands and then leave.
Bella's Baby Squirrels!
Then one day, Brantley noticed one of Bella's legs appeared injured. It was pink with fur missing, so Brantley decided it was time to take her back in to heal up. They put her back into the nesting box. About two weeks later right before they were going to release Bella back out into the wild, Brantley went out to check to make sure she had plenty of food and water. She saw blood at the top of the nesting box. Brantley opened the lid and there was Bella with her very own litter of three pups!
Bella ended up staying in the nesting box a while longer with her pups until they were old enough to go out on their own. Then Brantley and crew got to release her kids out in to the wild just like they got to do with Bella before.
Bella Still Visits Every Day
Now Bella is eight years old and she still stops by Brantley's house three to five times per week to get her treat of nuts and spend a few minutes with her foster humans.
Bucky's Story
When Jannet First Met Bucky
Jannet Talbott saw a squirrel eating at her bird feeder one day with something strange on his mouth. She named this squirrel Bucky and kept watching him each day. Soon, she realized it was Bucky's own teeth sticking out of his mouth.
Bucky's Life Threatening Condition
Normally squirrels keep their teeth down by using them because they never stop growing. Bucky's jaw wasn't aligned properly, so his teeth continued to grow since he couldn't eat properly to keep them filed down with the food he ate.
Jannet Is Here to Help!
Bucky was going to starve and die if his conditioned continued. One day, Jannet captured him and cut his teeth. Squirrels don't have nerve endings in their teeth, so it doesn't hurt to cut them. Once Jannet cut his teeth, he was able to eat normally. She's keeping an eye on Bucky though in case he needs her tooth cutting services again before they get too bad.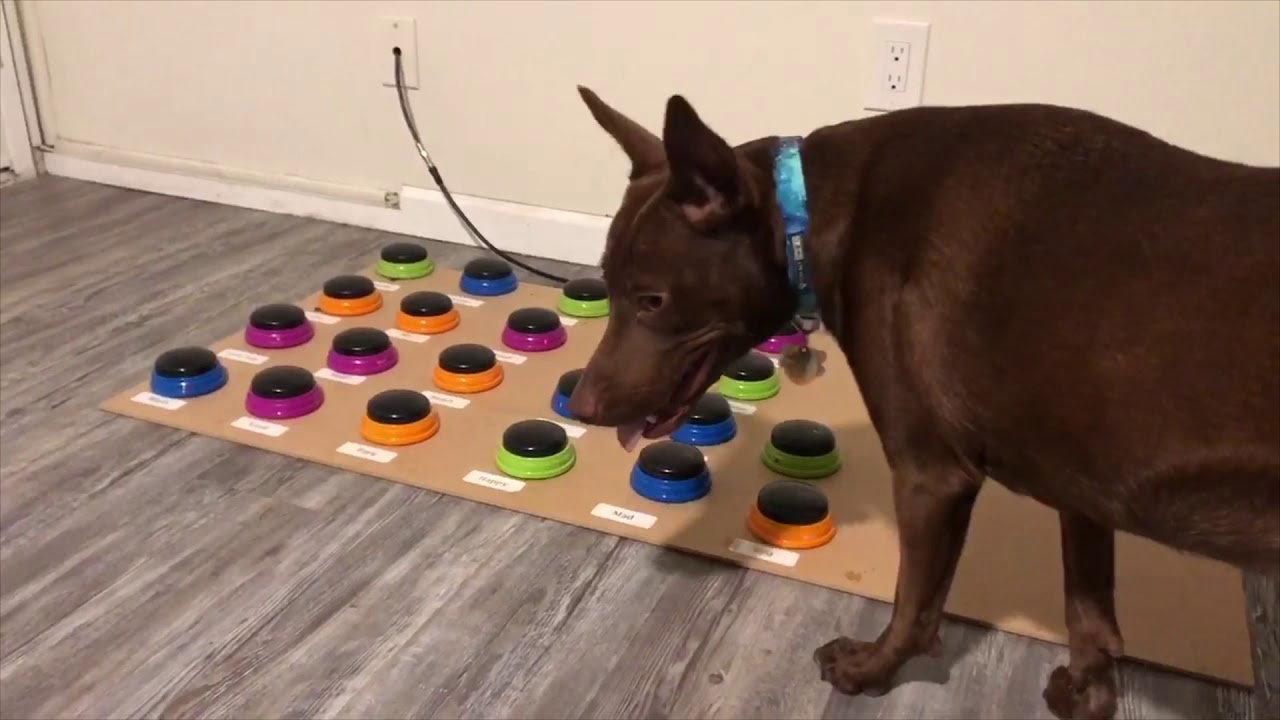 Christina Hunger is a speech pathologist who works with young children around two years old to enhance their ability to communicate with adults. Christina has always wondered if she could teach a puppy to use the word buttons, too. Several years ago, Christina adopted a dog named Stella. She decided to try and see if the same methods she uses for her therapy would also help her puppy to learn to communicate. Many dog owners would like to really understand what their pets are thinking about. Stella uses buttons to communicate her wishes to her owners. Christina can talk with her dog.
Christina set up a group of buttons for Stella to push with her paws. Each button was introduced singularly, and over time Stella learned the meaning of a variety of buttons. The buttons were also grouped by color. Each color represents a particular group of words. Stella can press "walk" or "beach" with her paws to indicate what she wants to do. She can also press buttons for Christina or Jake, her other owner. Stella will walk on the board of 26 buttons as she looks for the one she wants. Stella took the longest to learn her first button. After that, it was much easier to introduce more buttons to the dog.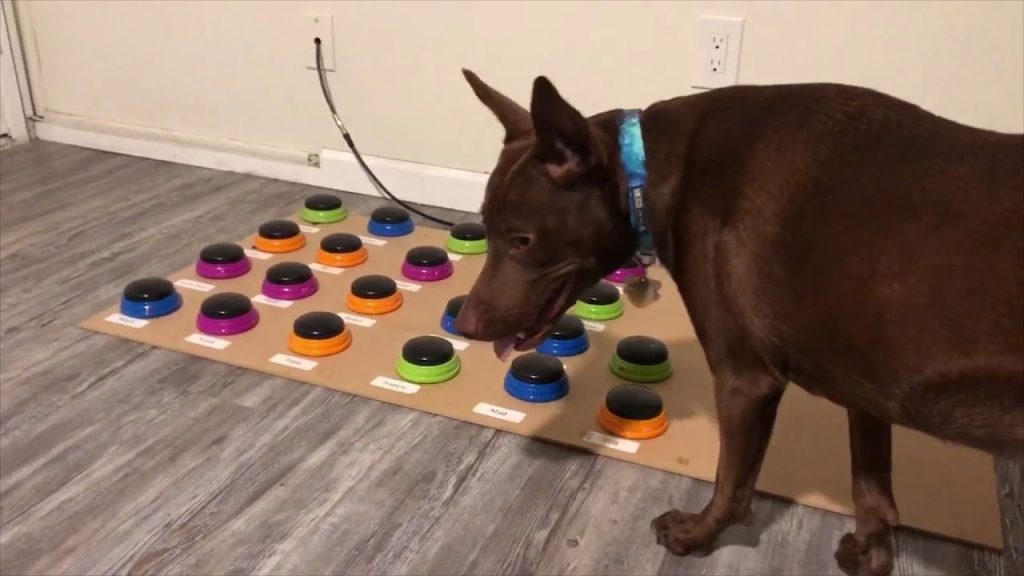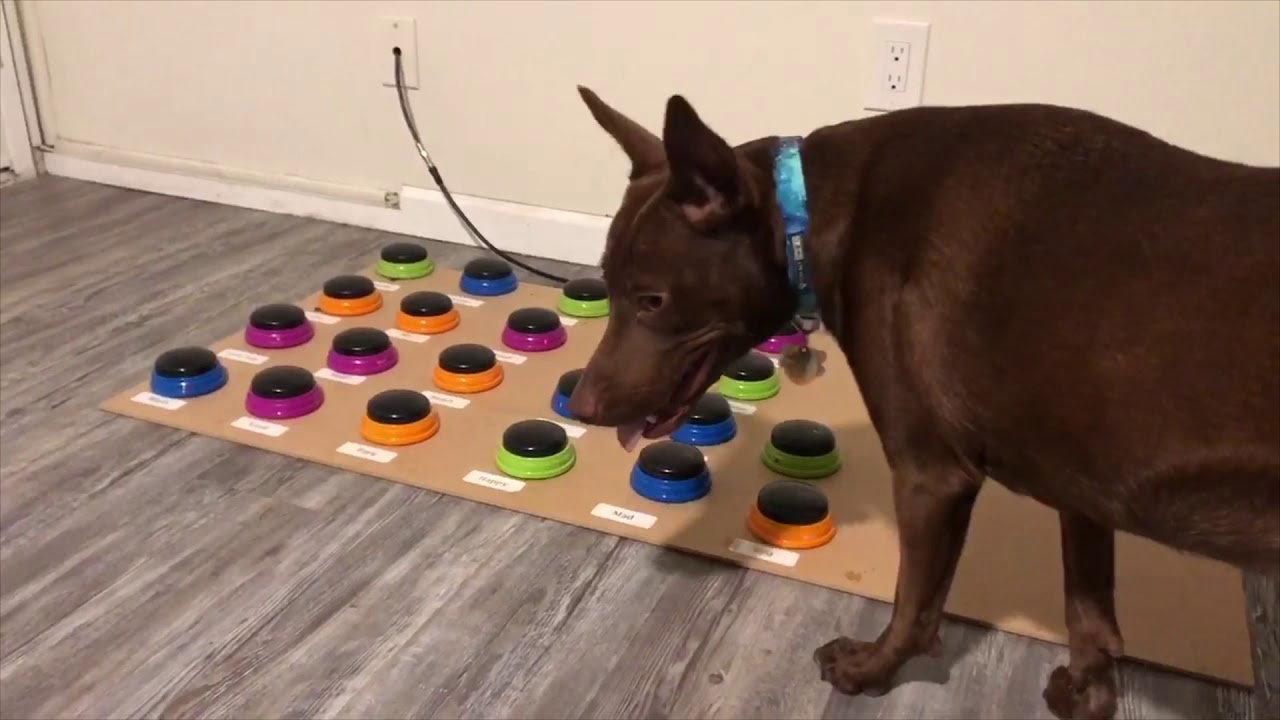 When Stella began to learn to use the buttons, she would only use one paw. Over time, Stella began using both paws to press the buttons. Using both paws makes it easier for Stella to put more than one button together. At this point, she can put a series of five or less words together such as "Christina walk" or "Want Jake Come." Christina feels that the dog showed relief when she finally learned how to punch the buttons for her needs. Stella barks when she hits the buttons, and is able to repeat requests if Christina does not understand her or does not see the dog punch all of her buttons.
Christina has started a blog entitled Hunger for Words where visitors can see the progress of Stella and her buttons. The blog has a number of cool videos of Stella's day. Christina is hoping to teach this method to other dogs and hopes that this method will improve the communication between owners and pets. She also feels that having the board made a recent move easier for Stella to understand. Moves often make pets anxious, but Stella was very calm about their recent move to the beach. Stella intends to introduce more words for Stella to learn.
Stella has been featured in People magazine, which is following the story of Stella from time to time for its readers. For more on Stella, go here to reach Christina's blog. Christina is currently looking for another dog that can learn to push buttons. She is hoping to organize a class of animals and show their owners how to make both of their lives easier.