Watch What This Artist Will Do With Food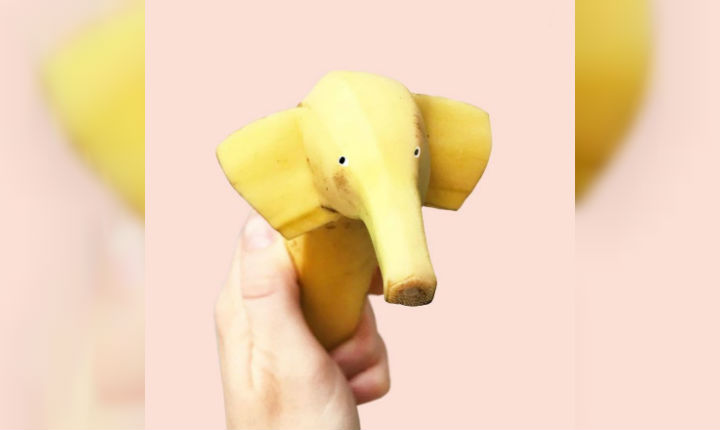 What would do if someone gave you an orange, an egg, or even a teabag? Would you not use it for its original purpose? Of course, you would, but that's is not the case for Artist Helga Stentze. The guy incorporates art into any simple edibles he comes across. Sounds interesting, right? Well, you have no idea how interesting this is until you get to experience the real piece of his food art as disclosed below.
Whether you are a fan of reading or not, it is common knowledge that reading blends well with some bit of coffee, especially on a chilly morning. With this in mind, Helga develops a similar impression using the same teabag. Here, he constructs a relatively small book and places it right inside the tea bag after opening it. He then draws some eyes on the opening and folds it in a manner that the eyes face the book. If you're having a hard time understanding the description, have a look at the final piece of his teabag-book creation.
If you thought the first art was super, creative am sorry to disappoint you because you are not prepared for what is second in line. It is the ordinary banana, but from it emerges a cute elephant. Wondering how it was made? Well, it is simple. A quarter away from either of the sides, cut the banana but do not let it cut off completely. You can then cut a bit of the banana at the far end to get a nice outer layer of the banana and fix it to the piece you had made at the other end. Below is an exact copy of what your final result will look like, and this is a true definition of beauty.
This last piece is just the peak of Artist Helga Stentzel's creativity. It is just the regular tomato that you use to bring the tasty feel to your dishes, but here, it is used to draw a different type of impression once it is cut horizontally into two equal pieces, with one piece curved in a nice way as demonstrated below. What are you seeing? Yes, it is a drawing of a peacock, or do you want to say that it is a peacock dressed in one of those Olympic skating outfits? Whichever the case, it still detonates the art encompassed in simple edibles.
In as much as this article serves to expose you to the beautiful food creativity of Helga Stentzel, it also challenges you to look into simple foods from a different eye. In so doing, there would be more creativity in the food industry. Nonetheless, Helga Stentzel deserves not only recognition but applauds because his artistic work is beyond natural creativity. You can consider checking more of his creativities on his social media platforms.
You Want a Capybara as a Pet? Isn't it a Giant Rat?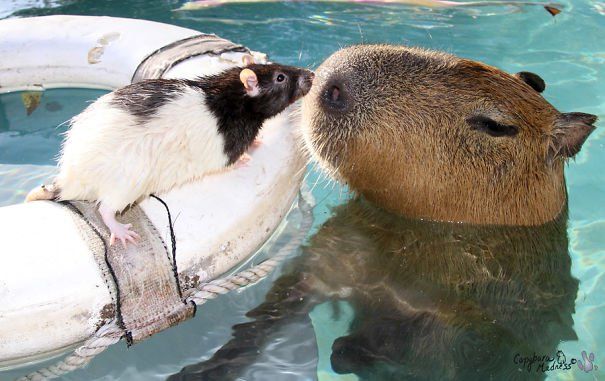 What in the world is a Capybara?
Take a small to medium size pig, turn it into a guinea pig with longer legs, give it clawed feet, and add in an absolutely loving attitude towards anything that pays it attention. Technically, the Capybara is a rodent, a very large rodent. These creatures can easily get up to 4 feet in length and up to two feet tall. They range in weight, with various specimens coming in anywhere from 70 lbs to as much as 150 lbs in size. Most folks first faced with one would likely back up from a Capybaras at first, but these creatures are absolutely affectionate regardless of what they are facing.
They Eat a Lot!
In terms of feed, the Capybara counts as an herbivore. It will easily consume up to eight pounds of food and they love to splash around in water, often leaving near creeks and rivers in the wild. And then they have this cuddling thing. They love to get up close with anything that pays them attention and doesn't try to eat them. The Capybara will do fine with dogs, cats, cattle and they even be seen giving a monkey a ride around the yard. They have a reputation for being used as a couch by a lot of other animals ranging from birds to other rodents, even when walking around.
The Party Hugger
Tame Capybaras will make friends will all kinds of animals most folks would never assume could hang out with these creatures. Rabbits are often seen snoozing with them when saddled in the same pen, and if there's a kiddie pool made available you can be these oversized rodents are going to play king of the mountain and park themselves right in the center of it. They not only have the ability to function as natural swimmers, a Capybara will frequently be found sleeping in water as well. It's not uncommon to see one slip underwater asleep and come back up in a splutter. They also have the ability to dive and stay under water up to 5 minutes long, easily getting away from danger on land if needed.
Natural Capabilities
Interestingly, Capybaras are no slow or easy to catch. They can run as fast as 35 kilometers per hour, easily keeping up with a typical horse. They tend to live in herds ranging from 10 to 20 in the wild, and at one point there was a concern they were going to become rare. However, domestic farm-raising of Capybaras solved the problem, and now there are plenty of the rodents available again.
It's not likely that a Capybara will be allowed as a pet in most jurisdictions in the U.S. Many states have laws barring the entry of non-native species to prevent them from causing environmental damage and wiping out a native species. However, if you ever get a chance, spend some time with these creatures in a tame setting. Their willingness to be friendly and inquisitive makes them absolutely interesting to watch, observe and interact with.