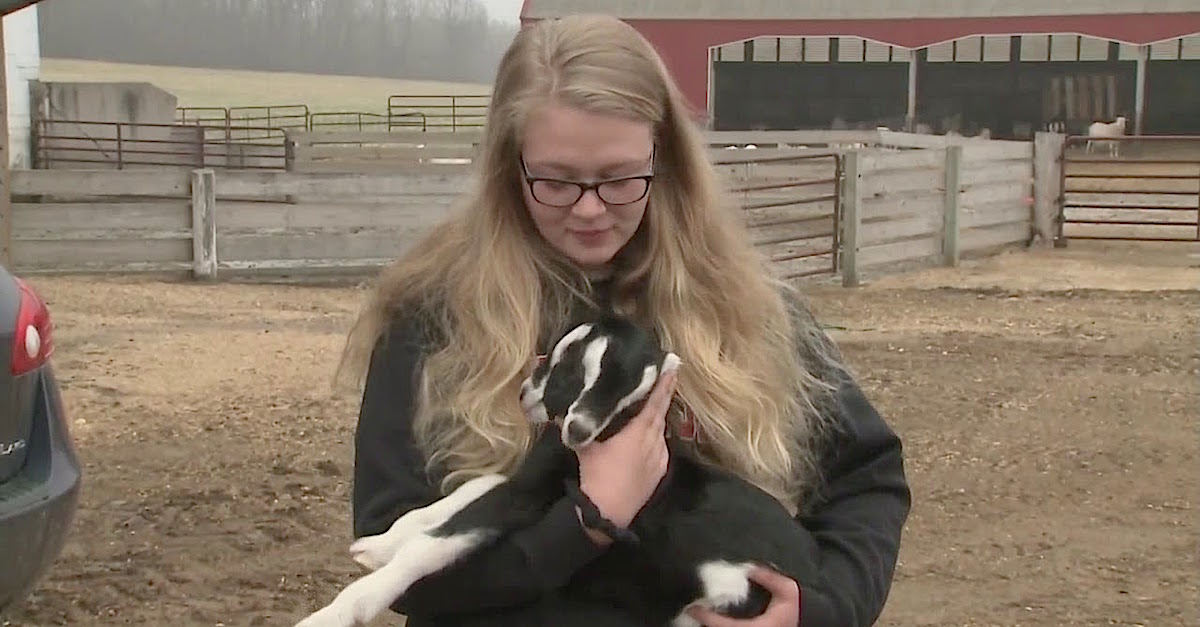 Unique Goat With Two Heads
A family in Wisconsin got a big surprise when their pet goat gave birth to a kid with two heads.
The goat was born on April 5.
The farm saw about 1000 goats being born over the past year. The farm produces goat milk. The family has had the farm for six years, and have never seen a goat like this one.
This goat, born on a Sunday, is the only goat on the farm with two heads.
The Nueske family saw that the mother goat was having trouble with the delivery.
When they saw the newborn, they couldn't believe what they saw.
Even more surprising, both of the goats' heads can eat.
The family named the goat Janus. Janus is the Roman god that had two faces. He is known as the Roman god of the New Years, and it means duality, a beginning and an end. From Janus, we get the word January.
One of the family members, Jocelyn, said she thinks that he was supposed to be twins, but the egg didn't split all the way in utero.
The name for this condition is polycephaly.
The family discovered that both of the heads can eat. They feed him with a bottle.
The goat had a 50% chance of survival. The family kept him as a pet.
The goat had four eyes and two mouths. They don't know if he could see out of the middle eyes, but he has vision with the outside eyes.
Another interesting point about his anatomy is that he had two brains that connected in the back of the skull.
Each head acted independently of the other and had its own consciousness.
Many people may have seen two headed reptiles, but a two headed goat is the first for many.
The family regularly posts updates about the goat on Facebook. You can find them on the Nueske Farms LLC website.
On the site, they shared a link to a NYPost article that shared that the goat had passed away.
They noted that he hadn't been feeling very hungry for his morning meals. They also saw that his temperature was lower than normal.
Animals with this condition rarely survive because they have difficulty feeding themselves.
It is thought that only 1000 goats are born with this condition. Other than having two heads, a vet said that it was a normal goat.
People from all over the world were interested in Janus. He had fans from Germany, Brazil, and many other countries.
"We are so sad to hear about Janus passing," wrote one fan.
The goats' owner shared that while she was sad, Janus was a reminder that sometimes kindness can happen at the most unexpected times. She felt that Janus was a special goat and although they cared for him it was difficult to sustain his life due to his unique medical condition.
Bobcat Visits Homeowner, Brings Her Five Excited Kittens!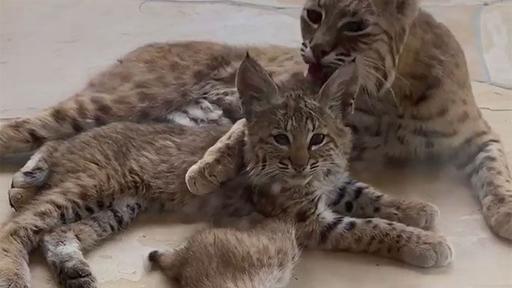 Would you consider yourself a cat person? Do you find yourself drawn to petting or cuddling with just about anything furry? If so, this story might be right up your alley! Earlier this year, a homeowner in the Midwest opened her front porch to find a massive female bobcat on her deck. As bobcats are the most populous wildcat in all of North America, this in and of itself wasn't a shock or a revelation. What came next, however, was as exciting as anything you could hope to find on your porch in the morning.
Before we dive into this exciting story, let's peel back our understanding of wildcats and bobcats. Bobcats are roughly double the size of a traditional house cat and many times more dangerous than their domesticated counterparts. Female bobcats tend to be smaller than their male counterparts, though both genders hover around three feet in length and roughly 20 to 30 pounds in weight. These polygamous animals mate during the winter and will give birth to up to six kittens in roughly two months. From there, the kittens will continue to nurse for an additional two months before eventually leaving home behind after a year.
During their youth, bobcat kittens are blind and as such will stay really close to their parents. After about eight weeks, bobcat kittens are significantly larger and more active. When this mama Bobcat came back to visit the homeowner in question, she brought along her entire litter! If you are a cat person, having a litter of bobcat kittens on your deck has to be a dream come true. Thankfully, the owner of the home went overboard on capturing photographs and we couldn't be happier if we wanted to. Just look at these small beans!
While wildcats aren't exactly rare or reclusive creatures, it is pretty unusual for people to get this close to wild animals. Thanks to the glass screen between the door and the deck, the owner of the home was able to get the kind of pictures that we can only dream of. The homeowner, one Kathy Maniscalco, considered herself as lucky as anyone when the mama Bobcat chose her porch to settle in on. As Kathy watched the kittens, she realized that there were five of them with the young Bobcat — this meant that the mother had nearly a full litter!
Bobcats are crepuscular animals that live relatively solitary lives when they are not mating or raising kittens. Living upwards of 12 to 13 years, bobcats are natural prey to wolves and cougars with bobcat kittens preyed upon by both owls and coyotes. Bobcats don't really have a history of attacking humans because they are fickle and easy to scare. If a bobcat does seem willing to attack a human, it means that they have rabies or are potentially near their kittens. In either situation, creating space is the safest course of action.
How would you react if you found a litter of bobcat kittens on your deck?