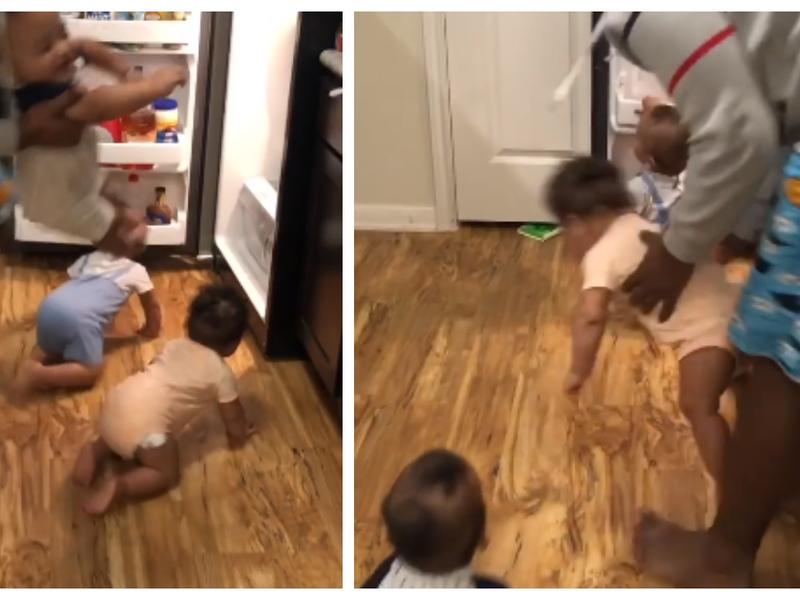 Trio of terror raids the fridge as dad tries to stop them

For most, having just one kid is already a massive task in itself. It's the reason the saying, "it takes a village to raise a child," exists in the first place. So, could you imagine being told the news that you're having triplets?
Having even twins is extremely uncommon, with just 33 out of every 1,000 births resulting in twins. That's a less than 1% chance of twins or just one-third of once present. So, having triplets is even rarer, yet one dad was about to find out it can still happen.
Xavier Rogers and his wife Maria Rogers of San Antonio Texas have decided to document their adventure with the triplets. Posting throughout social media platforms, the family has multiple videos. One video, in particular, has gained social media traction.
In the video, Xavier is seen trying to keep his three triplets out of the fridge. As soon as Xavier picks one child up and moves him back, another baby comes crawling towards the fridge. They must know food comes from there.
Most impressive is the speed at which each baby crawls to accomplish his goal of reaching the fridge.
Even with so much chaos, the couple seems to be happy and in good spirits. Sharing videos via YouTube and Facebook, the couple has documented their lives with the newfound trio of terror.
Posting in the video's description where the trio tries to raid the fridge, Maria posted, "Just a normal day over here, lol." Maria, who is just 21 years old, says that Xavier has more patience than she does when dealing with the trio's antics.
Even cuter is the fact that each baby in the video is seen smiling and laughing. The babies probably knew they were playing a "trick" on Xavier and enjoyed his reactions to them storming the fridge.
Even though caring for three babies, oftentimes called triplets, seems like intense work, there are also smiles and good times all around. All of the couple's videos are happy and show the babies all enjoying their time with their parents.
These cute videos have garnered a lot of attention as well. With a decent YouTube following, the family has captured millions' attention as the triplets continue to do cute things.
Of all of the videos so far, however, the fridge video has caught the most attention by far. Even then, this new family of vying has plenty more videos on YouTube that are worth checking out.
In one video, the family documented their trio's gender reveal as well as other updates like baby name reveals, and other updates. One especially cute video is when all the babies "meet" one another for the first time after leaving the hospital. Videos like these are especially important nowadays, considering all the chaos and uncertainty in the world.
These videos are extremely simple and have no goal other than to share happiness and cuteness with the world.
The Dog Who Works at a Car Dealership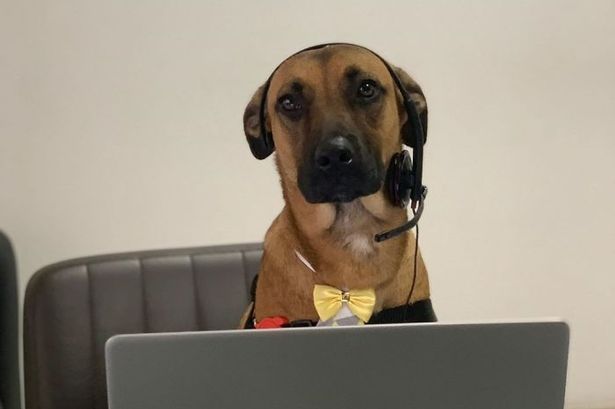 Strong bonds of friendships at times will be forged through the toughest of trials and the most challenging of misfortunes. However, there are friendships that are just destined to be and they easily fall into place and turn into near soulmate level of bonding right from the start. Regardless of how they first meet, friends both have to make the conscious choice and effort to keep the friendship alive and going. It is dependent on them both.

This is how it usually works for us humans, but it is not quite the same when it comes to dogs and the special bonds they form with the humans that they choose. And for one stray pup from Brazil, the friendship he chose to form with a group of humans likely ended up saving his life. It also got him a cozy position at a local car dealership. Yes, you heard that right. A dog got hired by a car dealership. Read on to learn more about this unique but utterly amazing friendship that has been forming for months now.

Staff at the Hyundai Prime dealership in a small but busy town in the heart of Brazil noticed there was a stray dog showing up on the property. The dog would show up usually in the early mornings and just hanging around the outskirts of the dealership and watch. Then over time be got accustomed to the humans he had grown fond of watching and would venture over for treats and belly rubs and pats on the head. This happened nearly every day for several weeks and so the employees as well as the dealership management decided to do something about it. If this pup was going to show up every day and hang out he needed to be part of the team, and so they gave him a job at the dealership.

The pup soon showed that he had natural talents as a crowd-pleaser and had a knack for making people smile and laugh. And so it was, his new friends put him to work as the dealership's unofficial local ambassador. Given the name Tucson Prime, he soon became a hit with the employees as well as the customers who came to the dealership. They even started an Instagram account for the pup where Tucson Prime shows off the warehouse, offices, shown room, and what exactly it is he does all day long at the dealership. He's only been there a few months but already has over 40,000 followers on his social media Instagram page.

And everyone is committed to this growing friendship and it is an accepted long-term commitment, as he has his very own dog house on the dealership property where he now lives. Employees rotate caring for him and he goes home with a team member anytime the dealership is closed for more than overnight. Tuscon Prime now has home within a home and no longer has to worry about being a stray. All because of the seemingly chance friendships he started with the right group of people. He gets all the love and tummy rubs and treats he could ever want and most importantly, he has a very special family he can now call his own.
It truly is a wonderful sight to see how much love these kind-hearted people have for this one pup. Seeing and feeling all of the love in this one very special place, and seeing the mutual friendship that has sprung up between the dealership and Tucson Prime is exactly the kind of story we need to be hearing about these days!