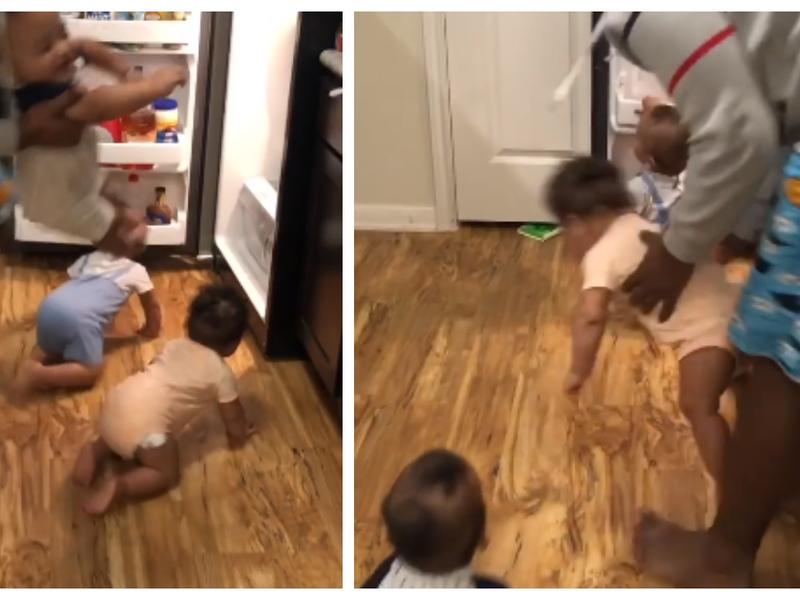 Trio of terror raids the fridge as dad tries to stop them

For most, having just one kid is already a massive task in itself. It's the reason the saying, "it takes a village to raise a child," exists in the first place. So, could you imagine being told the news that you're having triplets?
Having even twins is extremely uncommon, with just 33 out of every 1,000 births resulting in twins. That's a less than 1% chance of twins or just one-third of once present. So, having triplets is even rarer, yet one dad was about to find out it can still happen.
Xavier Rogers and his wife Maria Rogers of San Antonio Texas have decided to document their adventure with the triplets. Posting throughout social media platforms, the family has multiple videos. One video, in particular, has gained social media traction.
In the video, Xavier is seen trying to keep his three triplets out of the fridge. As soon as Xavier picks one child up and moves him back, another baby comes crawling towards the fridge. They must know food comes from there.
Most impressive is the speed at which each baby crawls to accomplish his goal of reaching the fridge.
Even with so much chaos, the couple seems to be happy and in good spirits. Sharing videos via YouTube and Facebook, the couple has documented their lives with the newfound trio of terror.
Posting in the video's description where the trio tries to raid the fridge, Maria posted, "Just a normal day over here, lol." Maria, who is just 21 years old, says that Xavier has more patience than she does when dealing with the trio's antics.
Even cuter is the fact that each baby in the video is seen smiling and laughing. The babies probably knew they were playing a "trick" on Xavier and enjoyed his reactions to them storming the fridge.
Even though caring for three babies, oftentimes called triplets, seems like intense work, there are also smiles and good times all around. All of the couple's videos are happy and show the babies all enjoying their time with their parents.
These cute videos have garnered a lot of attention as well. With a decent YouTube following, the family has captured millions' attention as the triplets continue to do cute things.
Of all of the videos so far, however, the fridge video has caught the most attention by far. Even then, this new family of vying has plenty more videos on YouTube that are worth checking out.
In one video, the family documented their trio's gender reveal as well as other updates like baby name reveals, and other updates. One especially cute video is when all the babies "meet" one another for the first time after leaving the hospital. Videos like these are especially important nowadays, considering all the chaos and uncertainty in the world.
These videos are extremely simple and have no goal other than to share happiness and cuteness with the world.
From Teacher to TikTok Star: The Story of Mr. Hamilton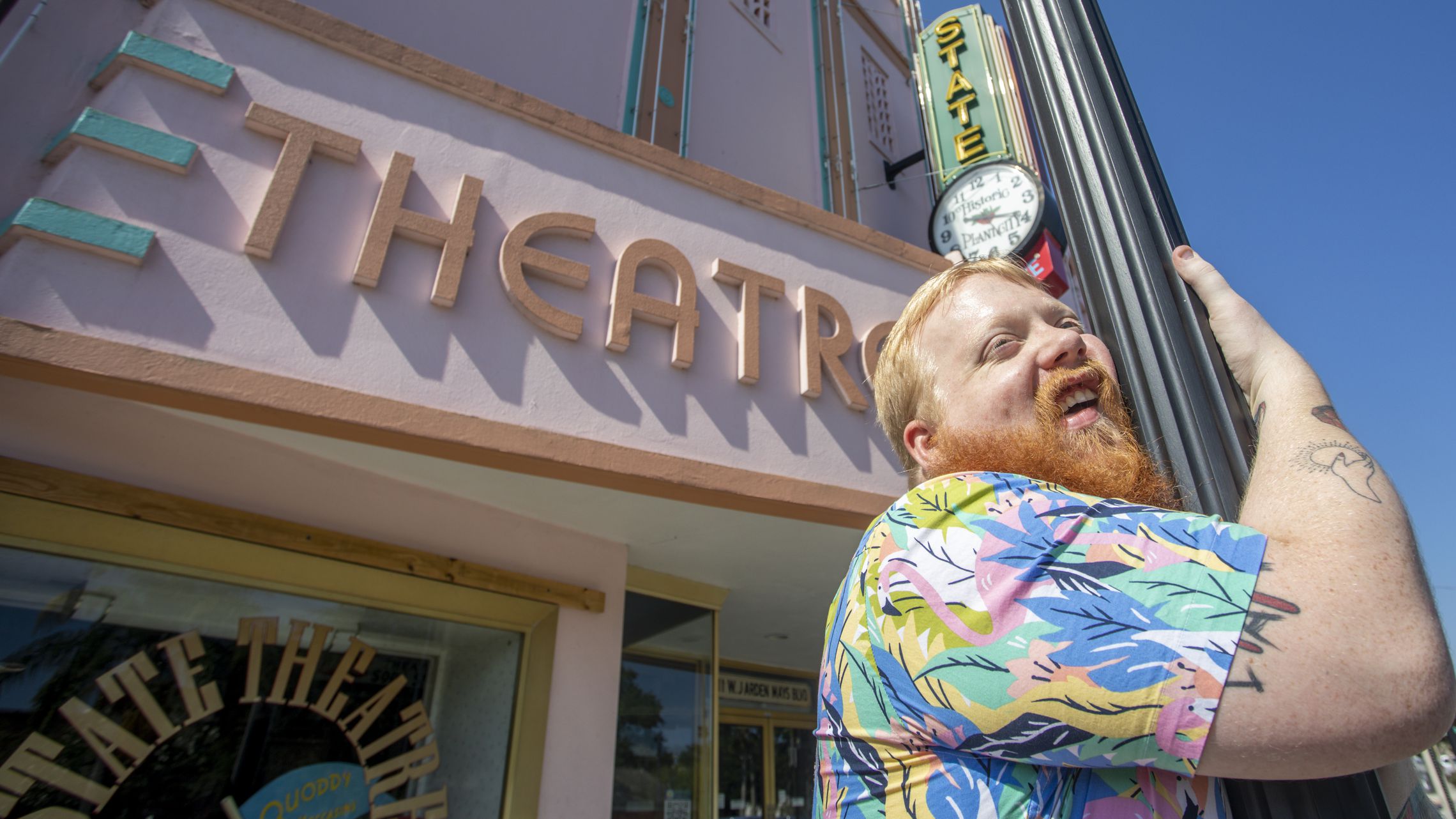 Technology has fundamentally changed the way that we connect with one another. The era of instant communication and social media outreach has made us more intertwined than ever, giving otherwise unknown faces the chance to shine in front of millions if not billions of people. For Casey Hamilton, aka @MrHamilton on TikTok, social media allowed the teacher to transition into one of the biggest performers on the internet.
Let's explore the rise of Mr. Hamilton and his journey from teaching in Plant City to winning over TikTok audiences around the world!
Casey Hamilton: Chaotic Positivity
Were you to run across one of Hamilton's TikTok videos on a whim, you'd likely not assume he was a teacher. The 25-year-old TikTok star began his career on the platform by selling what everyone loved about him in his classroom, his personality. Hamilton embodies the young-and-fun generation of TikTok stars that are taking over the pop culture world. Hamilton dresses in his favorite crocs, a joke in itself, while matching the rest of his outfit to the caricature of a cartoon-loving pre-teen.
Hamilton's TikTok currently has more than 5 million followers and that number is climbing by the day, but for what reason? More than just childish fun, Hamilton brings boatloads of energy to his impersonations and sketches. One sketch that garnered Hamilton millions of views was his version of Plankton, a hit with the Spongebob generation. Impersonations aren't restricted to celebrities, as Hamilton has made videos impersonating, well, everything.
When Hamilton isn't giving his fans a show through impersonations, he's sharing his soaring vocals. Covering All Star by Smash Mouth brought in views but so did Hey, Delilah – a song about a stripper. Dance moves of all types join these performances and one thing is certain throughout them all: Casey isn't afraid of being the center of attention.
From Plant City to Tik Tok Stardom
Hamilton worked at Plant City High School as a TV Production Teacher, developing a morning show with his students. The environment allowed Hamilton to flex his creative chops and amiable positivity, inviting students to fall in love with sketches, comedy, and creating artistic entertainment of all types. Students watched with glee as the morning news at school slowly transitioned into a fun mashup of entertainment.
Jennifer Hamilton is Casey's mother and she had more than enough to say about her son. Casey said, "I don't think it was everyone's cup of tea…" Still, Jennifer had to admit that the show was a hit with Casey's students. Jennifer said, "He turned our TV show around, the students appreciated the humor and would pay attention."
Still, Hamilton's electric personality caused him to become a quick favorite among students. It was only natural to transition into comedy outside of school. Born and raised in Plant City, Hamilton used his upbringing as well as the close-knit community from his hometown to build his brand, but in the most natural way possible. Perhaps that is the most intriguing thing about Hamilton. His success is organic from the ground-up.