Tiny Homes are Small Steps in the Right Direction For LA Homeless
The homelessness crisis in Los Angeles, California, is a pandemic in its own right. There are more homeless people on the city streets than in some small metropolitan areas across the country.
However, a recent pilot project to provide small but comfortable homes with access to multiple amenities to awe the plight of those having to take to the streets has been welcomed with open arms by many sectors.
Could this be the answer that the city has been waiting for so long? Not only are the houses convenient, but they are aesthetically pleasing.
The LA Homeless Crisis In-depth
A new economic prediction is indicating that a distressing rise in homelessness throughout the state of California and primarily in Los Angeles County is about to hit hard in a few years.
In the January issue of the Economic Roundtable, the Non-profit organization located in the nation's central area released a report called "Locked Out" that indicates the number of homeless individuals currently in the United States may increase shortly.
Astounding is the expected surge in long-term homelessness, which refers to people who have become so homeless that they have lived along the city's streets for prolonged periods.
In Los Angeles County, there are approximately fifteen thousand ongoing homeless people. The forecast has estimated that the number will show significant growth by 2025.
The Fix
An established community with colorful buildings in Los Angeles was established featuring forty tiny houses. Each building is only 64 feet with the capability of accommodating one or two people.
This is a significant move towards addressing the homelessness situation that has plagued the city for years.
The community has been officially named The Chandler Boulevard Bridge Home Village and took just three months to be built by Lehrer Architects in association with the LA Engineering Bureau.
Los Angeles's latest housing project is situated in North Hollywood, which is one of the various places that are being earmarked for the homeless community.
Hope of the Valley Rescue Mission is managing the facility at this point. However, it is already at the maximum number of people allowed.
The tiny homes are equipped with heat, air-conditioning, a small desk in the bedroom, a small table in the kitchen, and a small door. In addition to individual housing units, there are bigger transportable units.
In each modular unit, groups of people can eat, meet, take showers, do laundry and have storage. There is also a designated pet area.
The entire group benefits from such a large and vibrant communal area. This program will provide support services, residential navigation, psychological health, and vocational training.
Upon completion of training, job placement will also be done to help residents reintegrate into society.
Meanwhile, in the county, there are currently more than 66,000 homeless individuals, consisting of both those "bouncing in and out of homelessness" and others who are chronically homeless.
Jumping ahead of the anticipated massive growth in homeless people has become a large challenge for Los Angeles. Still, entities pledging to create residential units have had very little impact on the impoverished figures.
As a response to this issue is a proposal of an additional 25 residences for anyone who is currently homeless. The new homes are being suggested to be built in five years totaling 25,000.
In the Economic Roundtable's opinion, the ideal option is for the leaders to enforce a Roosevelt -like strategy, and to put people to work, and to get them a job, and to get them by their families so that they can earn money, and so that they don't have to borrow if they have to.
Los Angeles Unveils Roadmap to 100% Renewable Energy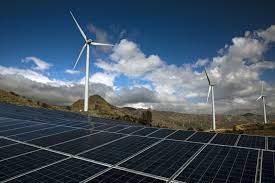 The largest city in all of California, Los Angeles hosts a population north of four million people as well as nearly 3.8% of the nation's economy. Revered as a destination for outdoor enthusiasts and Hollywood aspirationals alike, Los Angeles also has earned a reputation for its smog and pollution.
Fortunately for LA locals, it looks like there is a plan being put in place to transition away from burning coal for electricity. If this goal is enacted, eventually Los Angeles could see itself achieving more than 98% of its clean energy within the next ten years.
Clean Energy to Combat Pollution
A first-of-its-kind study was commissioned by the city of Los Angeles in collaboration with the National Renewable Energy Laboratory. The study would go on to reveal that Los Angeles has a legitimate opportunity to attain 98% clean energy by 2031 and 100% clean energy by 2035, both plans that fall in line with the promises made by President Biden on climate change. The report went on to conclude that clean energy can get produced at an efficient level so that rolling blackouts and economic disruptions are no longer required.
According to the NREL, a federal research agency, the path toward clean energy involves the construction of solar farms, batteries, and wind turbines. These clean energy solutions have been around for years, but they've only just recently become embraced at a federal level under the Biden Administration, continuing plans put in place by President Obama preceding him. Included in the construction goals listed in the report is a focus on energy efficiency and something known as 'demand response', a program that would pay people to utilize energy when the solar and wind farms are producing plentiful amounts.
Not only would the efforts put in place by the NREL study help combat pollution, but it would also go directly toward slashing the traumatic pollution that comes from cars, power plants, furnaces, and trucks all throughout Los Angeles County. These changes would have a dramatic and direct positive impact on lower-income neighborhoods as well as communities of color.
While the NREL study is incredibly optimistic, it is also incredibly feasible. According to researchers and professionals who have absorbed the NREL study, the energy efficiency plan allows for year-round power, with lights on every hour out of the year. Additionally, the commissioned report proposes that homes would even be protected from energy loss due to wildfires and downed transmission lines.
Discussions surrounding clean energy and how to implement it have risen dramatically since the power outages that plagued Texas in early 2021. Power grid failures and an over-reliance on fossil fuels would highlight a natural disaster that saw millions of native Texans without power, forced to boil snow to gain access to life-saving water. With continued weather extremes to come due in large part to climate change, these issues are only going to get worse as time goes on.
Mayor Garcetti spoke on the issue citing a need to keep medical equipment powered, refrigerators running, and the city operational in the face of extreme weather. Garcetti pointed to "top scientists" from "around the world" that have helped to create an actionable plan that is as realistic as it is potentially effective.
The NREL created a study team of more than 100 participants in support of the Eagle Supercomputer located at the Golden, CO, Research Headquarters. The program has incorporated millions of simulations since 2017 while generating reliable data for use with reference to jobs, weather, power lines, solar panels, and electrical use throughout L.A. County.