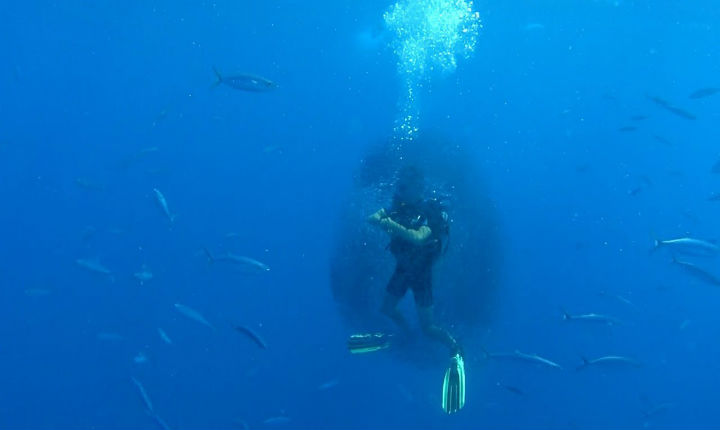 This Scuba Diver Was Saved by a Bunch of Fish?
While diving off in the coast of Egypt, Tobias Sachs and his friends noticed a sea of fish forming around him and didn't know what to do. His instincts told him to sit still. A huge swarm of small fish created a circle around him. The small fish just swam around him, didn't go anywhere. Neither him nor his friends knew what was cooking, but they wanted to catch it on camera so one of his friends recorded it.
Turns out that the fish were using the diver to bait a predator and save themselves from being someone's meal that day. Upon sensing a shark, the small fish knew that if they could provide a bigger, heartier meal for the big shark, they would live to see another day. As it happens, a group of scuba divers was in the area. They knew that they had to work together and use one of them as bait so that the predator could leave them alone.
Enormous Whale Shark
Sharks can be pretty big, and the one this ball of fish wanted to protect themselves from was massive. Tobias's friends noticed an enormous whale shark swimming right behind the swarm of fish and right there and then, knew the small fish were using their friend as bait. Lucky for him, this type of sharks doesn't like making meals out of humans so this one just swam right past Tobias and his friends to try his luck elsewhere.
It looks like the swarm of small fish swimming around the scuba diver knew that the whale shark would lose interest in them once he noticed the group of humans around. Perhaps they thought by surrounding the human, they would trap him to being the sharks next meal. But the shark wasn't interested in him, so it just went past him and the small fish around him. No one can know what was going on in the minds of the little fish, but they somehow managed to save themselves from being the whale shark's lunch that day.
A Successful Tactic
There are a couple of theories to explain what was happening in the sea off the east coast of Egypt that day. One of them is that upon sensing the approaching predator, the small fish knew that they had to make themselves look bigger to throw the predator off. Perhaps by tricking the whale shark that they were a bigger, stronger fish, the school of fish would live to see another day. They figured that surrounding and swimming around a human would do the trick. Well, looks like their plan worked.
The swarm of small fish lived to see another day, didn't they? Their plan worked. Some argued that the goal was to gift wrap the diver for the whale shark, he'd surely make a bigger, heartier meal for the shark than the small fish only that the big, rather gentle predator wasn't interested. Well, whatever the case, surrounding the diver worked as the shark swam past them. Oh, and they made Tobias Sachs famous on the internet with their little stunt.
The Dog Who Works at a Car Dealership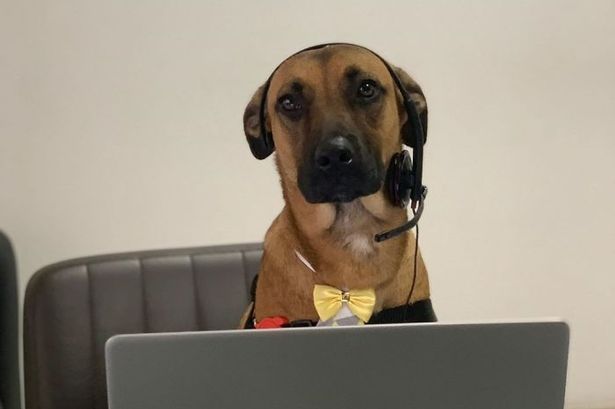 Strong bonds of friendships at times will be forged through the toughest of trials and the most challenging of misfortunes. However, there are friendships that are just destined to be and they easily fall into place and turn into near soulmate level of bonding right from the start. Regardless of how they first meet, friends both have to make the conscious choice and effort to keep the friendship alive and going. It is dependent on them both.

This is how it usually works for us humans, but it is not quite the same when it comes to dogs and the special bonds they form with the humans that they choose. And for one stray pup from Brazil, the friendship he chose to form with a group of humans likely ended up saving his life. It also got him a cozy position at a local car dealership. Yes, you heard that right. A dog got hired by a car dealership. Read on to learn more about this unique but utterly amazing friendship that has been forming for months now.

Staff at the Hyundai Prime dealership in a small but busy town in the heart of Brazil noticed there was a stray dog showing up on the property. The dog would show up usually in the early mornings and just hanging around the outskirts of the dealership and watch. Then over time be got accustomed to the humans he had grown fond of watching and would venture over for treats and belly rubs and pats on the head. This happened nearly every day for several weeks and so the employees as well as the dealership management decided to do something about it. If this pup was going to show up every day and hang out he needed to be part of the team, and so they gave him a job at the dealership.

The pup soon showed that he had natural talents as a crowd-pleaser and had a knack for making people smile and laugh. And so it was, his new friends put him to work as the dealership's unofficial local ambassador. Given the name Tucson Prime, he soon became a hit with the employees as well as the customers who came to the dealership. They even started an Instagram account for the pup where Tucson Prime shows off the warehouse, offices, shown room, and what exactly it is he does all day long at the dealership. He's only been there a few months but already has over 40,000 followers on his social media Instagram page.

And everyone is committed to this growing friendship and it is an accepted long-term commitment, as he has his very own dog house on the dealership property where he now lives. Employees rotate caring for him and he goes home with a team member anytime the dealership is closed for more than overnight. Tuscon Prime now has home within a home and no longer has to worry about being a stray. All because of the seemingly chance friendships he started with the right group of people. He gets all the love and tummy rubs and treats he could ever want and most importantly, he has a very special family he can now call his own.
It truly is a wonderful sight to see how much love these kind-hearted people have for this one pup. Seeing and feeling all of the love in this one very special place, and seeing the mutual friendship that has sprung up between the dealership and Tucson Prime is exactly the kind of story we need to be hearing about these days!