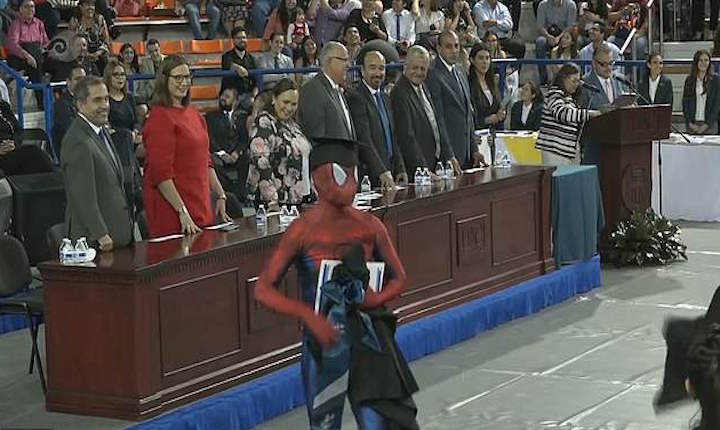 This Law Student Dressed Up as Spider Man For Graduation and It's Hilarious
For any student, graduation is the culmination of all the hard work and effort that was put into one's time at school. It is typical the highlight of their school career. We all know that graduations tend to be boring and often times, a little stuffy. Over the years, students have made various attempts to bring the party to graduation. One law student decided to go all out in an attempt to liven up his graduation. People will be talking about this for a long time.
Hiram Yahir Salas Romero is a 22 year old that was graduation from The Autonomous University of Ciudad Juarez in northern Mexico. He worked hard to earn his law degree and like every student, he was excited to walk across the stage and get his degree. He was expecting graduation to be boring. The University had a strict dress code. The graduates had to wear dark suits, white shirts and shoes to walk across the stage. Romero decided he wanted to make this occasion a little less boring for himself and everyone there.
Romero managed to sneak into the bathroom before the ceremony and change his clothes. He hid his costume change under hid graduation gown until it was his turn to get his degree. When his name was called, he removed his gown and to everyone's surprise had on a Spider Man suit.
Some of his professors looked incredibly unhappy with his as he shook their hands, all while dressed as Spider Man. Despite the distaste for his outfit, no one said a word to him. Many in the audience seemed to find the humor in the costume because when the Master of Ceremonies reminded them about the solemnity of the event, he was booed.
Not everyone appreciated the humor in the situation. Some of Romero's classmates thought the costume was immature and stole the moment away from the other graduates. Even though some expressed their negative thoughts, Romero does not retreat it at all. He wanted to send the message that not all students are stiff and boring, even though the dress code is.
Romero chose Spider Man because even though he's a superhero, he was a human with problems and a desire to help others. Spider Man is potentially one of the most popular superheroes that Marvel has created. A recent release of a new video game seems to have fans clamoring with excitement. Romero was riding that wave of excitement to change the stiff ceremony to something enjoyable. The video of his costumed acceptance of his degree has gone viral.
Spider Man wasn't the only one Romero drew attention to as he accepted his degree. He also displayed a sign that had the message 'For the love of my life, my mother.' His mother has always been a strong supporter of him throughout his life. She was supportive of his expression during the graduation ceremony. So much so, she even paid for the Spider Man costume that he wore while accepting his law degree. Hopefully, he doesn't plan to show up in a court of law dressed as a superhero.
Herriot the Heron and the Underpants Sling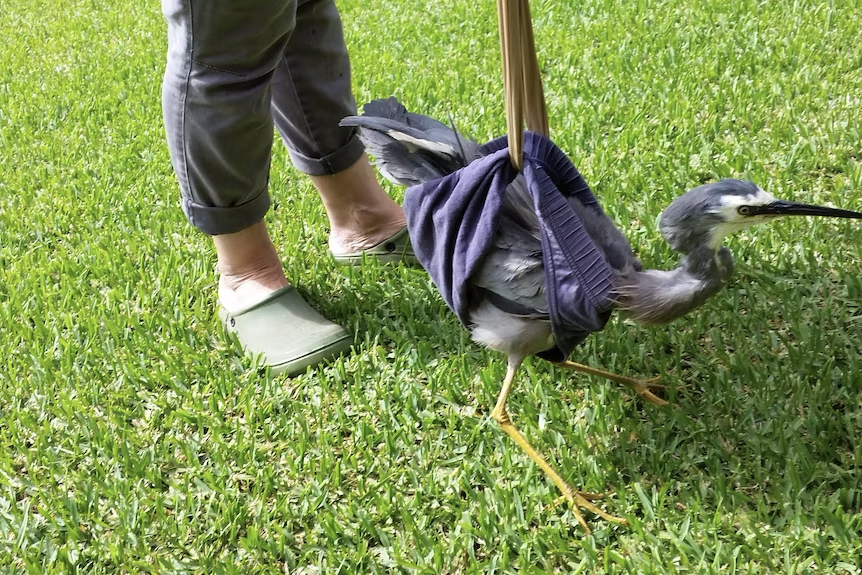 In the world of wildlife rescue, there are heroes who go above and beyond to help our feathered friends when they are in need. One such hero is Karen Ledger, a dedicated wildlife rescuer with a heart of gold. With over a decade of experience, Karen has helped countless birds in distress. However, it was her ingenious creation of an "underpants sling" that recently captured hearts and headlines, as she helped a heron named Herriot regain his ability to walk.
Herriot's story began with a troubling challenge. This majestic heron found himself unable to use his legs for reasons unknown. It was a dire situation, and things didn't look promising at the start. As Karen Ledger recounted, "It didn't look good at the start. He couldn't use his legs for unknown reasons. He might have been hit by a car."
Determined to help this long-legged bird find his footing again, Karen put her inventive mind to work. She faced the daunting task of making a heron walk when it seemed impossible. Her solution? An unconventional yet effective "underpants sling" made with a pair of stockings and her husband's underwear.
"I put the heron in the sling and physically made him use his legs three or four times a day until he could walk by himself," Karen explained. It was no easy feat, requiring intense effort and dedication. But for Karen, every minute was worth it when she saw Herriot finally regain his ability to walk independently.
Herriot's journey to recovery didn't end there. After his progress in the makeshift sling, he continued to improve by walking in an enclosed outdoor area for weeks. Finally, the day came when Herriot was strong enough to be released back into the wild, near a tranquil dam.
Karen's extraordinary efforts aren't limited to Herriot alone. She has a track record of helping a variety of birds in need. One heartwarming tale involves a barn owl who had lost his mate in a tragic road accident. Karen noticed that the owl was not physically injured but was deeply depressed, spending a week with his eyes closed and his head down.
Karen knew she had to find a way to lift the owl's spirits. "You have to think outside the square, just look at what you've got and adapt," she said. Drawing on her resourcefulness, she placed a stuffed toy penguin, roughly the same size as the owl, next to him in his cage. This simple act of comfort worked wonders. "After a couple of days, he started brightening up and opening his eyes. He came back to the point that he was well enough to be released," Karen said.
Karen Ledger's wildlife rescue efforts extend beyond her heroic acts with Herriot and the barn owl. She has dedicated herself to helping a wide array of birds, from barn owls and tawny frogmouths to lorikeets, rosellas, kookaburras, and more.