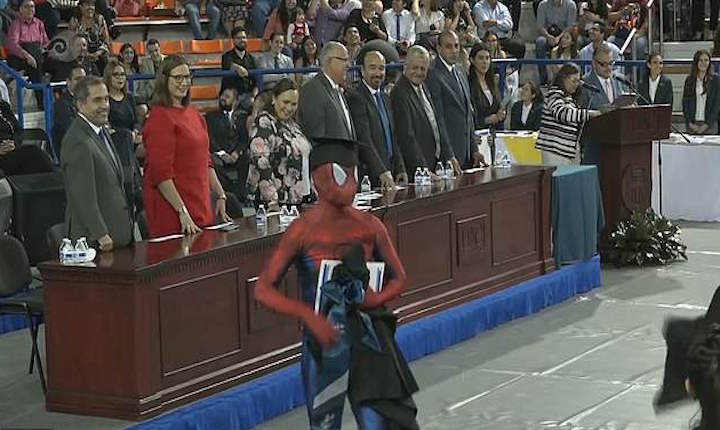 This Law Student Dressed Up as Spider Man For Graduation and It's Hilarious
For any student, graduation is the culmination of all the hard work and effort that was put into one's time at school. It is typical the highlight of their school career. We all know that graduations tend to be boring and often times, a little stuffy. Over the years, students have made various attempts to bring the party to graduation. One law student decided to go all out in an attempt to liven up his graduation. People will be talking about this for a long time.
Hiram Yahir Salas Romero is a 22 year old that was graduation from The Autonomous University of Ciudad Juarez in northern Mexico. He worked hard to earn his law degree and like every student, he was excited to walk across the stage and get his degree. He was expecting graduation to be boring. The University had a strict dress code. The graduates had to wear dark suits, white shirts and shoes to walk across the stage. Romero decided he wanted to make this occasion a little less boring for himself and everyone there.
Romero managed to sneak into the bathroom before the ceremony and change his clothes. He hid his costume change under hid graduation gown until it was his turn to get his degree. When his name was called, he removed his gown and to everyone's surprise had on a Spider Man suit.
Some of his professors looked incredibly unhappy with his as he shook their hands, all while dressed as Spider Man. Despite the distaste for his outfit, no one said a word to him. Many in the audience seemed to find the humor in the costume because when the Master of Ceremonies reminded them about the solemnity of the event, he was booed.
Not everyone appreciated the humor in the situation. Some of Romero's classmates thought the costume was immature and stole the moment away from the other graduates. Even though some expressed their negative thoughts, Romero does not retreat it at all. He wanted to send the message that not all students are stiff and boring, even though the dress code is.
Romero chose Spider Man because even though he's a superhero, he was a human with problems and a desire to help others. Spider Man is potentially one of the most popular superheroes that Marvel has created. A recent release of a new video game seems to have fans clamoring with excitement. Romero was riding that wave of excitement to change the stiff ceremony to something enjoyable. The video of his costumed acceptance of his degree has gone viral.
Spider Man wasn't the only one Romero drew attention to as he accepted his degree. He also displayed a sign that had the message 'For the love of my life, my mother.' His mother has always been a strong supporter of him throughout his life. She was supportive of his expression during the graduation ceremony. So much so, she even paid for the Spider Man costume that he wore while accepting his law degree. Hopefully, he doesn't plan to show up in a court of law dressed as a superhero.
Man Creates AI Program To Alert Him And Greet Dogwalkers in His Community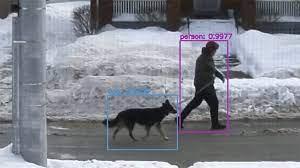 Dogs are deemed as man's best friend for a multitude of reasons. What we have to understand, though, is that the love has to be shown to the dog as much as we want to be delivered to us.
Watching someone walking their dog is a pastime that never grows old, to the point that one man decided to build a hi-tech machine to detect when dogs and their owners were passing by his home.
Is that a thing? Certainly it is, and it has been bringing immense joy to him as well as the pups and their masters as they pass by his home.
Some people think it's cute, others eerie, but no one can deny the thought and creativity behind developing that machine.
This may become the new greeting technology based on the incredible level of responses that have been pouring out towards both the owner and his creation, as you'll learn below.
If you have at any point spent an evening(or the whole year 2020) on the internet looking at adorable dog videos, you'll understand why Ryder of YouTube fame decided to create a computer, powered by Artificial Intelligence, which is able to discern dogs walking along the street pass their house and instantly shout praises to the dog walkers or owners.
His Youtube program is called Ryder Calm and has earned quite a following.
Getting things done by looking at the real puppers has always been better than wasting time and looking at only pictures of puppies, so the development began as an automated manner for Ryder to identify when somebody was walking down the street past their home. The computer, which is based on a Raspberry Pi, assesses a live feed from the camera module and employs a machine learning model (in this case, the YOLOv3) that has been programmed to recognize about Eighty different items, including people, vehicles, and dogs.
When a passing puppy is detected, an alarming automated text-to-speech voice warns Ryder via an actual megaphone, allowing them to rush to the window on time to catch sight, no matter what they're doing.
Watching dogs is obviously not just his passion, but clearly an activity that his entire family enjoys doing. They enjoy it so much that they've programmed the system to function even during their absence. If that isn't innovative, then what is?
For those occasions when they aren't home to hear the alarm, the system can be programmed to play a pre-recorded "I like your dog!" message through the window, providing a complimentary dopamine boost to anybody walking their dog down Ryder's street.
It's a random and somewhat weird act of generosity, but I think we'd all take something at this stage. After all, any good gesture is better than the negativity endured throughout 2020, right?