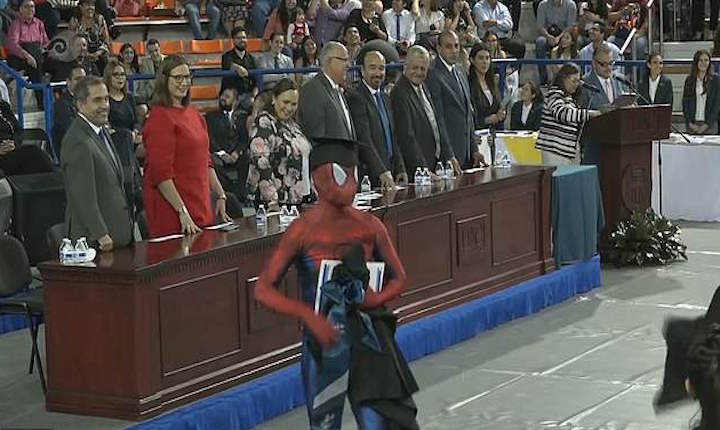 This Law Student Dressed Up as Spider Man For Graduation and It's Hilarious
For any student, graduation is the culmination of all the hard work and effort that was put into one's time at school. It is typical the highlight of their school career. We all know that graduations tend to be boring and often times, a little stuffy. Over the years, students have made various attempts to bring the party to graduation. One law student decided to go all out in an attempt to liven up his graduation. People will be talking about this for a long time.
Hiram Yahir Salas Romero is a 22 year old that was graduation from The Autonomous University of Ciudad Juarez in northern Mexico. He worked hard to earn his law degree and like every student, he was excited to walk across the stage and get his degree. He was expecting graduation to be boring. The University had a strict dress code. The graduates had to wear dark suits, white shirts and shoes to walk across the stage. Romero decided he wanted to make this occasion a little less boring for himself and everyone there.
Romero managed to sneak into the bathroom before the ceremony and change his clothes. He hid his costume change under hid graduation gown until it was his turn to get his degree. When his name was called, he removed his gown and to everyone's surprise had on a Spider Man suit.
Some of his professors looked incredibly unhappy with his as he shook their hands, all while dressed as Spider Man. Despite the distaste for his outfit, no one said a word to him. Many in the audience seemed to find the humor in the costume because when the Master of Ceremonies reminded them about the solemnity of the event, he was booed.
Not everyone appreciated the humor in the situation. Some of Romero's classmates thought the costume was immature and stole the moment away from the other graduates. Even though some expressed their negative thoughts, Romero does not retreat it at all. He wanted to send the message that not all students are stiff and boring, even though the dress code is.
Romero chose Spider Man because even though he's a superhero, he was a human with problems and a desire to help others. Spider Man is potentially one of the most popular superheroes that Marvel has created. A recent release of a new video game seems to have fans clamoring with excitement. Romero was riding that wave of excitement to change the stiff ceremony to something enjoyable. The video of his costumed acceptance of his degree has gone viral.
Spider Man wasn't the only one Romero drew attention to as he accepted his degree. He also displayed a sign that had the message 'For the love of my life, my mother.' His mother has always been a strong supporter of him throughout his life. She was supportive of his expression during the graduation ceremony. So much so, she even paid for the Spider Man costume that he wore while accepting his law degree. Hopefully, he doesn't plan to show up in a court of law dressed as a superhero.
After 35 Years in Captivity, Elephant Is Finally Freed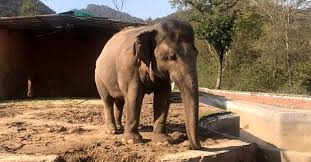 An Asian elephant spent 35 years chained up inside a zoo. The elephant, Kaavan, was called the loneliest elephant in Pakistan. He had been there for so long and was in such terrible circumstances that a number of viral campaigns sprang up with the goal of getting him freed from his prison. Now, he has been given back his freedom. Next month, a Cambodian animal sanctuary has agreed to take him in.
Many groups dedicated to animal welfare broadcasted their concern for the elephant's physical and mental well being.From 1990 to 2012, the elephant had a roommate called Saheli, but since her death Kaavan has lived all alone. Over the years, he has shown more and more signs of being under mental stress.
Beginning in 2015, Samar Kahan created a petition to get Kaavan freed. It talked about the abuse the poor animal endured and how cruel the zookeepers were to him. It told the public about his legs being chained up at all times. It also said that Kahan visited the zoo, and the elephant barely moved. He would only bob his head from side to side. This is a motion called weaving, and elephants do it when they are depressed and stressed out.
Luckily, this petition went viral around the world. Thanks to it, there was a lot of pressure for Pakistani officials to free this elephant. Even Cher got into the cause. She spoke publicly about the elephant and in 2016 sent someone to go to the zoo to see for himself how the elephant was being treated. Her representative found that the situation was pretty bad. He found that Kaavan had mental problems from being chained up for so long. When Pakistani officials heard this, they declared that the elephant's mental damage was from losing his mate and that a new mate would fix the problem. Cher's representative said that the answer wasn't just to give Kaavan a mate. Instead, he needed a an enclosure that was far bigger and nicer. He argued that if the zoo didn't have the money for a new enclosure for Kaavan, they ought to close down the zoo for good.
The years of public advocacy for the chained-up animal has finally paid off. Recently, the Islamabad High Court decided that the zoo would have to talk to the nation of Sri Lanka, where Kaavan was born, to find out how to return him to the wild. They gave them 30 days to find a suitable place for him. The rest of the animals in the zoo have 60 days to be relocated.
Cher was happy to hear about the court's decision and tweeted out her excitement at him being freed. She also thanked the government of Pakistan for making this decision. Recently, a perfect animal sanctuary was found for the elephant in Cambodia. While he waits in the zoo for his freedom, he is being better taken care of. He must be checked out for a vet before being returned to the wild. Once he has had medical tests, the permit to move Kaavan can be applied for. Of course, Covid-19 has made the move that much more complicated. But, everyone is still committed to getting the veterinary tests, applying for the permit and moving Kaavan to his new home in Cambodia.