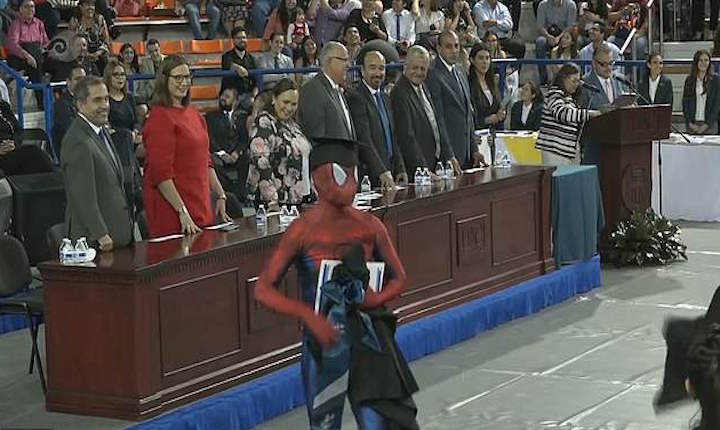 This Law Student Dressed Up as Spider Man For Graduation and It's Hilarious
For any student, graduation is the culmination of all the hard work and effort that was put into one's time at school. It is typical the highlight of their school career. We all know that graduations tend to be boring and often times, a little stuffy. Over the years, students have made various attempts to bring the party to graduation. One law student decided to go all out in an attempt to liven up his graduation. People will be talking about this for a long time.
Hiram Yahir Salas Romero is a 22 year old that was graduation from The Autonomous University of Ciudad Juarez in northern Mexico. He worked hard to earn his law degree and like every student, he was excited to walk across the stage and get his degree. He was expecting graduation to be boring. The University had a strict dress code. The graduates had to wear dark suits, white shirts and shoes to walk across the stage. Romero decided he wanted to make this occasion a little less boring for himself and everyone there.
Romero managed to sneak into the bathroom before the ceremony and change his clothes. He hid his costume change under hid graduation gown until it was his turn to get his degree. When his name was called, he removed his gown and to everyone's surprise had on a Spider Man suit.
Some of his professors looked incredibly unhappy with his as he shook their hands, all while dressed as Spider Man. Despite the distaste for his outfit, no one said a word to him. Many in the audience seemed to find the humor in the costume because when the Master of Ceremonies reminded them about the solemnity of the event, he was booed.
Not everyone appreciated the humor in the situation. Some of Romero's classmates thought the costume was immature and stole the moment away from the other graduates. Even though some expressed their negative thoughts, Romero does not retreat it at all. He wanted to send the message that not all students are stiff and boring, even though the dress code is.
Romero chose Spider Man because even though he's a superhero, he was a human with problems and a desire to help others. Spider Man is potentially one of the most popular superheroes that Marvel has created. A recent release of a new video game seems to have fans clamoring with excitement. Romero was riding that wave of excitement to change the stiff ceremony to something enjoyable. The video of his costumed acceptance of his degree has gone viral.
Spider Man wasn't the only one Romero drew attention to as he accepted his degree. He also displayed a sign that had the message 'For the love of my life, my mother.' His mother has always been a strong supporter of him throughout his life. She was supportive of his expression during the graduation ceremony. So much so, she even paid for the Spider Man costume that he wore while accepting his law degree. Hopefully, he doesn't plan to show up in a court of law dressed as a superhero.
Punk Kid Goes From Homeless to Opening A Quirky Barbershop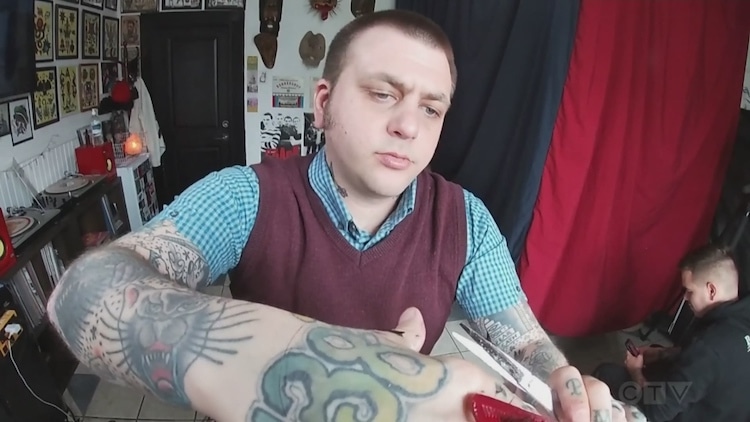 If you've ever seen the musical movie, Sweeney Todd: The Demon Barber of Fleet Street, starring Johnny Depp and Helena Bonham-Carter, then you could be forgiven for thinking twice before stepping into a barbershop for a straight-razor shave. However, many people have that reaction as well when stepping into Daryl Bidner's Little Barbershop of Horrors in today's Vancouver Island.
Bidner himself was never one for being mainstream. Growing up as a punk kid in his teen years, the barber today is a close-cropped fellow, arms blazoned with tattoos, and a late 1960s skinhead-style outfit décor via collared shirt, sleeveless sweater matched to his jeans and boots. However, when it comes to cutting hair, Bidner is all the professional and about business.
Starting off definitely wanting his barbershop to stand out and apart from the competition locally, Bidner modeled the entire theme of his haircutting venue around the movie, Little Shop of Horrors. He parlayed his interest in cutting hair for friends with mohawks into a bona fide skill, and now enjoys regular business as a barber for clientele young and old.
However, life wasn't always peachy-keen for Bidner. He was a school drop-out, had been in and out of drug addiction, and reached his own personal bottom after being homeless for an extended period. Ironically, it was a tattoo that finally seemed to put the young man back on track. His first tattoo allowed Bidner to skip the usual downspin of wasting the night high on something, and he sobered up. A number of days later, he did it again, using tattoos to get clean. By the 40th inking, Bidner was fundamentally off his addictions and broke his need to use mindlessly.
The tattooing was cathartic for Bidner, and he finally began to think about tomorrow instead of the next binge today. That in turn got him into thinking what Bidner could do for a proper living. Obviously, the young man was not going to go and wear a corporate suit the following Monday. So, he looked around at what made sense. Being a tattoo artist was logical, but then haircutting and being a barber appealed even more.
Bidner knuckled down, figured out how to get himself into barbering school, and after three years of grinding to perfect his skill, he had a license and started his own business with a single barber chair. Since that major breakthrough, Bidner has been at it as a barber for over five years, and he's been involved with community help drives and giving free haircuts to the homeless at local shelters as well. No surprise, Bidner credits his profession for saving his life and giving him direction, but it has also been a living lesson to others that no matter how bad it gets, people can pull themselves out and up again.