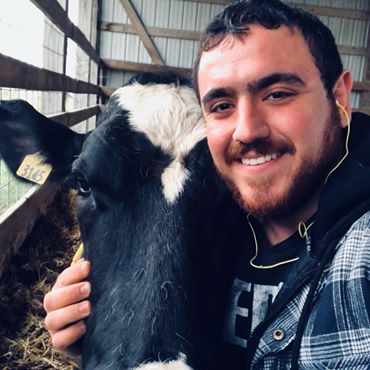 This College Student Had A Graduation Photo Shoot For The Ages
If you are anything like us, you probably do not remember your college graduation too well. After spending four years (or maybe a few more, we don't judge) working towards a goal, you would be forgiven for wanting to unwind with a few adult beverages.
After all, who really wants to contemplate the next step at that point? Gone are the days of cheap pizza slices and all night drinking benders. Enter the days of subprime mortgages and long work commutes. That's why we can fully understand where this student was coming from once it came time to graduate.
He decided to bring a special friend to his graduation, so that they could share a moment that they would not soon regret. Get your minds out of the gutter, people. Massimo Montalbano was not trying to get lucky on his last night of college. He just wanted to party with his good friend.
As an animal science major at the University of Missouri, he has a unique outlook on these sorts of things. He did not want to walk across the stage without taking the time to acknowledge the friends who helped him get to this point. Amelia the cow was finally going to receive her flowers!
Like most students in his major, Massimo spent much of his time at the Foremost Dairy Research Center. This is where he got to know Amelia and he bonded with her the most. All of the cows that are located at the research center became friends of his but it is safe to say that Amelia is his bestie.
Of course, getting the cow onto the campus for the big event was going to be hard work. It is not nearly as it seems. Luckily, Massimo was dedicated to the cause and was not about to give up for any reason. His determination would carry him through. He knew that he had to get Amelia to this photo shoot and allow her to enjoy the moment alongside the rest of the students.
Jim Spain is the university's vice provost and his permission was needed before the cow could be brought onto campus. Believe it or not, this is not the first time that Spain has had to grant such a request. Cows have been taken onto the quad before and we are going to go out on a limb and say that they probably will be again.
This is understandable, since they play such an instrumental role in the educational process of these students. The operations department finally granted Massimo's wish and his trip to campus with Amelia in tow inspired a lot of commentary.
The cow was squeaky clean, thanks to the nice bath she had before the ceremonies. Having the chance to celebrate a moment this meaningful with a friend this special is something that Massimo was sure to cherish. College is a moment in time that we are never going to get back. Anyone who has ever listened to their parents or older siblings reminisce about their college years is well aware of this fact.
Massimo's future outlook is so bright, he is definitely going to need a new pair of shades. Now that he is done with his schooling, he is looking to take that all important next step. He's even put in the time and effort necessary to score a new post graduation gig!
He will continue to spend time with cows on a daily basis by working with the good folks at Grasslands Dairy in nearby Monett. Hopefully, he is able to befriend some more awesome cows along the way!
Good Samaritan Saves Four Kids After Witnessing Car Plunge into River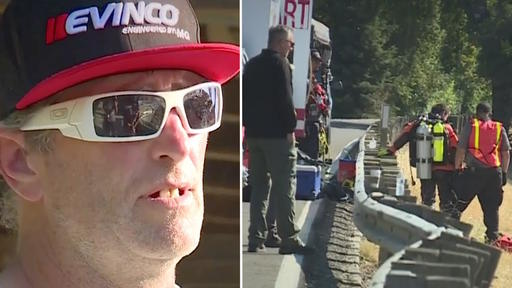 It was an average evening for Harrell Fischer who was working on his boat one night in Sacramento, California. Suddenly he heard gunshots. Like out of a movie, he watched in awe as a car sped by and crashed into the river.
Immediately, Harrell and his friend jumped in the boat to rescue the passengers. The second he opened the car door, a child's face was staring back at him, followed by little hands reach out to him. He reacted immediately after realizing four children, ages two-to-six, were trapped in the sinking car.
Thankfully, Harrel and his friend were about to rescue all four devasted children, who were in shock, from the freezing water. The boy who Harrell saved first said, "He killed my mom."
There is a twist in the story. Before the car plunged into the river, the mother of four was shot in the head and killed instantly by the father. After the car crashed into the Sacramento River, the father exited and refused to help Harrell and his friend save the children.
The shooter in the crime is 27-year-old Mendiko Cuarzo who was sitting in the passenger seat when an argument ensued. The conversation became heated and he shot the 23-year-old mother. Mendiko is the father of three of the four children. The shooting caused the vehicle to run off the road and into the river.
This experience was incredibly traumatizing for the children. In addition to watching their mother be murdered while driving, they must deal with that loss. Also, their father will now go to prison so these children will be without either parent.
Harrell Fischer has mixed emotions of being at the scene. He is glad that he was there to save the lives of the children but also not happy he had to bear witness to the murderous situation and neglect from the father.
Investigators continue to look for motives in the killing. Cuarzo has previous convictions including illegal possession of a firearm.
Since the beginning of the Covid-19 pandemic, the country has witnessed a sharp increase in gun violence. The number of gun-related deaths has been trending upward when compared to the same period from 2019 as the peak of the virus continues.
The economy has seen an unprecedented increase in gun sales and, when combined with social isolation and economic distress, the country's long-standing gun violence crisis is intensifying. The murder of these four children by Cuarzo is the latest representation of this issue.
The Covid-19 pandemic has highlighted weak gun purchase and access laws allowing guns to fall into the hands of those with ill-intent. The pandemic also further emphasizes the structural inequity of the nation. The virus is putting vulnerable populations, such as children, women, and communities of color, at high risk.
The resulting impact has been lethal and devastating to local communities but also identifies that through policies, laws, and programs, citizens can remain healthy and safe in the future.
In addition to the increase in gun purchases, domestic violence is spiking due to the prolonged financial strain on middle and lower-income households. This leaves domestic violence victims trapped with abusive partners, many of whom have easy access to guns. Having access to a gun makes it five times more likely that an abuser will murder his female victim.
These troubling statistics indicate that there is a need for quick political action on proven programs and policies to keep families safe during these times. Some of the focal points must be a reassertion of the federal regulation of ghost guns, enact Extreme Risk laws, raise awareness of firearm storage practices, and increase funding for gun violence programs.