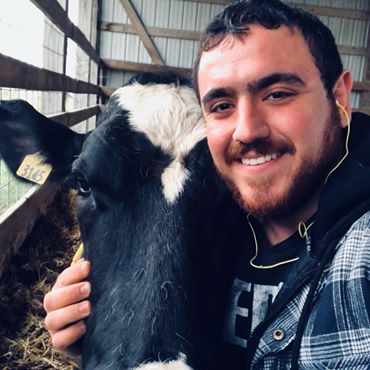 This College Student Had A Graduation Photo Shoot For The Ages
If you are anything like us, you probably do not remember your college graduation too well. After spending four years (or maybe a few more, we don't judge) working towards a goal, you would be forgiven for wanting to unwind with a few adult beverages.
After all, who really wants to contemplate the next step at that point? Gone are the days of cheap pizza slices and all night drinking benders. Enter the days of subprime mortgages and long work commutes. That's why we can fully understand where this student was coming from once it came time to graduate.
He decided to bring a special friend to his graduation, so that they could share a moment that they would not soon regret. Get your minds out of the gutter, people. Massimo Montalbano was not trying to get lucky on his last night of college. He just wanted to party with his good friend.
As an animal science major at the University of Missouri, he has a unique outlook on these sorts of things. He did not want to walk across the stage without taking the time to acknowledge the friends who helped him get to this point. Amelia the cow was finally going to receive her flowers!
Like most students in his major, Massimo spent much of his time at the Foremost Dairy Research Center. This is where he got to know Amelia and he bonded with her the most. All of the cows that are located at the research center became friends of his but it is safe to say that Amelia is his bestie.
Of course, getting the cow onto the campus for the big event was going to be hard work. It is not nearly as it seems. Luckily, Massimo was dedicated to the cause and was not about to give up for any reason. His determination would carry him through. He knew that he had to get Amelia to this photo shoot and allow her to enjoy the moment alongside the rest of the students.
Jim Spain is the university's vice provost and his permission was needed before the cow could be brought onto campus. Believe it or not, this is not the first time that Spain has had to grant such a request. Cows have been taken onto the quad before and we are going to go out on a limb and say that they probably will be again.
This is understandable, since they play such an instrumental role in the educational process of these students. The operations department finally granted Massimo's wish and his trip to campus with Amelia in tow inspired a lot of commentary.
The cow was squeaky clean, thanks to the nice bath she had before the ceremonies. Having the chance to celebrate a moment this meaningful with a friend this special is something that Massimo was sure to cherish. College is a moment in time that we are never going to get back. Anyone who has ever listened to their parents or older siblings reminisce about their college years is well aware of this fact.
Massimo's future outlook is so bright, he is definitely going to need a new pair of shades. Now that he is done with his schooling, he is looking to take that all important next step. He's even put in the time and effort necessary to score a new post graduation gig!
He will continue to spend time with cows on a daily basis by working with the good folks at Grasslands Dairy in nearby Monett. Hopefully, he is able to befriend some more awesome cows along the way!
Travis Baker Flies Again More Than a Decade After Surviving Fatal Plane Crash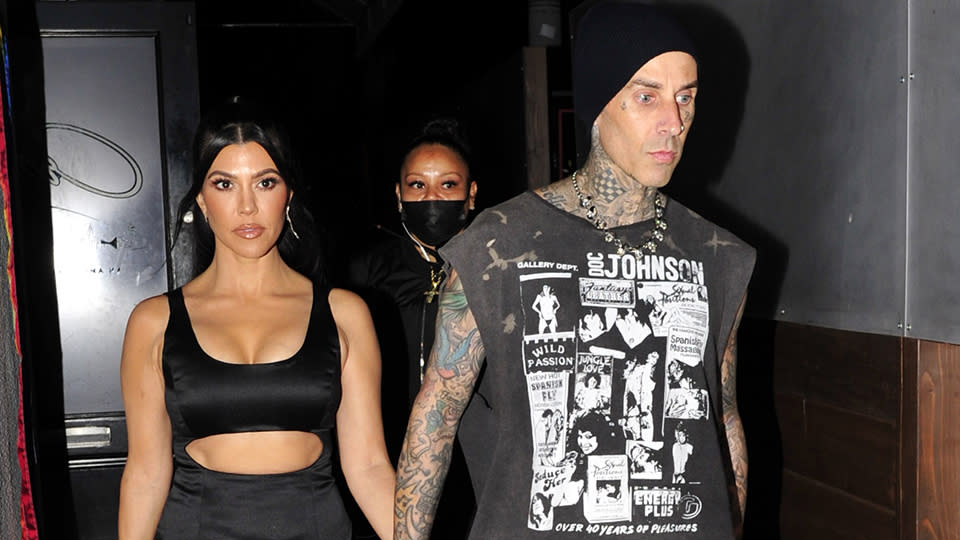 Sometimes it isn't easy to get over a minor thing that happened to you, whether in childhood or adulthood. It's hard to fathom going into an airplane again after being in one that ended up in a fatal crash. Travis Barker has defied what most people would consider impossible, but he did not do it alone. Let's delve into how he managed to accomplish this significant feat after more than twelve years.
The 45-year-old drummer with Blink-182 traveled on Saturday, August 14, the first flight since his horrific 2008 plane crash that saw four of his colleagues dying and Barker surviving with third-degree level burns.
Girlfriend Kourtney Kardashian accompanied Barker aboard Kylie Jenner's private plane as they traveled to Cabo. Kris Jenner and her boyfriend, Corey Gamble, were also said to be on board, according to the outlet.
Barker was caught sporting a white tank top, gray jeans with a black belt studded with metal studs, and a black beanie on his head for the outing. Kardashian, 42, meanwhile, looked stylish in a black dress and black sunglasses.
"Travis flying to Cabo is a marvelous thing. Many years ago, a plane disaster was incredibly traumatic. To reach this point, he's had a lot of aid, according to media reports. Kourtney has been immensely helpful. She never urged him to take to the air. They've been able to travel around the United States without flying, and Kourtney appears quite comfortable with it.
Barker and longtime partner DJ AM (Adam Michael Goldstein) escaped an aircraft accident more than a decade ago while flying from South Carolina, where they had just performed. A year later, Goldstein died of a prescription drug overdose.
The disaster killed Barker's security officer Charles "Che" Still, his aide Chris Baker, pilot Sarah Lemmon, and co-pilot James Bland.
After the accident, the musician had a hard road to rehabilitation, both mentally and physically. He had third-degree burns covering 65 percent of his body and had to undergo many operations and skin grafts. In addition, Barker was abusing "excessive" marijuana and prescription drugs.
Barker declared his plans to return to the skies in June. On Twitter, he proclaimed, "I might fly again."
When Goldstein died, Barker said in an interview that he decided to stop using medications and flushing medicine, "even stuff that I needed," after his opiate tolerance began to rise with each surgery.
"Everyone usually asks, 'Did you go to rehab?'" the drummer said to the publication. "'No, I was in a plane crash,' I answer. That was the extent of my rehabilitation. Have you ever lost three pals and come close to dying? That served as a wake-up call for me. I would not have quit if I hadn't been in a car accident."
In the same interview, Barker expressed his desire to be a writer "If I succeed in overcoming [flying], and the angels above assist me in my trips and keep me safe, I'd like to come back and [inform my children], 'Hey, I just went here, and then I came home.' And everything turned out OK.' I have to inform them since I was about to abandon them. That is a perfect day."
After the crash, the drummer's dread of flights grew to the point that he remarked, "I used to be afraid of planes." "I wasn't able to go down the street. I was convinced that if I saw a plane [in the sky], it was going to crash, and I didn't want to see it."
"The closer I got to it, the more it seemed like I was getting closer to the terrible stuff than the beautiful stuff. I felt more akin to attempting to flee, to be in an accident and being burned, to trying to save my buddies from a burning jet, "Barker continued.