This College Student Had A Graduation Photo Shoot For The Ages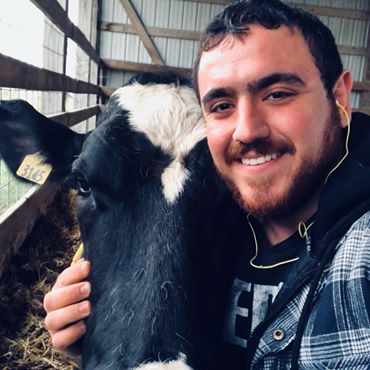 If you are anything like us, you probably do not remember your college graduation too well. After spending four years (or maybe a few more, we don't judge) working towards a goal, you would be forgiven for wanting to unwind with a few adult beverages.
After all, who really wants to contemplate the next step at that point? Gone are the days of cheap pizza slices and all night drinking benders. Enter the days of subprime mortgages and long work commutes. That's why we can fully understand where this student was coming from once it came time to graduate.
He decided to bring a special friend to his graduation, so that they could share a moment that they would not soon regret. Get your minds out of the gutter, people. Massimo Montalbano was not trying to get lucky on his last night of college. He just wanted to party with his good friend.
As an animal science major at the University of Missouri, he has a unique outlook on these sorts of things. He did not want to walk across the stage without taking the time to acknowledge the friends who helped him get to this point. Amelia the cow was finally going to receive her flowers!
Like most students in his major, Massimo spent much of his time at the Foremost Dairy Research Center. This is where he got to know Amelia and he bonded with her the most. All of the cows that are located at the research center became friends of his but it is safe to say that Amelia is his bestie.
Of course, getting the cow onto the campus for the big event was going to be hard work. It is not nearly as it seems. Luckily, Massimo was dedicated to the cause and was not about to give up for any reason. His determination would carry him through. He knew that he had to get Amelia to this photo shoot and allow her to enjoy the moment alongside the rest of the students.
Jim Spain is the university's vice provost and his permission was needed before the cow could be brought onto campus. Believe it or not, this is not the first time that Spain has had to grant such a request. Cows have been taken onto the quad before and we are going to go out on a limb and say that they probably will be again.
This is understandable, since they play such an instrumental role in the educational process of these students. The operations department finally granted Massimo's wish and his trip to campus with Amelia in tow inspired a lot of commentary.
The cow was squeaky clean, thanks to the nice bath she had before the ceremonies. Having the chance to celebrate a moment this meaningful with a friend this special is something that Massimo was sure to cherish. College is a moment in time that we are never going to get back. Anyone who has ever listened to their parents or older siblings reminisce about their college years is well aware of this fact.
Massimo's future outlook is so bright, he is definitely going to need a new pair of shades. Now that he is done with his schooling, he is looking to take that all important next step. He's even put in the time and effort necessary to score a new post graduation gig!
He will continue to spend time with cows on a daily basis by working with the good folks at Grasslands Dairy in nearby Monett. Hopefully, he is able to befriend some more awesome cows along the way!
Homeless Man's Life Changes After Finding Rare Bambi Photo In Trash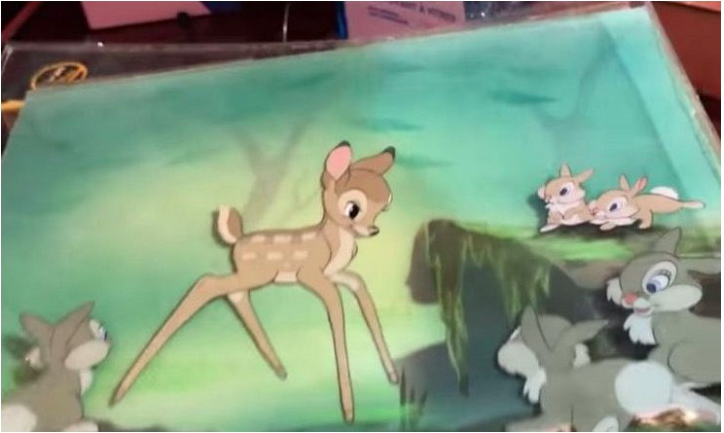 Adam Gillian probably couldn't have imagined one day the only cartoon character he most identified with since childhood would resurrect his life. From the ashes left from his inferno of misfortune, Adam wandered the streets of Edmonton, Canada. The Gateway to the North, Edmonton, was the only home the homeless Adam had to himself. Trying every day to survive and not know where his next meal would come from, Adam would sometimes make the money he needed to buy food by selling discarded items he discovered hidden in trash receptacles and dumpsters. He frequently sold artifacts to a local antique store, Curiosity Inc.
One life-altering day in the "Winter City," Adam was rummaging through garbage and unearthed a medium size plastic sheet with a scene from his favorite Disney movie, Bambi, drawn on it. When Adam was only a child, his mother got killed by a drunken driver when she was on her way home. Adam saw the feature-length cartoon sometime later. He fell in love with the movie because just as Bambi's mother got killed by a virulent hunter and healed, Adam wanted to do the same after his mom's violent death. Unfortunately, his life hadn't turned out as "happily ever after" as the lovable deer, but Adam had the same resilience to overcome his present adversities.
He would have kept the drawing for himself to treasure it for obvious reasons, but he sadly realized he had no way of storing it. So, he went to Curiosity Inc. to hand it off if he could. Like any other transaction, he sold the drawing for $20 and then he and the store owner, Alexander Archbold, went about their day.
When it came time to resell the drawing, Alex found out the picture was worth more than $3,000. Alex couldn't believe it. Once the fees were taken out, he realized his business owed the homeless Adam $1,700.35 for the previous barter. The only problem was that Adam belonged to the street, and geographically, the entire city was his home. How would Alex find him if Adam saw nothing in the trashcans to sell?
Alex has searched all overlooking for Adam. He knows this money would indeed be a blessing for the vagabond friend. As each day passes, Alex ceaselessly dedicates a portion of his off time looking but unfortunately not finding him anywhere. Alex wonders about his safety. To better his life when Adam is seen or comes to the store again, Alex started a GoFundMe page. Hundreds of people have contributed and its expected to increase. Some of Alex's friends have developed compassion for his cause and asked to help in the search. Since they didn't know what Adam looked like, Alex printed out a still image of Adam from the store's security camera.
Alex won't rest until Adam gets found. Some wonder why Alex doesn't just keep the money made from the picture for himself. He has probably considered it but that little angel sitting on his shoulder most likely persuaded him with little effort that the money rightly belongs to his lost, nomadic excavationist buddy. Plus, Alex knows the money will help him until he finds a place. This story goes to show that there is warmth in humanity and kindness is still a scent lingering in the air.