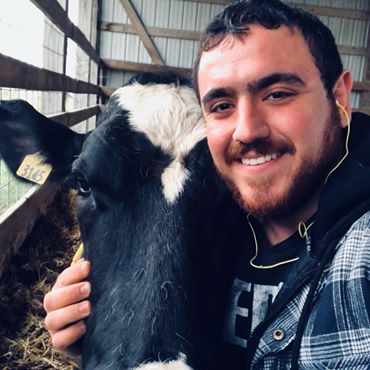 This College Student Had A Graduation Photo Shoot For The Ages
If you are anything like us, you probably do not remember your college graduation too well. After spending four years (or maybe a few more, we don't judge) working towards a goal, you would be forgiven for wanting to unwind with a few adult beverages.
After all, who really wants to contemplate the next step at that point? Gone are the days of cheap pizza slices and all night drinking benders. Enter the days of subprime mortgages and long work commutes. That's why we can fully understand where this student was coming from once it came time to graduate.
He decided to bring a special friend to his graduation, so that they could share a moment that they would not soon regret. Get your minds out of the gutter, people. Massimo Montalbano was not trying to get lucky on his last night of college. He just wanted to party with his good friend.
As an animal science major at the University of Missouri, he has a unique outlook on these sorts of things. He did not want to walk across the stage without taking the time to acknowledge the friends who helped him get to this point. Amelia the cow was finally going to receive her flowers!
Like most students in his major, Massimo spent much of his time at the Foremost Dairy Research Center. This is where he got to know Amelia and he bonded with her the most. All of the cows that are located at the research center became friends of his but it is safe to say that Amelia is his bestie.
Of course, getting the cow onto the campus for the big event was going to be hard work. It is not nearly as it seems. Luckily, Massimo was dedicated to the cause and was not about to give up for any reason. His determination would carry him through. He knew that he had to get Amelia to this photo shoot and allow her to enjoy the moment alongside the rest of the students.
Jim Spain is the university's vice provost and his permission was needed before the cow could be brought onto campus. Believe it or not, this is not the first time that Spain has had to grant such a request. Cows have been taken onto the quad before and we are going to go out on a limb and say that they probably will be again.
This is understandable, since they play such an instrumental role in the educational process of these students. The operations department finally granted Massimo's wish and his trip to campus with Amelia in tow inspired a lot of commentary.
The cow was squeaky clean, thanks to the nice bath she had before the ceremonies. Having the chance to celebrate a moment this meaningful with a friend this special is something that Massimo was sure to cherish. College is a moment in time that we are never going to get back. Anyone who has ever listened to their parents or older siblings reminisce about their college years is well aware of this fact.
Massimo's future outlook is so bright, he is definitely going to need a new pair of shades. Now that he is done with his schooling, he is looking to take that all important next step. He's even put in the time and effort necessary to score a new post graduation gig!
He will continue to spend time with cows on a daily basis by working with the good folks at Grasslands Dairy in nearby Monett. Hopefully, he is able to befriend some more awesome cows along the way!
Wesley Chapel Local Is 'Heading to Hollywood' in 'American Idol' Stint!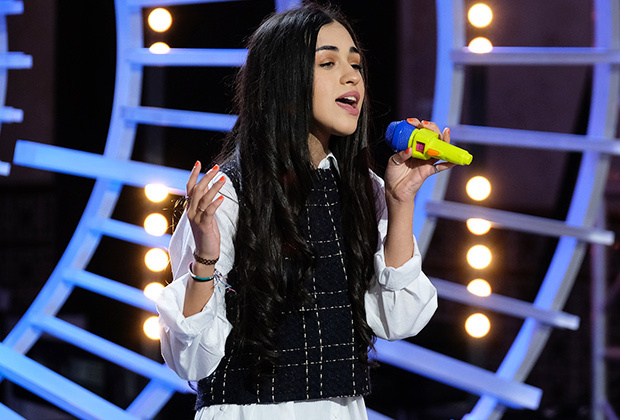 Do you remember where you were when the first episode of American Idol aired on Fox in 2002? While the platform may seem a little dated at this point in time, with more singing shows than aspiring singers it feels like, the program offered singers the chance to change their lives in front of a huge audience of American voters. Now 19 seasons later, performers like young Alanis Sophia are getting the chance to strike out for Hollywood for the opportunity to become America's next idol.
The most recent name that has everyone talking is young Alanis Sophia, a contestant from Wesley Chapel, Florida, who was named after the famous singer, Alanis Morissette. Sophia appeared on the program in late February to raucous applause from the star-studded cast of judges, including glowing praise from Katy Perry herself!
Alanis Sophia Sets Sights on Stardom
For Alanis Sophia, appearing on American Idol in 2021 was all about making the most of a second opportunity. Still just 19-years-old, Alanis wasn't even born when American Idol began airing. Originally staking her claim to the music scene at the age of 11, Alanis would appear on and land second place in the Spanish-language iteration of The Voice, titled La Voz.
After coming so close to tasting victory, Alanis would focus on curating her skills while plying forward with her work at school. Sophia would attend Pasco School and graduate from the institution in 2019, paving the way for Sophia to focus entirely on improving her skills and preparing for a second chance at Idol-fame when the program returned to Florida in 2021.
Upon arriving at the show, Sophia would get her chance to perform in front of Lionel Ritchie, Katy Perry, and country musician Luke Bryan. A visibly confident Sophia would explain to the judges that she had been gifted an American Idol microphone as a child and that she had clung to the hope of 'going to Hollywood' ever since. Sophia also explained to the judges that American Idol would operate as a bonding point between Sophia and her mother, often pointing to how music helped them during tough times back in Puerto Rico.
The Performance of a Lifetime
After explaining a bit about her story, Alanis would set forth with her own rendition of Anyone by the esteemed and incredibly talented Demi Lovato. Sophia kept the gifted American Idol microphone in her hand throughout the touching rendition, bringing smiles to the face of Katy, Luke, and Lionel. By the time the song had ended, it was clear that Sophia had won over not just a single judge, but all of the judges.
Katy Perry would open up the discussion regarding Sophia with instantaneous effusive praise saying, "She is the best we've seen today." Such high praise from one of the most successful pop artists of all time should go a long way toward Sophia's confidence in her skills, but that wasn't all the judges had to say.
Lionel Richie would pile onto the praise that Sophia received after Perry finished gushing over the performer. Richie pointed out that Sophia had a 'purity' to her voice and that Sophia's personality 'requires nothing but exactly who you are'. Ritchie would go on to say that Sophia had huge potential and those words were quickly echoed by Luke Bryan.
Now on her way to Hollywood for another chance at stardom, Alanis Sophia and her family are hoping for a finish at the top of the competition. Yet with such high praise from music legends like Richie and Perry, it feels like Sophia is already on the way to victory.