This 6-Year Old Got Her Parent's Amazon Account and Went Shopping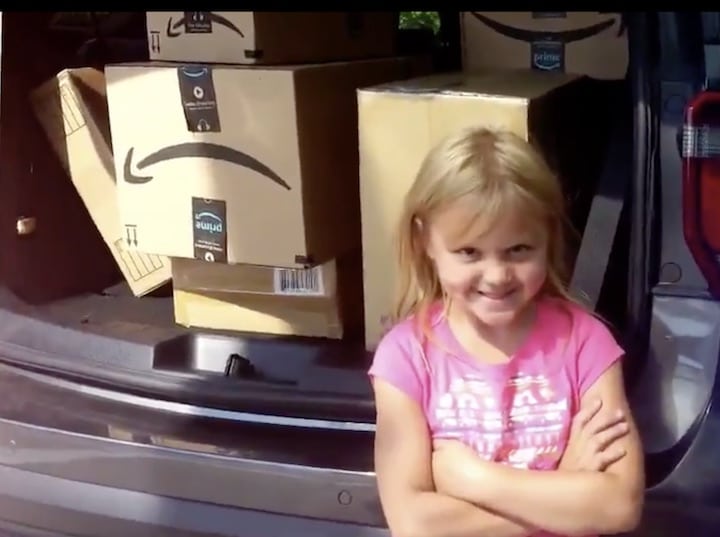 A 6-year old in Utah spent $350 on toys. The child accessed her mother's Amazon account and used it to buy toys. Her mother did not find out about the little girl's secret shopping spree until the toys were delivered in boxes the next day. Some children have a way to get what they want. Little Caitlin is certainly one of them. Her mother allowed her to get on Amazon and order a Barbie doll, but she went ahead to order every other toy that she wanted. She also ordered board games and videos. She opted for next day shipping, and the next day, stacks of boxes taller than her arrived at her home.
Ria Diyaolu, Caitlin's cousin, shared the story on Twitter. She wrote, 'my bada** little cousin ordered $300 worth of toys w/o my uncle and aunt knowing. This is how everyone found out.' She then shared a photo of Caitlyn standing next to the boxes with a smile on her face. The tweet has received over 20,000 retweets and thousands of likes. Internet users were shocked by how the little girl's resourcefulness. Her cousin says she was so surprised to find out that the little girl knew about one-click, next-day shipping.
Did She Get Away With It?
Unfortunately for Caitlin, she did not get away with the incident. Her parents only allowed her to keep the Barbie doll that she was allowed to order. They donated all of the other toys to a Children's Hospital. She was not grounded but was forbidden from using the internet for a month.
She Impressed Internet Users
Diyaolu described her cousin as a little scammer in the making, and other internet users seem to agree. One Twitter user said 'That little girl is going places.' Another one was impressed that Caitlyn was smart enough to get overnight shipping because it would ensure that her parents didn't have time to notice. Another user said 'I believe your cousin will be the first female president of the United States.' Others shared similar experiences. One Twitter user explained that she had a little cousin who did the same thing. One time, she used her mother's credit card to buy a new iPhone from the internet. A Facebook user, Megan Farrington, explained that her son did the same thing once, but Amazon refunded her money and allowed her to keep the merchandise.
Others Did Not Find Her Actions Funny
Some internet users feel that Caitlyn's mother is irresponsible. One Facebook user felt that the mother was encouraging Caitlyn's bad behavior. She felt that allowing the child to pose for a photo made it seem like she did a cute thing. Others proceeded to suggest the appropriate punishment for the child. Others suggested that the parents ground her, give her chores to pay for the $350, and to return all the toys. Another user feels that Caitlyn's mother was irresponsible for allowing the child to access her account.
Why More People Are Finding Snakes Hiding in Their Toilet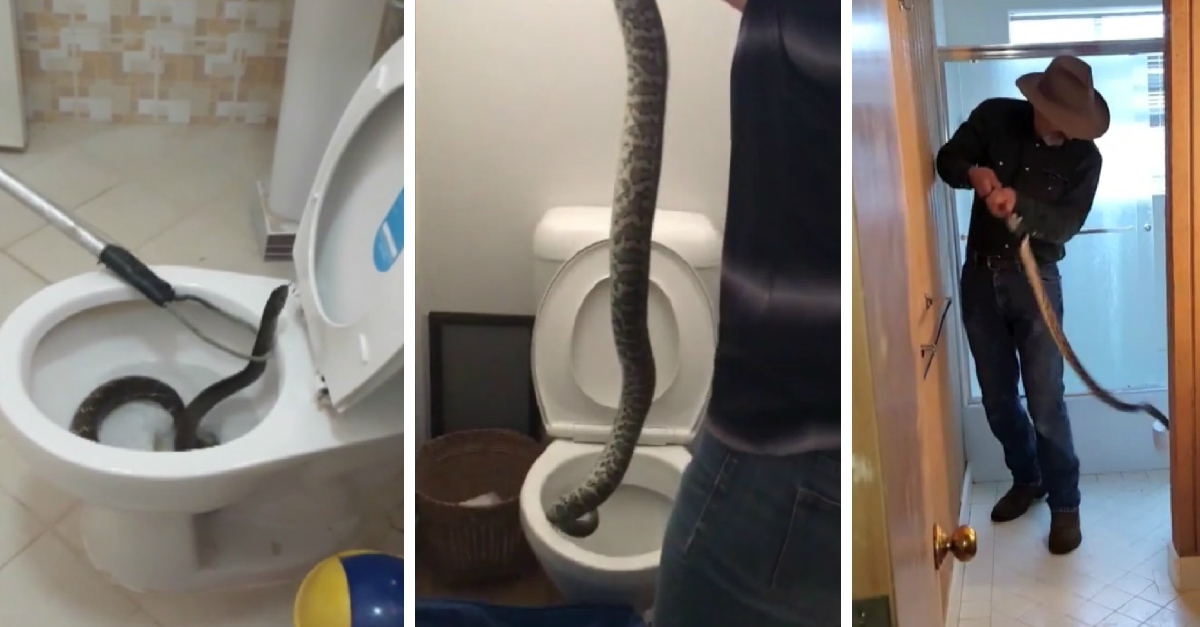 Sitting down on the toilet and then realizing there is a snake in there. It's a scene from a horror movie and can be anyone's worst fear. Snakes hiding in toilets are becoming more and more common.
The latest story making the headlines is from Mike Green in North Carolina, who says he has pulled six snakes out of his toilet in the past four years. This is not the only example. Country singer Brett Eldredge recently shared that he walked in the bathroom where he was staying on vacation in the Bahamas and found a snake in the toilet bowl. There are plenty of stories of pythons hiding out in toilets in Australia.
There is a reason why this is happening. A former plumber and curator of reptiles at the Los Angeles Zoo is sharing the reason. He says that snakes are sleek animals and it's easy for them to fit into tight spaces in their current environment. Snakes feel more at home when they are in a dark, tight space. When they get into a pipe, they feel good about it and it's easy to navigate through the sewer system and then find their way up the pipes into someone's toilet. Snakes get in through the ventilation pipes on the roof. Since the bathroom plumbing is usually connected through the ventilation pipes the snake slithers its way through the system and into the bathroom. It's easy for snakes to slither up anything that will lead them to the roof, such as a tree. If you have a tree that is close to your roof and the ventilation pipe then it can increase your chances of having a snake in the bathroom
If you are wondering what to do if a snake gets in your toilet, know that flushing it away won't work. If you do find a snake in your toilet then call animal control. Animal control can help you get rid of the snake but can also identify the snake. While the good news is that most snakes are harmless, there is a chance you could have a dangerous one. Don't be a hero and handle it yourself, just in case it is dangerous.
If you want to avoid snakes in your toilet, there are simple things you can do. Find a way to make sure the ventilation is covered but that it is still able to do the job it is intended to do. By having some sort of block, such as wire covering and mesh, it not only prevents snakes from getting in but also other pests, like rats. You can also install a roof vent hood. These hoods help protect the venting and keep any creepy pests out. Who would have thought that you actually needed to take care of issues on the roof in order to prevent snakes from slithering through the pipes? If you are truly worried then you can invest in a multi-flap that fits over the toilet pipe and allows waste and water to exit but keeps critters out.
Keep in mind if you live in an area that is prone to snakes then this issue may be more common and you may already know how to deal with it. Many snakes that find their way into a toilet are not native to the area where they were found. It's likely they escaped or were let free by their owners that no longer wanted them and they choose your pipes as a nest. Many snakes aren't able to survive in the main sewer pipe for very long since there can be relatively low temperatures below the ground where pipes are located, making it unlikely that they actually set up their home in a main sewer line.