This 6-Year Old Got Her Parent's Amazon Account and Went Shopping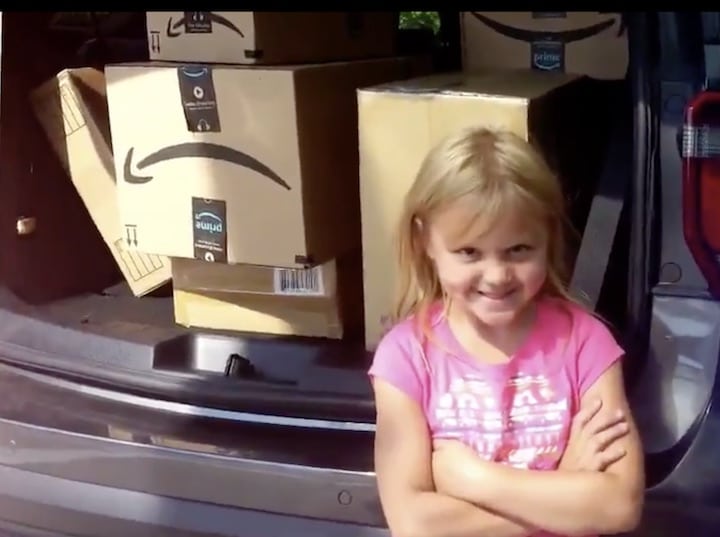 A 6-year old in Utah spent $350 on toys. The child accessed her mother's Amazon account and used it to buy toys. Her mother did not find out about the little girl's secret shopping spree until the toys were delivered in boxes the next day. Some children have a way to get what they want. Little Caitlin is certainly one of them. Her mother allowed her to get on Amazon and order a Barbie doll, but she went ahead to order every other toy that she wanted. She also ordered board games and videos. She opted for next day shipping, and the next day, stacks of boxes taller than her arrived at her home.
Ria Diyaolu, Caitlin's cousin, shared the story on Twitter. She wrote, 'my bada** little cousin ordered $300 worth of toys w/o my uncle and aunt knowing. This is how everyone found out.' She then shared a photo of Caitlyn standing next to the boxes with a smile on her face. The tweet has received over 20,000 retweets and thousands of likes. Internet users were shocked by how the little girl's resourcefulness. Her cousin says she was so surprised to find out that the little girl knew about one-click, next-day shipping.
Did She Get Away With It?
Unfortunately for Caitlin, she did not get away with the incident. Her parents only allowed her to keep the Barbie doll that she was allowed to order. They donated all of the other toys to a Children's Hospital. She was not grounded but was forbidden from using the internet for a month.
She Impressed Internet Users
Diyaolu described her cousin as a little scammer in the making, and other internet users seem to agree. One Twitter user said 'That little girl is going places.' Another one was impressed that Caitlyn was smart enough to get overnight shipping because it would ensure that her parents didn't have time to notice. Another user said 'I believe your cousin will be the first female president of the United States.' Others shared similar experiences. One Twitter user explained that she had a little cousin who did the same thing. One time, she used her mother's credit card to buy a new iPhone from the internet. A Facebook user, Megan Farrington, explained that her son did the same thing once, but Amazon refunded her money and allowed her to keep the merchandise.
Others Did Not Find Her Actions Funny
Some internet users feel that Caitlyn's mother is irresponsible. One Facebook user felt that the mother was encouraging Caitlyn's bad behavior. She felt that allowing the child to pose for a photo made it seem like she did a cute thing. Others proceeded to suggest the appropriate punishment for the child. Others suggested that the parents ground her, give her chores to pay for the $350, and to return all the toys. Another user feels that Caitlyn's mother was irresponsible for allowing the child to access her account.
Elementary Students In New York Are Overjoyed When They Receive This Touching Gift!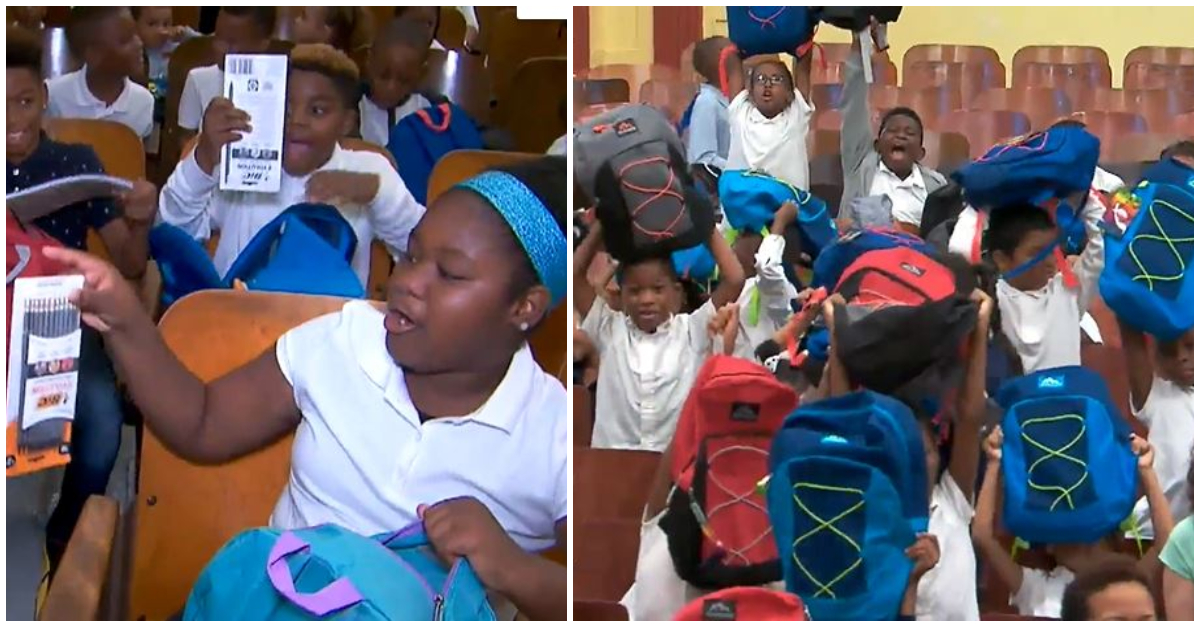 Do you remember what it was like waking up early for school, only to find that you didn't have the right supplies to get through the day? The unfortunate truth is, many children live in this state of being throughout their entire childhood. Whether due to neglect or merely lack of income, students go to school every day without the supplies that they need to get the education that will prepare them for life. Fortunately, there are great people out there working to turn the situation around. Our story begins at the P.S. 52 Elementary School in Queens, New York where the entire student body was gifted with a touching and emotional gift.
The Kids in Need Foundation is a charitable group that operates with one goal in mind, to make sure that all children have what they need in order to succeed in the classroom. This nationally recognized charity made headlines when they showed up at P.S. 52 Elementary School in Queens with a gift for the students that had assembled in the auditorium. As the children waited on the edge of their seats, the foundation arrived with brand new, high-quality backpacks, filled to the brim with important school supplies. Each child was given a bag and the corresponding supplies to have, take home, and use as they work through their courses.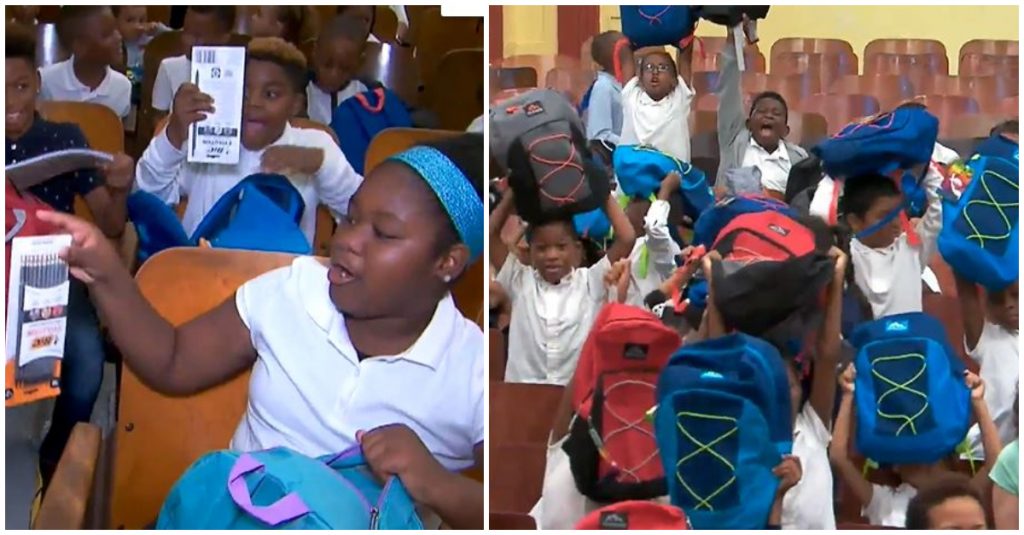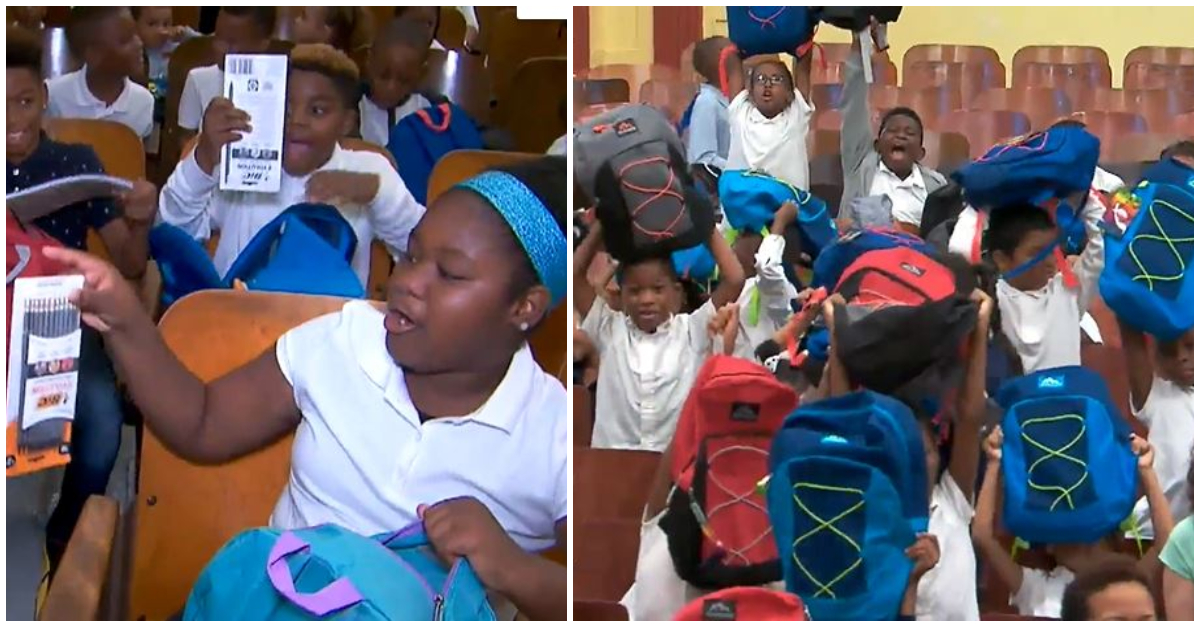 When the students were handed their bags, they were beaming with joy. When the young students began to dig through the bags, they started laughing, cheering, and shouting with joy. While most people can take school supplies for granted, that isn't a luxury that everyone can afford. There is nothing more heartbreaking for a teacher or parent than to see a child without the tools that they need in order to prepare for the future.
The Kids in Need Foundation has a mission statement of supplying many of the 15 million kids who currently live in abject poverty. More than just a bag or a set of binders, the school supplies that the Kids in Need Foundation hand out can dramatically improve the lives of the children that they are helping. In fact, studies have routinely shown that when students have their own school supplies, there are a number of direct benefits. Among the many benefits of a well-prepared student are improved self-esteem, a better attitude toward school, and improved behavior and engagement while in the classroom. Of course, prepared students also score higher marks on their homework and exams.
Last year alone, more than 200,000 teachers came together to supply six million students from poverty challenged communities. The Foundation has been operating for more than 23 years, and they have, thus far, donated more than $1 billion worth of supplies to children who would have had no other recourse for their school preparation.