This 6-Year Old Got Her Parent's Amazon Account and Went Shopping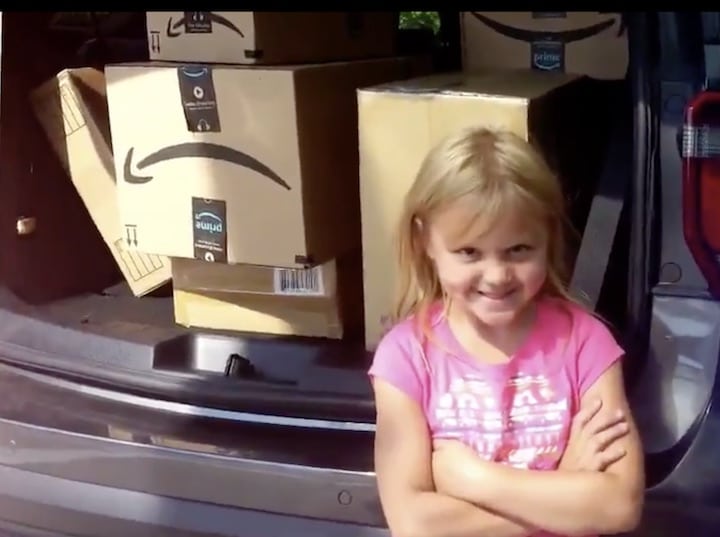 A 6-year old in Utah spent $350 on toys. The child accessed her mother's Amazon account and used it to buy toys. Her mother did not find out about the little girl's secret shopping spree until the toys were delivered in boxes the next day. Some children have a way to get what they want. Little Caitlin is certainly one of them. Her mother allowed her to get on Amazon and order a Barbie doll, but she went ahead to order every other toy that she wanted. She also ordered board games and videos. She opted for next day shipping, and the next day, stacks of boxes taller than her arrived at her home.
Ria Diyaolu, Caitlin's cousin, shared the story on Twitter. She wrote, 'my bada** little cousin ordered $300 worth of toys w/o my uncle and aunt knowing. This is how everyone found out.' She then shared a photo of Caitlyn standing next to the boxes with a smile on her face. The tweet has received over 20,000 retweets and thousands of likes. Internet users were shocked by how the little girl's resourcefulness. Her cousin says she was so surprised to find out that the little girl knew about one-click, next-day shipping.
Did She Get Away With It?
Unfortunately for Caitlin, she did not get away with the incident. Her parents only allowed her to keep the Barbie doll that she was allowed to order. They donated all of the other toys to a Children's Hospital. She was not grounded but was forbidden from using the internet for a month.
She Impressed Internet Users
Diyaolu described her cousin as a little scammer in the making, and other internet users seem to agree. One Twitter user said 'That little girl is going places.' Another one was impressed that Caitlyn was smart enough to get overnight shipping because it would ensure that her parents didn't have time to notice. Another user said 'I believe your cousin will be the first female president of the United States.' Others shared similar experiences. One Twitter user explained that she had a little cousin who did the same thing. One time, she used her mother's credit card to buy a new iPhone from the internet. A Facebook user, Megan Farrington, explained that her son did the same thing once, but Amazon refunded her money and allowed her to keep the merchandise.
Others Did Not Find Her Actions Funny
Some internet users feel that Caitlyn's mother is irresponsible. One Facebook user felt that the mother was encouraging Caitlyn's bad behavior. She felt that allowing the child to pose for a photo made it seem like she did a cute thing. Others proceeded to suggest the appropriate punishment for the child. Others suggested that the parents ground her, give her chores to pay for the $350, and to return all the toys. Another user feels that Caitlyn's mother was irresponsible for allowing the child to access her account.
Kate Middleton Changes Her Style for Charity!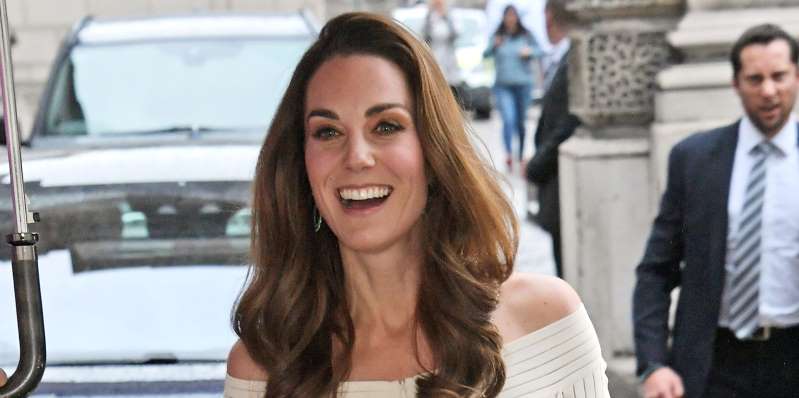 If you have paid any measure of attention to the Royal Family in recent years, you are well aware of the influence that Kate Middleton has. Kate Middleton is the Duchess of Cambridge and one of the foremost fashion trendsetters in the entire country. Middleton, who likes to keep her hair straight and red, occasionally enjoys switching things up. When Middleton DOES decide to switch things up, her followers are quick to notice. Today, we are going to be talking about how Middleton's newest hairstyle is making a huge impact on her charity work — in the best way possible.
Kate Middleton has long had an iconic, signature look. The Duchess of Cambridge isn't shy about how much she likes having her straight red locks. However, Middleton does enjoy changing things up, even if only a little. For the summer of 2019, Middleton decided to act on her fashion impulses in order to support a good cause. With the Addiction Awareness Week Gala Dinner coming up, in London, of course, Middleton decided to add new caramel colored highlights to her hair. While this may seem like a small change, nothing that the Duchess of Cambridge does is really ever to be considered 'small'.
Middleton's new hairstyle was unveiled during a speech at the Addiction Awareness Week Gala Dinner. Kate would talk extensively about her faith in the work being done at Action on Addiction. Middleton went on to point out that the foundation was one of the very first patronages that she ever took under her wing. As such, Middleton went on to point out how passionate and supportive she was of the work being done at the charity. While Middleton's caramel colored highlights stole the show, she also side-parted her hair along with a big blowout. To say that Middleton was catching the attention of everyone in the room would be an understatement! For people who don't regularly follow Middleton, her regular hairstyle is significantly different from the one she employed during the Gala. Typically, Middleton favors straight red hair that is pulled back into a gentle bun. Middleton loves to balance a professional look with just a tiny bit of glam.
For those that aren't aware, Action on Addiction is a UK-based charity that is focused on helping people who have been impacted by alcohol and drug addiction. Action on Addiction isn't only a support network, the charity also works to research treatments, employ prevention techniques, and support aftercare techniques in order to help those that have suffered as a result of their chemical dependency. Kate Middleton got involved with the charity pretty much as soon as she came into the public spotlight, so it is easy to understand why she was so passionate about her support of the group doing her speech during Addiction Awareness Week.