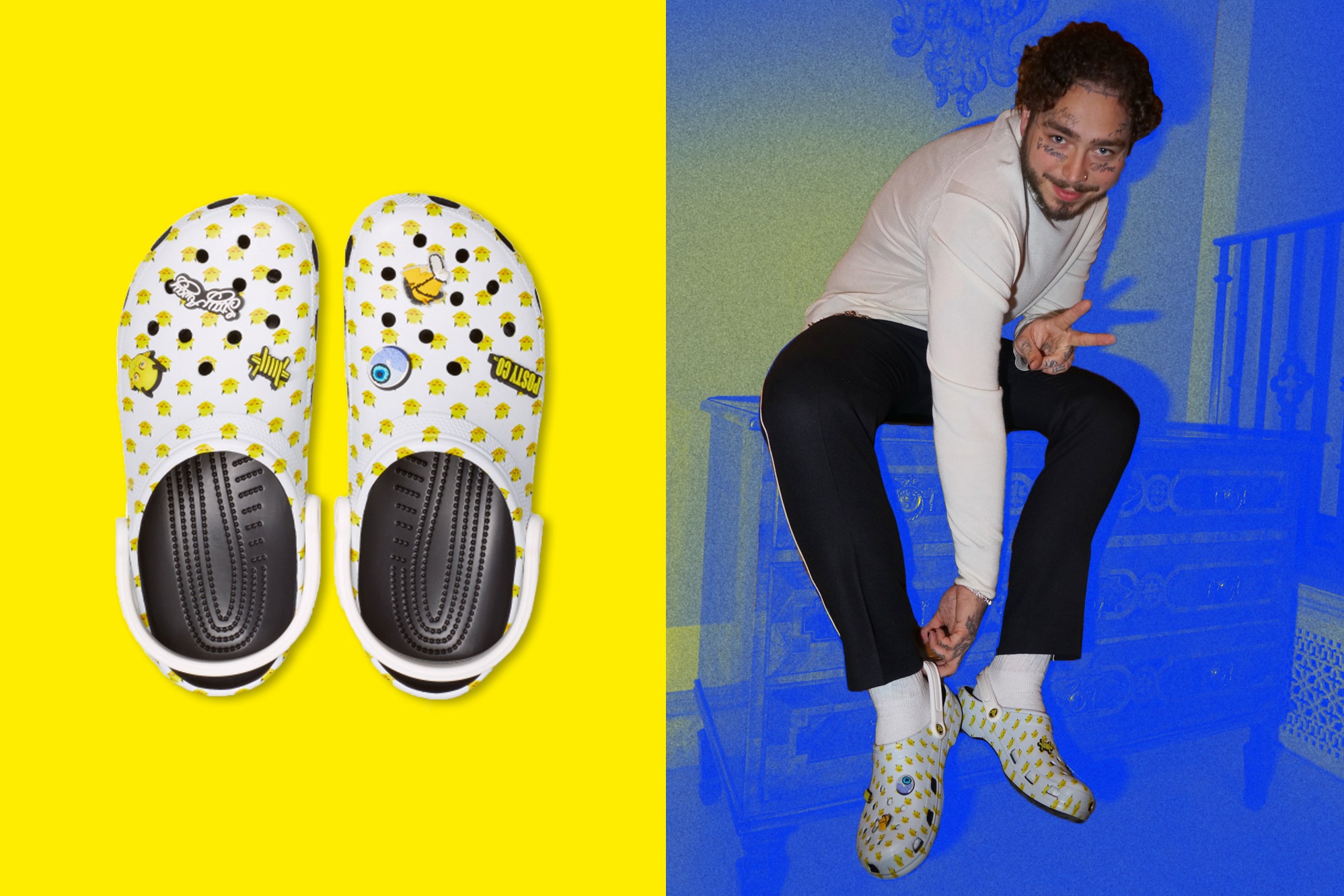 Seventy US Hospital Front Line Employees Get 10 Thousand Crocs From Post Malone
Many people have been doing their part to help alleviate the stress that front line workers continue to face as the coronavirus continues to wreak havoc on the United States and other countries of the world.
Some have donated food, their assistance, donations to the hospitals and health facilities, and so much more.
From small groups to big-name celebrities, we continue to see them giving to remind the essential workers that they are appreciated.
Most recently, music superstar Post Malone and renowned shoe company Crocs joined forces with Musicians on Call to contribute ten thousand pairs of their sought after and completely sold off Duet Max Clog II collab to emergency workers in seventy hospitals across the United States.
Musicians on Call, a non-profit organization that conveys the therapeutic strength of music to patients and caretakers in hospitals across the nation, will give a free pair of Grammy-winning singer's sold-out fifth Crocs footwear to hospital workers.
A donation is an act of gratitude for the frontline workers' consistent efforts during this ongoing pandemic.
Head of Musicians on Call Pete Griffin believes the pressure of the coronavirus on staff in all sections of the health facilities has been brutal.
He added that they have been doing all they can to continue bringing the pleasure of live music to the staff members.
He expressed his gratefulness to Post Malone and Crocs for engaging in the effort by providing additional relief when the workers need it the most through what he deems as a substantial donation.
Griffin, who is both CEO and President of Musicians on Call, added that due to what Post Maline and Crocs did, custodians in scores of hospitals across the United States would have the extra support of their Crocs to help them through their day.
Meanwhile, giving back is not new to Malone, who has been doing so for a very long time. Even though he may not release most of what he does to the public, the recipients usually choose to do so.
Even recently, when he donated to the Grapevine High School, the very grateful principal, Alex Fingers, chose to disclose Malone's charitable act on Twitter.
He thanked him profusely for always choosing to give back to the community.
In December, Malone made public his black-and-pink-themed Duet Max Clog II footwear.
On day one, the shoes were all off the shelves as his fans completed to get a pair of the hot commodity.
The quick time frame that the shoes sold out came as no surprise, however, since the last four designs that he rolled out shared a similar fate.
For those desperate to still snag a pair, they are accessible on sites that do resell of sought after products.
Hopefully, many more celebrities will come on board to help keep our front line workers motivated and feel appreciated.
Even a thank you goes a long way in letting them know that they are not forgotten as they continue to fight the pandemic, which is yet to show any signs of letting up.
With more than four hundred thousand dead in the United States and talks about new strains of the virus being bandied about, we have to keep them encouraged.
An Exciting Sky Diving Video In An Inflatable Raft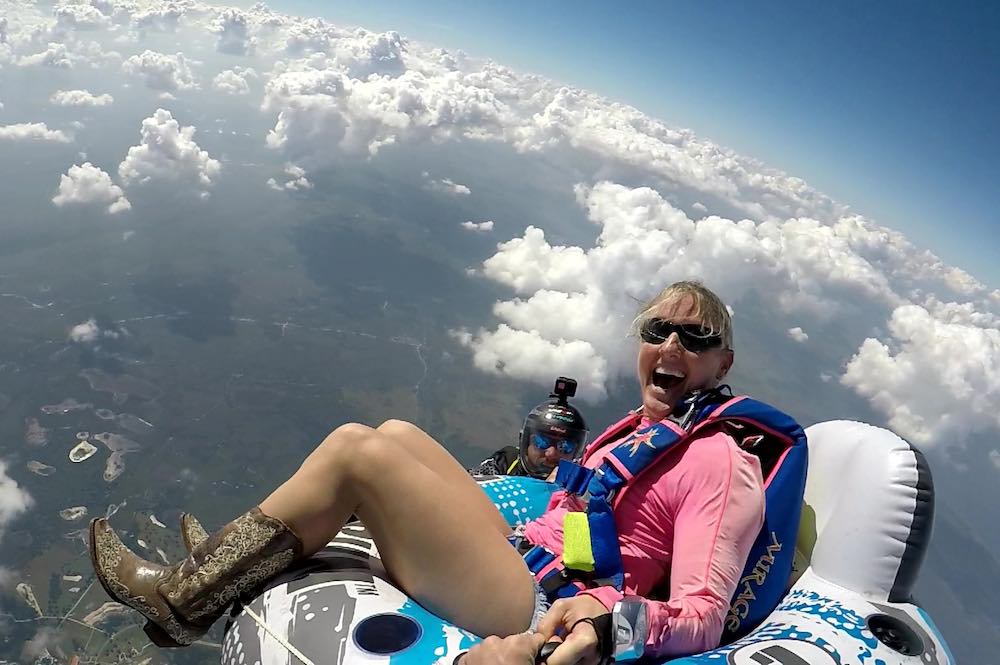 Lots of people would love to know exactly what it's like to go sky diving. However, it's obviously the sort of experience that has been traditionally been difficult to accurately record. The actual sky dive itself might seem like it lasts longer than it does to the people who are actually experiencing the event. However, objectively speaking, it usually won't take all that long. The moment is over so quickly that it's easy for it to get lost.
However, technology is constantly improving, and it's giving individuals everywhere the chance to see a lot of very different events from purely original perspectives. For a long time, the people who have never traveled have been able to see different places remotely.
Obviously, the experience of going there in person will be different in a lot of ways. However, it's still possible for people to learn a lot by seeing high-quality images and videos. Traveling is expensive, and many of the people who are interested in activities like sky diving are concerned about some of the associated risks. It's possible to reduce the risks associated with sky diving, and the costs associated with travel.
However, the people who have a more casual interest in sky diving might just want to get a more basic idea of what it's like. With this new footage, they might finally get the chance to do so accurately.
The woman in this video has actually leaped out of an airplane from an altitude of thirteen thousand and five hundred feet. She was seated inside an inflatable ring made from rubber at the time. Her name is Robin Moore, and this footage of her will be seen by millions of people now. It's just the sort of video that gets viewed over and over again over the years, since it's just not the sort of thing that gets seen on film all that often.
A lot of people get nervous when they sky dive, even if they were excited about it initially. They might be happy right up until they're actually about to literally make the leap, at which point they panic or get terribly nervous at least. This was not the case for Robin Moore, which is one of the many reasons why this was such a great video. She seemed absolutely ecstatic the entire time, which really comes through in the images themselves.
This occurred in Florida at River Ranch, and the raft was being stabilized by Robin Moore's friends. Interestingly, Robin Moore is a physician who works in the emergency room. She's clearly a person who is used to being in a lot of stressful situations and working in an environment with high stakes and more.
For someone in her profession, something like sky diving might not be all that scary. It would explain why she was able to take to an activity like this so easily. Raft jumps involving sky diving are not entirely standard, but they still happen. It seems that Robin Moore is a person who enjoys challenging activities even when not at work. This is an activity and experience that she was able to share with the world.
The fact that she was and is so enthusiastic only improves the quality of the video. While some people may have been interested in footage that captured a different range of emotions, many other people would want to see someone having fun with this sort of activity, which was clearly the case here. A lot of people would like to know what it is like to do something like sky diving, and it is now possible to at least have an idea after footage like this has been made available to the world.