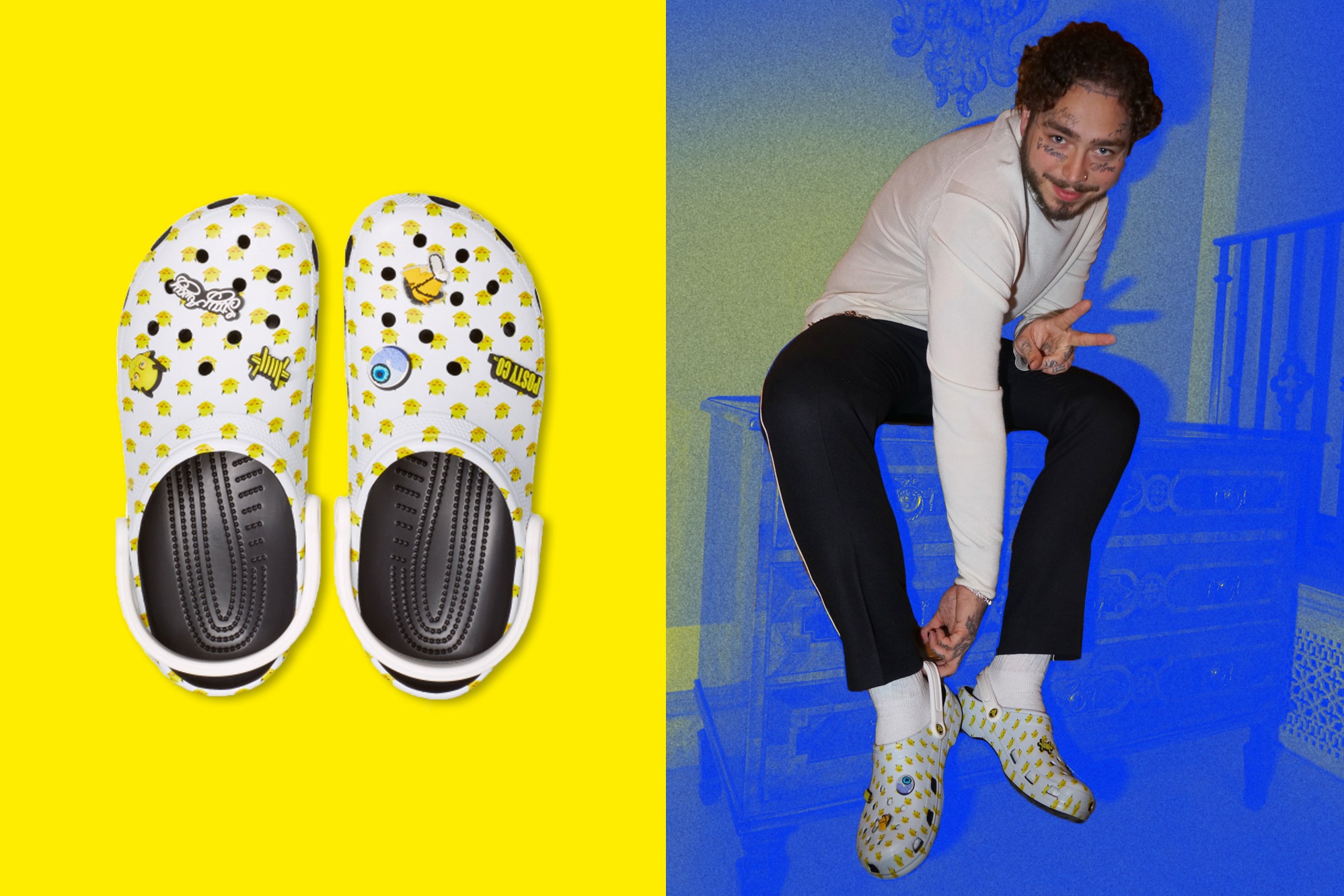 Seventy US Hospital Front Line Employees Get 10 Thousand Crocs From Post Malone
Many people have been doing their part to help alleviate the stress that front line workers continue to face as the coronavirus continues to wreak havoc on the United States and other countries of the world.
Some have donated food, their assistance, donations to the hospitals and health facilities, and so much more.
From small groups to big-name celebrities, we continue to see them giving to remind the essential workers that they are appreciated.
Most recently, music superstar Post Malone and renowned shoe company Crocs joined forces with Musicians on Call to contribute ten thousand pairs of their sought after and completely sold off Duet Max Clog II collab to emergency workers in seventy hospitals across the United States.
Musicians on Call, a non-profit organization that conveys the therapeutic strength of music to patients and caretakers in hospitals across the nation, will give a free pair of Grammy-winning singer's sold-out fifth Crocs footwear to hospital workers.
A donation is an act of gratitude for the frontline workers' consistent efforts during this ongoing pandemic.
Head of Musicians on Call Pete Griffin believes the pressure of the coronavirus on staff in all sections of the health facilities has been brutal.
He added that they have been doing all they can to continue bringing the pleasure of live music to the staff members.
He expressed his gratefulness to Post Malone and Crocs for engaging in the effort by providing additional relief when the workers need it the most through what he deems as a substantial donation.
Griffin, who is both CEO and President of Musicians on Call, added that due to what Post Maline and Crocs did, custodians in scores of hospitals across the United States would have the extra support of their Crocs to help them through their day.
Meanwhile, giving back is not new to Malone, who has been doing so for a very long time. Even though he may not release most of what he does to the public, the recipients usually choose to do so.
Even recently, when he donated to the Grapevine High School, the very grateful principal, Alex Fingers, chose to disclose Malone's charitable act on Twitter.
He thanked him profusely for always choosing to give back to the community.
In December, Malone made public his black-and-pink-themed Duet Max Clog II footwear.
On day one, the shoes were all off the shelves as his fans completed to get a pair of the hot commodity.
The quick time frame that the shoes sold out came as no surprise, however, since the last four designs that he rolled out shared a similar fate.
For those desperate to still snag a pair, they are accessible on sites that do resell of sought after products.
Hopefully, many more celebrities will come on board to help keep our front line workers motivated and feel appreciated.
Even a thank you goes a long way in letting them know that they are not forgotten as they continue to fight the pandemic, which is yet to show any signs of letting up.
With more than four hundred thousand dead in the United States and talks about new strains of the virus being bandied about, we have to keep them encouraged.
Travis Baker Flies Again More Than a Decade After Surviving Fatal Plane Crash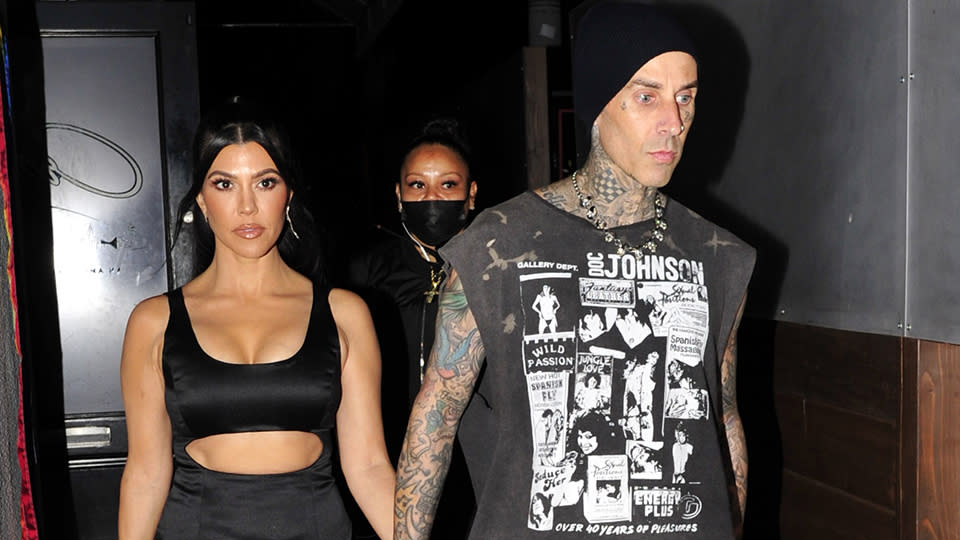 Sometimes it isn't easy to get over a minor thing that happened to you, whether in childhood or adulthood. It's hard to fathom going into an airplane again after being in one that ended up in a fatal crash. Travis Barker has defied what most people would consider impossible, but he did not do it alone. Let's delve into how he managed to accomplish this significant feat after more than twelve years.
The 45-year-old drummer with Blink-182 traveled on Saturday, August 14, the first flight since his horrific 2008 plane crash that saw four of his colleagues dying and Barker surviving with third-degree level burns.
Girlfriend Kourtney Kardashian accompanied Barker aboard Kylie Jenner's private plane as they traveled to Cabo. Kris Jenner and her boyfriend, Corey Gamble, were also said to be on board, according to the outlet.
Barker was caught sporting a white tank top, gray jeans with a black belt studded with metal studs, and a black beanie on his head for the outing. Kardashian, 42, meanwhile, looked stylish in a black dress and black sunglasses.
"Travis flying to Cabo is a marvelous thing. Many years ago, a plane disaster was incredibly traumatic. To reach this point, he's had a lot of aid, according to media reports. Kourtney has been immensely helpful. She never urged him to take to the air. They've been able to travel around the United States without flying, and Kourtney appears quite comfortable with it.
Barker and longtime partner DJ AM (Adam Michael Goldstein) escaped an aircraft accident more than a decade ago while flying from South Carolina, where they had just performed. A year later, Goldstein died of a prescription drug overdose.
The disaster killed Barker's security officer Charles "Che" Still, his aide Chris Baker, pilot Sarah Lemmon, and co-pilot James Bland.
After the accident, the musician had a hard road to rehabilitation, both mentally and physically. He had third-degree burns covering 65 percent of his body and had to undergo many operations and skin grafts. In addition, Barker was abusing "excessive" marijuana and prescription drugs.
Barker declared his plans to return to the skies in June. On Twitter, he proclaimed, "I might fly again."
When Goldstein died, Barker said in an interview that he decided to stop using medications and flushing medicine, "even stuff that I needed," after his opiate tolerance began to rise with each surgery.
"Everyone usually asks, 'Did you go to rehab?'" the drummer said to the publication. "'No, I was in a plane crash,' I answer. That was the extent of my rehabilitation. Have you ever lost three pals and come close to dying? That served as a wake-up call for me. I would not have quit if I hadn't been in a car accident."
In the same interview, Barker expressed his desire to be a writer "If I succeed in overcoming [flying], and the angels above assist me in my trips and keep me safe, I'd like to come back and [inform my children], 'Hey, I just went here, and then I came home.' And everything turned out OK.' I have to inform them since I was about to abandon them. That is a perfect day."
After the crash, the drummer's dread of flights grew to the point that he remarked, "I used to be afraid of planes." "I wasn't able to go down the street. I was convinced that if I saw a plane [in the sky], it was going to crash, and I didn't want to see it."
"The closer I got to it, the more it seemed like I was getting closer to the terrible stuff than the beautiful stuff. I felt more akin to attempting to flee, to be in an accident and being burned, to trying to save my buddies from a burning jet, "Barker continued.