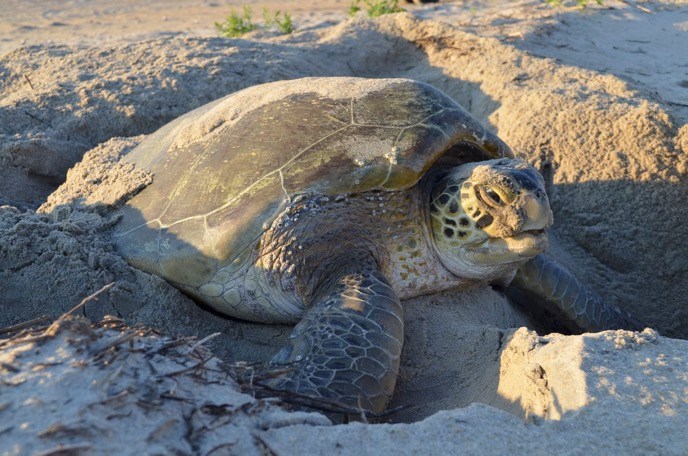 Sea Turtle Nests on the Rise at Cape Hatteras National Seashore
Sea turtle nests are becoming more abundant at Cape Hatteras National Seashore, and this year's count is very close to last year's record pace. As of now, the park has reported a total of 206 nests, which is quite an exciting development for these magnificent creatures.
Among the different species of sea turtles, the majority of nests belong to the loggerhead turtles, with a whopping 191 nests. Loggerhead turtles are known for their large size and strong jaws. They are named after their big heads, which resemble logs. These incredible creatures are making their presence known at Cape Hatteras National Seashore, and it's a great sign of their population's health.
Green turtles have also contributed to the increase in sea turtle nests. With 11 nests, they are the second most prevalent species nesting at Cape Hatteras National Seashore. Green turtles are named for the greenish color of their fat, and they are known for their herbivorous diet, primarily consisting of seagrasses and algae.
While the numbers for Kemp's Ridley and leatherback turtles are relatively lower, they are still important contributions to the overall sea turtle nesting count. Kemp's Ridley turtles have built three nests Kemp's Ridley turtles are considered the smallest and most endangered sea turtle species, making their nests a precious find.
A notable event this season occurred on June 19 when a remarkable find took place on Ocracoke Island. A nest belonging to a Leatherback Sea Turtle was discovered, containing an impressive 93 eggs. The Leatherback Sea Turtle, known as the largest sea turtle species globally, can weigh up to a staggering 2,000 pounds. This discovery was particularly significant as it marked the first Leatherback nest found on Ocracoke Island in over a decade, after a gap of 11 years.
The rise in sea turtle nests at Cape Hatteras National Seashore is a positive sign for the conservation efforts in the area. Sea turtles face numerous challenges, including habitat loss, pollution, and accidental capture in fishing gear. By observing more nests, we can infer that these turtles are finding suitable areas to lay their eggs, which indicates the presence of healthy habitats.
Sea turtle nests are carefully monitored and protected by park rangers and volunteers. The eggs are left undisturbed, allowing them to hatch naturally. Once the baby turtles emerge from their nests, they instinctively make their way towards the ocean, guided by the light of the moon. This incredible journey marks the beginning of their lives at sea.
It is important for us to continue supporting efforts to protect sea turtles and their habitats. By reducing pollution, properly disposing of waste, and participating in beach clean-ups, we can create a safer environment for these fascinating creatures. Additionally, following beach regulations and avoiding disturbing turtle nests can greatly contribute to their survival.
500,000-Year-Old Wooden Structure Rewrites History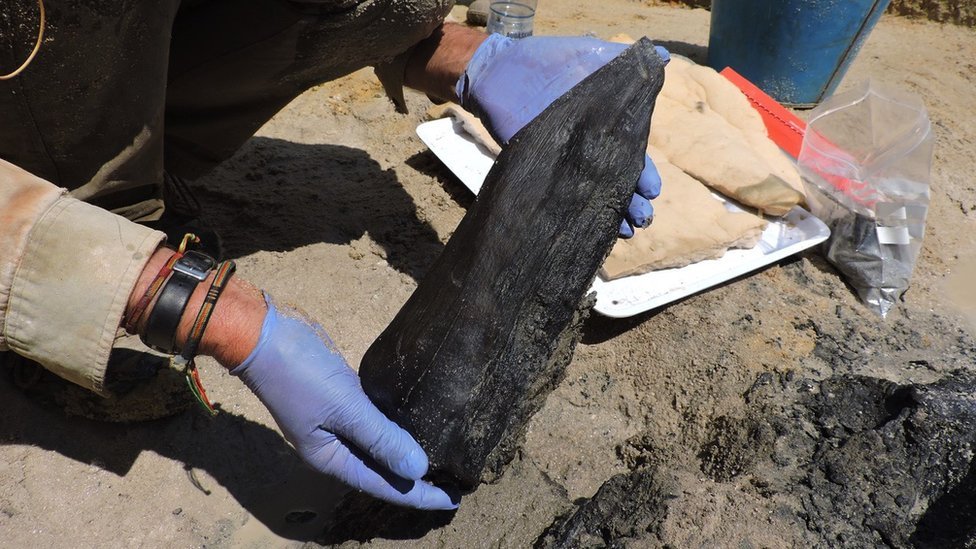 In an archaeological discovery, a wooden structure dating back an astonishing 500,000 years has been unearthed on the banks of a river in Zambia, challenging long-held beliefs about the capabilities of ancient humans. Researchers stumbled upon these ancient wooden logs, a revelation that has the potential to reshape our understanding of the lives of early humans.
The find, located on the riverbanks near Zambia's Kalambo Falls, provides compelling evidence that stone-age people may have constructed primitive shelters, forever altering our perception of their intelligence and resourcefulness. Archaeologist Prof Larry Barham, who led the research, was profoundly impacted by the discovery, stating, "This find has changed how I think about our early ancestors."
What makes this find truly remarkable is that it suggests ancient humans did more than merely survive; they thrived by creating something entirely new. These early humans exhibited intelligence, imagination, and craftsmanship by fashioning structures from wood, a material that had never before been transformed into such large and sophisticated objects.
The researchers also uncovered ancient tools, including digging sticks, but the most exciting find was two pieces of wood positioned at right angles to each other. "One is lying over the other, and both pieces of wood have notches cut into them," explained Geoff Duller, a professor of geography at the University of Aberystwyth and a member of the research team. "You can clearly see those notches have been cut by stone tools, making the two logs fit together to become structural objects."
Radiocarbon dating confirmed the wood's age, placing it at a staggering 476,000 years old. This revelation has ignited curiosity about the woodworking traditions of ancient societies, challenging the prevailing notion that early humans led simplistic, nomadic lives.
Perrice Nkombwe, a team member from the Livingstone Museum in Zambia, expressed her astonishment, saying, "I was amazed to know that woodworking was such a deep-rooted tradition. It dawned on me that we had uncovered something extraordinary."
The preservation of the wooden structure itself is a miracle. Typically, wood decays over time unless preserved under specific conditions. However, in the waterlogged environment along the Kalambo Falls, the wood remained intact, essentially pickled by the elements for millennia.
While the exact purpose of this ancient wooden structure remains a mystery, it has sparked numerous speculations. Prof. Duller suggests it might have been used as a place to sit beside the river and fish, although a complete understanding of its function remains elusive.
Moreover, the identity of the individuals who constructed this structure raises intriguing questions. "We don't know – it could have been Homo sapiens, and we just haven't discovered fossils from that age yet," Prof. Duller added. "But it could be a different species – [perhaps] Homo erectus or Homo naledi – there were a number of hominid species around at that time in southern Africa."
This discovery has the potential to enrich our understanding of ancient woodworking techniques, craftsmanship, and human interaction with the environment. As researchers continue their work at the Kalambo Falls site, the pages of history are being rewritten, and our appreciation for the ingenuity of our ancient ancestors grows ever deeper.