Mom Is Reduced To Tears After Complete Strangers Heart Saves Her 'Miracle' Baby's Life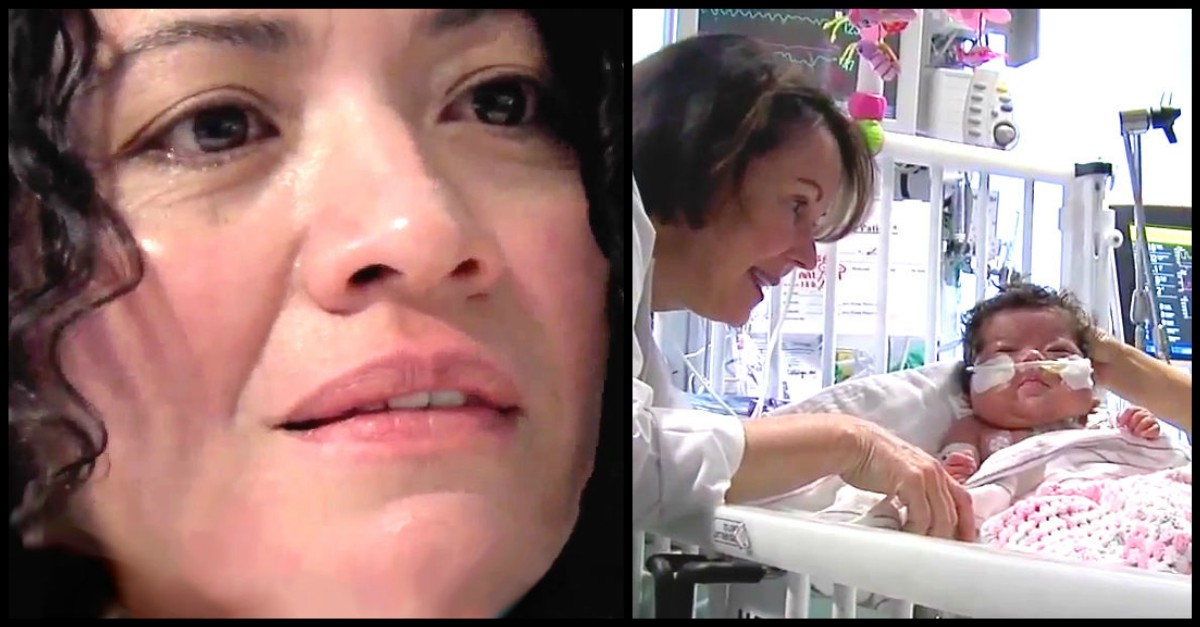 This is a story of a miracle for one family and the heartbreak of another. Victoria Zamora was thrilled when she found out that she was pregnant with her first child. Victoria's pregnancy seemed normal at first, however, she went into early labor. The doctors tried to stop the labor with medication but they were unsuccessful. Victoria gave birth to a baby girl named Zoey. Sadly, the premature baby was born with a heart defect. Every day, Victoria sat by her daughter's side in the hospital, never knowing if it would be the day that she would lose her little girl. Seeing her baby sick broke her heart. There was one day that Zoey's heart stopped. The doctors had to perform CPR for 25 minutes to bring the little baby back. For Victoria, the 25 minutes felt like an eternity. Victoria felt helpless. When she woke up each day, she wasn't sure if it would be the last day that she would spend with her baby. Victoria says that it was the darkest and most difficult time of her life.
Finally, Victoria's prayers were answered. A heartbreaking loss for another family gave Zoey a chance. A 4-month-old baby had passed away. The baby's parents decided to make their baby's death mean something and they donated their precious baby's organs. The baby's heart was going to Zoey. Victoria struggled with her feelings. She was elated that Zoey would be getting a new heart and a chance at life, but she couldn't stop thinking about the family that lost their baby. Zoey had a heart transplant and she began doing better immediately after surgery. Finally, Zoey was healthy. For the first time, her skin was pink. She no longer looked sick. Victoria was happy that the surgery was a success, however, she cried every day for the baby who gave Zoey her heart. Victoria prayed every day for the family.
As Zoey got stronger, Victoria prepared to finally bring her miracle baby home. Victoria got her home prepared for Zoey's homecoming. Family and friends gathered at the house waiting for her arrival. Before leaving, the nurses and hospital staff who had been like family while Zoey was in the hospital gathered in her room and gave the baby balloons, stuffed animals, and cards wishing Zoey luck in her life. When Victoria got Zoey home, everyone celebrated her homecoming and her good health. They had a cake for Zoey's homecoming and they also had one for the baby and the family who made the ultimate sacrifice to give Zoey a real chance at life. Victoria says, "when Zoey is old enough, I am going to tell her about the baby that saved her life. I am going to make sure that she knows about the sacrifice made so that she could live." While the family is thrilled that Zoey is thriving, Victoria says that there is a part of her that will always mourn the baby. Victoria says that life is a gift and she will make sure that Zoey never forgets that.
A baby bear, tiger, and a lion found in a basement 12 years ago are now best friends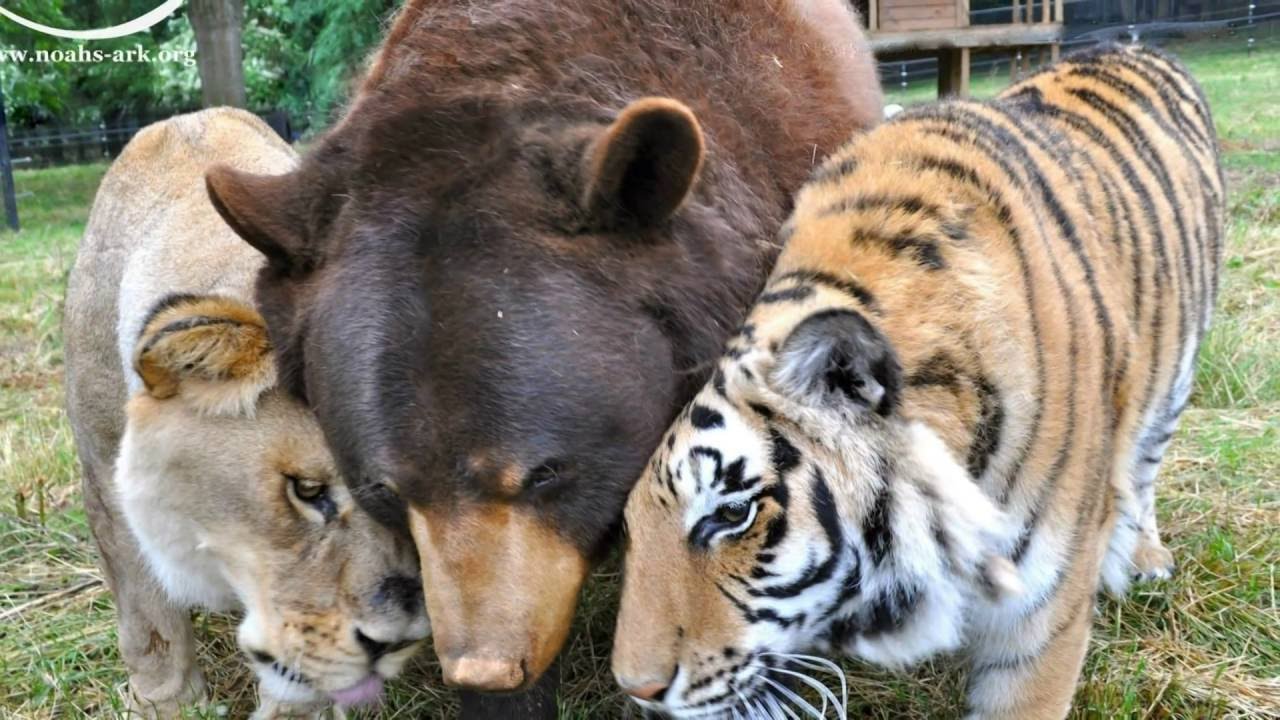 Wild animals try to stick to their natural habitat and they also tend to follow their natural social characteristics. For example, leopards are known to be very reclusive creatures and often prefer a solitary life. Bears and tigers are also not very social too.
In this fascinating story, a bear, a tiger, and a lion have grown up to become best buddies. In a video posted online, a 12-year-old Black Bear, named Baloo, walks over to his friend, Shere Khan, a Bengal Tiger, and cuddles with him as if they are brothers. Tigers don't even get along with their kin. So this friendship between the bear and tiger is even beyond kinship. To make things even more unbelievable, they have another friend, named Leo. You guessed it right, Leo is a lion.
What might explain this unusual friendship is their common history. 12 years ago, when these three animals were babies, they were being kept in terrible conditions in a basement. Fortunately, they were recovered by the police and bought to Noah's Ark Sanctuary in Locust Grove, GA. The three animals have cared for their entire life at the Sanctuary.
The staff at Noah's Ark Sanctuary have never heard of such friendship between a big cat and a bear. They do share the same habitat, especially in the Fat East, but any encounters between them as most aggressive or they just ignore each other and keep out of the way of the other. They don't walk up and cuddle each other. The staff at the sanctuary does point out that out of these three, Shere Khan has kept a little bit of natural wild mannerism but he is still very friendly. When it is sleep time, the trio shares the same room and cuddle together. They were kept as pets in that basement, which was legally not allowed. The owner of the basement was a drug dealer. They were confiscated and bought the sanctuary. Since then the owner of the sanctuary has looked after these three.
Unfortunately, Leo has passed away, leaving his loved ones with wonderful memories of him. He was 15 years of age when he passed away. He had been feeling sick and during surgery, his doctor found 80% of his liver was damaged. He could not have survived in such a condition. The difficult decision to let him go had to be made so that he does not suffer. His end in the world was peaceful.
Leo's best friends, Shere Khan and Baloo, were able to say a final goodbye to him. They have been doing all right since their best friend's departure. The staff at the sanctuary keeps a close eye to check off any worrisome signs of depression or change in behavior. The staff believes these two already knew Leo was terminally ill long before the staff was able to find out.
Leo's final resting place is located by the clubhouse at the sanctuary. Such compassion and bond in animals of different species are very rare. In the wild, they might have been foes, but at the sanctuary they were brothers. Their story is an example of when nurture overtakes nature. They grew up together and build a bond that went beyond the design of nature. Humans do not fully understand the communication or relationship dynamics of the animals. This story is an example of how wild animals can get along in the right environment.