Man loses 280 pounds, regains confidence in himself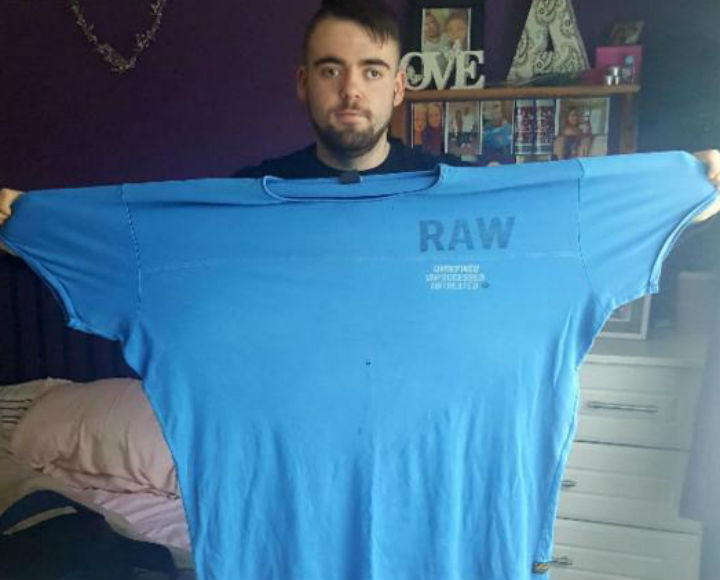 A 21-year-old man from Ireland turned his life around by changing his eating and exercise habits. He had been eating a lot of unhealthy foods and was leading a sedentary life. It started when he was in school and looking for work. The search for work didn't go so well, so he became frustrated and lost his confidence.
After that, he started eating a lot of foods that were not healthy. He still wasn't getting exercise and went up to 460 pounds as a 19-year-old.
It was not until his neighbor gave him a T-shirt, size 6XL, that was too tight, that he decided he had to make a change. Realizing if a shirt that big was too small for him, he knew something had to be done. It was then that Dylan Condron changed his world.
He knew he had put on the weight gradually, and knew it would have to come off that way as well. He started taking daily walks and eating food with lots of protein. He also got a professional trainer with some help from his family. There were good days and bad days. Some days he didn't stick to his diet well, but he did most of the time. The exercise helped.
Regular exercise with that trainer made a big difference. The walking helped, but having an expert guide him along the way was what helped him be a success. That and following his new diet more carefully. Paying more attention to what he ate also made him feel better, and feel more like exercising, which made him feel even better than that. Just as adding the weight had a snowball effect in a downward spiral, changing over to the right habits also snowballed into a more positive outcome.
He ended up losing 280 pounds and was a fit looking man again. With all that weight his skin had stretched a lot, and now that he lost weight, there is a lot of extra skin. He is still confident though. He has set up a go fund me page to raise money to help take care of the excessive skin. He has accomplished a lot but says he is not done, as he plans to maintain is exercise and better eating habits.
He also found a girlfriend online through a dating app. She was excited to see he had lost so much weight. It impressed her that he had accomplished this, and that was part of what attracted her. Anyway, he found love after losing all that weight.
Condron said he keeps that great big T-shirt in his house. When he is having a bad day, he looks at that T-shirt and remembers how far he has come on his journey. That encourages him to keep going and to not get too down when things don't go well.
He accomplished a great thing by losing all that weight. As a side benefit perhaps, he regained confidence as a result. Now he looks a lot better, feels a lot better, and believes he can accomplish about anything.
Wild Canadian Horse's Dramatic Rescue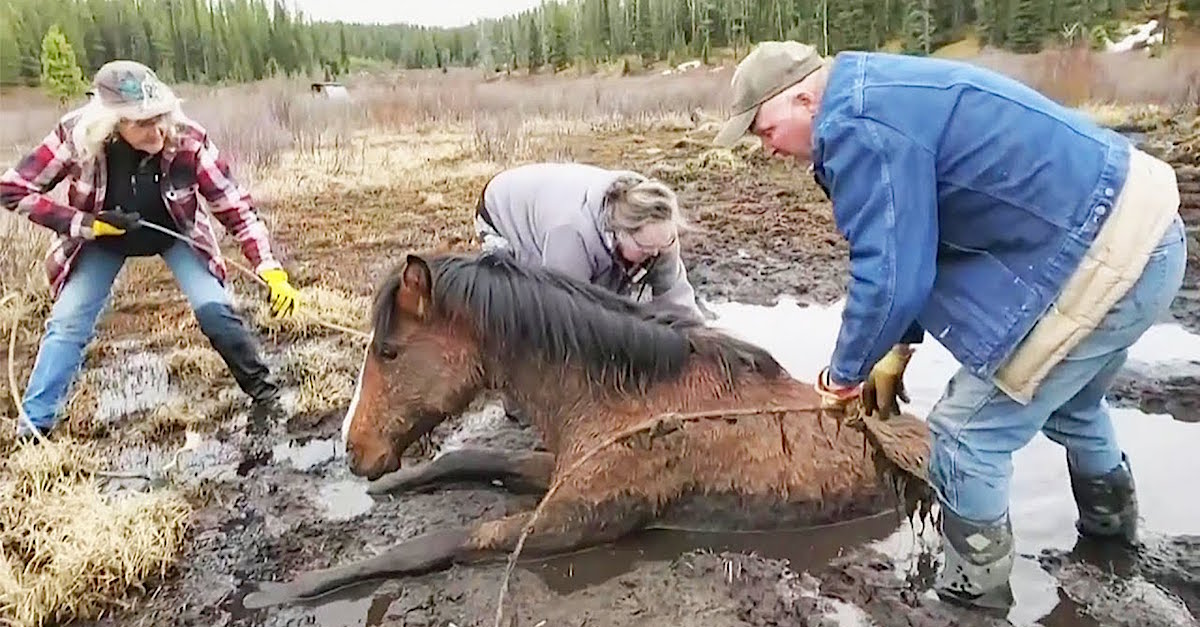 Canada is known for many things, including its beautiful scenery, friendly people, diverse animal life, and frigid winters. All of these things came together in a powerful and moving way one day as fate played out a hand that involved a matter of life or death. A small group from the Help Alberta Wildies Society (HAWS) was patrolling the beautiful countryside one day. HAWS is a group of volunteers committed to helping and protecting the rich lineage of Canada's wild horses. They help support the preservation of native wilderness that the horses call home and also work to protect the animals and catalog their populations. On a chilly winter day, a small group of HAWS volunteers ventured out to search for newborn foals in Alberta, Canada, so they could document the new additions to the local herd. As they were out searching, they came upon a heartbreaking sight.
They spotted a young foal stuck in a muddy bog. The wild foal was desperately struggling to drag itself out of a muddy hole. There was no telling how long the young horse had been trapped but it had more than half of its body sunk into the 6-foot-deep hole that as filling with sticky mud and near-freezing water. The horse lovers knew what they had to do. If anyone was meant to find this helpless creature, it was the HAWS heroes and so they quickly got to work. As they worked to figure out how to rescue the foal, they kept an eye out for any of the wild horses that might still be in the near vicinity. They quickly concluded that the young filly likely had been abandoned by the herd when she fell into the hole and was unable to get out.
The small filly just did not have the strength to pull herself out of the hole against the viscous muds and numbing water that was surrounding her. To make things even more difficult for her, and her new rescuers, was the rim of ice that was forming all around the hold. The young foal was unable to get her bearing or get a good foothold and it made getting to her more of a challenge. They knew they were the foal's only chance of getting out alive, but time was running out, and she was growing more exhausted by the minute. They had to act fast!
For over an hour, the group worked, desperately and tirelessly striving to save the horse before she would succumb to exhaustion and the elements. Using their ATVs and a bunch of ropes, they finally managed to break the muddy suction seal that trapped the young wild hose and they pulled her out of her freezing prison. When they finally pulled her out, they quickly undid the ropes they had used to free her, expecting her to bolt for the hills. They could tell she was exhausted and starving and knew she had to have been trapped for quite some time. However, instead of running away in fear and confusion, the young filly stuck around and showed her rescuers her gratitude and let them know she knew they were friends and that they could be trusted.
It just goes to show how smart these wild animals are and how important it is to protect them and all the other creatures that make up the diverse ecosystem of the Canadian wilderness!