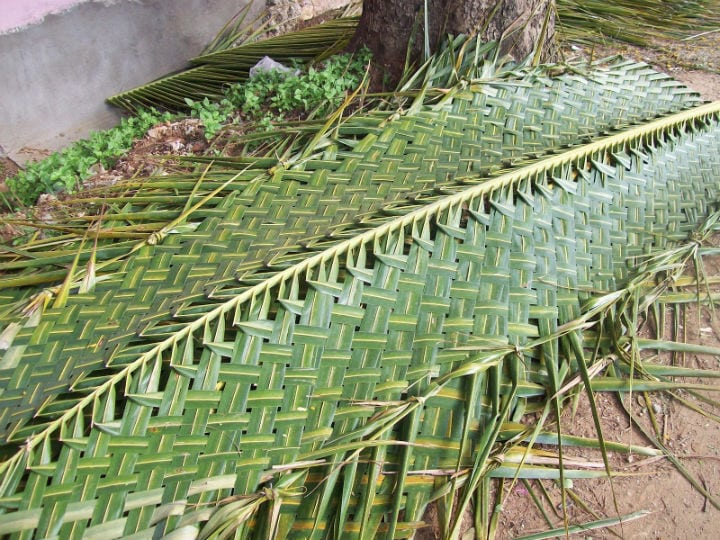 Man Does Amazing Stuff With Coconut Frond
Coconut fronds, or those sharp leaves from the coconut tree, are probably not something the average American kid is exposed to. Believe it or not, these leaves may be used to create a wide variety of goods.
Natives in tropical countries are probably well aware of this craft, but one man was able to amaze classroom full of kids with what he could do with just the coconut frond. Equipped with just a knife, this artisan began cutting the frond into useable sized pieced to begin weaving.
This grade school classroom watched with the intent of how this man was able to work quickly with just his two hands. He worked one side at a time, flipping it after finishing the first side. The mysterious creation began to take shape of something that resembled a basket, but it was actually much more than that.
There was no staples, string or tape to hold this creation in place, he had to fold the fronds within the piece to hold everything together. Since nature does not create perfect leaves, each end must be cut to the desired size so that it works for his master plan.
What did he actually create?
His end product was a dolphin-shaped toy! An additional leaf was used to create a loop-shaped handle so that it may easily be carried or mounted for all to see. The entire creation may be made in less than five minutes and even a child could take up this craft with the right guidance.
This man was born in a tropical island nation so working with coconut leaves was child's play to him. When he was weaving basic goods like hats or construction material, it was out of necessity. In a modern environment, his artistic expression is allowed to come out and using coconut fronds is his medium of choice.
Prior to all of this, he had to hand-pick the best-looking leaves to work with. As coconut trees are not created equal, which may vary with sunlight exposure and nutrition, he had to find the healthiest tree to cut down some leaves. Being inspired by his tears of dolphin watching, he just knew at the moment what art project he should create once stumbling upon the perfect tree.
Of course, there are plenty of other things that he is capable of creating. For example, small animal-shaped garnishes may be created when plating fancy tropical food. Rose petals is another thing that may be created for a variety of applications. It is also a good skill to learn to create survival shelters or floating crafts in a survival situation in a tropical environment.
One of the most famous crafts is also the coconut frond hat, which is also known as a palm hat. This is something that he had to make during his childhood years of pruning fronds that got in the way. Perhaps this will be the next project he will have to show these kids.
Priests On Tiki Bar Rescue Drowning Man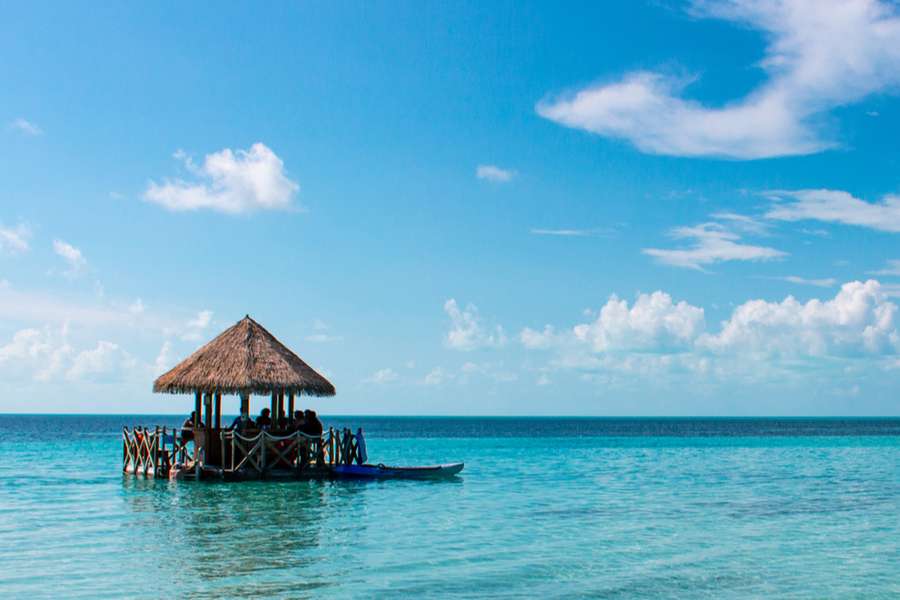 It was supposed to be a normal, wavy afternoon as Jimmy MacDonald from Albany rode the waves on Lake George in his kayak- little did he know.
According to him, he lost focus and drifted away from his wife and step-kids because he was taking pictures with his new mobile phone. By the time he realized what was happening, it was too late- the water got choppier, he lost control of his kayak and tipped over into the water. 
Jimmy was in a lot of trouble and to make it worse, his life jacket was coming up over his head- he hadn't secured it properly. Within a few seconds, he found himself holding on to the kayak with one hand and his new $1,400 smartphone, the origin of the problem, with the other. 
According to him, he spotted other kayakers and canoeists passing by, but he was too proud to yell for help. After futile efforts to get back on his kayak, he decided to accept his fate, and resorted to asking God for help.
"That's when I said, 'Alright, I think I might die today. I think this might be it.' I prayed to my lord and savior Jesus Christ for help," Jimmy said.
Luckily for him, Greg Barrett captain for Tiki Tours was in the area.
"A lot of things aligned that day," Barrett said.
At first Barrett spotted Jimmy's paddle and then one of his passengers said they heard a call for help.
"So as soon as I turned the boat towards him, I realized his life preserver had been in the upper portion of his head, and he was hanging on for dear life," Barrett said.
They knew they had to save his life, so they got close to him, and helped him get onboard their vessel.
Apparently, Jimmy is a drug counselor and a recovering addict.
"How funny is it that I've been sober for seven years and I get saved by a tiki bar?" Jimmy laughed.
Surprisingly, it was not just any tiki bar- it was one packed priests and seminarians from the Paulist Fathers, a Catholic retreat on the lake. Remember that Jimmy prayed for help for some heavenly intervention? Well, his prayers were answered in form of holy men on a floating tiki bar. Coincidence? Doesn't look like it. 
The priests and seminarians who were onboard are certain that Jimmy's rescue was not at all natural or normal. They believe that a supernatural and divine force influenced their availability to help Jimmy right when and where he needed them.
"We're missionaries," said Chris Malano, a second-year seminarian. "For us, that day, that was our mission to be present and to help someone in need."
Jimmy's job and life career was to help people drowning in addiction, but he was literally saved from drowning by God's holy men, right after praying.
"I just take that as a sign from God that he's got me here for a real reason," said MacDonald.