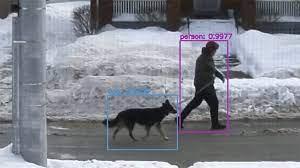 Man Creates AI Program To Alert Him And Greet Dogwalkers in His Community
Dogs are deemed as man's best friend for a multitude of reasons. What we have to understand, though, is that the love has to be shown to the dog as much as we want to be delivered to us.
Watching someone walking their dog is a pastime that never grows old, to the point that one man decided to build a hi-tech machine to detect when dogs and their owners were passing by his home.
Is that a thing? Certainly it is, and it has been bringing immense joy to him as well as the pups and their masters as they pass by his home.
Some people think it's cute, others eerie, but no one can deny the thought and creativity behind developing that machine.
This may become the new greeting technology based on the incredible level of responses that have been pouring out towards both the owner and his creation, as you'll learn below.
If you have at any point spent an evening(or the whole year 2020) on the internet looking at adorable dog videos, you'll understand why Ryder of YouTube fame decided to create a computer, powered by Artificial Intelligence, which is able to discern dogs walking along the street pass their house and instantly shout praises to the dog walkers or owners.
His Youtube program is called Ryder Calm and has earned quite a following.
Getting things done by looking at the real puppers has always been better than wasting time and looking at only pictures of puppies, so the development began as an automated manner for Ryder to identify when somebody was walking down the street past their home. The computer, which is based on a Raspberry Pi, assesses a live feed from the camera module and employs a machine learning model (in this case, the YOLOv3) that has been programmed to recognize about Eighty different items, including people, vehicles, and dogs.
When a passing puppy is detected, an alarming automated text-to-speech voice warns Ryder via an actual megaphone, allowing them to rush to the window on time to catch sight, no matter what they're doing.
Watching dogs is obviously not just his passion, but clearly an activity that his entire family enjoys doing. They enjoy it so much that they've programmed the system to function even during their absence. If that isn't innovative, then what is?
For those occasions when they aren't home to hear the alarm, the system can be programmed to play a pre-recorded "I like your dog!" message through the window, providing a complimentary dopamine boost to anybody walking their dog down Ryder's street.
It's a random and somewhat weird act of generosity, but I think we'd all take something at this stage. After all, any good gesture is better than the negativity endured throughout 2020, right?

Herriot the Heron and the Underpants Sling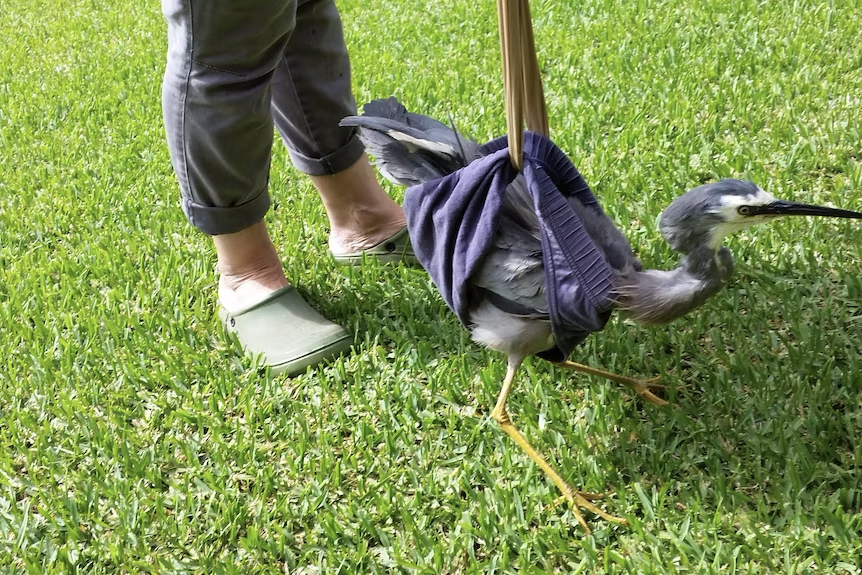 In the world of wildlife rescue, there are heroes who go above and beyond to help our feathered friends when they are in need. One such hero is Karen Ledger, a dedicated wildlife rescuer with a heart of gold. With over a decade of experience, Karen has helped countless birds in distress. However, it was her ingenious creation of an "underpants sling" that recently captured hearts and headlines, as she helped a heron named Herriot regain his ability to walk.
Herriot's story began with a troubling challenge. This majestic heron found himself unable to use his legs for reasons unknown. It was a dire situation, and things didn't look promising at the start. As Karen Ledger recounted, "It didn't look good at the start. He couldn't use his legs for unknown reasons. He might have been hit by a car."
Determined to help this long-legged bird find his footing again, Karen put her inventive mind to work. She faced the daunting task of making a heron walk when it seemed impossible. Her solution? An unconventional yet effective "underpants sling" made with a pair of stockings and her husband's underwear.
"I put the heron in the sling and physically made him use his legs three or four times a day until he could walk by himself," Karen explained. It was no easy feat, requiring intense effort and dedication. But for Karen, every minute was worth it when she saw Herriot finally regain his ability to walk independently.
Herriot's journey to recovery didn't end there. After his progress in the makeshift sling, he continued to improve by walking in an enclosed outdoor area for weeks. Finally, the day came when Herriot was strong enough to be released back into the wild, near a tranquil dam.
Karen's extraordinary efforts aren't limited to Herriot alone. She has a track record of helping a variety of birds in need. One heartwarming tale involves a barn owl who had lost his mate in a tragic road accident. Karen noticed that the owl was not physically injured but was deeply depressed, spending a week with his eyes closed and his head down.
Karen knew she had to find a way to lift the owl's spirits. "You have to think outside the square, just look at what you've got and adapt," she said. Drawing on her resourcefulness, she placed a stuffed toy penguin, roughly the same size as the owl, next to him in his cage. This simple act of comfort worked wonders. "After a couple of days, he started brightening up and opening his eyes. He came back to the point that he was well enough to be released," Karen said.
Karen Ledger's wildlife rescue efforts extend beyond her heroic acts with Herriot and the barn owl. She has dedicated herself to helping a wide array of birds, from barn owls and tawny frogmouths to lorikeets, rosellas, kookaburras, and more.