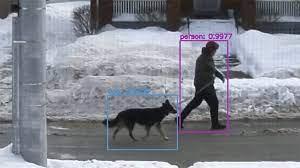 Man Creates AI Program To Alert Him And Greet Dogwalkers in His Community
Dogs are deemed as man's best friend for a multitude of reasons. What we have to understand, though, is that the love has to be shown to the dog as much as we want to be delivered to us.
Watching someone walking their dog is a pastime that never grows old, to the point that one man decided to build a hi-tech machine to detect when dogs and their owners were passing by his home.
Is that a thing? Certainly it is, and it has been bringing immense joy to him as well as the pups and their masters as they pass by his home.
Some people think it's cute, others eerie, but no one can deny the thought and creativity behind developing that machine.
This may become the new greeting technology based on the incredible level of responses that have been pouring out towards both the owner and his creation, as you'll learn below.
If you have at any point spent an evening(or the whole year 2020) on the internet looking at adorable dog videos, you'll understand why Ryder of YouTube fame decided to create a computer, powered by Artificial Intelligence, which is able to discern dogs walking along the street pass their house and instantly shout praises to the dog walkers or owners.
His Youtube program is called Ryder Calm and has earned quite a following.
Getting things done by looking at the real puppers has always been better than wasting time and looking at only pictures of puppies, so the development began as an automated manner for Ryder to identify when somebody was walking down the street past their home. The computer, which is based on a Raspberry Pi, assesses a live feed from the camera module and employs a machine learning model (in this case, the YOLOv3) that has been programmed to recognize about Eighty different items, including people, vehicles, and dogs.
When a passing puppy is detected, an alarming automated text-to-speech voice warns Ryder via an actual megaphone, allowing them to rush to the window on time to catch sight, no matter what they're doing.
Watching dogs is obviously not just his passion, but clearly an activity that his entire family enjoys doing. They enjoy it so much that they've programmed the system to function even during their absence. If that isn't innovative, then what is?
For those occasions when they aren't home to hear the alarm, the system can be programmed to play a pre-recorded "I like your dog!" message through the window, providing a complimentary dopamine boost to anybody walking their dog down Ryder's street.
It's a random and somewhat weird act of generosity, but I think we'd all take something at this stage. After all, any good gesture is better than the negativity endured throughout 2020, right?

One Attendees Santa Pen-pal That She Met At Burning Man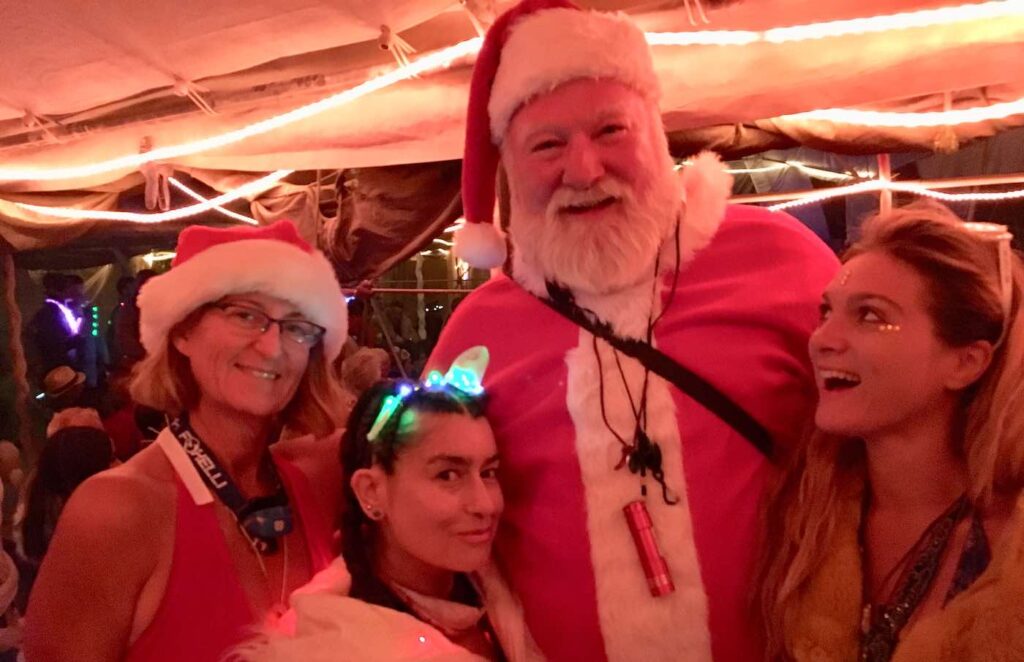 There are a lot of odd characters at Burning Man, the annual Labor Day Weekend celebration in the western desert, but the last one folks usually expect to see there is Santa Claus. However, as it turned out in 2017, that's exactly who one attendee met, and she struck up a penpal relationship with the character ever since.
The idea of penpals came from the 1970s with kids' programs intended to help them learn more about the greater world and to make connections with similar kids in other countries. TV programs, schools, kids' after-school care programs and similar all ran some kind of version of penpals. The benefits were multiple. Kids learned to read and write faster, they built relationships with other kids internationally, and they learned more about other communities just on the natural talking to their connections. So, while the idea of writing a paper letter today seems like a memory of yesteryear, the term of "penpal" is still alive and well, referring to long-distance connections that start out of the blue.
Back to the Burning Man, Rudie met Santa Claus, or a fellow dressed up like him in 2017 at the desert festival, complete in costume and carrying a large sack. Of course, Santa Claus wasn't the only out of the norm character there; Burning Man is famous for all sorts of outlandish costumes, constructs, bike-related vehicles, and lots of partying. Santa was in full character mode, handing out gifts from a large bag he was carrying, while enjoying the crowd at the Jazz Café.
Rudie ended up chatting with Santa quite a bit, but never exchanged anything more in the way of contact information to followup. So she pretty much chalked up the experience to the festival and forgot about it. However, in 2018, Santa Claus was there again at the next Burning Man. And he recognized Rudie from the previous year. They chatted up a storm again, and this time the Man of the North Pole brought a saxophone and started in impromptu gig on the stage. It went well with the name of the café. And, at the end of it all, Rudie was able to get an email address in 2018. She didn't send an email right away; Rudie waited until Christmas itself that year, and then sent a long email explaining how special the Santa Claus theme was to her and thanking him for spreading the cheer at the festival.
She wasn't expecting a response, but "Santa" did write Rudie back on Christmas Day the same year. That started an international tradition, and the following 2019 Burning Man, Rudie, Santa and a few other characters participated in the whole Christmas gig at Burning Man, much to everyone's amusement. Unfortunately, 2020 and 2021 were fouled up by COVID, but Rudie and Santa stayed connected online anyways.
Plans are on though for everyone to reconnect in person again at Burning Man 2022. And Rudie, currently living in Spain and with a full name of Rudolph the Red-Nosed Reindeer as a character, is looking forward to the desert party with the Old Man from the North all over again. No pandemic is going to keep them down for long!