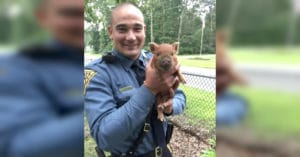 How One Lost, Little Piglet Stole the Hearts of State Troopers in New Jersey
We've all heard that nursery rhyme about the little piggies and their different experiences, but they may have been missing a member. Not too long ago, one little piggy got loose in New Jersey and he had one heck of an adventure.
This all happened a while back in Commercial Township, New Jersey.
Some state troopers were just going about their day when they received what was quite the unusual call from one of the township's residents. The caller reported that a small piglet was apparently on the loose.
Upon receiving the call that a little piglet was wandering around the town, the dedicated state troopers immediately sprang into action.
Tracking Down the Little Piglet
According to this report from FOX 29, Port Norris troopers Bryan Blair, Ray Coleman, and Julio Ferrer were the ones who responded to the call about the wandering piglet. One would be forgiven for thinking that wrangling a little piglet would be an easy job, but it's apparently easier said than done.
A report from the Philly Voice revealed that the state troopers had a bit of trouble catching the piglet. He apparently led them on a bit of a chase around a couple of houses before finally being caught.
Commenting on the adorable yet unusual situation, the New Jersey State Police said that they did not include catching piglets in the training program for police officers. They did add that it might be "cooler" if they did introduce that program and jokingly said that they would consider the move.
The Piglet at the Police Station
So, what happened after the piglet was caught and the state trooper brought him back to the police station, you ask? Well, he and the police officers apparently had a bit of fun.
Soon after getting back to the station, the little piglet got more comfortable. He felt so at ease that he was even fine with taking part in an impromptu photo shoot.
The state troopers also took quite a shine to the piglet and they even gave him the nickname of Norris.
Comfortable as Norris might have been in the police station, that's not exactly the most accommodating location for small farm animals. With an owner not emerging in the hours after Norris was caught, state trooper Coleman decided that he would step up to the plate and take the little guy home.
Officer Coleman had no problems volunteering to care for Norris because he already has previous experience caring for farm animals.
The Little Piglet Goes Home
Following a few nights at state trooper Coleman's home, it was finally time for the little piglet that had stolen the hearts of the police officers to go back home. A farmer nearby noticed that he was a piglet short and got in touch with the police department to see if they could help.
As it turns out, the missing piglet the farmer was looking for was indeed none other than Norris himself. Shortly after the farmer got in touch with the police department, Norris was able to go back home where he belonged.
Piglets can be fascinating creatures, especially if you take the time to observe how they interact with their littermates. According to Farm Health Online, piglets will quickly form relationships with their littermates. It's also not out of the realm of possibility that a social hierarchy among the piglets can be established right away.
Hopefully, little Norris manages to form great relationships with his brothers and sisters back at the farm. What we can say for sure is that the state troopers nearby will always be his friends.
Wesley Chapel Local Is 'Heading to Hollywood' in 'American Idol' Stint!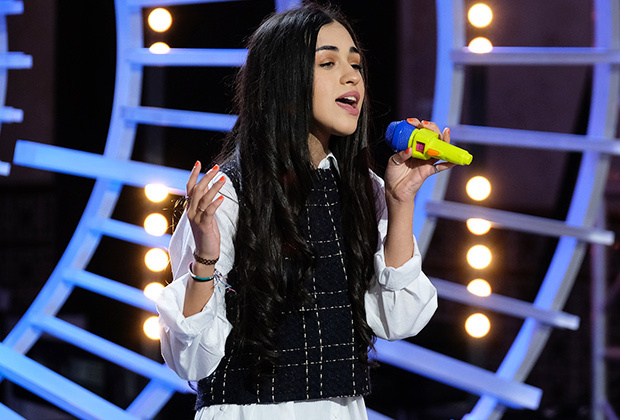 Do you remember where you were when the first episode of American Idol aired on Fox in 2002? While the platform may seem a little dated at this point in time, with more singing shows than aspiring singers it feels like, the program offered singers the chance to change their lives in front of a huge audience of American voters. Now 19 seasons later, performers like young Alanis Sophia are getting the chance to strike out for Hollywood for the opportunity to become America's next idol.
The most recent name that has everyone talking is young Alanis Sophia, a contestant from Wesley Chapel, Florida, who was named after the famous singer, Alanis Morissette. Sophia appeared on the program in late February to raucous applause from the star-studded cast of judges, including glowing praise from Katy Perry herself!
Alanis Sophia Sets Sights on Stardom
For Alanis Sophia, appearing on American Idol in 2021 was all about making the most of a second opportunity. Still just 19-years-old, Alanis wasn't even born when American Idol began airing. Originally staking her claim to the music scene at the age of 11, Alanis would appear on and land second place in the Spanish-language iteration of The Voice, titled La Voz.
After coming so close to tasting victory, Alanis would focus on curating her skills while plying forward with her work at school. Sophia would attend Pasco School and graduate from the institution in 2019, paving the way for Sophia to focus entirely on improving her skills and preparing for a second chance at Idol-fame when the program returned to Florida in 2021.
Upon arriving at the show, Sophia would get her chance to perform in front of Lionel Ritchie, Katy Perry, and country musician Luke Bryan. A visibly confident Sophia would explain to the judges that she had been gifted an American Idol microphone as a child and that she had clung to the hope of 'going to Hollywood' ever since. Sophia also explained to the judges that American Idol would operate as a bonding point between Sophia and her mother, often pointing to how music helped them during tough times back in Puerto Rico.
The Performance of a Lifetime
After explaining a bit about her story, Alanis would set forth with her own rendition of Anyone by the esteemed and incredibly talented Demi Lovato. Sophia kept the gifted American Idol microphone in her hand throughout the touching rendition, bringing smiles to the face of Katy, Luke, and Lionel. By the time the song had ended, it was clear that Sophia had won over not just a single judge, but all of the judges.
Katy Perry would open up the discussion regarding Sophia with instantaneous effusive praise saying, "She is the best we've seen today." Such high praise from one of the most successful pop artists of all time should go a long way toward Sophia's confidence in her skills, but that wasn't all the judges had to say.
Lionel Richie would pile onto the praise that Sophia received after Perry finished gushing over the performer. Richie pointed out that Sophia had a 'purity' to her voice and that Sophia's personality 'requires nothing but exactly who you are'. Ritchie would go on to say that Sophia had huge potential and those words were quickly echoed by Luke Bryan.
Now on her way to Hollywood for another chance at stardom, Alanis Sophia and her family are hoping for a finish at the top of the competition. Yet with such high praise from music legends like Richie and Perry, it feels like Sophia is already on the way to victory.