Homeless Man's Life Changes After Finding Rare Bambi Photo In Trash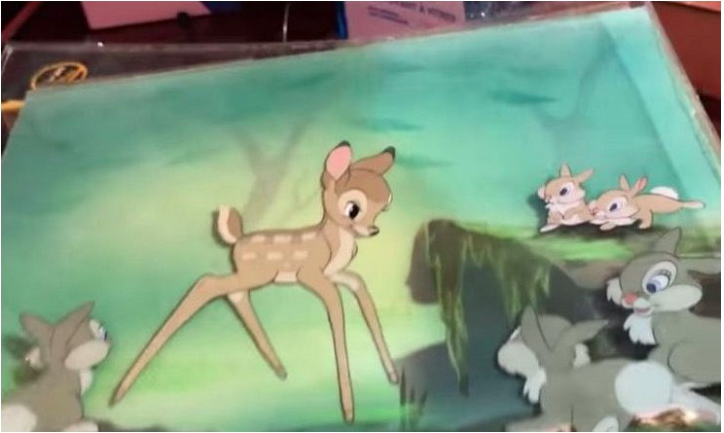 Adam Gillian probably couldn't have imagined one day the only cartoon character he most identified with since childhood would resurrect his life. From the ashes left from his inferno of misfortune, Adam wandered the streets of Edmonton, Canada. The Gateway to the North, Edmonton, was the only home the homeless Adam had to himself. Trying every day to survive and not know where his next meal would come from, Adam would sometimes make the money he needed to buy food by selling discarded items he discovered hidden in trash receptacles and dumpsters. He frequently sold artifacts to a local antique store, Curiosity Inc.
One life-altering day in the "Winter City," Adam was rummaging through garbage and unearthed a medium size plastic sheet with a scene from his favorite Disney movie, Bambi, drawn on it. When Adam was only a child, his mother got killed by a drunken driver when she was on her way home. Adam saw the feature-length cartoon sometime later. He fell in love with the movie because just as Bambi's mother got killed by a virulent hunter and healed, Adam wanted to do the same after his mom's violent death. Unfortunately, his life hadn't turned out as "happily ever after" as the lovable deer, but Adam had the same resilience to overcome his present adversities.
He would have kept the drawing for himself to treasure it for obvious reasons, but he sadly realized he had no way of storing it. So, he went to Curiosity Inc. to hand it off if he could. Like any other transaction, he sold the drawing for $20 and then he and the store owner, Alexander Archbold, went about their day.
When it came time to resell the drawing, Alex found out the picture was worth more than $3,000. Alex couldn't believe it. Once the fees were taken out, he realized his business owed the homeless Adam $1,700.35 for the previous barter. The only problem was that Adam belonged to the street, and geographically, the entire city was his home. How would Alex find him if Adam saw nothing in the trashcans to sell?
Alex has searched all overlooking for Adam. He knows this money would indeed be a blessing for the vagabond friend. As each day passes, Alex ceaselessly dedicates a portion of his off time looking but unfortunately not finding him anywhere. Alex wonders about his safety. To better his life when Adam is seen or comes to the store again, Alex started a GoFundMe page. Hundreds of people have contributed and its expected to increase. Some of Alex's friends have developed compassion for his cause and asked to help in the search. Since they didn't know what Adam looked like, Alex printed out a still image of Adam from the store's security camera.
Alex won't rest until Adam gets found. Some wonder why Alex doesn't just keep the money made from the picture for himself. He has probably considered it but that little angel sitting on his shoulder most likely persuaded him with little effort that the money rightly belongs to his lost, nomadic excavationist buddy. Plus, Alex knows the money will help him until he finds a place. This story goes to show that there is warmth in humanity and kindness is still a scent lingering in the air.
Couple Discovers Mysterious $10,000 In Bank Account And Swears They Don't Know Who Put It There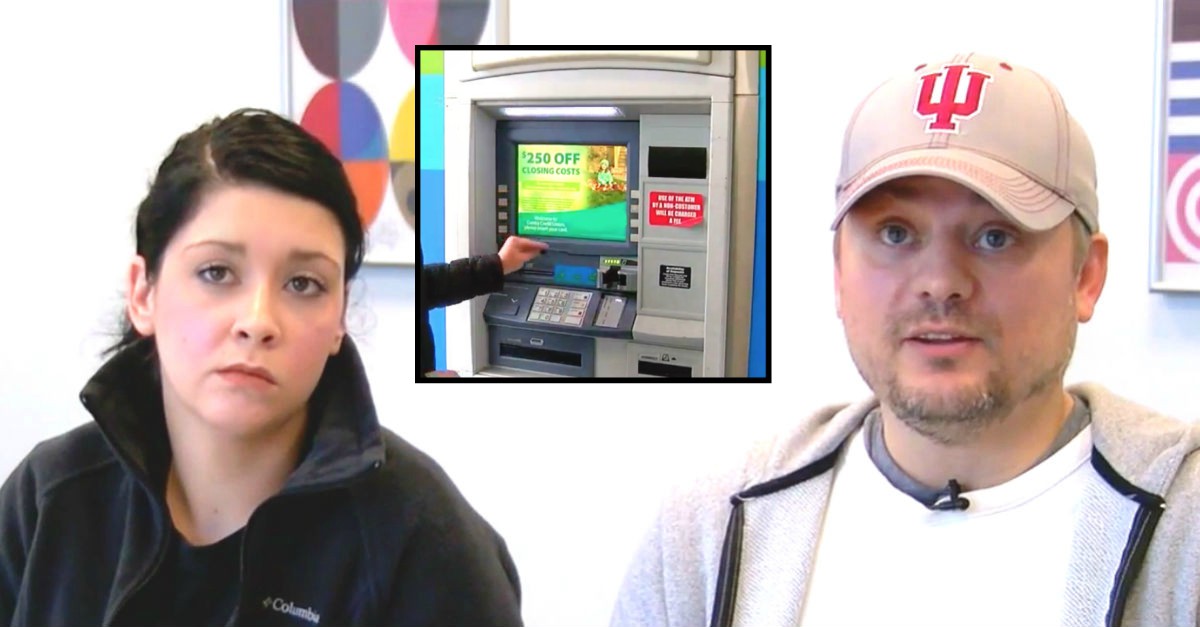 In February 2018, Andy Watkins and Kimberly Redmon got the surprise of their lives. The engaged couple opened a joint bank account when they got engaged so that they could start saving money for their wedding. They checked the account one day and found that there were $10,000 extra dollars in the account and neither one of them knew where it came from. They knew that their friends and family members would never have put this kind of money in their account but they asked around anyway. Nobody knew anything about it. Andy says that when they discovered the money that he thought it might be some kind of scam. He was worried that the scammers had access to their account information and after putting the money into the account that they would clean it out completely. He says that he couldn't just sit back and do nothing and he certainly couldn't spend money that he knew didn't belong to him. Andy and Kimberly got in the car and drove to the bank to get the answers that they needed.
The couple sat down with a bank manager and they found out where the money came from. A woman named Kimberly Redmon, the same name as Andy's fiance, and deposited the money. It turns out that the teller who handled the transaction didn't ask for the woman's account information. She simply asked for the woman's driver's license. When the teller punched up the name, the account owned by Andy and Kimberly showed up and the teller just deposited the money into their account rather than the Kimberly Redmon that made the deposit.
Andy says that he was thrilled when he found out where the money came from. He stated that he no longer needed to worry that a scam artist had gotten hold of their bank account information. The Kimberly who made the deposit was contacted and informed of the error. The same day, the money was transferred to her account. The real Kimberly stated that she was thankful that Andy and his fiance were so honest. She says that most people wouldn't have been.
The WRTV News in Indianapolis heard about Andy and Kimberly's story and they contacted the bank to find out how something like this could happen. According to the bank, there are protocols in place to keep things like this from happening, however, there are some tellers who don't have the proper training and they don't ask for bank account numbers, just ID's. According to the bank manager, all of the bank employees will be going through a training course that will require that they request account numbers as well as photo identification when a person deposits or withdraws money from their accounts. The bank says that they are taking all of the necessary steps so that something like this doesn't happen again. Andy and Kimberly say that they are just happy that the mystery has been solved and the money has gone into the account of the rightful owner.