Homeless Man's Life Changes After Finding Rare Bambi Photo In Trash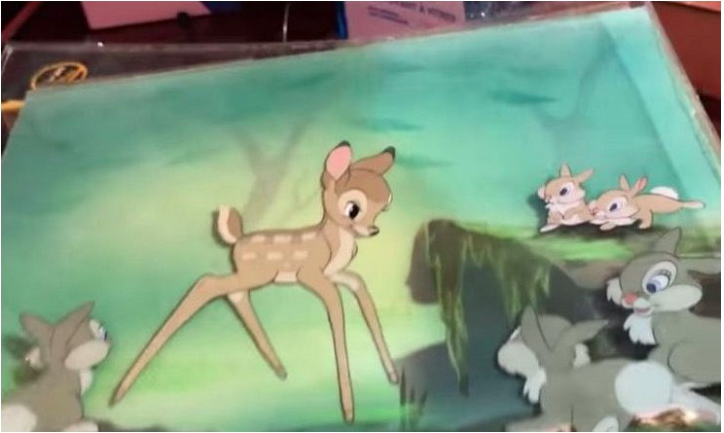 Adam Gillian probably couldn't have imagined one day the only cartoon character he most identified with since childhood would resurrect his life. From the ashes left from his inferno of misfortune, Adam wandered the streets of Edmonton, Canada. The Gateway to the North, Edmonton, was the only home the homeless Adam had to himself. Trying every day to survive and not know where his next meal would come from, Adam would sometimes make the money he needed to buy food by selling discarded items he discovered hidden in trash receptacles and dumpsters. He frequently sold artifacts to a local antique store, Curiosity Inc.
One life-altering day in the "Winter City," Adam was rummaging through garbage and unearthed a medium size plastic sheet with a scene from his favorite Disney movie, Bambi, drawn on it. When Adam was only a child, his mother got killed by a drunken driver when she was on her way home. Adam saw the feature-length cartoon sometime later. He fell in love with the movie because just as Bambi's mother got killed by a virulent hunter and healed, Adam wanted to do the same after his mom's violent death. Unfortunately, his life hadn't turned out as "happily ever after" as the lovable deer, but Adam had the same resilience to overcome his present adversities.
He would have kept the drawing for himself to treasure it for obvious reasons, but he sadly realized he had no way of storing it. So, he went to Curiosity Inc. to hand it off if he could. Like any other transaction, he sold the drawing for $20 and then he and the store owner, Alexander Archbold, went about their day.
When it came time to resell the drawing, Alex found out the picture was worth more than $3,000. Alex couldn't believe it. Once the fees were taken out, he realized his business owed the homeless Adam $1,700.35 for the previous barter. The only problem was that Adam belonged to the street, and geographically, the entire city was his home. How would Alex find him if Adam saw nothing in the trashcans to sell?
Alex has searched all overlooking for Adam. He knows this money would indeed be a blessing for the vagabond friend. As each day passes, Alex ceaselessly dedicates a portion of his off time looking but unfortunately not finding him anywhere. Alex wonders about his safety. To better his life when Adam is seen or comes to the store again, Alex started a GoFundMe page. Hundreds of people have contributed and its expected to increase. Some of Alex's friends have developed compassion for his cause and asked to help in the search. Since they didn't know what Adam looked like, Alex printed out a still image of Adam from the store's security camera.
Alex won't rest until Adam gets found. Some wonder why Alex doesn't just keep the money made from the picture for himself. He has probably considered it but that little angel sitting on his shoulder most likely persuaded him with little effort that the money rightly belongs to his lost, nomadic excavationist buddy. Plus, Alex knows the money will help him until he finds a place. This story goes to show that there is warmth in humanity and kindness is still a scent lingering in the air.
Wild Canadian Horse's Dramatic Rescue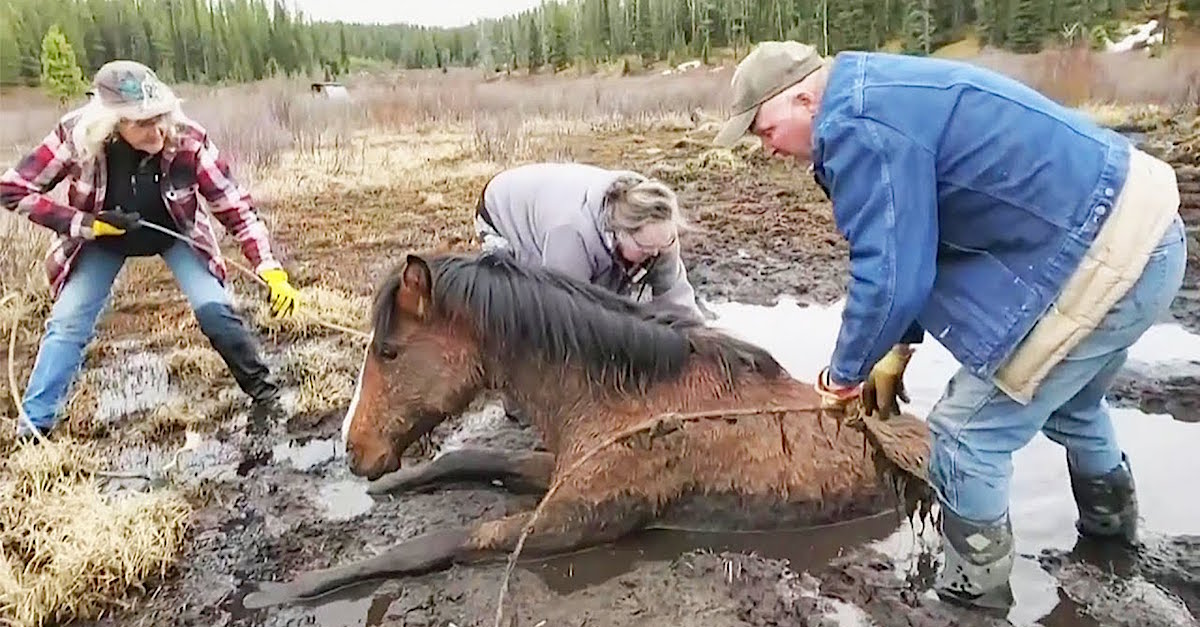 Canada is known for many things, including its beautiful scenery, friendly people, diverse animal life, and frigid winters. All of these things came together in a powerful and moving way one day as fate played out a hand that involved a matter of life or death. A small group from the Help Alberta Wildies Society (HAWS) was patrolling the beautiful countryside one day. HAWS is a group of volunteers committed to helping and protecting the rich lineage of Canada's wild horses. They help support the preservation of native wilderness that the horses call home and also work to protect the animals and catalog their populations. On a chilly winter day, a small group of HAWS volunteers ventured out to search for newborn foals in Alberta, Canada, so they could document the new additions to the local herd. As they were out searching, they came upon a heartbreaking sight.
They spotted a young foal stuck in a muddy bog. The wild foal was desperately struggling to drag itself out of a muddy hole. There was no telling how long the young horse had been trapped but it had more than half of its body sunk into the 6-foot-deep hole that as filling with sticky mud and near-freezing water. The horse lovers knew what they had to do. If anyone was meant to find this helpless creature, it was the HAWS heroes and so they quickly got to work. As they worked to figure out how to rescue the foal, they kept an eye out for any of the wild horses that might still be in the near vicinity. They quickly concluded that the young filly likely had been abandoned by the herd when she fell into the hole and was unable to get out.
The small filly just did not have the strength to pull herself out of the hole against the viscous muds and numbing water that was surrounding her. To make things even more difficult for her, and her new rescuers, was the rim of ice that was forming all around the hold. The young foal was unable to get her bearing or get a good foothold and it made getting to her more of a challenge. They knew they were the foal's only chance of getting out alive, but time was running out, and she was growing more exhausted by the minute. They had to act fast!
For over an hour, the group worked, desperately and tirelessly striving to save the horse before she would succumb to exhaustion and the elements. Using their ATVs and a bunch of ropes, they finally managed to break the muddy suction seal that trapped the young wild hose and they pulled her out of her freezing prison. When they finally pulled her out, they quickly undid the ropes they had used to free her, expecting her to bolt for the hills. They could tell she was exhausted and starving and knew she had to have been trapped for quite some time. However, instead of running away in fear and confusion, the young filly stuck around and showed her rescuers her gratitude and let them know she knew they were friends and that they could be trusted.
It just goes to show how smart these wild animals are and how important it is to protect them and all the other creatures that make up the diverse ecosystem of the Canadian wilderness!