Hilarious: Penguins Dressed In Their Christmas Best Bring Holiday Cheer In Japan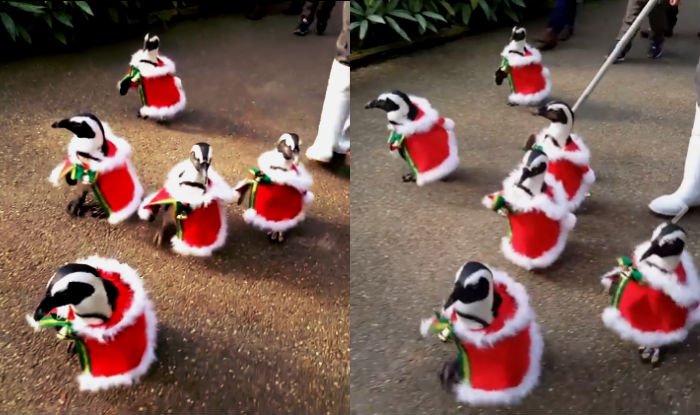 The best way to spread Christmas cheer is not just singing loud for all to hear. A zoo in Japan has been dressing their penguins in Santa garb for their daily walk for a number of years.
Christmas Cheer Spread by Strolling Penguins
Matsue Vogel Park in Shimane Prefecture, which is located in the Chugoku region on the main Honshu island in Japan, holds a daily penguin stroll throughout the year, but during the Christmas season it becomes a festive parade of sorts. The naturally delightful creatures are dressed in red Santa Claus-esque robes for their daily walk as parkgoers enjoy the scene.
These birds without feathers give the polar bears and even Santa's elves competition for the most adorable thing of the season.
Matsue Vogel Park is a beautiful place with carefully planned architecture, friendly wildlife, and flowers in bloom year round. Vistiors are granted the opportunity to walk alongside the penguins every day.
During the holidays, zoo officals up the anti by dressing their penguins in red cloaks with a fur trim complete with green and gold accent ribbon.
Don't forget the bells, though. It's not Christmas without bells ringing, so park officials also attach jingle bells to the red coats, producing a cheerful jingle bell noise as the penguins waddle through the park.
Football Fans in Addition to Santa
The festivities of dressing up penguins is not reserved for Christmas, however. During the World Cup, these penguins wore Japanese jerseys to support the hometown football club.
PETA Asia Cites Zoo for Animal Cruelty
Not everyone loves the festive birds. PETA (People for the Ethical Treatment of Animals) Asia released a story in 2016 citing concerns over the treatment of the flightless birds. The article even goes as far as calling the zoo a vile facility as they've subjected the birds to animal cruelty since 2009.
Viral Videos of Festive Birds
The general consesus is that these friendly penguins bring a spirit of joy and fun to the holidays.
Unfortunately, it is not in the cards for many folks to travel to Japan for Christmas. Fortunately we live in a modern technological age complete with viral YouTube videos and social media.
These technological advances allow for the sharing of this festive fun across multiple continents. Check out this video of the Santa plaid penguins on one of their daily strolls through Matsue Vogel Park.
Shimane Prefecture Tourism
The Shimane Prefecture not only features the zoo, but also numerous tourist attractions such as the Matsue Castle, Aquas Aquarium and multiple art museums. In addition to these, Mt. Sanbe is a popular attraction in the region. Mt. Sanbe is part of Daisen-Oki National Park and is the main peak in a range of volcanic mountains, boasting natural hot springs and the mining site of a third of the world's silver.
Find Joy Amidst Holiday Hustle
The next time you're feeling down about the holiday to do list or stressed by the hustle and bustle of the season, be sure to remember the Christmas penguins of Japan. They will surely bring a smile to your face and joy to your heart.
Homeless Man's Life Changes After Finding Rare Bambi Photo In Trash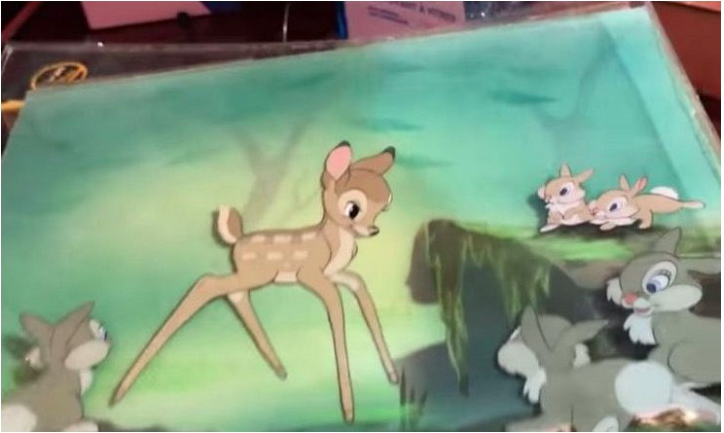 Adam Gillian probably couldn't have imagined one day the only cartoon character he most identified with since childhood would resurrect his life. From the ashes left from his inferno of misfortune, Adam wandered the streets of Edmonton, Canada. The Gateway to the North, Edmonton, was the only home the homeless Adam had to himself. Trying every day to survive and not know where his next meal would come from, Adam would sometimes make the money he needed to buy food by selling discarded items he discovered hidden in trash receptacles and dumpsters. He frequently sold artifacts to a local antique store, Curiosity Inc.
One life-altering day in the "Winter City," Adam was rummaging through garbage and unearthed a medium size plastic sheet with a scene from his favorite Disney movie, Bambi, drawn on it. When Adam was only a child, his mother got killed by a drunken driver when she was on her way home. Adam saw the feature-length cartoon sometime later. He fell in love with the movie because just as Bambi's mother got killed by a virulent hunter and healed, Adam wanted to do the same after his mom's violent death. Unfortunately, his life hadn't turned out as "happily ever after" as the lovable deer, but Adam had the same resilience to overcome his present adversities.
He would have kept the drawing for himself to treasure it for obvious reasons, but he sadly realized he had no way of storing it. So, he went to Curiosity Inc. to hand it off if he could. Like any other transaction, he sold the drawing for $20 and then he and the store owner, Alexander Archbold, went about their day.
When it came time to resell the drawing, Alex found out the picture was worth more than $3,000. Alex couldn't believe it. Once the fees were taken out, he realized his business owed the homeless Adam $1,700.35 for the previous barter. The only problem was that Adam belonged to the street, and geographically, the entire city was his home. How would Alex find him if Adam saw nothing in the trashcans to sell?
Alex has searched all overlooking for Adam. He knows this money would indeed be a blessing for the vagabond friend. As each day passes, Alex ceaselessly dedicates a portion of his off time looking but unfortunately not finding him anywhere. Alex wonders about his safety. To better his life when Adam is seen or comes to the store again, Alex started a GoFundMe page. Hundreds of people have contributed and its expected to increase. Some of Alex's friends have developed compassion for his cause and asked to help in the search. Since they didn't know what Adam looked like, Alex printed out a still image of Adam from the store's security camera.
Alex won't rest until Adam gets found. Some wonder why Alex doesn't just keep the money made from the picture for himself. He has probably considered it but that little angel sitting on his shoulder most likely persuaded him with little effort that the money rightly belongs to his lost, nomadic excavationist buddy. Plus, Alex knows the money will help him until he finds a place. This story goes to show that there is warmth in humanity and kindness is still a scent lingering in the air.