Hilarious: Penguins Dressed In Their Christmas Best Bring Holiday Cheer In Japan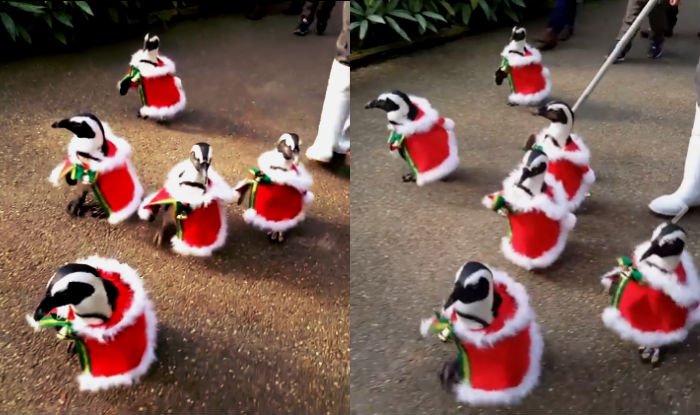 The best way to spread Christmas cheer is not just singing loud for all to hear. A zoo in Japan has been dressing their penguins in Santa garb for their daily walk for a number of years.
Christmas Cheer Spread by Strolling Penguins
Matsue Vogel Park in Shimane Prefecture, which is located in the Chugoku region on the main Honshu island in Japan, holds a daily penguin stroll throughout the year, but during the Christmas season it becomes a festive parade of sorts. The naturally delightful creatures are dressed in red Santa Claus-esque robes for their daily walk as parkgoers enjoy the scene.
These birds without feathers give the polar bears and even Santa's elves competition for the most adorable thing of the season.
Matsue Vogel Park is a beautiful place with carefully planned architecture, friendly wildlife, and flowers in bloom year round. Vistiors are granted the opportunity to walk alongside the penguins every day.
During the holidays, zoo officals up the anti by dressing their penguins in red cloaks with a fur trim complete with green and gold accent ribbon.
Don't forget the bells, though. It's not Christmas without bells ringing, so park officials also attach jingle bells to the red coats, producing a cheerful jingle bell noise as the penguins waddle through the park.
Football Fans in Addition to Santa
The festivities of dressing up penguins is not reserved for Christmas, however. During the World Cup, these penguins wore Japanese jerseys to support the hometown football club.
PETA Asia Cites Zoo for Animal Cruelty
Not everyone loves the festive birds. PETA (People for the Ethical Treatment of Animals) Asia released a story in 2016 citing concerns over the treatment of the flightless birds. The article even goes as far as calling the zoo a vile facility as they've subjected the birds to animal cruelty since 2009.
Viral Videos of Festive Birds
The general consesus is that these friendly penguins bring a spirit of joy and fun to the holidays.
Unfortunately, it is not in the cards for many folks to travel to Japan for Christmas. Fortunately we live in a modern technological age complete with viral YouTube videos and social media.
These technological advances allow for the sharing of this festive fun across multiple continents. Check out this video of the Santa plaid penguins on one of their daily strolls through Matsue Vogel Park.
Shimane Prefecture Tourism
The Shimane Prefecture not only features the zoo, but also numerous tourist attractions such as the Matsue Castle, Aquas Aquarium and multiple art museums. In addition to these, Mt. Sanbe is a popular attraction in the region. Mt. Sanbe is part of Daisen-Oki National Park and is the main peak in a range of volcanic mountains, boasting natural hot springs and the mining site of a third of the world's silver.
Find Joy Amidst Holiday Hustle
The next time you're feeling down about the holiday to do list or stressed by the hustle and bustle of the season, be sure to remember the Christmas penguins of Japan. They will surely bring a smile to your face and joy to your heart.
Technology and the link between grandma and granddaughter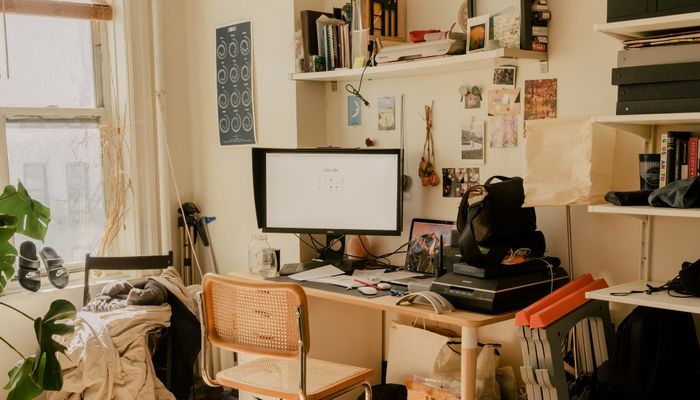 Quinn Hendershot lives in the Chicago suburbs. She has a grandmother that she grew close with after her father had a brain condition. Her grandmother came to live with her family in the States when Quinn was only 13 to offer her support and care. After having lived with her grandmother, Quinn became super close with her dear grandparent.
As Quinn grew older, she still maintained a strong link with her grandmother. In fact, when Quinn went off to graduate school she still continued to spend time with her grandmother when possible. Quinn enjoyed learning to cook with her grandmother and running errands with her since grandma wasn't able to drive.
Recently Quinn's grandma achieved a lifetime goal of building a home in Colombia. Quinn's grandma was born in Colombia and lived in the country until reaching the age of 17. Because of this, grandma still has a lot of contacts back in the home country. In building a home back in Colombia, grandma hoped to connect with her roots and reconnect with distant family.
Quinn has expained that her grandmother has fond memories of growing up on farmland with livestock like donkeys and poultry around. Quinn also notes the fact that it's much more affordable to build a home in Colombia than in the United States.
There's no doubt that Quinn Hendershot is happy for her grandmother's accomplishments. Quinn recognizes that after all this time, her grandmother finally gets to realize her dream. That doesn't mean that they don't miss one another!
It takes three different airline transfers to get from Quinn's home in Chicago to the home of her grandmother in Colombia. Nevertheless, grandma and granddaughter maintain a strong relationship.
Quinn says that she sends text messages to her grandmother almost every single day. She also sends pictures to her grandmother so that grandma can see what's going on in her life. Grandma likes to send Quinn pictures of her cat and dog, while Quinn likes to send pictures of the food she gets to eat to her grandmother. After all, a grandmother always scolds her granddaughter that she's not eating enough!
It's true that Quinn's grandmother doesn't have a great cell phone connection where she's living in Colombia. However, there are some great technologies available that make communication available and even convenient despite this. One product that is especially helpful to Quinn and her grandmother is Google Nest Hub. Google Nest Hub has a fantastic photo sharing feature. With this feature, people like Quinn Hendershot can upload all of their photos and send them to their family abroad.
Technology features like Google Nest Hub help bring family members closer to one another. According to Quinn, she can learn more about the everyday life of her beloved grandmother thanks to Google Nest Hub. This makes it easier to maintain a relationship with family members even if they are not living close by and cannot be spoken with one-on-one on a daily basis.