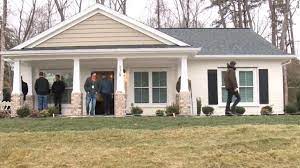 Habitat for Humanity's First 3D Printed Home
Habitat for Humanity is famous for providing housing to needy families in cities all over the U.S. However, the non-profit now goes down in history as being the first charity organization to build and give away a 3-D printed home for a family in need as well.
In most cases, Habitat for Humanity homes are built with a preset plan and design, either already designated by the organization or provided by a local, donating builder-partner. However, for one Virginia family, they are the recipients of a full fully tech-designed home, with every major component designed and then crafted with 3-D printing. And unlike what people see in videos crafting plastic parts, the home that was built looks like a real home!
Similar to other skills involved, Habitat for Humanity worked with a partner to develop the 3-D plan to be used for the expected home. That partner, Alquist, had a deep level of experience already working as a 3-D printing business, and the partner managed all of the design and print production to make the components of the house possible.
The size of the home built is modest. The total dimensions add up to 1,200 square feet, provides for a total of three bedrooms with two complete bathrooms and material worked with involved concrete. The total build duration for the home plan took basically a half day, 12 hours, shaving off at least a month from a typical regular home build.
April Stringfield ended up being the lucky candidate that won the ability to buy the home from Habitat at a significant discount versus what it would have cost her in the regular market. Without Habitat's help, Stringfield would not likely have been able to be a homeowner, which is the goal of the program helping families in need. Instead, April Stringfield and her teen son will have their own new home through the holidays instead of living in an apartment.
Stringfield commitment and "purchase" followed an age-old barter method in which her work time calculated up to a purchase value to buy the home being built. This followed Habitat for Humanity's set program that candidate families engage in, commit their work time, have good credit and keep it good without any new issues, and qualify as low to moderate income in their earning power. For Stringfield, all the time and energy was worth it; she has a new home with a backyard, her son now has roots and a place where they can finally have a puppy, and Stringfield now feels connected to her community. In short, April Stringfield and her son are now engaged with what is becoming the elusive American Dream.
Being concrete, the home will likely stand up far better to the weather, elements and natural disasters, and Stringfield also gets a dedicated 3-D printer with the home so she can fabricate additional parts as she needs to for replacement and maintenance.
Habitat for Humanity expects the new approach to home building will continue in their projects, both due to efficiency as well as taking advantage of newer technology to build families more durable homes.
Libraries Are Branching Out To Include Bikes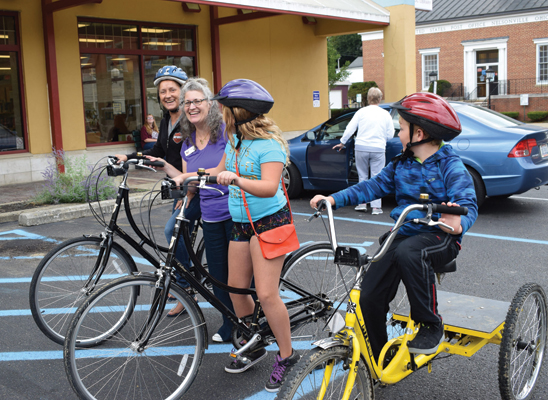 Madison, WI has a total of nine public libraries. They stock everything from classic books to magazines to newspapers to digital reading assets, like audiobooks and ebooks. They also carry an extensive network of disk products such as movies and videos. Now, it turns out, they also lend electric bikes to their patrons as well.
Libraries across the country are looking for more creative ways to make themselves useful, branching out well beyond just books and encyclopedias of the past. Madison's libraries are no exception, but they may very well be the first library in the U.S. that provides electric bikes for borrowing, like a library book. Well, maybe not the first. There are now 35 other similar programs across the country, from Texas to Vermont. And, bikes may very well just be the tip of the iceberg in whatever else libraries get into the business of lending.
The odd thing is, lots of people avoid cycling for an assortment of reasons. Some think that it's a pastime only adult white men engage in. Others can't find anything viable to ride a bike on, whether it be a public sidewalk or a dirt trail. Still others think it's too dangerous altogether, especially with traffic and uncaring vehicle drivers. And, finally, simply having a place to park and lock a bicycle is a convenience people enjoy in big cities but it tends to be a rarity in smaller towns. Money is a barrier as well; a decent bicycle today averages a couple hundred dollars in cost out the door. And an electric bike is well over $1,000 in most locations they are available.
So, Madison's library network and management decided that an electric bike was going to be the next big asset in their inventory of things residents could borrow. Partnering with Madison BCycle, the libraries set up a borrowing system, providing a total of 300 different bike units across the town. Similar to what people see with e-scooters in big cities, those with a library card can now rent a bicycle to get around Madison, but without any charge to a credit card. All the patrons need to activate the bike is a key fob they get from a library. Since the start of the program, almost 280 fobs have been borrowed.
From the library's perspective, the e-bike program has multiple benefits. Instead of having to use Uber or similar at a cost, borrowers can use an e-bike for free. They get exercise which they would not realize with a car. E-bikes connect people and allow them to be more social. E-bikes also help people stay healthier, which avoids medical costs and eventually community costs associated with sickness, lost productivity and public health problems. It also lets patrons try something new around their town and travel more instead of just using a car.
A key factor of success was the fact that Madison City had already put in the infrastructure for the e-bikes all over town. So, they had plenty of docking stations and lockups near libraries and elsewhere. The grid is strategically placed, so no one person has to walk too far to get to an e-bike easily. The only slowdown to the new bike borrowing program was COVID, but since that has passed, bike borrowing is up and running again in Madison.