Girls Find Snake by the Pool and Yell for Help, Grandpa Comes to the Rescue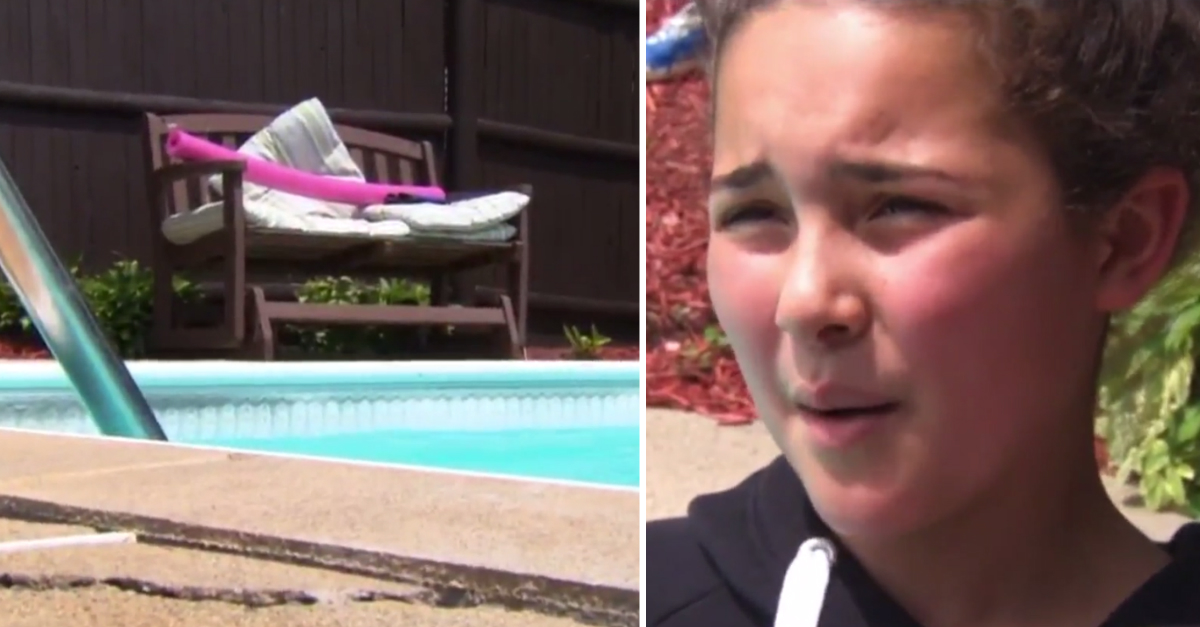 Nothing beats a dip in the water on a hot summer day. Pools are supposed to be clean and safe from the wildlife that might be swimming around in lakes and oceans, making them the ideal place to beat the heat. However, sometimes humans aren't the only thing attracted to the cool clear suburban pools.
Alyssandra Bell and her sister were swimming in her grandfather's pool when she spotted something unbelievable. Underneath the pool bench, taking in the little shade it provided, was a python. Alyssandra told her sister to run into the house and followed close behind her. When they were safely inside, they begin to tell their grandfather what they had seen.
At first, their grandfather didn't believe them. However, seeing how serious and scared the girls were, he decided to see for himself. Bob Bell says he heard the girls cry out "Papa there's a big snake on the deck". He explained the girls made these claims often, and it was normally nothing more alarming than a garter snake or a large earthworm. However, this time the girl's tone was different. They sounded alarmed. Alyssandra Bell admits that she screamed for a few minutes.
When Bob Bell made his way outside, he discovered the reason for the girl's terror. Underneath the chair was a ball python. Pythons are not the sort of animal you expect to find in Salem, but they are often kept as pets. It's believed that the python was let go because it was getting too big for its owner's comfort or it managed to escape its confines on its own.
Alessandra's older brother caught the snake and put it in a bucket, where it awaited animal control. Animal control took the animal and everyone breathed a little easier.
Luckily, pythons are constrictors, so they aren't poisonous. They can pose some dangers, however. They can wrap around a person and cause asphyxiation. They also have sharp teeth designed for pushing prey into their mouth and down their stomach whole. These teeth can leave a nasty bite that requires medical attention.
According to Animal Control Officer Donald Famico, they are friendly snakes and common pets. He explains that because they are nonvenomous, there is no license required to possess them. Often new pet owners underestimate the eventual size of the snake, and are unprepared to care for it into adulthood. Adult pythons require considerable space and food like mice or rabbits, which can quickly add up.
The Bells hope that they don't have any other summer surprises, and can enjoy the refreshing water of their grandfather's swimming pool. Bob Bell says the next time he hears them scream he might take it a little more seriously. He now knows that the most unexpected things can appear right in your own backyard.

You Want a Capybara as a Pet? Isn't it a Giant Rat?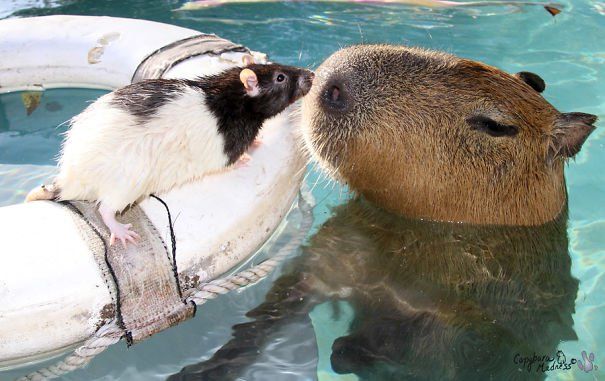 What in the world is a Capybara?
Take a small to medium size pig, turn it into a guinea pig with longer legs, give it clawed feet, and add in an absolutely loving attitude towards anything that pays it attention. Technically, the Capybara is a rodent, a very large rodent. These creatures can easily get up to 4 feet in length and up to two feet tall. They range in weight, with various specimens coming in anywhere from 70 lbs to as much as 150 lbs in size. Most folks first faced with one would likely back up from a Capybaras at first, but these creatures are absolutely affectionate regardless of what they are facing.
They Eat a Lot!
In terms of feed, the Capybara counts as an herbivore. It will easily consume up to eight pounds of food and they love to splash around in water, often leaving near creeks and rivers in the wild. And then they have this cuddling thing. They love to get up close with anything that pays them attention and doesn't try to eat them. The Capybara will do fine with dogs, cats, cattle and they even be seen giving a monkey a ride around the yard. They have a reputation for being used as a couch by a lot of other animals ranging from birds to other rodents, even when walking around.
The Party Hugger
Tame Capybaras will make friends will all kinds of animals most folks would never assume could hang out with these creatures. Rabbits are often seen snoozing with them when saddled in the same pen, and if there's a kiddie pool made available you can be these oversized rodents are going to play king of the mountain and park themselves right in the center of it. They not only have the ability to function as natural swimmers, a Capybara will frequently be found sleeping in water as well. It's not uncommon to see one slip underwater asleep and come back up in a splutter. They also have the ability to dive and stay under water up to 5 minutes long, easily getting away from danger on land if needed.
Natural Capabilities
Interestingly, Capybaras are no slow or easy to catch. They can run as fast as 35 kilometers per hour, easily keeping up with a typical horse. They tend to live in herds ranging from 10 to 20 in the wild, and at one point there was a concern they were going to become rare. However, domestic farm-raising of Capybaras solved the problem, and now there are plenty of the rodents available again.
It's not likely that a Capybara will be allowed as a pet in most jurisdictions in the U.S. Many states have laws barring the entry of non-native species to prevent them from causing environmental damage and wiping out a native species. However, if you ever get a chance, spend some time with these creatures in a tame setting. Their willingness to be friendly and inquisitive makes them absolutely interesting to watch, observe and interact with.