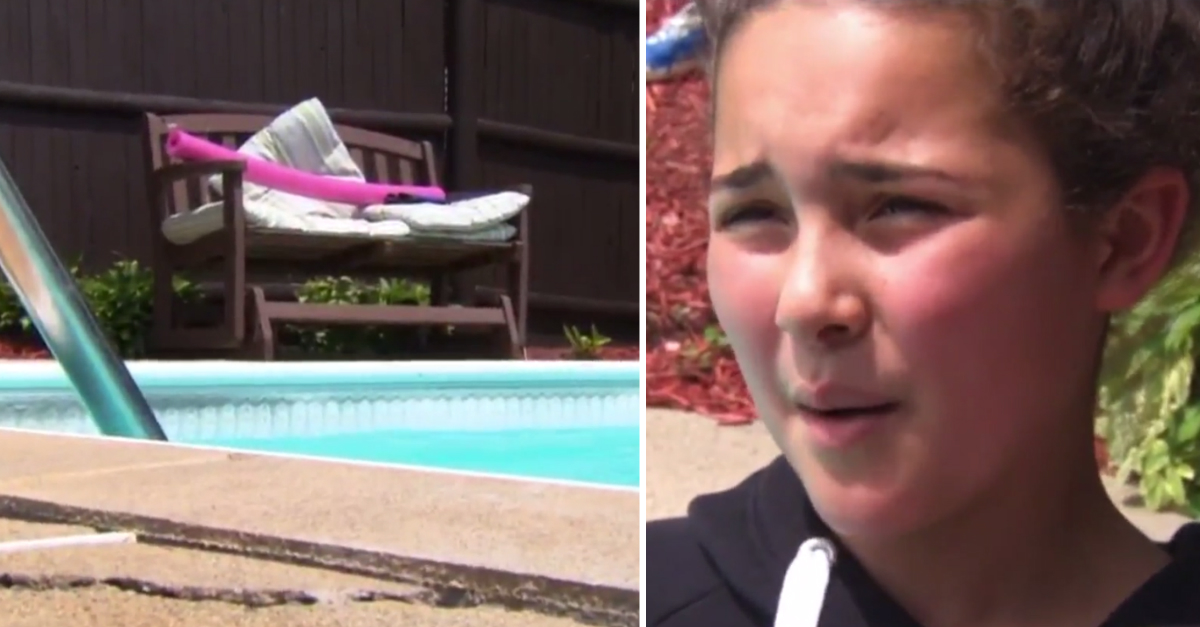 Girls Find Snake by the Pool and Yell for Help, Grandpa Comes to the Rescue
Nothing beats a dip in the water on a hot summer day. Pools are supposed to be clean and safe from the wildlife that might be swimming around in lakes and oceans, making them the ideal place to beat the heat. However, sometimes humans aren't the only thing attracted to the cool clear suburban pools.
Alyssandra Bell and her sister were swimming in her grandfather's pool when she spotted something unbelievable. Underneath the pool bench, taking in the little shade it provided, was a python. Alyssandra told her sister to run into the house and followed close behind her. When they were safely inside, they begin to tell their grandfather what they had seen.
At first, their grandfather didn't believe them. However, seeing how serious and scared the girls were, he decided to see for himself. Bob Bell says he heard the girls cry out "Papa there's a big snake on the deck". He explained the girls made these claims often, and it was normally nothing more alarming than a garter snake or a large earthworm. However, this time the girl's tone was different. They sounded alarmed. Alyssandra Bell admits that she screamed for a few minutes.
When Bob Bell made his way outside, he discovered the reason for the girl's terror. Underneath the chair was a ball python. Pythons are not the sort of animal you expect to find in Salem, but they are often kept as pets. It's believed that the python was let go because it was getting too big for its owner's comfort or it managed to escape its confines on its own.
Alessandra's older brother caught the snake and put it in a bucket, where it awaited animal control. Animal control took the animal and everyone breathed a little easier.
Luckily, pythons are constrictors, so they aren't poisonous. They can pose some dangers, however. They can wrap around a person and cause asphyxiation. They also have sharp teeth designed for pushing prey into their mouth and down their stomach whole. These teeth can leave a nasty bite that requires medical attention.
According to Animal Control Officer Donald Famico, they are friendly snakes and common pets. He explains that because they are nonvenomous, there is no license required to possess them. Often new pet owners underestimate the eventual size of the snake, and are unprepared to care for it into adulthood. Adult pythons require considerable space and food like mice or rabbits, which can quickly add up.
The Bells hope that they don't have any other summer surprises, and can enjoy the refreshing water of their grandfather's swimming pool. Bob Bell says the next time he hears them scream he might take it a little more seriously. He now knows that the most unexpected things can appear right in your own backyard.

Bobcat Visits Homeowner, Brings Her Five Excited Kittens!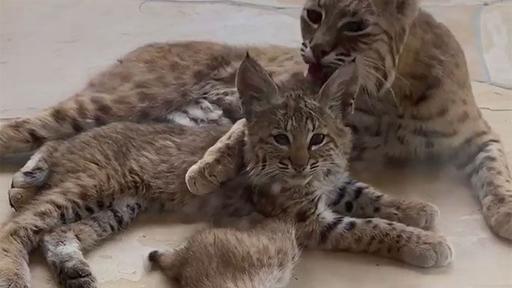 Would you consider yourself a cat person? Do you find yourself drawn to petting or cuddling with just about anything furry? If so, this story might be right up your alley! Earlier this year, a homeowner in the Midwest opened her front porch to find a massive female bobcat on her deck. As bobcats are the most populous wildcat in all of North America, this in and of itself wasn't a shock or a revelation. What came next, however, was as exciting as anything you could hope to find on your porch in the morning.
Before we dive into this exciting story, let's peel back our understanding of wildcats and bobcats. Bobcats are roughly double the size of a traditional house cat and many times more dangerous than their domesticated counterparts. Female bobcats tend to be smaller than their male counterparts, though both genders hover around three feet in length and roughly 20 to 30 pounds in weight. These polygamous animals mate during the winter and will give birth to up to six kittens in roughly two months. From there, the kittens will continue to nurse for an additional two months before eventually leaving home behind after a year.
During their youth, bobcat kittens are blind and as such will stay really close to their parents. After about eight weeks, bobcat kittens are significantly larger and more active. When this mama Bobcat came back to visit the homeowner in question, she brought along her entire litter! If you are a cat person, having a litter of bobcat kittens on your deck has to be a dream come true. Thankfully, the owner of the home went overboard on capturing photographs and we couldn't be happier if we wanted to. Just look at these small beans!
While wildcats aren't exactly rare or reclusive creatures, it is pretty unusual for people to get this close to wild animals. Thanks to the glass screen between the door and the deck, the owner of the home was able to get the kind of pictures that we can only dream of. The homeowner, one Kathy Maniscalco, considered herself as lucky as anyone when the mama Bobcat chose her porch to settle in on. As Kathy watched the kittens, she realized that there were five of them with the young Bobcat — this meant that the mother had nearly a full litter!
Bobcats are crepuscular animals that live relatively solitary lives when they are not mating or raising kittens. Living upwards of 12 to 13 years, bobcats are natural prey to wolves and cougars with bobcat kittens preyed upon by both owls and coyotes. Bobcats don't really have a history of attacking humans because they are fickle and easy to scare. If a bobcat does seem willing to attack a human, it means that they have rabies or are potentially near their kittens. In either situation, creating space is the safest course of action.
How would you react if you found a litter of bobcat kittens on your deck?