Daughter With Cerebral Palsy Becomes Instagram-Famous After Mom Secretly Posts Her Photos Online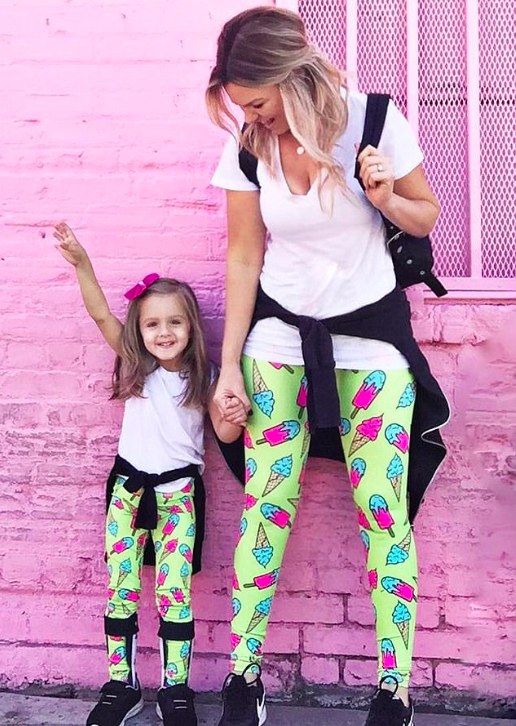 Finley Smallwood from Eastvale, California, a four-year-old daughter to Josh and Christina Smallwood, has become an online sensation with over 112,000 followers on a social media network, Instagram. Finley became so popular on social media due to her efforts to raise awareness of what it feels like growing up with cerebral palsy by donning stylish outfits. Christina, her mom, launched the Instagram campaign secretly without informing her husband or friends, and it quickly went viral, attracting all and sundry from across the globe.
When Josh and Christina found out that their only option to having a baby is domestic abortion, their journey to meeting Finley started. Unfortunately, her mother bled on her brain during birth by a C-section emergency that resulted in the damaging of young Finley's brain. After staying in the hospital for five weeks and distressing her parents a great deal, she was released only to be diagnosed with cerebral palsy at a tender age of 15 months. Since then, she has undergone a series of surgeries due to her condition, but her parents have been very supportive and remained positive about it.
The Cerebral Palsy diagnosis
Finley's parents were warned that their child might develop certain disabilities growing up. The doctors told them that she may develop a condition that will affect her movement, motor skills, and muscle tone. But, their love for their only child kept them inspired, giving her what the world couldn't offer – true love. In an interview with Barcroft TV, Christina said that she fell in love with her daughter the first day she saw her in an incubator.
The life-changing moment is what inspired Christina to scour the internet thoroughly looking for fellow moms who were going through the same ordeal. Although there weren't many stories to write home about, she came across one mother who had a son with a more severe case of cerebral palsy. Since the mom was a huge advocate for her son's condition, Christina thought it will be a good idea to share with the world what it is like to bring up a child with cerebral palsy by starting an Instagram account called FIFI + MOM along with a blog to complement the experience.
Causes and symptoms of Cerebral Palsy
Cerebral Palsy refers to health disorders that affect the body balance, movement, and posture. CP, sometimes referred to as brain paralysis, is often caused by abnormal brain development or damage to some parts of the brain controlling motor activity. The first symptoms that appear in early childhood include difficulty in crawling, sitting, walking, or even rolling over.
The severity of the symptoms varies from mild to profound. Furthermore, cerebral palsy may involve muscle stiffness, uncontrolled body movements, poor muscle tone, and other problems that affect the body posture, walking, swallowing, and speech. Most people with cerebral palsy exhibit normal or above average levels of intelligence. However, their ability to communicate hinders their capacity to express the intelligence. Finley's condition is mild and hasn't affected much of her ability to lead a normal life, apart from movement and muscle tone.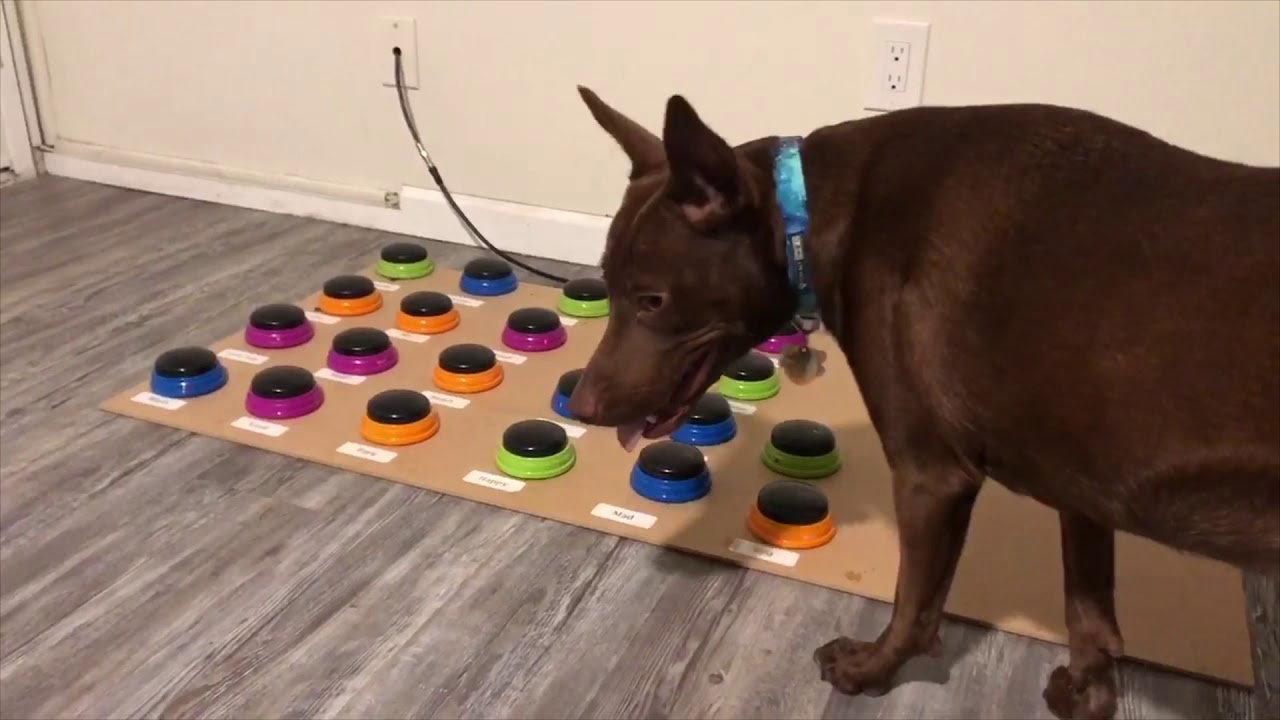 Christina Hunger is a speech pathologist who works with young children around two years old to enhance their ability to communicate with adults. Christina has always wondered if she could teach a puppy to use the word buttons, too. Several years ago, Christina adopted a dog named Stella. She decided to try and see if the same methods she uses for her therapy would also help her puppy to learn to communicate. Many dog owners would like to really understand what their pets are thinking about. Stella uses buttons to communicate her wishes to her owners. Christina can talk with her dog.
Christina set up a group of buttons for Stella to push with her paws. Each button was introduced singularly, and over time Stella learned the meaning of a variety of buttons. The buttons were also grouped by color. Each color represents a particular group of words. Stella can press "walk" or "beach" with her paws to indicate what she wants to do. She can also press buttons for Christina or Jake, her other owner. Stella will walk on the board of 26 buttons as she looks for the one she wants. Stella took the longest to learn her first button. After that, it was much easier to introduce more buttons to the dog.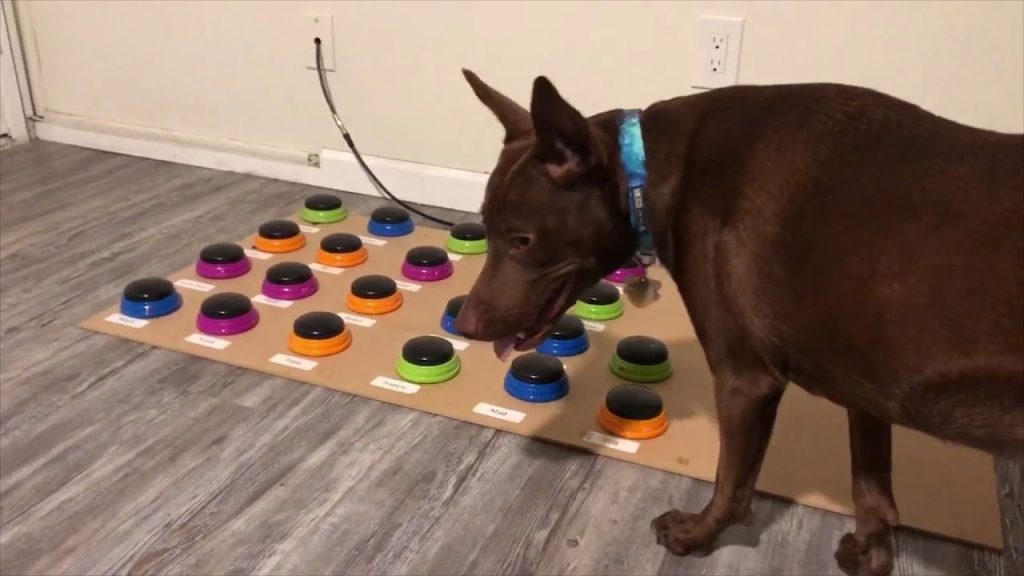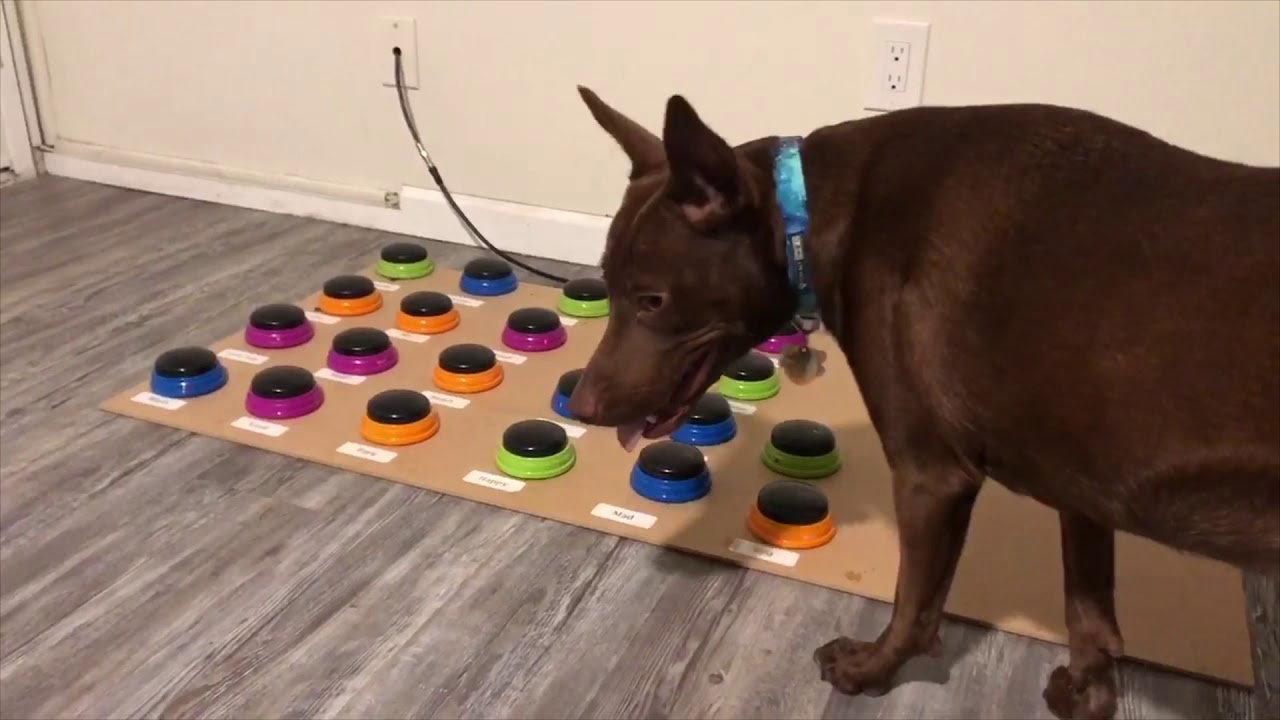 When Stella began to learn to use the buttons, she would only use one paw. Over time, Stella began using both paws to press the buttons. Using both paws makes it easier for Stella to put more than one button together. At this point, she can put a series of five or less words together such as "Christina walk" or "Want Jake Come." Christina feels that the dog showed relief when she finally learned how to punch the buttons for her needs. Stella barks when she hits the buttons, and is able to repeat requests if Christina does not understand her or does not see the dog punch all of her buttons.
Christina has started a blog entitled Hunger for Words where visitors can see the progress of Stella and her buttons. The blog has a number of cool videos of Stella's day. Christina is hoping to teach this method to other dogs and hopes that this method will improve the communication between owners and pets. She also feels that having the board made a recent move easier for Stella to understand. Moves often make pets anxious, but Stella was very calm about their recent move to the beach. Stella intends to introduce more words for Stella to learn.
Stella has been featured in People magazine, which is following the story of Stella from time to time for its readers. For more on Stella, go here to reach Christina's blog. Christina is currently looking for another dog that can learn to push buttons. She is hoping to organize a class of animals and show their owners how to make both of their lives easier.