Creative, Goofy and Unforgettable: Team Dads Find the Perfect Way to Present Their Support of Volleyball Daughters in a Picture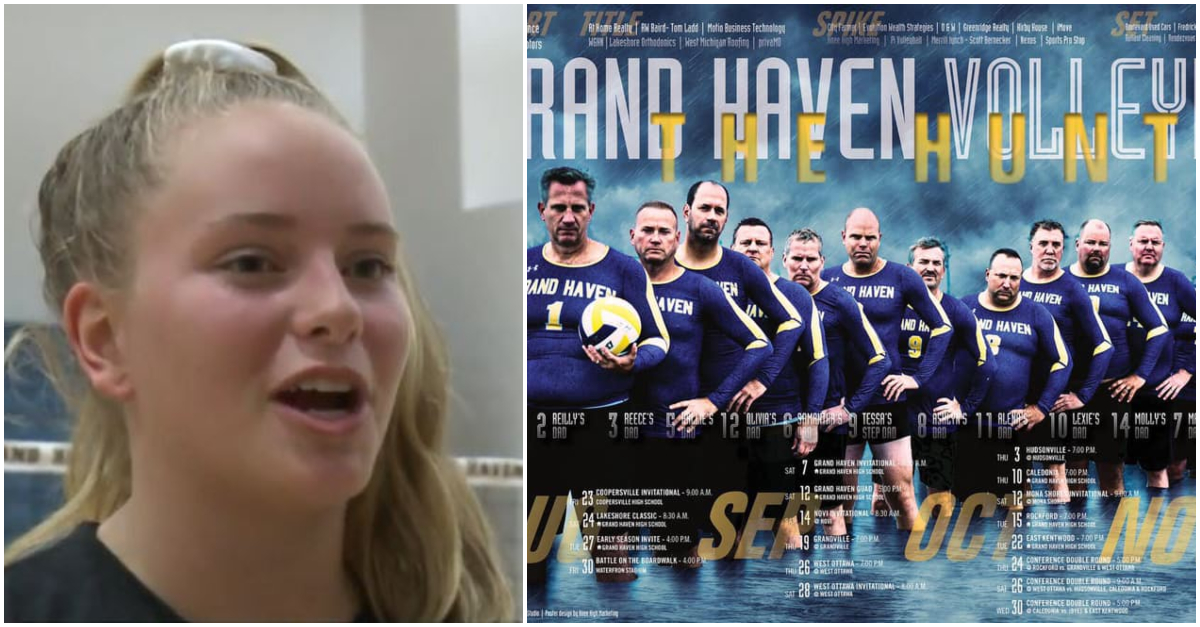 Never Underestimate a Small Town, its Teams and its Parents
A small-town high school girls' volleyball team will never forget the year their fathers looked at the team photo and said, "we can do that!" The photo of Grand Haven, Michigan team members in their jerseys standing in Lake Michigan was a creative classic in itself, perfect for posterity on trophy shelves and in yearbooks. What the fathers did on their own, however, memorialized their own enthusiasm and love for their offspring. It was not only unforgettable, it went viral. That's why you're reading about it now.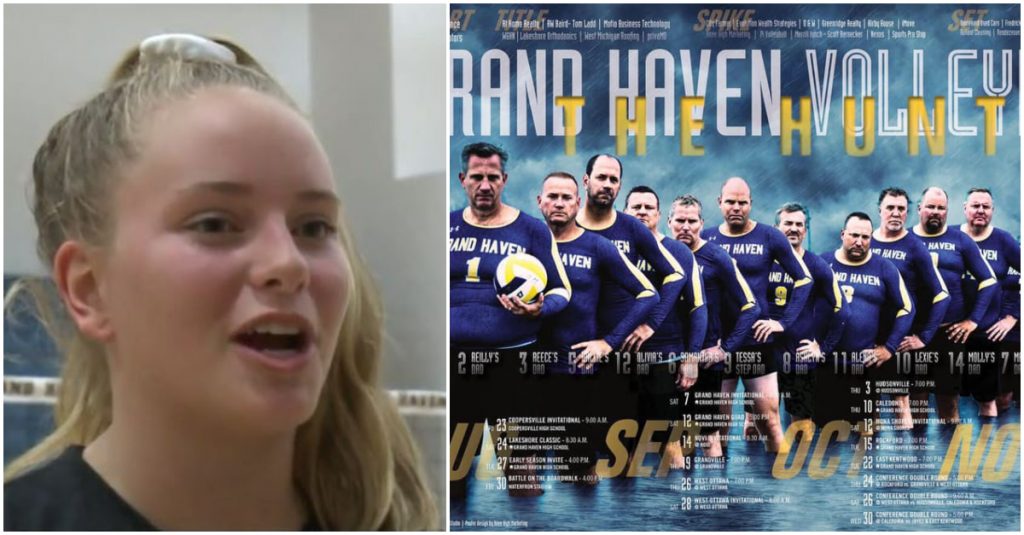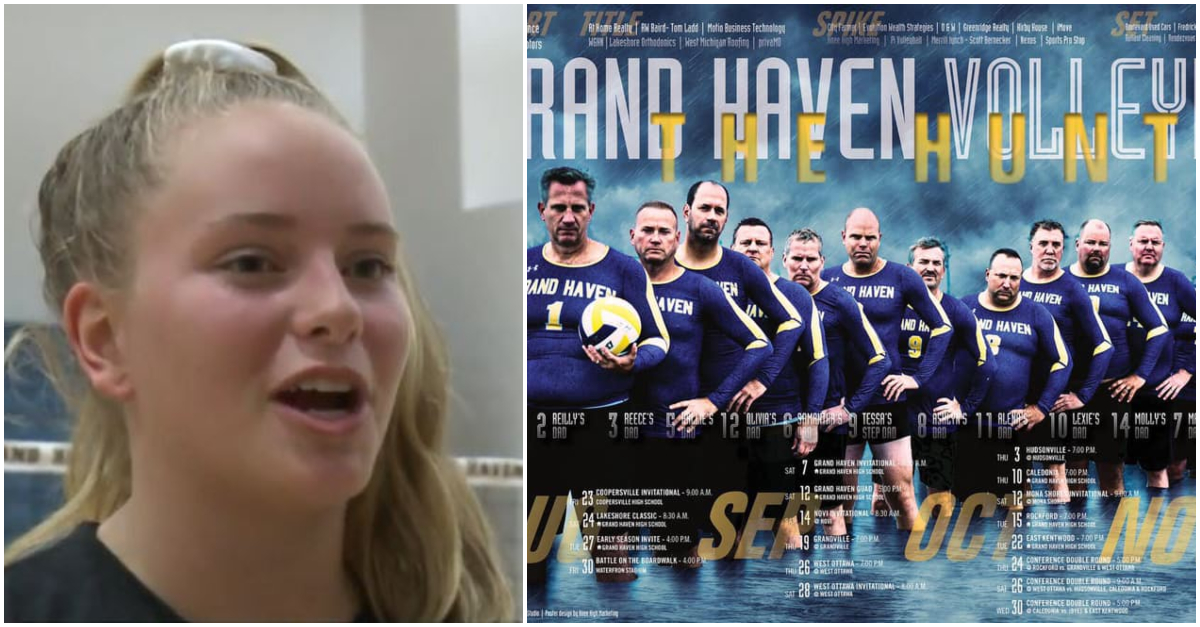 Copycat Flattery of the Strangest Kind
Imitation is the sincerest form of flattery, they say. The Grand Haven fathers must have heard that somewhere and didn't quite get the point. Their effort could easily have been mistaken for satire. They put themselves, approaching middle age, some bearded, some tummy-laden, and definitely not young or female, into a reenacted team photograph. Not by Photoshop — dads Dave Whittaker, Roger Swierbut and others stole their daughters' team jerseys one Saturday morning, went down to the lake (now freezing cold as the season had changed) with the original photographer, and stood in the water, posing.
The Beauty is in the Recreation Dedication
The picture came out perfectly. It really does say "we're so into our kids' dedication to their sport that we're copying their image of pride." The poses are the same: the girls can't help but notice that the fathers were paying close attention in recreating the photo — and that it represents their season-long attention and support of the team. We're there with you, it says, even in ways you didn't expect. If it's the thought that counts, these dads hit the jackpot. Team member Lexie Kallio didn't mind at all — she cheered on the dads' enthusiasm, calling them the best dads ever.
3-2-1 Launch! Wacky Fathers, Going Viral
For some, the amazing part was probably when the picture went viral. From an inside joke between fathers and daughters, it expanded through the power of the internet and reached out both honoring the high schoolers and reminding parents, school administrators and communities about the joy that's found in supporting young people and their athletic dedication. We're there with you, we're a team with you said these goofy fathers, and the daughters, embarrassed as teenagers get, loved on their fathers for breaking through in such a creative way.
What the Volleyball Team and Fathers Story Is and Isn't
Some of the story is in what's not told: the team's energy and unity are celebrated as word spreads with the picture, but the team's numbers aren't nearly as important. Head coach Aaron Smaka thought the whole thing was hilarious. In the end, it seems, the success of humor doesn't mean that winning doesn't matter — but that winning comes in many forms, and in many cases isn't an either/or proposition. It's just a matter of how far you can go in your practice, dedication and celebration, and what memories you can create along the way. But, as the media have pointed out, the copycat picture also immortalized "dad bods" and made them almost cool. Everybody wins.
Too Shallow for Swimming With Sharks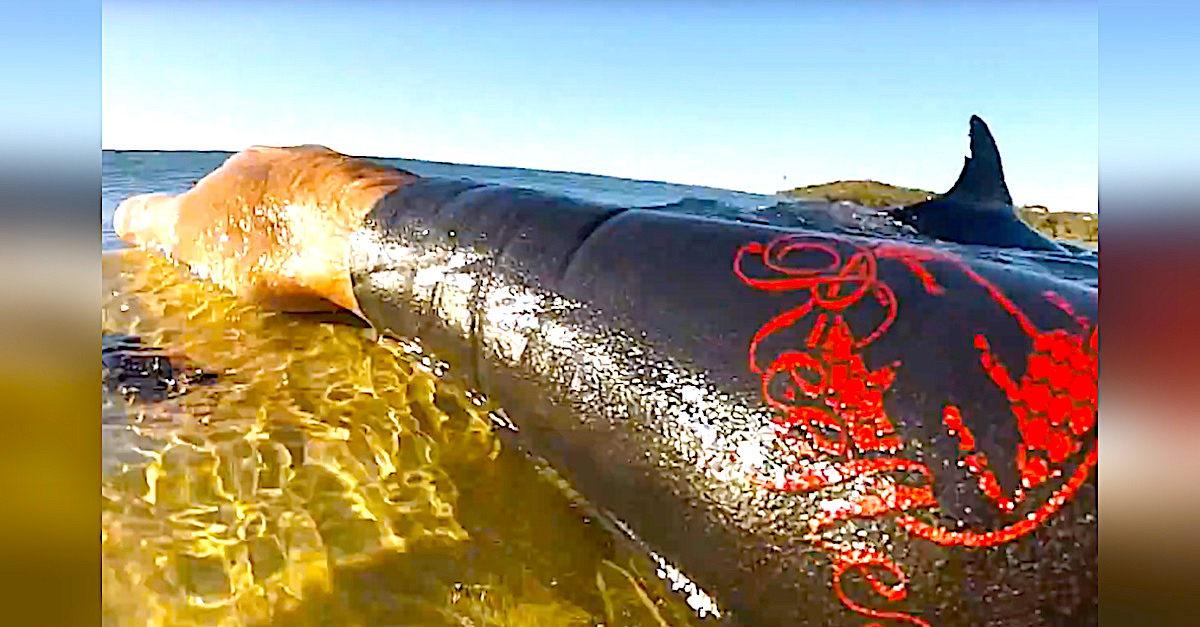 University of Florida student Stefani Luke loved the ocean. She lived to be on the water. She was given a surfboard when she was in high school, but growing up in Ft. Lauderdale didn't offer her much opportunity to ride any exciting waves. Going to college in Gainesville, Florida would provide her with a chance to take weekend trips to the popular beach town, St. Augustine to check out some waves.
One stormy Tuesday, Stefani and some friends heard the news about coastal swells reaching up to five feet. They loaded up their boards and began a caravan. There were 11 kids but only 8 surfboards. She was excited to finally have the chance to use her board on some real waves, but she was also very aware of sharks. She was a biology major, recently working as an intern at the US Fish and Wildlife Service. Most of her work there was done in a lab or in area rivers. The biggest risk at her job had been alligators.
Stefani's love of the ocean and interest in fisheries compelled her to stay abreast of shark activity along the east coast. She knew that in 2019, reports of shark attacks, either provoked or unprovoked, reached nearly 150.
The kids arrived at the beach, ready for some refreshing water and salty air. Today was a day to enjoy a day out of school. They unloaded the boards from their roof racks. Stefani waxed her beloved board alongside her good friends. Since there were more kids there than boards, Stefani offered her board up to a friend to try first. She figured she'd just do a little body surfing to warm up her muscles before fully engaging on her board.
The waves were slightly disappointing. The stories they'd heard about giant waves were exaggerated, topping out at maybe three feet. She swam into the surf and waited. She thought she was a good distance from the surfers with boards. The water was a little colder than expected, and she hadn't brought her wet suit. She swam parallel to the shore for a bit, to warm up. She ended up swimming close to her friend who'd borrowed her board. She waited in the line up, just beyond the breaking point of the waves. She was ready to body surf and catch some waves.
The waves were coming in sets of four. She took the first in a set. It picked her up and she swam with it. As she glided in toward the shore she saw the dark shadow of what she knew was a shark. Everyone knows that you don't panic when you see a shark. You don't thrash around in the water. You don't show signs of distress that signal to a shark that you're easy prey. She forgot all that. All Stefani could think was "I don't want to get eaten by a shark today!" She swam for her life. She swam fast, and probably a little crazy.
The realization of her frenzy made her calm down slightly. She dropped the panicky swimming. She stopped swimming to realize that she was only in about a foot of water! She felt very silly, probably looking like a fool to anyone who might've seen this spectacle.
She stood in the water to see her friend that had borrowed her board. Her friend asked with excitement, "Did you see that shark?!" Stefani acknowledged that she had in fact seen it. Her friend offered her the board back. Stefani declined, "No thanks. I like my legs. I like walking". It was at that moment that Stefani gave her board away. She was done surfing and never tried it again.