Creative, Goofy and Unforgettable: Team Dads Find the Perfect Way to Present Their Support of Volleyball Daughters in a Picture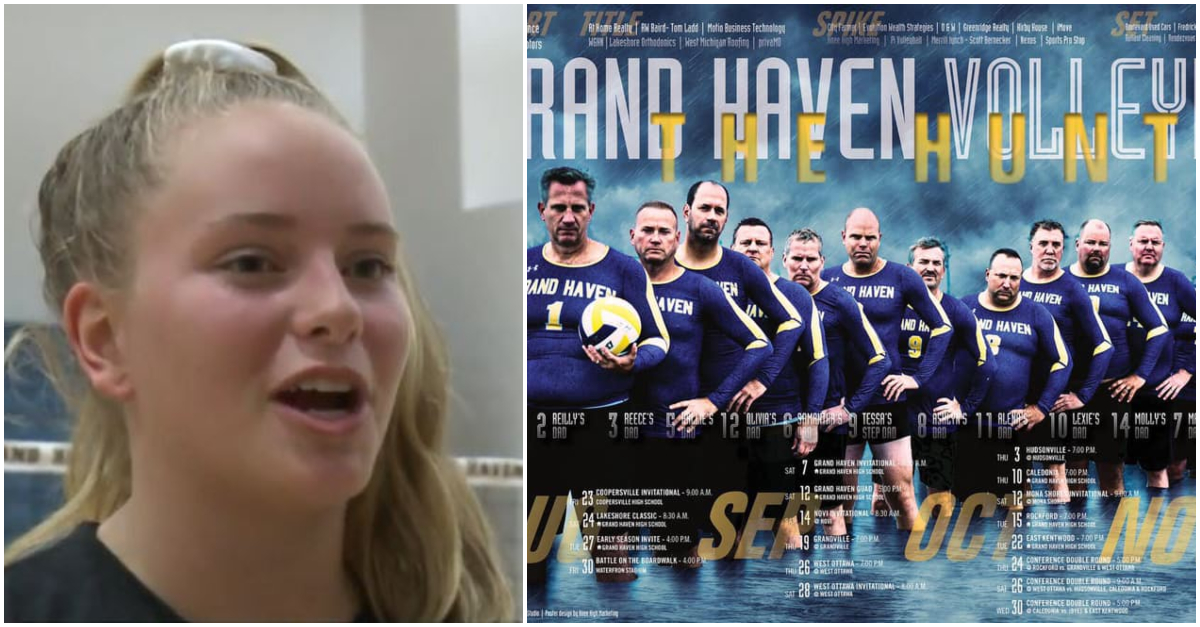 Never Underestimate a Small Town, its Teams and its Parents
A small-town high school girls' volleyball team will never forget the year their fathers looked at the team photo and said, "we can do that!" The photo of Grand Haven, Michigan team members in their jerseys standing in Lake Michigan was a creative classic in itself, perfect for posterity on trophy shelves and in yearbooks. What the fathers did on their own, however, memorialized their own enthusiasm and love for their offspring. It was not only unforgettable, it went viral. That's why you're reading about it now.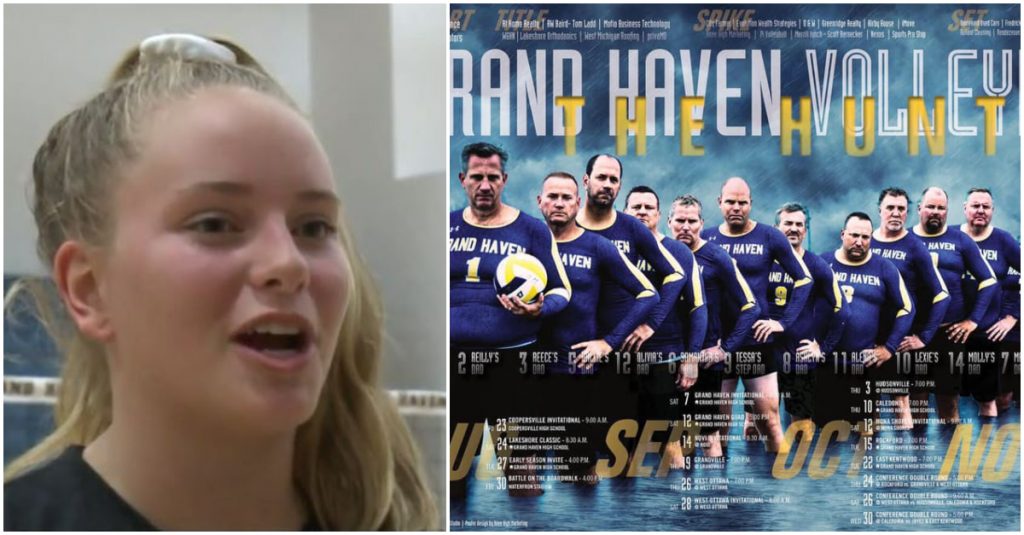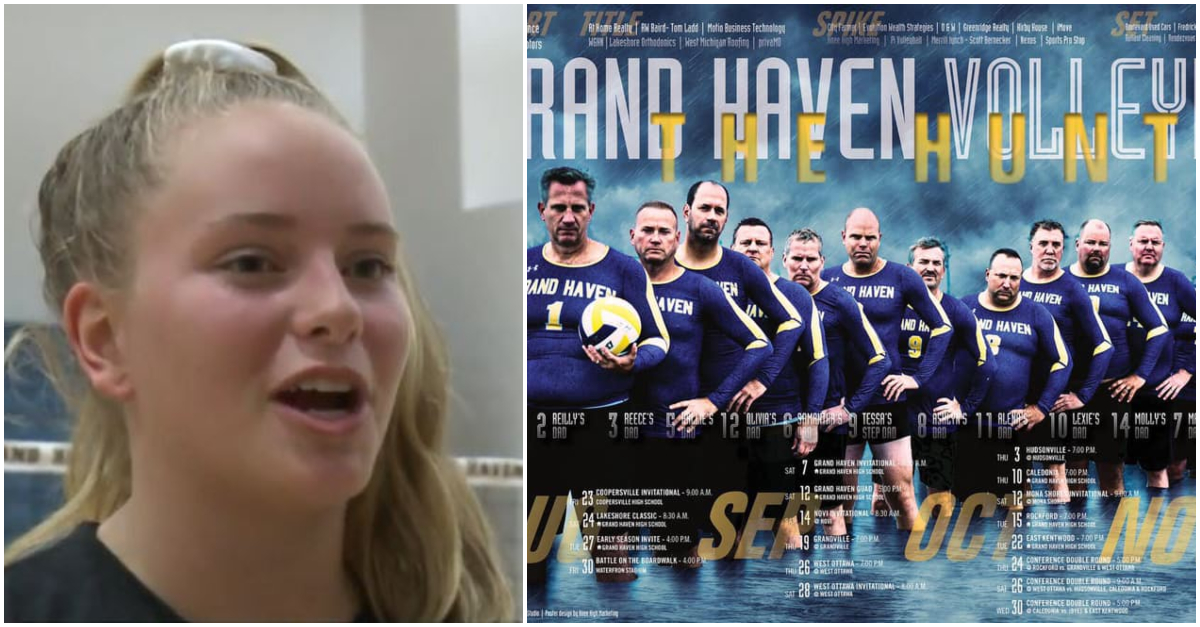 Copycat Flattery of the Strangest Kind
Imitation is the sincerest form of flattery, they say. The Grand Haven fathers must have heard that somewhere and didn't quite get the point. Their effort could easily have been mistaken for satire. They put themselves, approaching middle age, some bearded, some tummy-laden, and definitely not young or female, into a reenacted team photograph. Not by Photoshop — dads Dave Whittaker, Roger Swierbut and others stole their daughters' team jerseys one Saturday morning, went down to the lake (now freezing cold as the season had changed) with the original photographer, and stood in the water, posing.
The Beauty is in the Recreation Dedication
The picture came out perfectly. It really does say "we're so into our kids' dedication to their sport that we're copying their image of pride." The poses are the same: the girls can't help but notice that the fathers were paying close attention in recreating the photo — and that it represents their season-long attention and support of the team. We're there with you, it says, even in ways you didn't expect. If it's the thought that counts, these dads hit the jackpot. Team member Lexie Kallio didn't mind at all — she cheered on the dads' enthusiasm, calling them the best dads ever.
3-2-1 Launch! Wacky Fathers, Going Viral
For some, the amazing part was probably when the picture went viral. From an inside joke between fathers and daughters, it expanded through the power of the internet and reached out both honoring the high schoolers and reminding parents, school administrators and communities about the joy that's found in supporting young people and their athletic dedication. We're there with you, we're a team with you said these goofy fathers, and the daughters, embarrassed as teenagers get, loved on their fathers for breaking through in such a creative way.
What the Volleyball Team and Fathers Story Is and Isn't
Some of the story is in what's not told: the team's energy and unity are celebrated as word spreads with the picture, but the team's numbers aren't nearly as important. Head coach Aaron Smaka thought the whole thing was hilarious. In the end, it seems, the success of humor doesn't mean that winning doesn't matter — but that winning comes in many forms, and in many cases isn't an either/or proposition. It's just a matter of how far you can go in your practice, dedication and celebration, and what memories you can create along the way. But, as the media have pointed out, the copycat picture also immortalized "dad bods" and made them almost cool. Everybody wins.
Why More People Are Finding Snakes Hiding in Their Toilet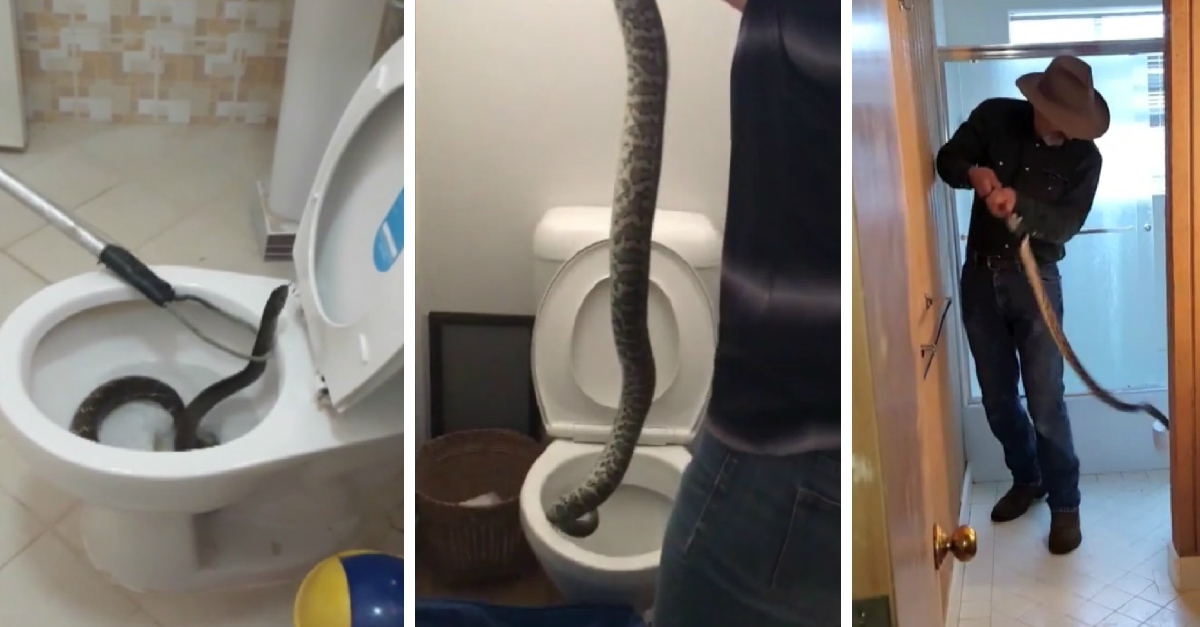 Sitting down on the toilet and then realizing there is a snake in there. It's a scene from a horror movie and can be anyone's worst fear. Snakes hiding in toilets are becoming more and more common.
The latest story making the headlines is from Mike Green in North Carolina, who says he has pulled six snakes out of his toilet in the past four years. This is not the only example. Country singer Brett Eldredge recently shared that he walked in the bathroom where he was staying on vacation in the Bahamas and found a snake in the toilet bowl. There are plenty of stories of pythons hiding out in toilets in Australia.
There is a reason why this is happening. A former plumber and curator of reptiles at the Los Angeles Zoo is sharing the reason. He says that snakes are sleek animals and it's easy for them to fit into tight spaces in their current environment. Snakes feel more at home when they are in a dark, tight space. When they get into a pipe, they feel good about it and it's easy to navigate through the sewer system and then find their way up the pipes into someone's toilet. Snakes get in through the ventilation pipes on the roof. Since the bathroom plumbing is usually connected through the ventilation pipes the snake slithers its way through the system and into the bathroom. It's easy for snakes to slither up anything that will lead them to the roof, such as a tree. If you have a tree that is close to your roof and the ventilation pipe then it can increase your chances of having a snake in the bathroom
If you are wondering what to do if a snake gets in your toilet, know that flushing it away won't work. If you do find a snake in your toilet then call animal control. Animal control can help you get rid of the snake but can also identify the snake. While the good news is that most snakes are harmless, there is a chance you could have a dangerous one. Don't be a hero and handle it yourself, just in case it is dangerous.
If you want to avoid snakes in your toilet, there are simple things you can do. Find a way to make sure the ventilation is covered but that it is still able to do the job it is intended to do. By having some sort of block, such as wire covering and mesh, it not only prevents snakes from getting in but also other pests, like rats. You can also install a roof vent hood. These hoods help protect the venting and keep any creepy pests out. Who would have thought that you actually needed to take care of issues on the roof in order to prevent snakes from slithering through the pipes? If you are truly worried then you can invest in a multi-flap that fits over the toilet pipe and allows waste and water to exit but keeps critters out.
Keep in mind if you live in an area that is prone to snakes then this issue may be more common and you may already know how to deal with it. Many snakes that find their way into a toilet are not native to the area where they were found. It's likely they escaped or were let free by their owners that no longer wanted them and they choose your pipes as a nest. Many snakes aren't able to survive in the main sewer pipe for very long since there can be relatively low temperatures below the ground where pipes are located, making it unlikely that they actually set up their home in a main sewer line.