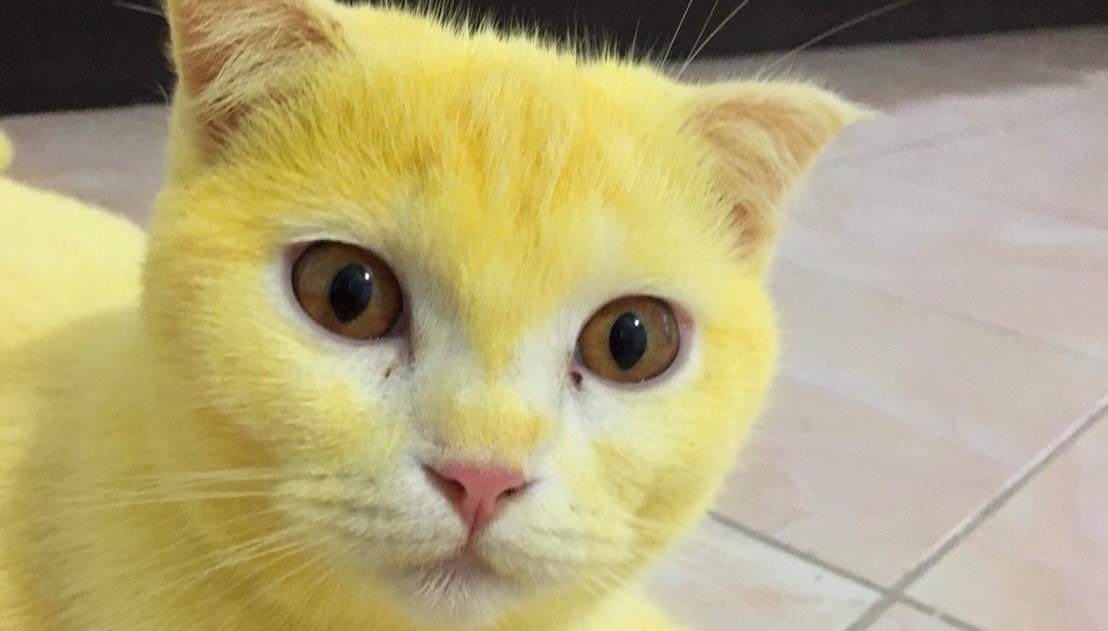 Cat Turns UNEXPECTED COLOR After Undergoing Treatment For Fungal Infection!
Did you know that as of 2018 there were more than 183.9 million dogs and cats in the United States alone? It's true! In the United States of America, pets are common and beloved by families from one coast to the next. Despite having so many pets in the country, pet insurance covers only around 1.2% of all pets! What does this mean? Well, when your kitty gets sick then you are going to have to pay out of pocket. For one pet-owner in Thailand, treating their cat for a fungal infection turned into quite the experience and we aren't just talking about expenses. If you love turmeric and love cats, you are about to get the perfect story. Let's jump right in!
When one woman in Thailand noticed that her cat was struggling with an infection, she wasn't entirely sure as to what to do. Like people in the United States, this cat owner didn't have any pet insurance and she sure wasn't in a hurry to lose her finances over a potentially minimal problem. Upon inspecting her cat, she noticed that the furry little animal had been struggling with a minor fungal infection. Infections can quickly get out of hand, so it is important to act as soon as you are made aware of them.
As the cat owner from Thailand looked over her pet, she realized that fungal infections could be treated through household remedies. After spending some time on the internet, the pet owner would find a remedy that included a turmeric rub. While her cat wasn't going on the grill, it certainly would smell like the inside of her pantry after this treatment! Understanding that the treatment wouldn't harm her cat, the owner began to make a paste out of the common kitchen spice before coating her cat's wound with the medicine.
According to the recipe that the cat owner had followed, side-effects were incredibly unlikely. Still, the pet owner was careful as she applied the paste liberally from one section of her cat's tail all the way to her furry little head. The poor cat and lady would undergo a shocking revelation when they realized that the turmeric had died the cat's fur yellow! The cat, named Ka-Pwong, would end up recovering from the fungal infection but their yellow fur would not be forgotten.
After taking a few pictures of Ka-Pwong, the cat owner would share the images on the web where they would quickly go viral. The cat's entire coat would be colored a bright yellow with streaks of orange. Ka-Pwong, typically a white cat, ended up looking like the very clone of a real life Pikachu! Thankfully, the cool coat was not the only benefit that Ka-Pwong received. The turmeric ended up aiding the healing process while preventing Ka-Pwong from licking the wounds. Now, Ka-Pwong is free from infection and instead viral on the internet!
What do you think of Ka-Pwong's yellow coat? Would you want your own 'Pikachu' in the future?!
An Exciting Sky Diving Video In An Inflatable Raft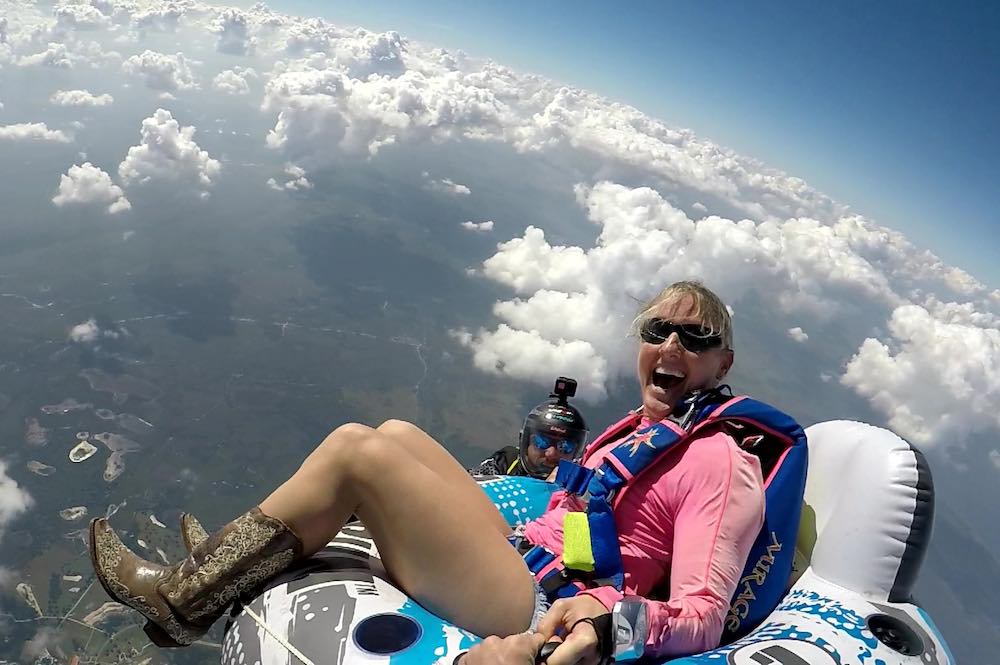 Lots of people would love to know exactly what it's like to go sky diving. However, it's obviously the sort of experience that has been traditionally been difficult to accurately record. The actual sky dive itself might seem like it lasts longer than it does to the people who are actually experiencing the event. However, objectively speaking, it usually won't take all that long. The moment is over so quickly that it's easy for it to get lost.
However, technology is constantly improving, and it's giving individuals everywhere the chance to see a lot of very different events from purely original perspectives. For a long time, the people who have never traveled have been able to see different places remotely.
Obviously, the experience of going there in person will be different in a lot of ways. However, it's still possible for people to learn a lot by seeing high-quality images and videos. Traveling is expensive, and many of the people who are interested in activities like sky diving are concerned about some of the associated risks. It's possible to reduce the risks associated with sky diving, and the costs associated with travel.
However, the people who have a more casual interest in sky diving might just want to get a more basic idea of what it's like. With this new footage, they might finally get the chance to do so accurately.
The woman in this video has actually leaped out of an airplane from an altitude of thirteen thousand and five hundred feet. She was seated inside an inflatable ring made from rubber at the time. Her name is Robin Moore, and this footage of her will be seen by millions of people now. It's just the sort of video that gets viewed over and over again over the years, since it's just not the sort of thing that gets seen on film all that often.
A lot of people get nervous when they sky dive, even if they were excited about it initially. They might be happy right up until they're actually about to literally make the leap, at which point they panic or get terribly nervous at least. This was not the case for Robin Moore, which is one of the many reasons why this was such a great video. She seemed absolutely ecstatic the entire time, which really comes through in the images themselves.
This occurred in Florida at River Ranch, and the raft was being stabilized by Robin Moore's friends. Interestingly, Robin Moore is a physician who works in the emergency room. She's clearly a person who is used to being in a lot of stressful situations and working in an environment with high stakes and more.
For someone in her profession, something like sky diving might not be all that scary. It would explain why she was able to take to an activity like this so easily. Raft jumps involving sky diving are not entirely standard, but they still happen. It seems that Robin Moore is a person who enjoys challenging activities even when not at work. This is an activity and experience that she was able to share with the world.
The fact that she was and is so enthusiastic only improves the quality of the video. While some people may have been interested in footage that captured a different range of emotions, many other people would want to see someone having fun with this sort of activity, which was clearly the case here. A lot of people would like to know what it is like to do something like sky diving, and it is now possible to at least have an idea after footage like this has been made available to the world.