Bride Gets Stuck In Elevator And Nearly Misses Reception As Firemen Rush To Pry Her Out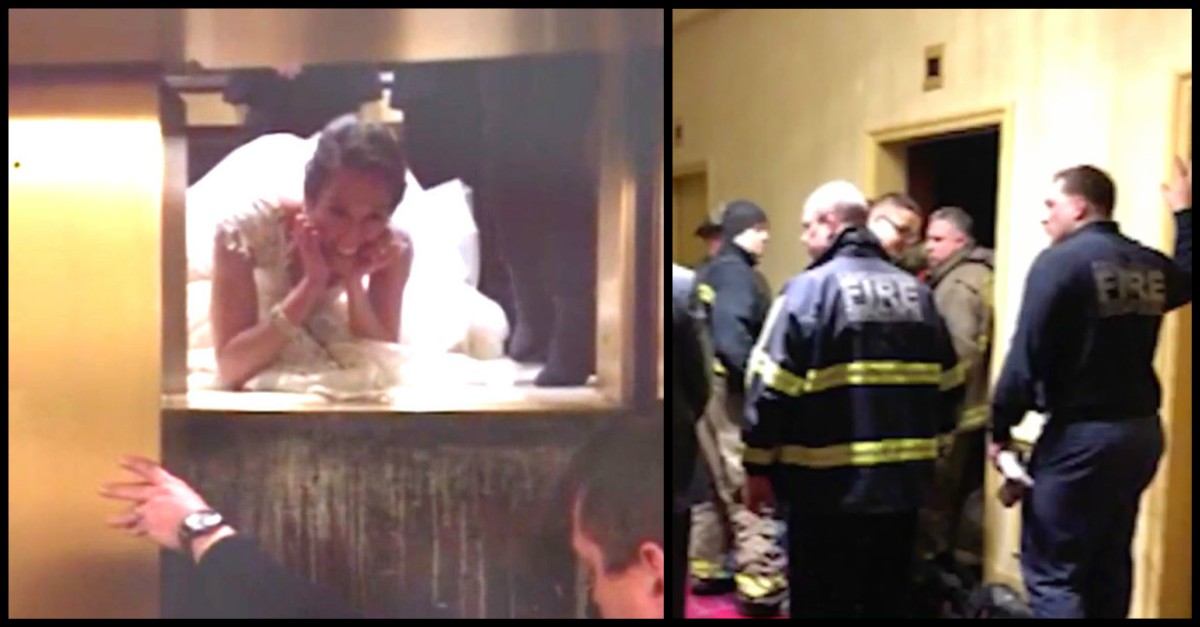 Have you ever thought how it would look like when you are stuck in an elevator just when you are the awaited guest? Well, this sounds crazy. But before you think and say that its hefty crazy, have you ever heard of the bride who got stuck in an elevator nearly missing reception as firemen hurry to pry her out? If not, I have this enthusing story for you. This was Melissa Rodgers, Justin's bride on their wedding day that they couldn't wait to celebrate with their friends and family.
Melissa boarded an elevator to the 18th floor of the Providence Biltmore hotel in Rhode Island to freshen up before reception when a slight technical issue made the elevator to stop suddenly just four feet away from her destination. Everyone was eager to see the bride, but she ended up missing her cocktail hour because of the incident. The reception was scheduled to take place on the seventh floor.
Melissa said, "I asked Justin to go find my bridesmaids and tell them to meet me on the 18th floor with the wedding coordinator". "We moved on and heard an alarming sound that said that we were on the 18th floor, but the door couldn't open to let us out", she added.
The bride said that she thought that the elevator's door would open after a couple of minutes only for it to turn down her expectations. According to Melissa, a bridesmaid alerted her husband that a 'situation' was going on shortly afterward. It's then that Justin's wedding coordinators began contacting the hotel for help.
Soon the firemen were called and immediately arrived at the scene and started prying the doors to get the bride out and make her way to her reception. The firemen were ready and devoted to getting Melissa out of the elevator but couldn't find an efficient way of doing it without damaging the wedding gown.
So sad that in the meantime the bride had to have her whole cocktail hour in the elevator wondering how much longer she would be in there. However, the fire team managed to pry out the door and now she could talk to her guests. "Everyone on the 17th floor could get me some glasses of champagne, so that was quite nice", she said. Luckily, a technician showed up some minutes later and got the messy elevator working again, a process that took 45 minutes. Rodgers must have been firm that she didn't let the whole thing get her down.
Rodgers reported that the reception started 20 minutes late although everything ran smoothly and finally she made it. "I was extremely excited and relieved. It was unfortunate, but it's going to be a great memory," she said.
And indeed it's going to be a memory to many. Such an incidence is recorded in very minimal instances. Melissa must have been unlucky to miss her cocktail hour or lucky to have such a fantastic memory of her wedding. Imagine you were Melissa, how would you feel?
Why More People Are Finding Snakes Hiding in Their Toilet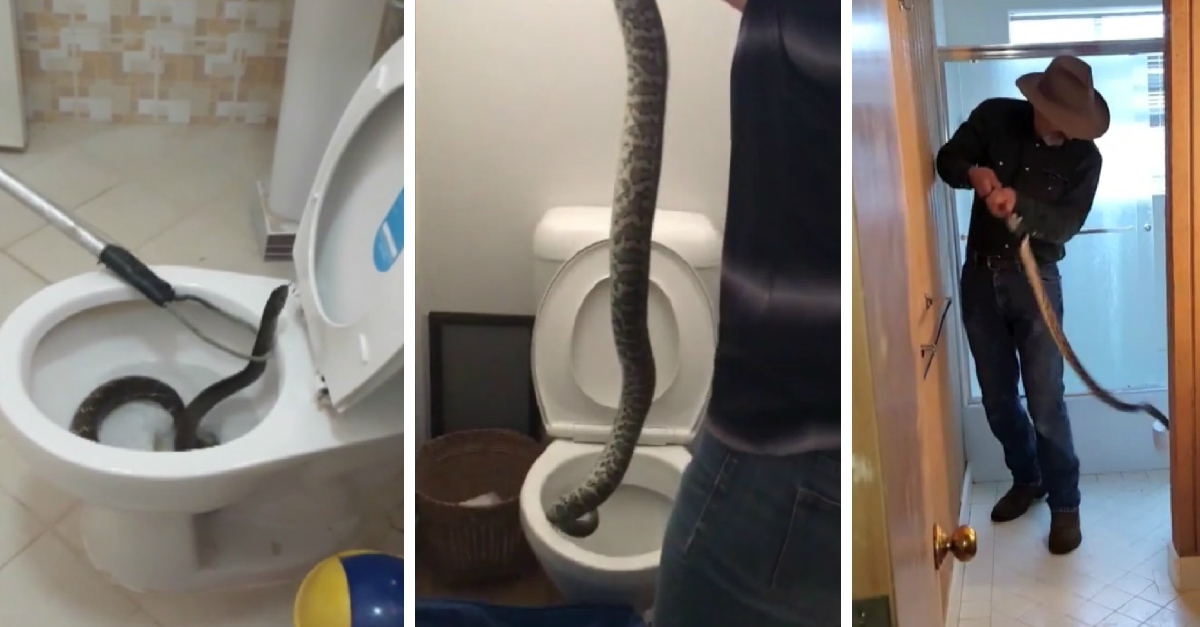 Sitting down on the toilet and then realizing there is a snake in there. It's a scene from a horror movie and can be anyone's worst fear. Snakes hiding in toilets are becoming more and more common.
The latest story making the headlines is from Mike Green in North Carolina, who says he has pulled six snakes out of his toilet in the past four years. This is not the only example. Country singer Brett Eldredge recently shared that he walked in the bathroom where he was staying on vacation in the Bahamas and found a snake in the toilet bowl. There are plenty of stories of pythons hiding out in toilets in Australia.
There is a reason why this is happening. A former plumber and curator of reptiles at the Los Angeles Zoo is sharing the reason. He says that snakes are sleek animals and it's easy for them to fit into tight spaces in their current environment. Snakes feel more at home when they are in a dark, tight space. When they get into a pipe, they feel good about it and it's easy to navigate through the sewer system and then find their way up the pipes into someone's toilet. Snakes get in through the ventilation pipes on the roof. Since the bathroom plumbing is usually connected through the ventilation pipes the snake slithers its way through the system and into the bathroom. It's easy for snakes to slither up anything that will lead them to the roof, such as a tree. If you have a tree that is close to your roof and the ventilation pipe then it can increase your chances of having a snake in the bathroom
If you are wondering what to do if a snake gets in your toilet, know that flushing it away won't work. If you do find a snake in your toilet then call animal control. Animal control can help you get rid of the snake but can also identify the snake. While the good news is that most snakes are harmless, there is a chance you could have a dangerous one. Don't be a hero and handle it yourself, just in case it is dangerous.
If you want to avoid snakes in your toilet, there are simple things you can do. Find a way to make sure the ventilation is covered but that it is still able to do the job it is intended to do. By having some sort of block, such as wire covering and mesh, it not only prevents snakes from getting in but also other pests, like rats. You can also install a roof vent hood. These hoods help protect the venting and keep any creepy pests out. Who would have thought that you actually needed to take care of issues on the roof in order to prevent snakes from slithering through the pipes? If you are truly worried then you can invest in a multi-flap that fits over the toilet pipe and allows waste and water to exit but keeps critters out.
Keep in mind if you live in an area that is prone to snakes then this issue may be more common and you may already know how to deal with it. Many snakes that find their way into a toilet are not native to the area where they were found. It's likely they escaped or were let free by their owners that no longer wanted them and they choose your pipes as a nest. Many snakes aren't able to survive in the main sewer pipe for very long since there can be relatively low temperatures below the ground where pipes are located, making it unlikely that they actually set up their home in a main sewer line.