Bride Gets Stuck In Elevator And Nearly Misses Reception As Firemen Rush To Pry Her Out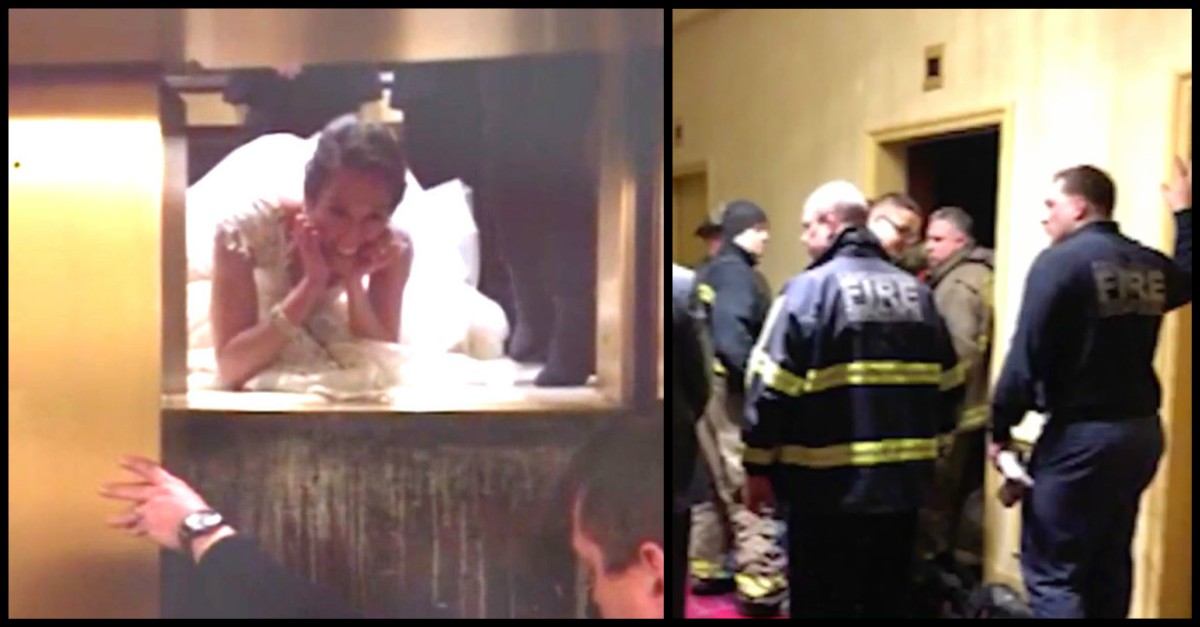 Have you ever thought how it would look like when you are stuck in an elevator just when you are the awaited guest? Well, this sounds crazy. But before you think and say that its hefty crazy, have you ever heard of the bride who got stuck in an elevator nearly missing reception as firemen hurry to pry her out? If not, I have this enthusing story for you. This was Melissa Rodgers, Justin's bride on their wedding day that they couldn't wait to celebrate with their friends and family.
Melissa boarded an elevator to the 18th floor of the Providence Biltmore hotel in Rhode Island to freshen up before reception when a slight technical issue made the elevator to stop suddenly just four feet away from her destination. Everyone was eager to see the bride, but she ended up missing her cocktail hour because of the incident. The reception was scheduled to take place on the seventh floor.
Melissa said, "I asked Justin to go find my bridesmaids and tell them to meet me on the 18th floor with the wedding coordinator". "We moved on and heard an alarming sound that said that we were on the 18th floor, but the door couldn't open to let us out", she added.
The bride said that she thought that the elevator's door would open after a couple of minutes only for it to turn down her expectations. According to Melissa, a bridesmaid alerted her husband that a 'situation' was going on shortly afterward. It's then that Justin's wedding coordinators began contacting the hotel for help.
Soon the firemen were called and immediately arrived at the scene and started prying the doors to get the bride out and make her way to her reception. The firemen were ready and devoted to getting Melissa out of the elevator but couldn't find an efficient way of doing it without damaging the wedding gown.
So sad that in the meantime the bride had to have her whole cocktail hour in the elevator wondering how much longer she would be in there. However, the fire team managed to pry out the door and now she could talk to her guests. "Everyone on the 17th floor could get me some glasses of champagne, so that was quite nice", she said. Luckily, a technician showed up some minutes later and got the messy elevator working again, a process that took 45 minutes. Rodgers must have been firm that she didn't let the whole thing get her down.
Rodgers reported that the reception started 20 minutes late although everything ran smoothly and finally she made it. "I was extremely excited and relieved. It was unfortunate, but it's going to be a great memory," she said.
And indeed it's going to be a memory to many. Such an incidence is recorded in very minimal instances. Melissa must have been unlucky to miss her cocktail hour or lucky to have such a fantastic memory of her wedding. Imagine you were Melissa, how would you feel?
Kate Middleton Changes Her Style for Charity!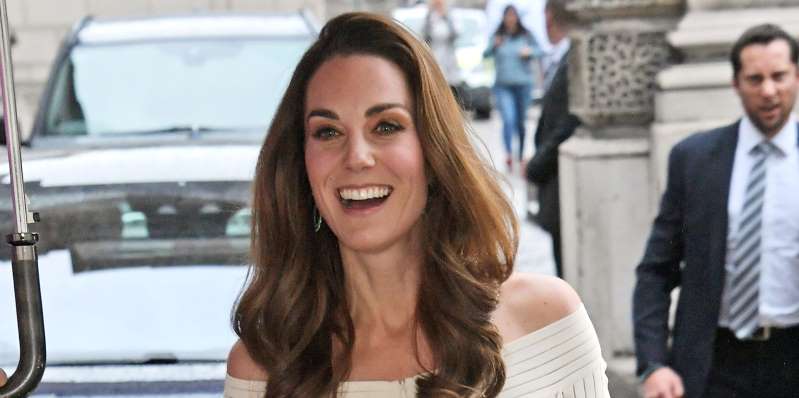 If you have paid any measure of attention to the Royal Family in recent years, you are well aware of the influence that Kate Middleton has. Kate Middleton is the Duchess of Cambridge and one of the foremost fashion trendsetters in the entire country. Middleton, who likes to keep her hair straight and red, occasionally enjoys switching things up. When Middleton DOES decide to switch things up, her followers are quick to notice. Today, we are going to be talking about how Middleton's newest hairstyle is making a huge impact on her charity work — in the best way possible.
Kate Middleton has long had an iconic, signature look. The Duchess of Cambridge isn't shy about how much she likes having her straight red locks. However, Middleton does enjoy changing things up, even if only a little. For the summer of 2019, Middleton decided to act on her fashion impulses in order to support a good cause. With the Addiction Awareness Week Gala Dinner coming up, in London, of course, Middleton decided to add new caramel colored highlights to her hair. While this may seem like a small change, nothing that the Duchess of Cambridge does is really ever to be considered 'small'.
Middleton's new hairstyle was unveiled during a speech at the Addiction Awareness Week Gala Dinner. Kate would talk extensively about her faith in the work being done at Action on Addiction. Middleton went on to point out that the foundation was one of the very first patronages that she ever took under her wing. As such, Middleton went on to point out how passionate and supportive she was of the work being done at the charity. While Middleton's caramel colored highlights stole the show, she also side-parted her hair along with a big blowout. To say that Middleton was catching the attention of everyone in the room would be an understatement! For people who don't regularly follow Middleton, her regular hairstyle is significantly different from the one she employed during the Gala. Typically, Middleton favors straight red hair that is pulled back into a gentle bun. Middleton loves to balance a professional look with just a tiny bit of glam.
For those that aren't aware, Action on Addiction is a UK-based charity that is focused on helping people who have been impacted by alcohol and drug addiction. Action on Addiction isn't only a support network, the charity also works to research treatments, employ prevention techniques, and support aftercare techniques in order to help those that have suffered as a result of their chemical dependency. Kate Middleton got involved with the charity pretty much as soon as she came into the public spotlight, so it is easy to understand why she was so passionate about her support of the group doing her speech during Addiction Awareness Week.