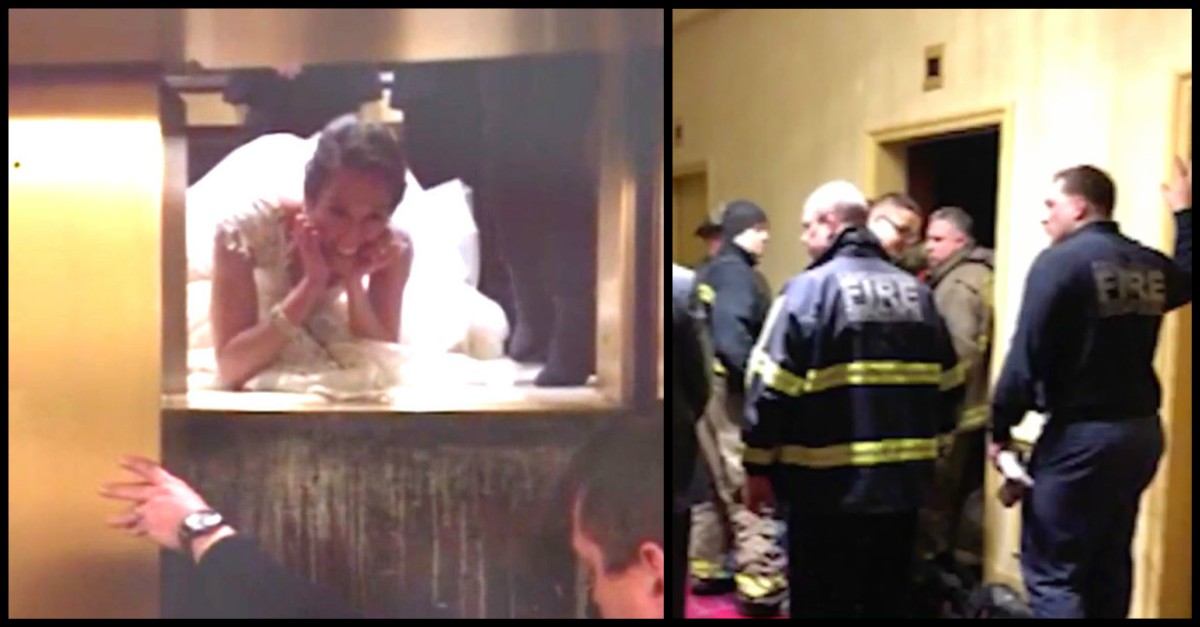 Bride Gets Stuck In Elevator And Nearly Misses Reception As Firemen Rush To Pry Her Out
Have you ever thought how it would look like when you are stuck in an elevator just when you are the awaited guest? Well, this sounds crazy. But before you think and say that its hefty crazy, have you ever heard of the bride who got stuck in an elevator nearly missing reception as firemen hurry to pry her out? If not, I have this enthusing story for you. This was Melissa Rodgers, Justin's bride on their wedding day that they couldn't wait to celebrate with their friends and family.
Melissa boarded an elevator to the 18th floor of the Providence Biltmore hotel in Rhode Island to freshen up before reception when a slight technical issue made the elevator to stop suddenly just four feet away from her destination. Everyone was eager to see the bride, but she ended up missing her cocktail hour because of the incident. The reception was scheduled to take place on the seventh floor.
Melissa said, "I asked Justin to go find my bridesmaids and tell them to meet me on the 18th floor with the wedding coordinator". "We moved on and heard an alarming sound that said that we were on the 18th floor, but the door couldn't open to let us out", she added.
The bride said that she thought that the elevator's door would open after a couple of minutes only for it to turn down her expectations. According to Melissa, a bridesmaid alerted her husband that a 'situation' was going on shortly afterward. It's then that Justin's wedding coordinators began contacting the hotel for help.
Soon the firemen were called and immediately arrived at the scene and started prying the doors to get the bride out and make her way to her reception. The firemen were ready and devoted to getting Melissa out of the elevator but couldn't find an efficient way of doing it without damaging the wedding gown.
So sad that in the meantime the bride had to have her whole cocktail hour in the elevator wondering how much longer she would be in there. However, the fire team managed to pry out the door and now she could talk to her guests. "Everyone on the 17th floor could get me some glasses of champagne, so that was quite nice", she said. Luckily, a technician showed up some minutes later and got the messy elevator working again, a process that took 45 minutes. Rodgers must have been firm that she didn't let the whole thing get her down.
Rodgers reported that the reception started 20 minutes late although everything ran smoothly and finally she made it. "I was extremely excited and relieved. It was unfortunate, but it's going to be a great memory," she said.
And indeed it's going to be a memory to many. Such an incidence is recorded in very minimal instances. Melissa must have been unlucky to miss her cocktail hour or lucky to have such a fantastic memory of her wedding. Imagine you were Melissa, how would you feel?
Big Plans For The Goonies House In Oregon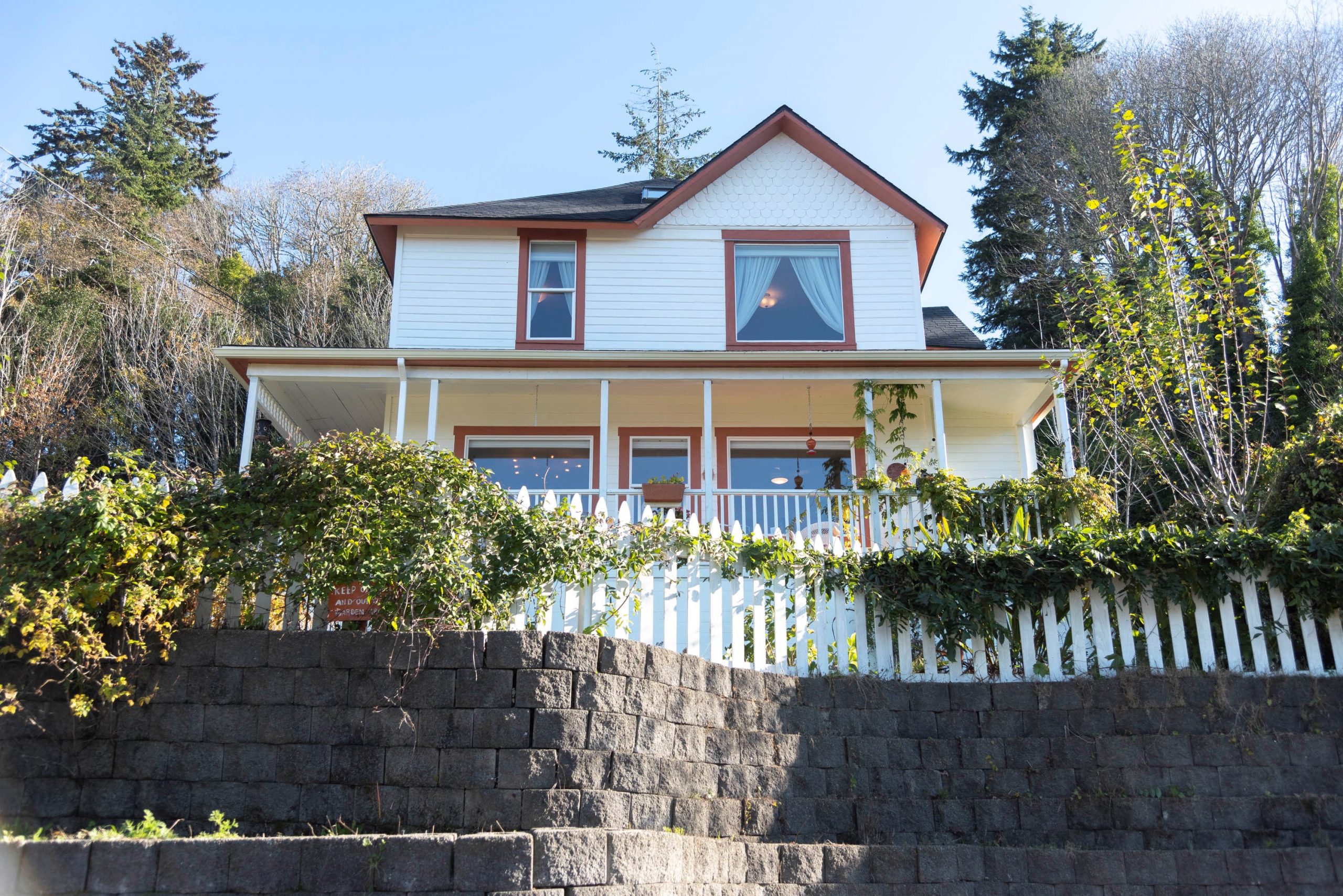 The well-known "Goonies House" in Astoria, Oregon has recently been purchased by a new owner who intends to keep it open for movie fans.
For decades, fans of the film have visited the house, which is located at 368 38th St, Astoria, OR 97103. Many visitors have taken pictures outside the house, and some have even climbed to the roof to reenact the iconic scene in which the Goonies slide down the chimney to escape the Fratellis.
The new owner stated that they have always been fans of the film and were thrilled to be able to purchase the house. They intend to renovate the property, but they want to ensure that it remains true to its appearance in the film.
"I have always been a fan of The Goonies, it was my favorite movie as a child, and I remember visiting the house when I was a kid. I just couldn't let it go when it went up for sale. It is such an iconic piece of movie history," said the new owner. "I'm excited to share the house with fans from all over the world and to give them a chance to experience the magic of the film in person."
The new owner also intends to open the house to the public for tours, and they are currently developing a website where visitors can learn more about the house's history and purchase tour tickets. They also intend to have a gift shop on the premises where visitors can buy Goonies merchandise.
The Goonies House is located in Astoria's historic district, which was also used for filming. The house was used as the exterior of the Fratelli's house, where the Goonies characters Mikey, Brand, Data, Mouth, Chunk, and Andy try to save their neighborhood from demolition by searching for the treasure of One-Eyed Willy, a legendary 17th-century pirate.
Richard Donner directed and Steven Spielberg produced this film, which starred Sean Astin, Josh Brolin, Jeff Cohen, Corey Feldman, Kerri Green, Martha Plimpton, and Jonathan Ke Quan. The film was a smash hit, grossing over $61 million in the United States and Canada, and has since become a cult classic.
Overall, the new Goonies House owner is thrilled to be preserving a piece of film history and sharing it with fans from all over the world. Visitors can expect tours, merchandise, and the opportunity to witness the film's magic in person.