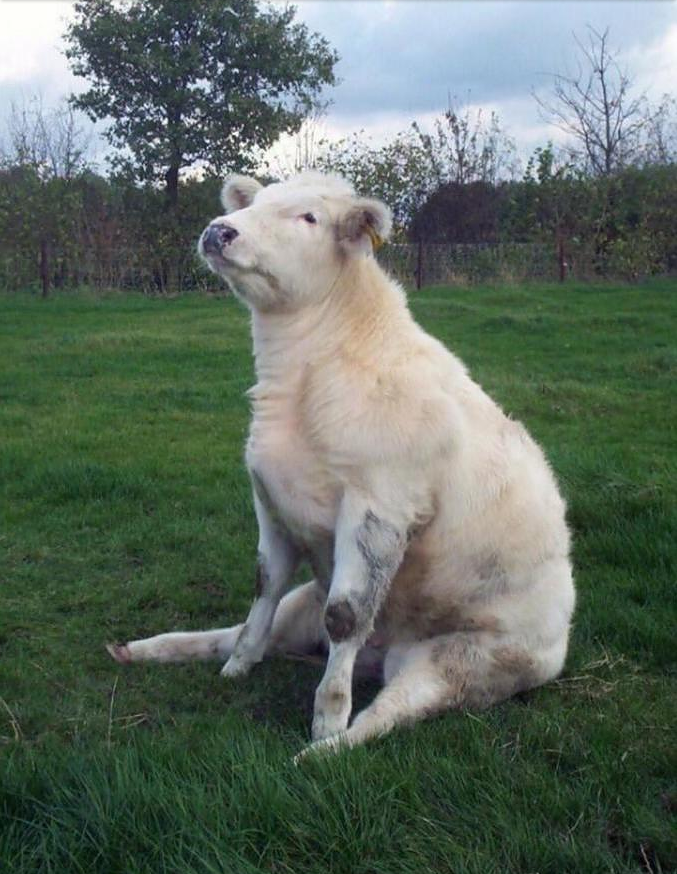 Are Dogs as Dumb as Cows or are Cows as Smart as Dogs?
Cows don't typically get a lot of support for their intellectual capacities. In most descriptions and references, bovine cattle frequently tend to be referred to as fat, smelly, not much smarter than a rock, and no visible emotion whatsoever. In other words, just dumb cows. While cows do smell quite a bit (and most other animals would too if they had to stomp around and eat in the same pasture that they go to the bathroom in), those who know them have found cows able to express quite a portfolio of emotional reactions.
There's Clear Evidence Something is Going On Mentally
First, if anyone takes the time to really observe bovine behavior, he or she is likely to start noticing that cows communicate quite a bit with each via contact. They clearly have and frequently practice the ability to share affection with each other, cozying up and wrapping their necks with each other for no other reason than to share comfort with the other.
Second, cows that are isolated generally tend to exhibit signs of extreme anxiety over time as well. And cows aren't that dumb after all; they can solve simple puzzles once they are able to realize the connection between an action and the solution that interests them, such as getting to food.
More interestingly, however, cows get quite attached with their human owners, especially if they have been exposed and raised by that person from a young calf stage. In some cases, the calves will literally follow their owners inside homes if allowed and makes themselves at home, even parking on the family room couch if no one is looking just like a dog would.
Then There's That Dog Behavior Some Cows Practice
No, it's not likely that a cow will be beating a sheep dog anytime soon through an obstacle course or herding the rest of its fellow bovine creates in and out of the barn on command. However, cows definitely have no problem cozying up to a sleeping farmer and giving him a hug. They actually like having a belly rub (just watch out when they roll over), and they don't have a problem with a dog well-known to the herd and as familiar as the farmer. They might even give the dog an occasional lick on the face when they think no one is looking!
They Could be Spies!
And with the range of behavior cows do show subtly, they probably end up watching humans quite a bit wondering why in the world the two-legs constantly engage in such silly behavior all day long instead just eating grass like any common-sense animal should. We just don't "hear" the conversation when cows are talking loudly.
Yes, fundamentally, cows are raised for farm production and food. But once people really start taking notice about how these bovine creatures behave, the willingness to have a hamburger afterwards might trigger a bit of hesitation and a second thought in more than one person.
From Teacher to TikTok Star: The Story of Mr. Hamilton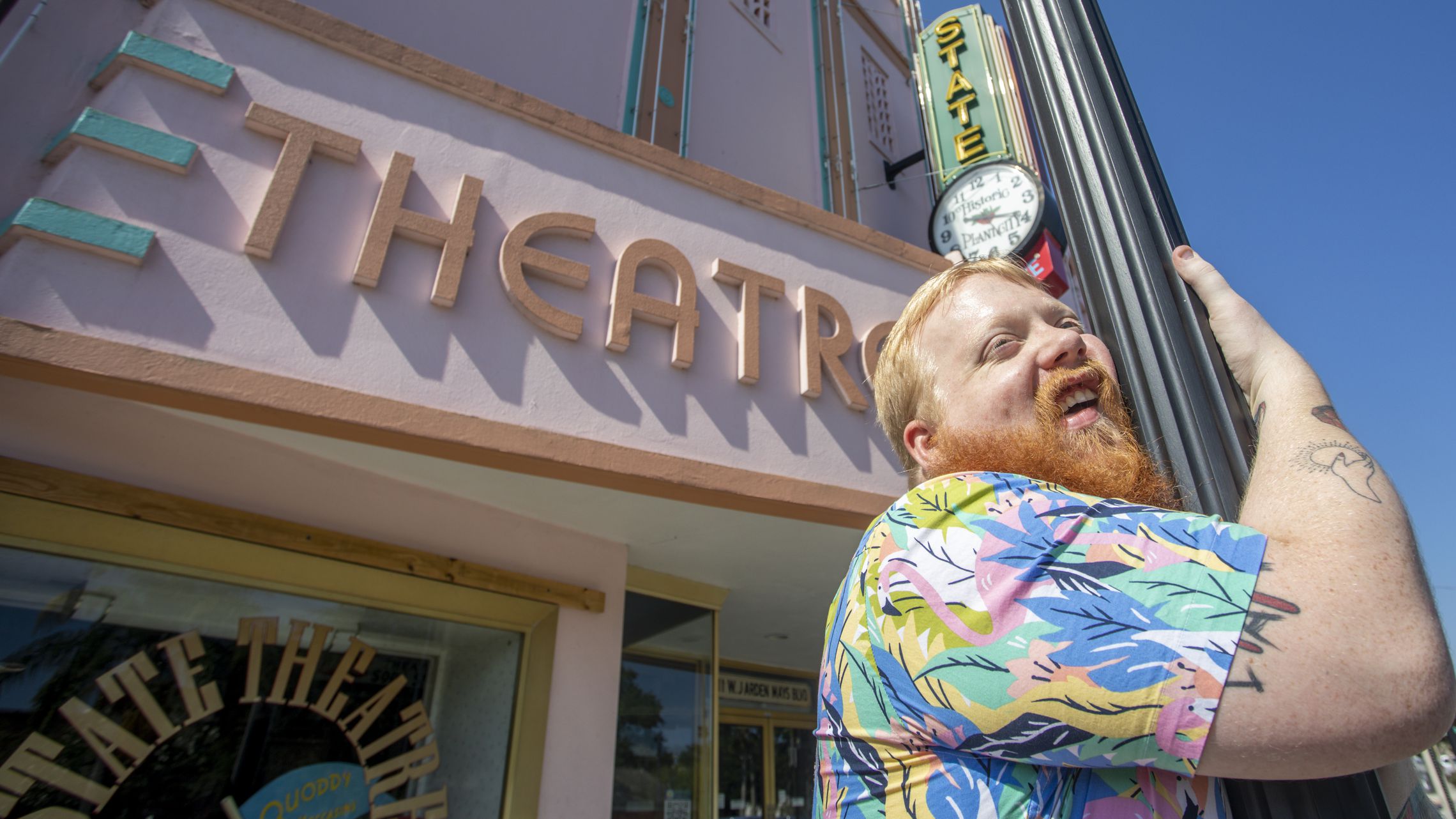 Technology has fundamentally changed the way that we connect with one another. The era of instant communication and social media outreach has made us more intertwined than ever, giving otherwise unknown faces the chance to shine in front of millions if not billions of people. For Casey Hamilton, aka @MrHamilton on TikTok, social media allowed the teacher to transition into one of the biggest performers on the internet.
Let's explore the rise of Mr. Hamilton and his journey from teaching in Plant City to winning over TikTok audiences around the world!
Casey Hamilton: Chaotic Positivity
Were you to run across one of Hamilton's TikTok videos on a whim, you'd likely not assume he was a teacher. The 25-year-old TikTok star began his career on the platform by selling what everyone loved about him in his classroom, his personality. Hamilton embodies the young-and-fun generation of TikTok stars that are taking over the pop culture world. Hamilton dresses in his favorite crocs, a joke in itself, while matching the rest of his outfit to the caricature of a cartoon-loving pre-teen.
Hamilton's TikTok currently has more than 5 million followers and that number is climbing by the day, but for what reason? More than just childish fun, Hamilton brings boatloads of energy to his impersonations and sketches. One sketch that garnered Hamilton millions of views was his version of Plankton, a hit with the Spongebob generation. Impersonations aren't restricted to celebrities, as Hamilton has made videos impersonating, well, everything.
When Hamilton isn't giving his fans a show through impersonations, he's sharing his soaring vocals. Covering All Star by Smash Mouth brought in views but so did Hey, Delilah – a song about a stripper. Dance moves of all types join these performances and one thing is certain throughout them all: Casey isn't afraid of being the center of attention.
From Plant City to Tik Tok Stardom
Hamilton worked at Plant City High School as a TV Production Teacher, developing a morning show with his students. The environment allowed Hamilton to flex his creative chops and amiable positivity, inviting students to fall in love with sketches, comedy, and creating artistic entertainment of all types. Students watched with glee as the morning news at school slowly transitioned into a fun mashup of entertainment.
Jennifer Hamilton is Casey's mother and she had more than enough to say about her son. Casey said, "I don't think it was everyone's cup of tea…" Still, Jennifer had to admit that the show was a hit with Casey's students. Jennifer said, "He turned our TV show around, the students appreciated the humor and would pay attention."
Still, Hamilton's electric personality caused him to become a quick favorite among students. It was only natural to transition into comedy outside of school. Born and raised in Plant City, Hamilton used his upbringing as well as the close-knit community from his hometown to build his brand, but in the most natural way possible. Perhaps that is the most intriguing thing about Hamilton. His success is organic from the ground-up.