Are Dogs as Dumb as Cows or are Cows as Smart as Dogs?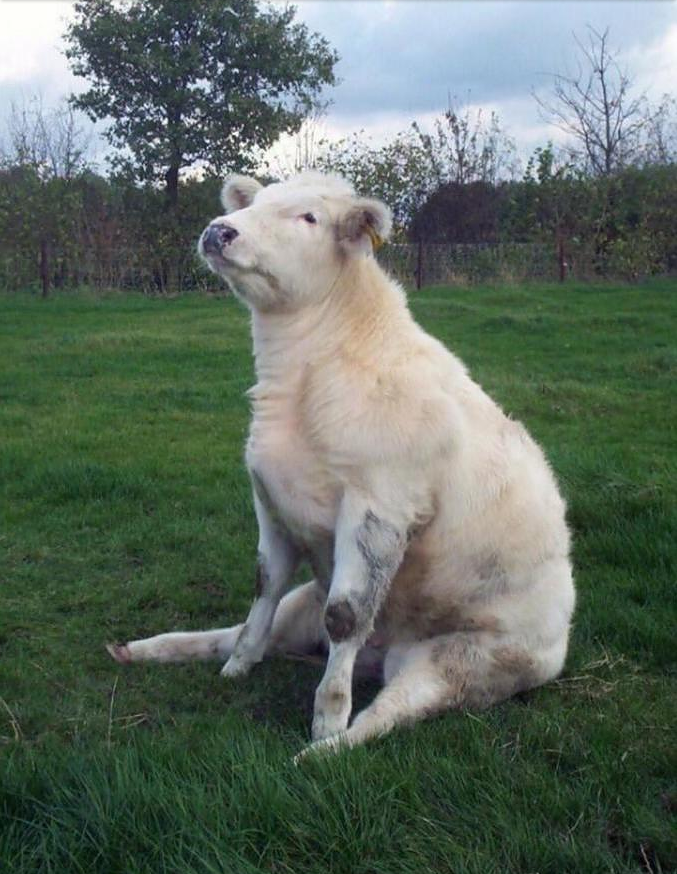 Cows don't typically get a lot of support for their intellectual capacities. In most descriptions and references, bovine cattle frequently tend to be referred to as fat, smelly, not much smarter than a rock, and no visible emotion whatsoever. In other words, just dumb cows. While cows do smell quite a bit (and most other animals would too if they had to stomp around and eat in the same pasture that they go to the bathroom in), those who know them have found cows able to express quite a portfolio of emotional reactions.
There's Clear Evidence Something is Going On Mentally
First, if anyone takes the time to really observe bovine behavior, he or she is likely to start noticing that cows communicate quite a bit with each via contact. They clearly have and frequently practice the ability to share affection with each other, cozying up and wrapping their necks with each other for no other reason than to share comfort with the other.
Second, cows that are isolated generally tend to exhibit signs of extreme anxiety over time as well. And cows aren't that dumb after all; they can solve simple puzzles once they are able to realize the connection between an action and the solution that interests them, such as getting to food.
More interestingly, however, cows get quite attached with their human owners, especially if they have been exposed and raised by that person from a young calf stage. In some cases, the calves will literally follow their owners inside homes if allowed and makes themselves at home, even parking on the family room couch if no one is looking just like a dog would.
Then There's That Dog Behavior Some Cows Practice
No, it's not likely that a cow will be beating a sheep dog anytime soon through an obstacle course or herding the rest of its fellow bovine creates in and out of the barn on command. However, cows definitely have no problem cozying up to a sleeping farmer and giving him a hug. They actually like having a belly rub (just watch out when they roll over), and they don't have a problem with a dog well-known to the herd and as familiar as the farmer. They might even give the dog an occasional lick on the face when they think no one is looking!
They Could be Spies!
And with the range of behavior cows do show subtly, they probably end up watching humans quite a bit wondering why in the world the two-legs constantly engage in such silly behavior all day long instead just eating grass like any common-sense animal should. We just don't "hear" the conversation when cows are talking loudly.
Yes, fundamentally, cows are raised for farm production and food. But once people really start taking notice about how these bovine creatures behave, the willingness to have a hamburger afterwards might trigger a bit of hesitation and a second thought in more than one person.
Personal Clouds- Samoyed Dogs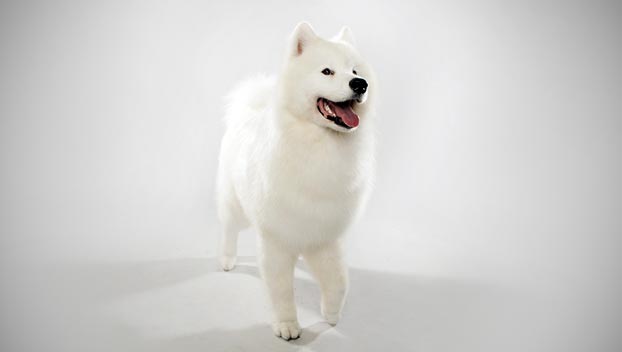 Many people around the country and indeed around the world are absolutely in love with the animal that is known as man's best friend- the dog. They go by many names and people love them all- dogs, doggos, canines, puppies, puppers, good bois, floofs, howlers, and woofers. Regardless of what you call them, and no matter what breed of dog you are talking about, a cute and well-behaved dog can instantly turn a bad day into a good day and put a smile on your face
However, some breeds garner special love and attention from their human companion. Some are better are defending our families and properties. Some are best-suited work helping us with work. Some are great with kids while others are best for a quieter family setup. Some like to run around and play all day. Some prefer to be laid back and lazy on the couch. Some are big and some are little. Some are plain-looking and some are very fancy. And then there are those rare breeds that seem to encompass so many groups that they stand out as a special breed all on their own, and the Samoyed breed of dog is one such example!
Samoyeds are very unique among the thousands of breeds of dogs because, you see, they often remind people of clouds. All it takes is one look at a Samoyed to see where that comes from. It doesnt take a lot of brains to see how soft and white and fluffy this breed is and how cloud-like they truly are!
They are gentle giants and are great pets to have as part of the family. The American Kennel Club talks about the Samoyed breed and calls them a very adaptable, family-oriented, energetic, friendly, and surprisingly gentle breed. This is why the attention surrounding this breed has taken off in recent years as more and more people are discovering this gentle and gorgeous breed and are finding out for themselves how much fun it can be to have a living floof ball in the home.
While they may look like a cloud and even feel like one with their soft fluffy coat of fur, this breed makes for a very big cloud! Samoyeds can reach a height of almost two feet at their shoulder when they are standing on all four, and the average weight for a full-grown male is between 65 and 70 pounds.
They are also a very active and energetic breed of dog, and they can extremely social with people in gnarly but particularly so with their family. They often want to be right with you, in tour lap, or at your side, loving to get hugs, and pets, and belly rubs. When you make a Samoyed dog part of your family, you best plan to spend the majority of your free time going for walks, playing in the yard, and engaging with them in the home. These dogs may closely resemble the clouds that lazily drift along in the sky on a sunny day, but they are a far cry from being lazy couch potatoes!
The only real drawback to these floofy clouds is the extent to which they shed. If all your clothes are black or your fanciest dresses and suits are darker colored then you may have some issues with the white hair that will ultimately end up everywhere. Their thick white coats protect them from cold temperatures which is what they were bred for as an original working-class dog for northern climates. It also means that these double-coated dogs shed all year long- and the shedding gets even more prolific when the summer heat kicks in. Also, people who have severe allergies to dander may find that the prolific spread of the fur around the house might be too much for their immune system to handle.
For most people, however, dealing with the vacuuming and cleaning of hair is a small price to pay to have your own personal cloud to hug and snuggle anytime that you want!