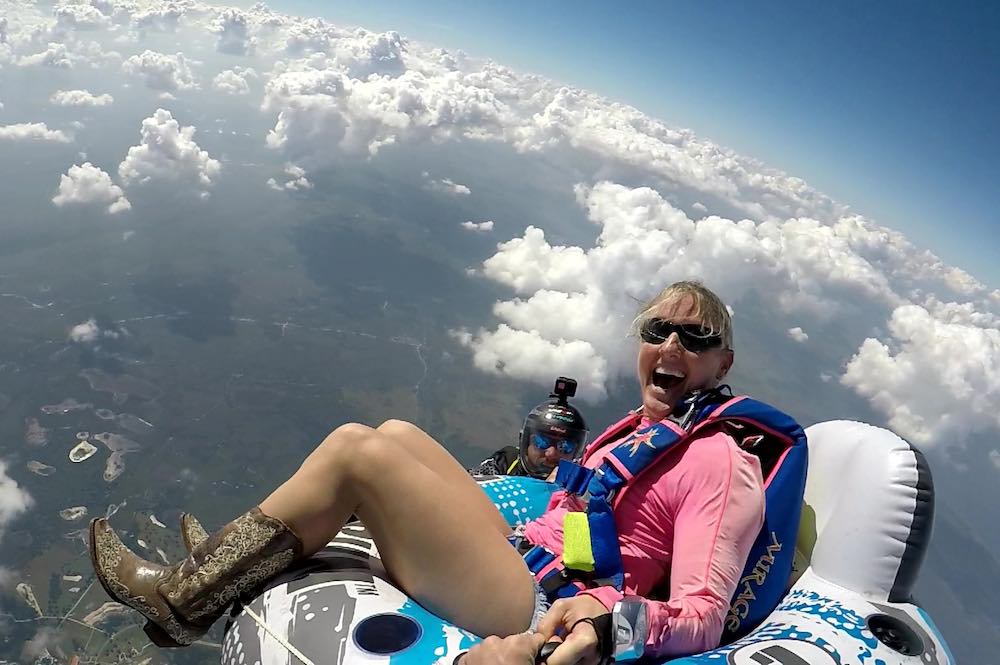 An Exciting Sky Diving Video In An Inflatable Raft
Lots of people would love to know exactly what it's like to go sky diving. However, it's obviously the sort of experience that has been traditionally been difficult to accurately record. The actual sky dive itself might seem like it lasts longer than it does to the people who are actually experiencing the event. However, objectively speaking, it usually won't take all that long. The moment is over so quickly that it's easy for it to get lost.
However, technology is constantly improving, and it's giving individuals everywhere the chance to see a lot of very different events from purely original perspectives. For a long time, the people who have never traveled have been able to see different places remotely.
Obviously, the experience of going there in person will be different in a lot of ways. However, it's still possible for people to learn a lot by seeing high-quality images and videos. Traveling is expensive, and many of the people who are interested in activities like sky diving are concerned about some of the associated risks. It's possible to reduce the risks associated with sky diving, and the costs associated with travel.
However, the people who have a more casual interest in sky diving might just want to get a more basic idea of what it's like. With this new footage, they might finally get the chance to do so accurately.
The woman in this video has actually leaped out of an airplane from an altitude of thirteen thousand and five hundred feet. She was seated inside an inflatable ring made from rubber at the time. Her name is Robin Moore, and this footage of her will be seen by millions of people now. It's just the sort of video that gets viewed over and over again over the years, since it's just not the sort of thing that gets seen on film all that often.
A lot of people get nervous when they sky dive, even if they were excited about it initially. They might be happy right up until they're actually about to literally make the leap, at which point they panic or get terribly nervous at least. This was not the case for Robin Moore, which is one of the many reasons why this was such a great video. She seemed absolutely ecstatic the entire time, which really comes through in the images themselves.
This occurred in Florida at River Ranch, and the raft was being stabilized by Robin Moore's friends. Interestingly, Robin Moore is a physician who works in the emergency room. She's clearly a person who is used to being in a lot of stressful situations and working in an environment with high stakes and more.
For someone in her profession, something like sky diving might not be all that scary. It would explain why she was able to take to an activity like this so easily. Raft jumps involving sky diving are not entirely standard, but they still happen. It seems that Robin Moore is a person who enjoys challenging activities even when not at work. This is an activity and experience that she was able to share with the world.
The fact that she was and is so enthusiastic only improves the quality of the video. While some people may have been interested in footage that captured a different range of emotions, many other people would want to see someone having fun with this sort of activity, which was clearly the case here. A lot of people would like to know what it is like to do something like sky diving, and it is now possible to at least have an idea after footage like this has been made available to the world.
Big Plans For The Goonies House In Oregon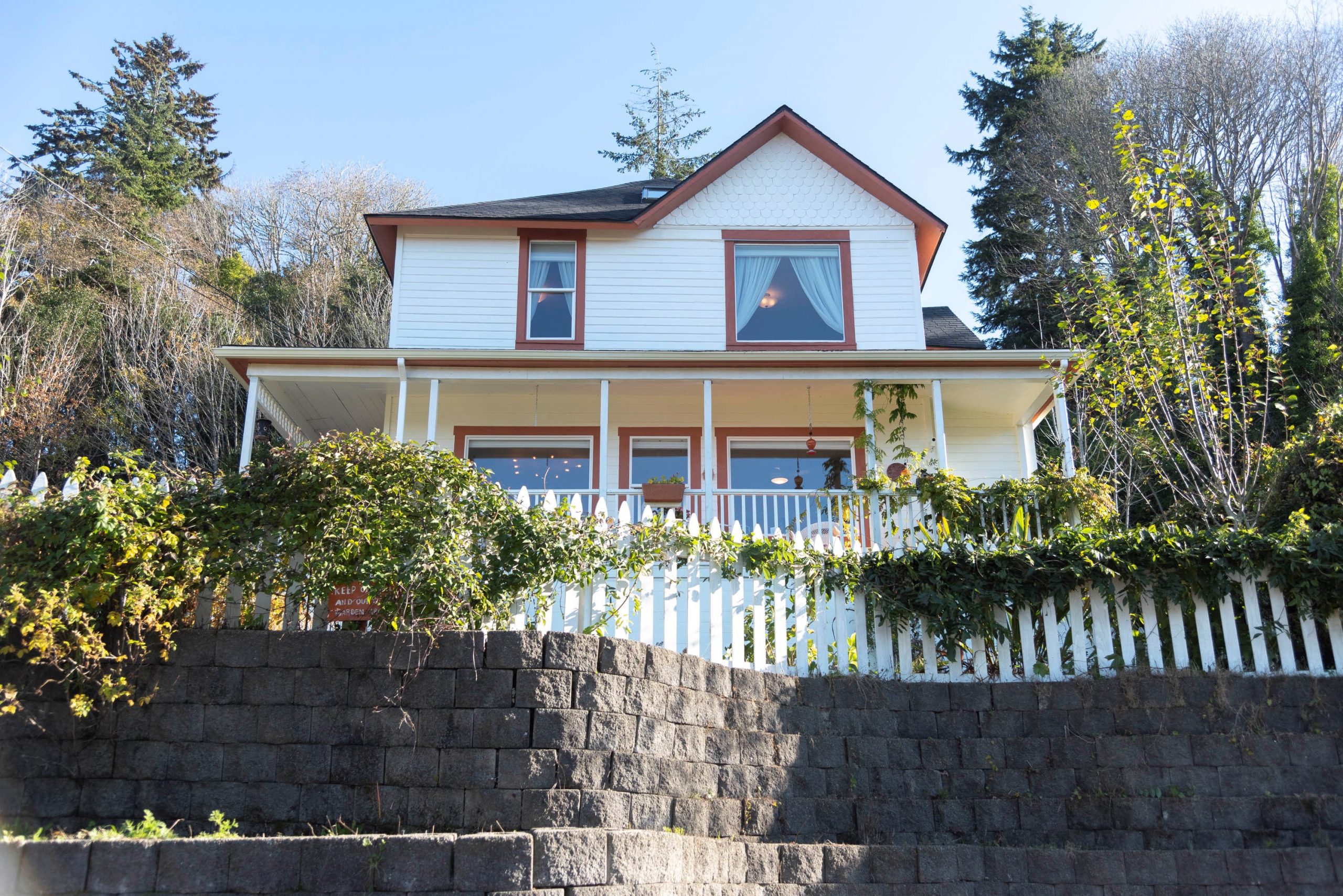 The well-known "Goonies House" in Astoria, Oregon has recently been purchased by a new owner who intends to keep it open for movie fans.
For decades, fans of the film have visited the house, which is located at 368 38th St, Astoria, OR 97103. Many visitors have taken pictures outside the house, and some have even climbed to the roof to reenact the iconic scene in which the Goonies slide down the chimney to escape the Fratellis.
The new owner stated that they have always been fans of the film and were thrilled to be able to purchase the house. They intend to renovate the property, but they want to ensure that it remains true to its appearance in the film.
"I have always been a fan of The Goonies, it was my favorite movie as a child, and I remember visiting the house when I was a kid. I just couldn't let it go when it went up for sale. It is such an iconic piece of movie history," said the new owner. "I'm excited to share the house with fans from all over the world and to give them a chance to experience the magic of the film in person."
The new owner also intends to open the house to the public for tours, and they are currently developing a website where visitors can learn more about the house's history and purchase tour tickets. They also intend to have a gift shop on the premises where visitors can buy Goonies merchandise.
The Goonies House is located in Astoria's historic district, which was also used for filming. The house was used as the exterior of the Fratelli's house, where the Goonies characters Mikey, Brand, Data, Mouth, Chunk, and Andy try to save their neighborhood from demolition by searching for the treasure of One-Eyed Willy, a legendary 17th-century pirate.
Richard Donner directed and Steven Spielberg produced this film, which starred Sean Astin, Josh Brolin, Jeff Cohen, Corey Feldman, Kerri Green, Martha Plimpton, and Jonathan Ke Quan. The film was a smash hit, grossing over $61 million in the United States and Canada, and has since become a cult classic.
Overall, the new Goonies House owner is thrilled to be preserving a piece of film history and sharing it with fans from all over the world. Visitors can expect tours, merchandise, and the opportunity to witness the film's magic in person.