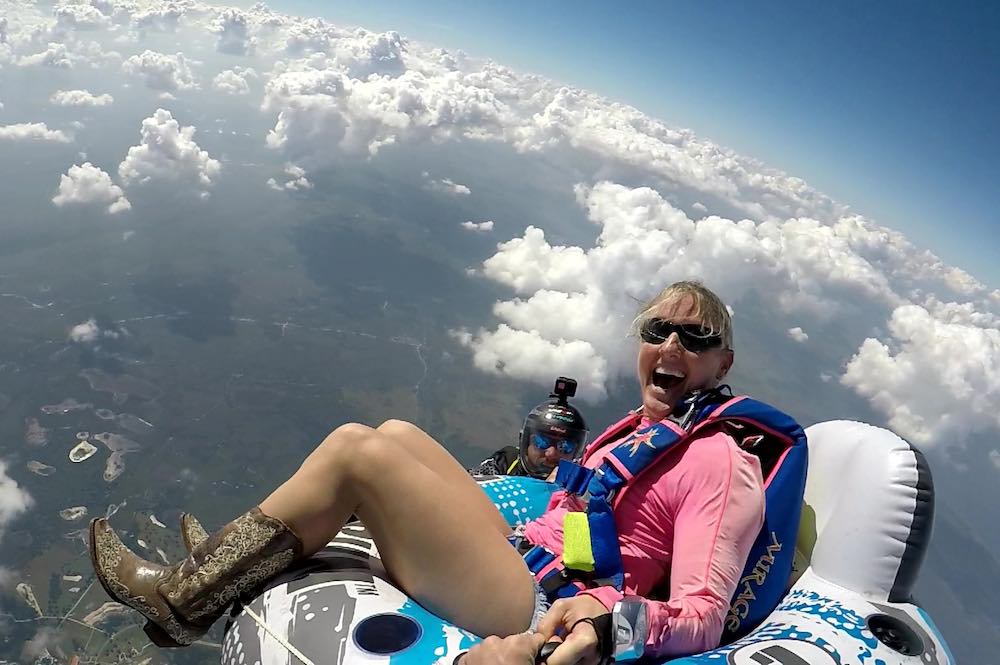 An Exciting Sky Diving Video In An Inflatable Raft
Lots of people would love to know exactly what it's like to go sky diving. However, it's obviously the sort of experience that has been traditionally been difficult to accurately record. The actual sky dive itself might seem like it lasts longer than it does to the people who are actually experiencing the event. However, objectively speaking, it usually won't take all that long. The moment is over so quickly that it's easy for it to get lost.
However, technology is constantly improving, and it's giving individuals everywhere the chance to see a lot of very different events from purely original perspectives. For a long time, the people who have never traveled have been able to see different places remotely.
Obviously, the experience of going there in person will be different in a lot of ways. However, it's still possible for people to learn a lot by seeing high-quality images and videos. Traveling is expensive, and many of the people who are interested in activities like sky diving are concerned about some of the associated risks. It's possible to reduce the risks associated with sky diving, and the costs associated with travel.
However, the people who have a more casual interest in sky diving might just want to get a more basic idea of what it's like. With this new footage, they might finally get the chance to do so accurately.
The woman in this video has actually leaped out of an airplane from an altitude of thirteen thousand and five hundred feet. She was seated inside an inflatable ring made from rubber at the time. Her name is Robin Moore, and this footage of her will be seen by millions of people now. It's just the sort of video that gets viewed over and over again over the years, since it's just not the sort of thing that gets seen on film all that often.
A lot of people get nervous when they sky dive, even if they were excited about it initially. They might be happy right up until they're actually about to literally make the leap, at which point they panic or get terribly nervous at least. This was not the case for Robin Moore, which is one of the many reasons why this was such a great video. She seemed absolutely ecstatic the entire time, which really comes through in the images themselves.
This occurred in Florida at River Ranch, and the raft was being stabilized by Robin Moore's friends. Interestingly, Robin Moore is a physician who works in the emergency room. She's clearly a person who is used to being in a lot of stressful situations and working in an environment with high stakes and more.
For someone in her profession, something like sky diving might not be all that scary. It would explain why she was able to take to an activity like this so easily. Raft jumps involving sky diving are not entirely standard, but they still happen. It seems that Robin Moore is a person who enjoys challenging activities even when not at work. This is an activity and experience that she was able to share with the world.
The fact that she was and is so enthusiastic only improves the quality of the video. While some people may have been interested in footage that captured a different range of emotions, many other people would want to see someone having fun with this sort of activity, which was clearly the case here. A lot of people would like to know what it is like to do something like sky diving, and it is now possible to at least have an idea after footage like this has been made available to the world.
Priests On Tiki Bar Rescue Drowning Man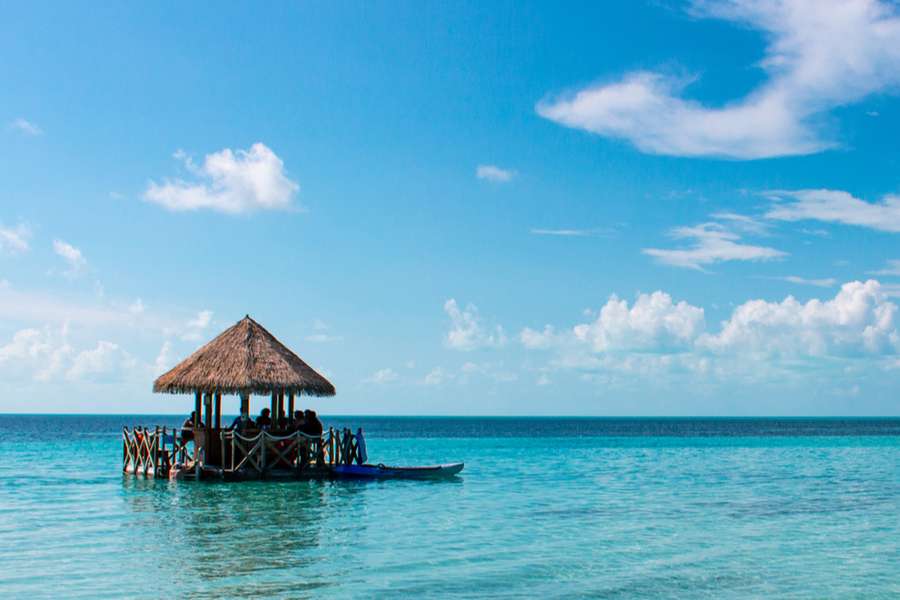 It was supposed to be a normal, wavy afternoon as Jimmy MacDonald from Albany rode the waves on Lake George in his kayak- little did he know.
According to him, he lost focus and drifted away from his wife and step-kids because he was taking pictures with his new mobile phone. By the time he realized what was happening, it was too late- the water got choppier, he lost control of his kayak and tipped over into the water. 
Jimmy was in a lot of trouble and to make it worse, his life jacket was coming up over his head- he hadn't secured it properly. Within a few seconds, he found himself holding on to the kayak with one hand and his new $1,400 smartphone, the origin of the problem, with the other. 
According to him, he spotted other kayakers and canoeists passing by, but he was too proud to yell for help. After futile efforts to get back on his kayak, he decided to accept his fate, and resorted to asking God for help.
"That's when I said, 'Alright, I think I might die today. I think this might be it.' I prayed to my lord and savior Jesus Christ for help," Jimmy said.
Luckily for him, Greg Barrett captain for Tiki Tours was in the area.
"A lot of things aligned that day," Barrett said.
At first Barrett spotted Jimmy's paddle and then one of his passengers said they heard a call for help.
"So as soon as I turned the boat towards him, I realized his life preserver had been in the upper portion of his head, and he was hanging on for dear life," Barrett said.
They knew they had to save his life, so they got close to him, and helped him get onboard their vessel.
Apparently, Jimmy is a drug counselor and a recovering addict.
"How funny is it that I've been sober for seven years and I get saved by a tiki bar?" Jimmy laughed.
Surprisingly, it was not just any tiki bar- it was one packed priests and seminarians from the Paulist Fathers, a Catholic retreat on the lake. Remember that Jimmy prayed for help for some heavenly intervention? Well, his prayers were answered in form of holy men on a floating tiki bar. Coincidence? Doesn't look like it. 
The priests and seminarians who were onboard are certain that Jimmy's rescue was not at all natural or normal. They believe that a supernatural and divine force influenced their availability to help Jimmy right when and where he needed them.
"We're missionaries," said Chris Malano, a second-year seminarian. "For us, that day, that was our mission to be present and to help someone in need."
Jimmy's job and life career was to help people drowning in addiction, but he was literally saved from drowning by God's holy men, right after praying.
"I just take that as a sign from God that he's got me here for a real reason," said MacDonald.