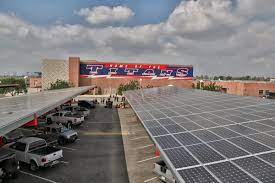 A Record Number of Schools Are Turning to Solar Power
A little more than three years ago, two solar power groups found that out of 130 thousand schools in the United States, only 3,750 were utilizing solar panels to generate electricity. However, since then that number has been continuously rising.
The "Brighter Future" report from the nonprofit organization Generation180 revealed that the number of US schools employing solar power increased to 8,400 at the end of 2021. These "solar schools" make up nearly 10 percent of public K-12 independent charter schools and serve over 6 million students throughout the United States.
Roughly 1,644 megawatts of solar energy have been installed in American schools since 2015. This is a significant milestone, as more and more schools are building new rooftop and ground-based solar arrays, advocating for community solar programs, and producing enough electricity to sell it back to their communities.
California leads the pack in terms of both the number of solar schools and solar capacity. Additional states are making great strides in this area, with Washington state's solar capacity growing more than eightfold between 2019 and 2021. At the same time, Arkansas, Wisconsin, Illinois, and Virginia at minimum doubled their installed solar capacities.
According to Tish Tablan, the lead author of the report, much of this growth is due to third-party financing models such as power purchase agreements (PPAs). With these types of contracts, developers agree to pay for solar panels and their operation while schools purchase the electric output from them at a set price for an allotted time. This benefits developers because they are able use federal tax credits and receive a stable source income.
The Generation180 report finds that federal Title I Schoolwide Program funding has been crucial for solar expansion beyond affluent school districts. As of 2021, 47 percent of public schools that have solar power are eligible for this type of funding, which implies that roughly 40 percent of their student population comes from low-income households.
At Denver Public Schools in Colorado, PPAs with various solar developers have helped the school district install 9 megawatts of solar capacity at 50 schools. Out of those 50 schools, 21 of them utilize Title I Schoolwide Program. As a result of these efforts, high emissions are down 2175 cars' worth annually.
Denver Public Schools are using solar arrays to educate students about renewable energy and providing them with early job training for aspiring electrical engineers.
According to Generation180, although strides have been made, there is still a long way to go. Only 10 percent of U.S schools currently use solar panels, which is an abysmal amount considering the rate of climate change and how crucial it is for to find sustainable energy sources. If every school building in the United States switched to solar power, 60 million metric tons of carbon dioxide emissions each year would be eliminated. That's equivalent to getting rid of 16 coal-fired power plants' worth of climate pollution yearly.
The enactment of additional PPAs could help significantly move things forward, and this footage could especially be relevant in reversing policies that restrict third-party financing options in southern states. Furthermore, last year's Bipartisan Infrastructure Law – as well as this year's Inflation Reduction Act – both included federal funding (in hundreds of millions of dollars) for grants to upgrade schools' energy systems and lessen their climate pollution. There is also an expanded tax credit included to help offset the solar and battery storage projects' costs.
Kissimmee River Restoration Project A Thriving Success

Florida's Kissimmee River was once an ecological disaster, but now it's been transformed into a thriving ecosystem. In the mid-20th century, the river was turned into a straight canal to control flooding and improve navigation, but this destroyed much of the natural habitat and disrupted the river's natural flow. However, after decades of restoration efforts, the Kissimmee River has been returned to its former glory, with plants and wildlife flourishing in the restored habitat.
The restoration of the Kissimmee River began in the 1990s, with the goal of returning the river to its natural, winding state. The canal was filled in, and the river was allowed to meander through its floodplain once again. This restored the natural flow of the river and created a more diverse habitat for plants and animals.
Today, the Kissimmee River is home to a wide variety of plant and animal species. Waterfowl, raptors, fish, and mammals have all returned to the restored habitat in abundance. The river is now a popular destination for birdwatchers and other wildlife enthusiasts, who come to see the many species that call the river home.
One of the most significant impacts of the restoration of the Kissimmee River has been on the fish populations. Before the restoration, the straight canal prevented the natural flow of nutrients and water, which caused a decline in fish populations. However, now that the river's natural flow has been restored, fish populations have rebounded. In fact, the river is now known for its large bass and catfish populations, which attract anglers from around the world.
The restoration of the Kissimmee River has also had a positive impact on the surrounding ecosystem. The river's meandering flow helps to filter and clean the water, which benefits not only the wildlife in the river but also the surrounding wetlands and estuaries. The restored river also helps to prevent erosion and flooding, which can have a significant impact on nearby communities.
The success of the Kissimmee River restoration project serves as an inspiration for other restoration efforts around the world. It shows that with dedication and effort, damaged ecosystems can be restored to their former glory. The restoration of the Kissimmee River was a massive undertaking, but the benefits to the environment and local communities have been well worth the effort.