A Hug Between Father and Son on the Ice is a Shining Example for us All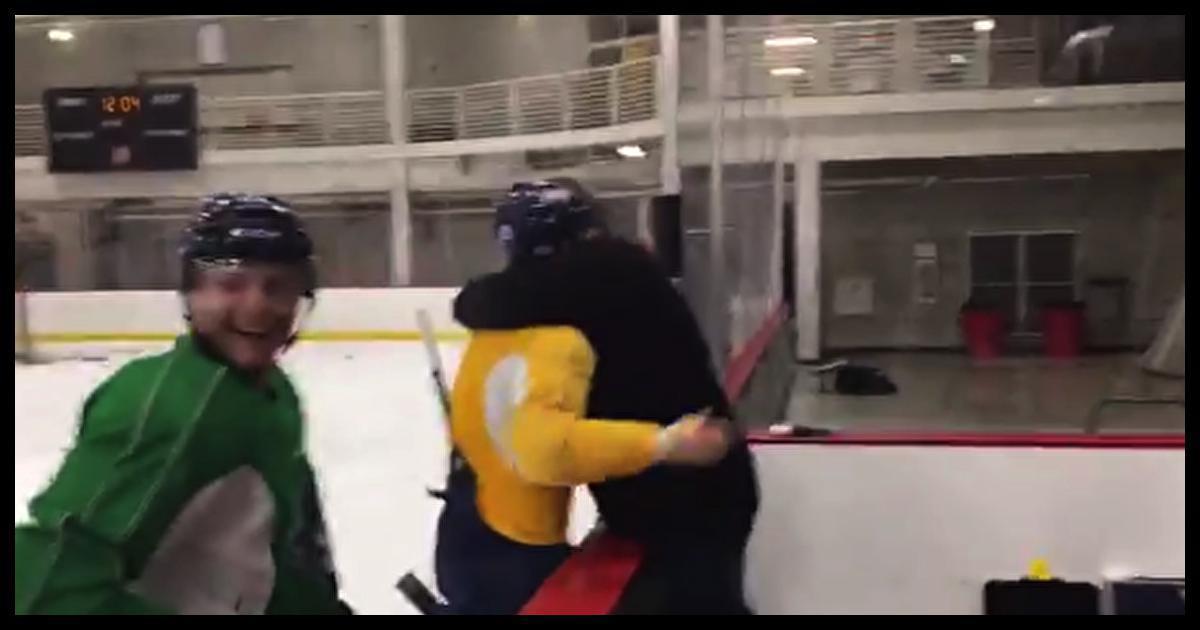 Without a doubt, dads are known for being a bit stingy with their affection. Their sons often take after this, thinking that it is somehow less manly to show affection. Fortunately, all of this changed in one shining moment on the hockey ice. There was an older journeyman hockey player, one who had spent time with a variety of teams and had never been seen as a star, who had a dream to play for the United States Olympic Hockey Team. Typically, these spots are reserved for the top stars in the National Hockey League or the NHL; however, the team decided to go a different route. They announced that they would not allow players who are currently rostered on an NHL team to compete for spots on the Olympic Team. This allowed other people, like the young man in this story, to have a shot at his dream.
While this player had played in the NHL in the past, he was not currently on an NHL roster. He was frequently signed only when other players were cut or traded. Right now, he plays in the American Hockley League, often shortened to the AHL, which is similar to the minor leagues of the AHL. While he had represented the USA in the World Championships in the past, he knew that making the Olympic Team would be a much bigger leap. He had this opportunity to make his dreams come true and he wanted to take full advantage of it.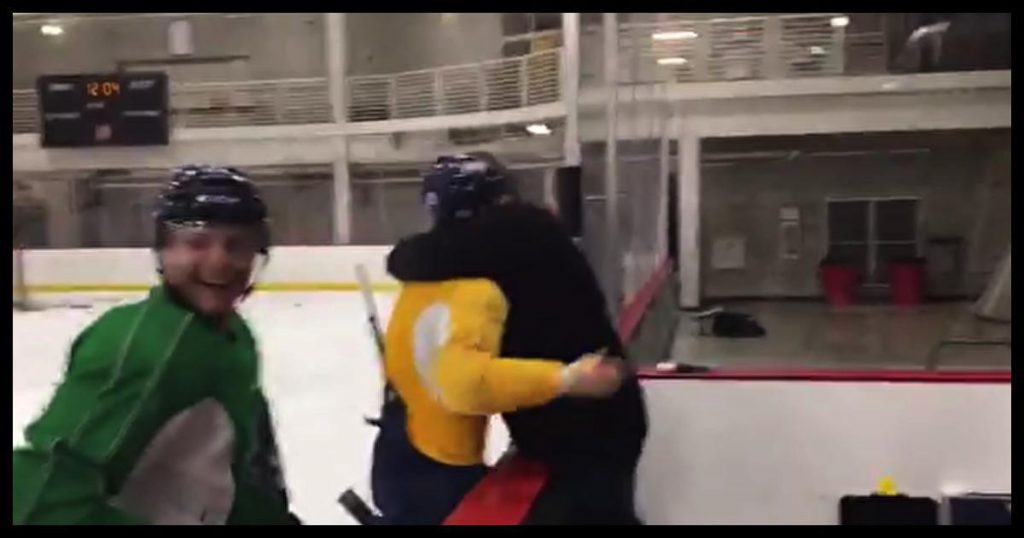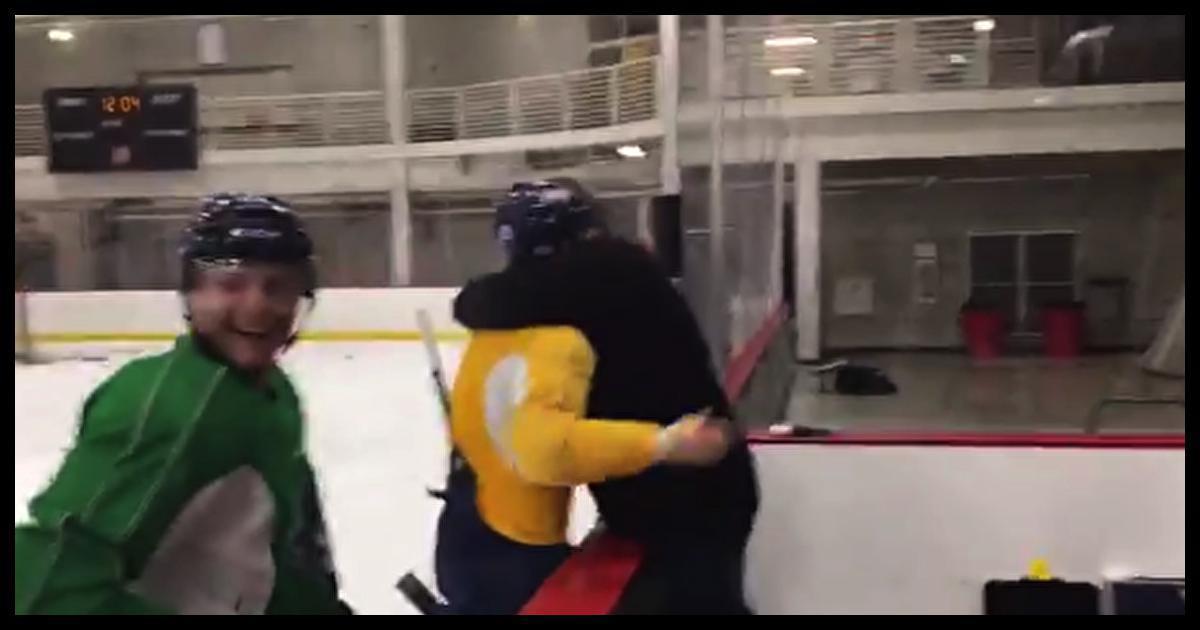 He was invited to try out for the team and underwent an intense evaluation filled with numerous tests, competitions, and other evaluations as the team managers tried to figure out how to make the best team they possibly could out of the people who were placed in front of them. In the end, when the managers selected the Olympic Team, this man found that his name was on the list. He was beside himself. He was shocked. He couldn't believe that his dream had finally come true. At the same time, there was one other person who was going to be able to understand the flurry of emotions that were going to rise to the surface. That person was his father.
There were cameras nearby that filmed the moment when this person's dad got the news that his son was going to be on the US Men's Hockey Team. The dad was seen visibly swelling with pride for his son and he wrapped his son in a giant hug. All of the other teammates could be seen cheering. This was a rare moment when a dad showed unbridled pride and enthusiasm for his son's accomplishments. It serves as a reminder to us all that dads can show emotions in front of, and for, their sons as well. While society has taught men to be "manly" and hold in their emotions, this is a sign that something needs to change. Studies have shown that kids of all ages can benefit from love and affection from their parents, including when it is displayed outwardly as it was in this case. It is perfectly fine for fathers to hug and kiss their sons. It is even fine in hockey, where the sport has a reputation for being very physical and, at times, openly violent. If a father can show affection for his son in this arena, then it should be fine anywhere else as well. Everyone can benefit from the lessons taught in this heartwarming video between father and son.
Wild Canadian Horse's Dramatic Rescue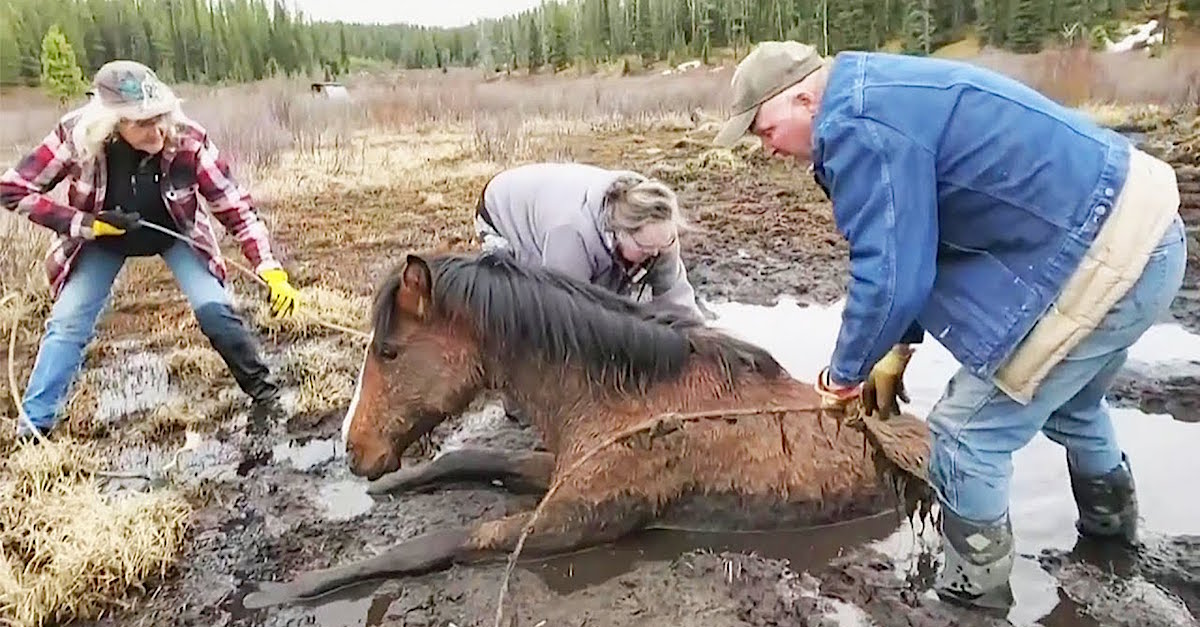 Canada is known for many things, including its beautiful scenery, friendly people, diverse animal life, and frigid winters. All of these things came together in a powerful and moving way one day as fate played out a hand that involved a matter of life or death. A small group from the Help Alberta Wildies Society (HAWS) was patrolling the beautiful countryside one day. HAWS is a group of volunteers committed to helping and protecting the rich lineage of Canada's wild horses. They help support the preservation of native wilderness that the horses call home and also work to protect the animals and catalog their populations. On a chilly winter day, a small group of HAWS volunteers ventured out to search for newborn foals in Alberta, Canada, so they could document the new additions to the local herd. As they were out searching, they came upon a heartbreaking sight.
They spotted a young foal stuck in a muddy bog. The wild foal was desperately struggling to drag itself out of a muddy hole. There was no telling how long the young horse had been trapped but it had more than half of its body sunk into the 6-foot-deep hole that as filling with sticky mud and near-freezing water. The horse lovers knew what they had to do. If anyone was meant to find this helpless creature, it was the HAWS heroes and so they quickly got to work. As they worked to figure out how to rescue the foal, they kept an eye out for any of the wild horses that might still be in the near vicinity. They quickly concluded that the young filly likely had been abandoned by the herd when she fell into the hole and was unable to get out.
The small filly just did not have the strength to pull herself out of the hole against the viscous muds and numbing water that was surrounding her. To make things even more difficult for her, and her new rescuers, was the rim of ice that was forming all around the hold. The young foal was unable to get her bearing or get a good foothold and it made getting to her more of a challenge. They knew they were the foal's only chance of getting out alive, but time was running out, and she was growing more exhausted by the minute. They had to act fast!
For over an hour, the group worked, desperately and tirelessly striving to save the horse before she would succumb to exhaustion and the elements. Using their ATVs and a bunch of ropes, they finally managed to break the muddy suction seal that trapped the young wild hose and they pulled her out of her freezing prison. When they finally pulled her out, they quickly undid the ropes they had used to free her, expecting her to bolt for the hills. They could tell she was exhausted and starving and knew she had to have been trapped for quite some time. However, instead of running away in fear and confusion, the young filly stuck around and showed her rescuers her gratitude and let them know she knew they were friends and that they could be trusted.
It just goes to show how smart these wild animals are and how important it is to protect them and all the other creatures that make up the diverse ecosystem of the Canadian wilderness!