A Hug Between Father and Son on the Ice is a Shining Example for us All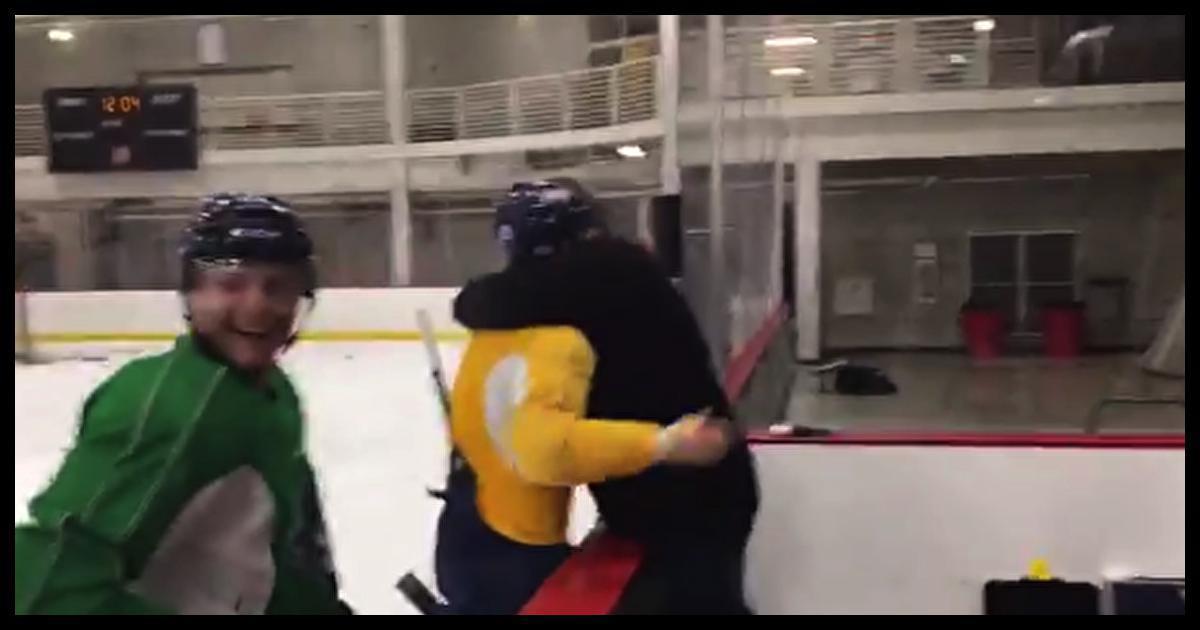 Without a doubt, dads are known for being a bit stingy with their affection. Their sons often take after this, thinking that it is somehow less manly to show affection. Fortunately, all of this changed in one shining moment on the hockey ice. There was an older journeyman hockey player, one who had spent time with a variety of teams and had never been seen as a star, who had a dream to play for the United States Olympic Hockey Team. Typically, these spots are reserved for the top stars in the National Hockey League or the NHL; however, the team decided to go a different route. They announced that they would not allow players who are currently rostered on an NHL team to compete for spots on the Olympic Team. This allowed other people, like the young man in this story, to have a shot at his dream.
While this player had played in the NHL in the past, he was not currently on an NHL roster. He was frequently signed only when other players were cut or traded. Right now, he plays in the American Hockley League, often shortened to the AHL, which is similar to the minor leagues of the AHL. While he had represented the USA in the World Championships in the past, he knew that making the Olympic Team would be a much bigger leap. He had this opportunity to make his dreams come true and he wanted to take full advantage of it.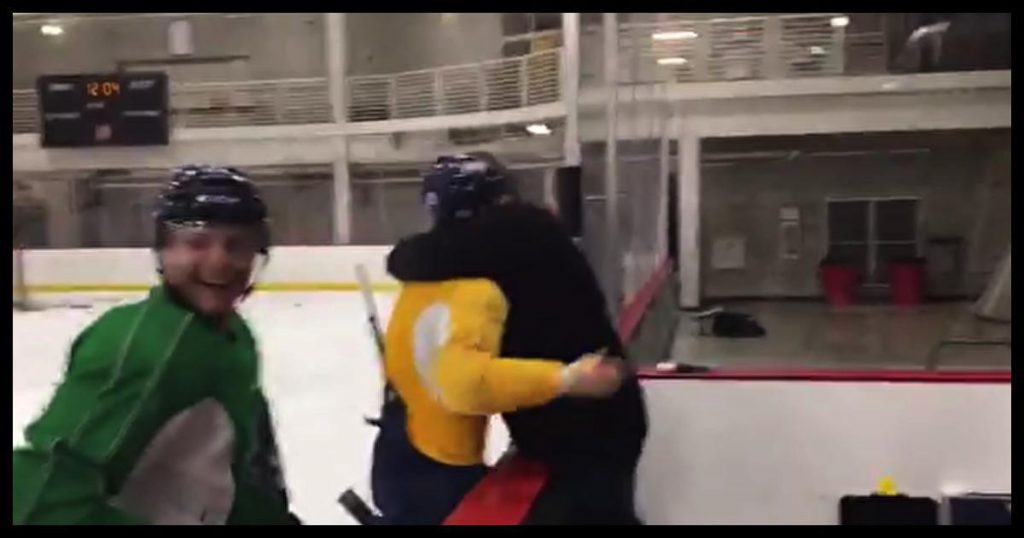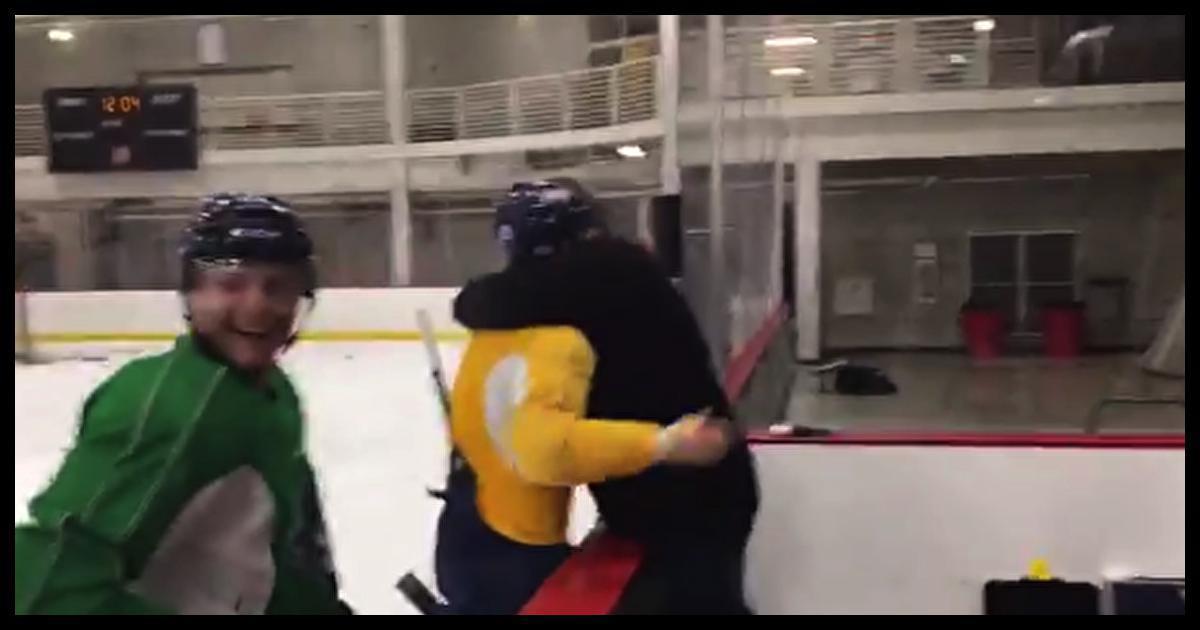 He was invited to try out for the team and underwent an intense evaluation filled with numerous tests, competitions, and other evaluations as the team managers tried to figure out how to make the best team they possibly could out of the people who were placed in front of them. In the end, when the managers selected the Olympic Team, this man found that his name was on the list. He was beside himself. He was shocked. He couldn't believe that his dream had finally come true. At the same time, there was one other person who was going to be able to understand the flurry of emotions that were going to rise to the surface. That person was his father.
There were cameras nearby that filmed the moment when this person's dad got the news that his son was going to be on the US Men's Hockey Team. The dad was seen visibly swelling with pride for his son and he wrapped his son in a giant hug. All of the other teammates could be seen cheering. This was a rare moment when a dad showed unbridled pride and enthusiasm for his son's accomplishments. It serves as a reminder to us all that dads can show emotions in front of, and for, their sons as well. While society has taught men to be "manly" and hold in their emotions, this is a sign that something needs to change. Studies have shown that kids of all ages can benefit from love and affection from their parents, including when it is displayed outwardly as it was in this case. It is perfectly fine for fathers to hug and kiss their sons. It is even fine in hockey, where the sport has a reputation for being very physical and, at times, openly violent. If a father can show affection for his son in this arena, then it should be fine anywhere else as well. Everyone can benefit from the lessons taught in this heartwarming video between father and son.
A Florida High School First: Dissecting Synthetic Frogs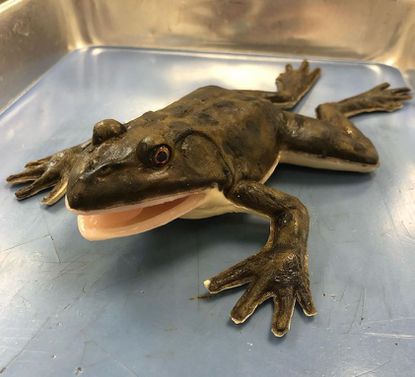 Dissecting frogs has been part of the curriculum for high school students in the United States since the 1920's. It's an essential part of a Biology requirement because it offers a hands-on learning experience for students in animal anatomy. J.W. Mitchell High School in New Port Richey, Florida has just tapped into a new synthetic option that might just save students from the dubious and grossly controversial dissecting practice.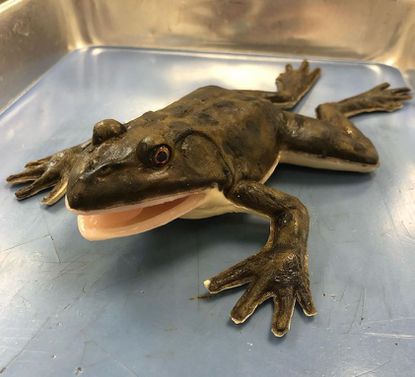 Why Dissecting is Controversial?
Dissecting animals in the classroom is controversial for a number of reasons, but the education validity of this practice is what is being called into question more than anything else. If it is really important for educational purposes, why have so many schools already chosen to rely on alternative methods to fulfill the requirements?
Here's an overview of the key points to consider.
Unethical.
Dissecting frogs and other animals is controversial because of animal welfare concerns. Students are uncomfortable with the requirement, but the process has caused concerns that it encourages callousness toward animals. An estimated 20 million animals are used for dissection every year in the United States. Those are animals that are used once in a classroom setting and then discarded as waste.
Alternatives.
Eighteen states now allow students to choose dissection alternatives without penalty. The earliest forms of alternative legislation date to 2000 with the Illinois' Dissection Alternatives Act, but there are other laws on the books that allow alternatives. Dissecting alternatives now include computer programs, life-life models, and high-quality videos. So, it's no longer strictly essential for students to dissect animals.
Cost.
The cost of dissecting "real" animal cadavers is much higher than alternative options. The cost for animal dissection has been estimated at $6,850 over five years, compared with the $900 for a site license for Digital Frog 2.5. For those schools and teachers who still prefer a more "real-life" experience for students, there's now the SynFrog, a synthetic frog that was designed by SynDaver as an alternative to dissecting "real" animals.
What About the SynFrog?
The SynFrog is the latest synthetic alternative to frog dissection, spearheaded by PETA in partnership with SynDaver. These synthetic frogs are priced at $150 per frog, and they are reusable. The students at J.W. Mitchell High School in New Port Richey, Florida became the first students to use the synthetic frogs as a viable solution to the gross and controversial "real" frogs. The high school students have been offered this opportunity through a partnership with SynDaver.
Education is always important, but the SynFrog demonstrates that there are ways to accomplish the goals of education without unnecessary destruction and cruelty to animals. These synthetic frogs are designed to be as "life-like" as possible, with a synthetic skeleton, organs, skin, muscles, and even a reproductive system to mimic the real deal—minus the gore, guts, and discarded critters at the end of the lesson.
Perhaps instead, teachers can reiterate the Hippocratic Oath: "First, do no harm," as they offer alternatives for learning with synthetic learning options.