A Hug Between Father and Son on the Ice is a Shining Example for us All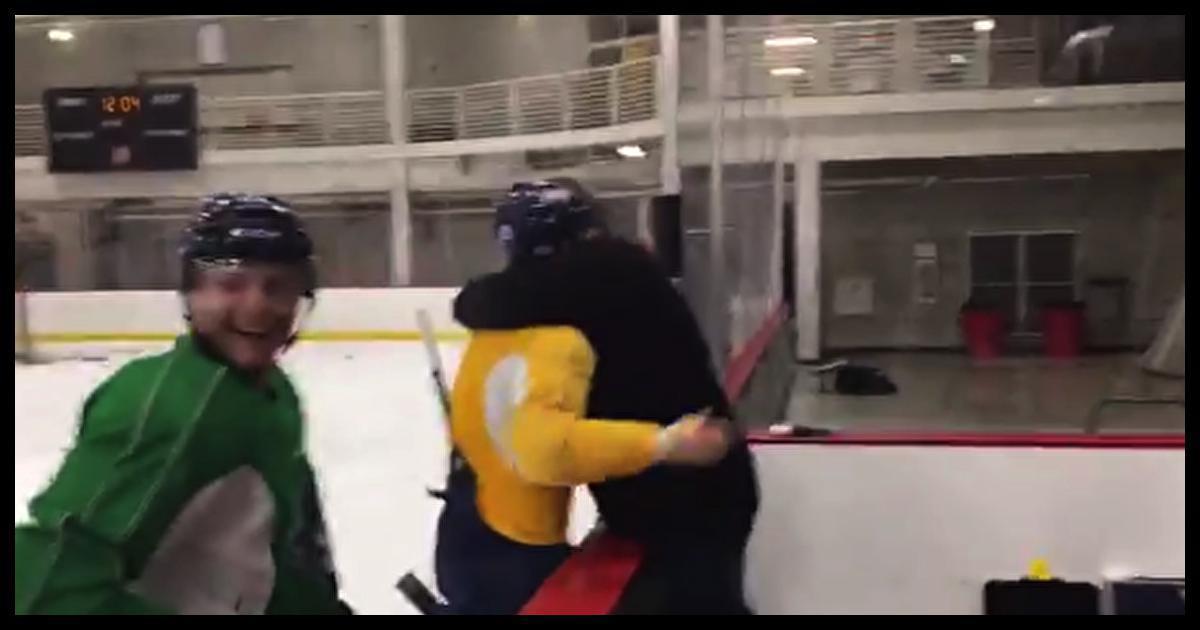 Without a doubt, dads are known for being a bit stingy with their affection. Their sons often take after this, thinking that it is somehow less manly to show affection. Fortunately, all of this changed in one shining moment on the hockey ice. There was an older journeyman hockey player, one who had spent time with a variety of teams and had never been seen as a star, who had a dream to play for the United States Olympic Hockey Team. Typically, these spots are reserved for the top stars in the National Hockey League or the NHL; however, the team decided to go a different route. They announced that they would not allow players who are currently rostered on an NHL team to compete for spots on the Olympic Team. This allowed other people, like the young man in this story, to have a shot at his dream.
While this player had played in the NHL in the past, he was not currently on an NHL roster. He was frequently signed only when other players were cut or traded. Right now, he plays in the American Hockley League, often shortened to the AHL, which is similar to the minor leagues of the AHL. While he had represented the USA in the World Championships in the past, he knew that making the Olympic Team would be a much bigger leap. He had this opportunity to make his dreams come true and he wanted to take full advantage of it.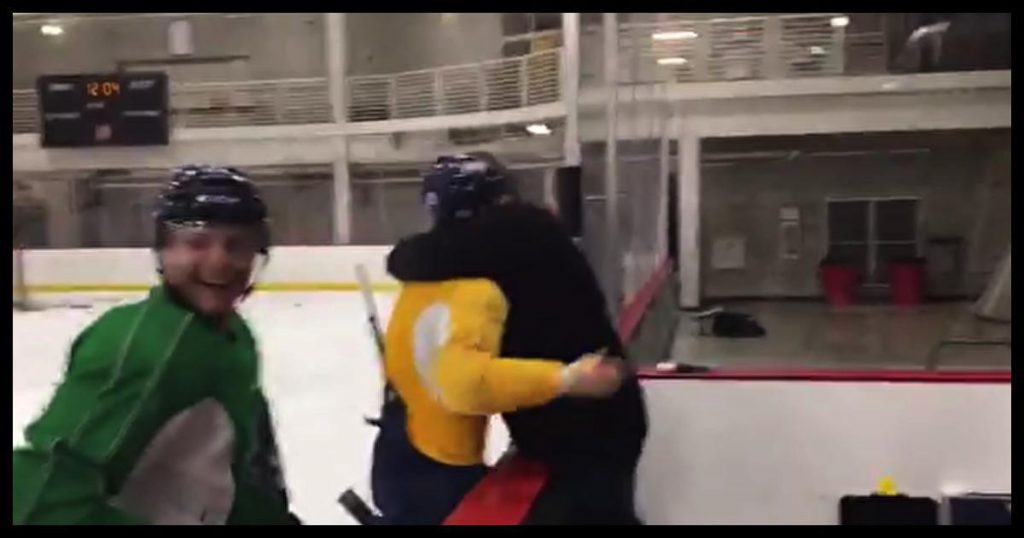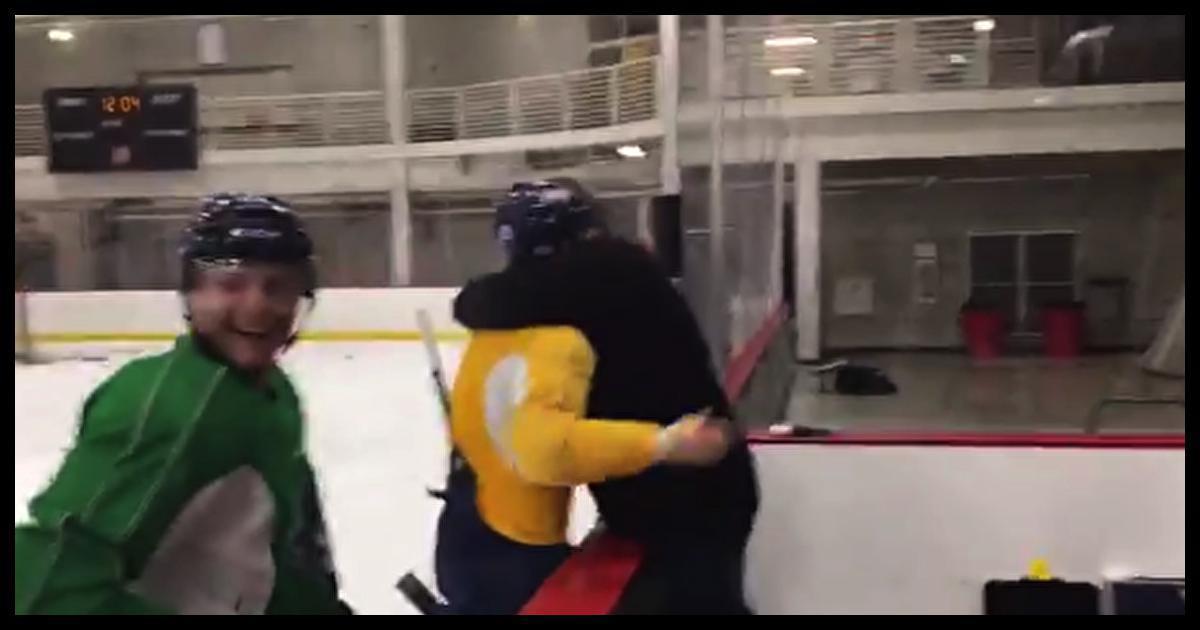 He was invited to try out for the team and underwent an intense evaluation filled with numerous tests, competitions, and other evaluations as the team managers tried to figure out how to make the best team they possibly could out of the people who were placed in front of them. In the end, when the managers selected the Olympic Team, this man found that his name was on the list. He was beside himself. He was shocked. He couldn't believe that his dream had finally come true. At the same time, there was one other person who was going to be able to understand the flurry of emotions that were going to rise to the surface. That person was his father.
There were cameras nearby that filmed the moment when this person's dad got the news that his son was going to be on the US Men's Hockey Team. The dad was seen visibly swelling with pride for his son and he wrapped his son in a giant hug. All of the other teammates could be seen cheering. This was a rare moment when a dad showed unbridled pride and enthusiasm for his son's accomplishments. It serves as a reminder to us all that dads can show emotions in front of, and for, their sons as well. While society has taught men to be "manly" and hold in their emotions, this is a sign that something needs to change. Studies have shown that kids of all ages can benefit from love and affection from their parents, including when it is displayed outwardly as it was in this case. It is perfectly fine for fathers to hug and kiss their sons. It is even fine in hockey, where the sport has a reputation for being very physical and, at times, openly violent. If a father can show affection for his son in this arena, then it should be fine anywhere else as well. Everyone can benefit from the lessons taught in this heartwarming video between father and son.
Zookeepers Set Up Camera And Capture Pregnant Rhino Giving Birth Without Any Assistance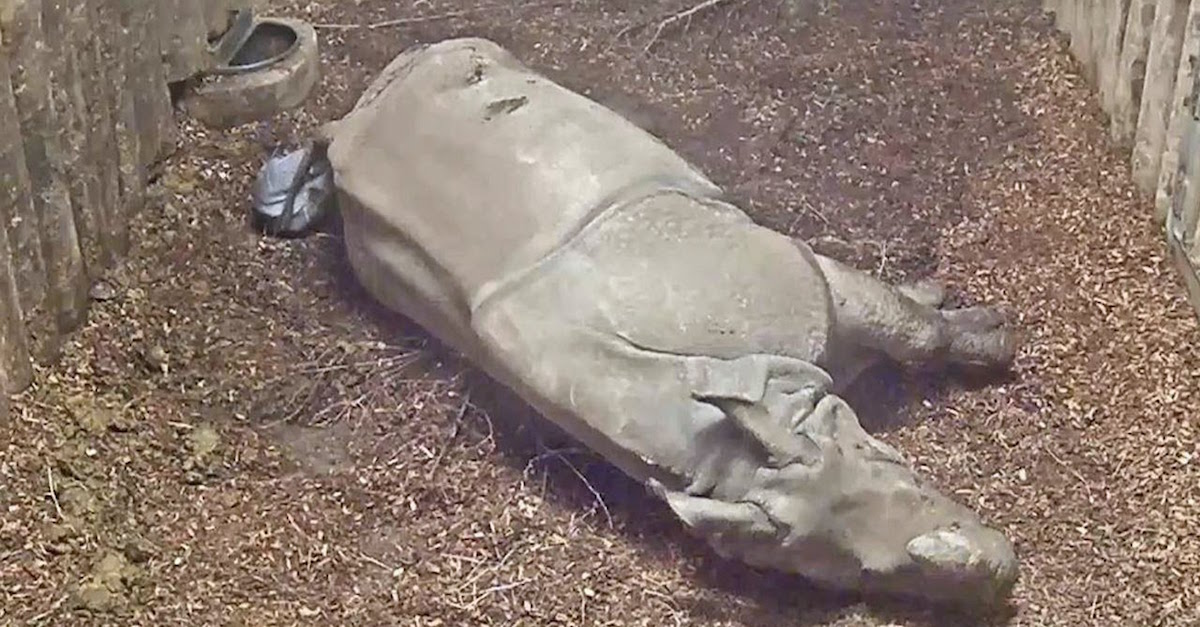 For a whopping sixteen months, Asha carried her baby in her womb. Asha, a rare greater one-horned rhinoceros, lives at the Chester Zoo in Cheshire, England. Luckily, her labor and delivery were much quicker than the gestational period was for her baby Rhino to come into the world.
After only about 20 minutes of labor, Asha successfully delivered a healthy male calf in the early morning hours on May 3, 2018, at her home at the Chester Zoo. The staff at the zoo were able to capture Asha's labor and delivery on video. The mama had an easy delivery on the floor of her enclosure and did not require assistance from the staff as she labored and brought her 132-pound baby boy. Once he is fully grown, Asha's son will balloon to an eye-popping two tons plus in weight!
Guests of the Chester Zoo were excited to visit the little rhino and his mama in their exhibit. Asha's baby is named Akeno which means "beautiful sunrise." Along with his birth, Akeno's first steps were also caught on tape along with snuggles with his 11-year-old mother Asha. They are a hit at the zoo and seem to be getting along well.
The staff at the well-visited zoo have been working towards keeping beautiful animals like Asha and baby Akeno together and better protected. One-horned rhinos are one-horned rhinos that are endangered at this point in a critical way and the staff is hoping the miraculous birth will not only attract visitors to the zoo but will draw attention to their work on this front. Animals like Asha and baby Akeno are the object of hunters who illegally poach them to be able to obtain their horns and sell them. There is a market for them as they are used in traditional Chinese medicine. A hunter can sell a single horn on the Asian black market for around $65,000 United States dollars. Even more offensive is the fact that wealthy hunters simply want the horns to hang on their walls and show off to friends as a status symbol of wealth and popularity.
According to a staff member of the Chester Zoo, not long ago there were less than 200 greater one-horned rhinoceros in the wild.
"They were hunted almost to extinction. Just in time steps were taken to protect them. Now there are about 2,600, but they still face threats in India and Nepal… it's important we do all we can to stop their numbers going down to critical levels again."
As the staff and many others work hard to fight against the illegally poaching of these beautiful animals, Asha and Akeno, who appears like he is dressed in a dark gray suit of armor, are enjoying their stay at the zoo and the many delighted visitors they come into contact with each day. The birth of Akeno on video has drawn more new visitors to the Chester Zoo and everyone seems to be happy with this new situation.