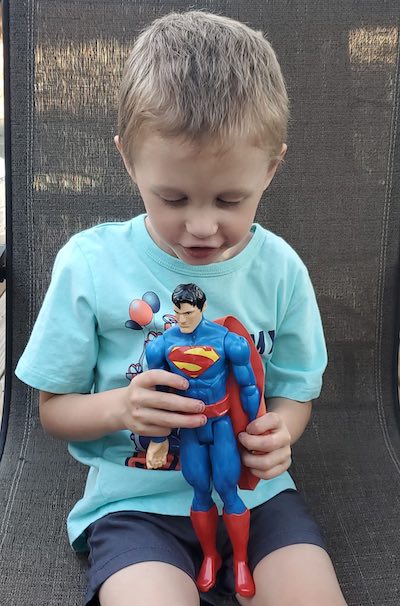 Young Boy Keeps Toy He Was Measured Against As A Premature Baby
Doctors sent home a woman and her husband to prepare for a miscarriage, but the defiant parents stayed put and now have the tale of a lifetime to tell.
So does their four-year-old son Logan Ray, born less than six months of pregnancy, has a Superman action-figure as proof of how small he was at birth. He was only 12 inches in length and weighed a pound and a half. He and the action figure his parents Rob and Val placed beside him shortly after his birth, are now inseparable.
How did this fascinating and heartwarming story come about?
Nearly five years ago, when Val was pregnant with their son, doctors wiped the smiles off their faces by announcing that the baby would not make it to full term. The Physician claims the baby would not survive at all, and they should brace themselves for any eventuality.
The reason for the bad news was that Val had been diagnosed with a cervix problem. The doctors said examinations showed her Cervix was incompetent. That situation usually transpires when unstable cervical tissue induces or contributes to premature delivery or the loss of pregnancy even though the gestation is, on the other hand, healthy.
Val and Rob blocked out the bad news they received, and we're adamant that they would remain in the hospital to see the pregnancy through. The baby was a fighter too and stayed put for all of twenty-three weeks. Val helped out by keeping her feet elevated and staying in bed for three weeks without getting up to do anything that could further jeopardize the pregnancy.
She gave birth to a child now known as the "Superman Baby" for dual reasons. He was mighty strong and put up a fight to survive, and he was the size of a Superman toy. The toy idea came about when the nurses suggested to the mom that she should use something like a keepsake to measure the baby alongside. When she ran the idea by her husband, he was very supportive and they agreed on the Superman novelty.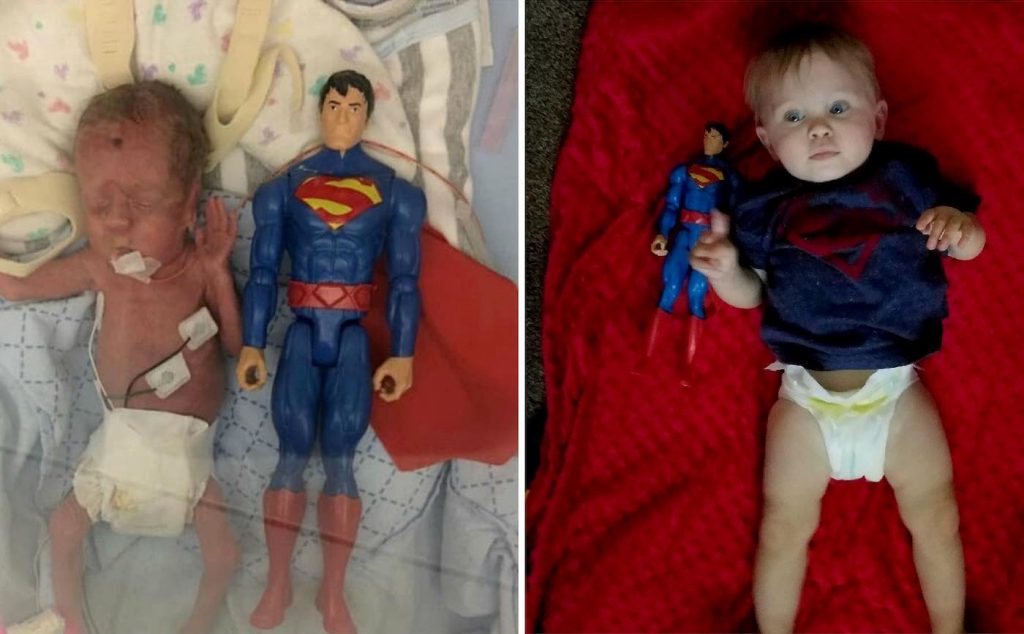 The doll was sanitized and placed beside Logan. For fifteen weeks, he remained in an incubator at the Randall Children's Hospital in Portland, Oregon fighting a myriad of complications that many feared would hinder the survival of Logan, but he pulled through like a champ. It was after those four months that he was finally able to leave with his parents.
From the hospital days to now, four years later, Val has been taking a multitude of photos with Logan carrying around his action figure. The doll is an indicator of Logan's successful development after a traumatic experience in the first few months of his life.
According to the happy and grateful parents, they communicate with the doctor who wants a regular update on Logan, who he refers to as " tough."
Many people consider not just Logan's survival but the fact that he has no further complications a miracle. Just like his action figure, Logan is healthy and strong as any regular child his age. His parents say they will never get rid of the Superman tog as memorabilia is not just for them, but for Logan when he becomes an adult.
He will have a tear-jerking story to tell years from now if or when he becomes a parent as well.
Act of Kindness at Party City Launches Heartwarming Viral Challenge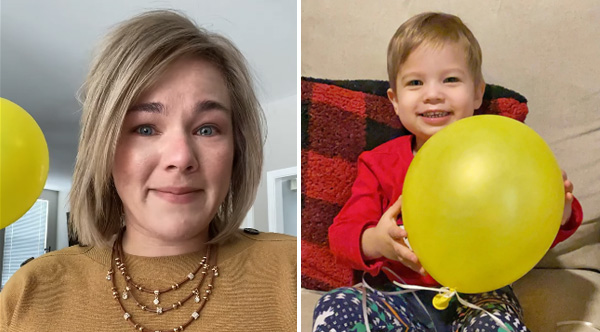 When Natasha and her son Grayson packed up their bags to visit Party City in Martinsburg, WV, they really had no idea what they were getting themselves into. Ostensibly on a trip to get some Valentine's Day gifts for school, Natasha and her son would end up engaging in a conversation with the cashier at the register. A short talk later and the cashier would gift young 2-year-old Grayson a yellow balloon. While the interaction may have seemed relatively mundane at a glance, it would go on to launch a viral challenge that would bring smiles to households around the world.
Launching a Viral Challenge — on Accident!
After returning home from Party City, Natasha Kable Fogle realized the depth of how touched she was by the gesture of kindness. Natasha would turn to Facebook in order to highlight the act of kindness granted at Party City as well as what it meant to her son, Grayson. While Natasha had wanted to spread the word about Party City's positive practices, she had no idea that her Facebook message would become the next big thing in viral challenges!
Natasha uploaded a video thanking the cashier at Party City for her act of kindness, and it wasn't long until the message had found its way around the internet. Pretty soon, a local law firm near Natasha would decide to launch the #YellowBalloonChallenge. The law firm, named Catrow Law PLLC, decided to launch the challenge on Twitter to start an avalanche of positive acts of kindness.
Catrow Law described the #YellowBalloonChallenge as a game of passing kindness forward in ways both large and small. From mowing the lawn or shoveling a driveway to paying for the car behind you at the coffee shop, the Yellow Balloon Challenge would quickly find its footing on the internet. To get things started, Catrow Law PLLC would pay $100 to Meals on Wheels by paying for a stranger's account. The donation was tagged with a simple message, "Keep the yellow balloon challenge going!"
The Internet Saves the Day
From Catrow Law PLLC, the Yellow Balloon Challenge would find its way to Studio M Boutique where it was summarily accepted. Studio M Boutique would agree to donate 10% of its sales for an entire night to a client that had been engaging in a fight against cancer. Not only would Studio M Boutique end up raising an exceptional amount of funds, but the business would push the Yellow Balloon Challenge into another demographic of potential challengers. Among the other local businesses to engage in the Yellow Balloon Challenge was TJ's Pit Stop who had dedicated its donations to The Boys and Girls Club.
Viral social media challenges have played a huge role in day-to-day life and the Yellow Balloon Challenge was no exception. First there was the Ice Bucket ALS challenge and now the Yellow Balloon Challenge. What else can the internet do to help those in need?