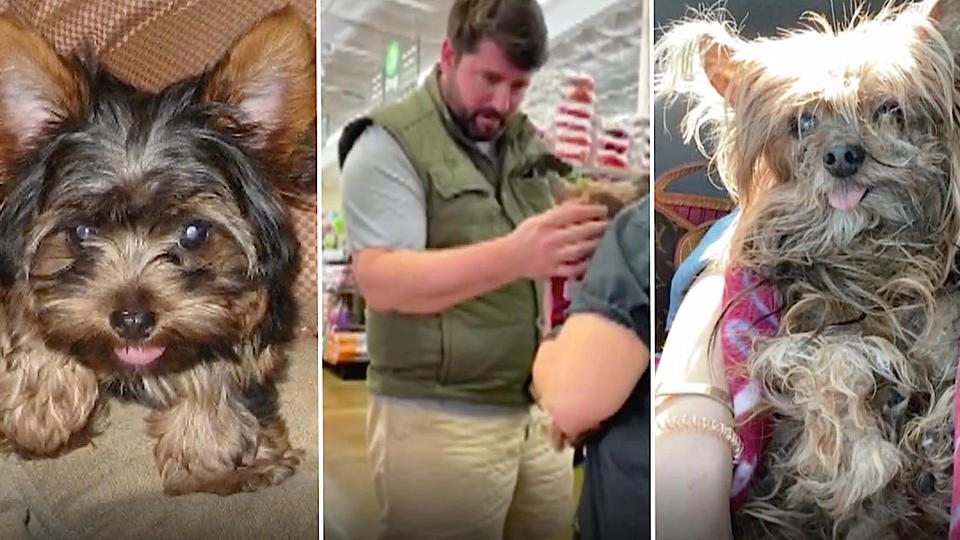 Yorkie Goes Missing for 14 Years and is Found 250 Miles Away
Have you ever had a dog or cat for a pet? Or any pet, for that matter? You love them and they love you back, unconditionally. How would you feel if your beloved pet disappeared one day? You'd probably feel heartbroken and begin to search for them everywhere. Maybe you'll put up flyers, post on social media or in the local newspaper, or call the local animal shelter to see if anyone had found them. What would you do if they had been gone for years? Would you give up hope?
This is what happened to the Webster family. About 14 years ago in Houston, Texas, Aaron Webster surprised his wife with a puppy for her birthdy. They named the 5 lb. Yorkshire Terrier, Rami, and they instantly fell in love with his personality. He was a rambunctious little Yorkie, and one day while going out for his routine bathroom break, he somehow got out of the fenced in yard. Their first thought, and worst fear, was that a hawk grabbed him. They were devastated, but still had hope that he somehow got out and was just wandering the neighborhood.
The Webster's posted flyers and asked anyone they met if they saw little Rami. No one had. After a year of looking, they began to lose hope. They didn't completely stop looking, but they began to think he was gone to them forever.
Fast forward to January of 2020, when a resident of Fort Worth, Texas, noticed a stray dog on the side of the road. He looked like he had been through a lot. His hair was matted, some of it was even missing. He also had no teeth, some open wounds on his face, and he was blind. The resident called animal control who picked him up and brought him to McKenzie Smith at Saving Hope Animal Rescue. This is when the story finds its happy ending. At Saving Hope Animal Rescue, they take dogs who have been neglected and try to find them loving homes. What they soon realized with their newest rescue, was that he had come from a loving home. While scanning his microchip, they were able to locate his owners, the Websters in Houston, almost 250 miles away.
When the three were reunited, it was one of the happiest moments of their lives. A dog they had thought gone to them forever, found them again. Rami, now 14 years old, is getting used to his new home. Aaron says that he is healthy and happy and getting used to his surroundings and new family, three human siblings and two furry ones. Rami was on his own for many years, and no one will know the adventures he had, but he is now going to live the rest of his days without worry and with his family who has loved him his whole life.
'Trail Angel' Leaves Behind Good Deeds For Other Hikers to Find
A marked route stretching between the Eastern United States and into Maine, the Appalachian Trail offers hikers the chance to experience the longest hiking-only trail on the planet. As a one-of-a-kind destination, the Appalachian Trail brings in more than 2 million visitors every single year. Reaching heights of 6,643 feet and extending for more than 2,200 total miles, the Appalachian Trail is as challenging as it is inviting, a testament both to nature and those willing to overcome it.
Due to the intensity of the trail and its large coverage area, Trail Angels have begun to leave behind little gifts to help others follow in their path. Michele Staudenmaier had been hiking on the Appalachian Trail (A.T.) in March alongside her son, Zach. While walking the trail, Zach and Michele got to talking about gifts left behind for the hikers. Apparently, the hiking community has always appreciated donated gifts and drinks alongside trail markers, lovingly referring to these individuals as Trail Angels.
Understanding how important food and drink can be to a wilderness hike that ranges from easy to strenuous, Michel decided that she would become a Trail Angel herself alongside her husband, Dave.
Becoming a Trail Angel
When Michel and Zach had their discussion regarding trail angels, they were in the middle of a fun family trip. Michel's husband, Dave, had already booked several Airbnb's along their route through the A.T., with booked stops in Georgia, Tennessee, Vermont, Maine, West Virginia, and Pennsylvania. The trip was scheduled to take roughly six months, crossing through many significantly remote and rural places. Some of these rural areas end up featuring a small oasis of hikers, and finding these areas is known as stumbling upon Trail Magic.
Michel and her family ran into a group of Trail Angels during their work. Michele said, "I realized there was a massive community of volunteers that spend their time and money to support A.T. hikers." Michele went on to say, "I had no idea!"
While an average hike will knock out nearly 600 calories per hour, it can be hard to normalize this average. Many hikers will carry packs weighing upwards of 30 to 50lbs, adding a tremendous amount of stress to their physical efforts. To help keep these folks fed and energized, Michele would cook and pack foods like hot dogs, chips, sweet treats, Gatorade, and even sodas. One such Trail Magic event saw Michele arrive with several buckets of Kentucky Fried Chicken, leading to more than 30 hikers eating well and sharing their stories.
One event showed Michele the true stakes pertaining to Trail Angels as well as the importance of her own work. Michele had fueled a trail marker with food when a hiker arrived. After talking to the weakened hiker, he revealed that he had run out of food completely. Had he not found Michele and her food, there is no telling what could have happened.
According to Michele and many of the hiking enthusiasts that she has met, it is rare to have any food leftover after a long hike. For that reason, unexpected hot meals waiting in the middle of the A.T. will always be seen and enjoyed as a magical moment!