Wow! The Best Pool Floaties of 2018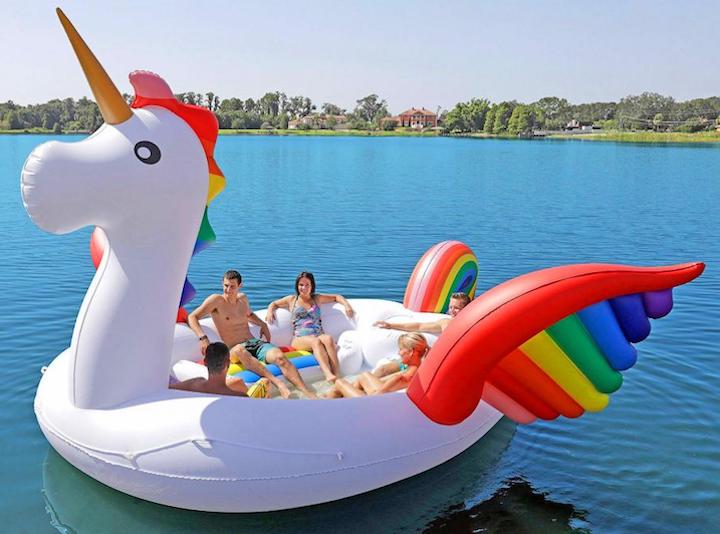 If you have never enjoyed the pool without the comfort of floaties, then you truly have not gained all that there is to enjoy from the experience. Floaties are the best way to get a pool party going in the right direction. Not only are the accessories fun to use in the water, but pool floats are also the epitome of safety when you hold events involving children. Of course, you cannot adequately enjoy all that there is to love about floaties without choosing accessories that are designed to fit your lifestyle. Here are five floaties that you absolutely must include in your pool collection.
1. The Giant Unicorn
Who says that adults do not believe in fairytales? This giant unicorn is proof that daydreaming can come to life. There are the wings of a rainbow that draw you into this creation. The golden headpiece is what keeps you intrigued. This giant unicorn takes on the form of a boat inside, which means that there is an abundance of room and seating for up to five adults to enjoy. Imagine yourself taking to the lake in this pool float beauty!
2. The Golden Crown
A king or queen deserves to be treated like royalty at all times. This pool float shaped like a crown never lets them forget who is running the show. The exterior is gold with every detail of what you would expect to see in an actual crown present. There are the jewels carved out at near the top of this large headwear along with a donut hole in the middle in case you decide to float and swim for a bit. Of course, there is a lot of space for laying out in the sun while floating along. What else are pool floaties for?
3. The Golden Pegasus
You can go to the movies to find a Golden Pegasus, or you can ride on one that comes in the form of a pool float. This accessory is best for a single person or couple. The purpose of the Golden Pegasus is to satisfy your adventurous needs. Lean against the support of the structure that comes in the form of a head to relax while remaining fairly alert on the water. Using a pool float like this at a crowded beach is a good way to become the talk of the town.
4. The Pizza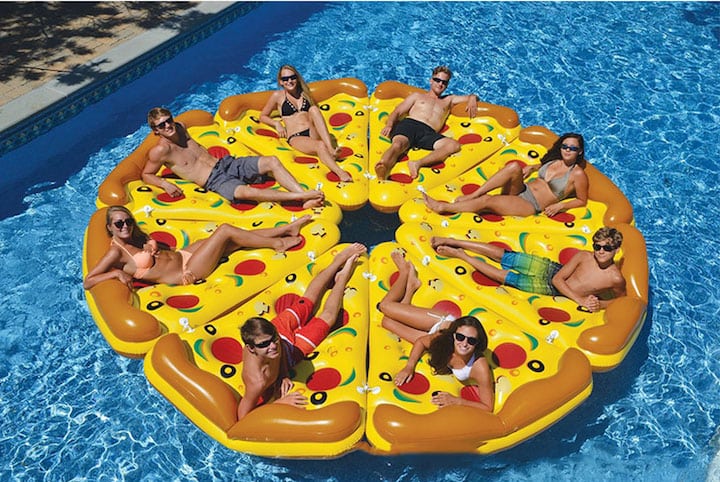 Why go for one slice of pizza when you can get the whole pastry? The giant pizza float is the ideal choice for you and seven of your friends when you want to just relax. There is something special about having a space of your own while floating along on the water. Things get even more significant when you are resting on an image crafted after food that you love.
5. The Mechanical Bull
Some people say that you have not lived until you have taken a ride on the mechanical bull. Some of us, however, do not want to experience the brunt of being thrown off the object. This pool float is an answer to hopes and dreams. You can get the thrill of riding a mechanical bull without worrying about the imminent physical pain that comes with abrupt jerks. As an added bonus, falling off this mechanical bull puts you in the water. This pool float offers a win-win situation.
Live it up at your next pool party with one of these floaties. Add them all to your collection for the ultimate experience.
Handicapped Puppy Befriends Flightless Pigeon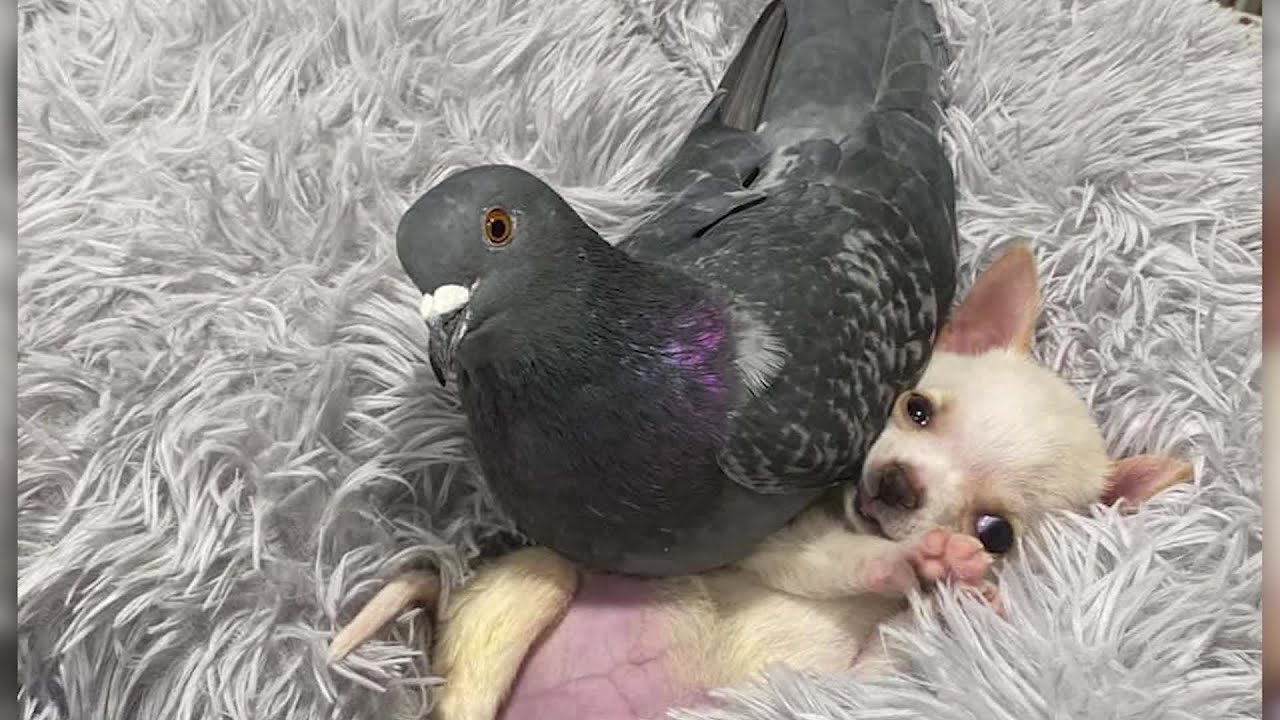 In Rochester, NY, Sue Rogers runs a non-profit called the Mia Foundation. The rescue organization rescues and rehabilitates animals who have birth defects or deformities and tries to find them a loving home. About a year ago, a pigeon was found unable to move in the parking lot of a car dealership. The pigeon was huddled and cowering on the ground. When a local wildlife rescue was called, they said the bird had neurological damage that caused him not to be able to fly. They thought that euthanization would be the best option for him.
Sue was having none of that. She stepped in and took the bird, who she named Herman, under her wing, so to speak. She made space for him in her shelter and kept him close where she could keep an eye on him. He liked to sit on a furry dog pillow and watch her work.
A couple months ago, a tiny Chihuahua was brought to the Mia Foundation. He was an infant, maybe a few months old, when his South Carolina breeders sent him to Sue. He's a teacup sized Chihuahua they named Little Lundy and he was born with spinal cord damage. Sue also determined that he was suffering from swimmers syndrome. Swimmers syndrome is a developmental deformity that causes the front and hind legs to be splayed out. This makes it almost impossible for Little Lundy to walk.
Although swimmers syndrome is thought to be untreatable, according to a few studies and an article in a veterinary journal, it can be treatable. With some physical therapy and at-home treatment, Little Lundy could live a long and happy life, which is exactly what Sue plans for him.
When Little Lundy arrived at the Mia Foundation he decided to get acquainted with his new surroundings and the other animals at the shelter. One particular encounter, created a friendship that has gone viral. Herman and Little Lundy, a puppy and a pigeon, are the unlikeliest of friends, but they have a lot in common. They both have trouble walking, or flying in Hermans case, and they were living in the same place. You could say, they were in the right place at the right time to become instant friends.
In the six weeks they have been together, Herman and Little Lundy have become inseparable. They do everything together, which is a lot of sleeping and snuggling. Mostly, with Herman sitting on top of Little Lundy, which doesn't bother him in the slightest. This friendship was so out of the ordinary that Sue had to document it. The viral sensation of the puppy and pigeon has brought attention to the Mia Foundation that was much needed. The rescue organization runs solely on donations to help cover the costs of taking care of the animals and for needed surgeries. So far, about $6000 was donated because of this unlikely friendship and over 100 adoption inquiries. Hopefully when they are adopted, they are able to stay together.