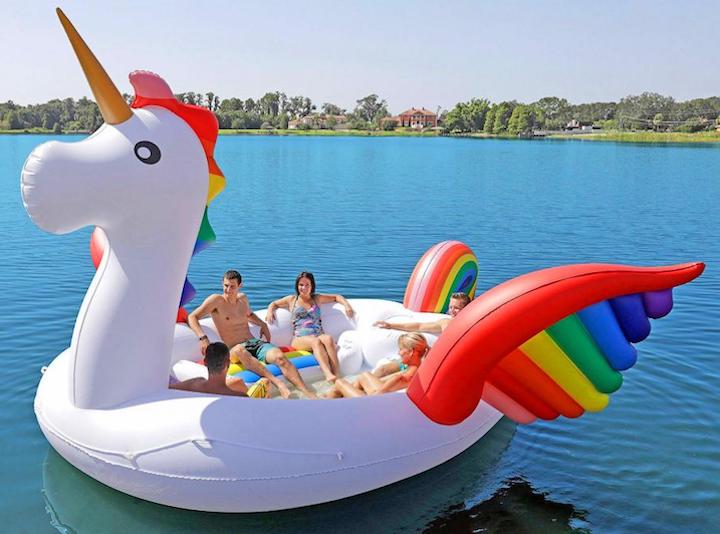 Wow! The Best Pool Floaties of 2018
If you have never enjoyed the pool without the comfort of floaties, then you truly have not gained all that there is to enjoy from the experience. Floaties are the best way to get a pool party going in the right direction. Not only are the accessories fun to use in the water, but pool floats are also the epitome of safety when you hold events involving children. Of course, you cannot adequately enjoy all that there is to love about floaties without choosing accessories that are designed to fit your lifestyle. Here are five floaties that you absolutely must include in your pool collection.
1. The Giant Unicorn
Who says that adults do not believe in fairytales? This giant unicorn is proof that daydreaming can come to life. There are the wings of a rainbow that draw you into this creation. The golden headpiece is what keeps you intrigued. This giant unicorn takes on the form of a boat inside, which means that there is an abundance of room and seating for up to five adults to enjoy. Imagine yourself taking to the lake in this pool float beauty!
2. The Golden Crown
A king or queen deserves to be treated like royalty at all times. This pool float shaped like a crown never lets them forget who is running the show. The exterior is gold with every detail of what you would expect to see in an actual crown present. There are the jewels carved out at near the top of this large headwear along with a donut hole in the middle in case you decide to float and swim for a bit. Of course, there is a lot of space for laying out in the sun while floating along. What else are pool floaties for?
3. The Golden Pegasus
You can go to the movies to find a Golden Pegasus, or you can ride on one that comes in the form of a pool float. This accessory is best for a single person or couple. The purpose of the Golden Pegasus is to satisfy your adventurous needs. Lean against the support of the structure that comes in the form of a head to relax while remaining fairly alert on the water. Using a pool float like this at a crowded beach is a good way to become the talk of the town.
4. The Pizza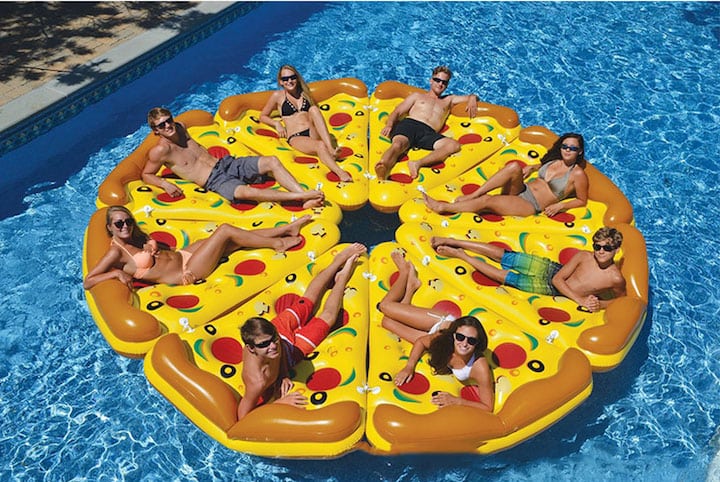 Why go for one slice of pizza when you can get the whole pastry? The giant pizza float is the ideal choice for you and seven of your friends when you want to just relax. There is something special about having a space of your own while floating along on the water. Things get even more significant when you are resting on an image crafted after food that you love.
5. The Mechanical Bull
Some people say that you have not lived until you have taken a ride on the mechanical bull. Some of us, however, do not want to experience the brunt of being thrown off the object. This pool float is an answer to hopes and dreams. You can get the thrill of riding a mechanical bull without worrying about the imminent physical pain that comes with abrupt jerks. As an added bonus, falling off this mechanical bull puts you in the water. This pool float offers a win-win situation.
Live it up at your next pool party with one of these floaties. Add them all to your collection for the ultimate experience.
American Couple's Kindness Shines in Snowy Adventure with South Korean Tourists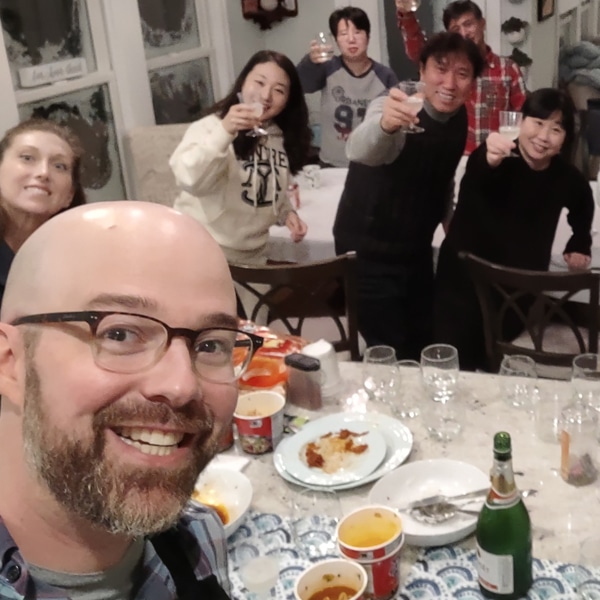 In a heartwarming tale of kindness and friendship, an American couple from Buffalo, New York, opened their home to a group of stranded South Korean tourists during a severe blizzard on December 23rd. What started as a simple request for shovels turned into a heartwarming story that went viral, bringing people together across borders. The couple's act of compassion not only provided shelter but also sparked an enduring bond that led to a special reunion in South Korea. Let's delve into this remarkable story and explore the lasting impact of their selfless act.
As the blizzard raged outside, ten South Korean tourists found themselves stuck in their van, unable to move through the heavy snow. Seeking assistance, they approached a nearby house and requested shovels to dig themselves out. However, they received much more than they had anticipated. The couple, who had prepared for a quiet Christmas at home, welcomed the strangers with open arms and invited them inside.
The storm had brought these strangers together, creating an opportunity for cultural exchange and friendship. During the two nights and three days they spent together, the couple and their unexpected guests bonded over stories, shared meals, and even watched American football. The couple, who had a deep appreciation for Korean cuisine, surprised their guests with an array of Korean food ingredients. The South Korean visitors were amazed to find soy sauce, mirin, chili powder, chili paste, a rice cooker, and Korean cookbooks, as if the couple had been preparing for their arrival.
News of the couple's kindness quickly spread across the internet, captivating hearts around the world. Social media platforms buzzed with messages of admiration and appreciation for their selfless act. Many people were inspired by their story and were motivated to perform acts of kindness themselves. The couple received an outpouring of support, with kind messages, cards, and generous gifts from various Korean groups, including a year of free fried chicken at Genesis BBQ.
Months later, in May, the couple embarked on a 10-day tour of Seoul, graciously invited by the Korea Tourism Organization. This visit was not merely a sightseeing adventure but a chance to reunite with the guests they had sheltered during the blizzard. Andrea, the wife, expressed her gratitude and joy, saying, "To see everyone in Korea again is such a blessing." The couple had always held an appreciation and interest in Korean culture, and their chance encounter had brought them closer to this beautiful country.
The bond forged during their time together in Buffalo proved to be strong and lasting. The couple and their South Korean guests became lifelong friends. The experience inspired not only the couple but also their guests, who felt compelled to pay it forward and spread kindness to others. Through their act of compassion, the American couple created a ripple effect of goodwill, reminding us of the power of empathy and humanity.