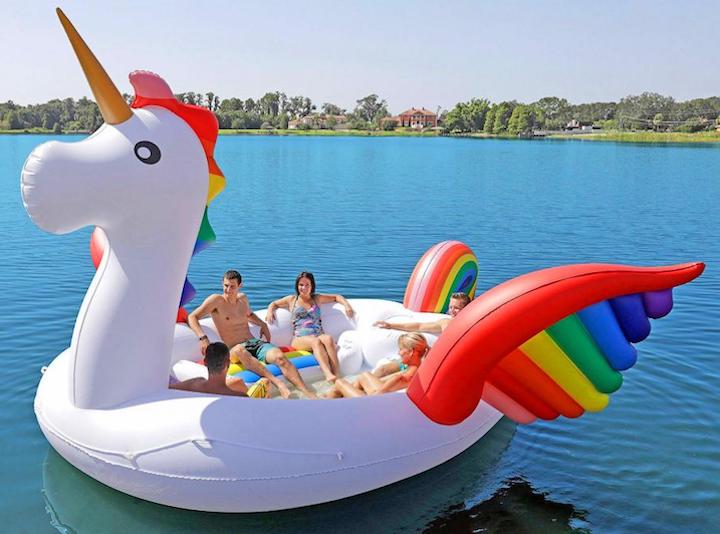 Wow! The Best Pool Floaties of 2018
If you have never enjoyed the pool without the comfort of floaties, then you truly have not gained all that there is to enjoy from the experience. Floaties are the best way to get a pool party going in the right direction. Not only are the accessories fun to use in the water, but pool floats are also the epitome of safety when you hold events involving children. Of course, you cannot adequately enjoy all that there is to love about floaties without choosing accessories that are designed to fit your lifestyle. Here are five floaties that you absolutely must include in your pool collection.
1. The Giant Unicorn
Who says that adults do not believe in fairytales? This giant unicorn is proof that daydreaming can come to life. There are the wings of a rainbow that draw you into this creation. The golden headpiece is what keeps you intrigued. This giant unicorn takes on the form of a boat inside, which means that there is an abundance of room and seating for up to five adults to enjoy. Imagine yourself taking to the lake in this pool float beauty!
2. The Golden Crown
A king or queen deserves to be treated like royalty at all times. This pool float shaped like a crown never lets them forget who is running the show. The exterior is gold with every detail of what you would expect to see in an actual crown present. There are the jewels carved out at near the top of this large headwear along with a donut hole in the middle in case you decide to float and swim for a bit. Of course, there is a lot of space for laying out in the sun while floating along. What else are pool floaties for?
3. The Golden Pegasus
You can go to the movies to find a Golden Pegasus, or you can ride on one that comes in the form of a pool float. This accessory is best for a single person or couple. The purpose of the Golden Pegasus is to satisfy your adventurous needs. Lean against the support of the structure that comes in the form of a head to relax while remaining fairly alert on the water. Using a pool float like this at a crowded beach is a good way to become the talk of the town.
4. The Pizza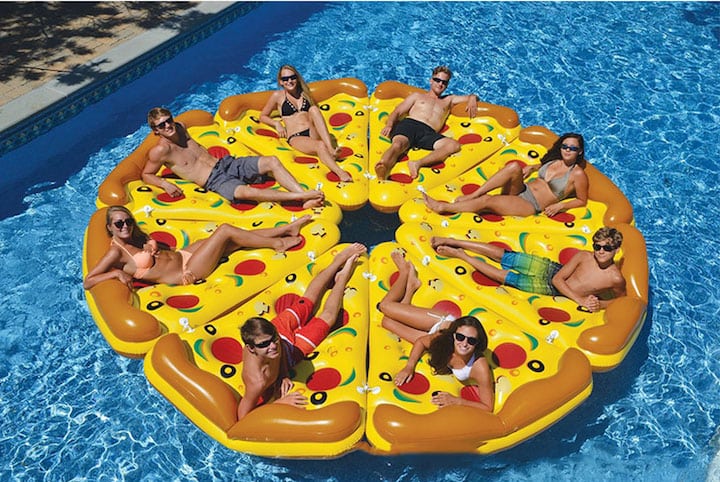 Why go for one slice of pizza when you can get the whole pastry? The giant pizza float is the ideal choice for you and seven of your friends when you want to just relax. There is something special about having a space of your own while floating along on the water. Things get even more significant when you are resting on an image crafted after food that you love.
5. The Mechanical Bull
Some people say that you have not lived until you have taken a ride on the mechanical bull. Some of us, however, do not want to experience the brunt of being thrown off the object. This pool float is an answer to hopes and dreams. You can get the thrill of riding a mechanical bull without worrying about the imminent physical pain that comes with abrupt jerks. As an added bonus, falling off this mechanical bull puts you in the water. This pool float offers a win-win situation.
Live it up at your next pool party with one of these floaties. Add them all to your collection for the ultimate experience.
Sweet Elderly Man Joins Makeup Class To Help Wife With Makeup, Quickly Goes Viral!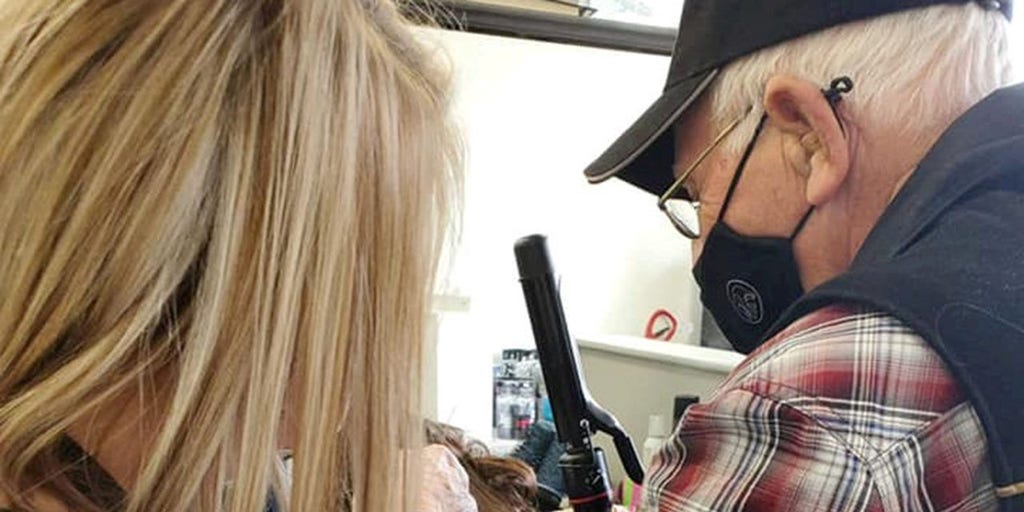 Carrie Hannah is the director at Delmar College of Hair and Esthetics, located in Alberta, Canada. A haircare professional with years of experience under her belt as an instructor, Hannah had grown accustomed to teaching even the most unusual of students the skills they would need to succeed in the hair, makeup, and beauty world. With that being said, even Carrie was surprised when she met with an elderly man at her school who had wished to learn a few things in the field. His reasoning? Well, that's the reason for today's story.
Let's leap into one of the most touching beauty school stories you'll ever read!
Helping Hands For Those We Love
There are few things in life more important than taking care of and providing care to the ones that we love. When we stand before our significant other and bind ourselves together in marriage, we truly hope to embrace 'TIl Death Do Us Part' in the same way that our story's subject has.
Carrie Hannah had been preparing for classes with her students as if it were any other day when she was approached by a white-haired, elderly man. The man, who wishes to remain anonymous, would introduce himself to Carrie before getting into the reason for their meeting — the elderly man had wanted to help his wife with her makeup.
According to Carrie, the elderly man explained that his wife had been struggling with her vision as she grew older. As she struggled to see, her beauty routine became more of a chore. His wife was struggling to curl her hair and had even burned herself in the process. Her husband wanted to help, but he didn't know exactly how, and that's where our two protagonists came together.
Carrie would go on to say that the man "genuinely cared" about his wife and her process. Carrie would continue, "His wife always cared about her appearance, and he wanted to help."
A New Set of Skills
With his motive explained and a spot available to him, Carrie would quickly get her new student into a class. At 79 years old, he was certainly going to be one of her most experienced students. The story would get picked up by Hair Design by Birtney and photos from the class would quickly go viral. Thousands of users would share the images and hundreds of thousands of views would quickly follow.
According to Hair Design by Britney, the man learned how to use a curler while also teaching him how to perform volume curls on shorter hair. Another point of emphasis that the teacher was sure to go over would involve the application of mascara. Of course, all of these lessons were combined with a hefty dose of safety training as they did not want to have any more burn incidents at home.
Commenters on the story would go crazy for the elderly man looking to support his wife. Comments ranged from compliments over his heart and attention to respect for his ambition to learn new skills outside his comfort zone. Another user recalled that their father had done something similar for their mother who had been diagnosed with Alzheimer's.
According to Hannah, working with the man to help his wife would become a highlight of her more than 31-year-career in the beauty industry. Hannah says, "We needed some cheering up and he sure did it."