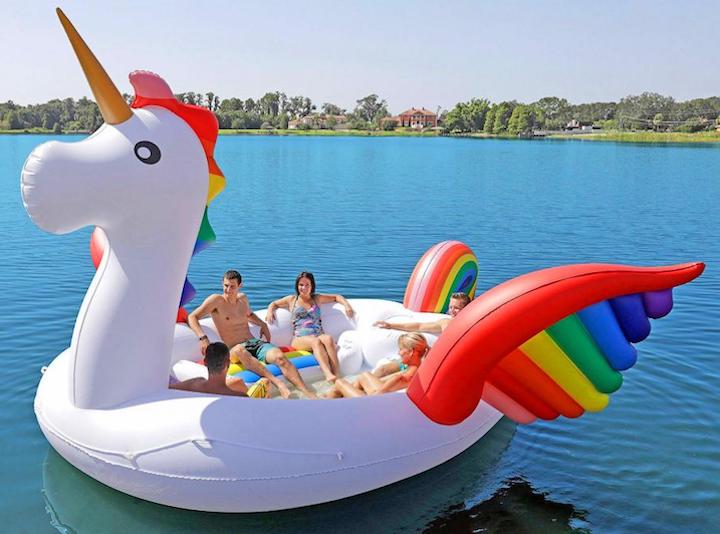 Wow! The Best Pool Floaties of 2018
If you have never enjoyed the pool without the comfort of floaties, then you truly have not gained all that there is to enjoy from the experience. Floaties are the best way to get a pool party going in the right direction. Not only are the accessories fun to use in the water, but pool floats are also the epitome of safety when you hold events involving children. Of course, you cannot adequately enjoy all that there is to love about floaties without choosing accessories that are designed to fit your lifestyle. Here are five floaties that you absolutely must include in your pool collection.
1. The Giant Unicorn
Who says that adults do not believe in fairytales? This giant unicorn is proof that daydreaming can come to life. There are the wings of a rainbow that draw you into this creation. The golden headpiece is what keeps you intrigued. This giant unicorn takes on the form of a boat inside, which means that there is an abundance of room and seating for up to five adults to enjoy. Imagine yourself taking to the lake in this pool float beauty!
2. The Golden Crown
A king or queen deserves to be treated like royalty at all times. This pool float shaped like a crown never lets them forget who is running the show. The exterior is gold with every detail of what you would expect to see in an actual crown present. There are the jewels carved out at near the top of this large headwear along with a donut hole in the middle in case you decide to float and swim for a bit. Of course, there is a lot of space for laying out in the sun while floating along. What else are pool floaties for?
3. The Golden Pegasus
You can go to the movies to find a Golden Pegasus, or you can ride on one that comes in the form of a pool float. This accessory is best for a single person or couple. The purpose of the Golden Pegasus is to satisfy your adventurous needs. Lean against the support of the structure that comes in the form of a head to relax while remaining fairly alert on the water. Using a pool float like this at a crowded beach is a good way to become the talk of the town.
4. The Pizza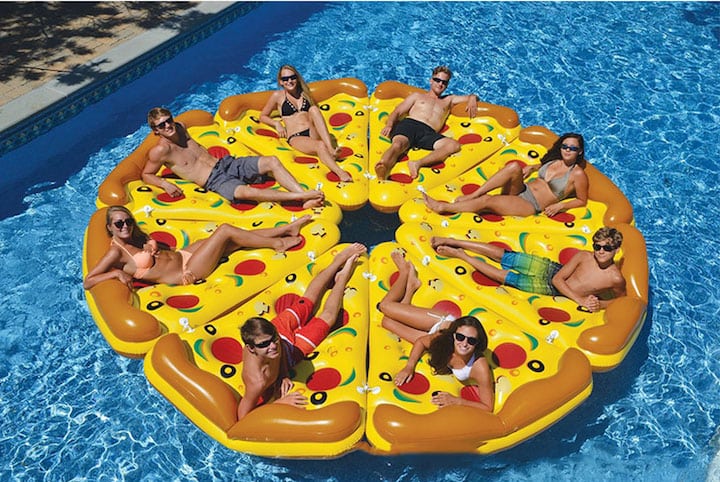 Why go for one slice of pizza when you can get the whole pastry? The giant pizza float is the ideal choice for you and seven of your friends when you want to just relax. There is something special about having a space of your own while floating along on the water. Things get even more significant when you are resting on an image crafted after food that you love.
5. The Mechanical Bull
Some people say that you have not lived until you have taken a ride on the mechanical bull. Some of us, however, do not want to experience the brunt of being thrown off the object. This pool float is an answer to hopes and dreams. You can get the thrill of riding a mechanical bull without worrying about the imminent physical pain that comes with abrupt jerks. As an added bonus, falling off this mechanical bull puts you in the water. This pool float offers a win-win situation.
Live it up at your next pool party with one of these floaties. Add them all to your collection for the ultimate experience.
Cornwall Family's Dog Leads Rescue Team to Missing Cat Mowgli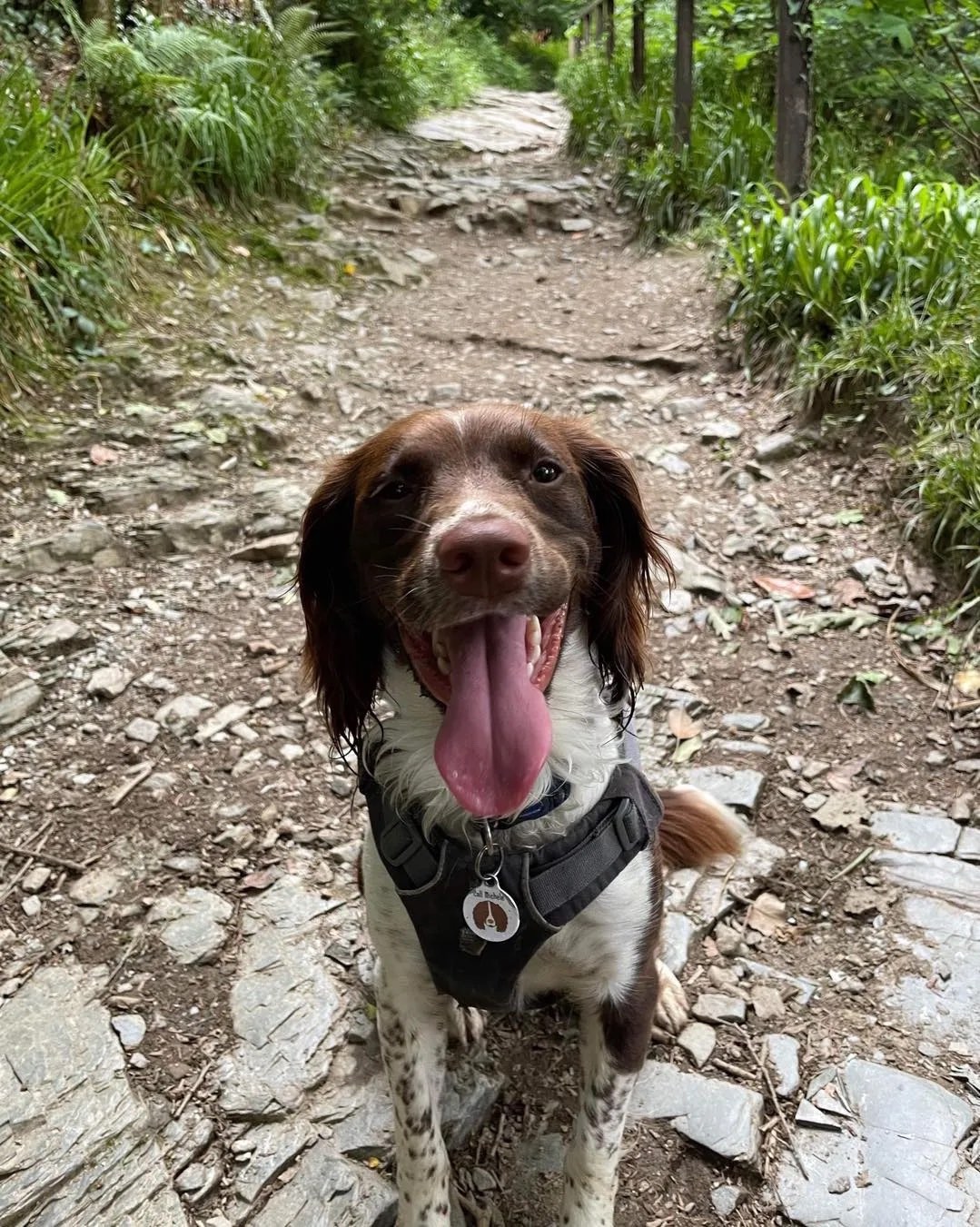 In a heartwarming tale of loyalty and bravery, a family in Cornwall, UK, was reunited with their missing cat, Mowgli, thanks to their quick-thinking dog, Daisy. Mowgli had gone missing on October 20 and was lost for six days before Daisy led the family to a surprising discovery.
Mowgli's owner, Michele Rose, had nearly given up hope of finding her beloved cat when Daisy, a spirited spring spaniel, exhibited unusual behavior near the woods surrounding their Cornwall home. "Daisy was going berserk," Michele explained, prompting the family to follow the determined dog.
Daisy, known to be good friends with Mowgli, seemed to sense something amiss and guided the family to an abandoned mineshaft. Michele's son, Hamish, shared with the PA news agency, "Daisy and Mowgli are pretty good mates, so she could probably tell he was down there."
The family's concern deepened as they realized Mowgli might be trapped in the mineshaft. Swift action was required, and a rescue team was summoned to the scene. Equipped with cages and rope, the team worked tirelessly for hours to reach the stranded feline.
To their astonishment, Mowgli was found safe at the bottom of the mineshaft. Miraculously, despite the ordeal, the resilient cat emerged unharmed. The rescue team carefully lifted Mowgli to safety, bringing joy and relief to the worried family.
"Without Daisy doing that, Mowgli could still be down there, that's for sure. She was persistent in making me follow her; it was amazing. Daisy is a superstar. She's an amazing dog," expressed Michele Rose in gratitude to her faithful canine companion during an interview with the BBC.
Hamish, Michele's son, added with a touch of humor, "If Daisy wasn't the favorite child already, she definitely is now," speaking to The Independent. The heroic efforts of Daisy not only saved Mowgli but also showcased the incredible bond between animals and their ability to understand and communicate in times of need.