Woman Gets the Most Unexpected Response From Baseball Tossed Into Ocean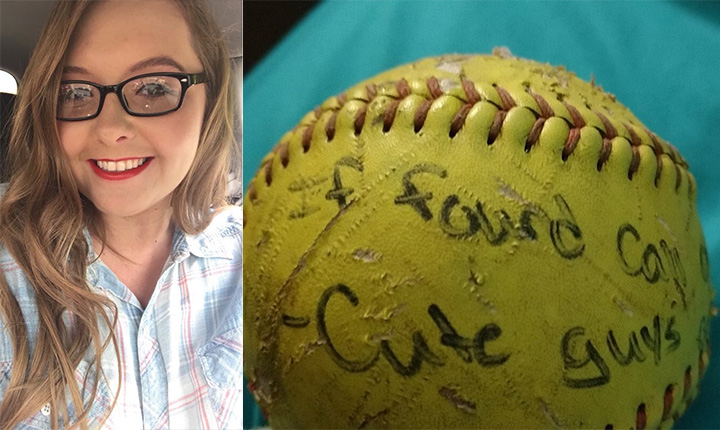 The fun notion of sending a message in a bottle across the ocean and getting a reply from a wonderful, mysterious stranger has for long been something seen only in fiction novels and movies until one day a young lady on Twitter experienced this in real life. This lady chose to write a message on a baseball and threw it into the ocean awaiting a response. Read on to find out what happened after 6 years.
Sending the message
Hayley Sharpied is an acclaimed optimist who always felt drawn to the vividness of the romantic tales she saw in novels and in movies. Looking to getting a fairy tale turnout in her real life full of epic romance, she took the step to try something interesting.
Hayley made the decision to write her name, mobile phone number, and a message telling a cute guy to text her back on a baseball. Afterwards, she went to the beach and threw the ball into the ocean, awaiting a response. She was excited of the thought that a handsome man would discover her tattooed ball and reply. Believe it or not, 6 years later, this young lady got a response from somebody.
Surprising response
Time passed and Hayley continued with her normal life facing the ups and downs of life, therefore it was not a surprise that she had totally forgotten about the message she had sent on a baseball telling a cute guy to contact her. However, the unexpected happen, she received a strange text on November 11, six years after she had thrown the softball into the ocean.
The person at the other end of the phone told her that he wanted to be a superhero, and asked her to guess his name. Surprised and extremely intrigued, Hayley answered the message and eventually discovered that the mysterious texter had come across her baseball on a beach somewhere.
After messaging several times, she came to learn that the person sending her those texts was called Adam. She was excited, thinking this would turn out to be a beautiful romantic story, but she soon discovered that the person was actually named Ashley, not Adam.
It's not a man
Shockingly, the girl came to learn that the person who was calling himself "Adam" was not a man, but rather a lady by the name of "Ashley". What a surprising twist!
Ashley explained that she had pretended to be Adam because she was just trying to come out as a cute guy. She apologized and hoped they could still be friends.
Friends Ever Since
Hayley reports that the two became friends in the end. But the story did not end there, it turned out that Ashley was actually Kelci. The Mysterious girl had told a lie about her name yet again.
The message sent over a baseball may have not brought Hayley the man of her dreams, but it brought her a lifelong friend named Kelci.
How the story turned out is quite unreal, but interesting at the same time. Hopefully the two women who met so strangely will remain friends forever. Truly the unexpected can also happen, you can also try to send a message over the ocean and see how it turns out, I know I will.
Handicapped Puppy Befriends Flightless Pigeon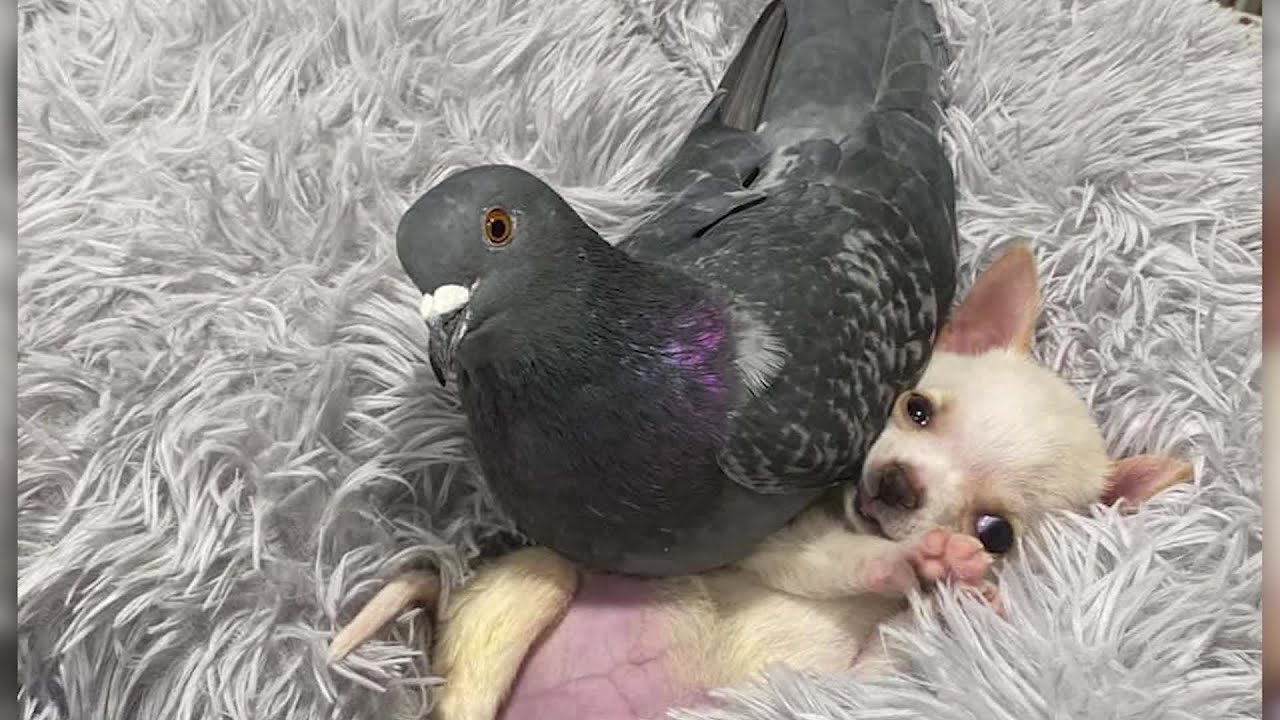 In Rochester, NY, Sue Rogers runs a non-profit called the Mia Foundation. The rescue organization rescues and rehabilitates animals who have birth defects or deformities and tries to find them a loving home. About a year ago, a pigeon was found unable to move in the parking lot of a car dealership. The pigeon was huddled and cowering on the ground. When a local wildlife rescue was called, they said the bird had neurological damage that caused him not to be able to fly. They thought that euthanization would be the best option for him.
Sue was having none of that. She stepped in and took the bird, who she named Herman, under her wing, so to speak. She made space for him in her shelter and kept him close where she could keep an eye on him. He liked to sit on a furry dog pillow and watch her work.
A couple months ago, a tiny Chihuahua was brought to the Mia Foundation. He was an infant, maybe a few months old, when his South Carolina breeders sent him to Sue. He's a teacup sized Chihuahua they named Little Lundy and he was born with spinal cord damage. Sue also determined that he was suffering from swimmers syndrome. Swimmers syndrome is a developmental deformity that causes the front and hind legs to be splayed out. This makes it almost impossible for Little Lundy to walk.
Although swimmers syndrome is thought to be untreatable, according to a few studies and an article in a veterinary journal, it can be treatable. With some physical therapy and at-home treatment, Little Lundy could live a long and happy life, which is exactly what Sue plans for him.
When Little Lundy arrived at the Mia Foundation he decided to get acquainted with his new surroundings and the other animals at the shelter. One particular encounter, created a friendship that has gone viral. Herman and Little Lundy, a puppy and a pigeon, are the unlikeliest of friends, but they have a lot in common. They both have trouble walking, or flying in Hermans case, and they were living in the same place. You could say, they were in the right place at the right time to become instant friends.
In the six weeks they have been together, Herman and Little Lundy have become inseparable. They do everything together, which is a lot of sleeping and snuggling. Mostly, with Herman sitting on top of Little Lundy, which doesn't bother him in the slightest. This friendship was so out of the ordinary that Sue had to document it. The viral sensation of the puppy and pigeon has brought attention to the Mia Foundation that was much needed. The rescue organization runs solely on donations to help cover the costs of taking care of the animals and for needed surgeries. So far, about $6000 was donated because of this unlikely friendship and over 100 adoption inquiries. Hopefully when they are adopted, they are able to stay together.