With Some Love and Creativity, the New Agility Champ is a Dog who is Deaf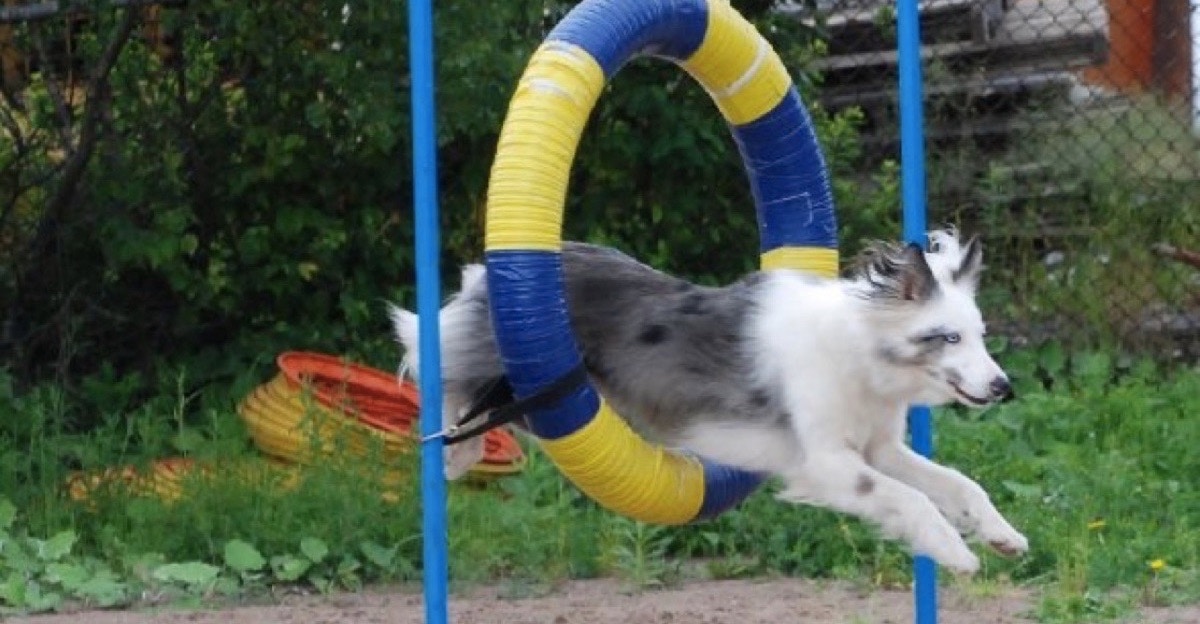 Recently, an adorable story is making the rounds describing a dog who reached new heights after being given up by her first owners. Sadly, this dog was originally separated from its owners when she was given away. Unfortunately, the dog was abandoned because she is deaf and her owners didn't want to have to deal with this complication. Fortunately, someone else stepped up to the plate to help.
The new owner rescued this dog when she was a young puppy of only three months. The new owner saw a great deal of potential in the dog, despite her disability. It turned out that she was right. The puppy has a lot of spunk and never gave up on anything. The dog has so much confidence and skill that she even won a national agility contest in Canada! While this is an impressive feat for any animal, it is even more impressive considering this dog cannot hear! Many dogs who participate in this contest go through months of training that involve whistling, finger snaps, and other audio cues that direct the dog regarding its various tasks. Unfortunately, this dog cannot take these cues.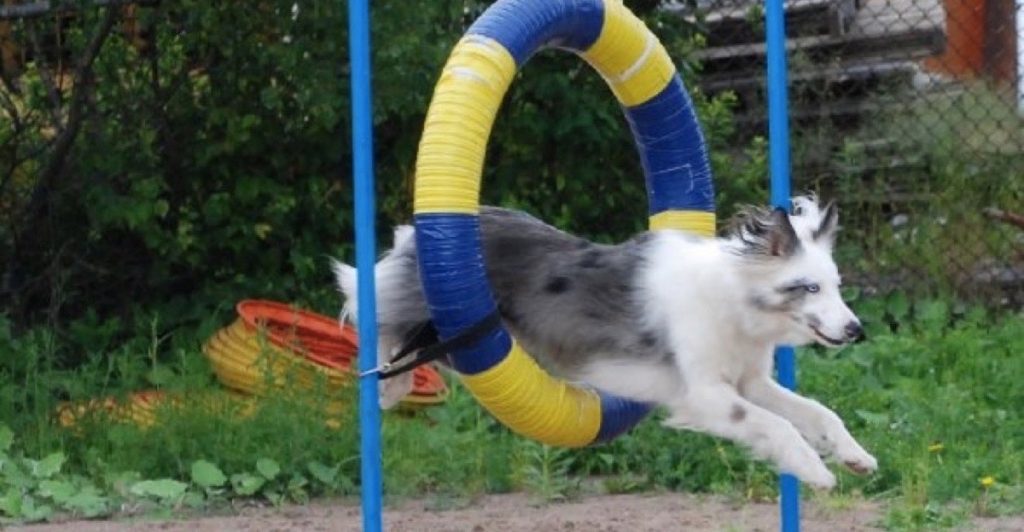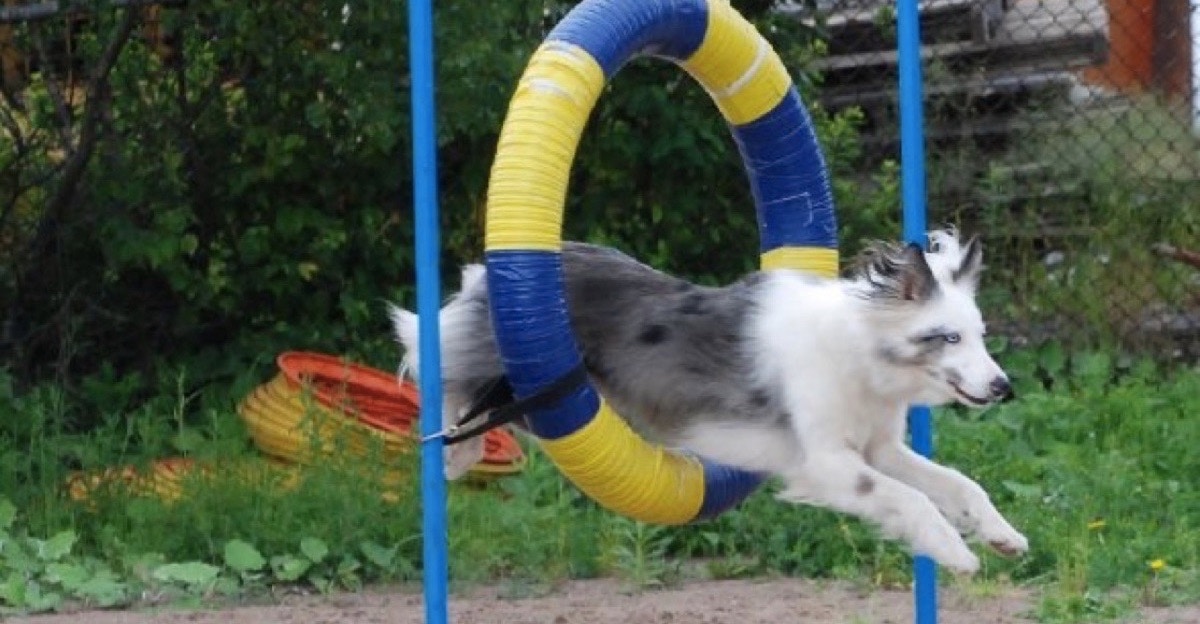 Therefore, the owner decided to create a body language messaging system to help this dog learn how to complete the various tasks. This worked out well. Then, the dog had to enter a bunch of other local contests before she could enter the national one. One by one, the contests started to fall and the puppy was quickly becoming a master of these various events. After several years and numerous training sessions, she was eventually ready for the national contest. Seven years after the first contest, she entered the national competition and competed for the title of agility champion. At the competition, she had to jump hurdles, wave her way through various obstacles and complete a number of other challenges, racing against the other dogs in the competition.
The dog's owner actually believes that this dog's inability to hear might be an asset in these competitions. Without the ability to hear, she is less prone to getting distracted by the other dogs and people in the arena. The barking, conversations, shouts, and whistles are unlikely to derail a dog who cannot hear. Therefore, this dog remained focus on the task at hand and knocked out the challenges one by one.
The dog takes its signals from its owner using mostly hand gestures. For example, a thumbs up sign means that the dog did a good job. Furthermore, this also means the dog is going to be rewarded with a tasty treat! With the big contest now in the past, and a proud award to prove its success, this dog is probably going to retire from these various competitions. The dog is no longer young, pushing 10 years old, which is advanced for an animal of this size. With the window of opportunity closed, and the dog going out on top, this just feels like the right time.
Of course, the story is not done yet. This dog still has a lot of happy years to live and enjoy life. For sure, this dog is proof that even animals with disabilities can enjoy a long and happy life. Owners simply need to step up and take them in. The owner hopes that this story is going to inspire others to take in animals with disabilities as well. All it takes is a little bit of love and compassion to make the world a better place.
Handicapped Puppy Befriends Flightless Pigeon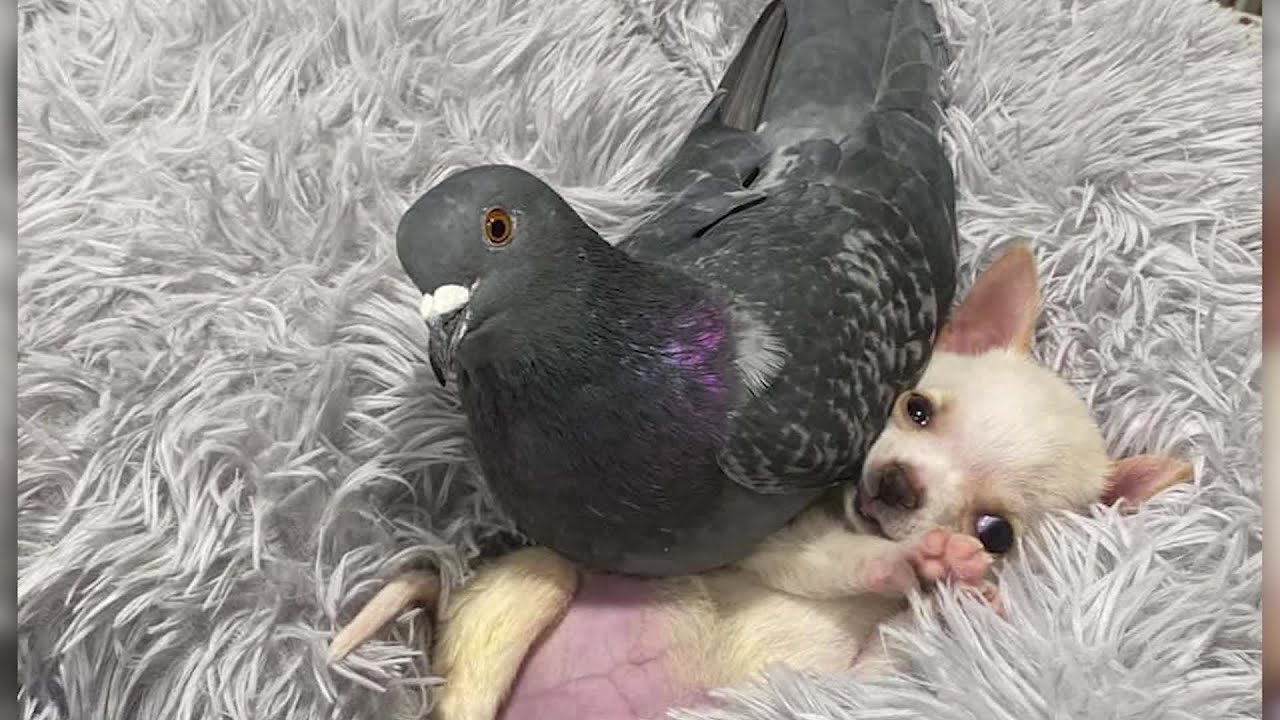 In Rochester, NY, Sue Rogers runs a non-profit called the Mia Foundation. The rescue organization rescues and rehabilitates animals who have birth defects or deformities and tries to find them a loving home. About a year ago, a pigeon was found unable to move in the parking lot of a car dealership. The pigeon was huddled and cowering on the ground. When a local wildlife rescue was called, they said the bird had neurological damage that caused him not to be able to fly. They thought that euthanization would be the best option for him.
Sue was having none of that. She stepped in and took the bird, who she named Herman, under her wing, so to speak. She made space for him in her shelter and kept him close where she could keep an eye on him. He liked to sit on a furry dog pillow and watch her work.
A couple months ago, a tiny Chihuahua was brought to the Mia Foundation. He was an infant, maybe a few months old, when his South Carolina breeders sent him to Sue. He's a teacup sized Chihuahua they named Little Lundy and he was born with spinal cord damage. Sue also determined that he was suffering from swimmers syndrome. Swimmers syndrome is a developmental deformity that causes the front and hind legs to be splayed out. This makes it almost impossible for Little Lundy to walk.
Although swimmers syndrome is thought to be untreatable, according to a few studies and an article in a veterinary journal, it can be treatable. With some physical therapy and at-home treatment, Little Lundy could live a long and happy life, which is exactly what Sue plans for him.
When Little Lundy arrived at the Mia Foundation he decided to get acquainted with his new surroundings and the other animals at the shelter. One particular encounter, created a friendship that has gone viral. Herman and Little Lundy, a puppy and a pigeon, are the unlikeliest of friends, but they have a lot in common. They both have trouble walking, or flying in Hermans case, and they were living in the same place. You could say, they were in the right place at the right time to become instant friends.
In the six weeks they have been together, Herman and Little Lundy have become inseparable. They do everything together, which is a lot of sleeping and snuggling. Mostly, with Herman sitting on top of Little Lundy, which doesn't bother him in the slightest. This friendship was so out of the ordinary that Sue had to document it. The viral sensation of the puppy and pigeon has brought attention to the Mia Foundation that was much needed. The rescue organization runs solely on donations to help cover the costs of taking care of the animals and for needed surgeries. So far, about $6000 was donated because of this unlikely friendship and over 100 adoption inquiries. Hopefully when they are adopted, they are able to stay together.