With Some Love and Creativity, the New Agility Champ is a Dog who is Deaf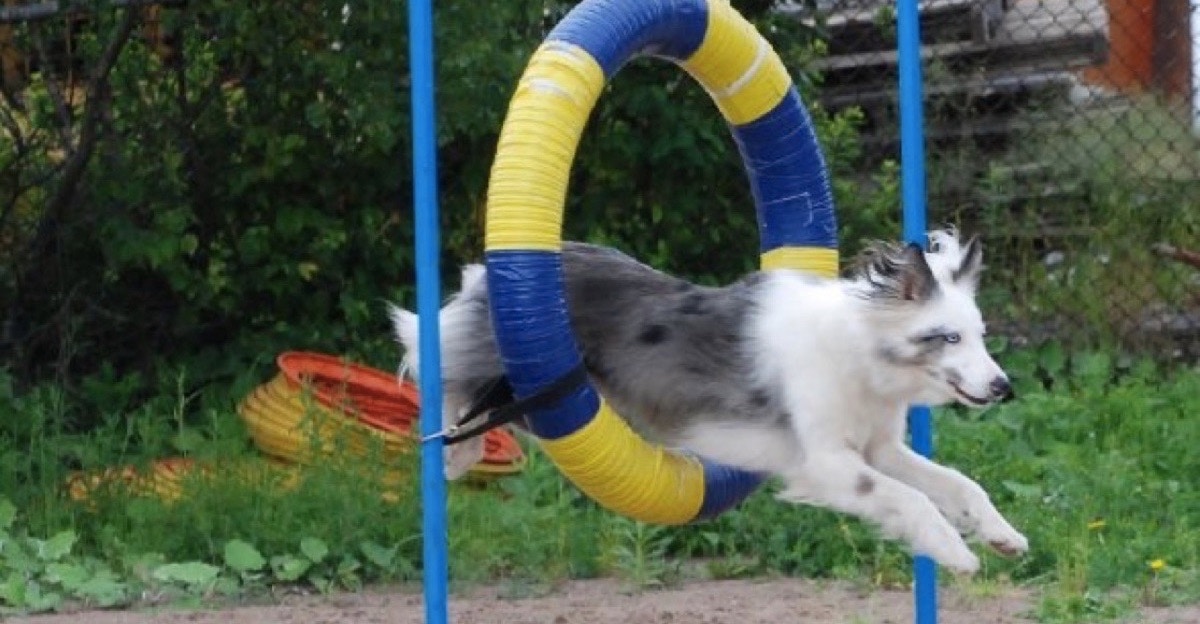 Recently, an adorable story is making the rounds describing a dog who reached new heights after being given up by her first owners. Sadly, this dog was originally separated from its owners when she was given away. Unfortunately, the dog was abandoned because she is deaf and her owners didn't want to have to deal with this complication. Fortunately, someone else stepped up to the plate to help.
The new owner rescued this dog when she was a young puppy of only three months. The new owner saw a great deal of potential in the dog, despite her disability. It turned out that she was right. The puppy has a lot of spunk and never gave up on anything. The dog has so much confidence and skill that she even won a national agility contest in Canada! While this is an impressive feat for any animal, it is even more impressive considering this dog cannot hear! Many dogs who participate in this contest go through months of training that involve whistling, finger snaps, and other audio cues that direct the dog regarding its various tasks. Unfortunately, this dog cannot take these cues.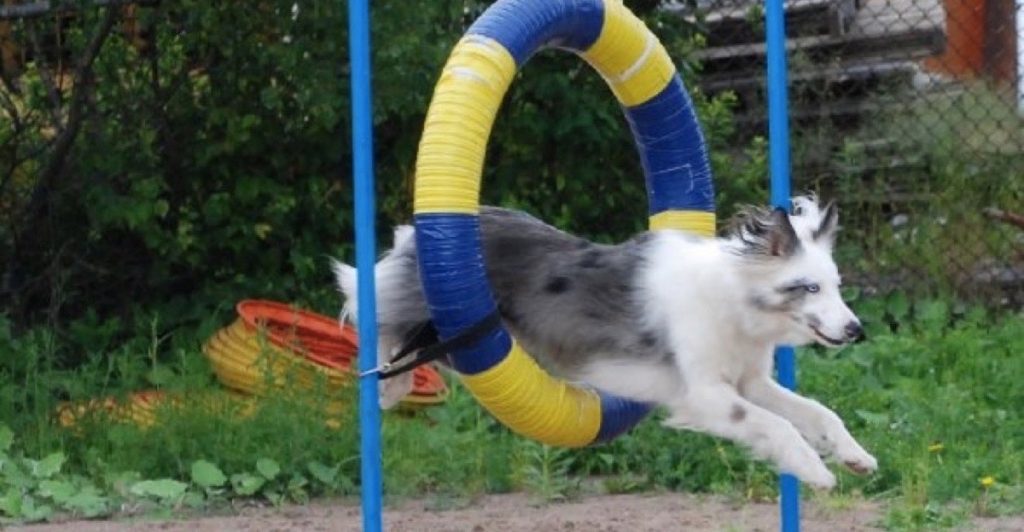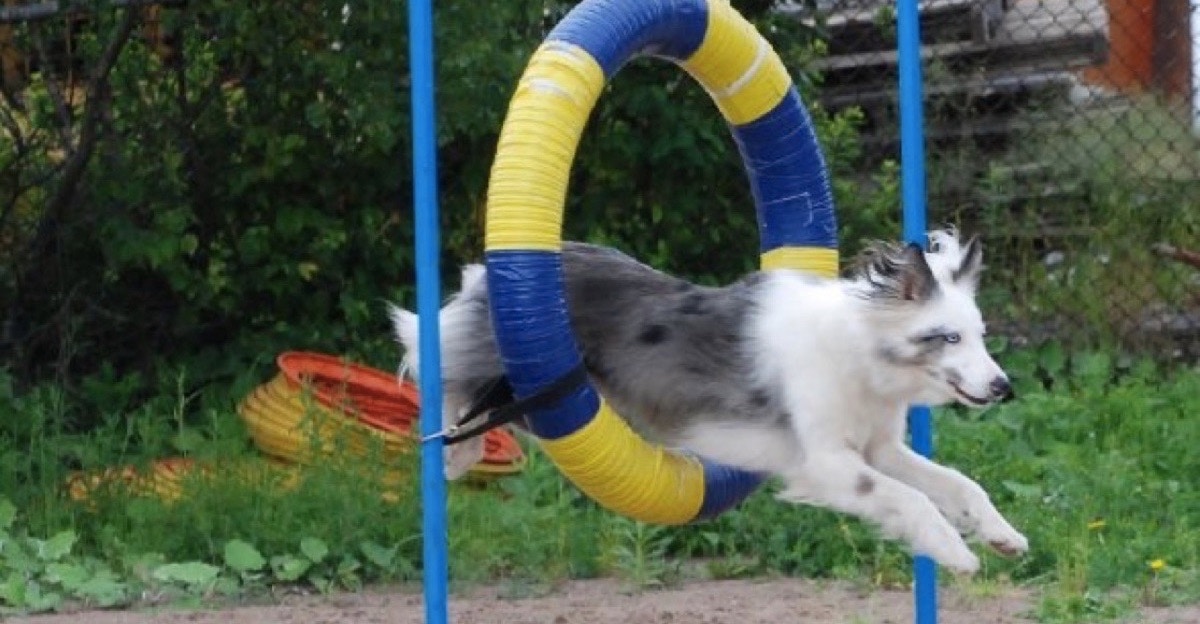 Therefore, the owner decided to create a body language messaging system to help this dog learn how to complete the various tasks. This worked out well. Then, the dog had to enter a bunch of other local contests before she could enter the national one. One by one, the contests started to fall and the puppy was quickly becoming a master of these various events. After several years and numerous training sessions, she was eventually ready for the national contest. Seven years after the first contest, she entered the national competition and competed for the title of agility champion. At the competition, she had to jump hurdles, wave her way through various obstacles and complete a number of other challenges, racing against the other dogs in the competition.
The dog's owner actually believes that this dog's inability to hear might be an asset in these competitions. Without the ability to hear, she is less prone to getting distracted by the other dogs and people in the arena. The barking, conversations, shouts, and whistles are unlikely to derail a dog who cannot hear. Therefore, this dog remained focus on the task at hand and knocked out the challenges one by one.
The dog takes its signals from its owner using mostly hand gestures. For example, a thumbs up sign means that the dog did a good job. Furthermore, this also means the dog is going to be rewarded with a tasty treat! With the big contest now in the past, and a proud award to prove its success, this dog is probably going to retire from these various competitions. The dog is no longer young, pushing 10 years old, which is advanced for an animal of this size. With the window of opportunity closed, and the dog going out on top, this just feels like the right time.
Of course, the story is not done yet. This dog still has a lot of happy years to live and enjoy life. For sure, this dog is proof that even animals with disabilities can enjoy a long and happy life. Owners simply need to step up and take them in. The owner hopes that this story is going to inspire others to take in animals with disabilities as well. All it takes is a little bit of love and compassion to make the world a better place.
Zookeepers Set Up Camera And Capture Pregnant Rhino Giving Birth Without Any Assistance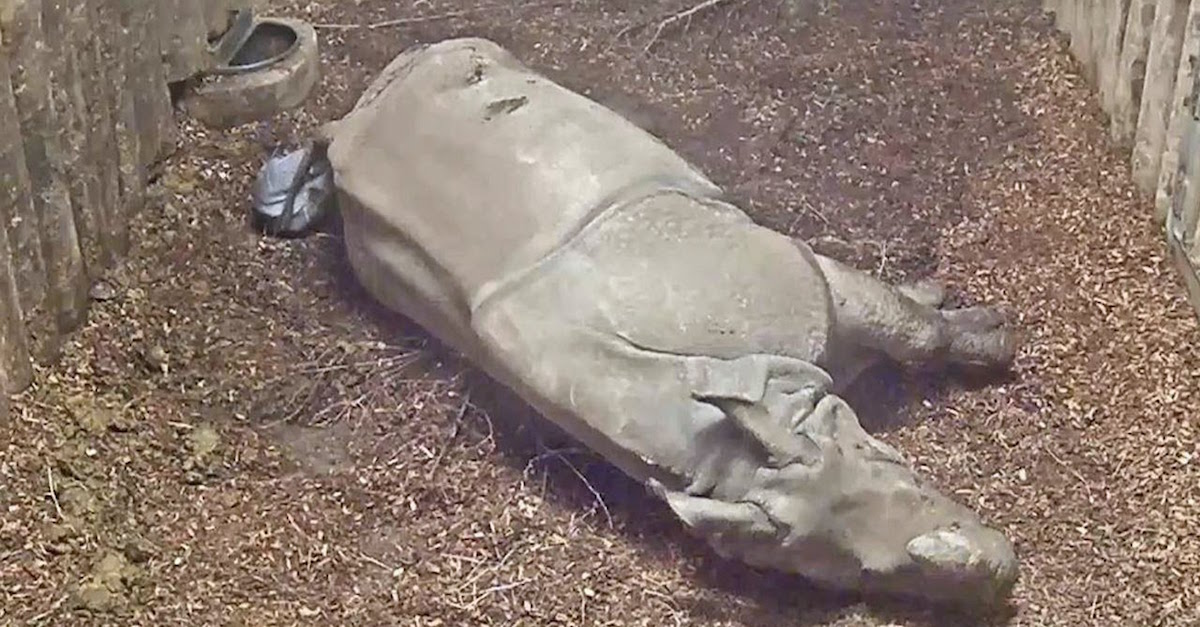 For a whopping sixteen months, Asha carried her baby in her womb. Asha, a rare greater one-horned rhinoceros, lives at the Chester Zoo in Cheshire, England. Luckily, her labor and delivery were much quicker than the gestational period was for her baby Rhino to come into the world.
After only about 20 minutes of labor, Asha successfully delivered a healthy male calf in the early morning hours on May 3, 2018, at her home at the Chester Zoo. The staff at the zoo were able to capture Asha's labor and delivery on video. The mama had an easy delivery on the floor of her enclosure and did not require assistance from the staff as she labored and brought her 132-pound baby boy. Once he is fully grown, Asha's son will balloon to an eye-popping two tons plus in weight!
Guests of the Chester Zoo were excited to visit the little rhino and his mama in their exhibit. Asha's baby is named Akeno which means "beautiful sunrise." Along with his birth, Akeno's first steps were also caught on tape along with snuggles with his 11-year-old mother Asha. They are a hit at the zoo and seem to be getting along well.
The staff at the well-visited zoo have been working towards keeping beautiful animals like Asha and baby Akeno together and better protected. One-horned rhinos are one-horned rhinos that are endangered at this point in a critical way and the staff is hoping the miraculous birth will not only attract visitors to the zoo but will draw attention to their work on this front. Animals like Asha and baby Akeno are the object of hunters who illegally poach them to be able to obtain their horns and sell them. There is a market for them as they are used in traditional Chinese medicine. A hunter can sell a single horn on the Asian black market for around $65,000 United States dollars. Even more offensive is the fact that wealthy hunters simply want the horns to hang on their walls and show off to friends as a status symbol of wealth and popularity.
According to a staff member of the Chester Zoo, not long ago there were less than 200 greater one-horned rhinoceros in the wild.
"They were hunted almost to extinction. Just in time steps were taken to protect them. Now there are about 2,600, but they still face threats in India and Nepal… it's important we do all we can to stop their numbers going down to critical levels again."
As the staff and many others work hard to fight against the illegally poaching of these beautiful animals, Asha and Akeno, who appears like he is dressed in a dark gray suit of armor, are enjoying their stay at the zoo and the many delighted visitors they come into contact with each day. The birth of Akeno on video has drawn more new visitors to the Chester Zoo and everyone seems to be happy with this new situation.