Wild Canadian Horse's Dramatic Rescue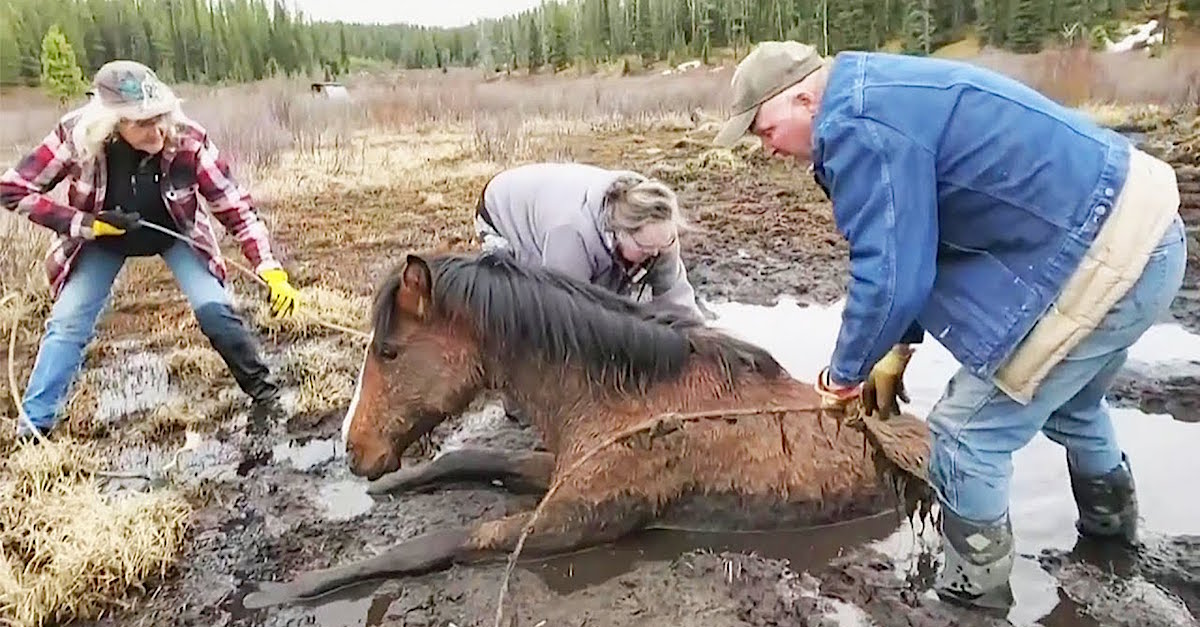 Canada is known for many things, including its beautiful scenery, friendly people, diverse animal life, and frigid winters. All of these things came together in a powerful and moving way one day as fate played out a hand that involved a matter of life or death. A small group from the Help Alberta Wildies Society (HAWS) was patrolling the beautiful countryside one day. HAWS is a group of volunteers committed to helping and protecting the rich lineage of Canada's wild horses. They help support the preservation of native wilderness that the horses call home and also work to protect the animals and catalog their populations. On a chilly winter day, a small group of HAWS volunteers ventured out to search for newborn foals in Alberta, Canada, so they could document the new additions to the local herd. As they were out searching, they came upon a heartbreaking sight.
They spotted a young foal stuck in a muddy bog. The wild foal was desperately struggling to drag itself out of a muddy hole. There was no telling how long the young horse had been trapped but it had more than half of its body sunk into the 6-foot-deep hole that as filling with sticky mud and near-freezing water. The horse lovers knew what they had to do. If anyone was meant to find this helpless creature, it was the HAWS heroes and so they quickly got to work. As they worked to figure out how to rescue the foal, they kept an eye out for any of the wild horses that might still be in the near vicinity. They quickly concluded that the young filly likely had been abandoned by the herd when she fell into the hole and was unable to get out.
The small filly just did not have the strength to pull herself out of the hole against the viscous muds and numbing water that was surrounding her. To make things even more difficult for her, and her new rescuers, was the rim of ice that was forming all around the hold. The young foal was unable to get her bearing or get a good foothold and it made getting to her more of a challenge. They knew they were the foal's only chance of getting out alive, but time was running out, and she was growing more exhausted by the minute. They had to act fast!
For over an hour, the group worked, desperately and tirelessly striving to save the horse before she would succumb to exhaustion and the elements. Using their ATVs and a bunch of ropes, they finally managed to break the muddy suction seal that trapped the young wild hose and they pulled her out of her freezing prison. When they finally pulled her out, they quickly undid the ropes they had used to free her, expecting her to bolt for the hills. They could tell she was exhausted and starving and knew she had to have been trapped for quite some time. However, instead of running away in fear and confusion, the young filly stuck around and showed her rescuers her gratitude and let them know she knew they were friends and that they could be trusted.
It just goes to show how smart these wild animals are and how important it is to protect them and all the other creatures that make up the diverse ecosystem of the Canadian wilderness!

Personal Clouds- Samoyed Dogs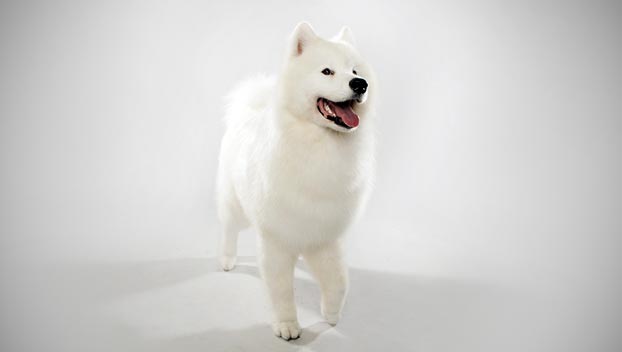 Many people around the country and indeed around the world are absolutely in love with the animal that is known as man's best friend- the dog. They go by many names and people love them all- dogs, doggos, canines, puppies, puppers, good bois, floofs, howlers, and woofers. Regardless of what you call them, and no matter what breed of dog you are talking about, a cute and well-behaved dog can instantly turn a bad day into a good day and put a smile on your face
However, some breeds garner special love and attention from their human companion. Some are better are defending our families and properties. Some are best-suited work helping us with work. Some are great with kids while others are best for a quieter family setup. Some like to run around and play all day. Some prefer to be laid back and lazy on the couch. Some are big and some are little. Some are plain-looking and some are very fancy. And then there are those rare breeds that seem to encompass so many groups that they stand out as a special breed all on their own, and the Samoyed breed of dog is one such example!
Samoyeds are very unique among the thousands of breeds of dogs because, you see, they often remind people of clouds. All it takes is one look at a Samoyed to see where that comes from. It doesnt take a lot of brains to see how soft and white and fluffy this breed is and how cloud-like they truly are!
They are gentle giants and are great pets to have as part of the family. The American Kennel Club talks about the Samoyed breed and calls them a very adaptable, family-oriented, energetic, friendly, and surprisingly gentle breed. This is why the attention surrounding this breed has taken off in recent years as more and more people are discovering this gentle and gorgeous breed and are finding out for themselves how much fun it can be to have a living floof ball in the home.
While they may look like a cloud and even feel like one with their soft fluffy coat of fur, this breed makes for a very big cloud! Samoyeds can reach a height of almost two feet at their shoulder when they are standing on all four, and the average weight for a full-grown male is between 65 and 70 pounds.
They are also a very active and energetic breed of dog, and they can extremely social with people in gnarly but particularly so with their family. They often want to be right with you, in tour lap, or at your side, loving to get hugs, and pets, and belly rubs. When you make a Samoyed dog part of your family, you best plan to spend the majority of your free time going for walks, playing in the yard, and engaging with them in the home. These dogs may closely resemble the clouds that lazily drift along in the sky on a sunny day, but they are a far cry from being lazy couch potatoes!
The only real drawback to these floofy clouds is the extent to which they shed. If all your clothes are black or your fanciest dresses and suits are darker colored then you may have some issues with the white hair that will ultimately end up everywhere. Their thick white coats protect them from cold temperatures which is what they were bred for as an original working-class dog for northern climates. It also means that these double-coated dogs shed all year long- and the shedding gets even more prolific when the summer heat kicks in. Also, people who have severe allergies to dander may find that the prolific spread of the fur around the house might be too much for their immune system to handle.
For most people, however, dealing with the vacuuming and cleaning of hair is a small price to pay to have your own personal cloud to hug and snuggle anytime that you want!