Why You Too Will Fall in Love with this Search and Rescue Dog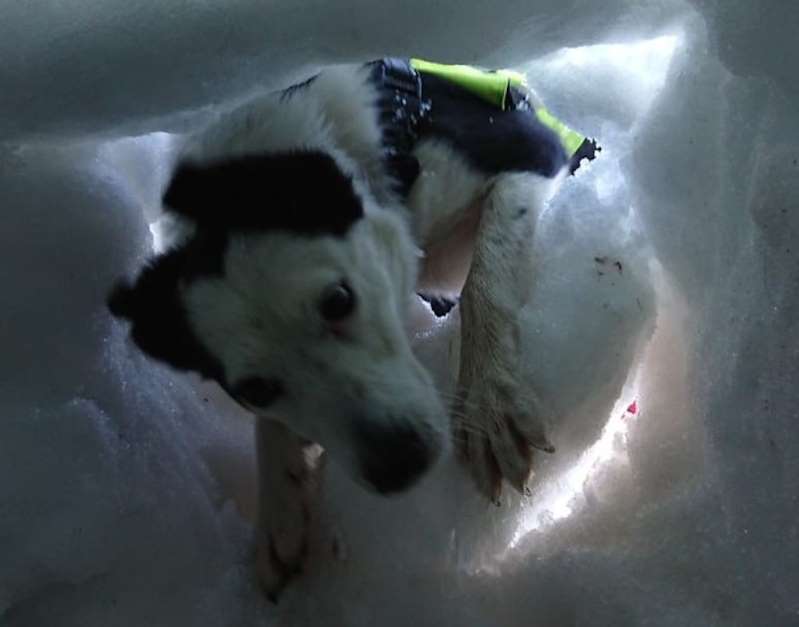 You have all seen the cartoon with a Saint Bernard digging a stranded hiker out of the snow and have wondered would it would be like to see that proud face pop through the snow in real life. Although the brandy barrel is fictional, all dog breeds are used to rescue stranded individuals from avalanches. Search-and-rescue dogs can search 2.5-acres in around 30-minutes while 20 humans with avalanche probes can cover the same area in four-hours. This means dogs are essential to human survival in an avalanche.
Recently, the group, "Mountain Rescue Search Dogs England," posted a video depicting the experience of being discovered by one of these cute rescue dogs. Of course, the video went viral almost instantly because it is absolutely adorable. At the beginning of the video, you hear quaint barks followed by rigorous digging, a snoot popping through the snow ceiling and an endearing face poking through the snow.
The four-year-old Collie named Flo is describe as an intelligent and confident dog with incredible work ethic and drive, and is known for her unusually tall ears. Since January 17th, 2019, Flo has responded to more than 30 calls for missing people in the snow. With multiple photographs and videos of her posted by the Mountain Rescue Search Dogs England group, Flo has become an Internet sensation because she is so cute.
In addition to her rescuing abilities, many are wondering about her snuggle abilities. The Mountain Rescue Search Dogs England group replied that as long as the dogs have their favorite toy of finding humans in the snow, they excel in providing warn cuddles if they are not injured during the search.
Comments from the loving note that they cannot choose what would make them happier, being rescued from an avalanche or getting cuddles from the cute and happy dog until help has arrived at the scene. They further comment that this is the best possible way to be rescued from such a traumatic experience. This is proof that dogs literally live to make humans happy and keep them safe. Humans are not worthy of the joy and love dogs provide on a daily basis, outside of traumatic situations.
Not all search-and-rescue dogs perform the same searches. Some are trained at tracking, others utilize air-scent to find humans, plants, animals or objects. While the types overlap, the distinction occurs during the training process and how the dog is able to execute various missions. Tracking dogs operate with their nose to the ground and follow a trail of human scent (heavy skin particles that fall to the ground). These dogs are not meant for searching but for following.
Air-scent dogs operate with their noses in the air. They pick-up upon a human scent within the vicinity that is carried through air currents and seek out of the origin of the scent (where the greatest concentration lies). Flo is an air-scent dog in that she sniffs the air until she finds the highest concentration of that scent be it a hiker missing in a national park or an avalanche victim 15-feet under the snow. These dogs may also have specialties including:
• Avalanche – dogs search for humans buried in up to 15-feet of snow.
• Cadaver – dogs search for the scent of human remains, specifically spelling decomposition gasses and skin grafts.
• Evidence – dogs search for items with human scent on them.
• Urban disaster – one of the most difficult specialties, dogs search for human survivors in collapsed buildings.
• Water – dogs search for victims of drowning via boat. When a body is submerged, gasses and skin particles rise to the surface which dogs can detect.
• Wilderness – dogs search for human scent in the wild.
Elderly Strangers Fall in Love During Flight, You Won't Believe What Happens Next!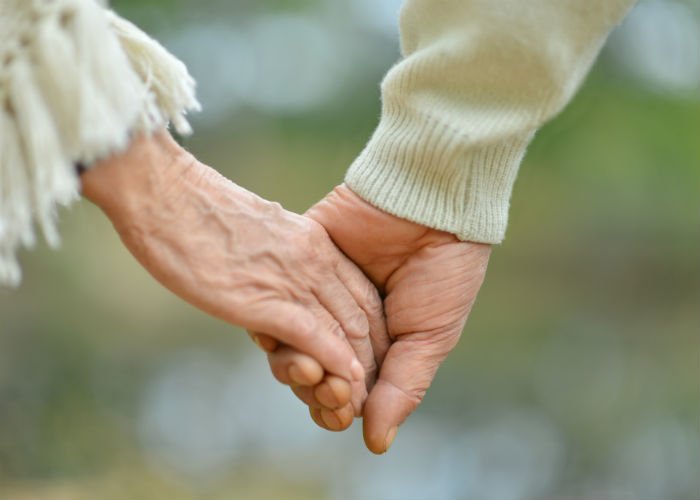 We owe it to ourselves to travel the world. After all, you will never know what's out there waiting for you unless you go to look. Just a few weeks ago, an airline ticket agent experienced the wonders of travel firsthand. Under the username @vvuxian, Twitter users were regaled by a heartwarming story of love found in the air between two elderly strangers. @vvuxian shared the entire story on Twitter through a series of tweets that culminated in what we can only describe as a true Hollywood ending — only in real life!
The story starts with @vvuxian working at an airline counter, just like any other day. As an airline ticket employee, @vvuxian was ready to assist customers as they came to her desk with questions regarding their flight. An elderly lady in her 70s approached @vvuxian with a seemingly strange request. The unnamed woman, who had just arrived on a flight from Canada, was seemingly looking for a stranger. The elderly woman asked @vvuxian if anyone arriving from Spain had been looking for her because the two were supposed to be meeting up. As an airline employee, @vvuxian knew that she couldn't share private information about other passengers.
The elderly woman accepted the rules laid out by @vvuxian, albeit looking sad in the process. Curious to find out what happened, @vvuxian asked for more information. The woman explained that she had met a stranger on her flight from Canada and that the two had fallen in love during their 11-hour flight. Unfortunately, they had to separate on connecting flights from Spain, but they had made a deal to meet up with one another when they reached their final destination. Unfortunately, the stranger had never shown up. What once looked like a Hollywood romance was quickly turning into a sad tale of reality. Was there nothing that could be done?
Unfortunately, @vvuxian knew that she couldn't help the woman, but she wished her well all the same. After the woman explained that she couldn't reach the stranger by telephone, all seemed to be lost. @vvuxian took down the passenger's phone number and promised to call her if anybody showed up. The woman left the ticket counter and @vvuxian probably assumed that this was the end of the story. We all know that this wasn't the case.
An hour later, during her lunch break, @vvuxian heard a co-worker talking to another elderly woman. The stranger at the counter was explaining that she was supposed to meet a friend but that she couldn't get ahold of her. The woman explained that she had met a stranger on a flight but that they had been separated during their connecting flights. This was her! This was the second lost lover! According to @vvuxian, she basically threw her sandwich in order to run to the front desk. Our heroic airline ticket agent quizzed the new stranger with questions, asking her if she had just come from Spain and was she looking for a certain person? The stranger nods and nods again. This was it!
Deciding to risk it all, @vvuxian calls the phone number that had been left by the earlier visitor. Within minutes the second woman appears at the counter, basically at a sprint! The two collapse into a loving embrace before showering @vvuxian in the thanks. Happy just to have helped, @vvuxian wishes them well while nearly tearing up from happiness herself. A little while later the two elderly lovers return with a thank-you gift, a collection of delicious chocolates. Now, who says that real life can't be like the movies?