Why You Too Will Fall in Love with this Search and Rescue Dog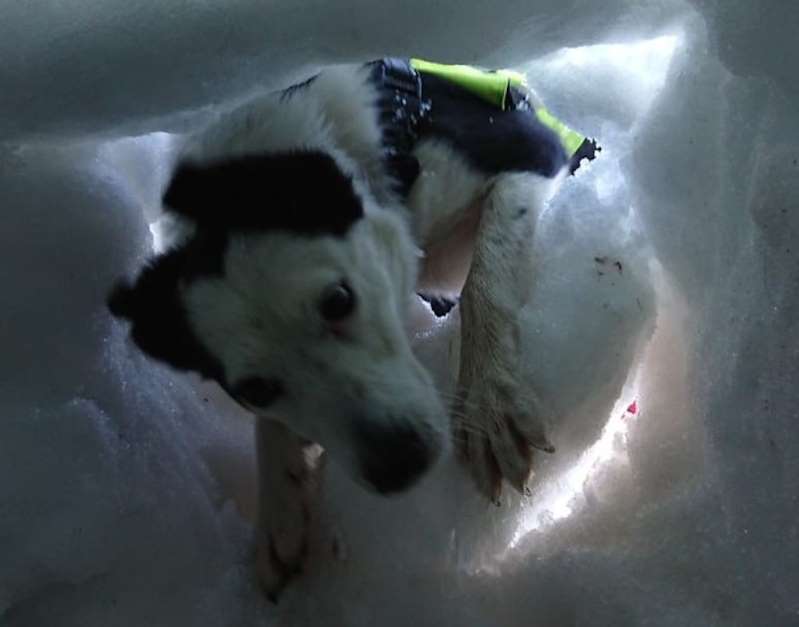 You have all seen the cartoon with a Saint Bernard digging a stranded hiker out of the snow and have wondered would it would be like to see that proud face pop through the snow in real life. Although the brandy barrel is fictional, all dog breeds are used to rescue stranded individuals from avalanches. Search-and-rescue dogs can search 2.5-acres in around 30-minutes while 20 humans with avalanche probes can cover the same area in four-hours. This means dogs are essential to human survival in an avalanche.
Recently, the group, "Mountain Rescue Search Dogs England," posted a video depicting the experience of being discovered by one of these cute rescue dogs. Of course, the video went viral almost instantly because it is absolutely adorable. At the beginning of the video, you hear quaint barks followed by rigorous digging, a snoot popping through the snow ceiling and an endearing face poking through the snow.
The four-year-old Collie named Flo is describe as an intelligent and confident dog with incredible work ethic and drive, and is known for her unusually tall ears. Since January 17th, 2019, Flo has responded to more than 30 calls for missing people in the snow. With multiple photographs and videos of her posted by the Mountain Rescue Search Dogs England group, Flo has become an Internet sensation because she is so cute.
In addition to her rescuing abilities, many are wondering about her snuggle abilities. The Mountain Rescue Search Dogs England group replied that as long as the dogs have their favorite toy of finding humans in the snow, they excel in providing warn cuddles if they are not injured during the search.
Comments from the loving note that they cannot choose what would make them happier, being rescued from an avalanche or getting cuddles from the cute and happy dog until help has arrived at the scene. They further comment that this is the best possible way to be rescued from such a traumatic experience. This is proof that dogs literally live to make humans happy and keep them safe. Humans are not worthy of the joy and love dogs provide on a daily basis, outside of traumatic situations.
Not all search-and-rescue dogs perform the same searches. Some are trained at tracking, others utilize air-scent to find humans, plants, animals or objects. While the types overlap, the distinction occurs during the training process and how the dog is able to execute various missions. Tracking dogs operate with their nose to the ground and follow a trail of human scent (heavy skin particles that fall to the ground). These dogs are not meant for searching but for following.
Air-scent dogs operate with their noses in the air. They pick-up upon a human scent within the vicinity that is carried through air currents and seek out of the origin of the scent (where the greatest concentration lies). Flo is an air-scent dog in that she sniffs the air until she finds the highest concentration of that scent be it a hiker missing in a national park or an avalanche victim 15-feet under the snow. These dogs may also have specialties including:
• Avalanche – dogs search for humans buried in up to 15-feet of snow.
• Cadaver – dogs search for the scent of human remains, specifically spelling decomposition gasses and skin grafts.
• Evidence – dogs search for items with human scent on them.
• Urban disaster – one of the most difficult specialties, dogs search for human survivors in collapsed buildings.
• Water – dogs search for victims of drowning via boat. When a body is submerged, gasses and skin particles rise to the surface which dogs can detect.
• Wilderness – dogs search for human scent in the wild.
These Hermit Crabs Will Blow Your Mind With Stunning Natural Ritual.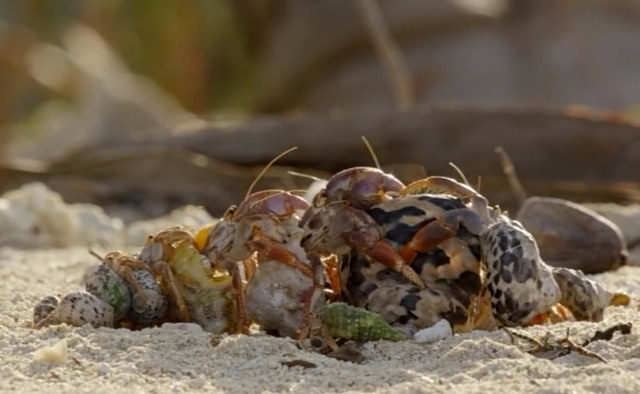 If you are like most people then you are likely fascinated with the ocean and all the creatures inside it. While we can talk forever about massive whales, scuttling squids, and scary sharks, we'd rather highlight a cute little crustacean known as the hermit crab. Now, you've likely heard of the hermit crab and, perhaps, you even know what it looks like. As a member of the superfamily known as the Paguroidea, hermit crabs manage to stand out all on their own. In fact, after learning about this natural ritual that hermit crabs complete, you might even want one of your own!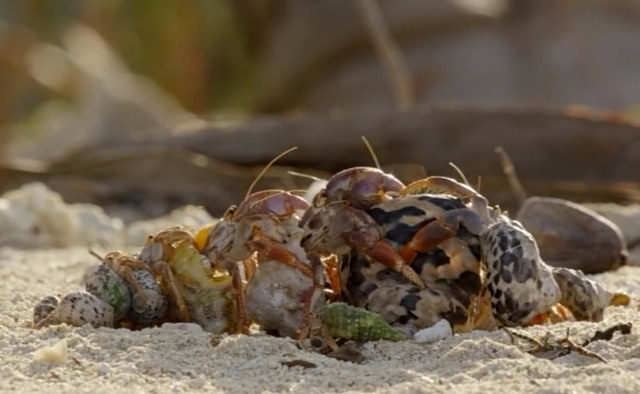 In a post shared on Facebook by a user named Melody Flowers, it was revealed that hermit crabs are always looking for bigger shells to live in. While you probably knew this already, what you didn't realize about this ritual is far more fascinating. According to the post, which has since been backed up by other scientific journals, hermit crabs like to line up next to shells that happen to be too big for them. Hermit crabs can wait for up to eight hours for another crab to come along and try the shell out. Why do these crabs wait next to shells that are too large for them? As it turns out, the first hermit crab is simply waiting for the second crab in line to discard its shell.
So we outlined a natural ritual that hermit crabs undertake when finding a new home. Why is this so fascinating? While you may have summoned up an image of two hermit crabs swapping shells, that isn't entirely accurate. As the second crab lines up behind the shell, more will come to follow. Before long, observers would be able to watch as dozens of hermit crabs all trade shells with one another to ensure that everyone has a comfortable home to live in. The smallest shell of the bunch gets left behind while the shell that started the queue will go to the largest hermit crab of the lot. That's pretty amazing, isn't it? The coordination and cooperation that these hermit crabs have to deploy is nothing short of impressive. If only humans could get along so well when it comes to making to sure everyone is comfortable and safe within their home.
Even though hermit crabs will work together in order to find homes, they are still a competitive species. Gastropod shells can become a limited resource due to a variety of natural and unnatural factors, such as climate change and pollution. When hermit crabs are of a similar size, they are more competitive and violent with one another. When hermit crabs vary dramatically in size, there are more resources available for every member of the group. Hermit crabs are a fascinating sort of creature because they can come in varying sizes with a lifespan ranging between 12 and 70 years. The next time that you see a hermit crab, make sure it has the perfect shell to call home. Maybe it will remember you a couple of decades later!