Why You Too Will Fall in Love with this Search and Rescue Dog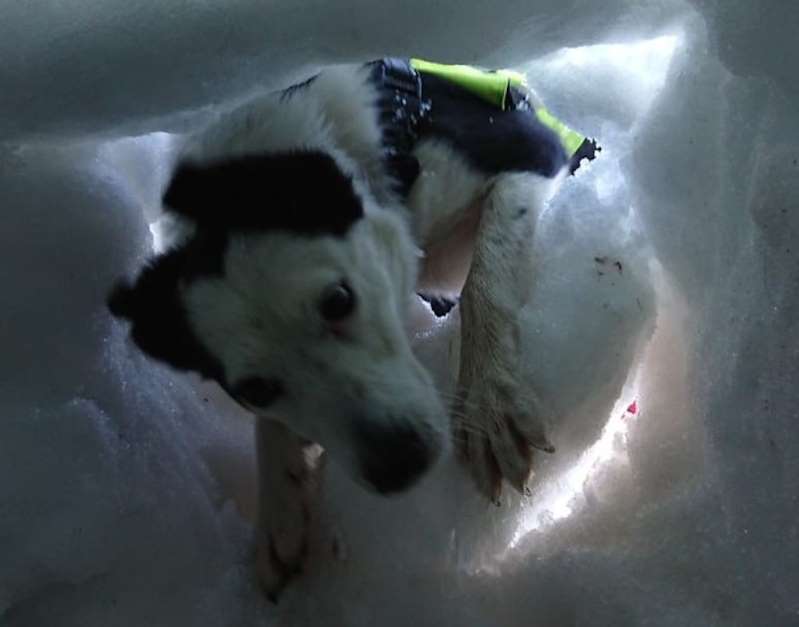 You have all seen the cartoon with a Saint Bernard digging a stranded hiker out of the snow and have wondered would it would be like to see that proud face pop through the snow in real life. Although the brandy barrel is fictional, all dog breeds are used to rescue stranded individuals from avalanches. Search-and-rescue dogs can search 2.5-acres in around 30-minutes while 20 humans with avalanche probes can cover the same area in four-hours. This means dogs are essential to human survival in an avalanche.
Recently, the group, "Mountain Rescue Search Dogs England," posted a video depicting the experience of being discovered by one of these cute rescue dogs. Of course, the video went viral almost instantly because it is absolutely adorable. At the beginning of the video, you hear quaint barks followed by rigorous digging, a snoot popping through the snow ceiling and an endearing face poking through the snow.
The four-year-old Collie named Flo is describe as an intelligent and confident dog with incredible work ethic and drive, and is known for her unusually tall ears. Since January 17th, 2019, Flo has responded to more than 30 calls for missing people in the snow. With multiple photographs and videos of her posted by the Mountain Rescue Search Dogs England group, Flo has become an Internet sensation because she is so cute.
In addition to her rescuing abilities, many are wondering about her snuggle abilities. The Mountain Rescue Search Dogs England group replied that as long as the dogs have their favorite toy of finding humans in the snow, they excel in providing warn cuddles if they are not injured during the search.
Comments from the loving note that they cannot choose what would make them happier, being rescued from an avalanche or getting cuddles from the cute and happy dog until help has arrived at the scene. They further comment that this is the best possible way to be rescued from such a traumatic experience. This is proof that dogs literally live to make humans happy and keep them safe. Humans are not worthy of the joy and love dogs provide on a daily basis, outside of traumatic situations.
Not all search-and-rescue dogs perform the same searches. Some are trained at tracking, others utilize air-scent to find humans, plants, animals or objects. While the types overlap, the distinction occurs during the training process and how the dog is able to execute various missions. Tracking dogs operate with their nose to the ground and follow a trail of human scent (heavy skin particles that fall to the ground). These dogs are not meant for searching but for following.
Air-scent dogs operate with their noses in the air. They pick-up upon a human scent within the vicinity that is carried through air currents and seek out of the origin of the scent (where the greatest concentration lies). Flo is an air-scent dog in that she sniffs the air until she finds the highest concentration of that scent be it a hiker missing in a national park or an avalanche victim 15-feet under the snow. These dogs may also have specialties including:
• Avalanche – dogs search for humans buried in up to 15-feet of snow.
• Cadaver – dogs search for the scent of human remains, specifically spelling decomposition gasses and skin grafts.
• Evidence – dogs search for items with human scent on them.
• Urban disaster – one of the most difficult specialties, dogs search for human survivors in collapsed buildings.
• Water – dogs search for victims of drowning via boat. When a body is submerged, gasses and skin particles rise to the surface which dogs can detect.
• Wilderness – dogs search for human scent in the wild.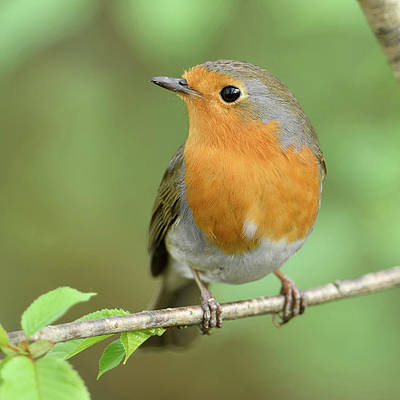 The color peach is most associated with the fruit of the same name. Apart from the fruit and a few flowers, the color peach is not commonly found in nature. There are certainly very few animals that have any shades of peach. However, there is one breed in birds that do display the color peach on its chest. The Eurasian Bullfinch is a small-size but bulky looking bird that is native to Europe and certain regions of Asia. Their range of travel is estimated to be around ten million square kilometers. Their preferred habitat parks, gardens, hedges, trees, and agricultural areas. They get their name from the bull-shaped head. Parts of the upper body are colored grey while the feathers are a mixture of black and white. The legs and feet are pinkish-brown in color. Juvenile bullfinch birds have the same shape as adult birds but they don't have the same colors. The young ones are mostly grey and brown.
For breeding purposes, the Eurasian Bullfinch nests in tall bushes. They lay about 4-7 eggs. The chest is often mistakenly described as red, but it is as peach as it gets. The males have brighter colors, while the females have a slightly beige color on their chest. Their unique color makes them easily recognizable from other birds with similar size and shape. Although the bird has a bulky shape, it is considered a small to medium-sized bird.
They are social creatures and are often found in pairs or groups. They are mostly found busy looking for seeds. Only 10% of BTO Garden BirdWatch gardens have the Bullfinch. Their shy and reclusive personality makes them a rare bird to fine. Although they mostly eat seeds, for their young ones do they occasionally feed on insects. Initially, they were mostly found in woodlands but have now slowly moved to gardens too. Although they migrate during winter months, mostly they stay in the same spot throughout their lives. If you are looking to spot one, try to look for them in a suburban garden with scrubs or thick hedgerows. They prefer to find a thick cover for the nests. As food supply has become more scattered, it has forced the bullfinch to travel more often.
There are reclusive in personality and shy away from human contact. During colder months, they migrate to southern regions of Europe and Asia. Their diet mostly consists of seeds from plants such as ash, elm, and nettle. Their liking for flower buds made them be considered as a pest of fruit trees. Although they are not considered to be an endangered species, their population has seen a decline due to the loss of arable weeds and new agricultural practices.
One of the unique features of the Eurasian Bullfinch is its ability to store seeds in a small sac at the bottom of their mouths. This feature is useful when they have to bring back seeds from long distances for their young ones. Amongst the finch species of bird, the Bullfinch is the only bird that has evolved into adapting this remarkable sac in the mouth.
Another stunning feature of the Eurasian Bullfinch is their singing ability. They have a beautiful soft and subtle call. When the male seeks to attract the females, it uses a soft tone mostly audible to other bullfinch birds only. The call from the male is a polite descending set of notes, repeated at specific intervals. The bullfinch is also skillful in mimicry and is popular birds to keep as pets. They are even able to follow tunes played to them.