Why You Too Will Fall in Love with this Search and Rescue Dog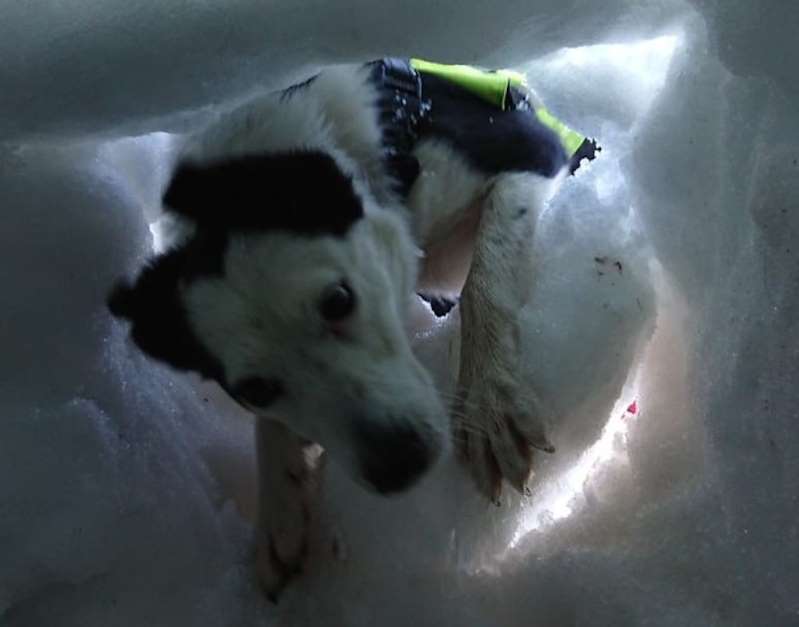 You have all seen the cartoon with a Saint Bernard digging a stranded hiker out of the snow and have wondered would it would be like to see that proud face pop through the snow in real life. Although the brandy barrel is fictional, all dog breeds are used to rescue stranded individuals from avalanches. Search-and-rescue dogs can search 2.5-acres in around 30-minutes while 20 humans with avalanche probes can cover the same area in four-hours. This means dogs are essential to human survival in an avalanche.
Recently, the group, "Mountain Rescue Search Dogs England," posted a video depicting the experience of being discovered by one of these cute rescue dogs. Of course, the video went viral almost instantly because it is absolutely adorable. At the beginning of the video, you hear quaint barks followed by rigorous digging, a snoot popping through the snow ceiling and an endearing face poking through the snow.
The four-year-old Collie named Flo is describe as an intelligent and confident dog with incredible work ethic and drive, and is known for her unusually tall ears. Since January 17th, 2019, Flo has responded to more than 30 calls for missing people in the snow. With multiple photographs and videos of her posted by the Mountain Rescue Search Dogs England group, Flo has become an Internet sensation because she is so cute.
In addition to her rescuing abilities, many are wondering about her snuggle abilities. The Mountain Rescue Search Dogs England group replied that as long as the dogs have their favorite toy of finding humans in the snow, they excel in providing warn cuddles if they are not injured during the search.
Comments from the loving note that they cannot choose what would make them happier, being rescued from an avalanche or getting cuddles from the cute and happy dog until help has arrived at the scene. They further comment that this is the best possible way to be rescued from such a traumatic experience. This is proof that dogs literally live to make humans happy and keep them safe. Humans are not worthy of the joy and love dogs provide on a daily basis, outside of traumatic situations.
Not all search-and-rescue dogs perform the same searches. Some are trained at tracking, others utilize air-scent to find humans, plants, animals or objects. While the types overlap, the distinction occurs during the training process and how the dog is able to execute various missions. Tracking dogs operate with their nose to the ground and follow a trail of human scent (heavy skin particles that fall to the ground). These dogs are not meant for searching but for following.
Air-scent dogs operate with their noses in the air. They pick-up upon a human scent within the vicinity that is carried through air currents and seek out of the origin of the scent (where the greatest concentration lies). Flo is an air-scent dog in that she sniffs the air until she finds the highest concentration of that scent be it a hiker missing in a national park or an avalanche victim 15-feet under the snow. These dogs may also have specialties including:
• Avalanche – dogs search for humans buried in up to 15-feet of snow.
• Cadaver – dogs search for the scent of human remains, specifically spelling decomposition gasses and skin grafts.
• Evidence – dogs search for items with human scent on them.
• Urban disaster – one of the most difficult specialties, dogs search for human survivors in collapsed buildings.
• Water – dogs search for victims of drowning via boat. When a body is submerged, gasses and skin particles rise to the surface which dogs can detect.
• Wilderness – dogs search for human scent in the wild.
These Police Officers Are Mixing It Up With The Local Kids….Find Out How!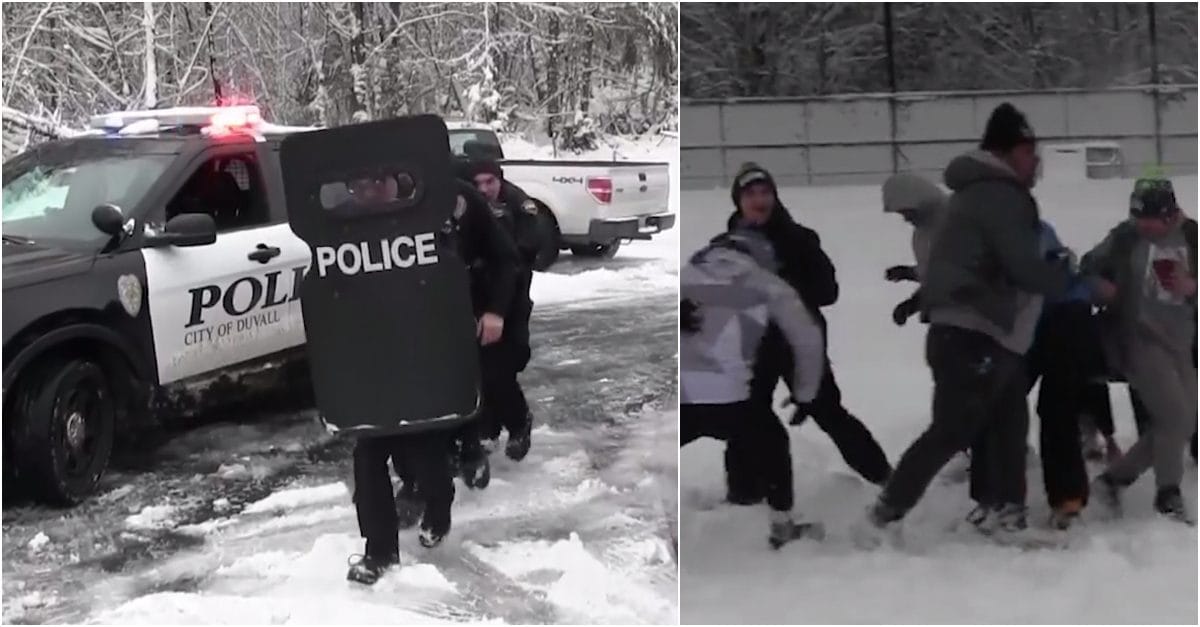 For those of us who have gotten sick and tired of always reading headlines about the mistakes that police officers make on the job, this story is going to serve as a breath of fresh air. In a world where it feels like we are constantly inundated with bad news about our nation's police officers, it is good to see a story like this one.
Children who reside in Duvall, Washington were recently given quite the special treat. They were at a local park and they had come together to play some football in the snow. When these officers arrived on the scene, the children were not happy. What child would be?
We are sure that these kids probably assumed that the officers were on hand to mess up their game. We would have thought the same exact thing if we were in their position. However, these officers were not looking to put a stop to their good time. Their intentions were something else entirely.
When the clip first begins, we see the cops pulling up the football field. We also see the cops exiting their vehicles, while clad in full riot gear. This is the part where we started to get skeptical. These kids are just trying to have a good time. Why are these cops rolling up on them as if they are in the midst of some horrific crime spree?
The cops start to approach the children. It is clear to see that they are taking a more cautious approach. The kids also look like they are pretty nervous about the arrival of the police. Can you imagine getting ready to play an innocent game of snow football and being greeted by a sizable percentage of the Duvall police force? We would probably take off running right then and there.
The kids decided that they were going to let the officers know exactly what they thought of this intrusion. The football game was called off and the kids began to make a pile of snowballs. By the time the cops start to speak to the children, their fears are assuaged. This is not a form of harassment. These cops are simply here to have fun.
They crack a few jokes about taking the kids downtown but it is all in good fun. Once they "advance" on the kids, they begin to pelt the officers with snowballs. It is a good thing that they have all this riot gear, huh? They are going to stay protected from the barrage of snowballs and teach the kids a valuable lesson in the process.
It is not about who has the most snowballs to throw. It is about who has the most protection from said snowballs. There is something to be said for teaching the youth the most valuable lessons that they will need going forward. Now, these kids will probably take the time to build some shields, in addition to a mountain of snowballs.
We got a major kick out of the one officer who hid behind all of the others and lobbed snowballs over the top of the rest of the group. He's got the best idea of all. He gets all of the advantages associated with the riot shields and still gets to throw snowballs at these kids. That's a man who has life all figured out.
If you would like to check out this hilarious clip for yourself, please be sure to take a closer look at the link below. We are glad that this police visit ended in the way that it did. It was definitely quite the scary sight at first!