Why A Cop Stands In Rain During Violent Storm May Surprise You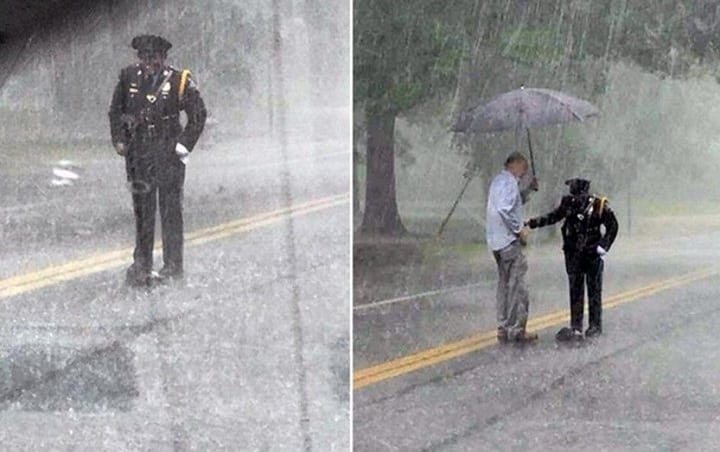 It's getting harder these days to find anything good in the news. It seems to be even more difficult when a police officer is involved. However, despite that, there is good news to be told and a police officer in Greenbelt, Maryland highlights how kind and compassionate police officers can be.
A couple was driving home in Greenbelt during a violent storm and they were shocked to see that a woman was caught in the storm. They were even more shocked to realize that the woman was a police officer. Not only was she standing in the middle of the street, but she did not seem to be making any effort to move from the middle of the street. They thought maybe the female officer was attempting to warn drivers about dangerous road conditions.
The couple was confused about what she could be doing. What was even stranger was that she had a huge grin on her face. She seemed to be enjoying standing out in the pouring rain. By this time, she was soaking wet. The couple pulled over to see if they could help or to at least offer the police officer an umbrella. As they approached her, they realized there was something else, much smaller, in the road with her.
The officer, later identified as Sharnise Hawkins-Graham, was attempting to protect a snapping turtle that was sitting in the middle of the road. The turtle was a bit stubborn and did not seem interested in moving at all. A local resident had called animal control because he was concerned the turtle would get run over on the busy and wet road. The officer arrived at the scene before animal control did and she knew that snapping turtles could be dangerous to handle. She didn't have the proper tools or protection to handle the snapping turtle, so she decided to stand guard over it until additional help could arrive.
The couple did not leave the officer alone risking her own safety to protect the turtle. They went home and returned with some shovels and with the officer gently coaxed the turtle to the other side of the road. Hawkins-Graham had a huge grin on her face the entire time. Her heroic act did not go unnoticed by the people in the community or by her superiors.
Officer Sharnise Hawkins-Graham was presented with the Greenbelt Police Officer of the Year award. She is completely dedicated to her job and she went above and beyond her duty to protect every citizen, even the smallest ones like a turtle. She is an inspiration to others. Her kindness is desperately needed in the world and on the police force.
Handicapped Puppy Befriends Flightless Pigeon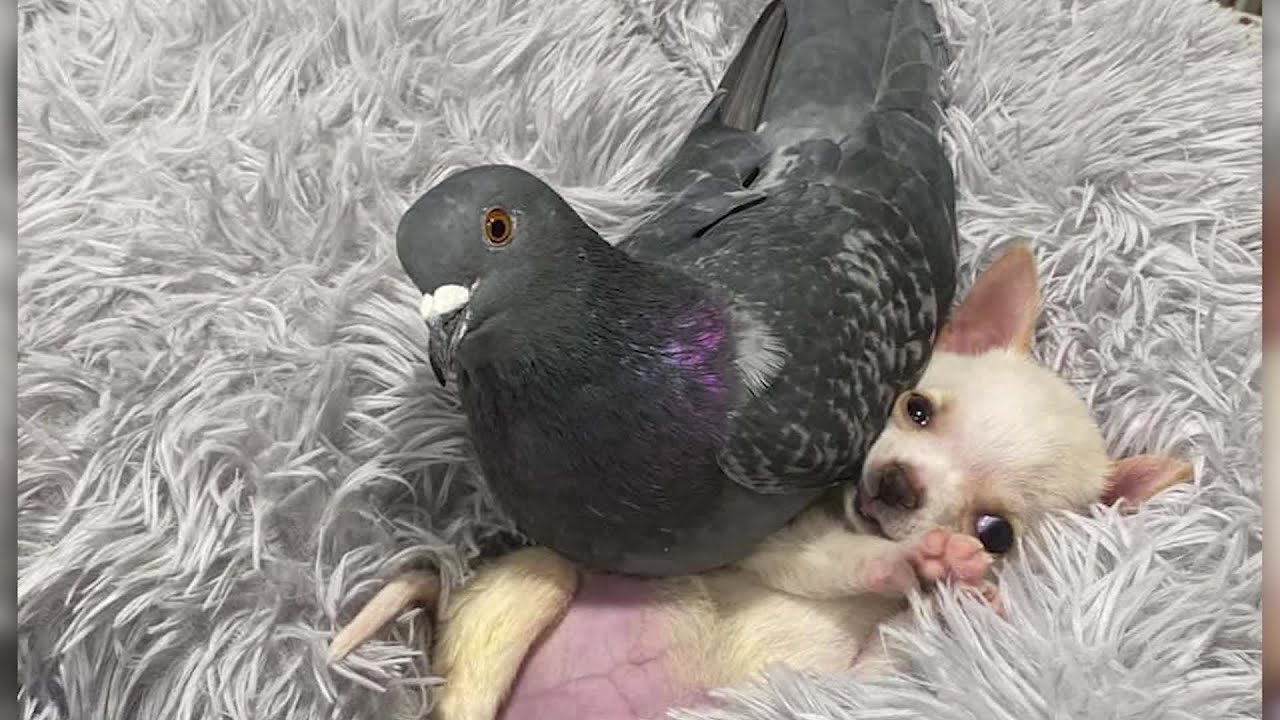 In Rochester, NY, Sue Rogers runs a non-profit called the Mia Foundation. The rescue organization rescues and rehabilitates animals who have birth defects or deformities and tries to find them a loving home. About a year ago, a pigeon was found unable to move in the parking lot of a car dealership. The pigeon was huddled and cowering on the ground. When a local wildlife rescue was called, they said the bird had neurological damage that caused him not to be able to fly. They thought that euthanization would be the best option for him.
Sue was having none of that. She stepped in and took the bird, who she named Herman, under her wing, so to speak. She made space for him in her shelter and kept him close where she could keep an eye on him. He liked to sit on a furry dog pillow and watch her work.
A couple months ago, a tiny Chihuahua was brought to the Mia Foundation. He was an infant, maybe a few months old, when his South Carolina breeders sent him to Sue. He's a teacup sized Chihuahua they named Little Lundy and he was born with spinal cord damage. Sue also determined that he was suffering from swimmers syndrome. Swimmers syndrome is a developmental deformity that causes the front and hind legs to be splayed out. This makes it almost impossible for Little Lundy to walk.
Although swimmers syndrome is thought to be untreatable, according to a few studies and an article in a veterinary journal, it can be treatable. With some physical therapy and at-home treatment, Little Lundy could live a long and happy life, which is exactly what Sue plans for him.
When Little Lundy arrived at the Mia Foundation he decided to get acquainted with his new surroundings and the other animals at the shelter. One particular encounter, created a friendship that has gone viral. Herman and Little Lundy, a puppy and a pigeon, are the unlikeliest of friends, but they have a lot in common. They both have trouble walking, or flying in Hermans case, and they were living in the same place. You could say, they were in the right place at the right time to become instant friends.
In the six weeks they have been together, Herman and Little Lundy have become inseparable. They do everything together, which is a lot of sleeping and snuggling. Mostly, with Herman sitting on top of Little Lundy, which doesn't bother him in the slightest. This friendship was so out of the ordinary that Sue had to document it. The viral sensation of the puppy and pigeon has brought attention to the Mia Foundation that was much needed. The rescue organization runs solely on donations to help cover the costs of taking care of the animals and for needed surgeries. So far, about $6000 was donated because of this unlikely friendship and over 100 adoption inquiries. Hopefully when they are adopted, they are able to stay together.