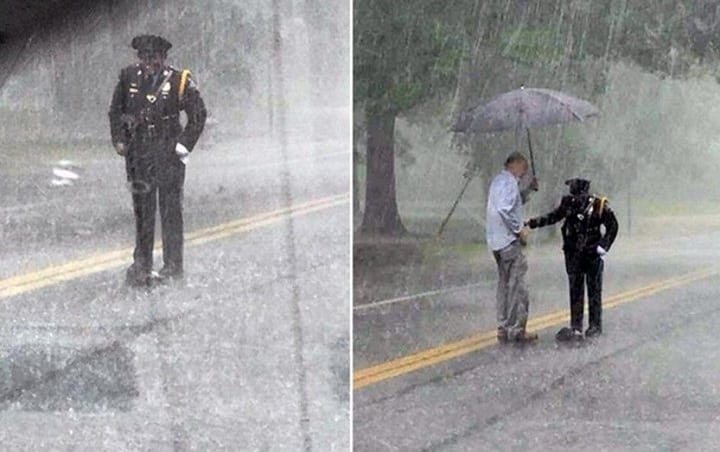 Why A Cop Stands In Rain During Violent Storm May Surprise You
It's getting harder these days to find anything good in the news. It seems to be even more difficult when a police officer is involved. However, despite that, there is good news to be told and a police officer in Greenbelt, Maryland highlights how kind and compassionate police officers can be.
A couple was driving home in Greenbelt during a violent storm and they were shocked to see that a woman was caught in the storm. They were even more shocked to realize that the woman was a police officer. Not only was she standing in the middle of the street, but she did not seem to be making any effort to move from the middle of the street. They thought maybe the female officer was attempting to warn drivers about dangerous road conditions.
The couple was confused about what she could be doing. What was even stranger was that she had a huge grin on her face. She seemed to be enjoying standing out in the pouring rain. By this time, she was soaking wet. The couple pulled over to see if they could help or to at least offer the police officer an umbrella. As they approached her, they realized there was something else, much smaller, in the road with her.
The officer, later identified as Sharnise Hawkins-Graham, was attempting to protect a snapping turtle that was sitting in the middle of the road. The turtle was a bit stubborn and did not seem interested in moving at all. A local resident had called animal control because he was concerned the turtle would get run over on the busy and wet road. The officer arrived at the scene before animal control did and she knew that snapping turtles could be dangerous to handle. She didn't have the proper tools or protection to handle the snapping turtle, so she decided to stand guard over it until additional help could arrive.
The couple did not leave the officer alone risking her own safety to protect the turtle. They went home and returned with some shovels and with the officer gently coaxed the turtle to the other side of the road. Hawkins-Graham had a huge grin on her face the entire time. Her heroic act did not go unnoticed by the people in the community or by her superiors.
Officer Sharnise Hawkins-Graham was presented with the Greenbelt Police Officer of the Year award. She is completely dedicated to her job and she went above and beyond her duty to protect every citizen, even the smallest ones like a turtle. She is an inspiration to others. Her kindness is desperately needed in the world and on the police force.
Jacksonville Man Spreads Love and Positivity at the Beach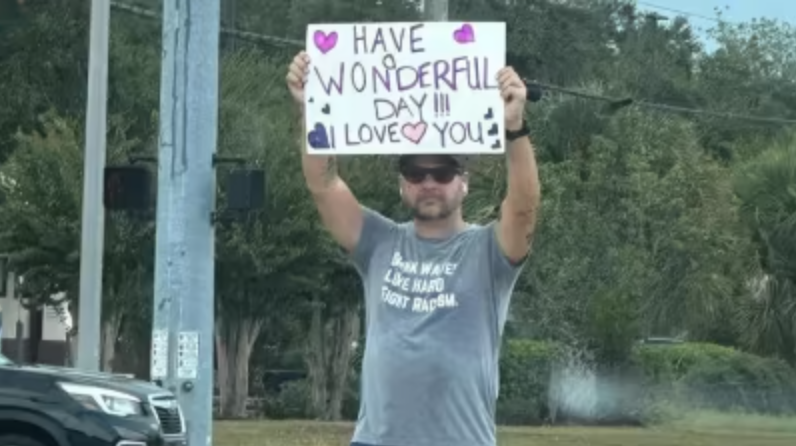 In Jacksonville, Florida, a man has been making waves of positivity and spreading kindness at the Beach Boulevard and San Pablo Road South intersection. With handmade signs that read, "Have a wonderful Day!! I Love You" and "You are Relevant," this man is on a mission to uplift the spirits of those who pass by. His heartwarming gestures have not gone unnoticed, and his actions are especially poignant during National Suicide Prevention Month.
Rika, a local resident, had a unique encounter with this compassionate individual. She was on her way to pick up her lunch when she saw a man standing in the median of the road, holding these uplifting signs. Most of us would just glance and continue on our way, but Rika decided to take a closer look. As she stopped at a red light, she took a few pictures to capture the moment. To her surprise, the man approached her car and handed her a sunflower.
"So picture this… you're out going to pick up your lunch, and there's this random guy walking by with a handmade sign," Rika recounted. "I'm sure like most of us, we'd glance and keep it moving, but I decided to read his sign since I was at a stop light. I snapped a few pictures because why not, but as I was doing this, he approached my car door to hand me a sunflower! Don't forget to appreciate the small things."
This simple act of kindness had a profound impact on Rika, as it has on many others who have encountered this man and his signs. His message of love and importance reminds us all to appreciate the small joys in life and to acknowledge our worth.
The man's efforts are not just a random act of kindness; they hold special significance during National Suicide Prevention Month. September is a time when people and organizations across the country work to raise awareness about mental health and suicide prevention. This Jacksonville man's compassionate actions align perfectly with the spirit of this month, as he strives to remind people that they matter and that there is goodness in the world.