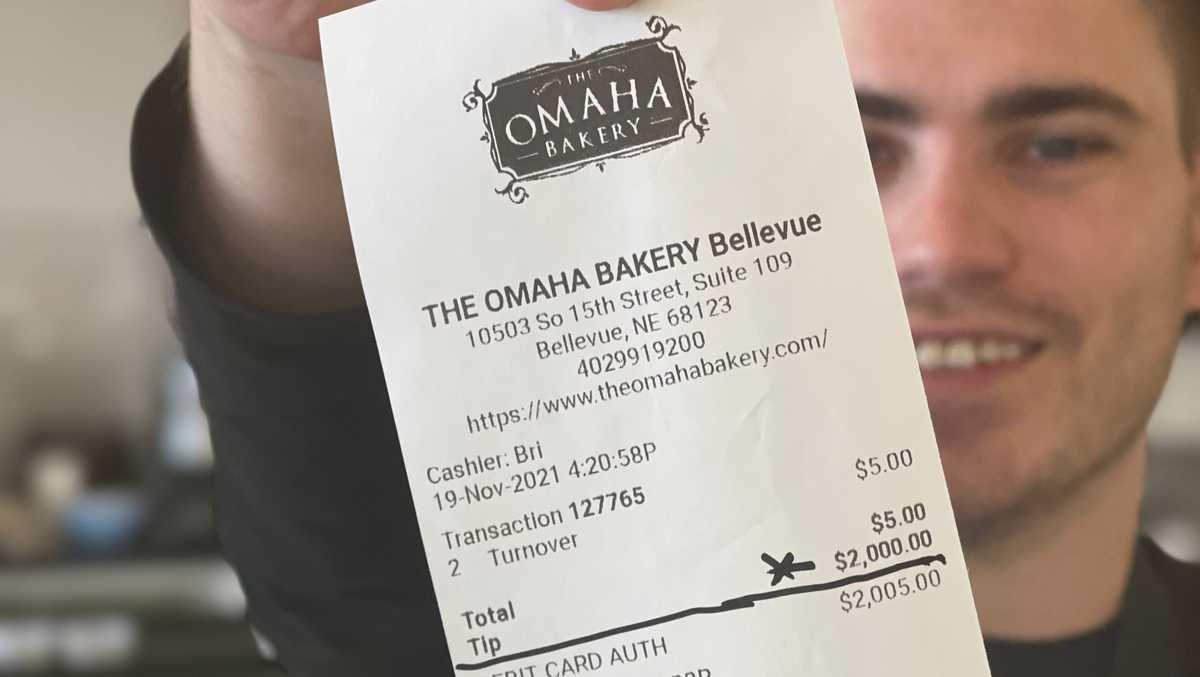 Whopping $2000 Tip For Nebraska Bakery Employees
This pandemic has wreaked so much havoc on many people's lives, from their health to finances. While some ended up jobless or being at home caring for loved ones or even recuperating themselves, others have been on the job holding down the fort.
In Nebraska, people have been receiving their delicious fresh bakery items daily amid the pandemic as the faithful employees turn up for work regardless.
Little did these workers know that what they did was being noticed by the customers and what particular customer had chosen to go above and beyond with his appreciation.
When a customer paid just $5 for two small pastry items at a Nebraska bakery, they were surprised to receive a $2,000 tip from him.
The customer, known as Nicholas, recently purchased two turnovers totaling $5 and then put $2,000 in the section that asked for the tip amount, according to employee Preston Rath of The Omaha Bakery in Bellevue.
"As soon as I saw the amount of gratuity included, I thought, "That's not right." If you don't touch OK, I'll stretch around and get it for you.' "Rath said to a local TV station.
On the social media platform Facebook, the Omaha Bakery posted a picture of the receipt. Michelle Kaiser, the shop's owner, stated that the store's hourly employees would split the tip.
"He was aware that COVID had had a difficult time recently. As a general rule, he was aware that people were having difficulties. He noticed that our employees were putting in a lot of effort, " Kaiser stated.
While service employees look forward to it and are grateful for tips, they don't expect much and still appreciate those who can only say thank you. Therefore, getting a bonus of that magnitude is mindblowing.
Several people have been doing that more frequently, including celebrities who appreciate the service they receive. However, when the tip comes from a local customer, it becomes a tear-jerking event.
Service and hospitality have traditionally earned servers in the United States tips from consumers. As a result, restaurant operators spend money ensuring that their customers get the best service possible and that servers can receive more leads.
This same tip credit system and its protective measures for employees had been established decades ago by Congress to recognize the unique concept of table service restaurants. People who work for tips will always receive at least the federal minimum wage.
However, they will also have the opportunity to earn considerably more. Over the past decade, no state has abolished tip credit in the United States. Legislators in the District of Columbia, Michigan, and Maine acted promptly to safeguard the current tip system as there were recent moves to do so.
Christmas Eve turned into an Elk-Rescue for Hours on a Frozen River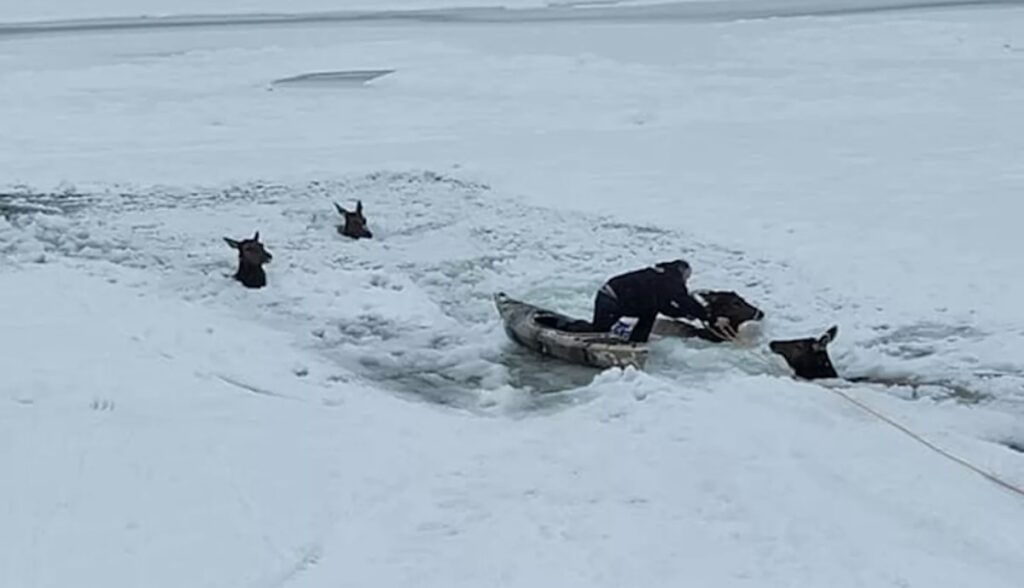 Elks are not usually keen on human companionship, and understandably so. However, after a dating rescue recently which saved several of them from being frozen to death, the Elk community might become more welcoming or not.
Either way, humans can certainly go out on a limb or relatively thin ice to rescue animals, even during Christmas.
Several dozen elk were found frozen to death in the Kettle River in Barstow, Washington, on Christmas Eve, according to the Ferry County Sheriff's office.
Coyote hunters Jeff Stuart and Jordan Fish came across a herd of cows and calves who had become stranded in the ice. About 40 elk had gathered on the other side of the river in a large pack. When they observed what occurred to the first 12 people, they either crossed successfully or decided not to.
Rylee Stuart, Jeff's wife, received a phone call informing him that he was on his way to Barstow to grab some rope to assist the stranded animals.
The number of rescuers climbed rapidly.
More than two dozen individuals helped Rylee and her family rescue the elk from the river, wrap them in blankets, and keep them warm by fire towards the end of the day.
Rylee told the media that, "We had to catch the animals and furthermore try to loosen them the moment they reached the river bank, without getting… kicked." "It wasn't the simplest process," she said.
One rescuer fractured his hand, another slipped into the icy water, and one was kicked in the back of the head by an elk while trying to save a group of people.
However, someone told them that no officers were available for an elk rescue. Rylee stated this in her interview. Officer Severin Erickson of Fish and Wildlife District 1 drove from Newport, two hours away, to aid the rescue operation.
"Bizarre" was the word Erickson used to describe the sight of three elk eating hay while standing next to humans. He believes that the animals' fear of humans reduced due to hypothermia and shock, according to Erickson.
Around eight o'clock that evening, the rescue finally came to an end after the sun had set. In the end, four calves and two cows died, while four cows and two calves escaped with the approval of Fish and Wildlife.
One of the elk was particularly noteworthy to Rylee. On reaching the riverbank, the calf was helpless and unable to stand. Her rescuers draped blankets over her and dragged her up close to the raging inferno. Her limbs had shifted.
She looked like she was on the verge of dying for several hours. After some time, she was able to walk on her own. Lucky was the moniker given to her by the rescuers.
You can't help but cry when you think about all you did to help these animals. "We laid with them, gave them CPR, and even cried over them!" Rylee made the statement.
Although no one expected to spend Christmas Eve in the frigid weather, rescuing elk from the river, this was an extraordinary event for everyone.