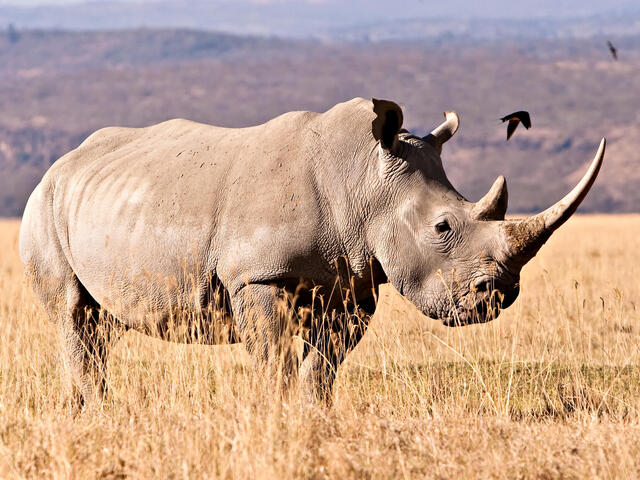 White Rhinos Make a Comeback in the Democratic Republic of Congo
In an exciting development for wildlife conservation, white rhinos have made a long-awaited return to the Democratic Republic of Congo (DRC) after an absence of 17 years. The white rhinos were transported to Garamba National Park, located in the northeastern part of the country, from a private reserve in South Africa.
The white rhino, also known as the square-lipped rhinoceros, is one of the two species of rhinoceros found in Africa, the other being the black rhino. Despite their name, white rhinos are not actually white; their name is believed to be a misinterpretation of the Dutch word "weit," which means wide, referring to their wide, square-shaped mouths. These majestic creatures are characterized by their large size, with adults weighing up to 2.5 tons and measuring around 12 to 13 feet in length. They have two horns made of keratin, the same material as our hair and nails.
Garamba National Park, where the white rhinos have been reintroduced, is a vast protected area spanning over 5,000 square kilometers. It is renowned for its diverse ecosystem, which includes savannas, woodlands, and grasslands. The park is home to a wide range of wildlife, including elephants, giraffes, lions, and various species of antelope. Garamba National Park has faced numerous challenges in recent years, including poaching and armed conflict, which have greatly affected the rhino population.
"This reintroduction is the start of a process whereby southern white rhino, as the closest genetic alternative, can fulfill the role of the northern white rhino in the landscape," stated Peter Fearnhead, the CEO of African Parks, an organization dedicated to the conservation of national parks in Africa. Unfortunately, efforts to save the park's northern white rhinos had come too late, leading to their decline. However, the introduction of southern white rhinos is a hopeful step towards restoring balance to the ecosystem.
To ensure the well-being and monitoring of the new rhino residents, they have been equipped with ear tags and GPS collars. These tracking devices will allow park staff and veterinarians to closely monitor their health and movements. This valuable information will aid in their acclimatization and provide insights into their behavior and habitat preferences.
The transportation of the white rhinos was a meticulous process, involving their transfer by aircraft from South Africa to Garamba National Park. Upon arrival, professional staff and qualified veterinarians have been diligently overseeing their adaptation to their new environment. Regular monitoring will continue to ensure the successful integration of these magnificent creatures into their new home.
"The return of white rhinos to the Democratic Republic of the Congo is a testament to our country's commitment to biodiversity conservation," expressed Yves Milan Ngangay, the director general of the Congolese Institute for the Conservation of Nature (ICCN). This initiative demonstrates the DRC's dedication to protecting endangered species and restoring their natural habitats.
The reintroduction of white rhinos to Garamba National Park is an important milestone in the ongoing efforts to preserve these magnificent creatures and the biodiversity of the region.
500,000-Year-Old Wooden Structure Rewrites History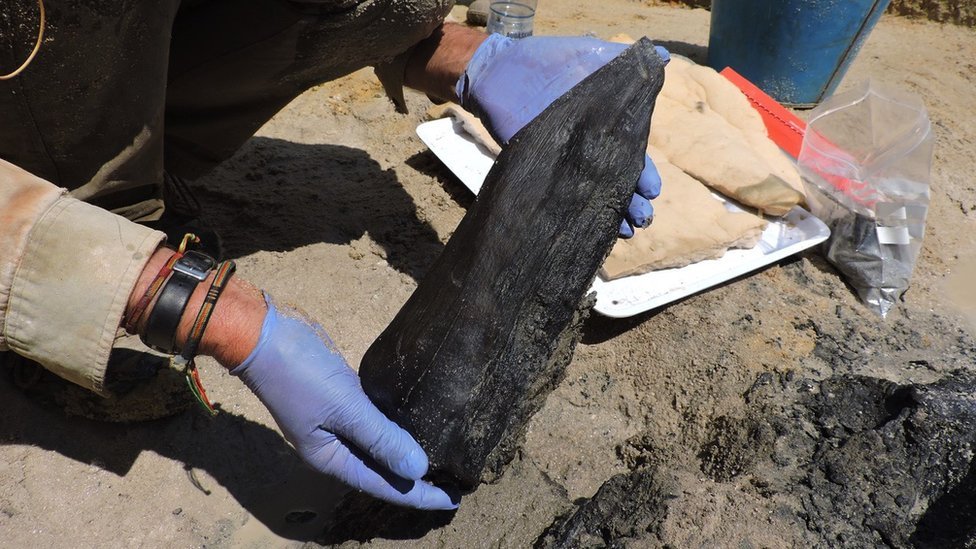 In an archaeological discovery, a wooden structure dating back an astonishing 500,000 years has been unearthed on the banks of a river in Zambia, challenging long-held beliefs about the capabilities of ancient humans. Researchers stumbled upon these ancient wooden logs, a revelation that has the potential to reshape our understanding of the lives of early humans.
The find, located on the riverbanks near Zambia's Kalambo Falls, provides compelling evidence that stone-age people may have constructed primitive shelters, forever altering our perception of their intelligence and resourcefulness. Archaeologist Prof Larry Barham, who led the research, was profoundly impacted by the discovery, stating, "This find has changed how I think about our early ancestors."
What makes this find truly remarkable is that it suggests ancient humans did more than merely survive; they thrived by creating something entirely new. These early humans exhibited intelligence, imagination, and craftsmanship by fashioning structures from wood, a material that had never before been transformed into such large and sophisticated objects.
The researchers also uncovered ancient tools, including digging sticks, but the most exciting find was two pieces of wood positioned at right angles to each other. "One is lying over the other, and both pieces of wood have notches cut into them," explained Geoff Duller, a professor of geography at the University of Aberystwyth and a member of the research team. "You can clearly see those notches have been cut by stone tools, making the two logs fit together to become structural objects."
Radiocarbon dating confirmed the wood's age, placing it at a staggering 476,000 years old. This revelation has ignited curiosity about the woodworking traditions of ancient societies, challenging the prevailing notion that early humans led simplistic, nomadic lives.
Perrice Nkombwe, a team member from the Livingstone Museum in Zambia, expressed her astonishment, saying, "I was amazed to know that woodworking was such a deep-rooted tradition. It dawned on me that we had uncovered something extraordinary."
The preservation of the wooden structure itself is a miracle. Typically, wood decays over time unless preserved under specific conditions. However, in the waterlogged environment along the Kalambo Falls, the wood remained intact, essentially pickled by the elements for millennia.
While the exact purpose of this ancient wooden structure remains a mystery, it has sparked numerous speculations. Prof. Duller suggests it might have been used as a place to sit beside the river and fish, although a complete understanding of its function remains elusive.
Moreover, the identity of the individuals who constructed this structure raises intriguing questions. "We don't know – it could have been Homo sapiens, and we just haven't discovered fossils from that age yet," Prof. Duller added. "But it could be a different species – [perhaps] Homo erectus or Homo naledi – there were a number of hominid species around at that time in southern Africa."
This discovery has the potential to enrich our understanding of ancient woodworking techniques, craftsmanship, and human interaction with the environment. As researchers continue their work at the Kalambo Falls site, the pages of history are being rewritten, and our appreciation for the ingenuity of our ancient ancestors grows ever deeper.